Recovery Ice Cream and Skratch Crispy Cones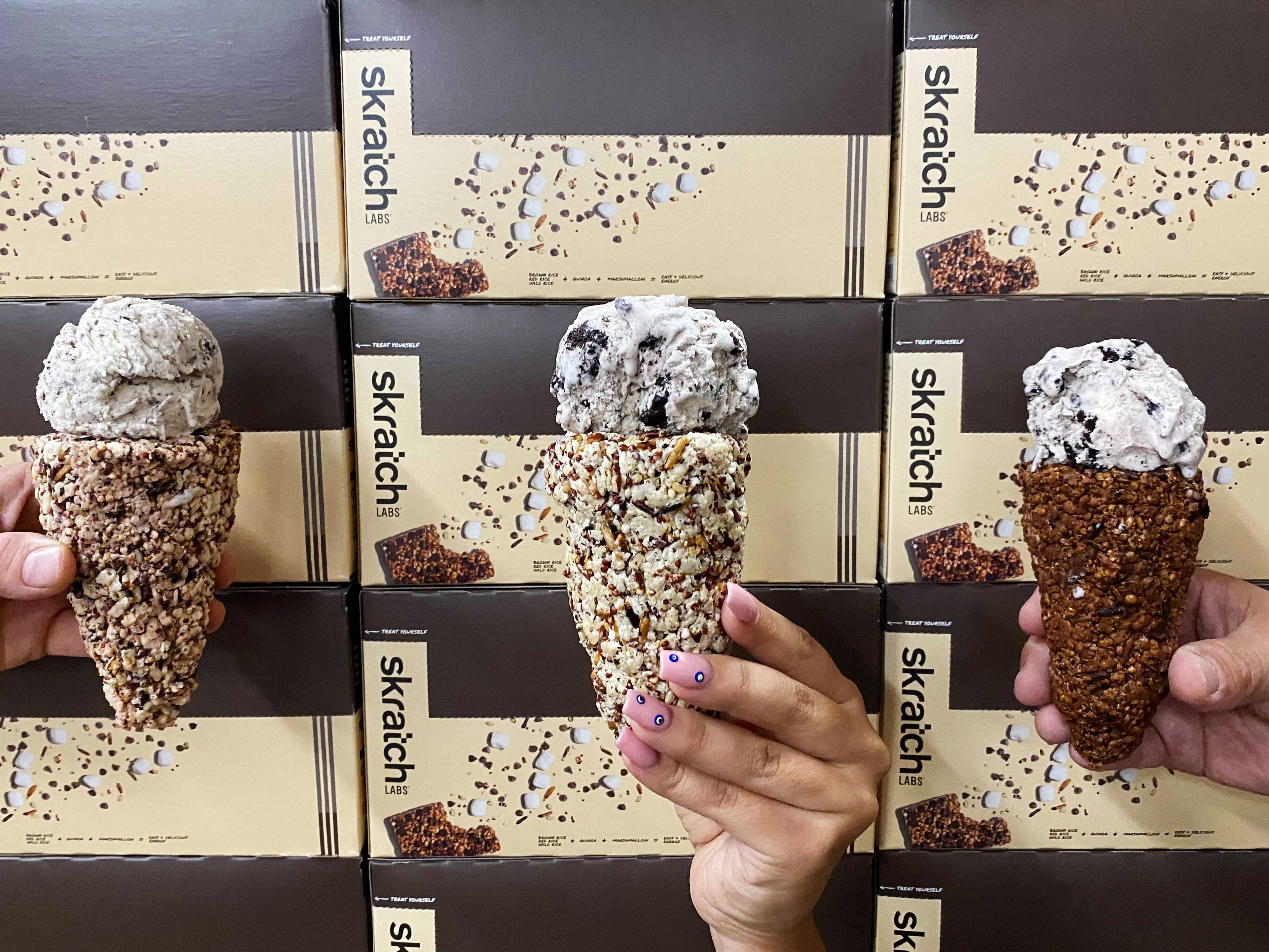 It might be the first day of Fall but it's also National Ice Cream Cone Day, here is a treat to enjoy after a hard effort and before the warm days wind down.
For the cones warm a Skratch Sport Crispy Rice Cake for 10-30 seconds mold into a cone shape - freeze for 15 minutes.

The ice cream is based on a basic semifreddo recipe and Skratchified by adding any flavor of Sport Recovery Mix.
Add in "mix ins" to your liking; chopped nuts, chunks of chocolate, berries, oreos, a swirl of nutella... the options are endless.

Ice Cream from Skratch (by @lentinealexis)
3 scoops Sport Recovery Mix (Coffee OR horchata OR chocolate! OR make a batch of each OR mix the flavors together)
2 cups heavy whipping cream
a pinch of fine-grain sea salt
2/3 cup organic sweetened condensed milk
1/2 cup plain greek yogurt
Prepare an 8x8 inch loaf pan by lining with wax paper. Set aside.
Whisk the Sport Recovery Mix into the whipped cream until completely combined.
Then, in a large broad bowl with a whisk, or in the bowl of a stand mixer fitted with the whisk attachment, whip the cream and salt until medium-soft peaks form on the whisk. Then, gently fold in the sweetened condensed milk and greek yogurt until smooth. (Add in any mix-ins at this point if you wish!)
Transfer the ice cream to the prepared loaf pan, place a sheet of wax paper over the top to prevent ice crystals, and freeze for at least 3 hours and up to 3 days. Scoop, and enjoy!
For vegan or gluten-free: sub your preferred products.
recent recipes
blog
Recipes

Life Skills + Inspiration

Science + Products
have a question?