Skratch Product Lines

We create products that solve problems which means every ingredient has a purpose. That purpose is to help people perform better. We focus on real ingredients and promote an equally healthy lifestyle. Our products are made from real food ingredients to help you bust your butt not your gut.

The creation and evolution of our products has always stemmed from evidence based problem solving – on what we, to the best of our knowledge, understand as real. This emphasis on real is core to our identity. In it there is an earnest attempt to always learn, to solve problems, and to communicate with both intellectual humility and humor. Intellectual humility being the ability to change one's mind when presented with new and compelling evidence. Humor being able to cut to the truth in a way that is delightful rather than intimidating or threatening.


Looking to see the different nutrition products we make? Check out their profiles below!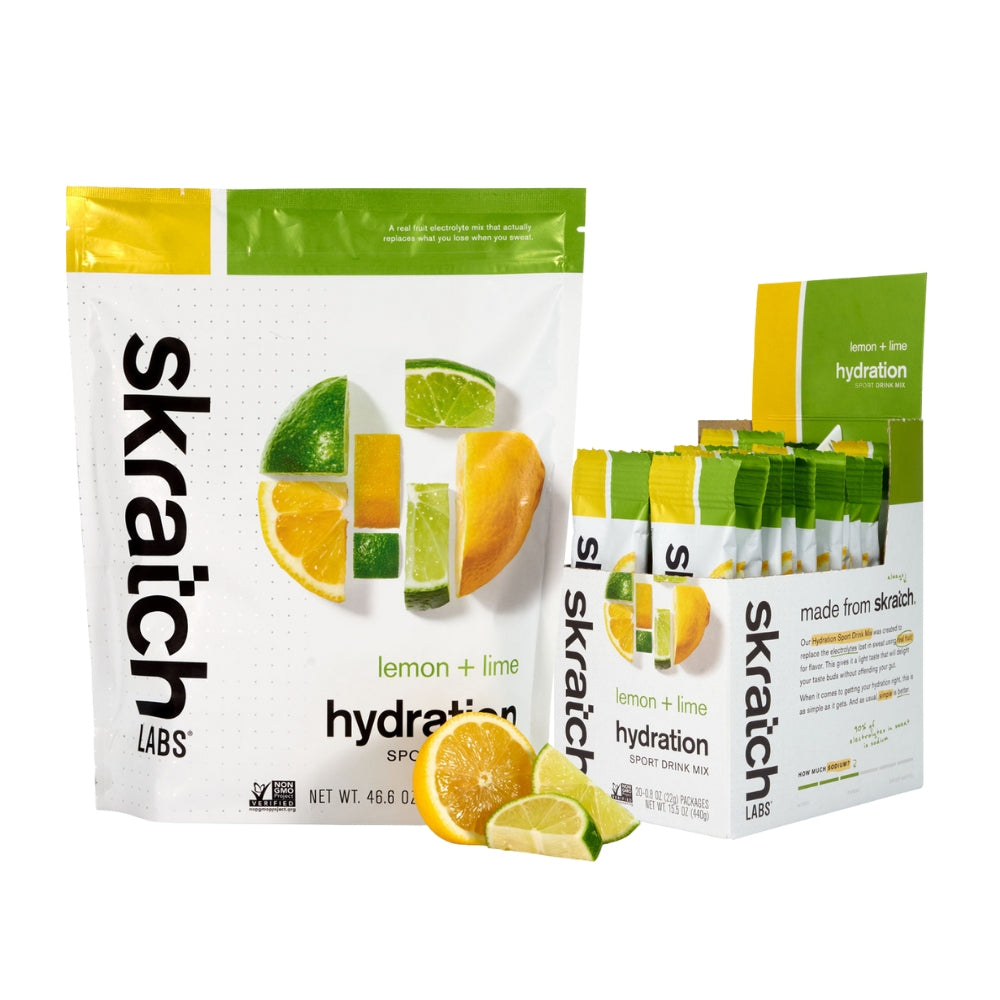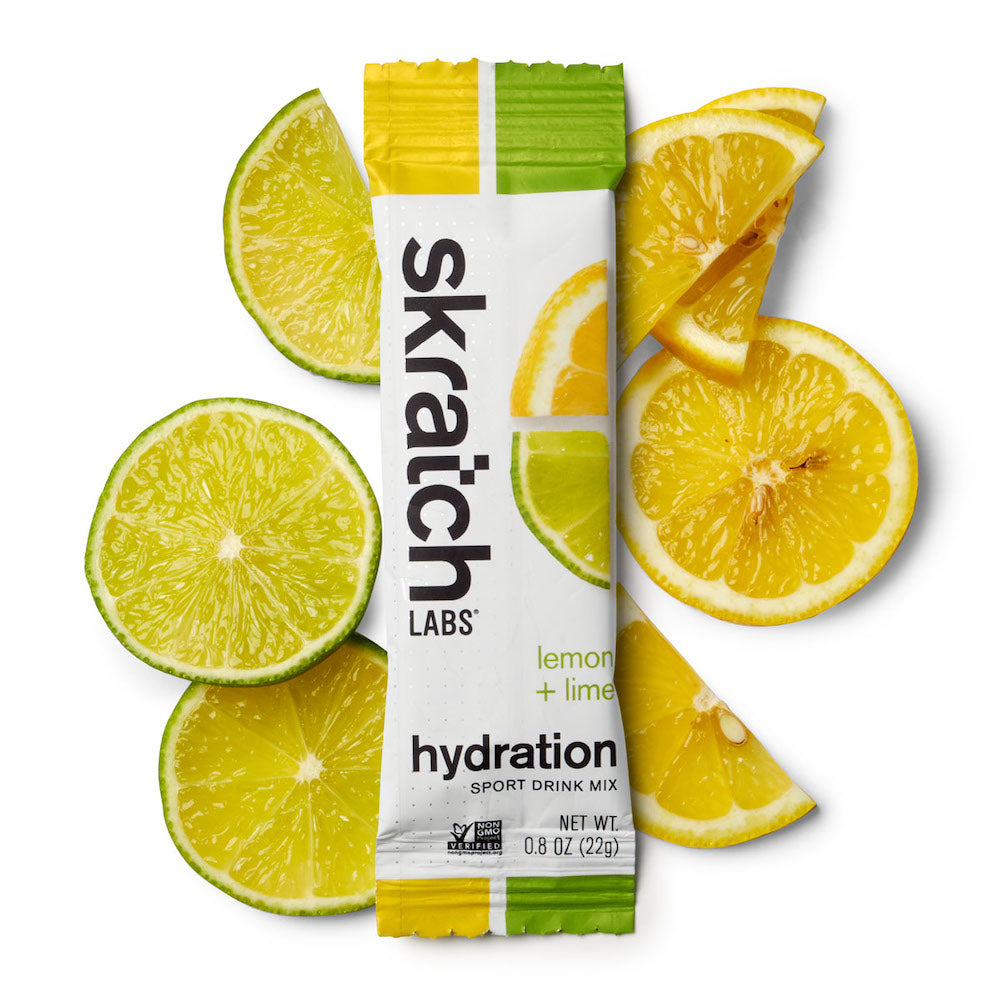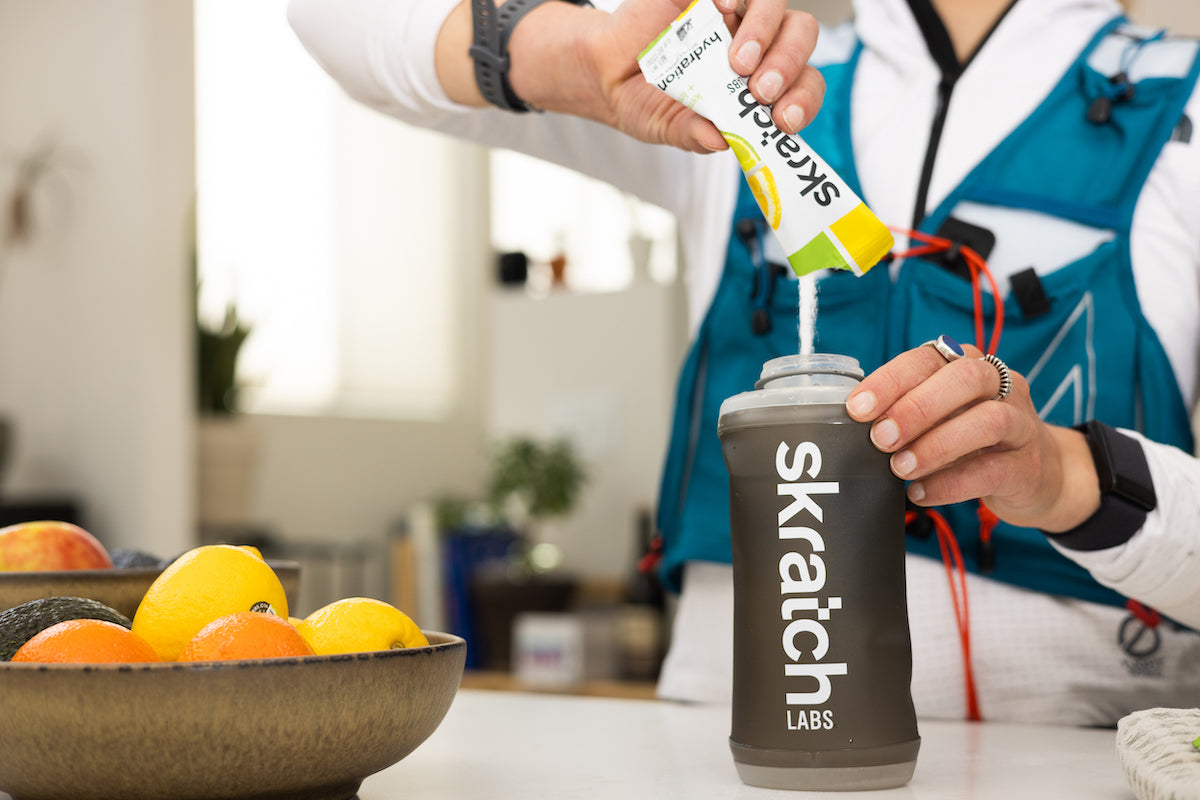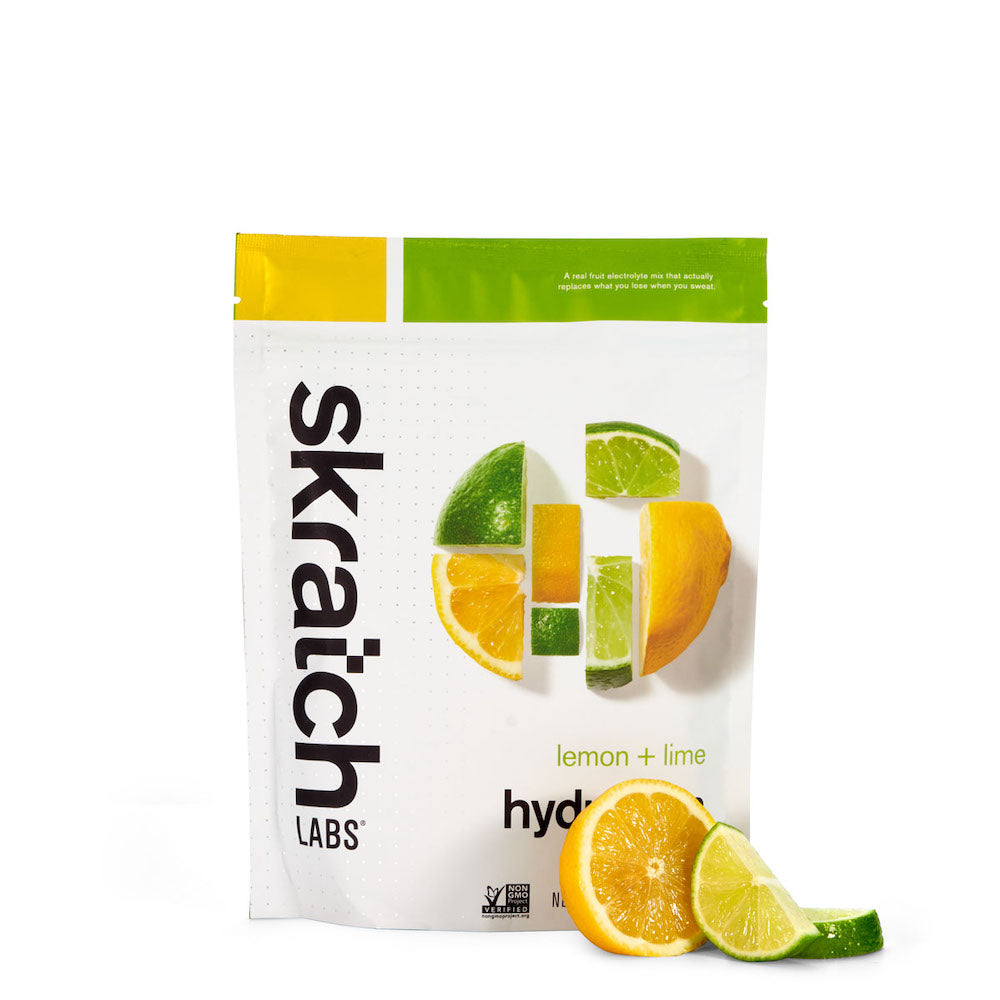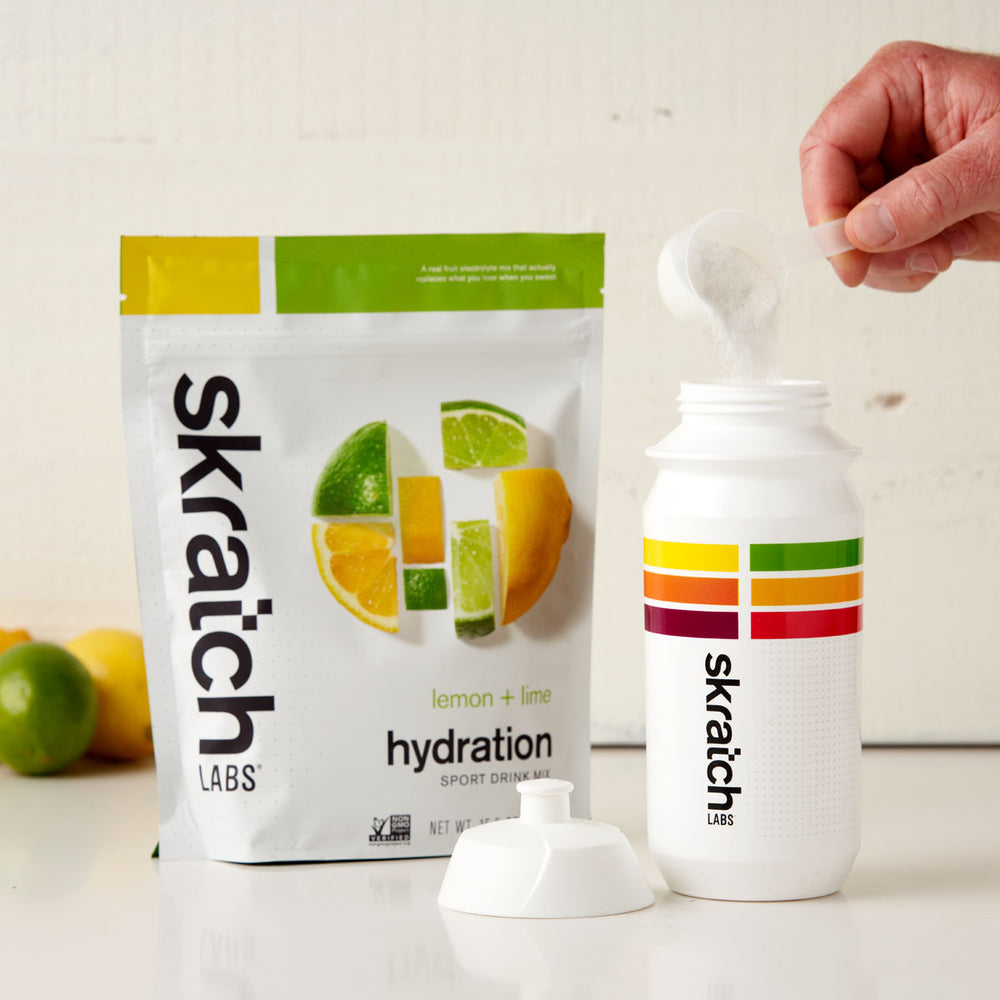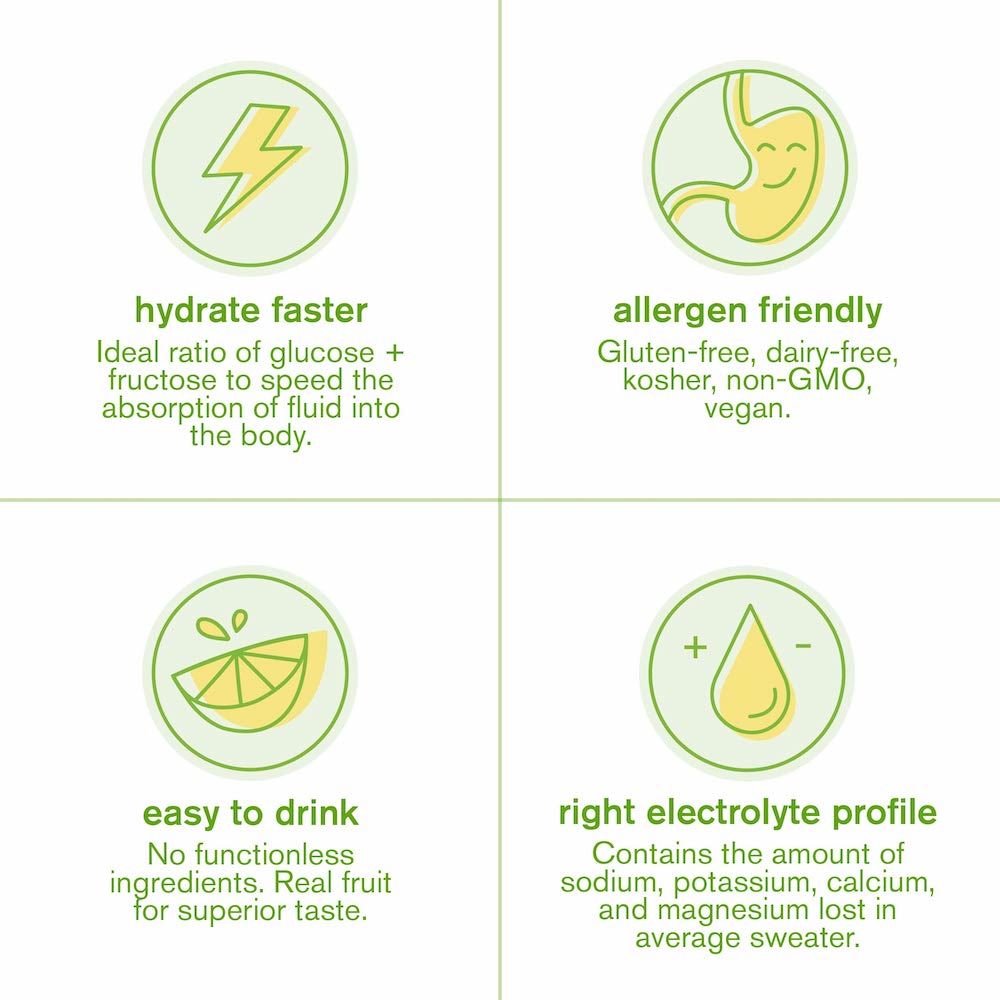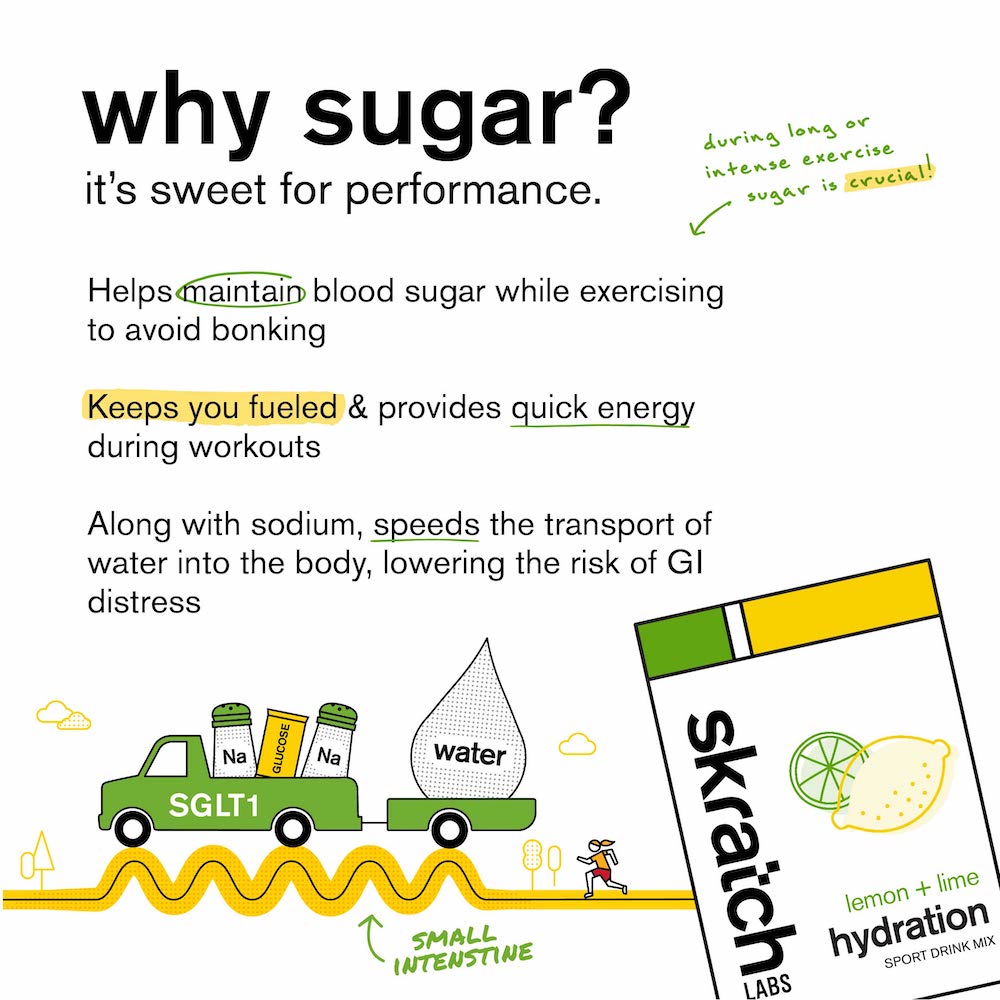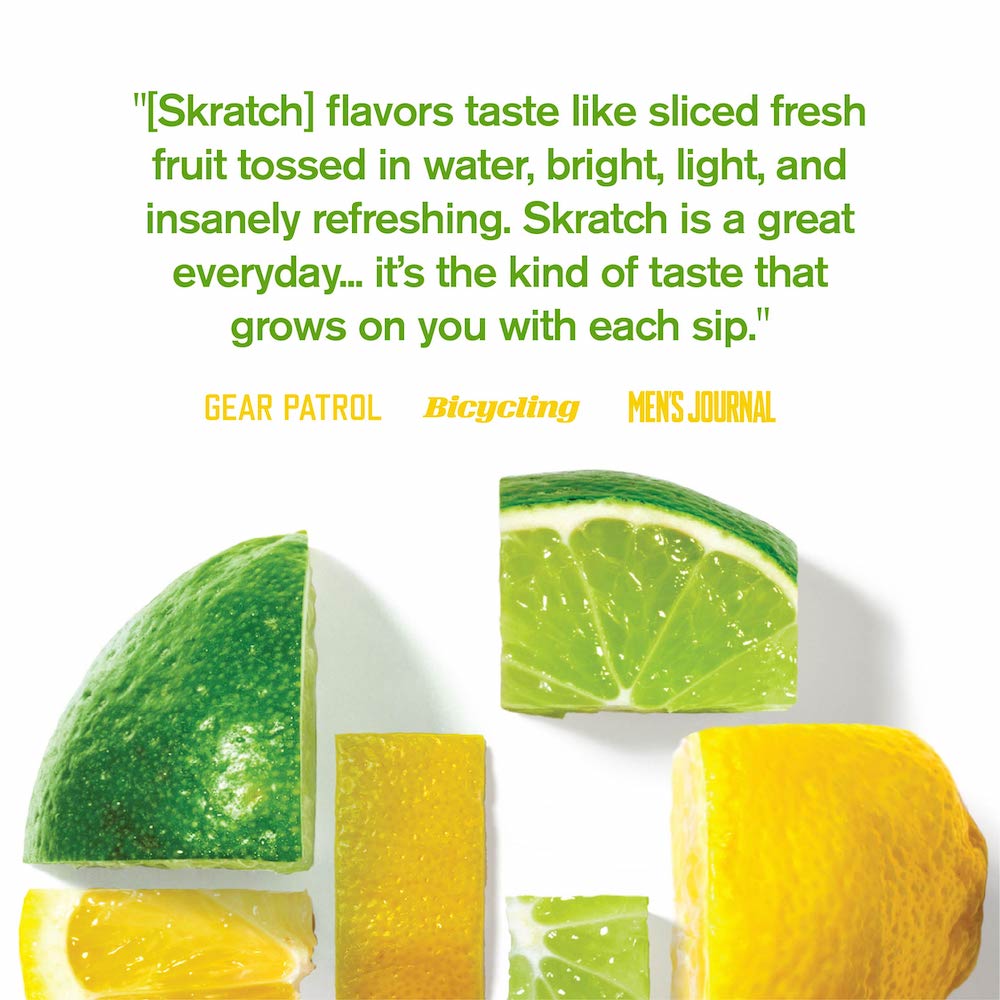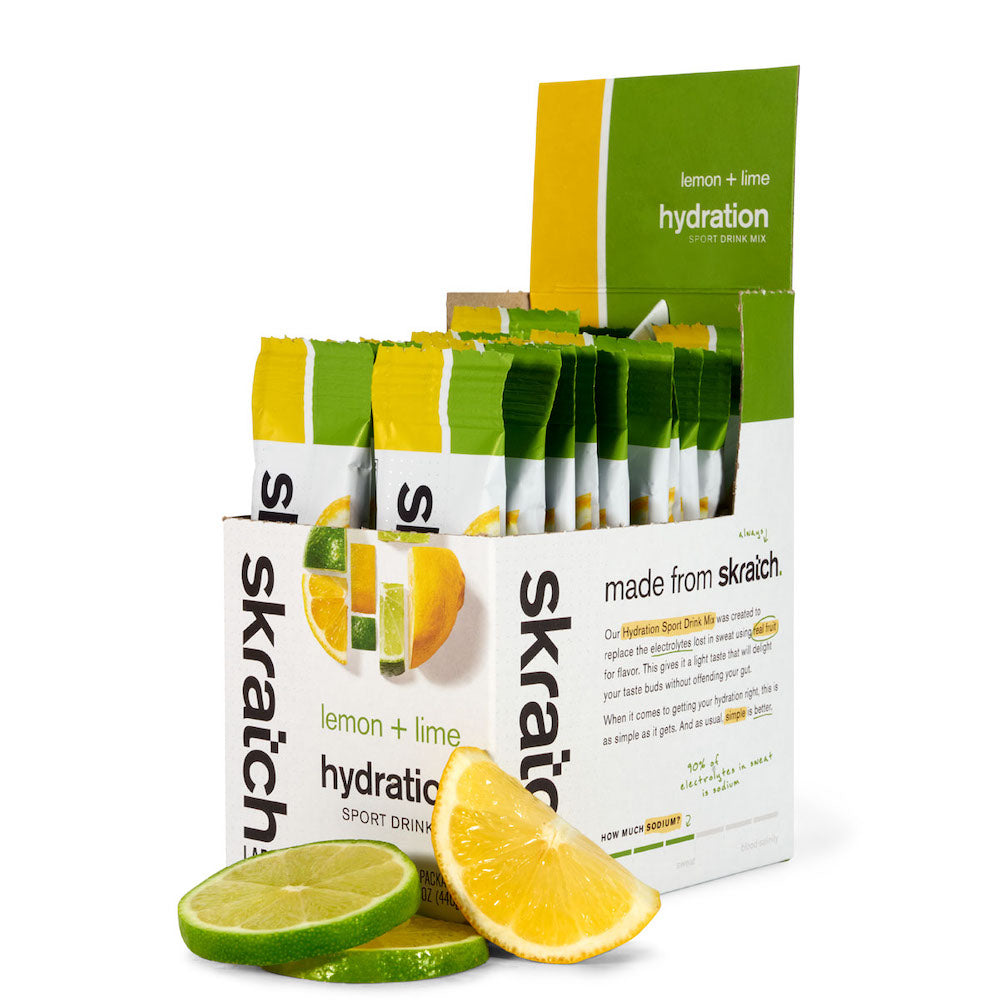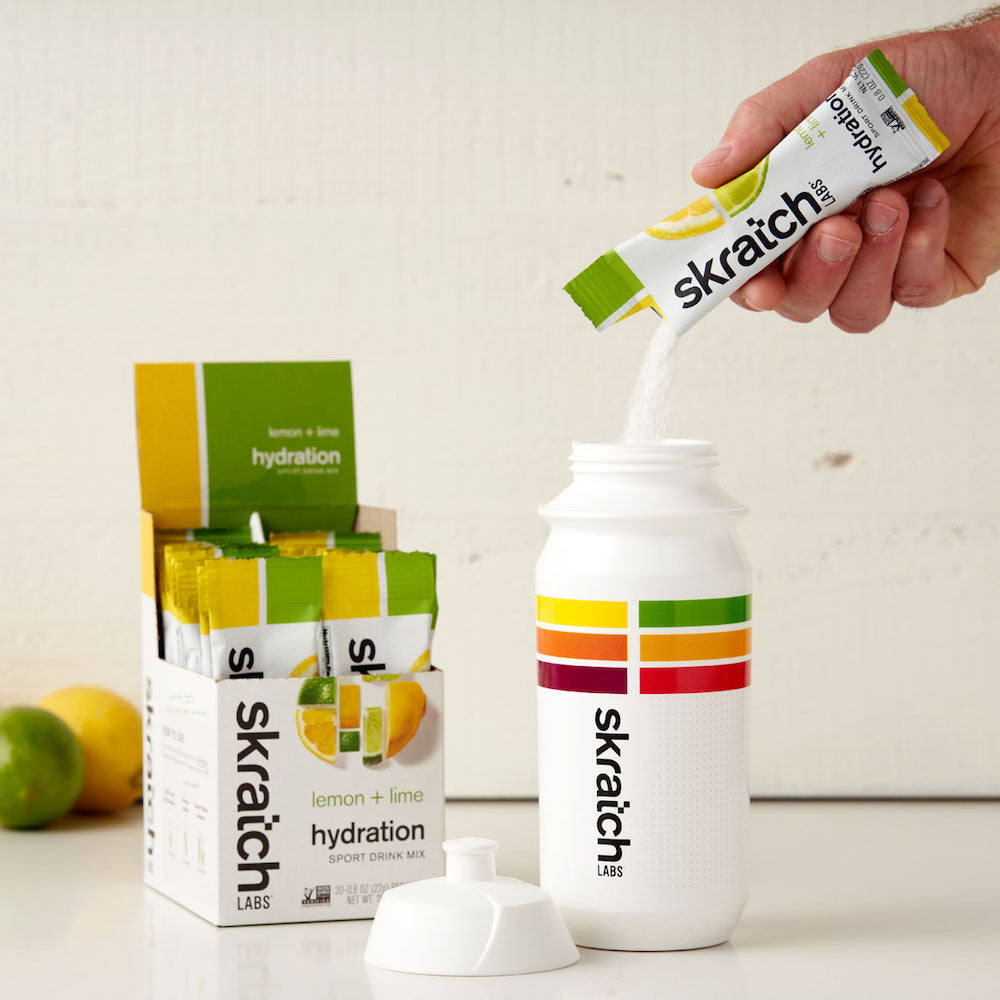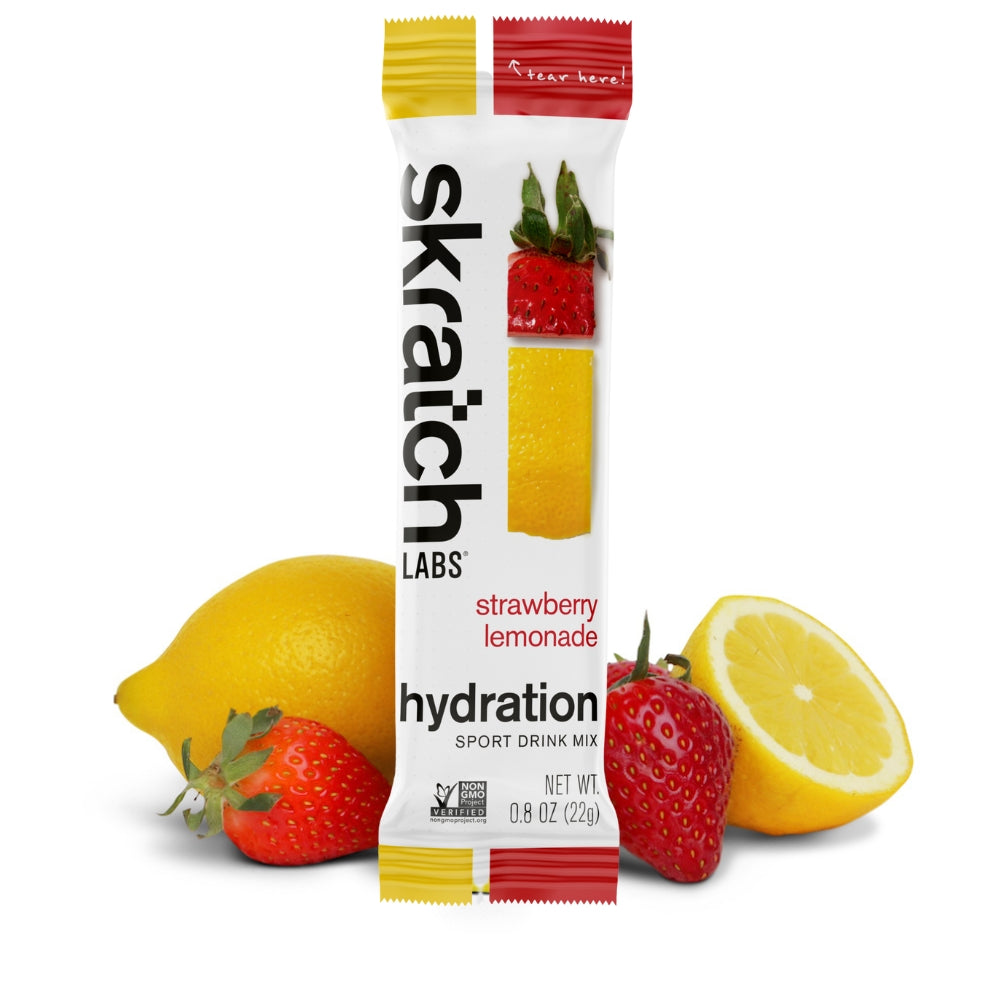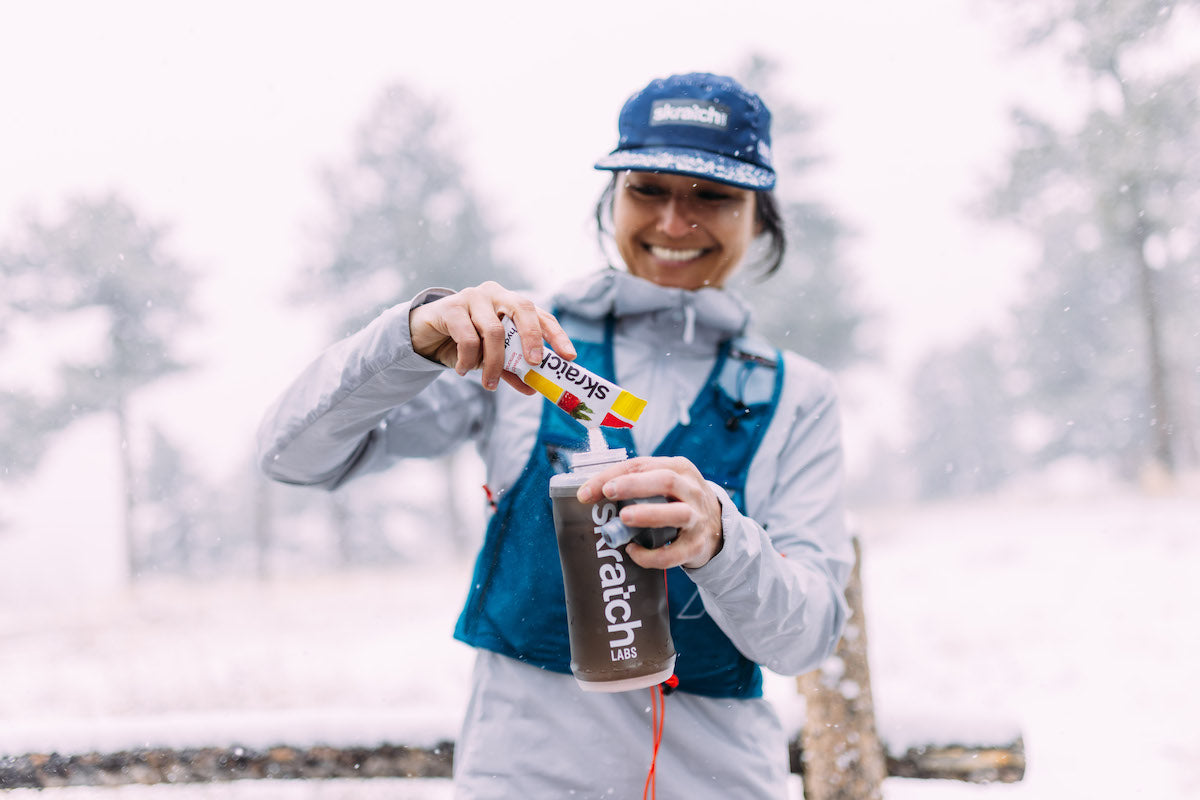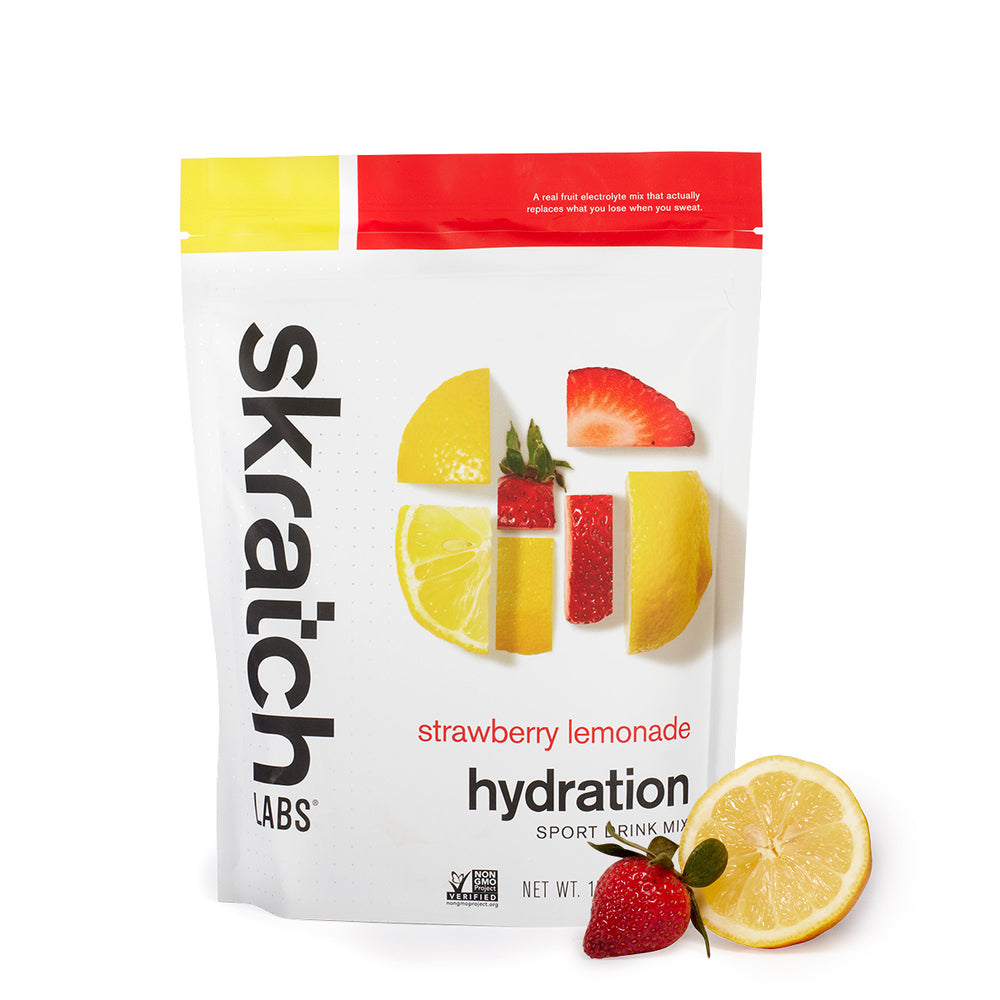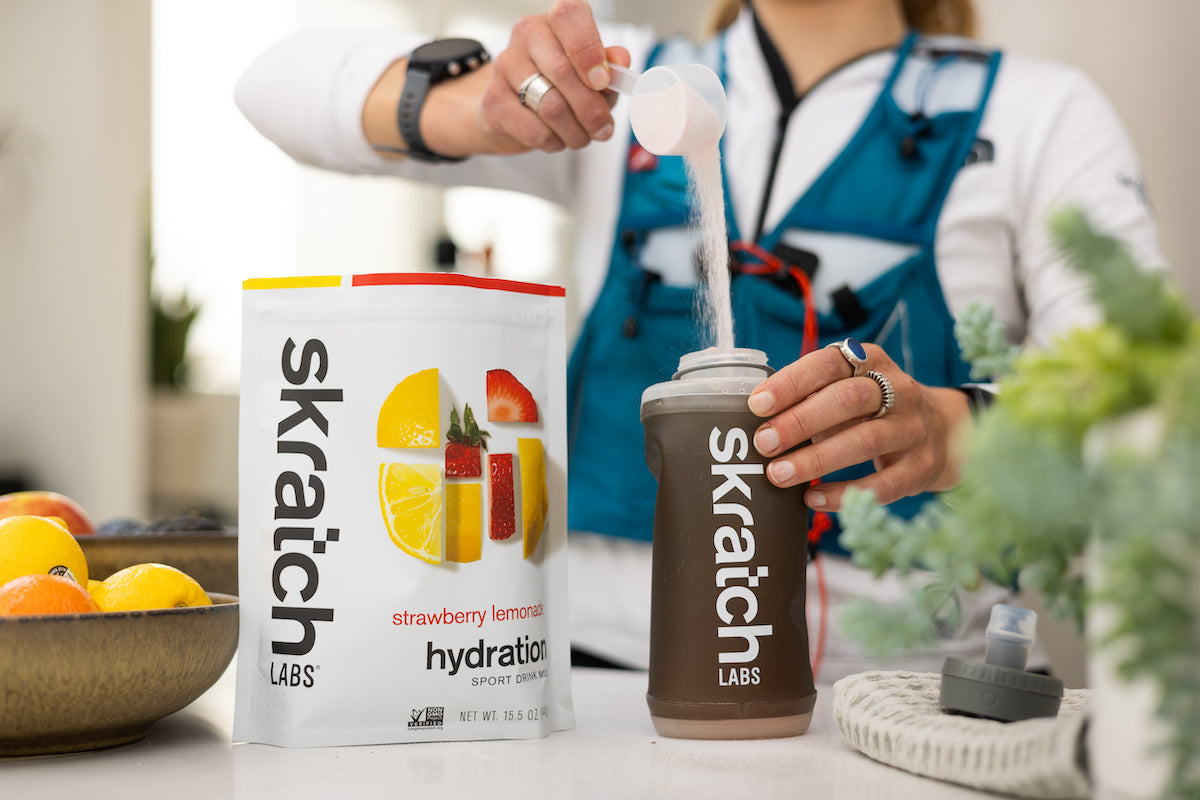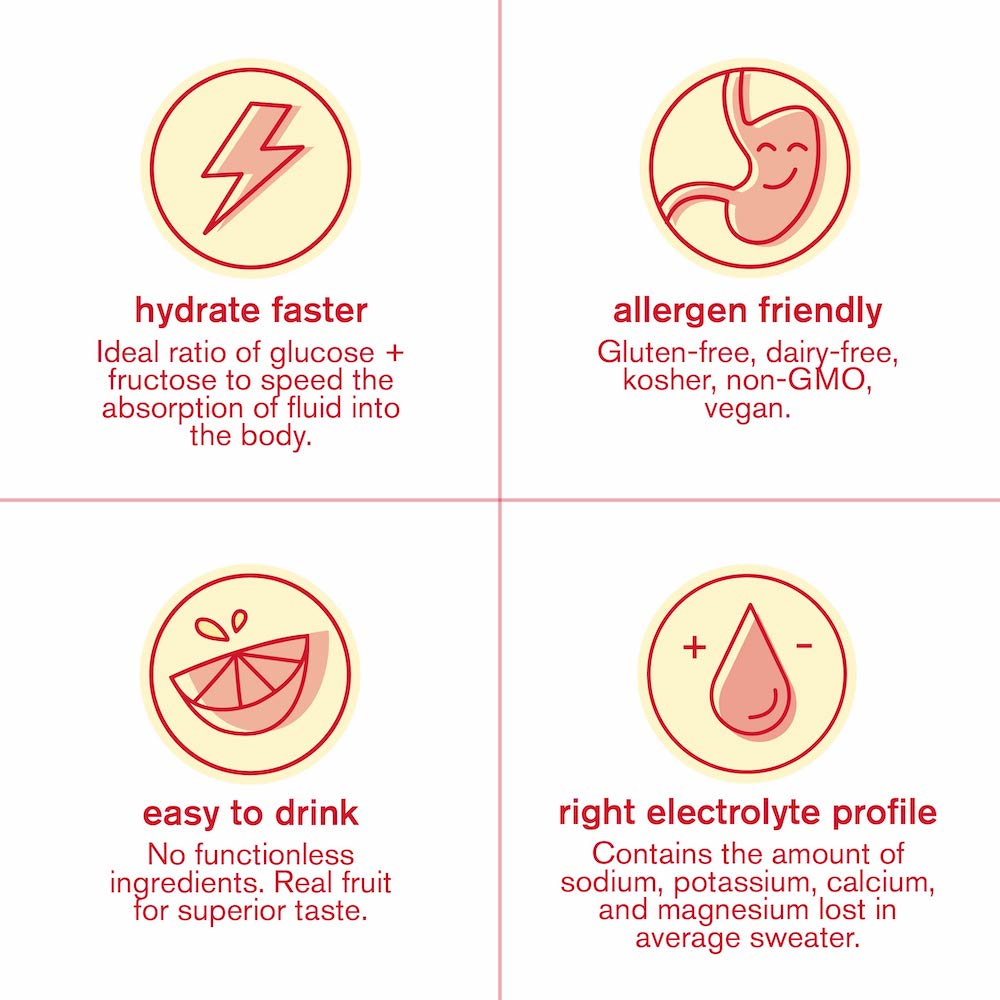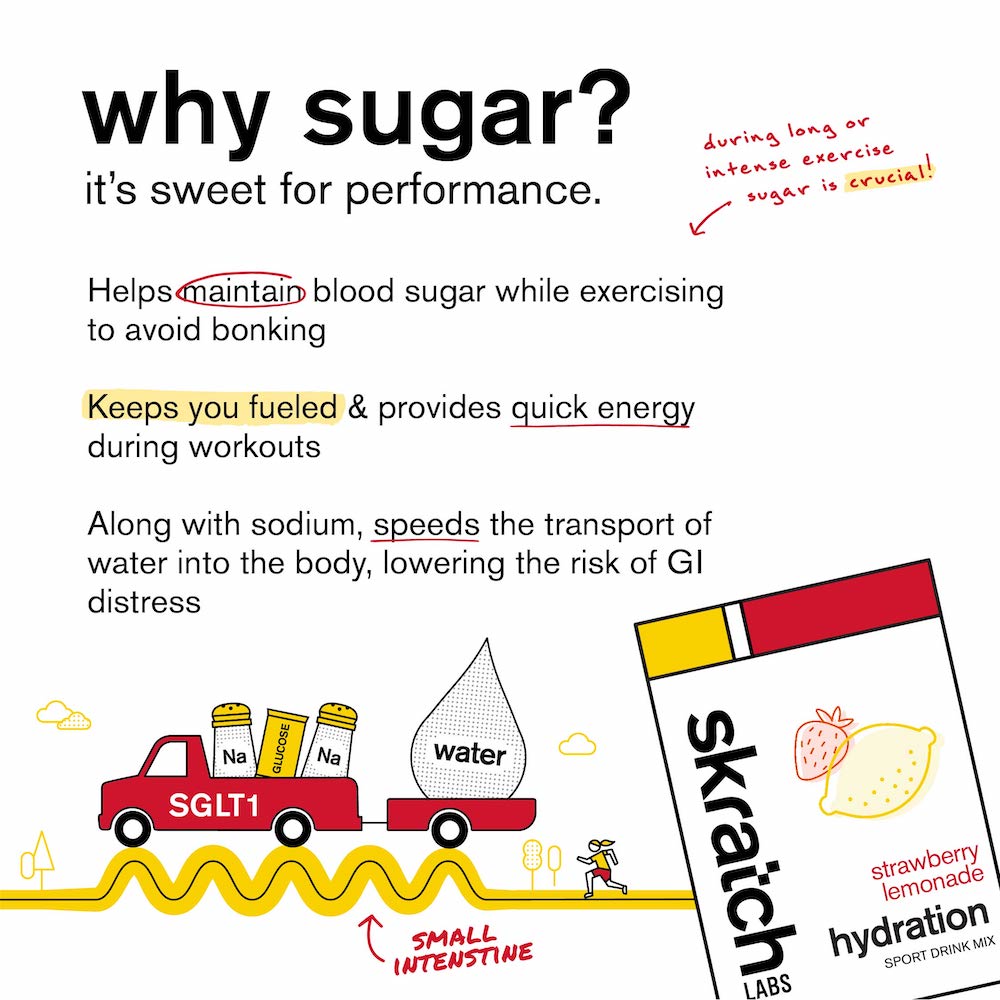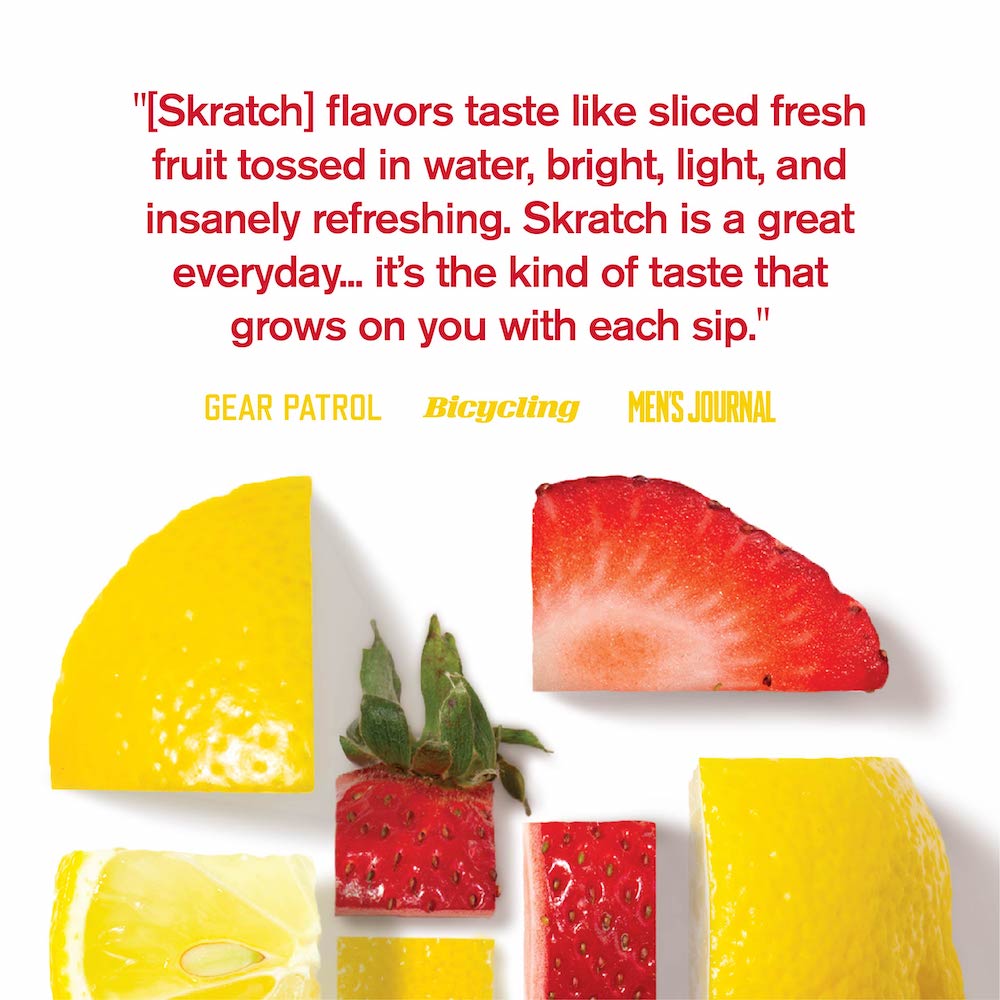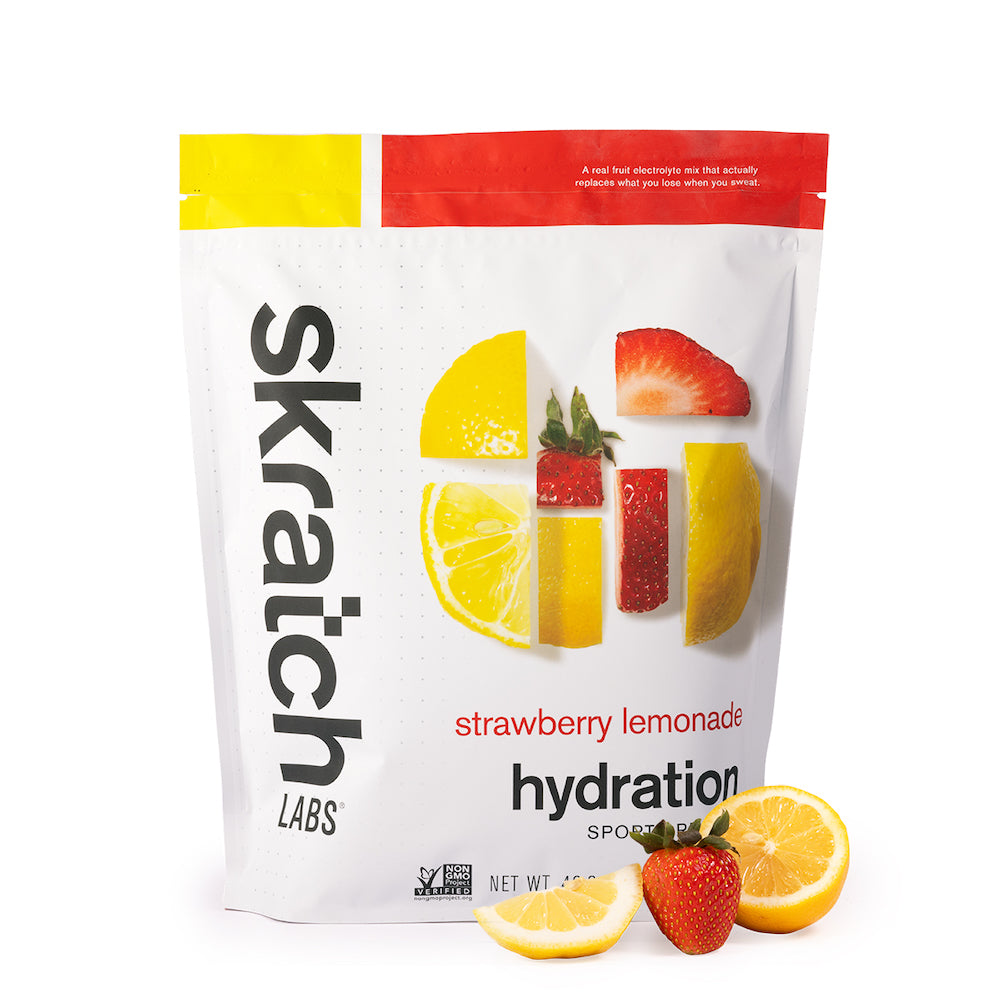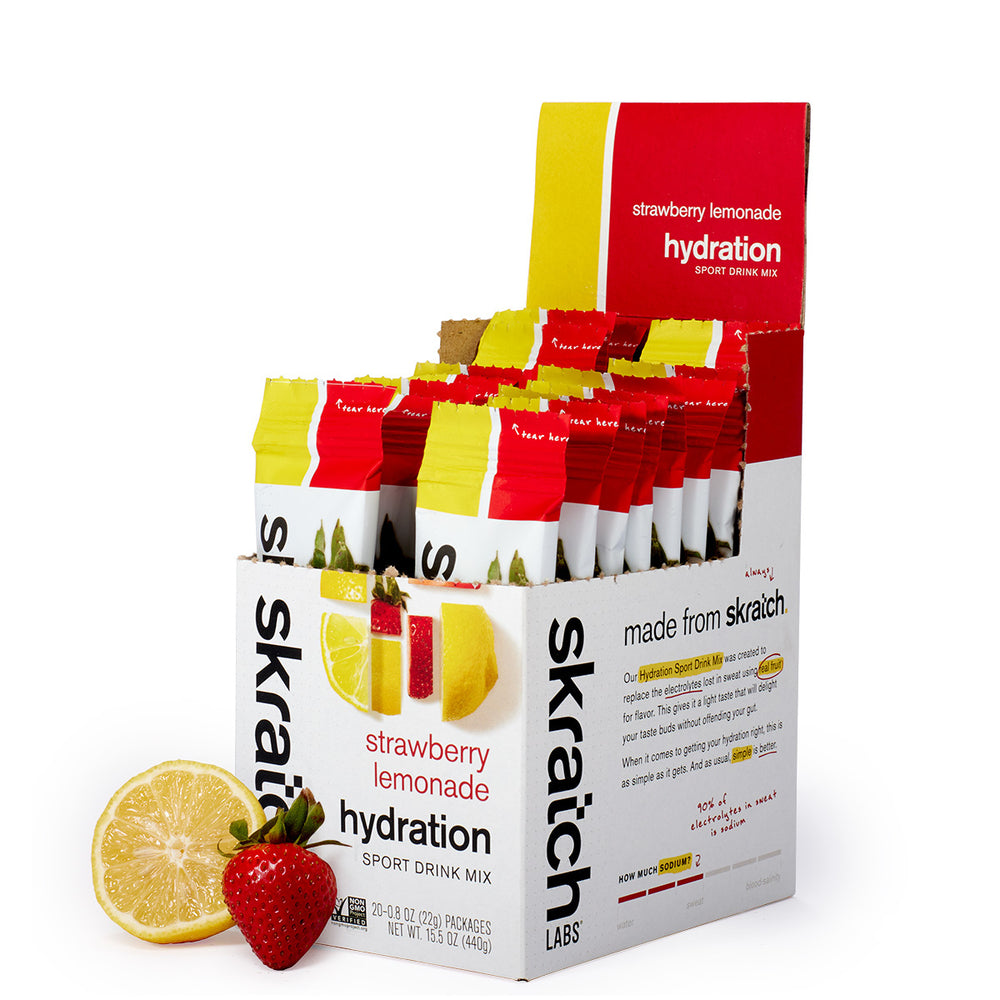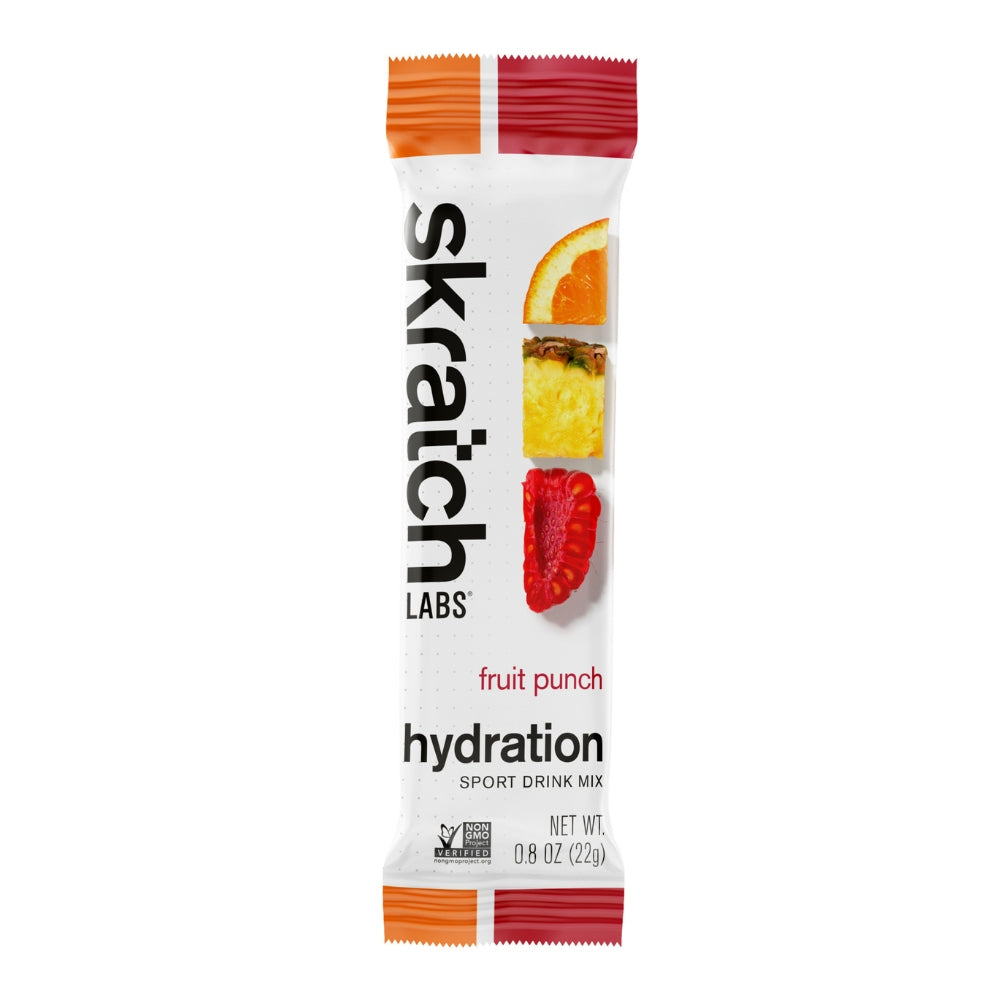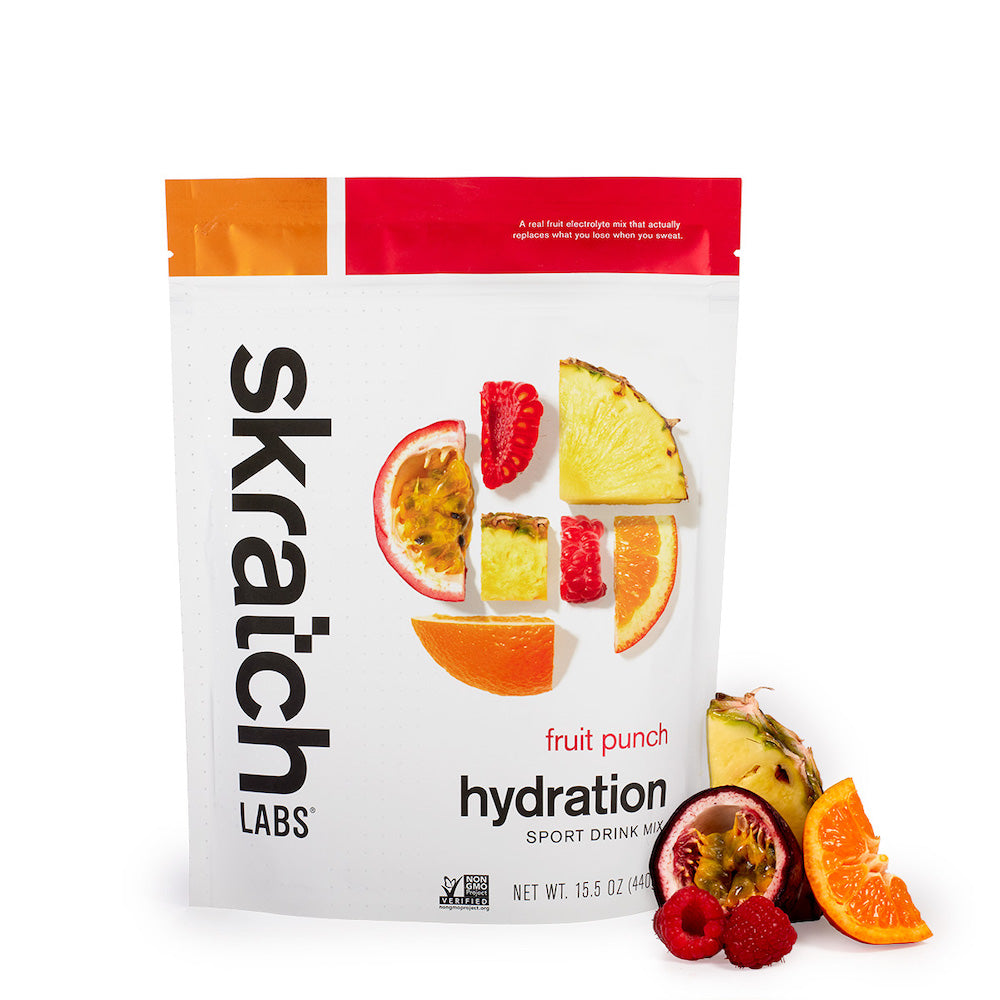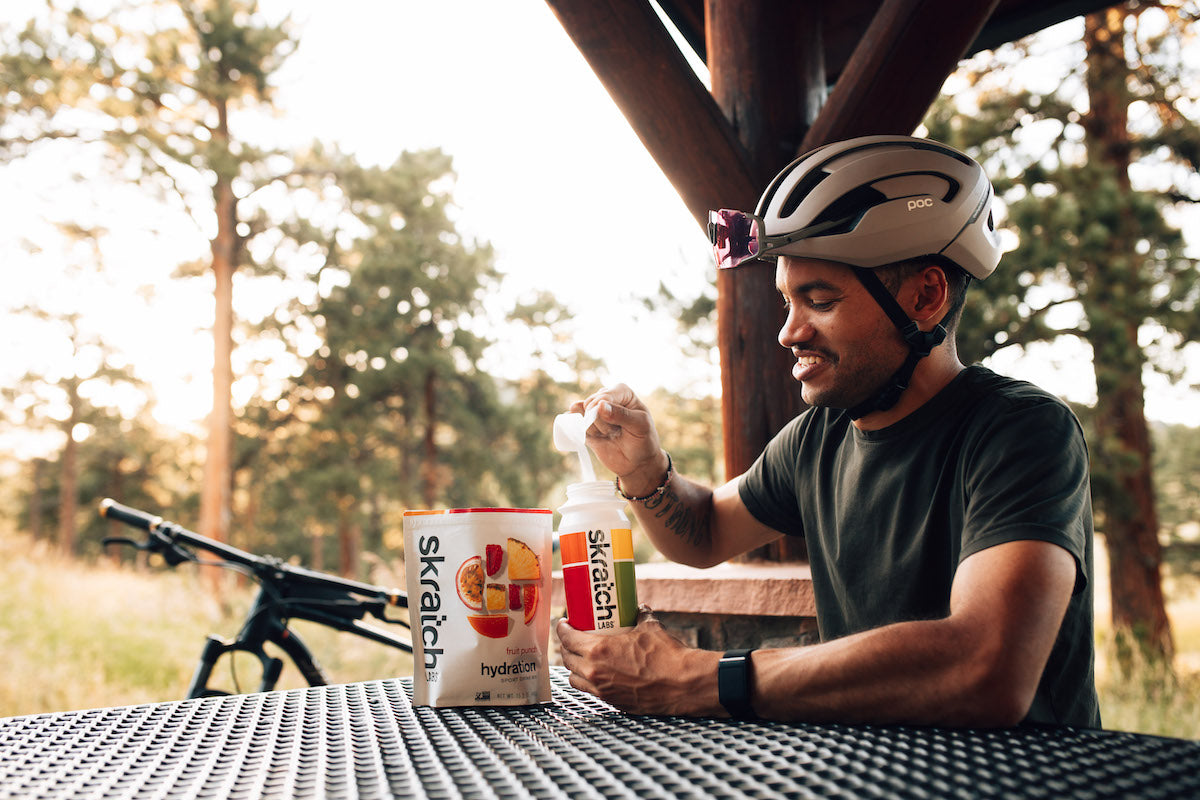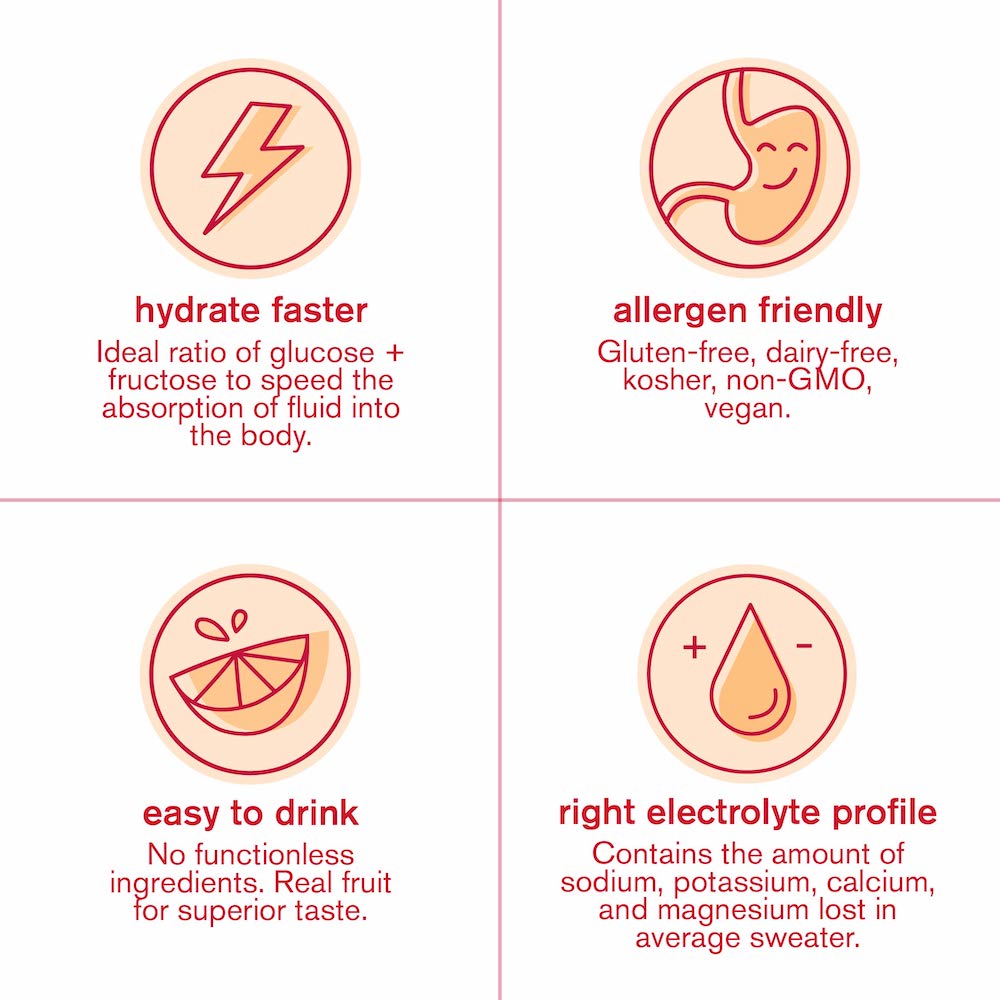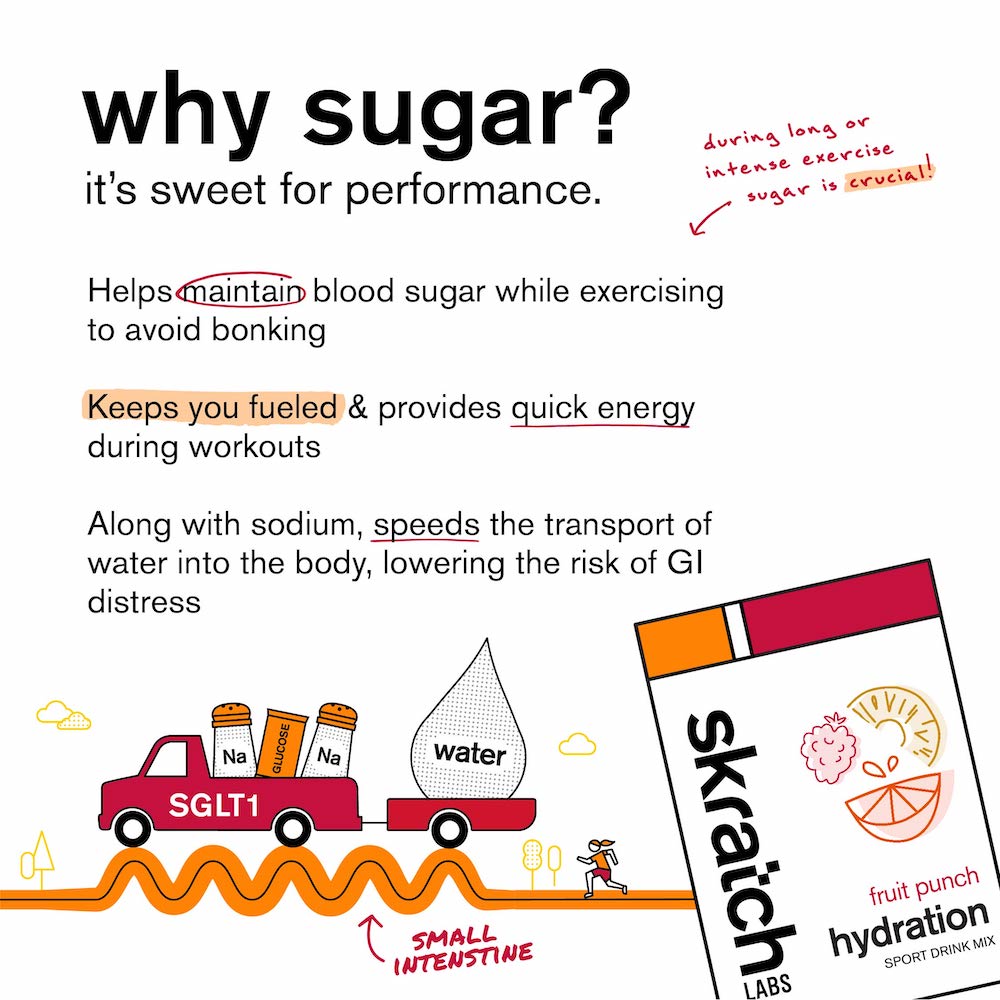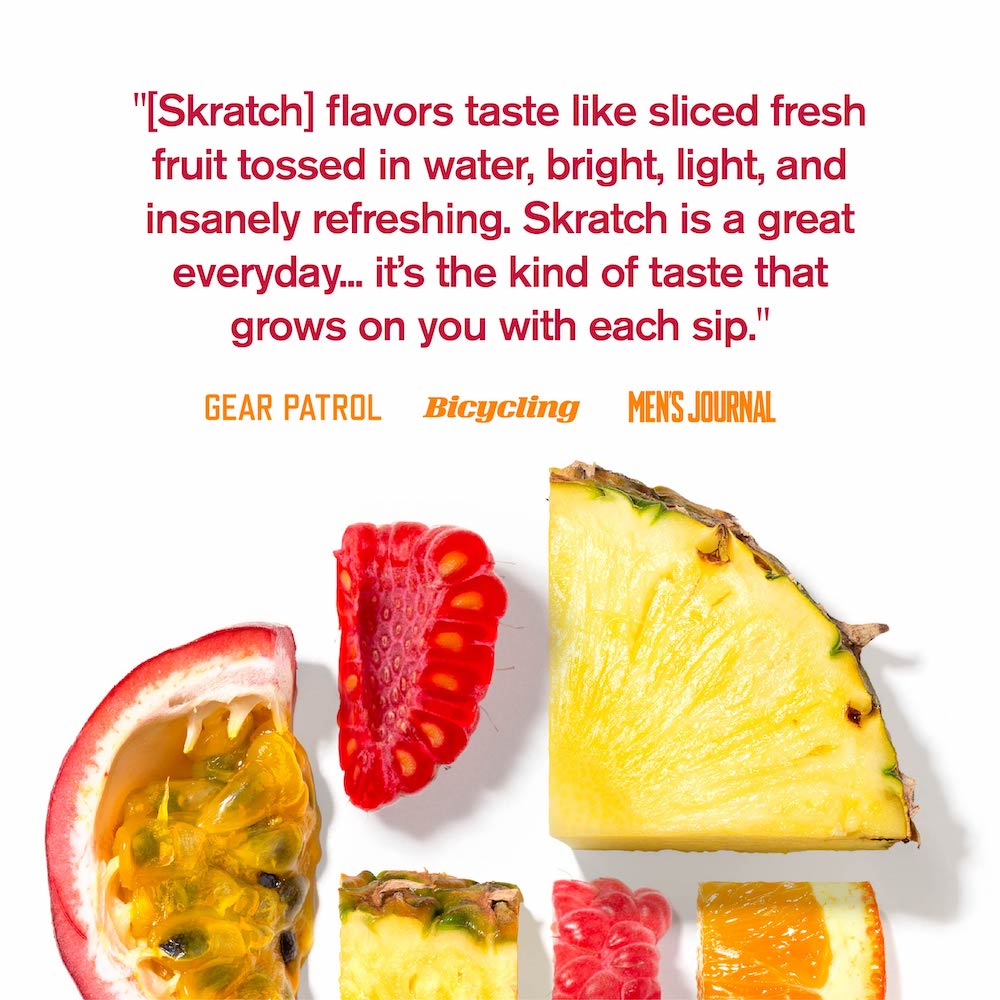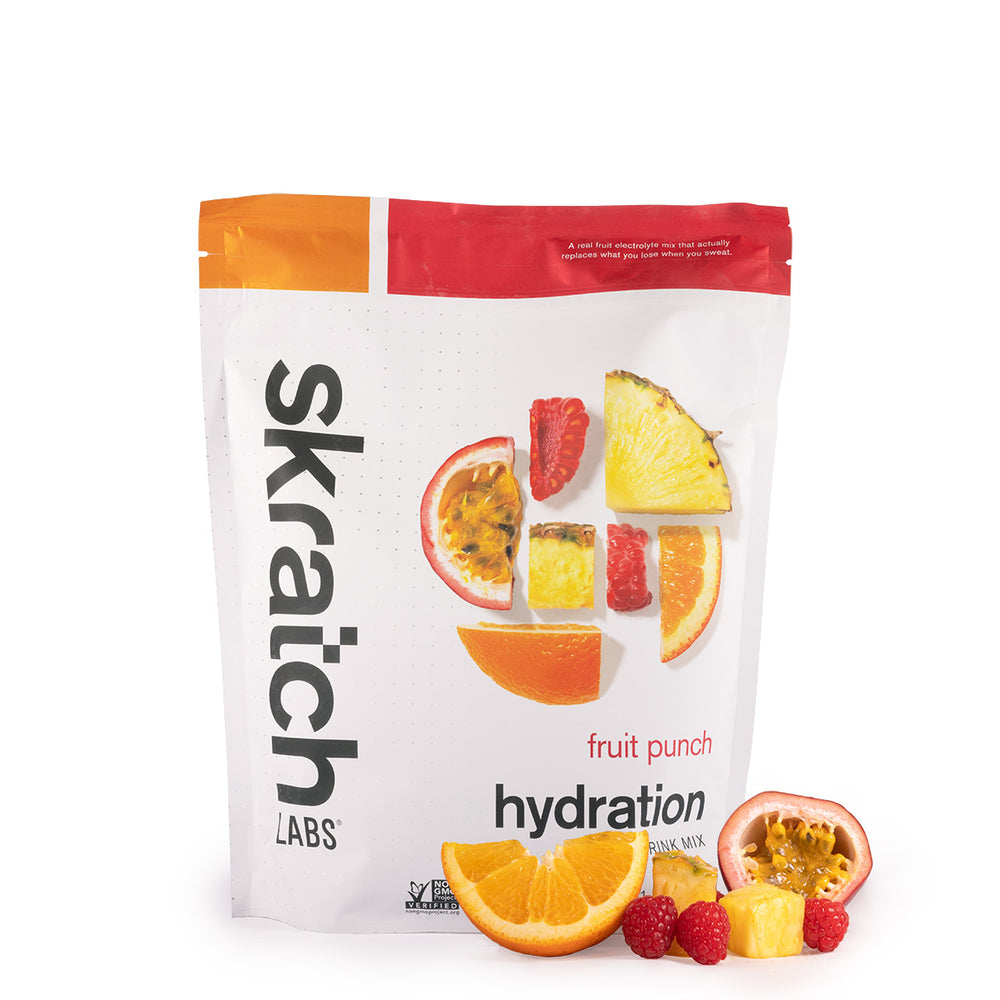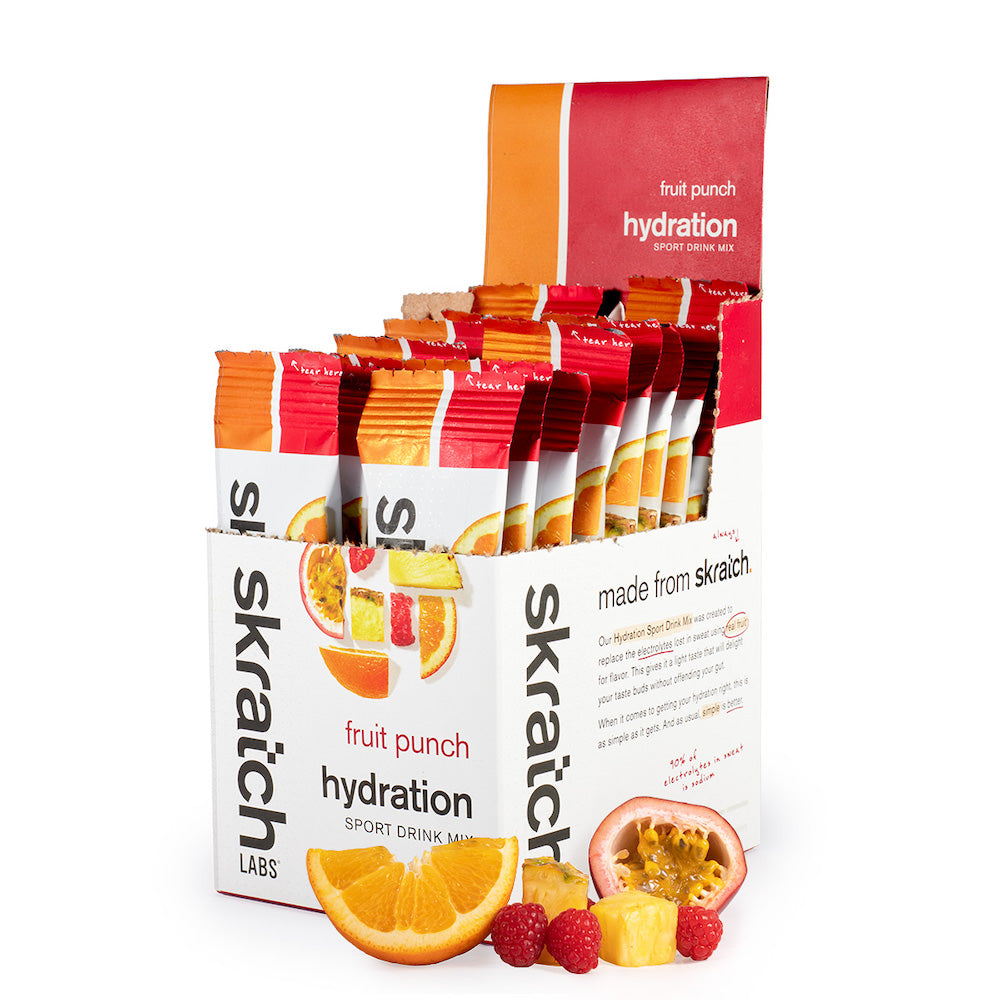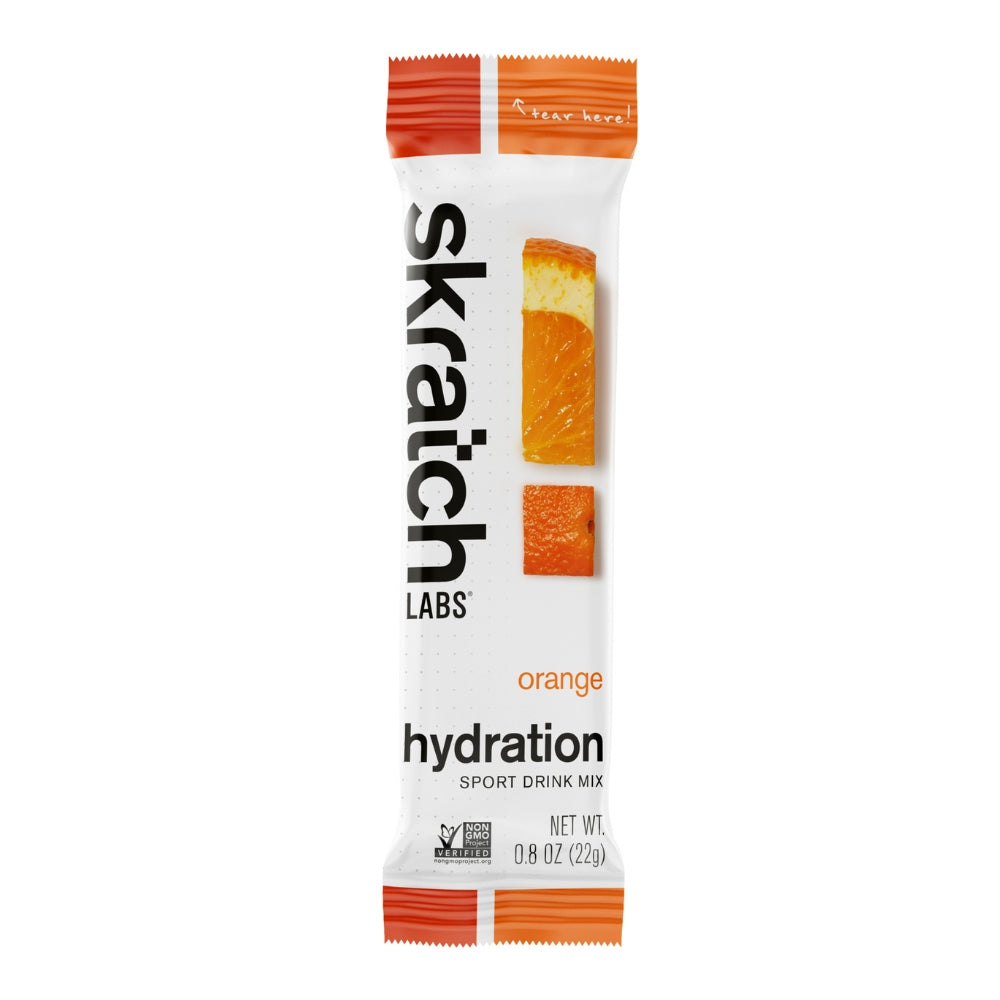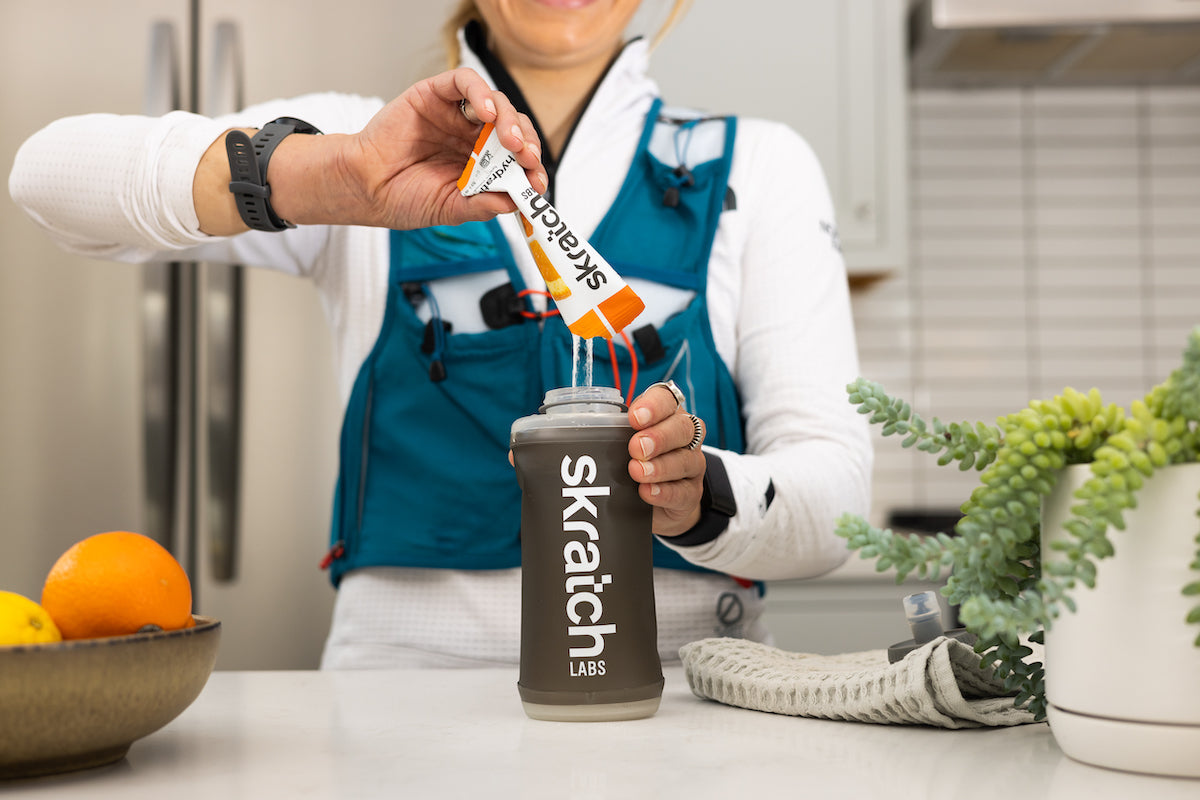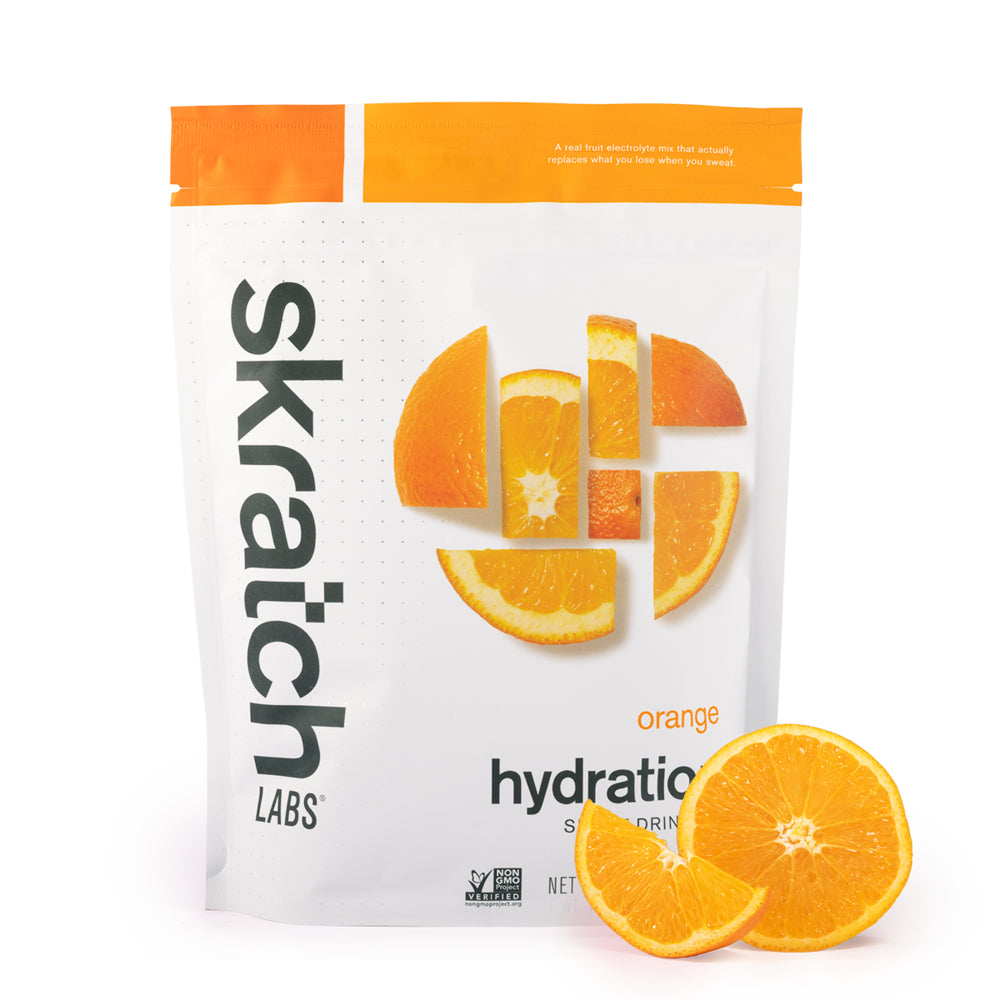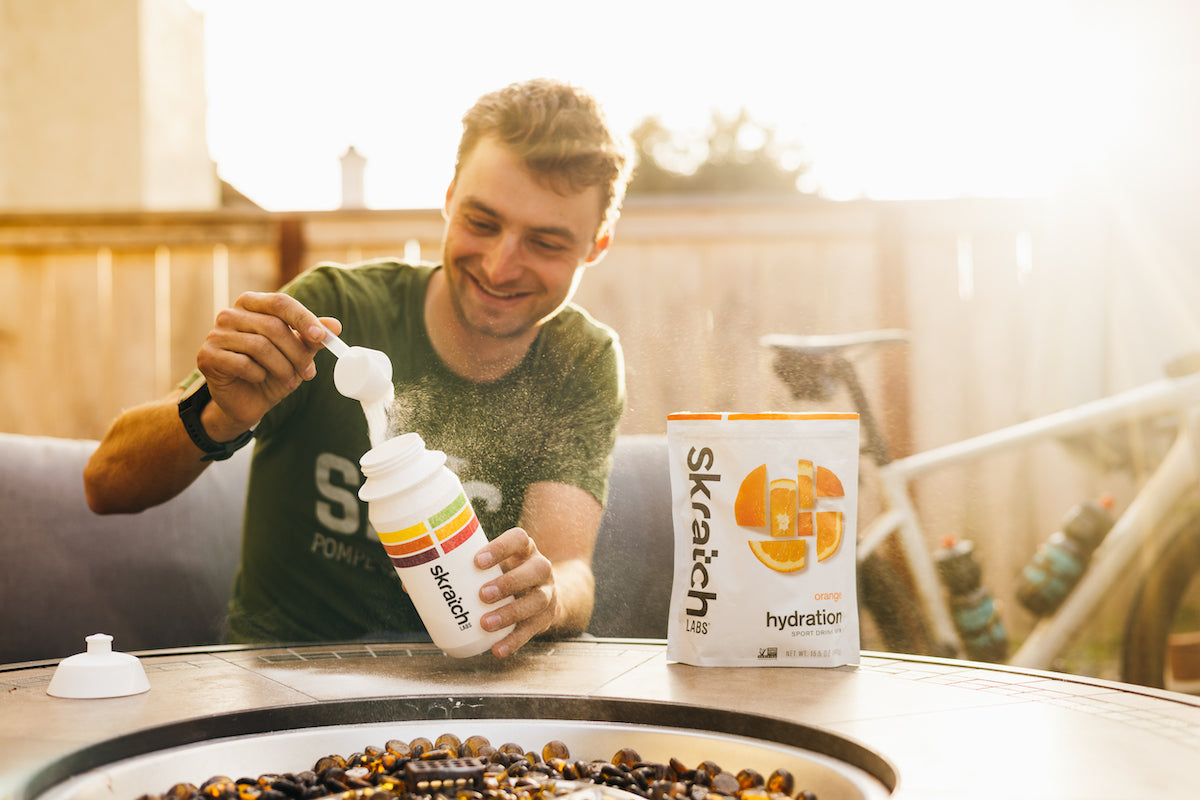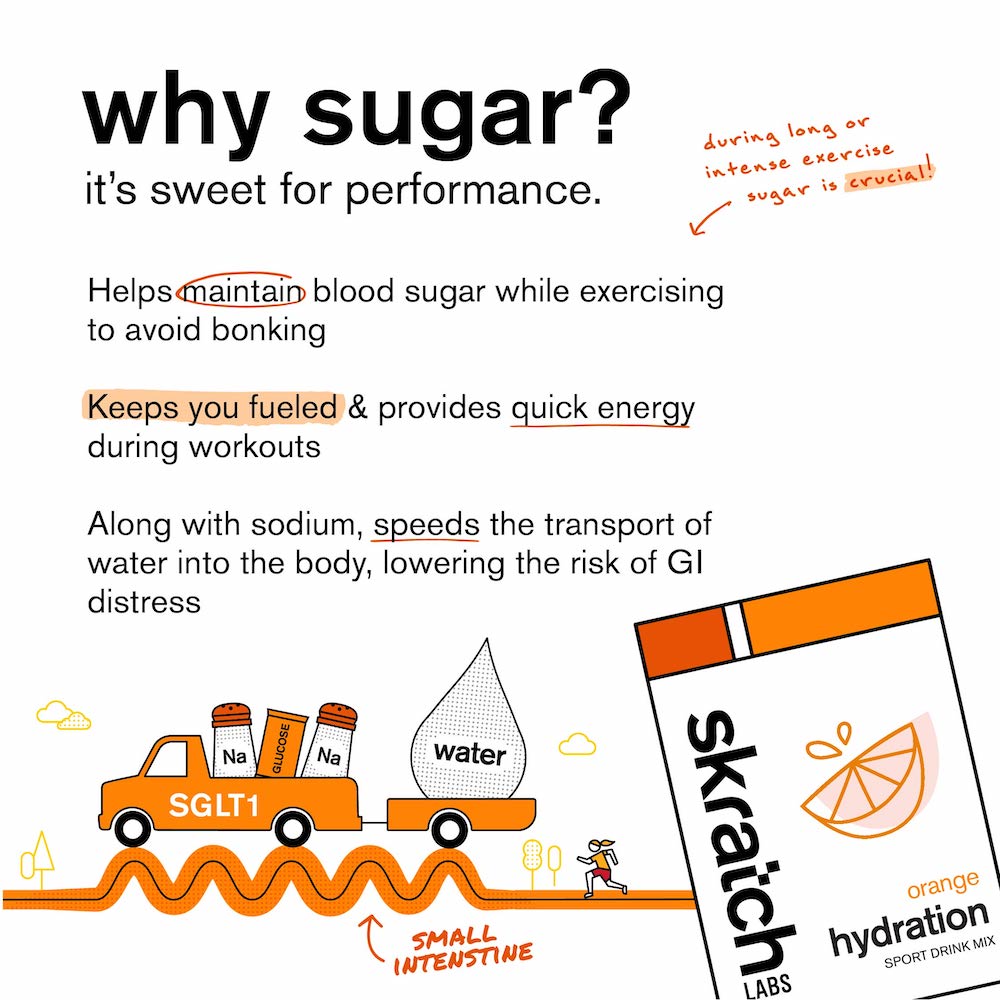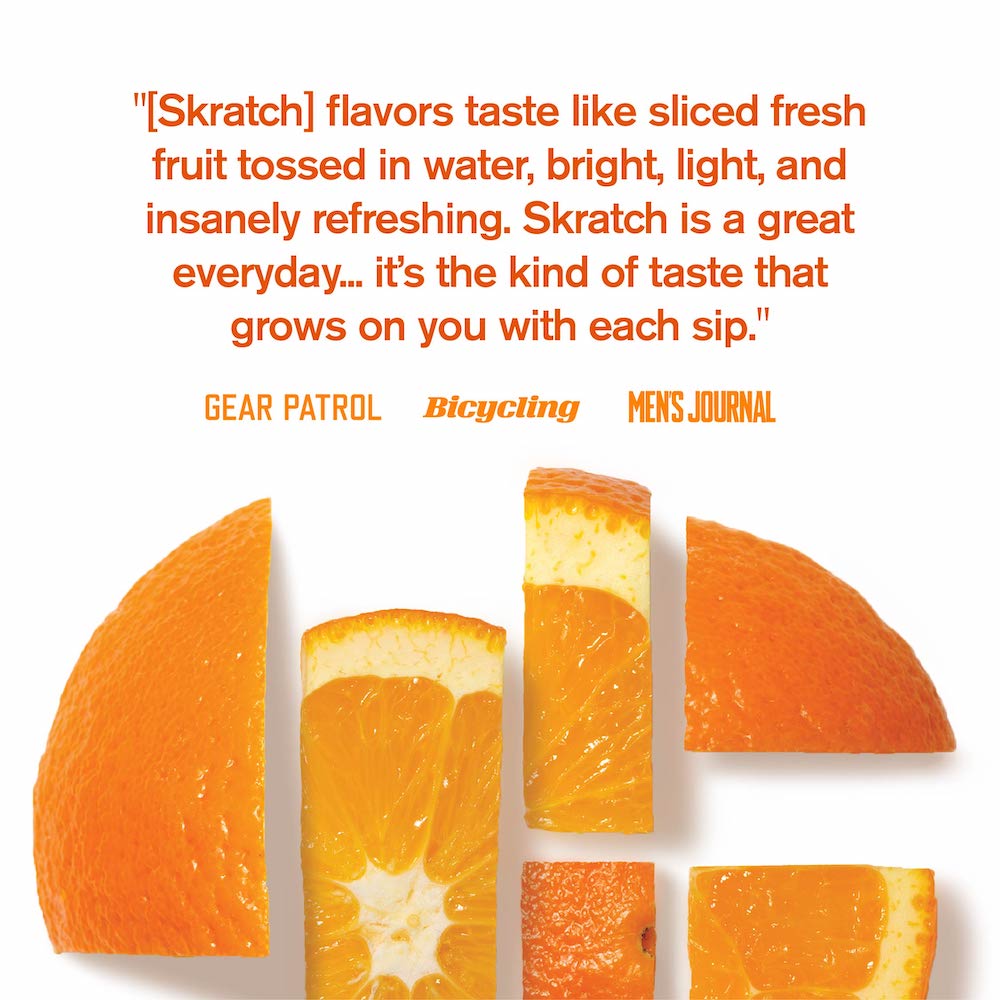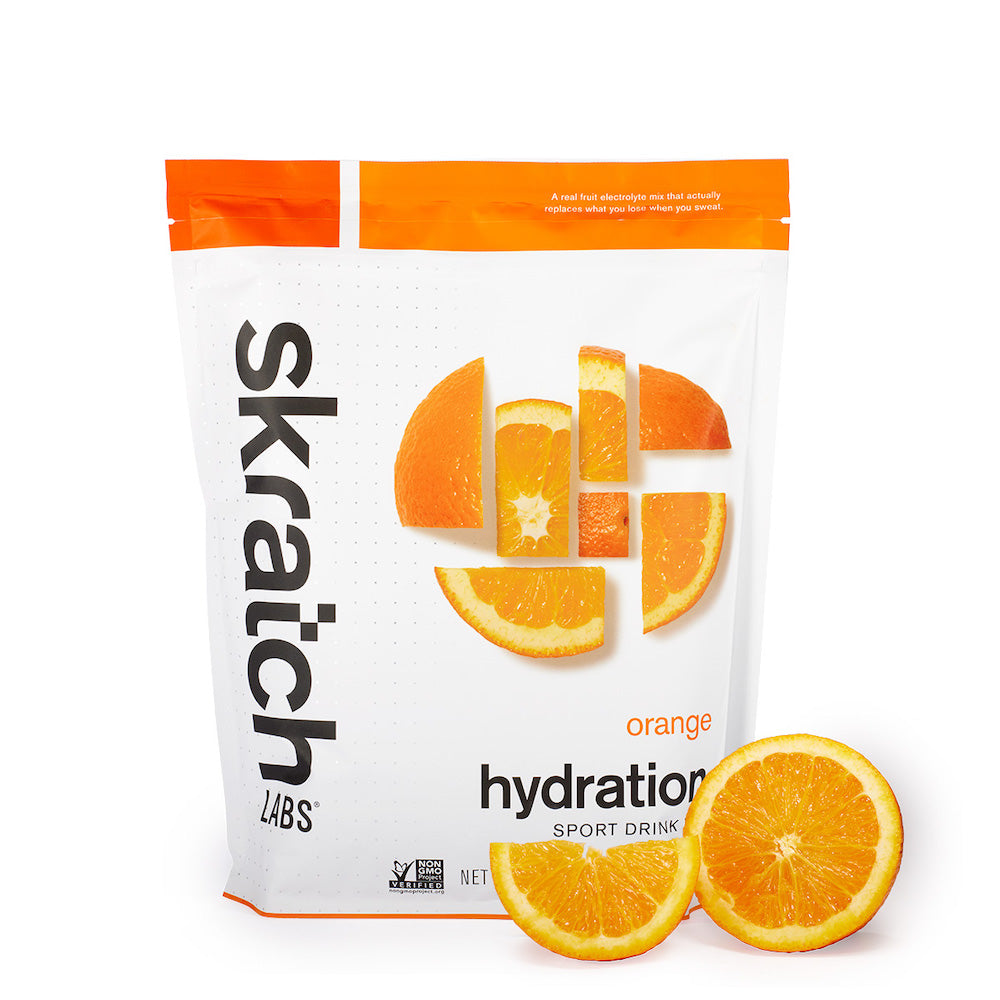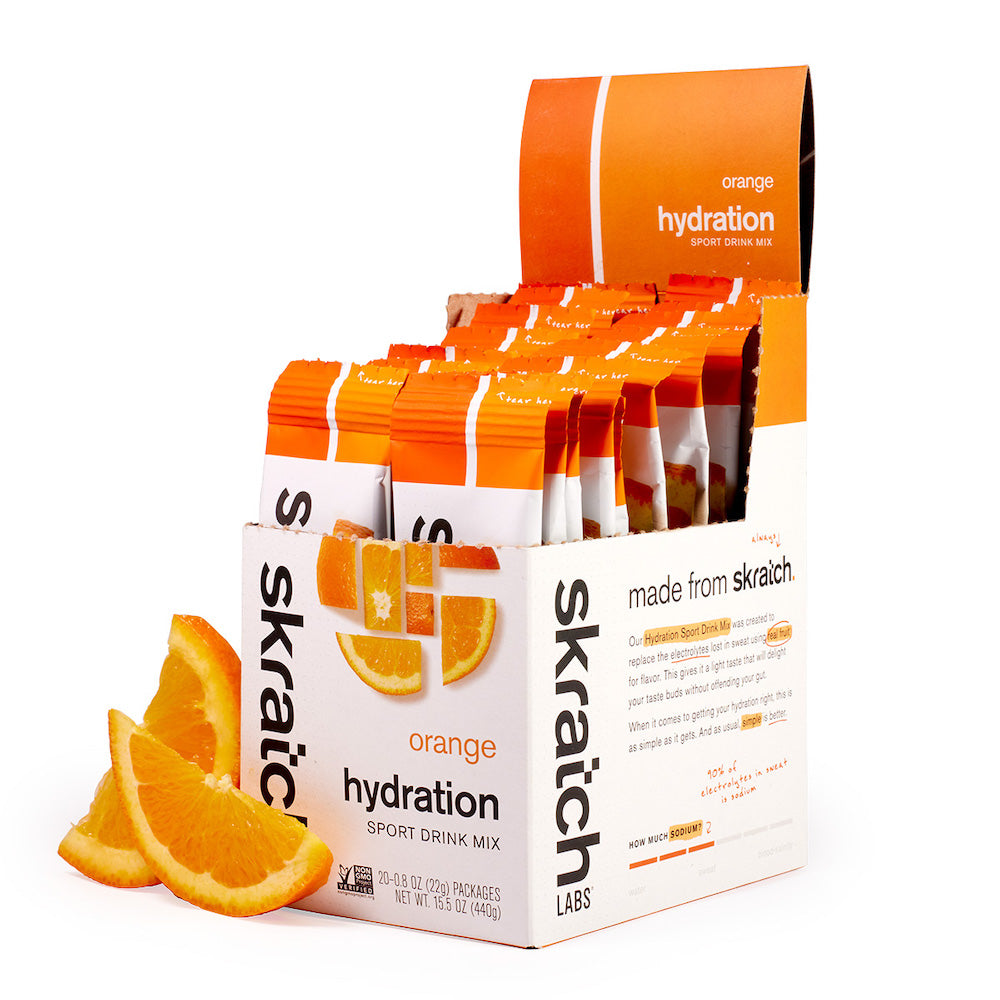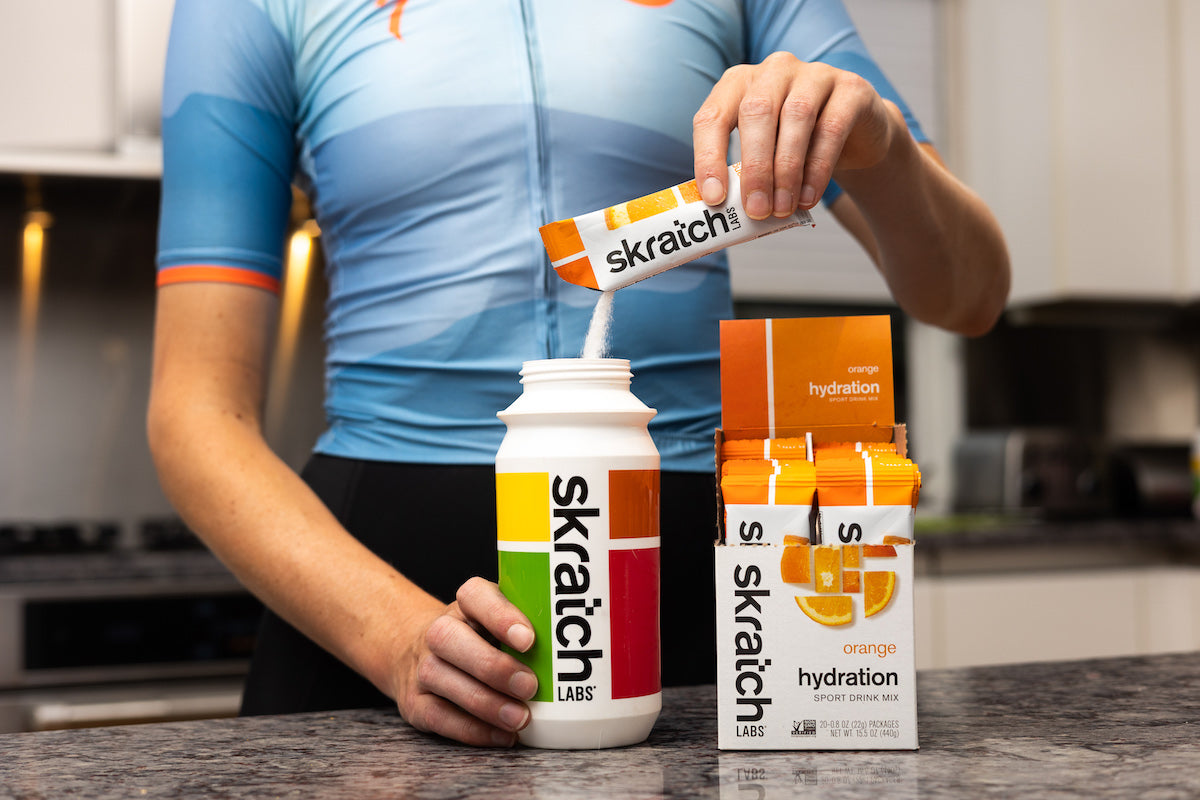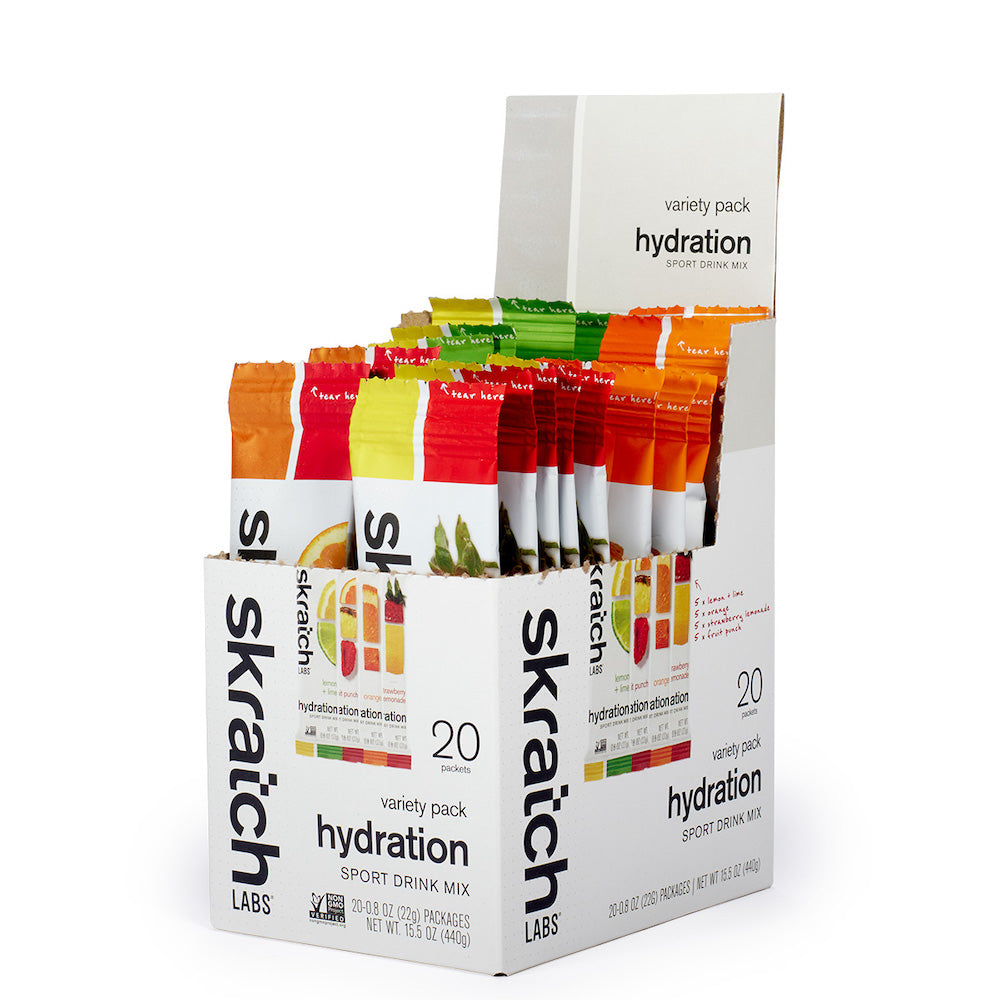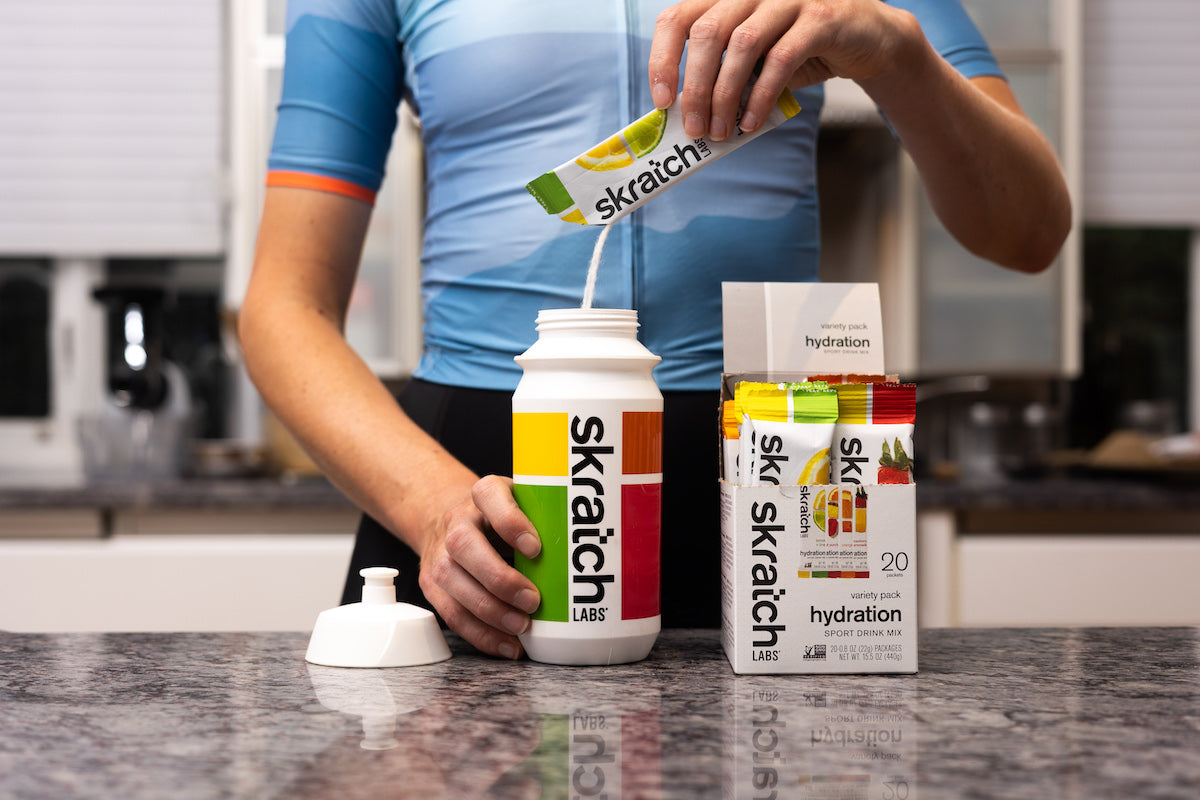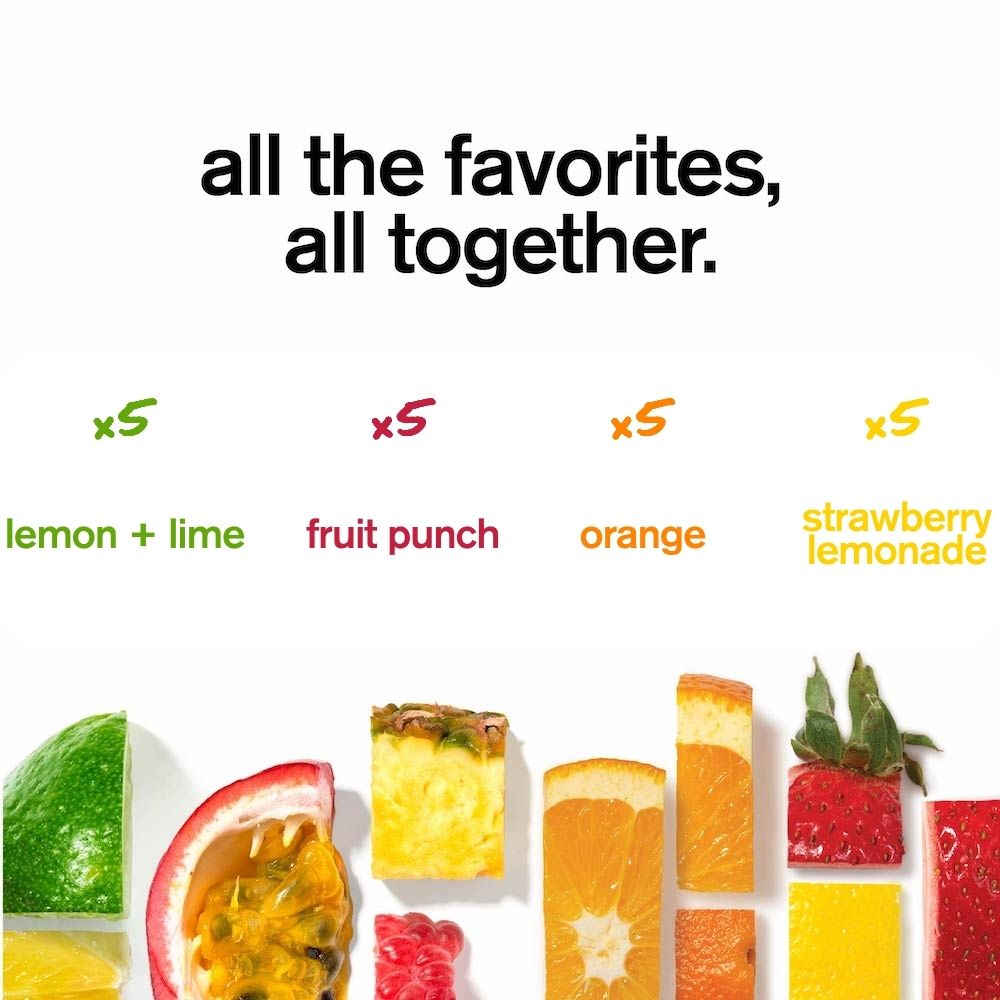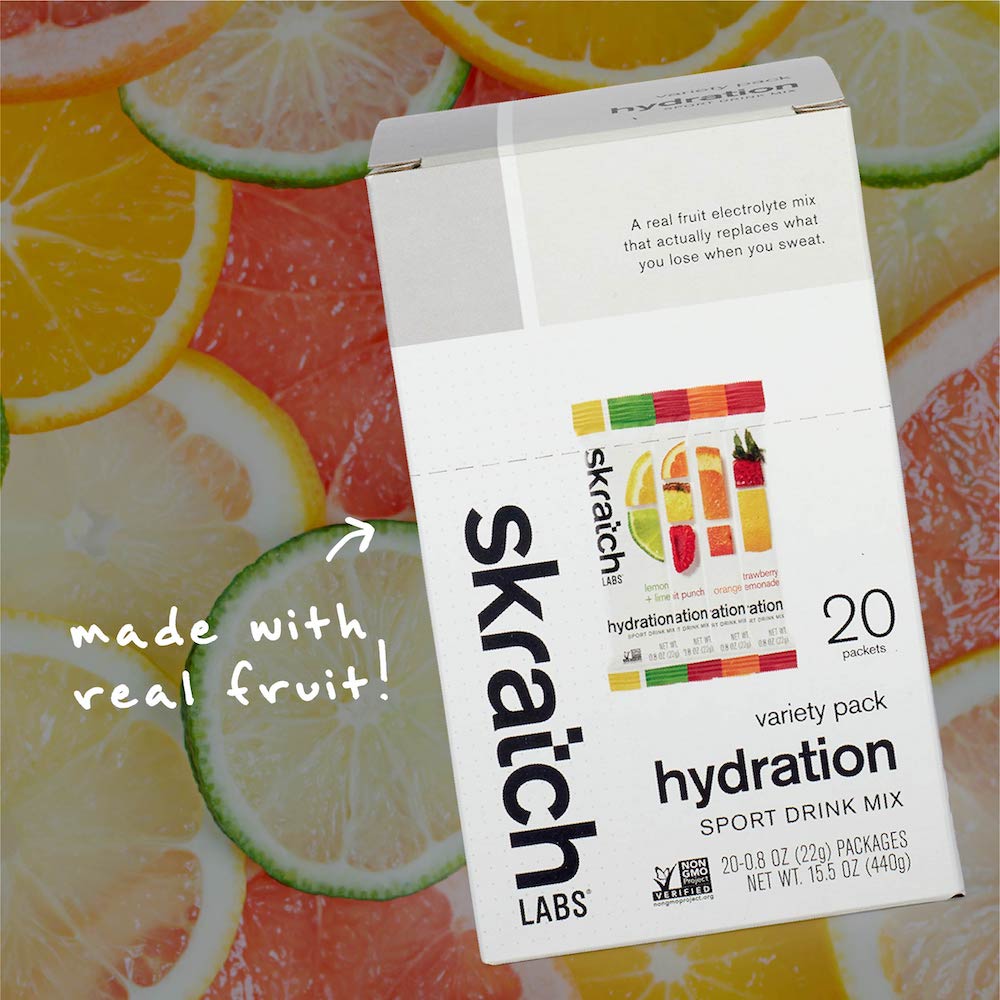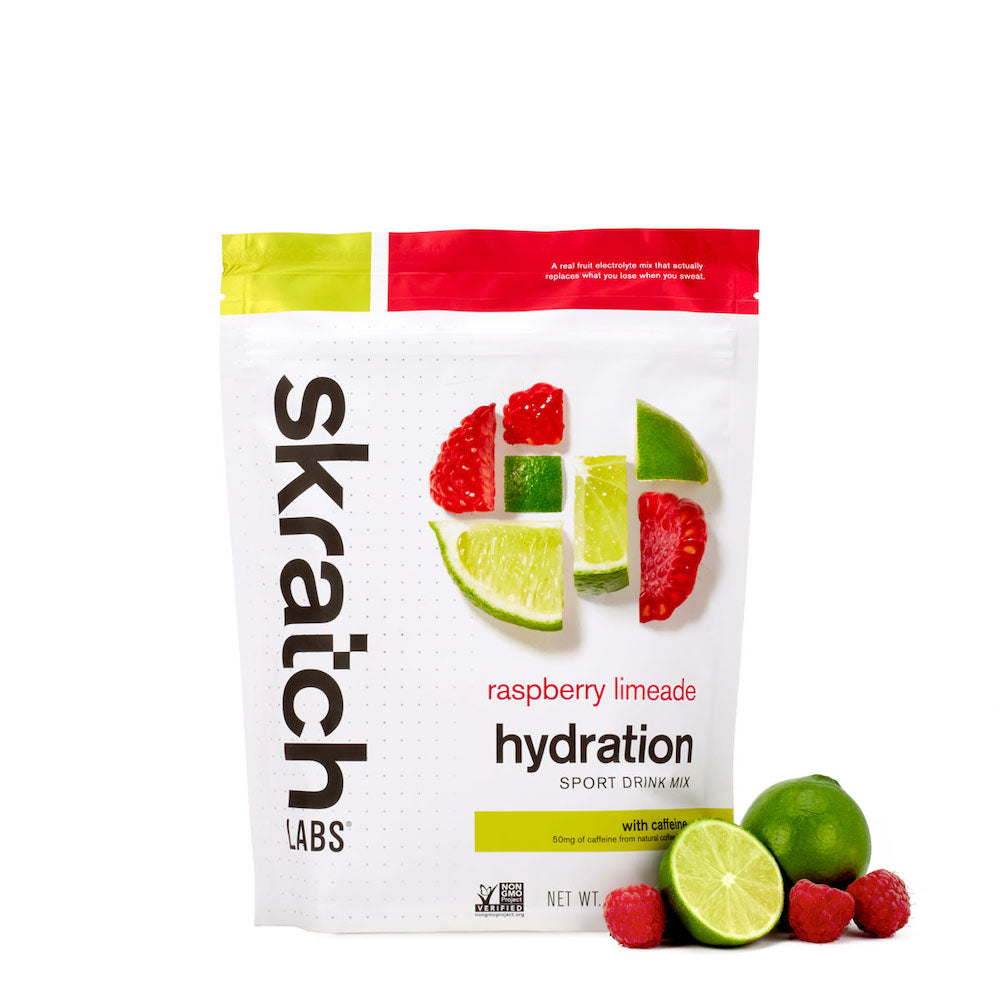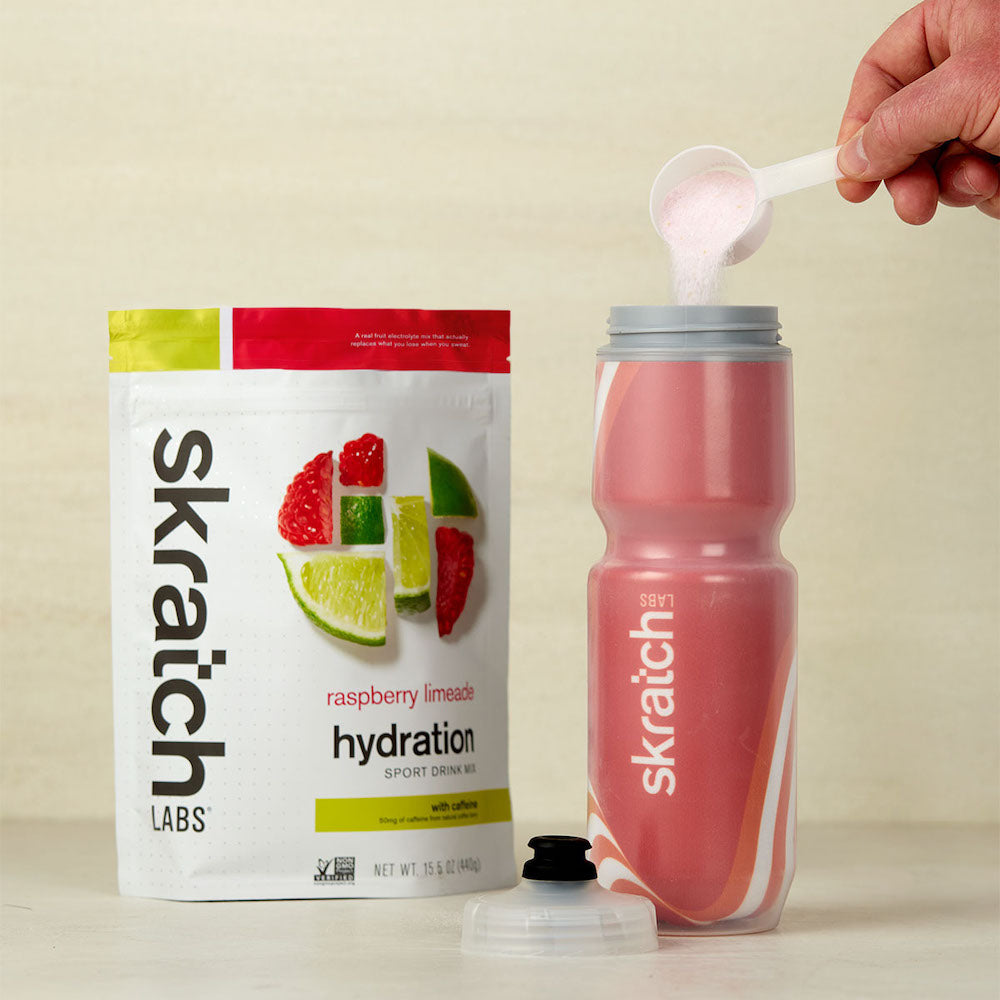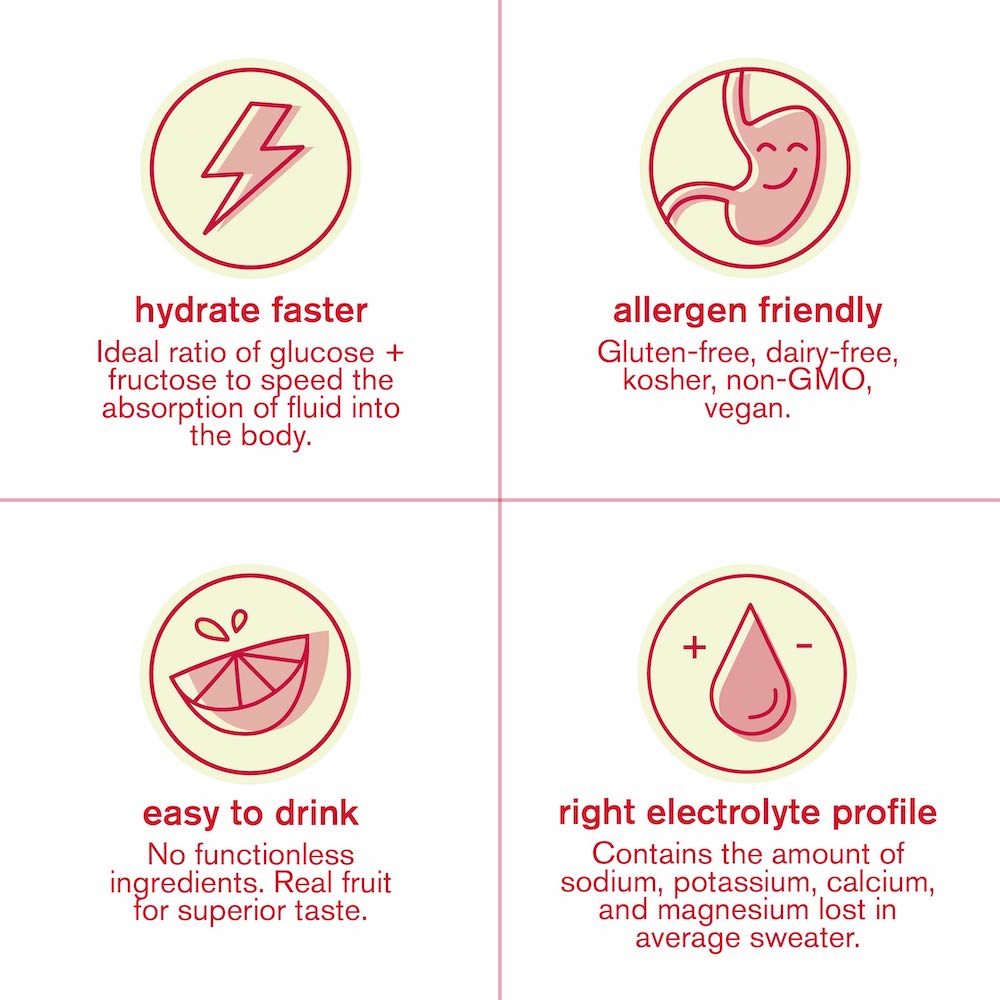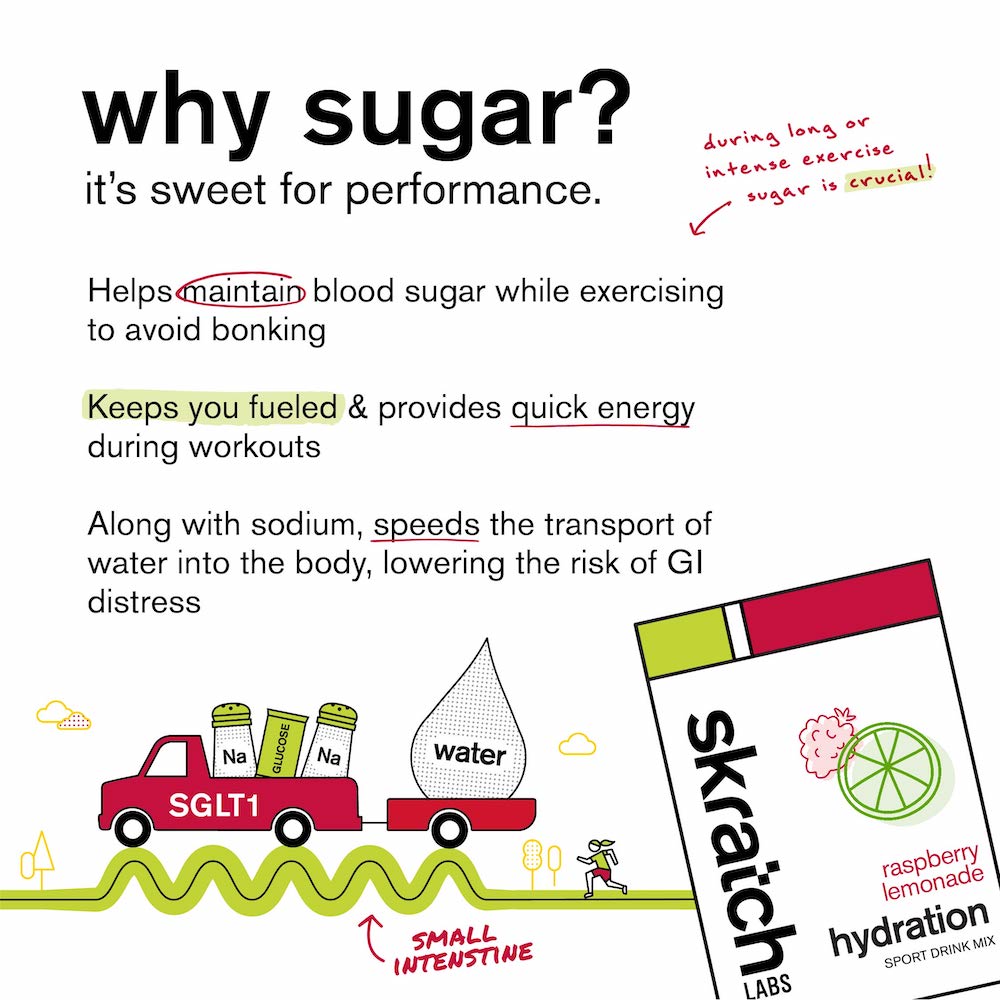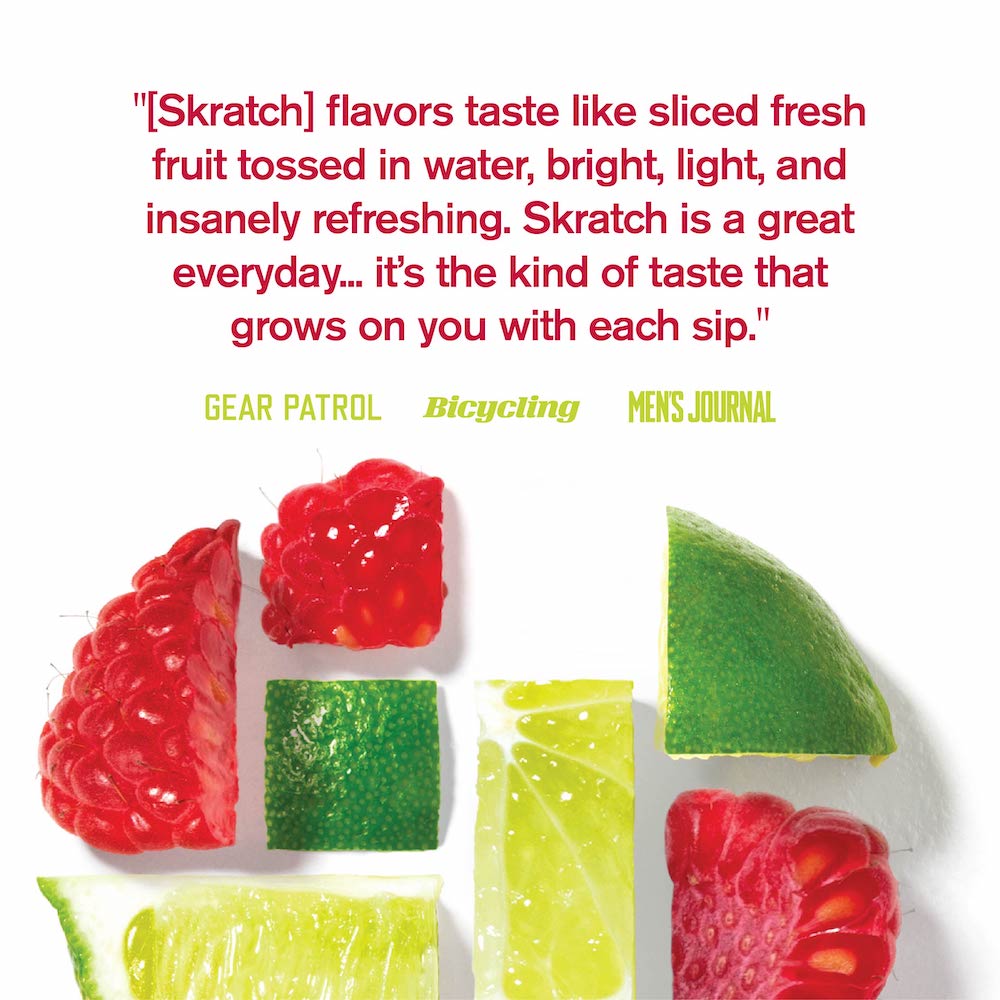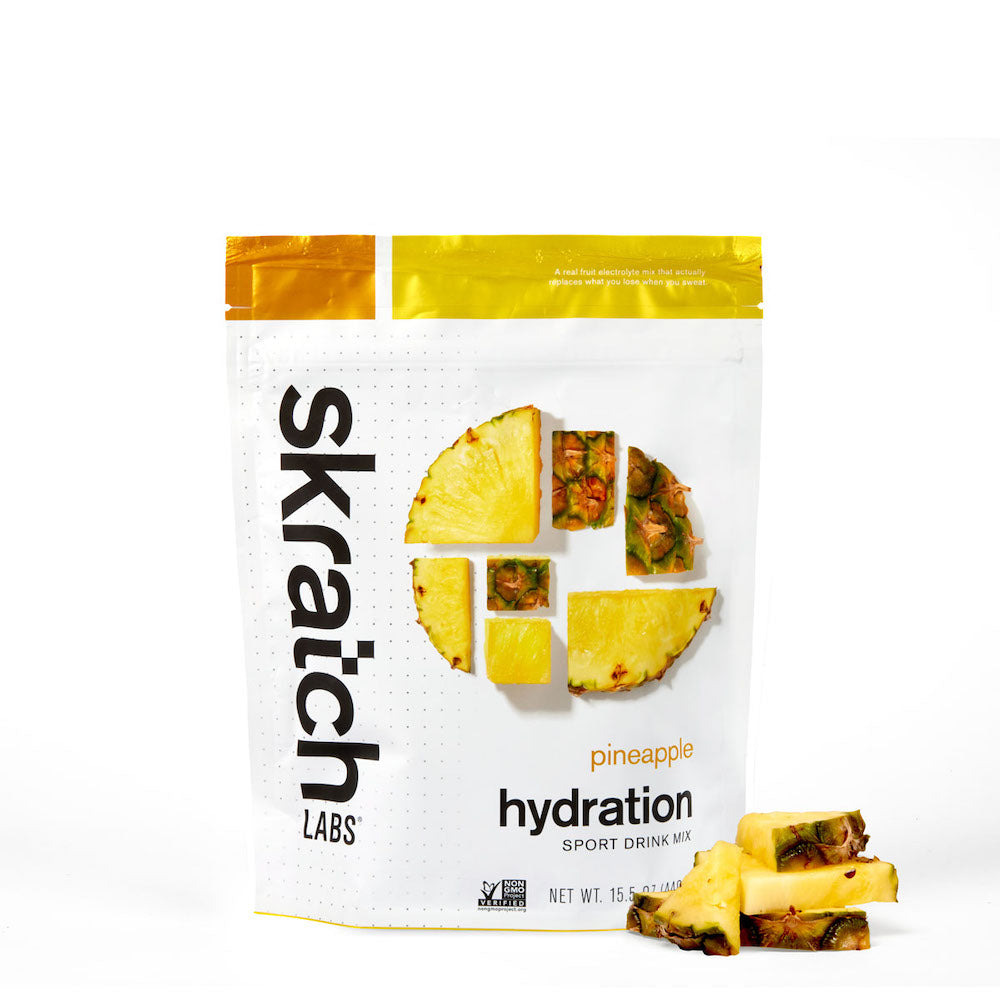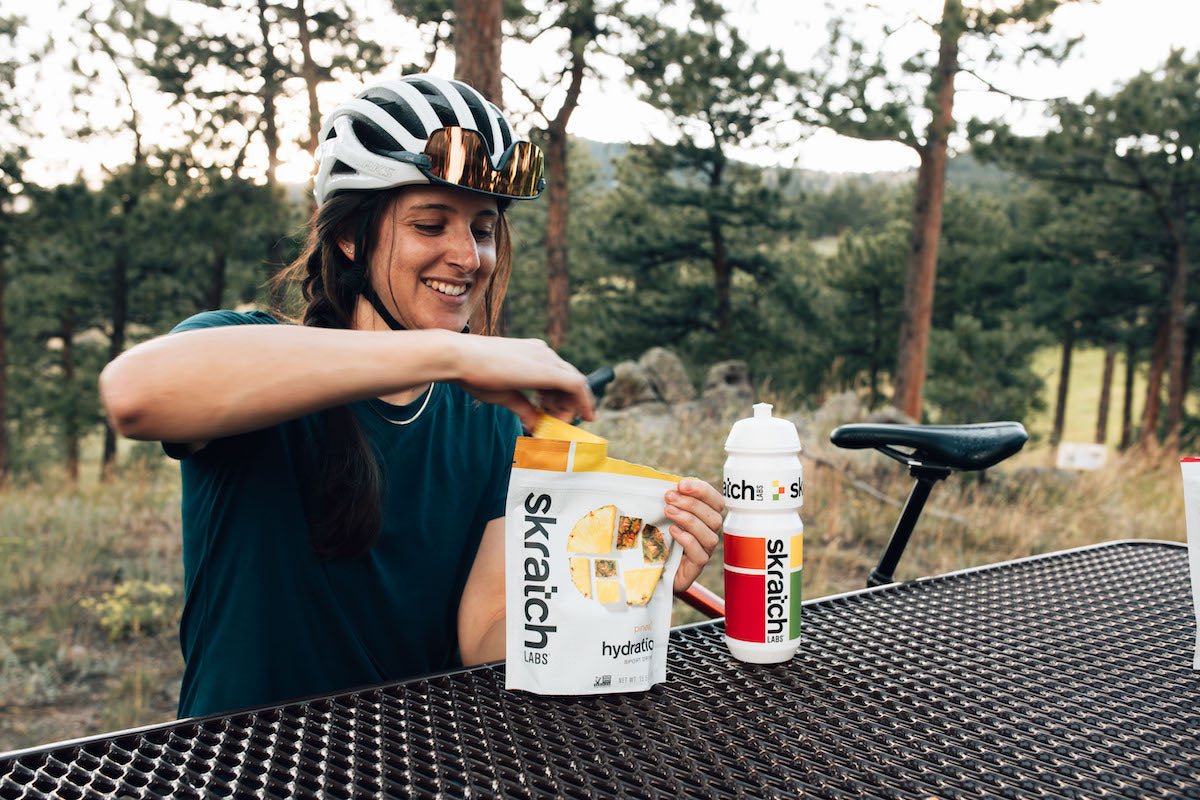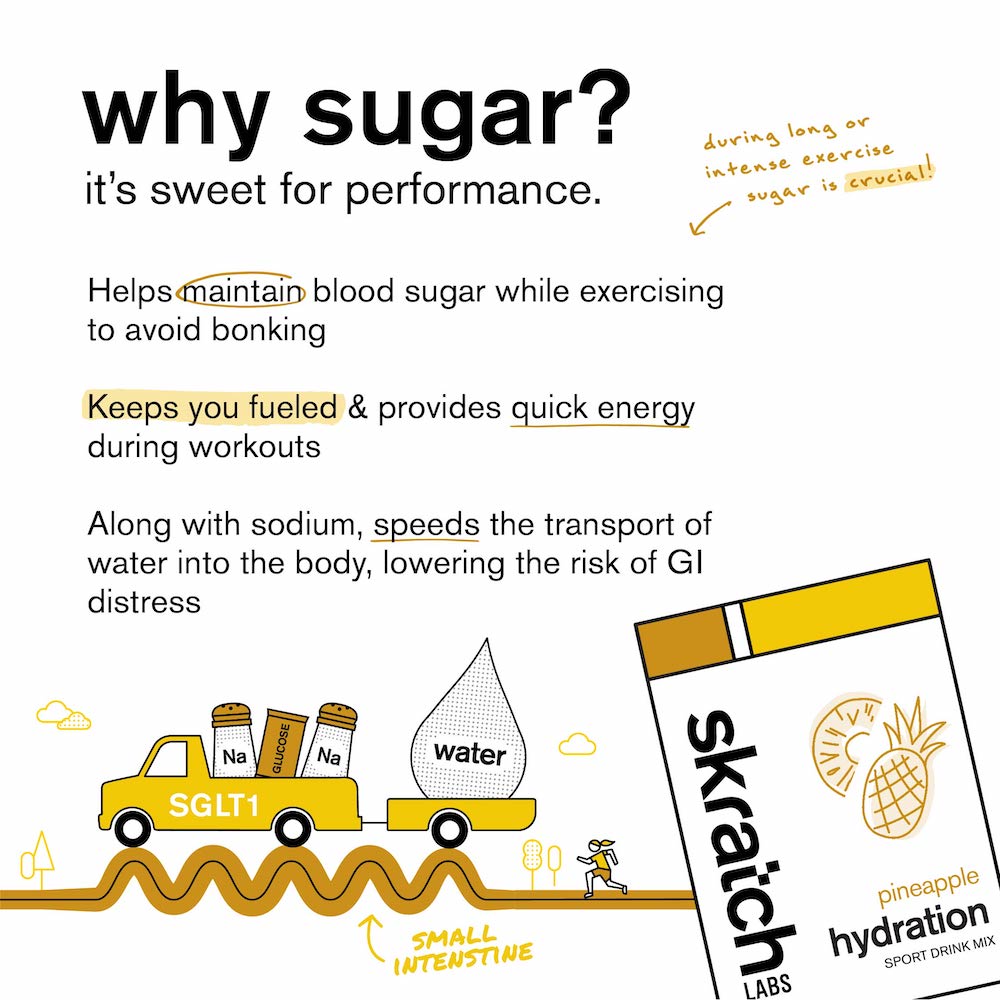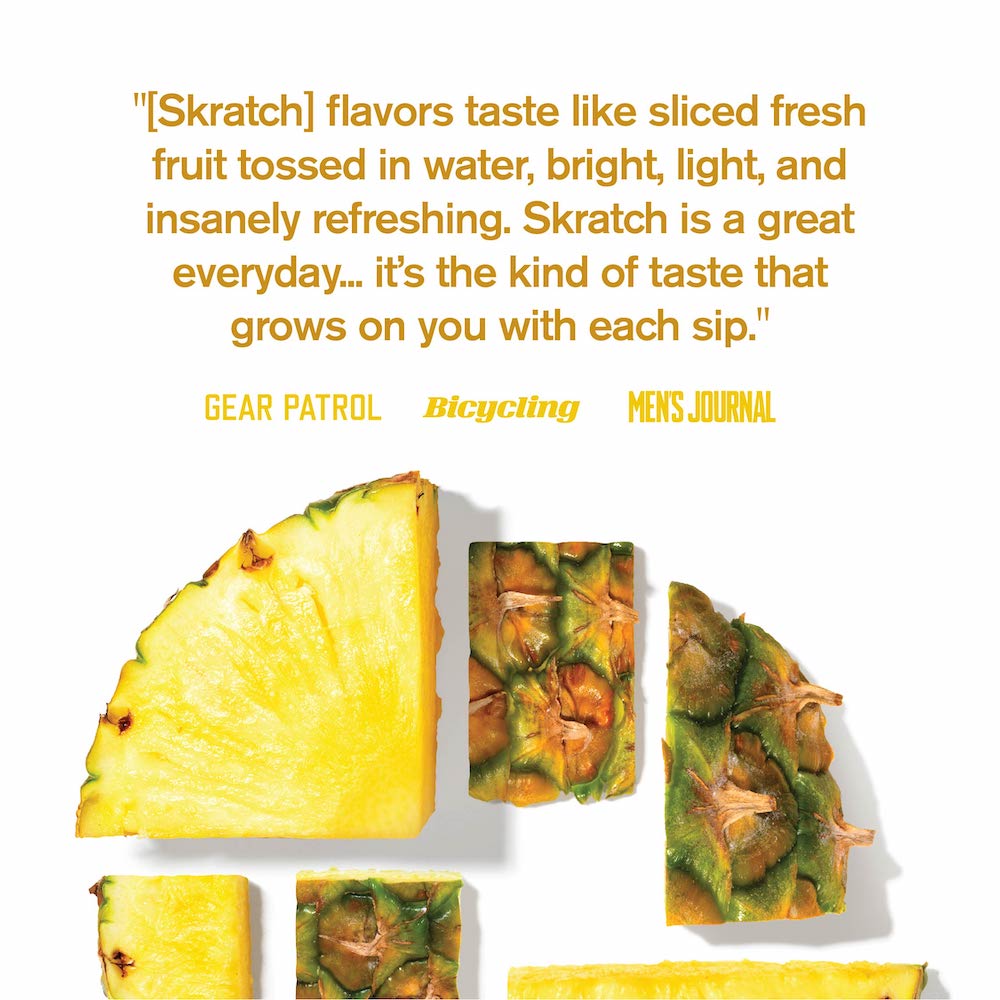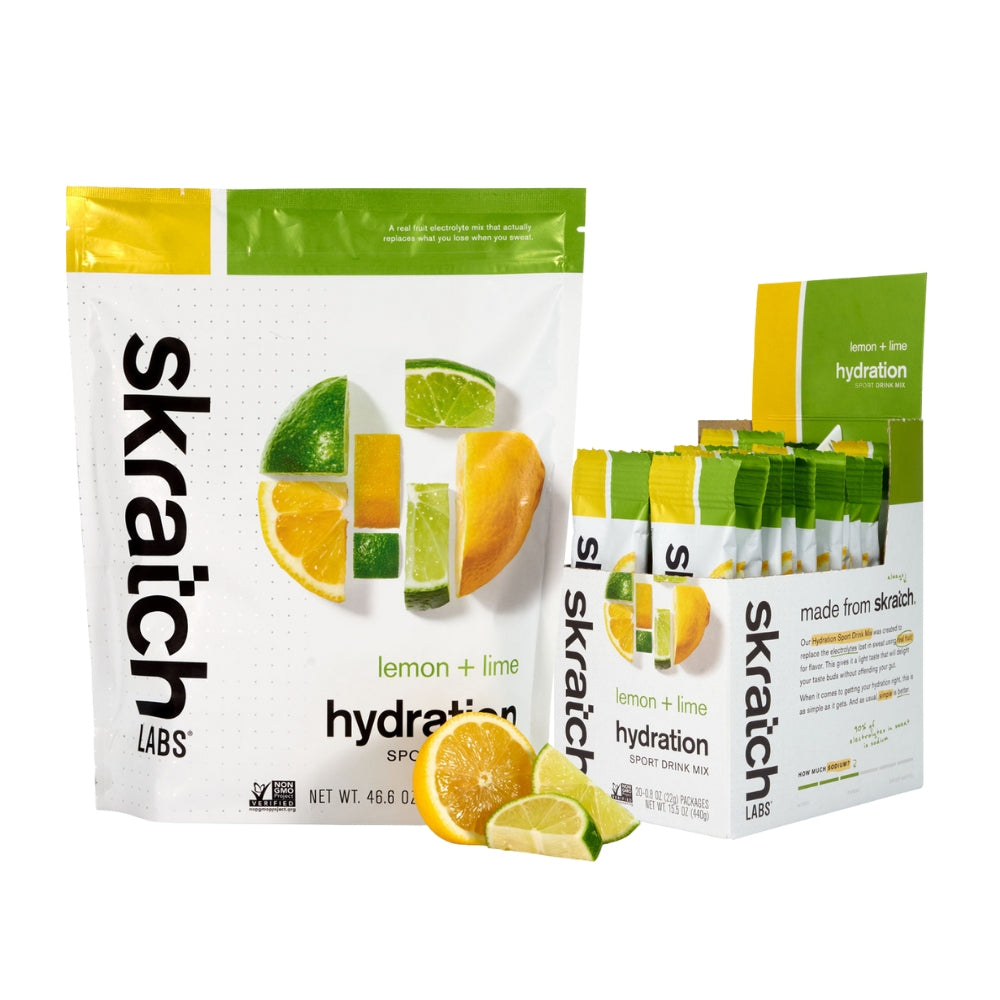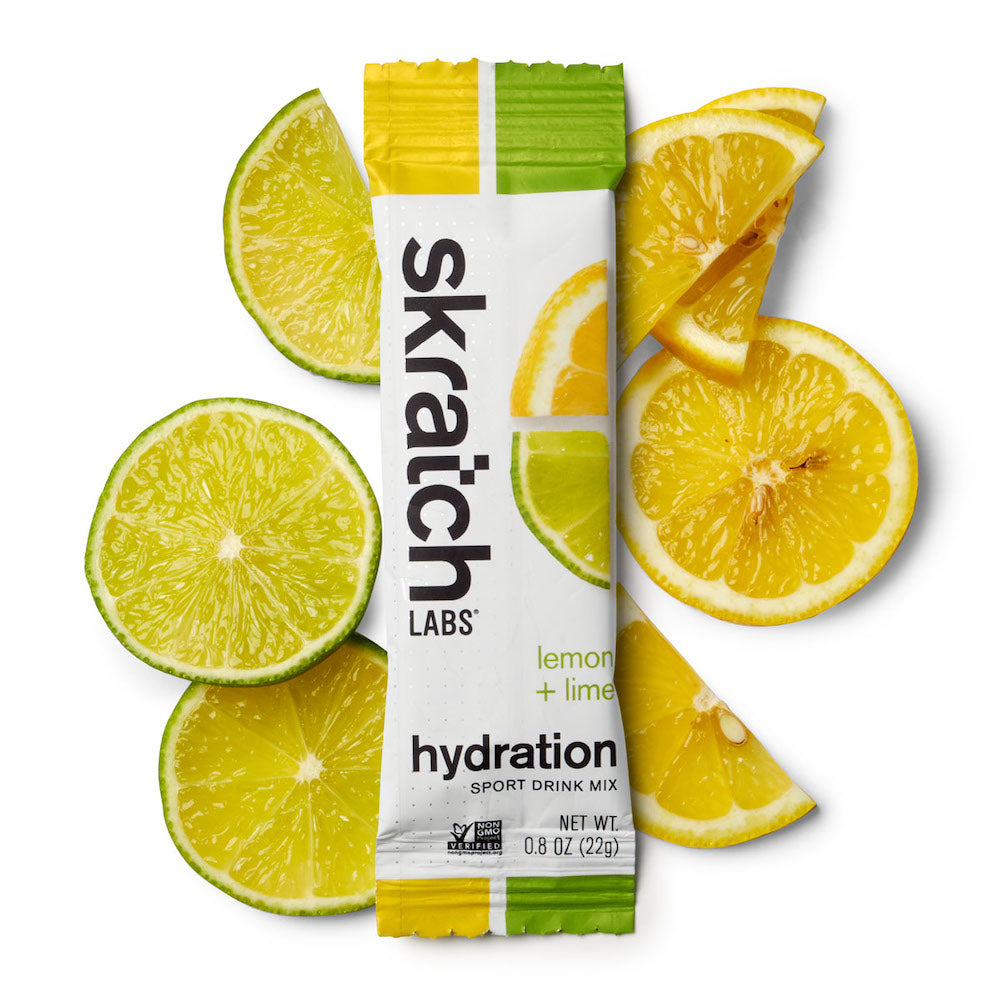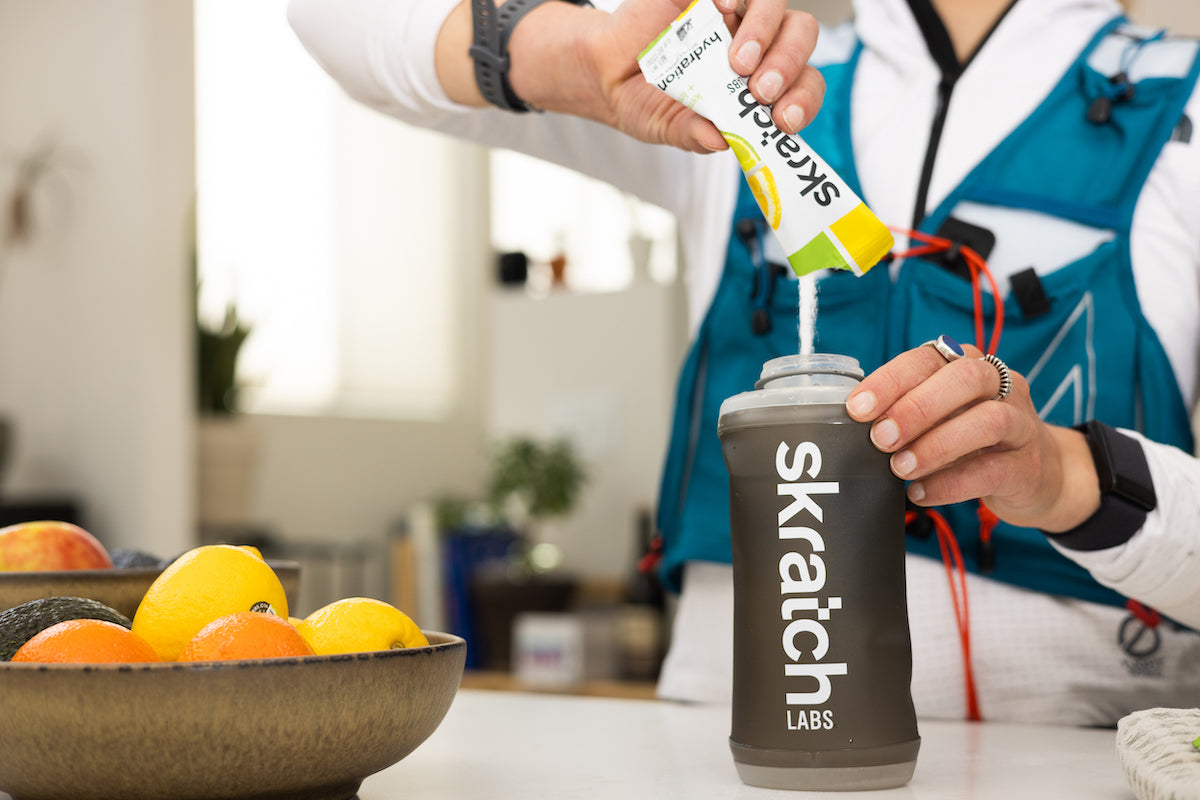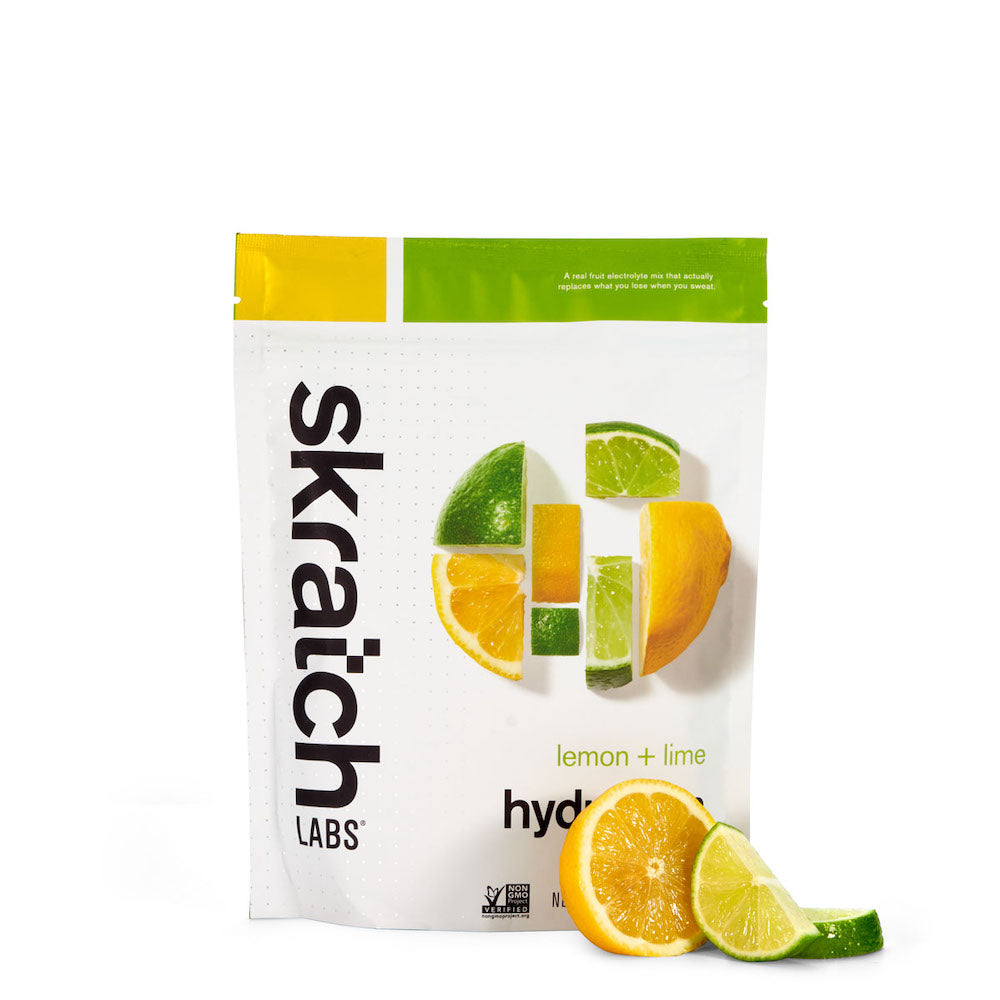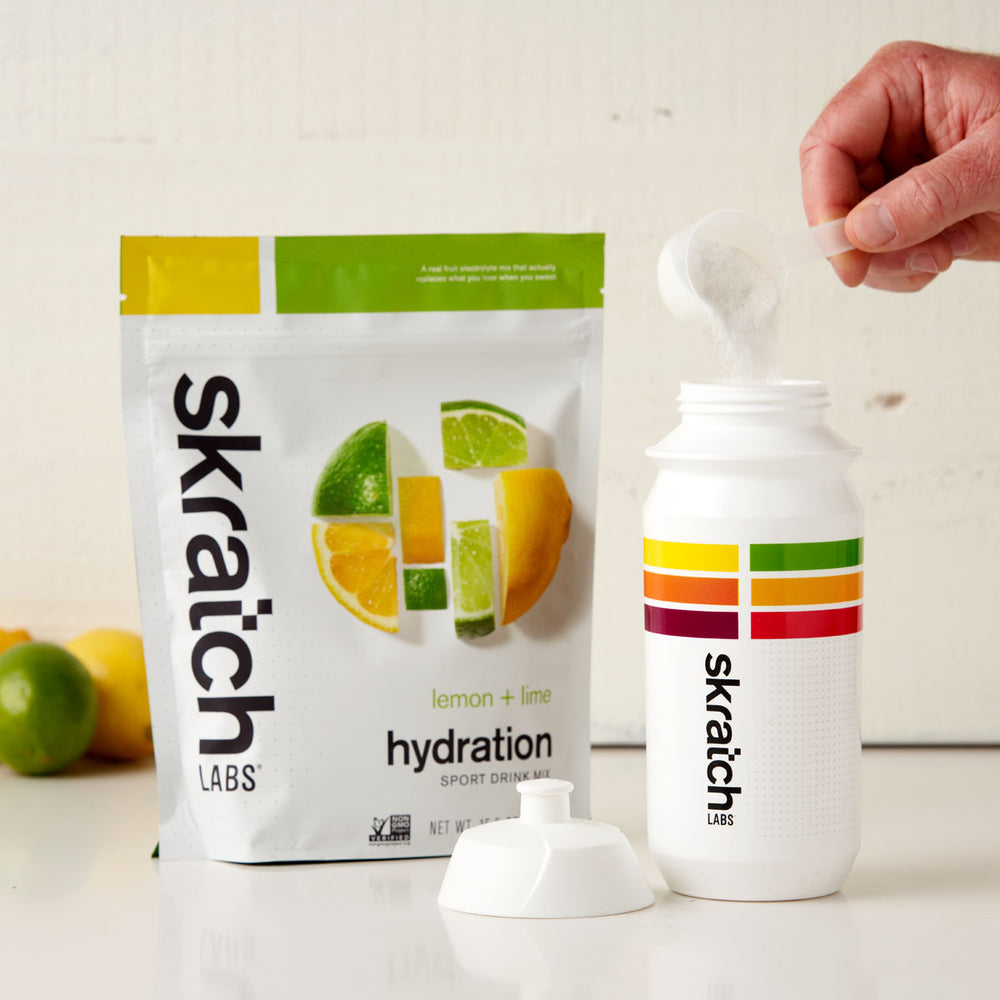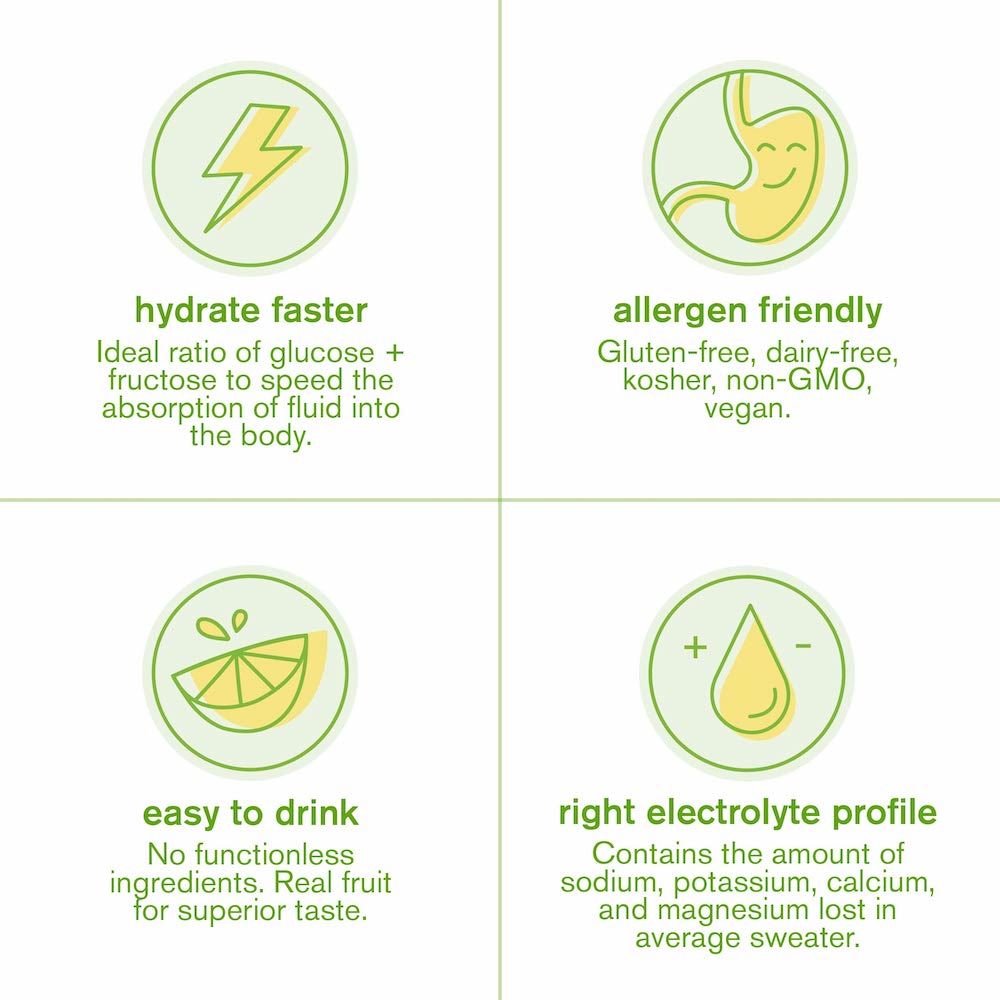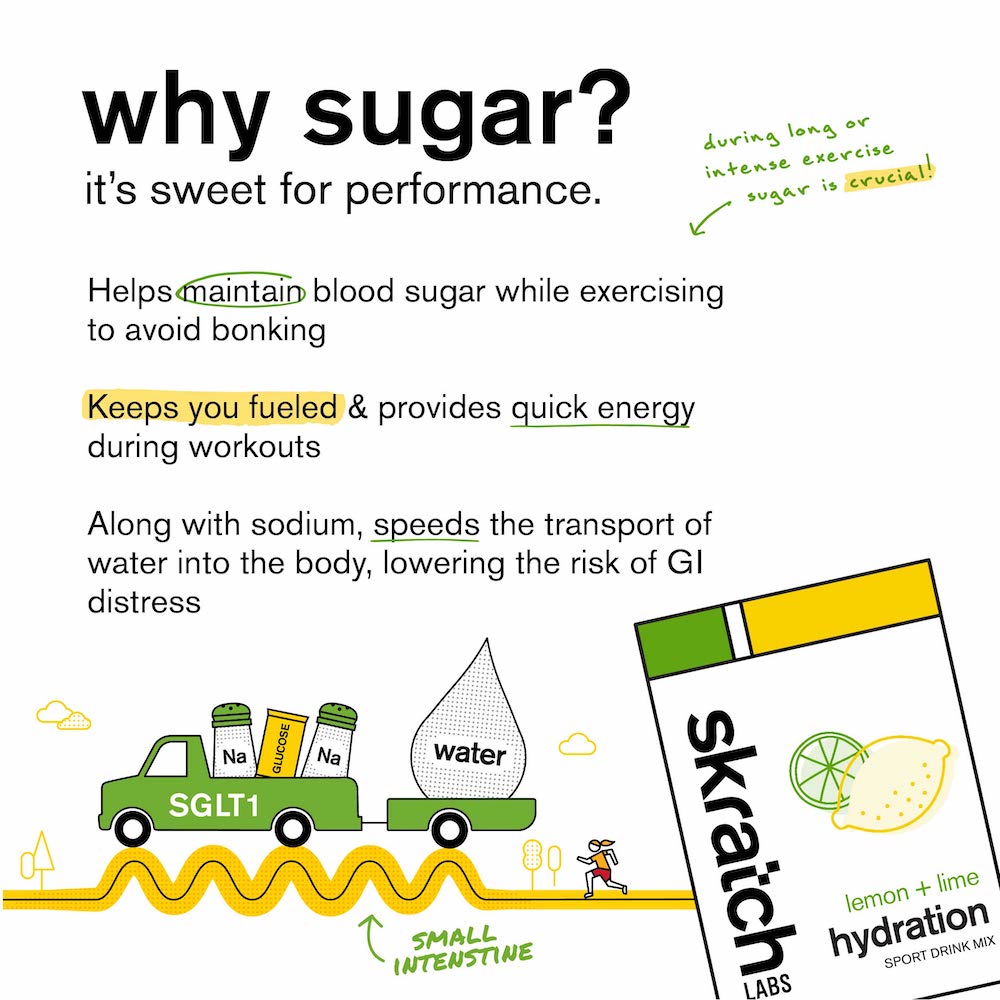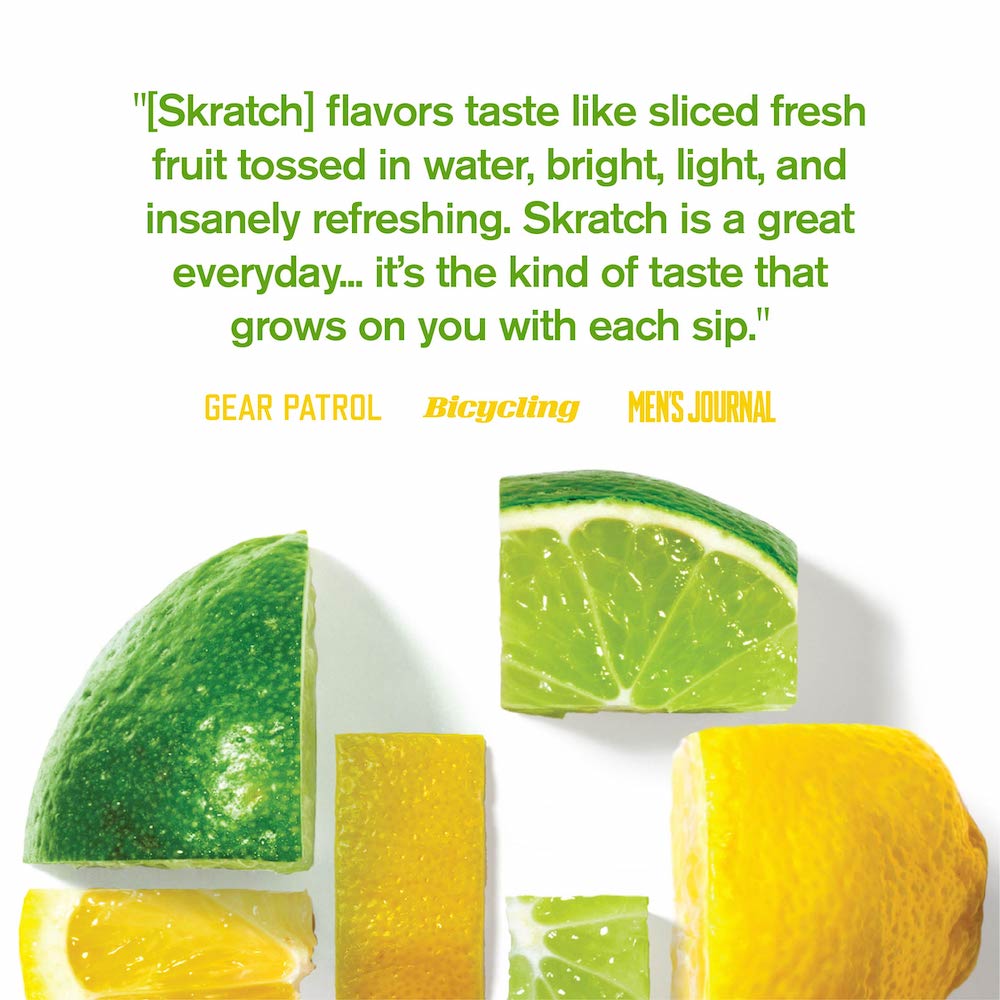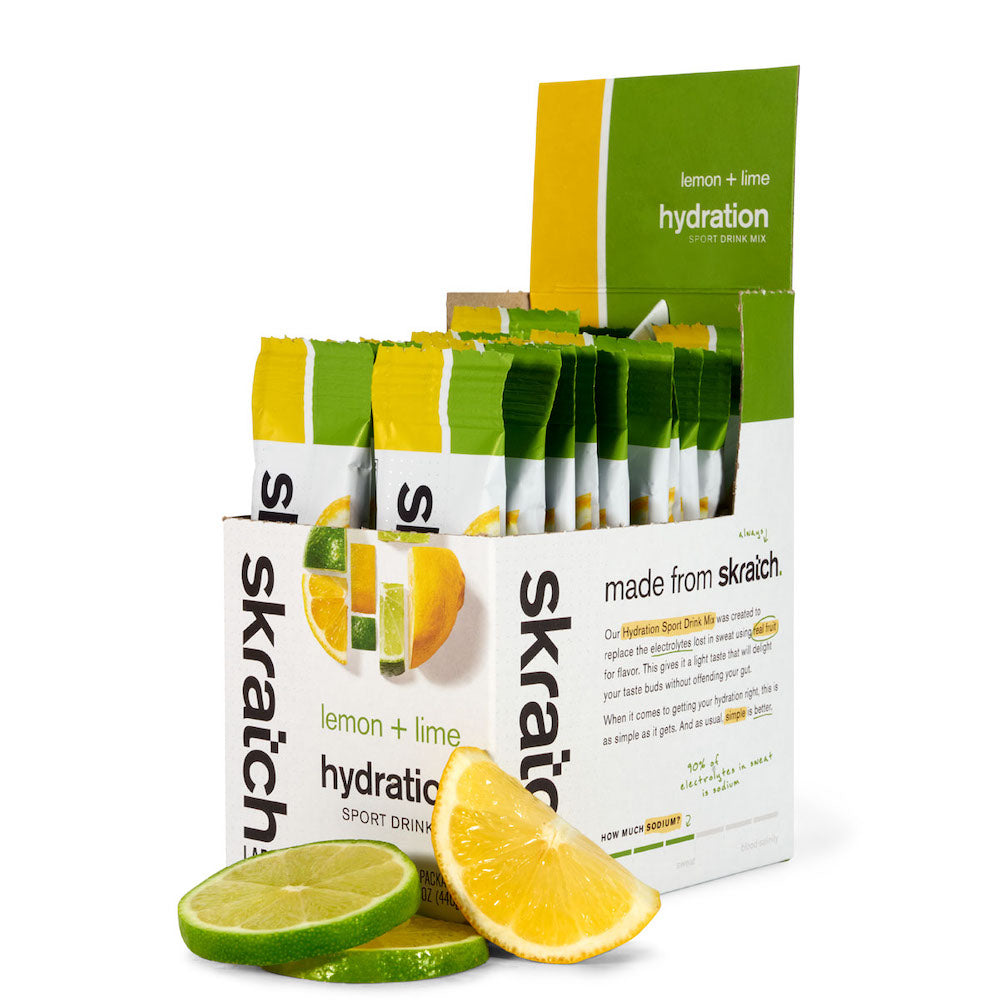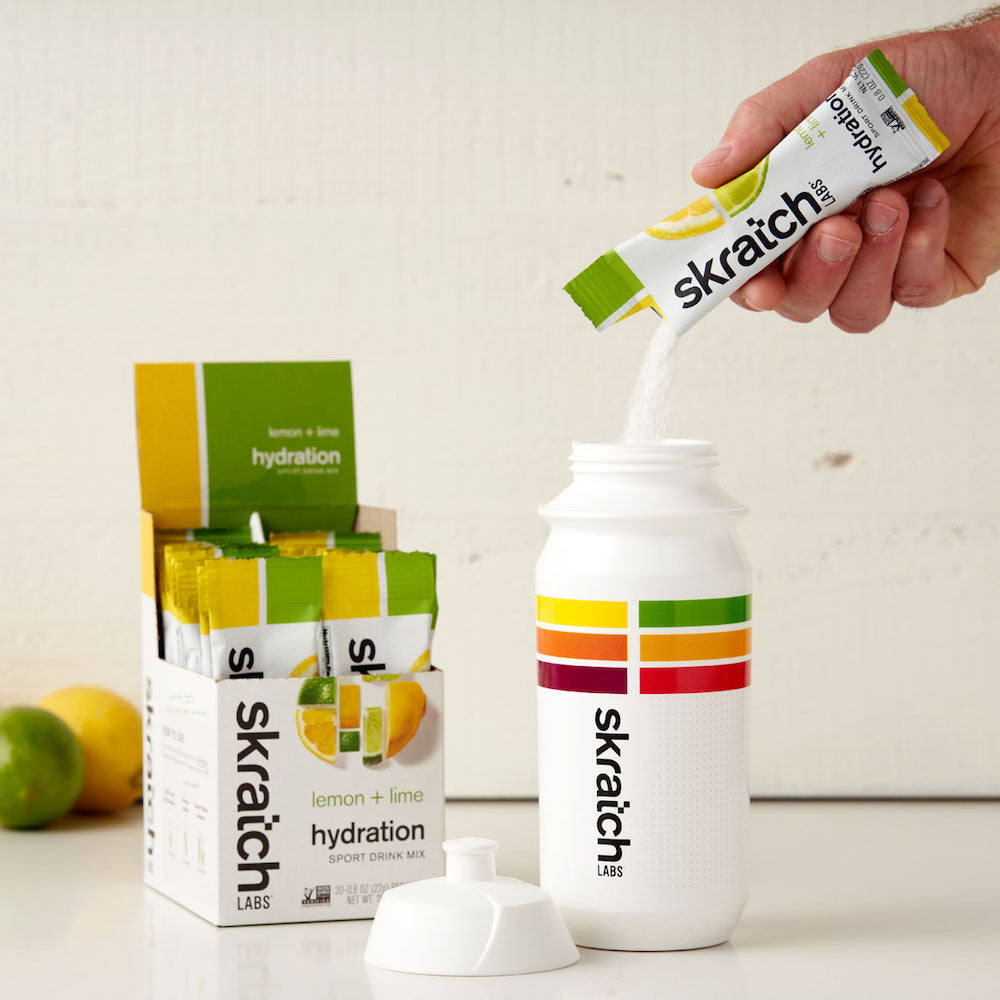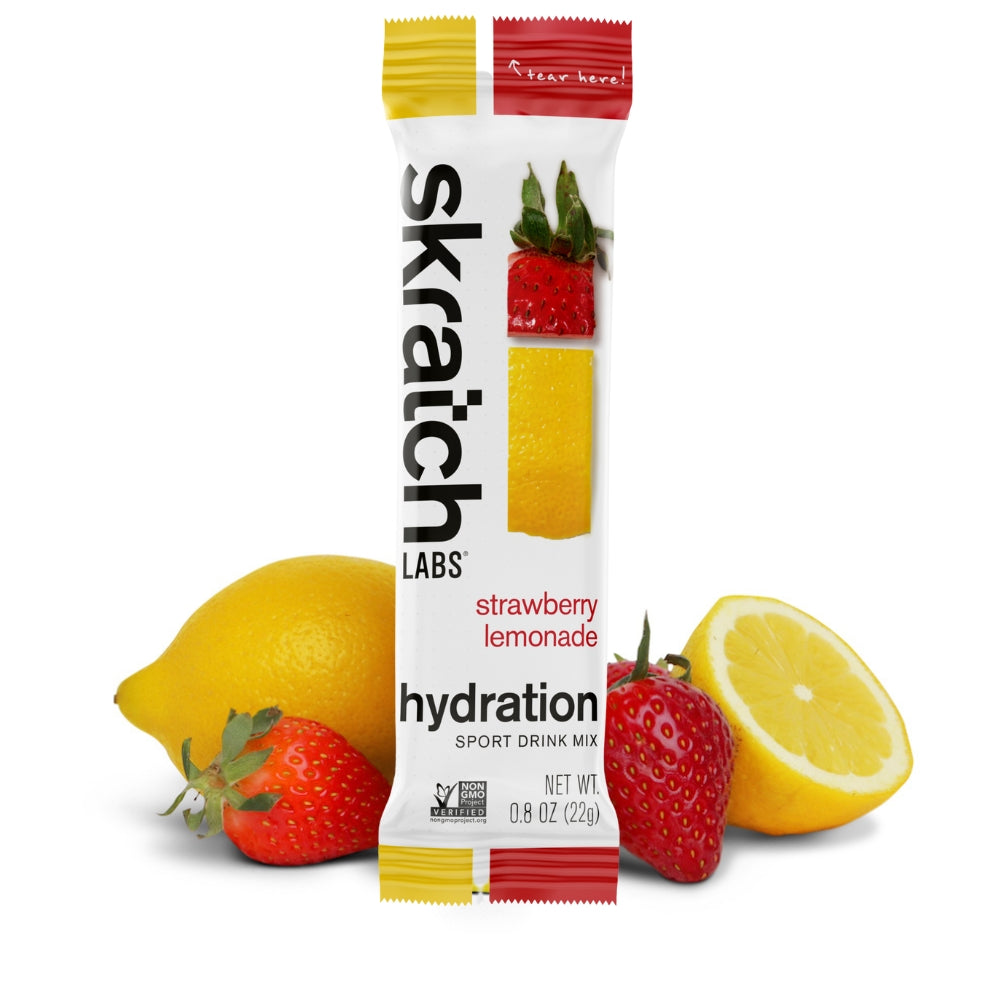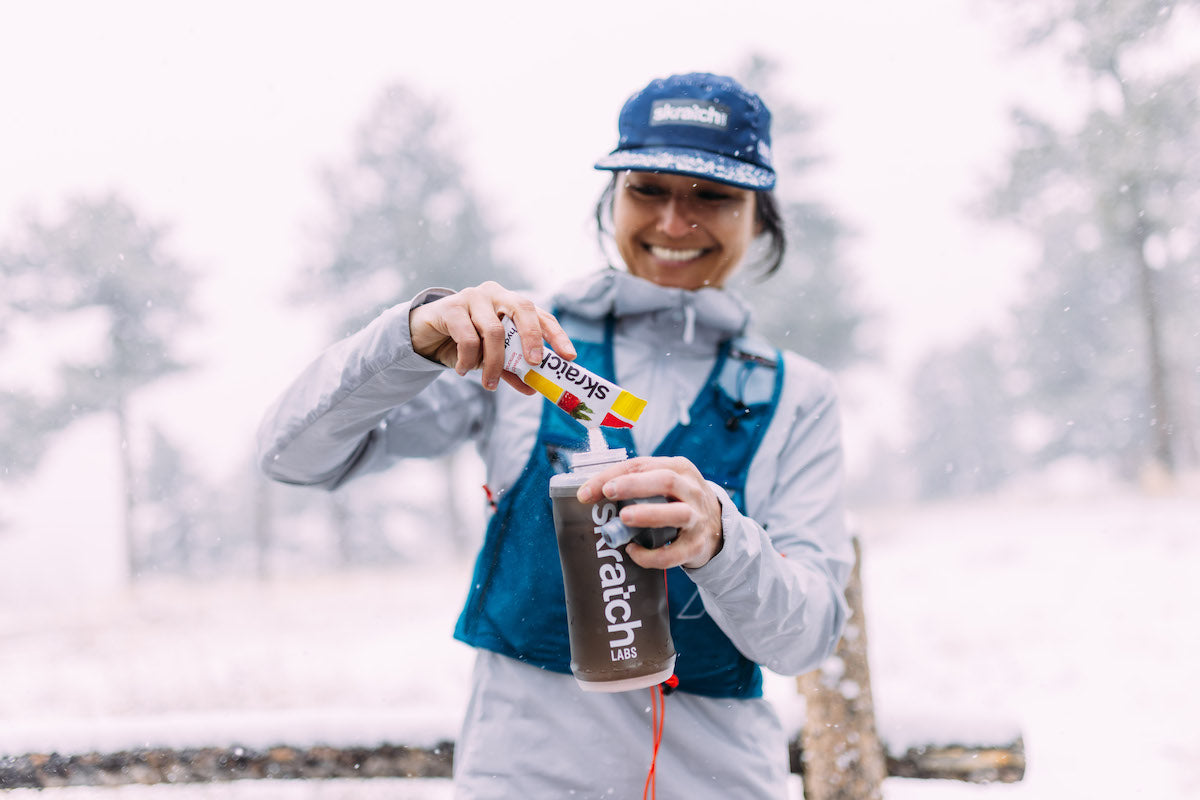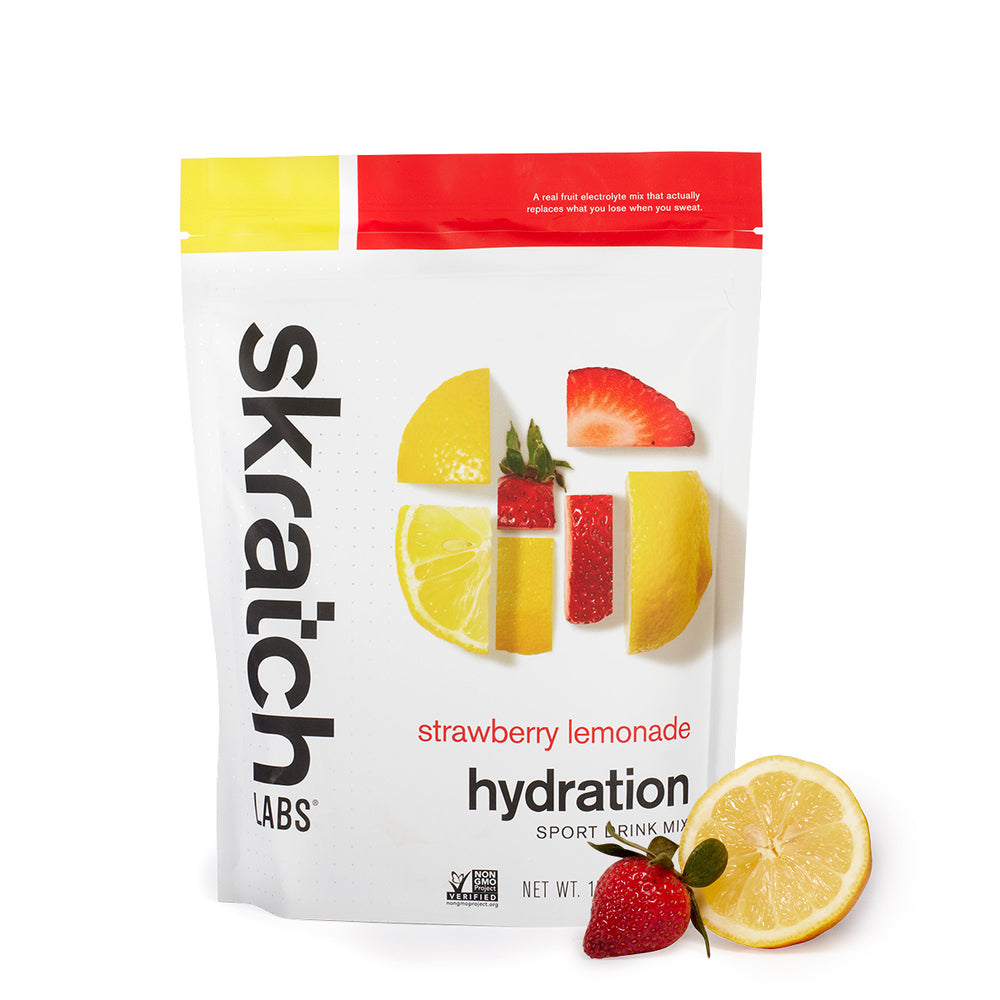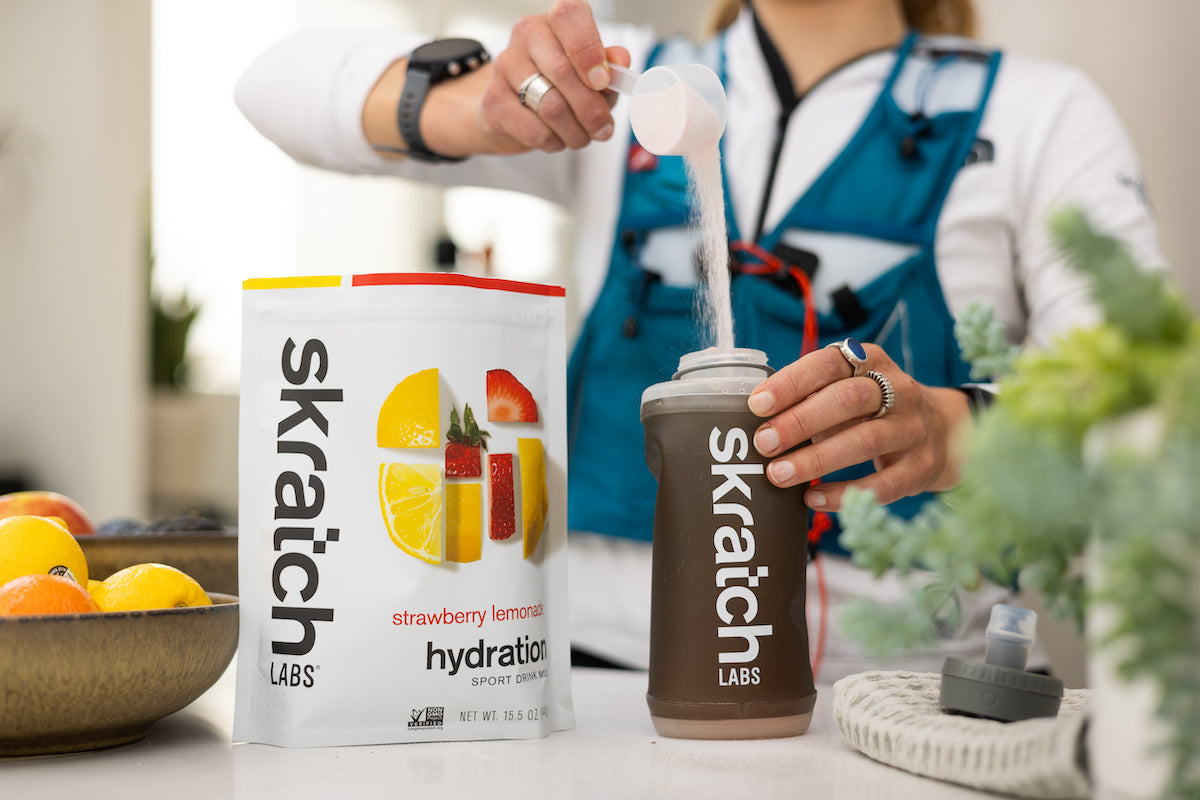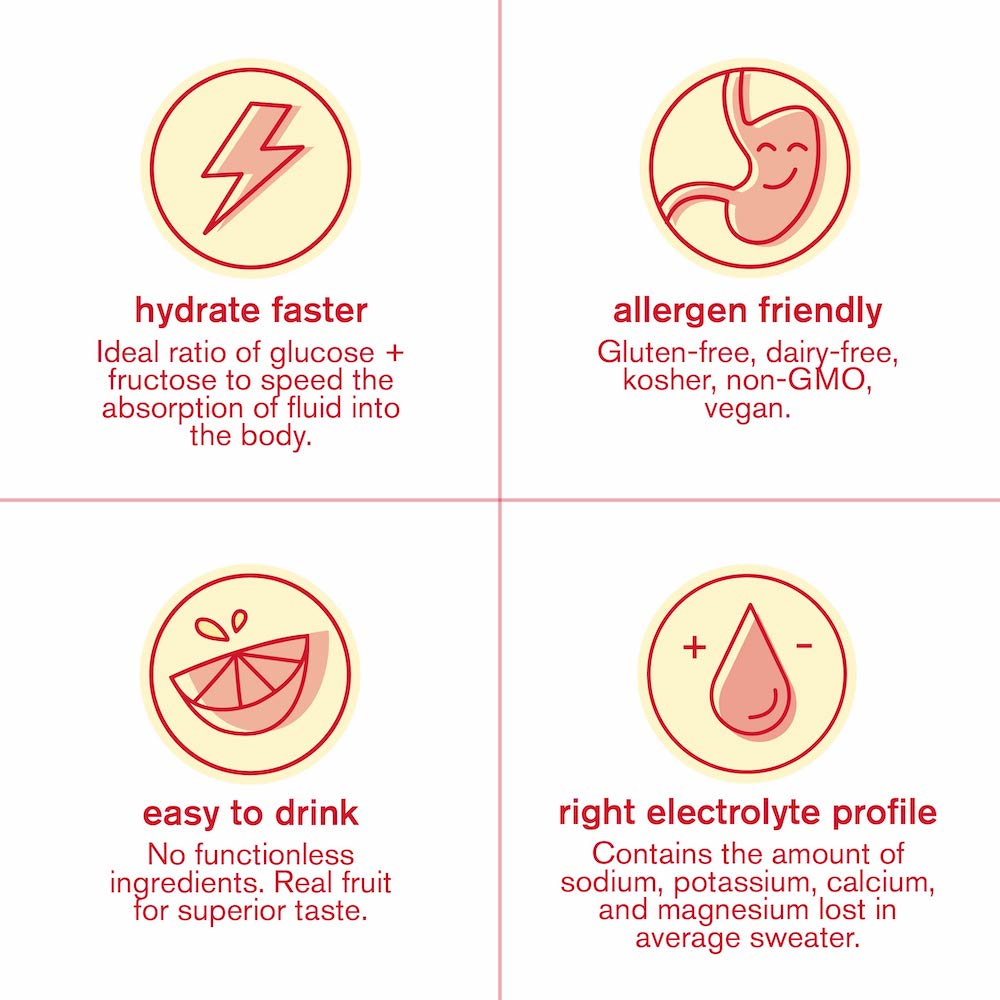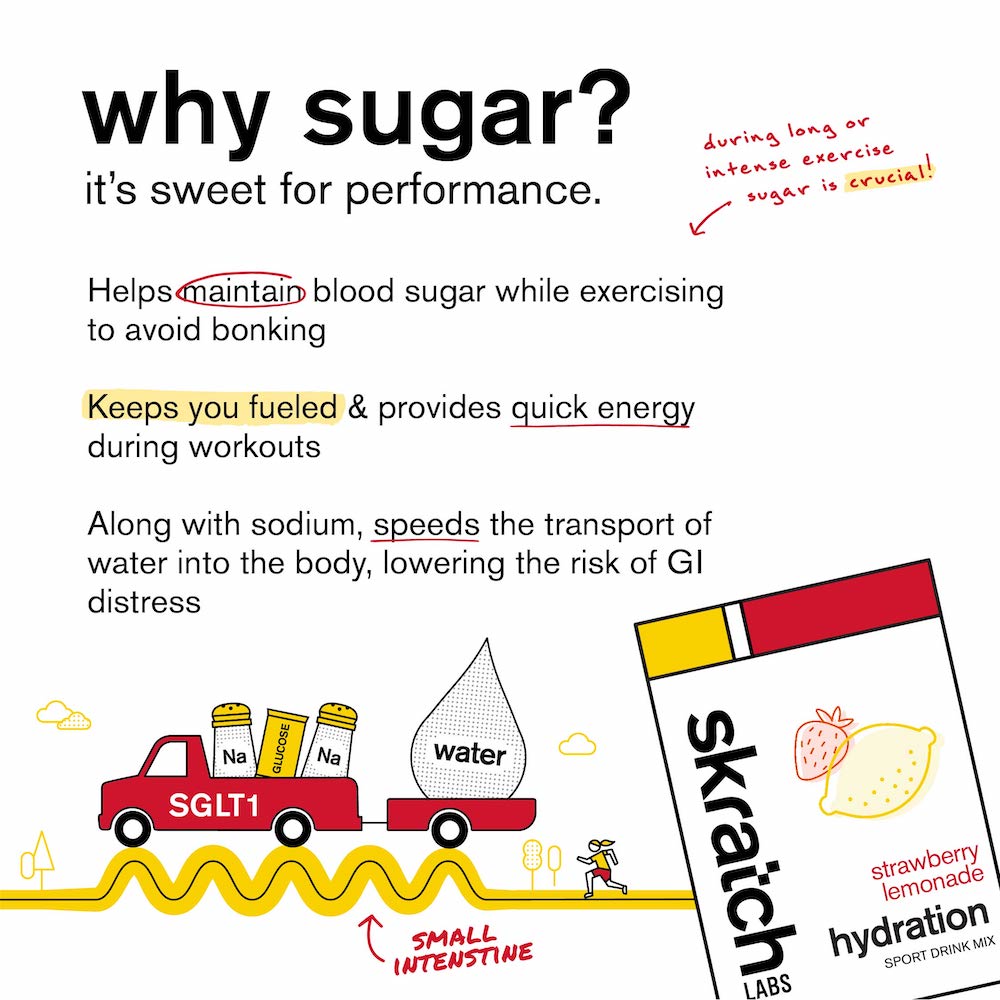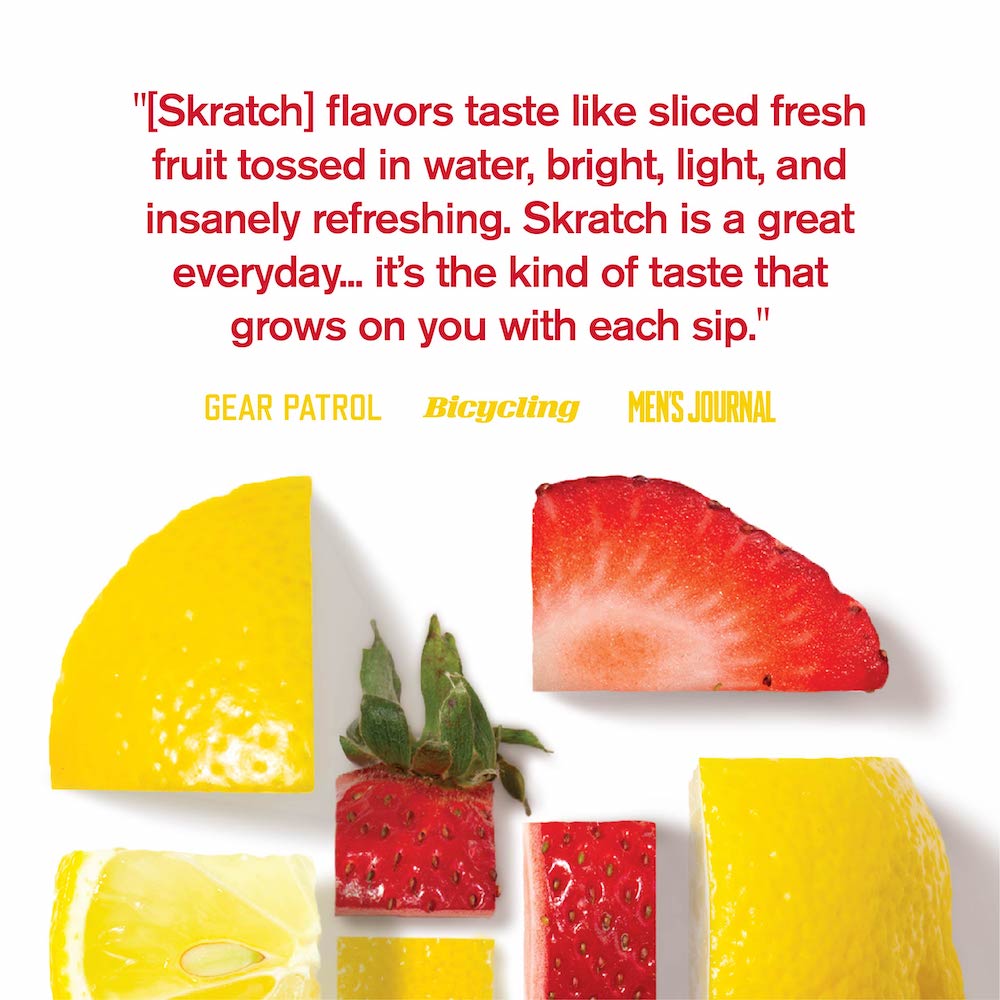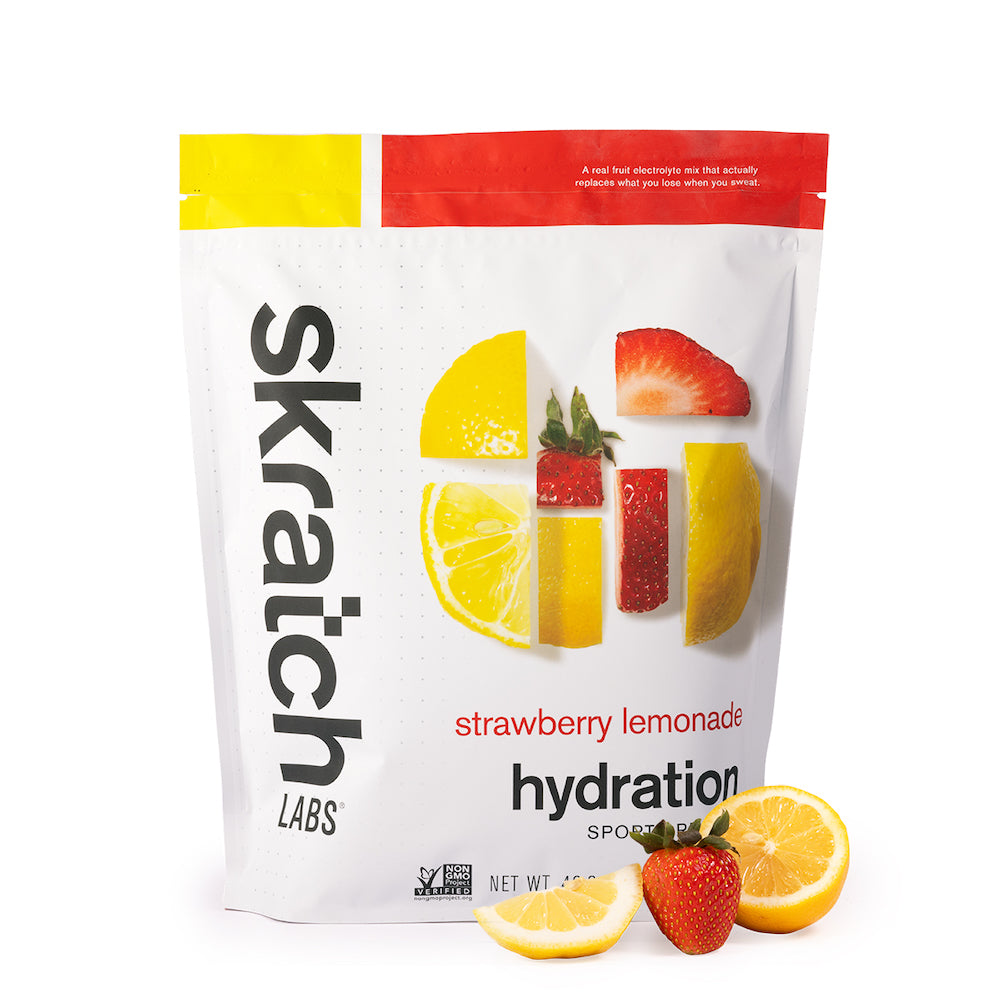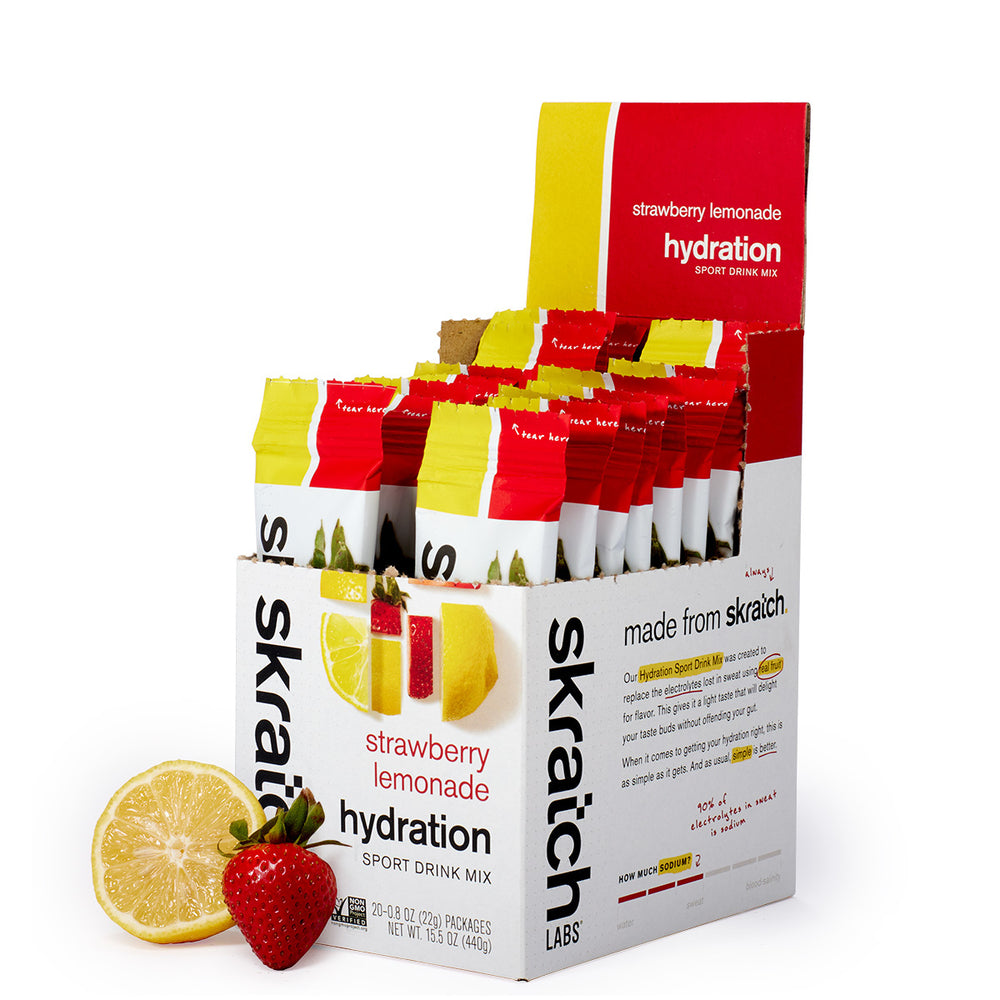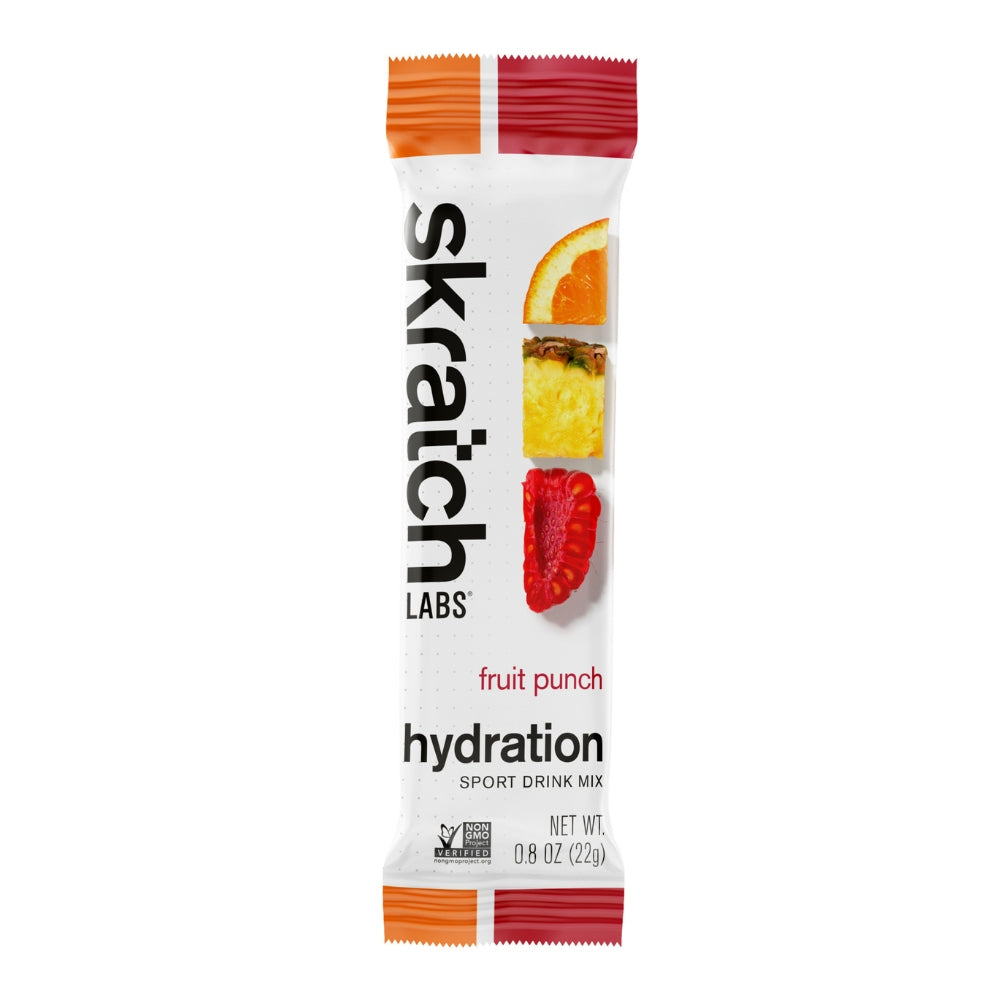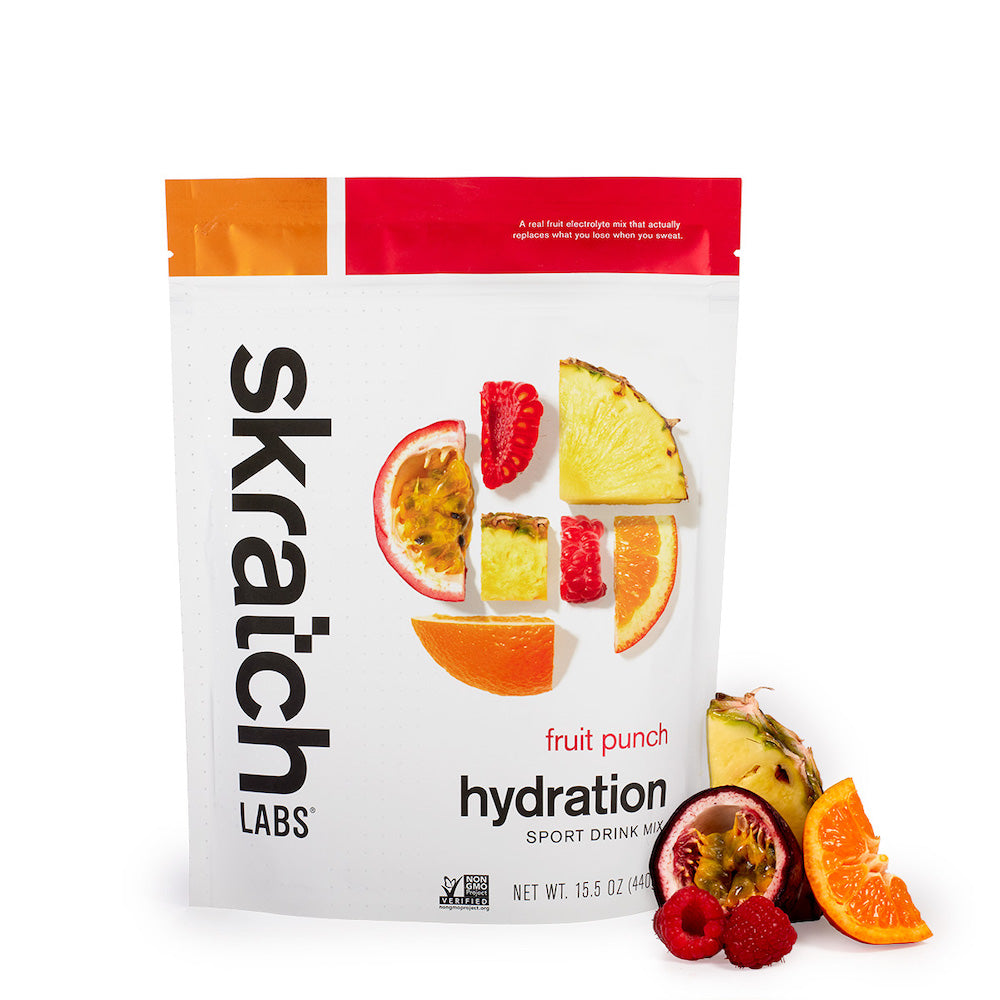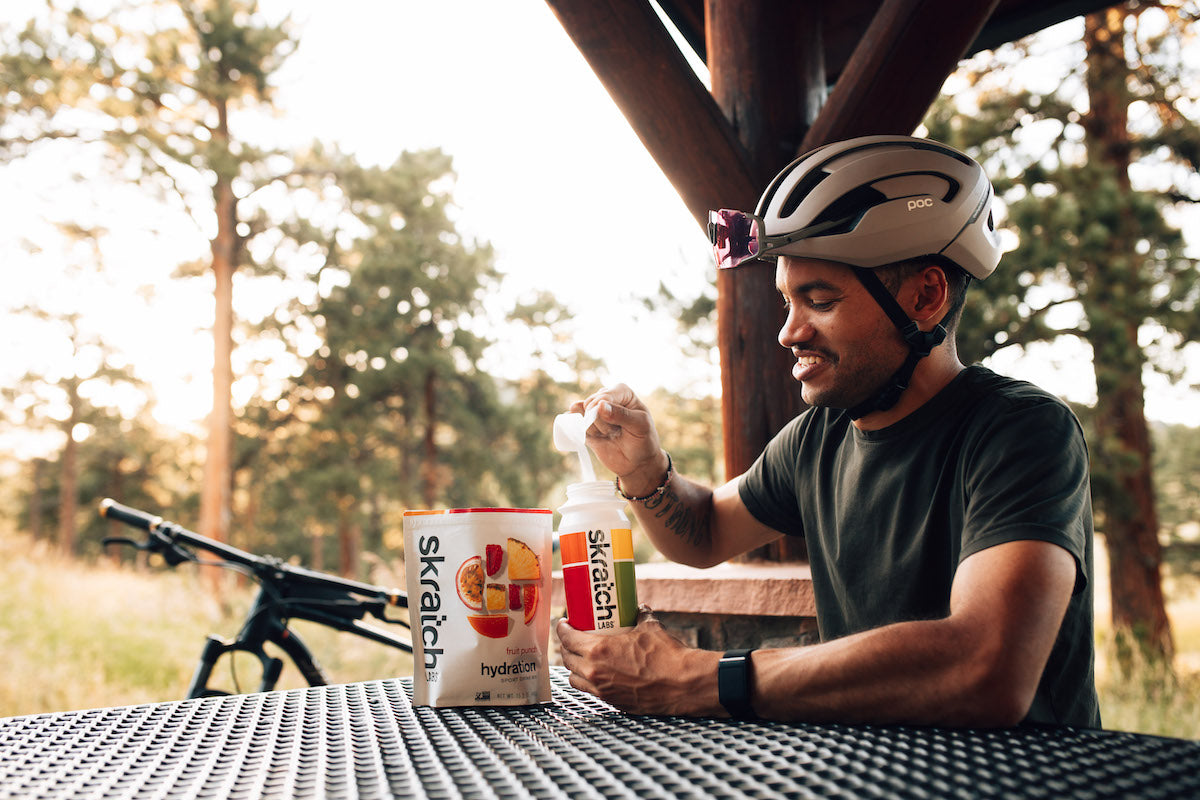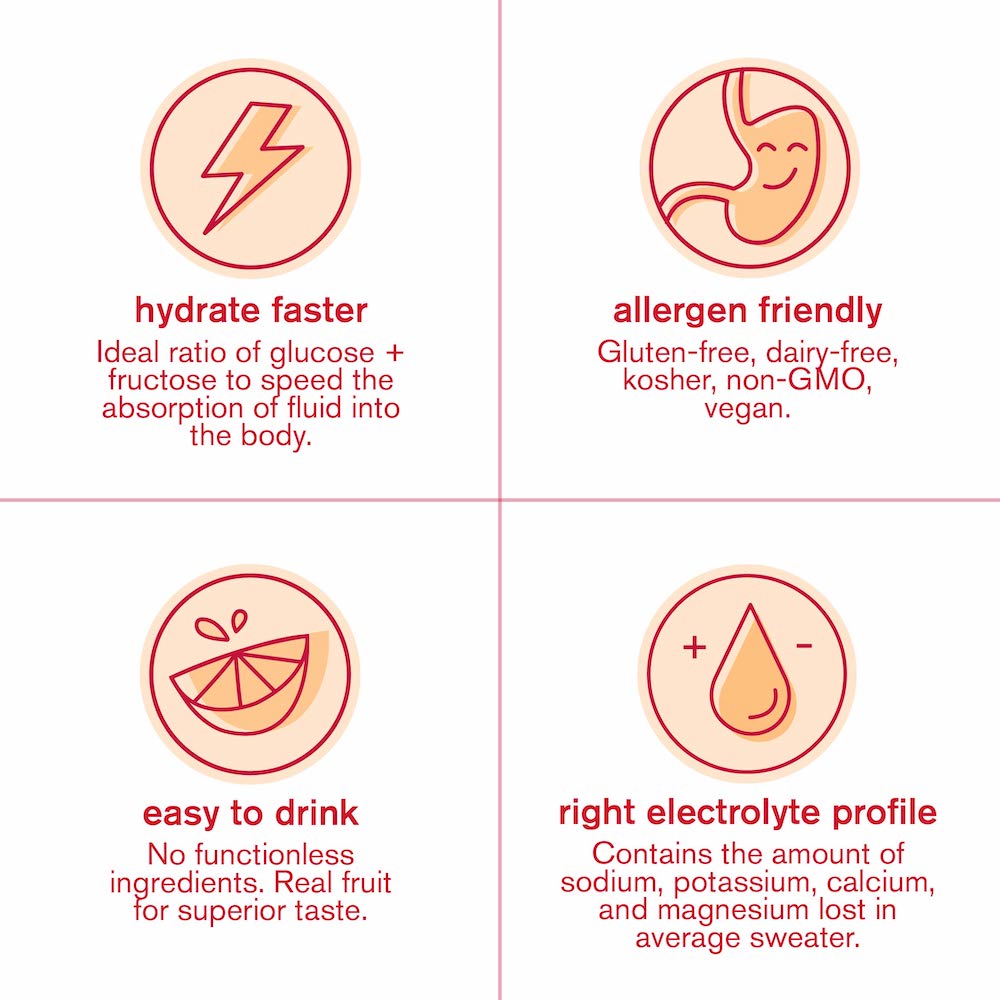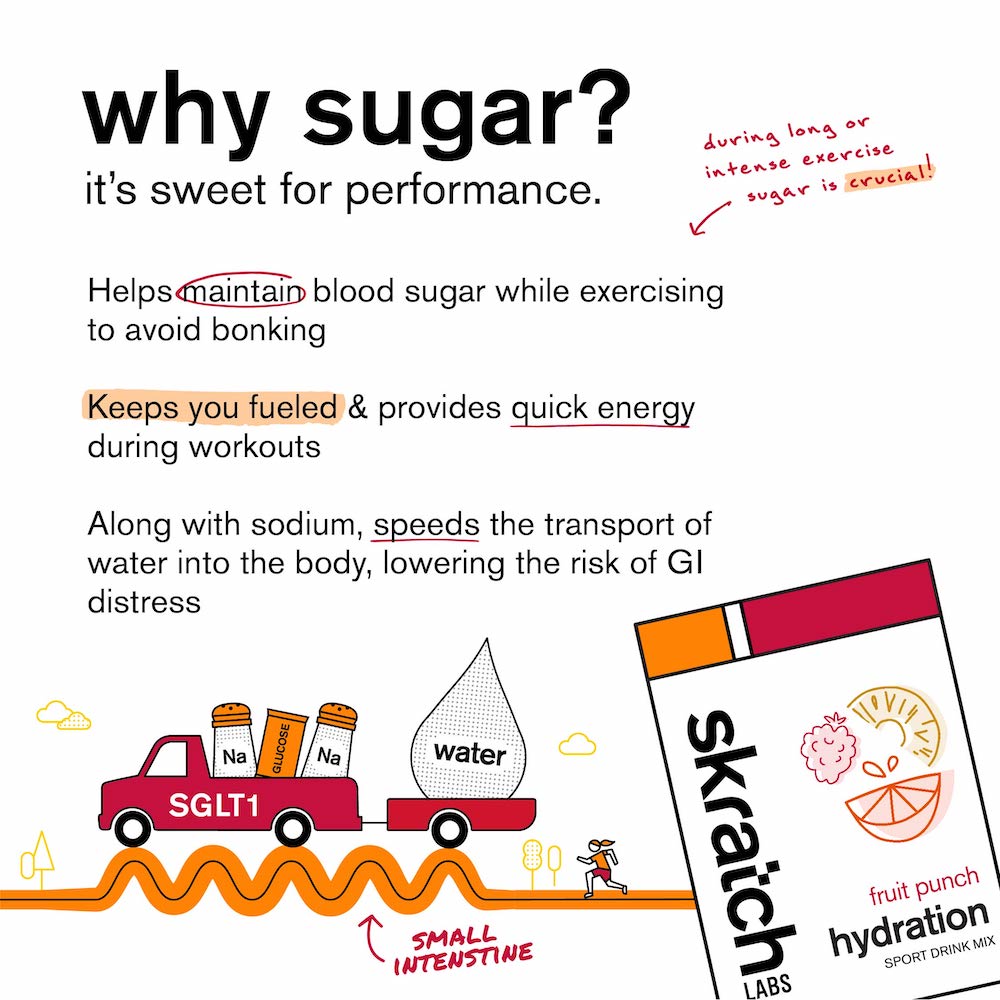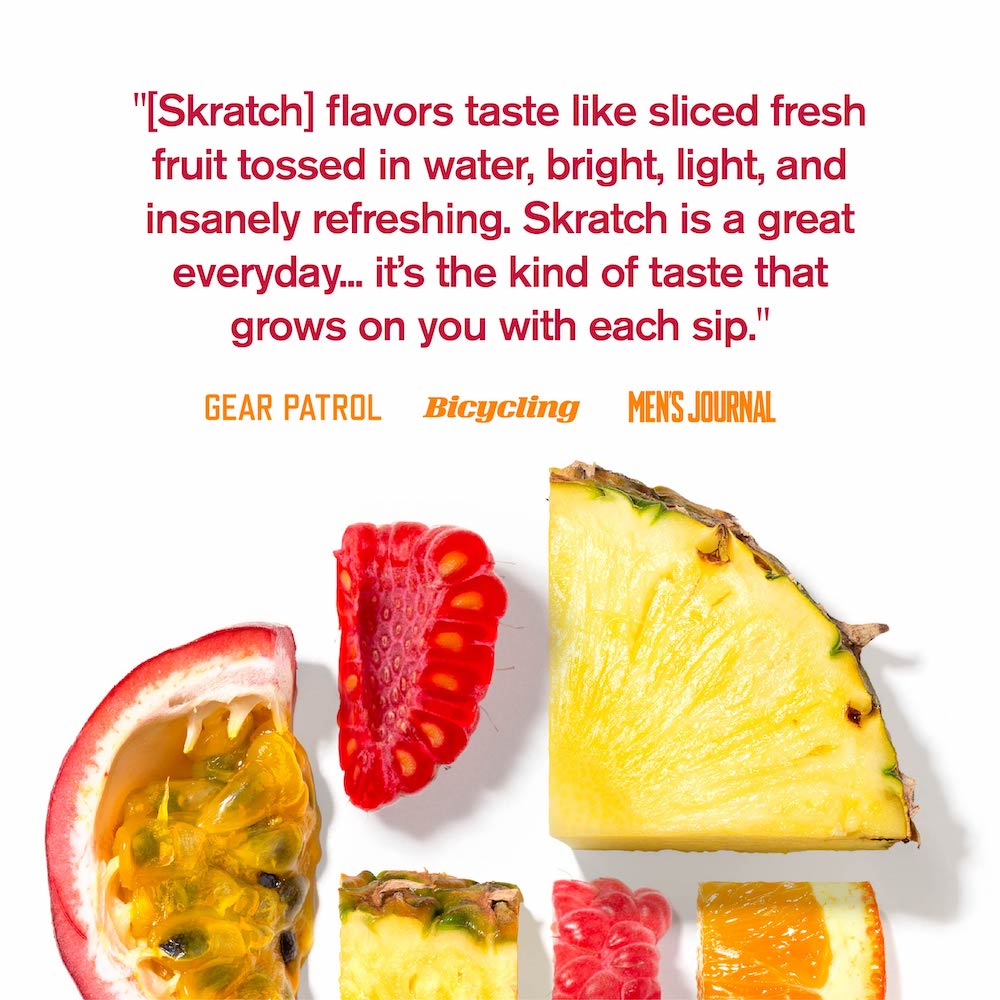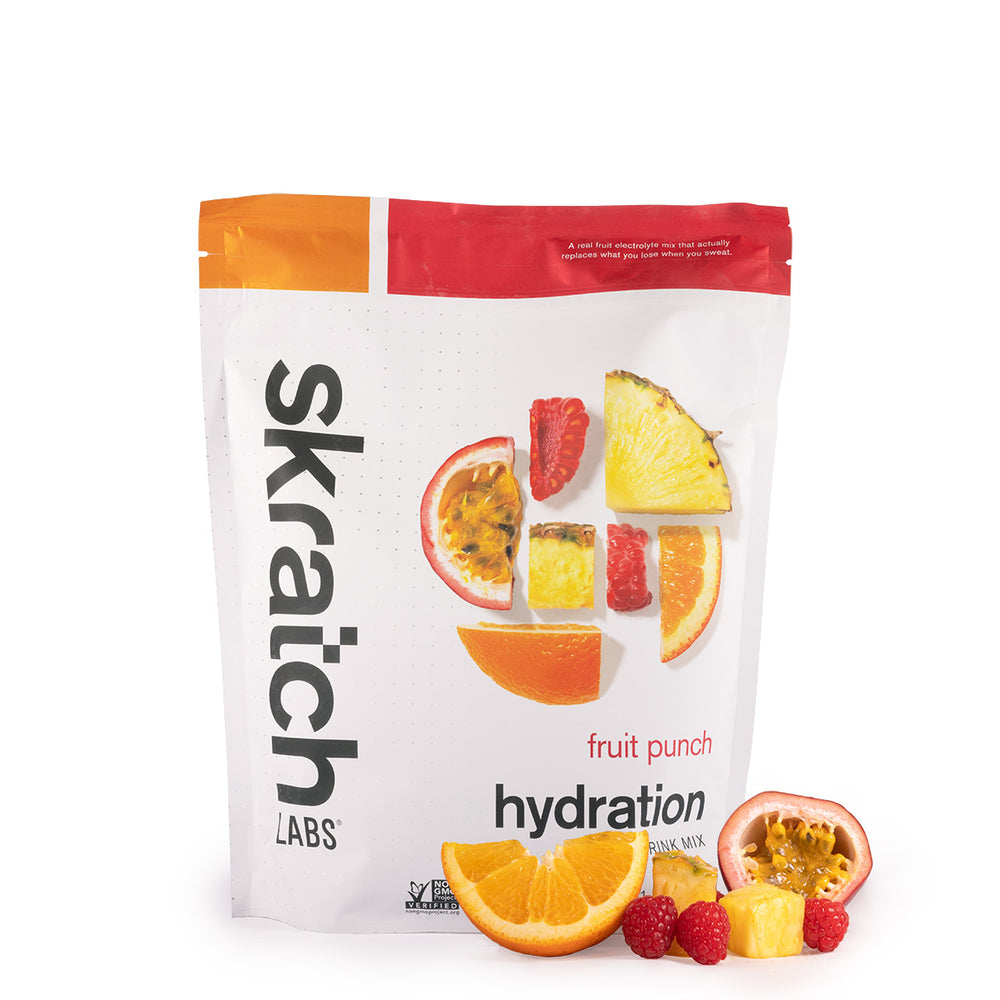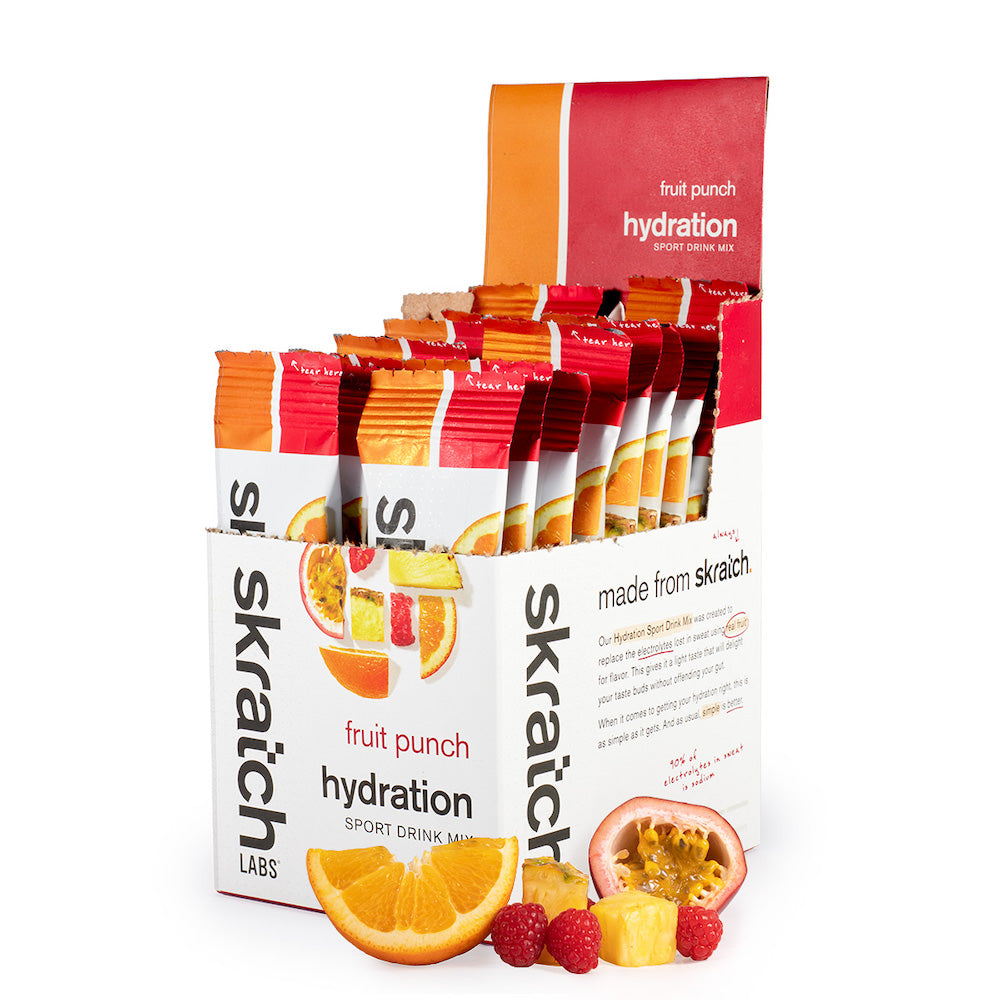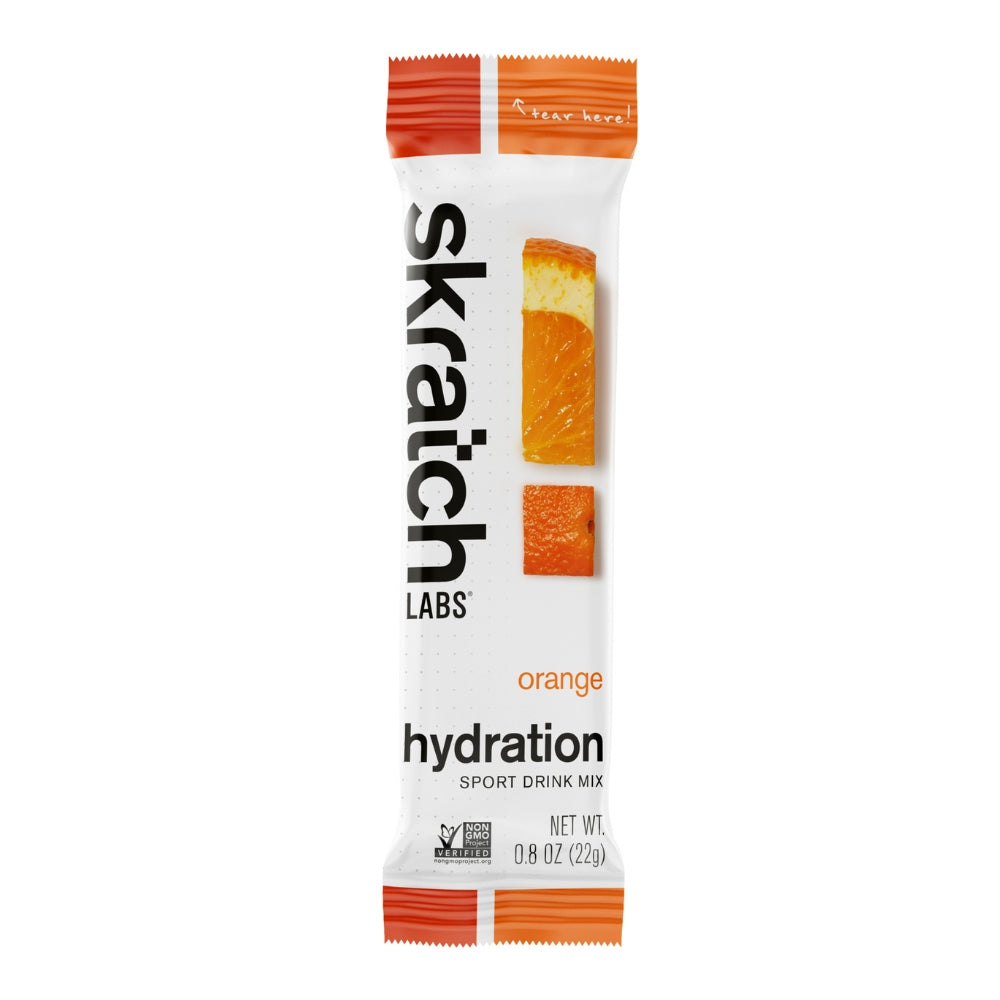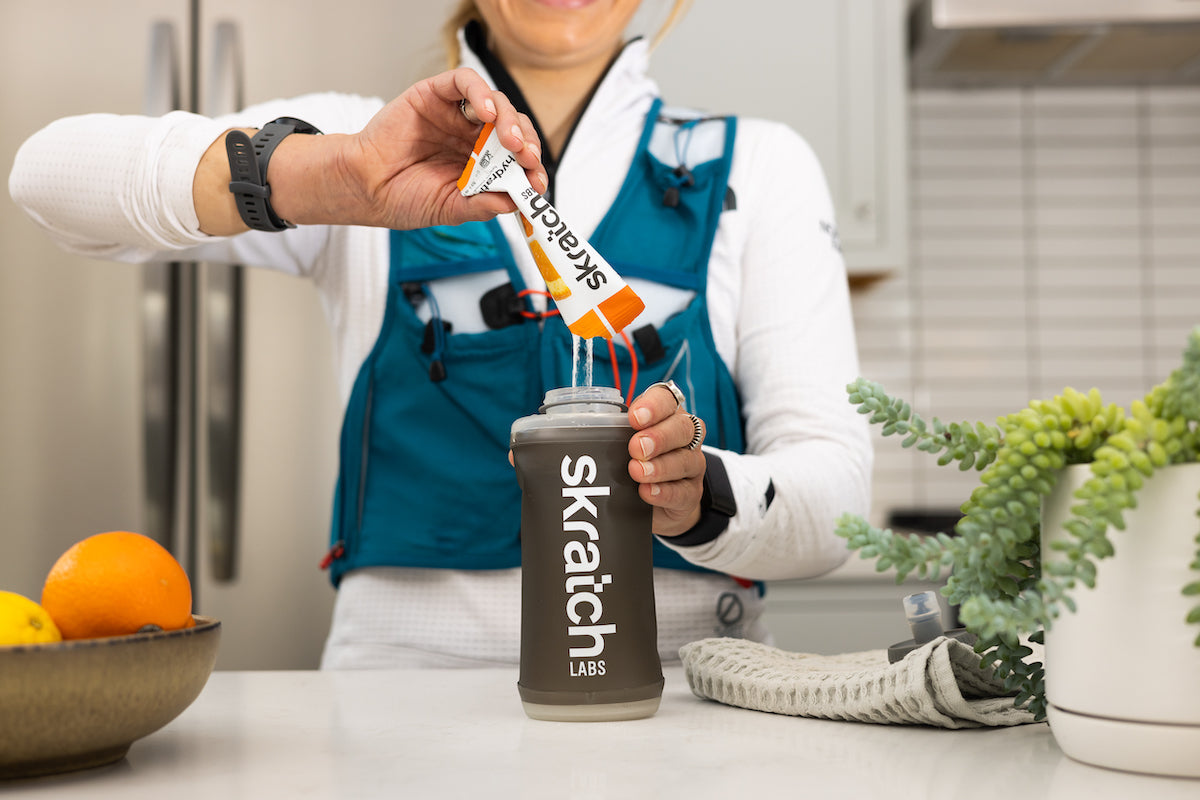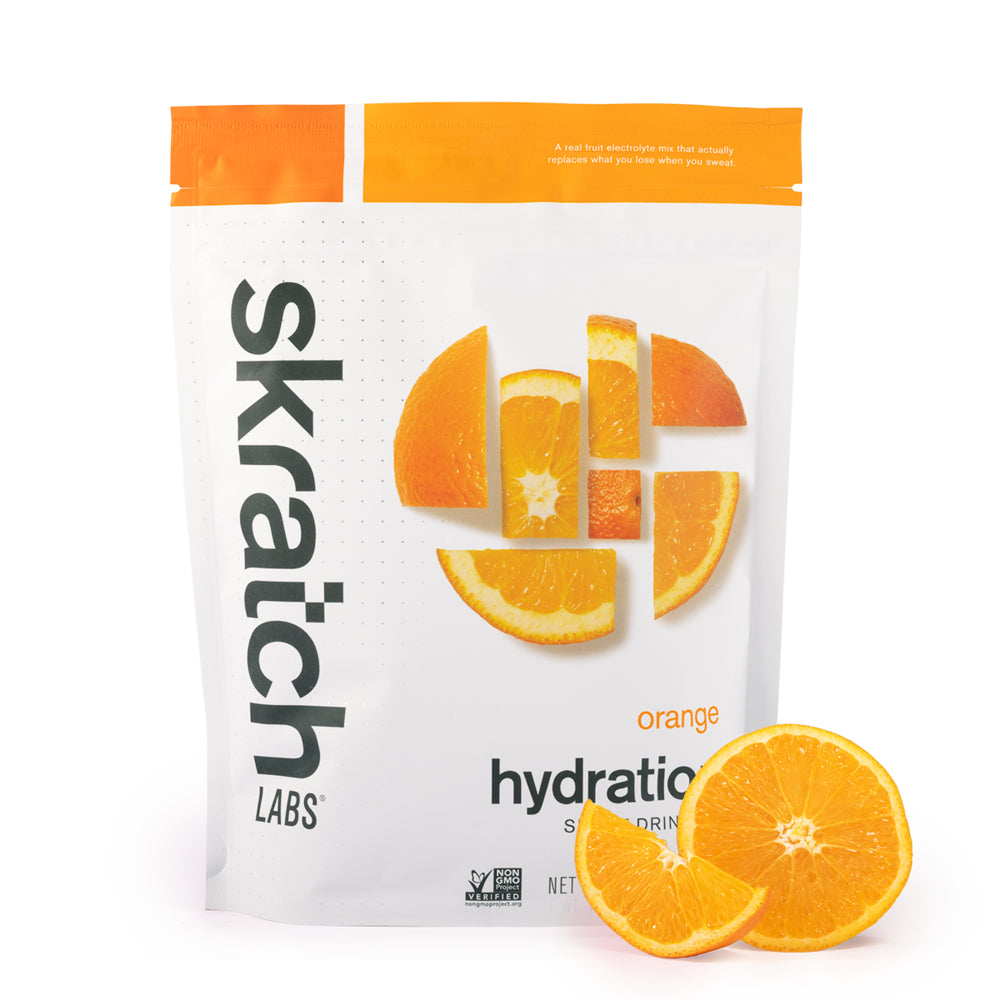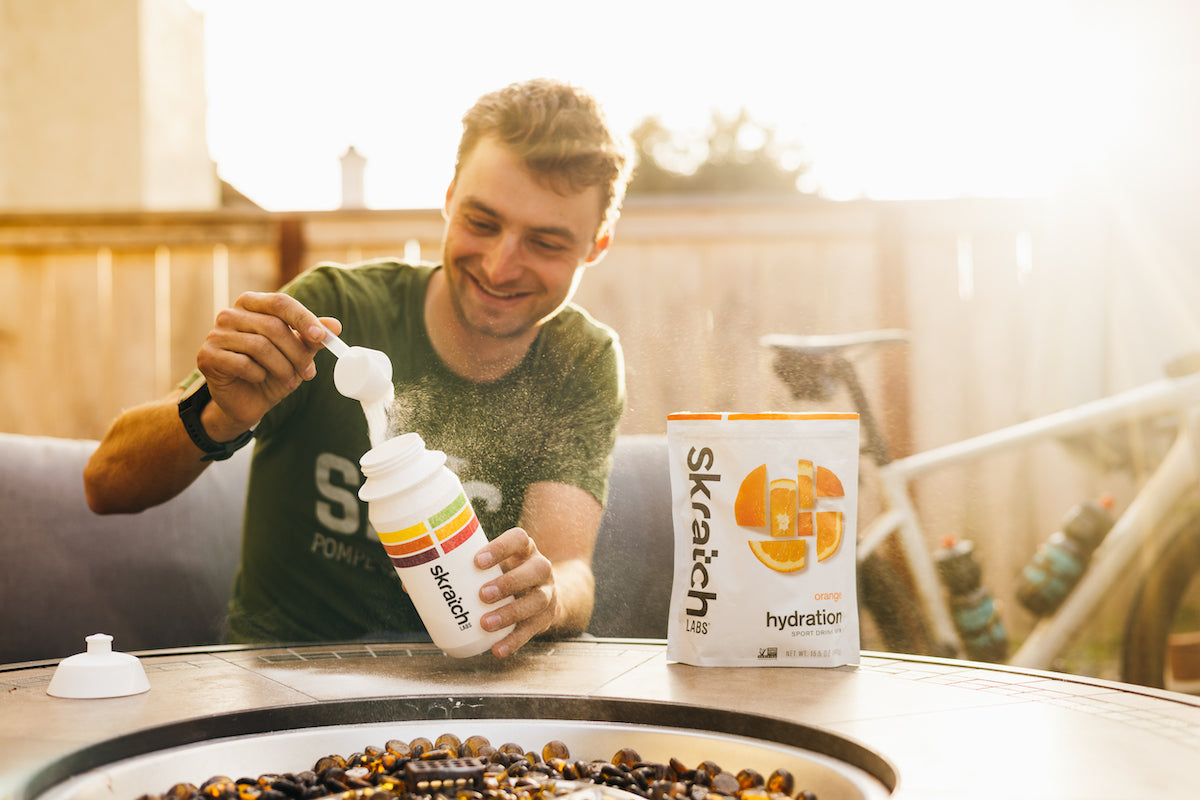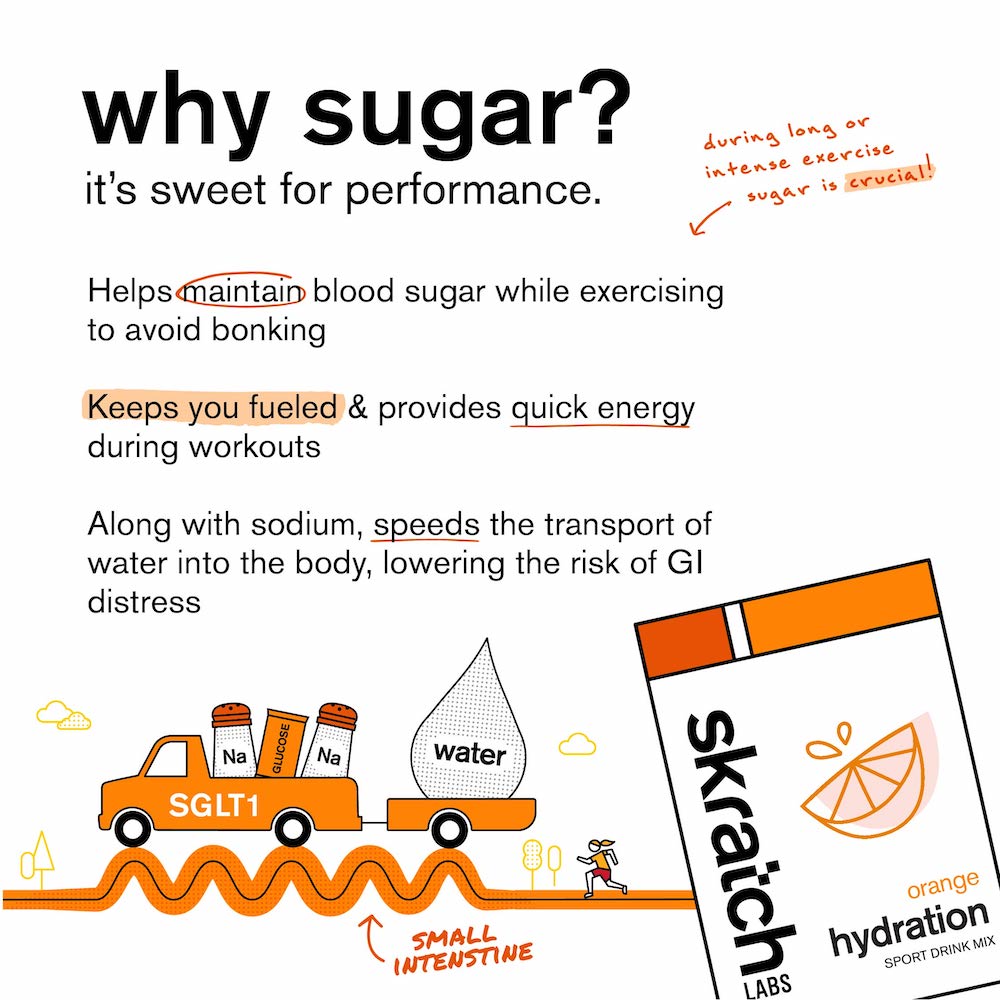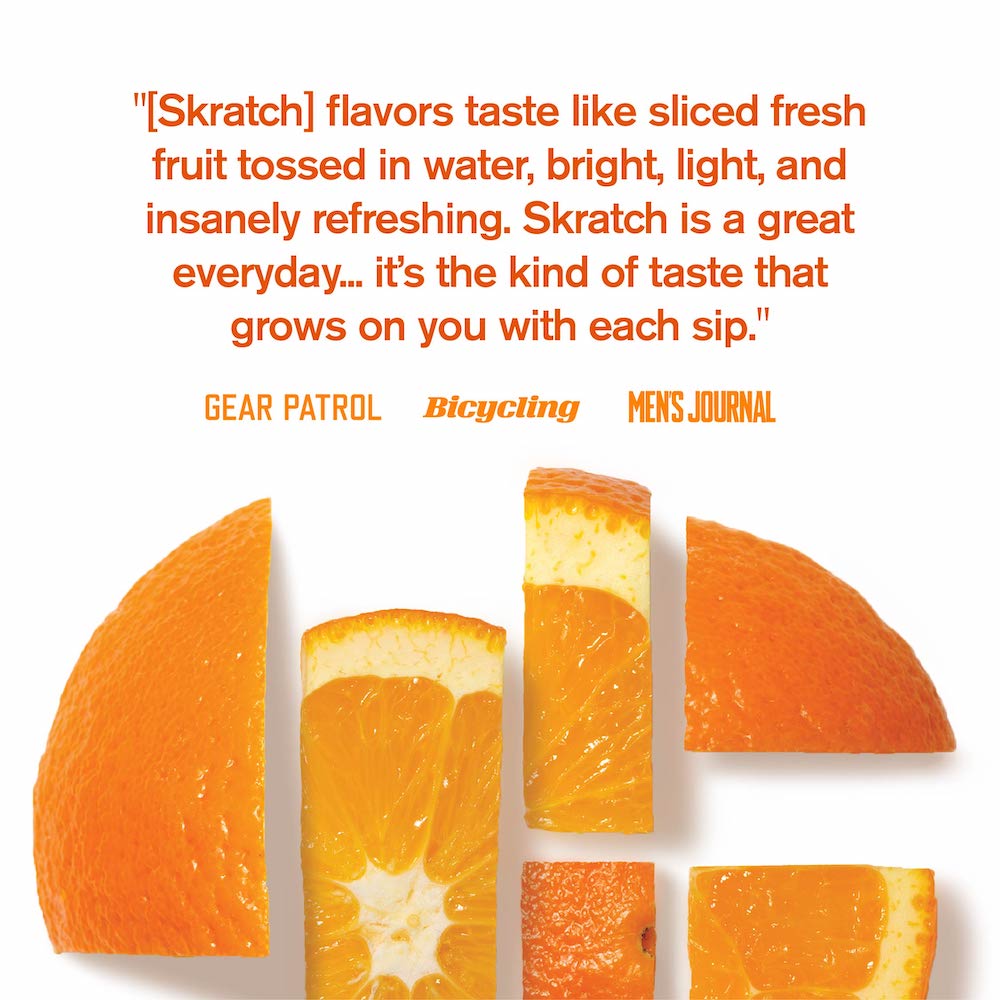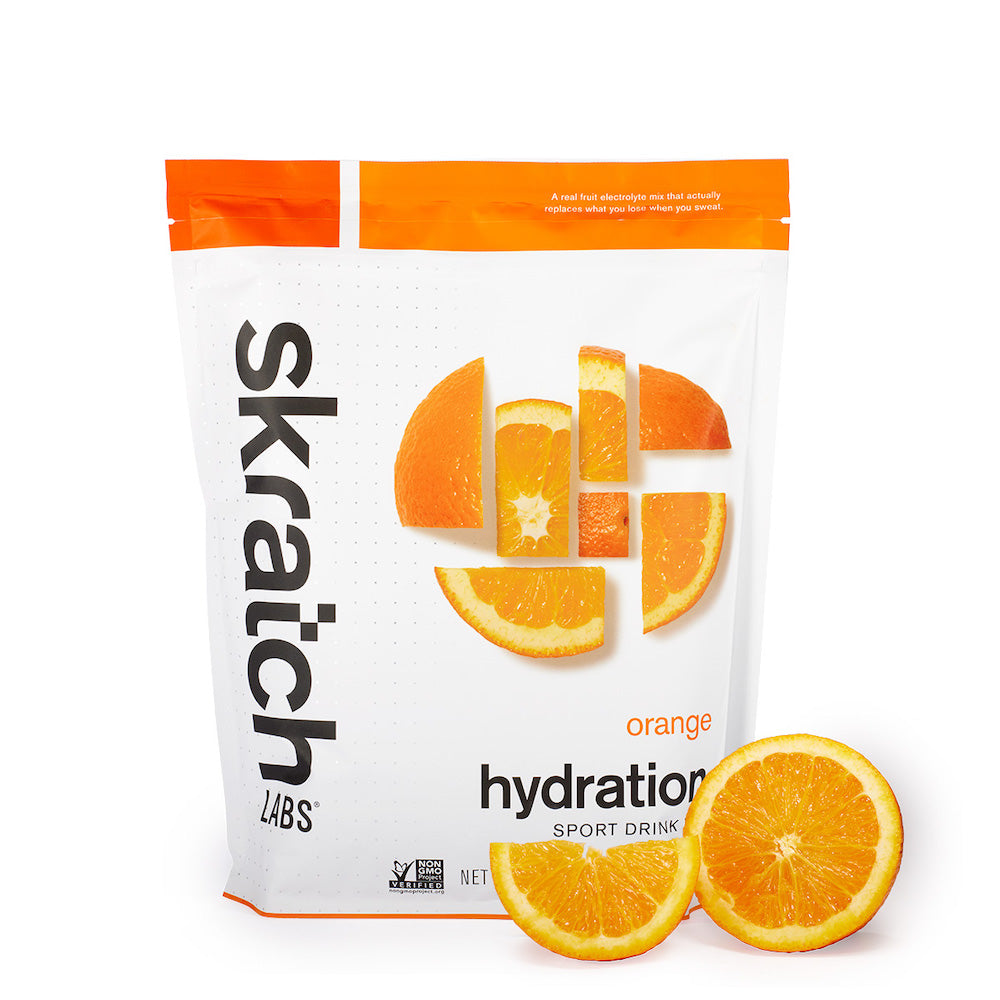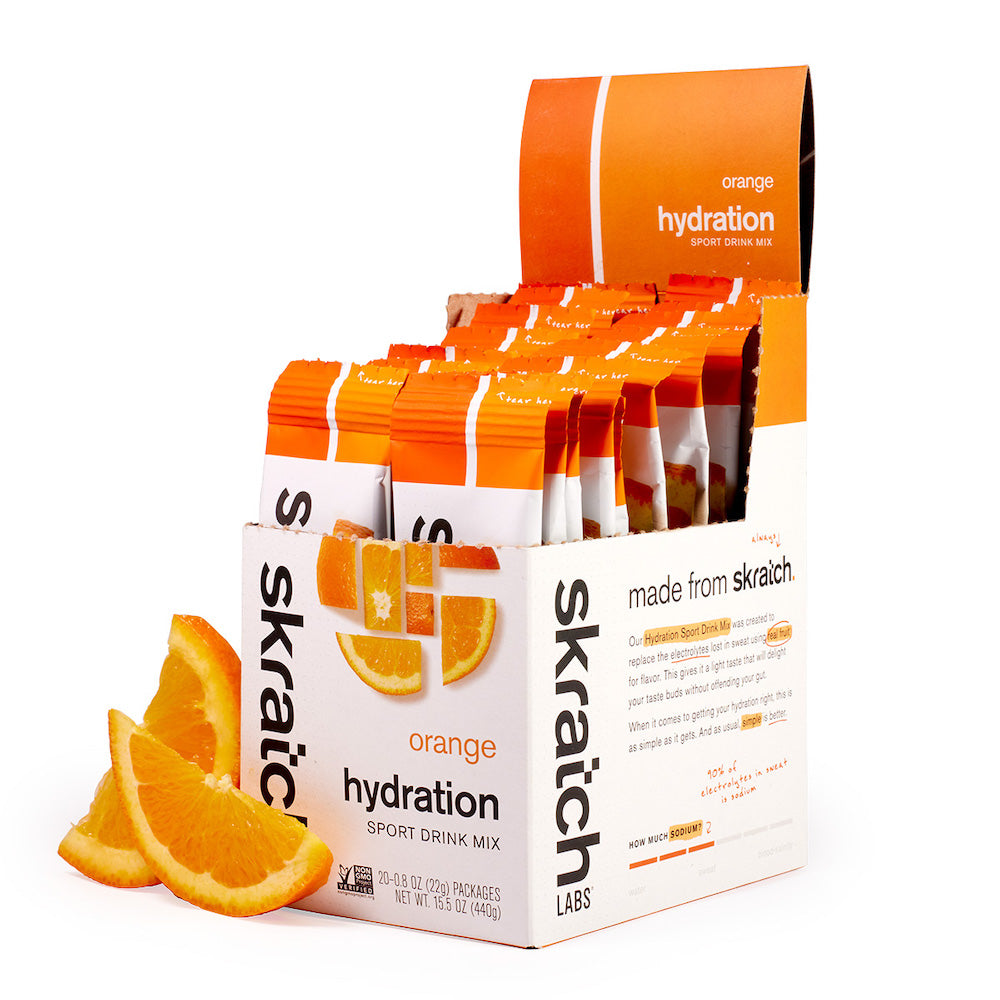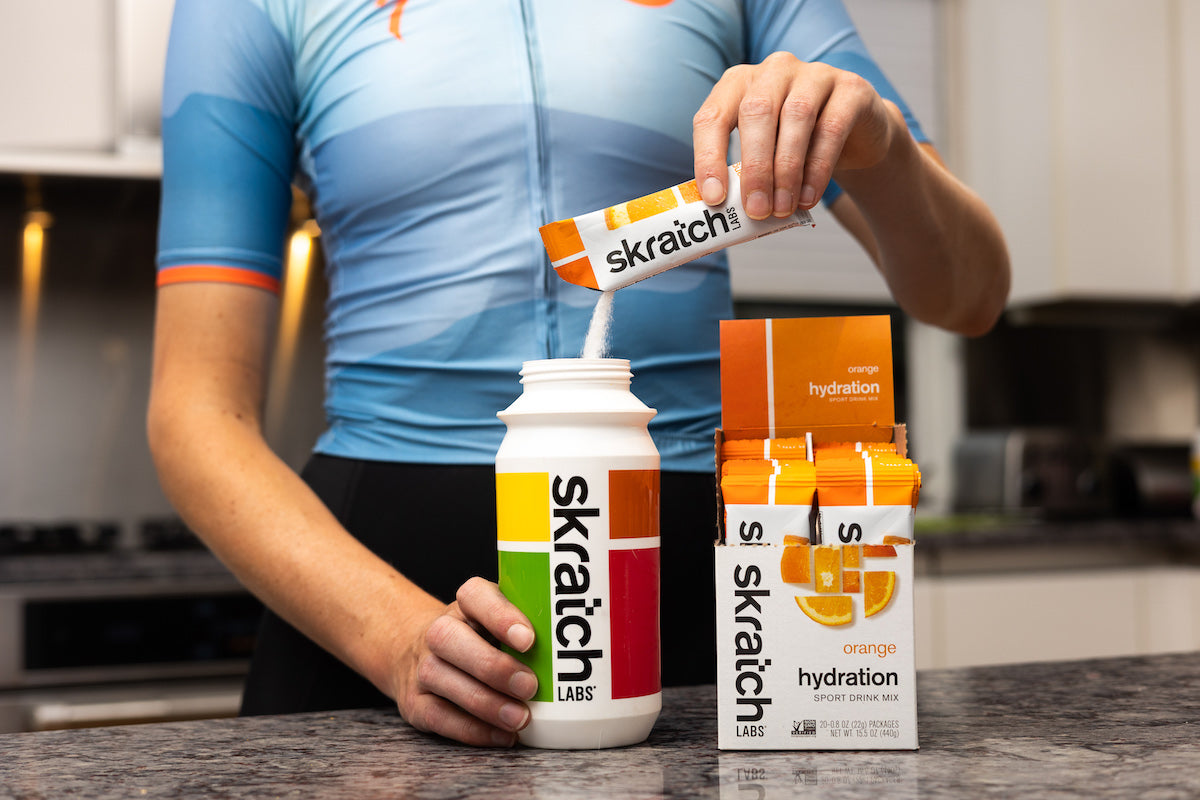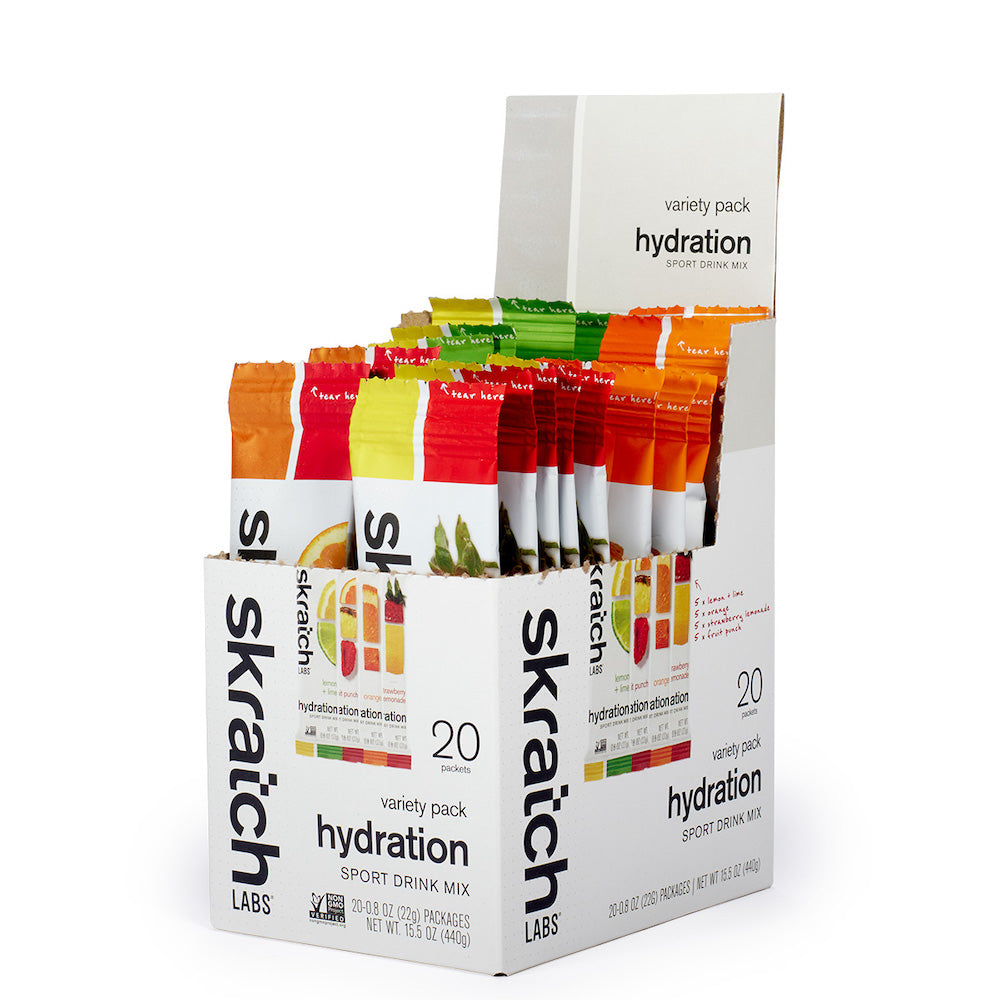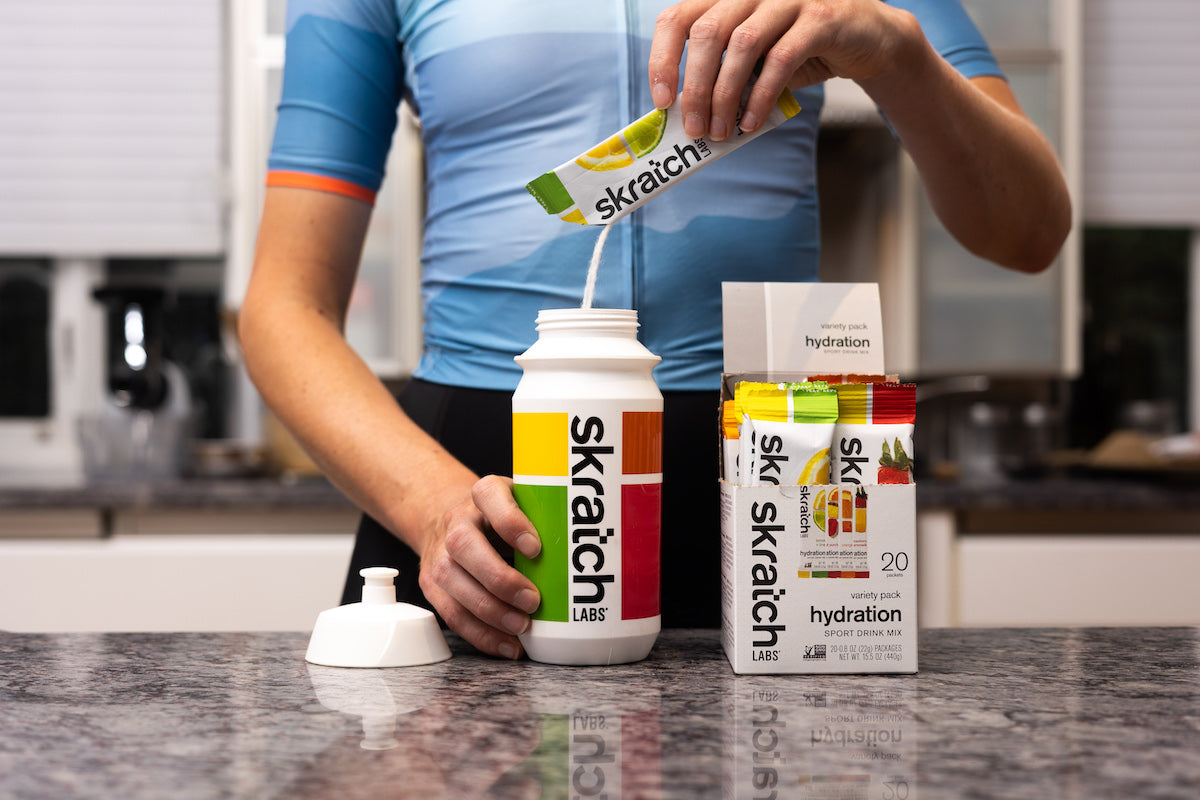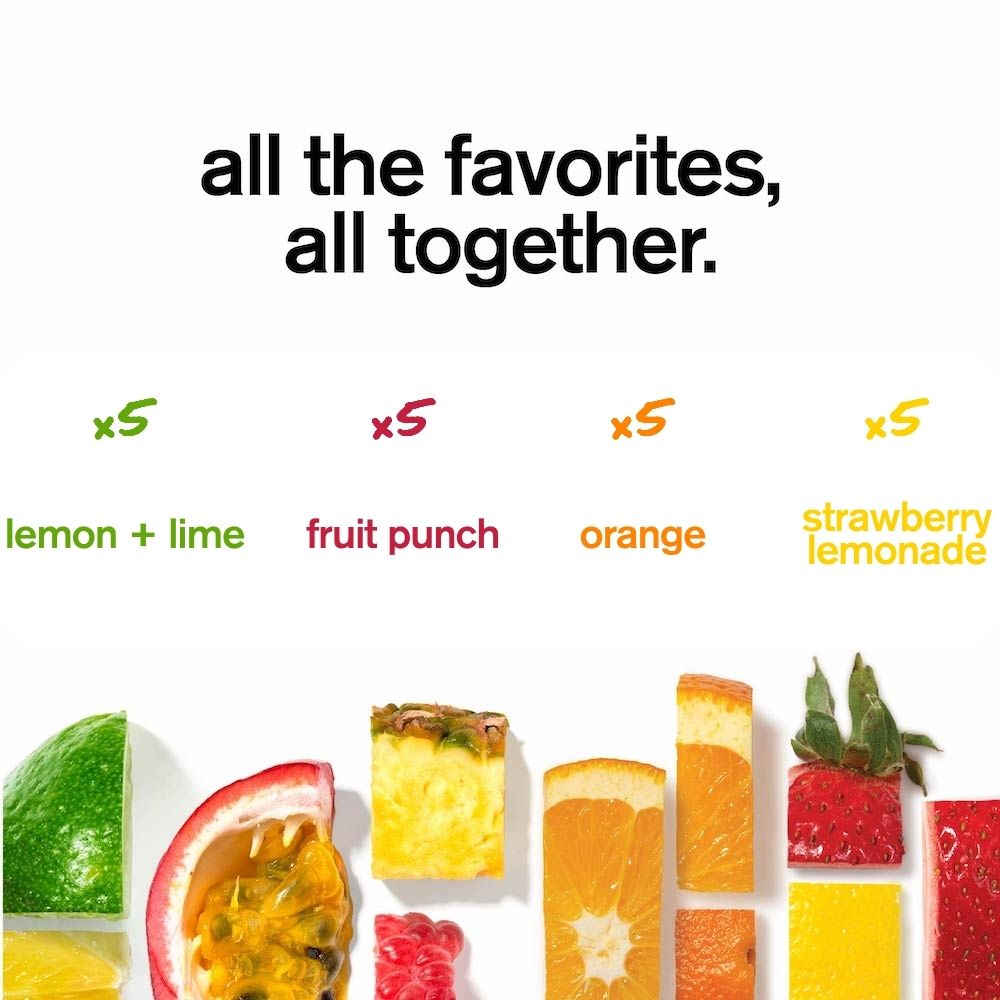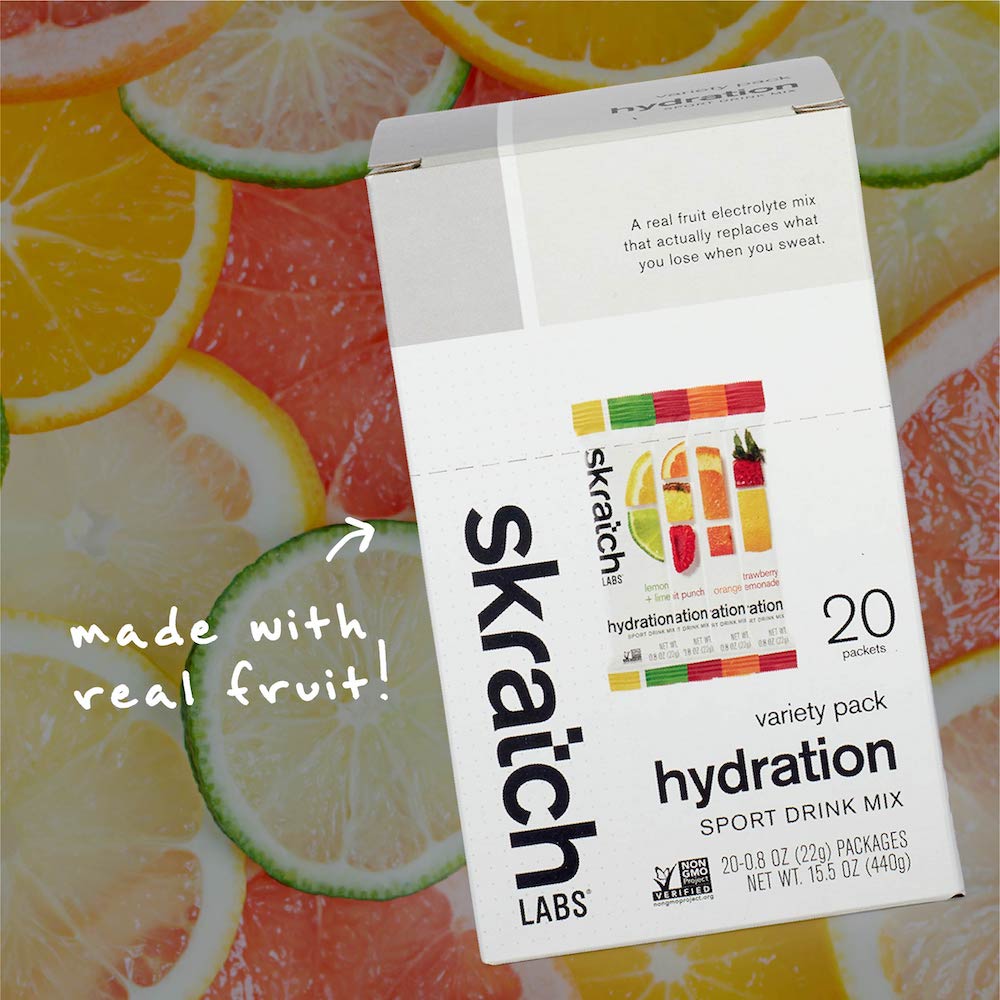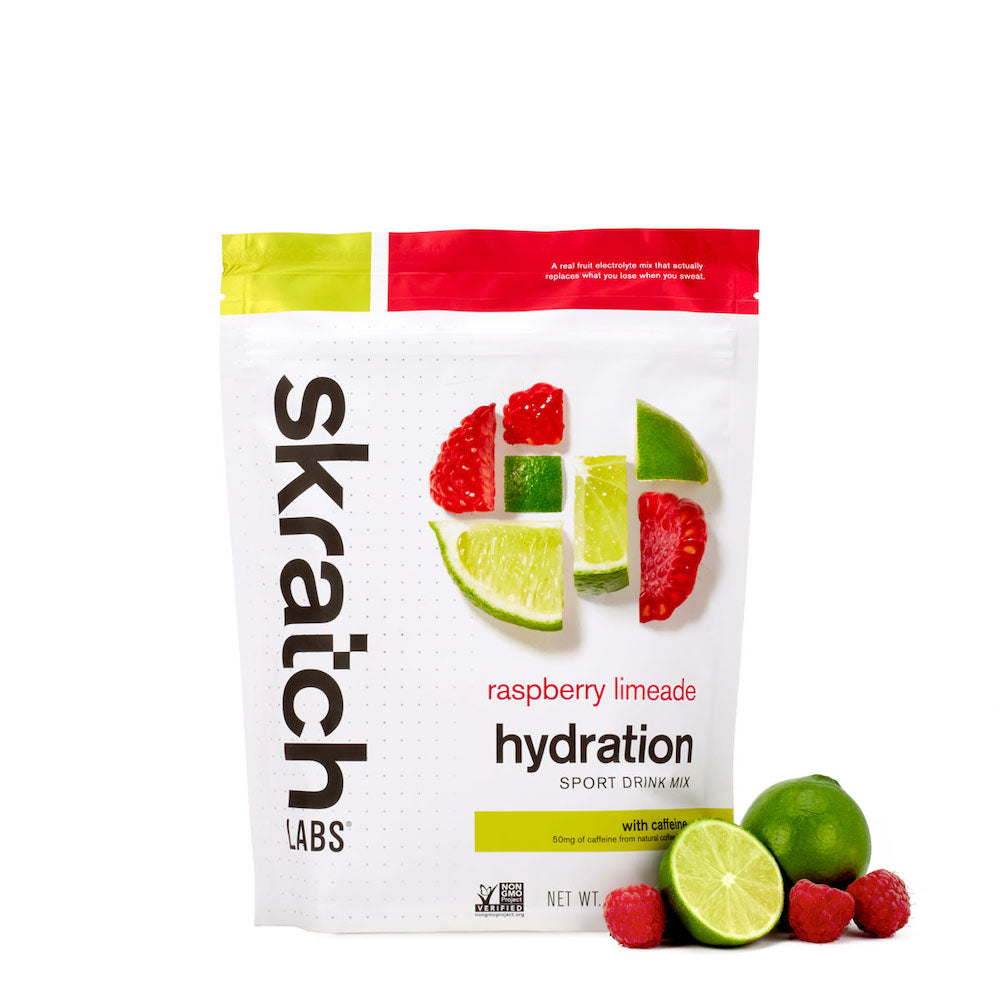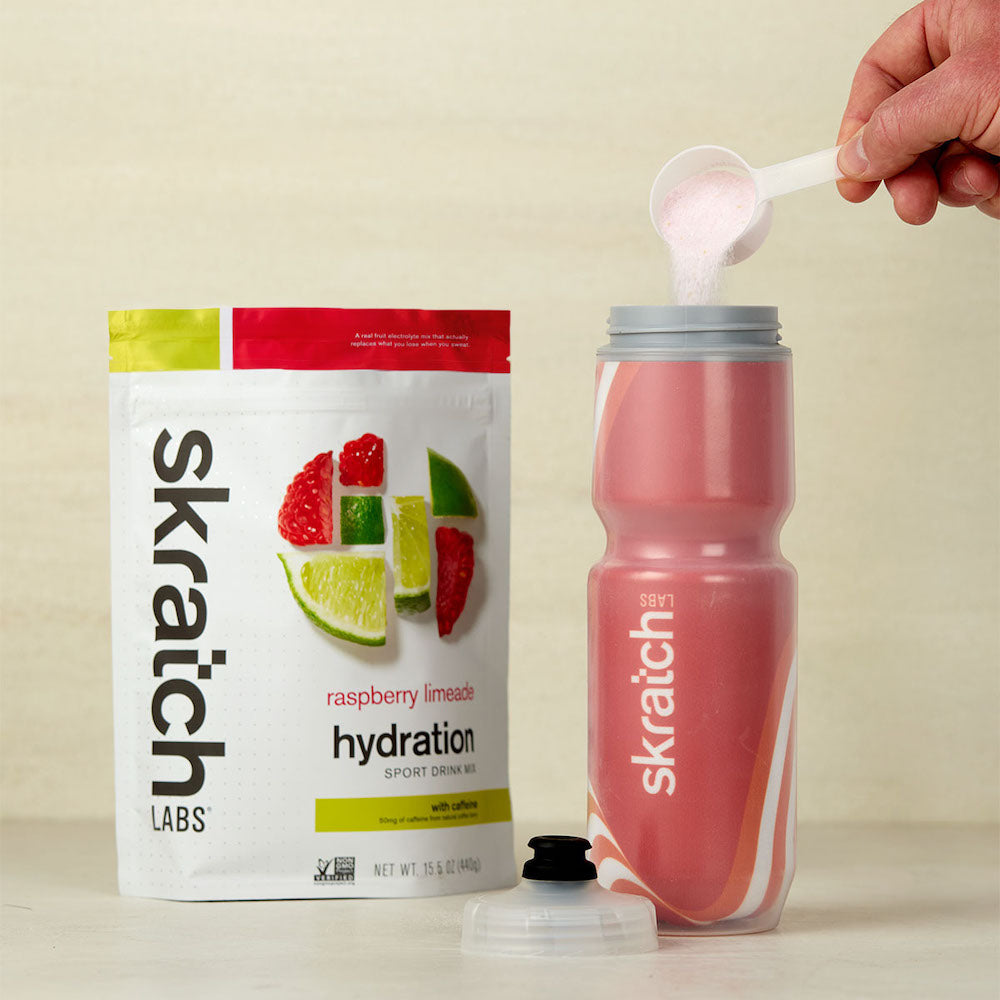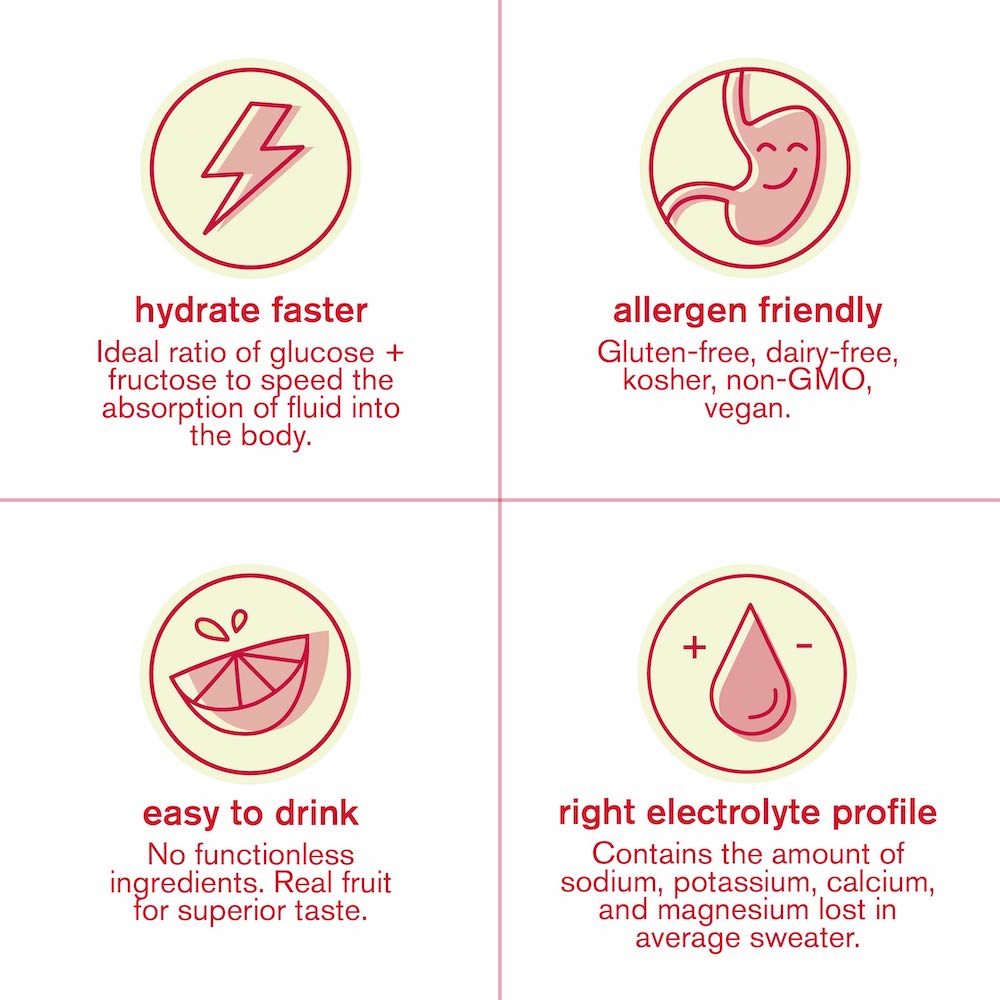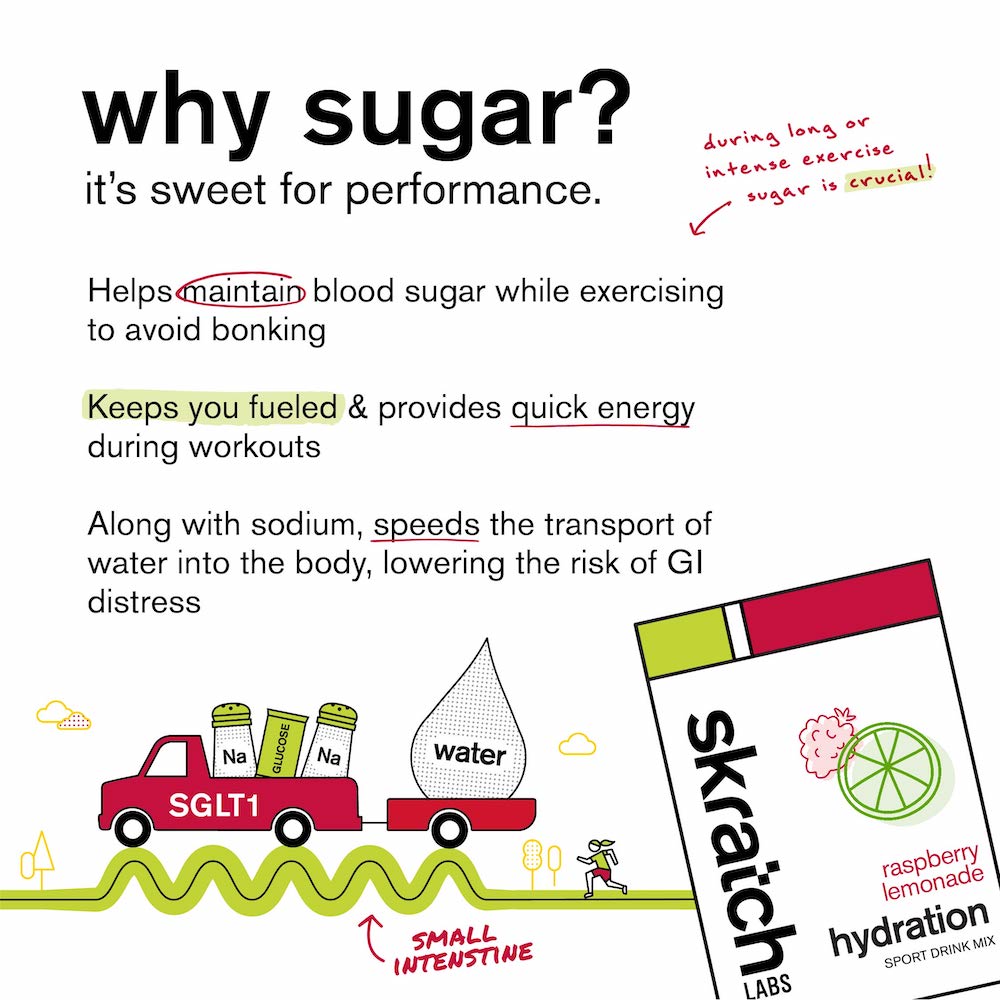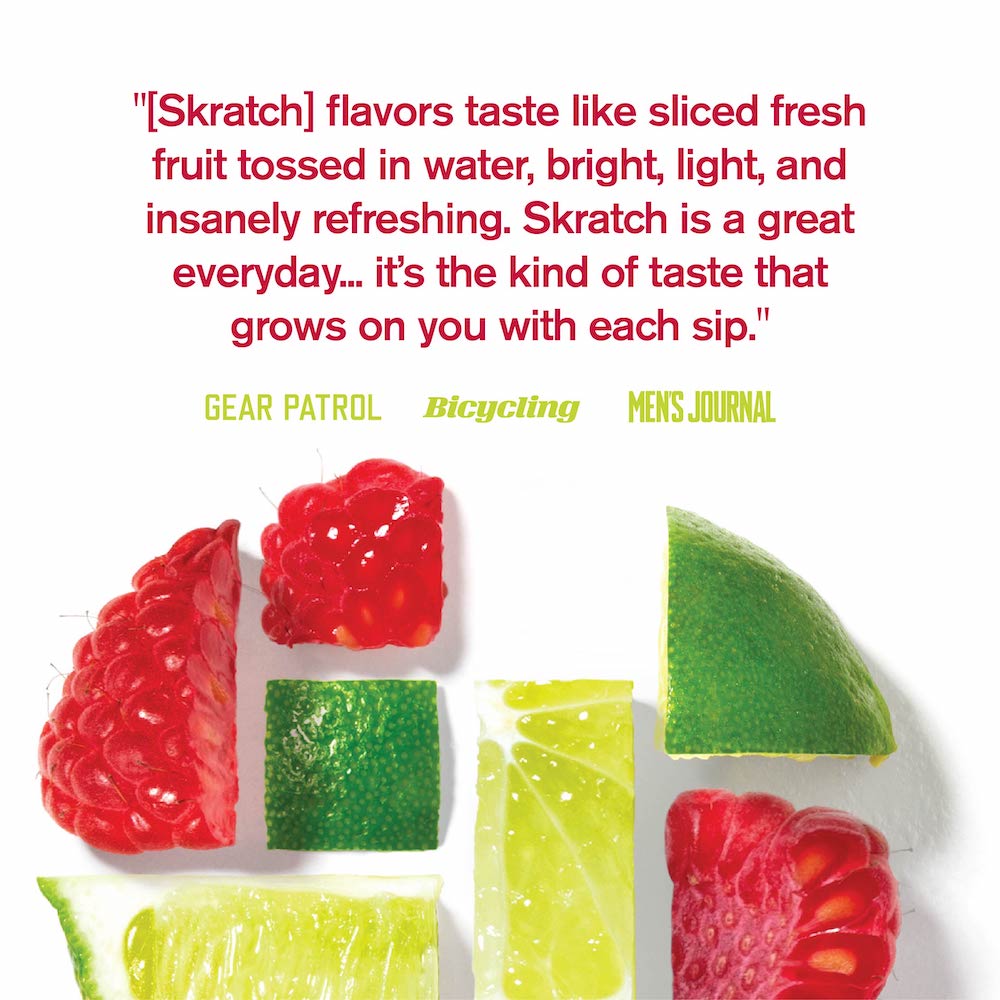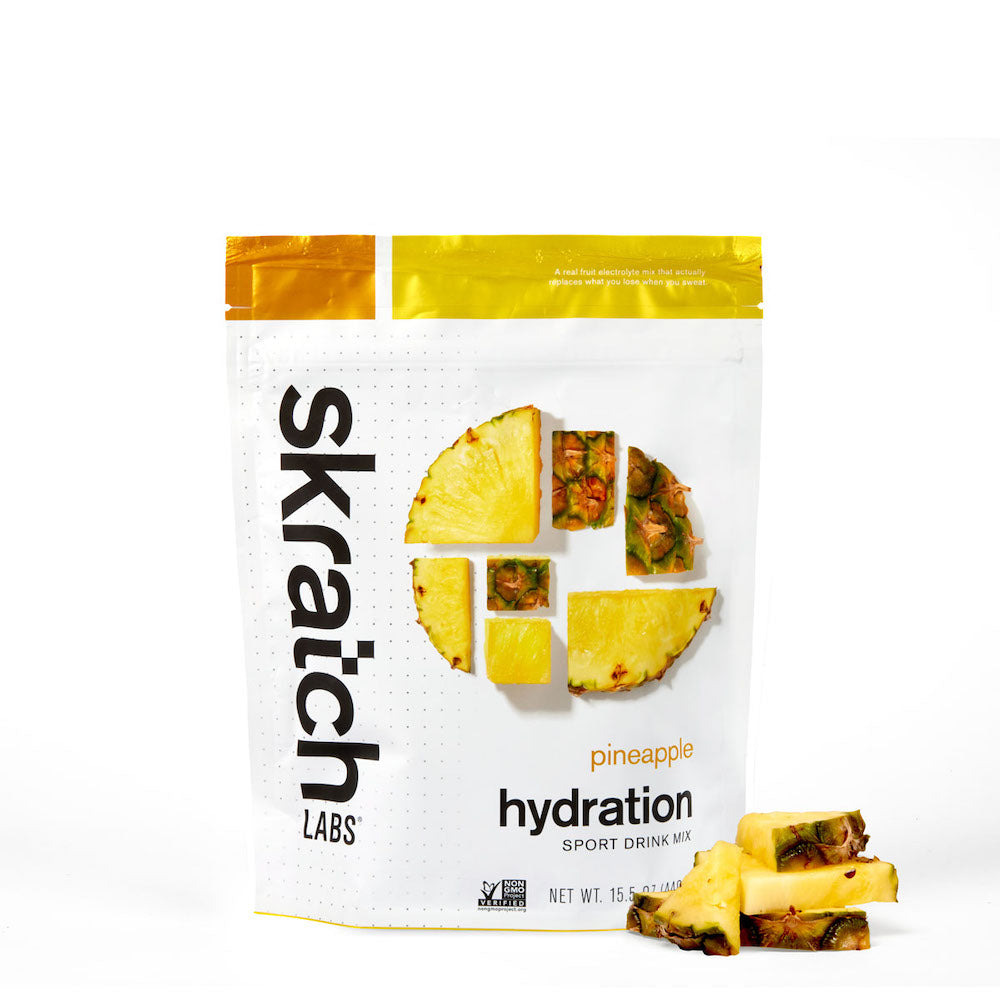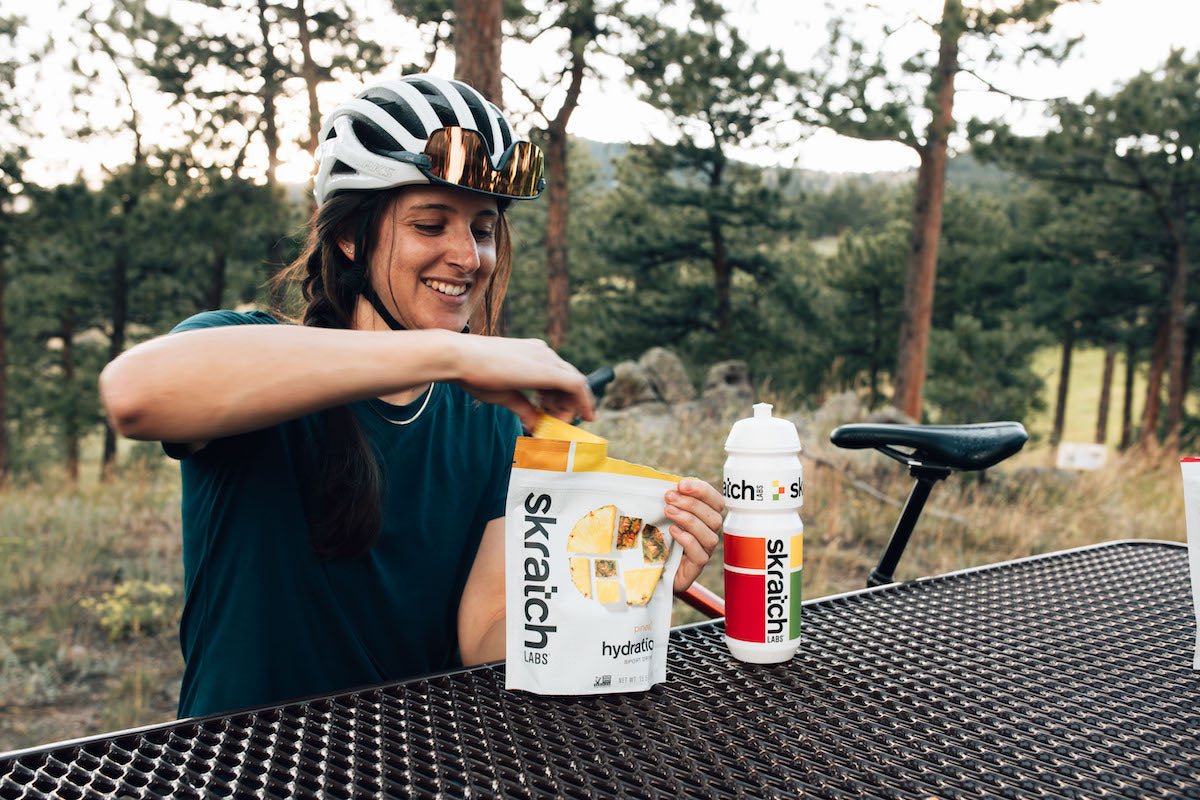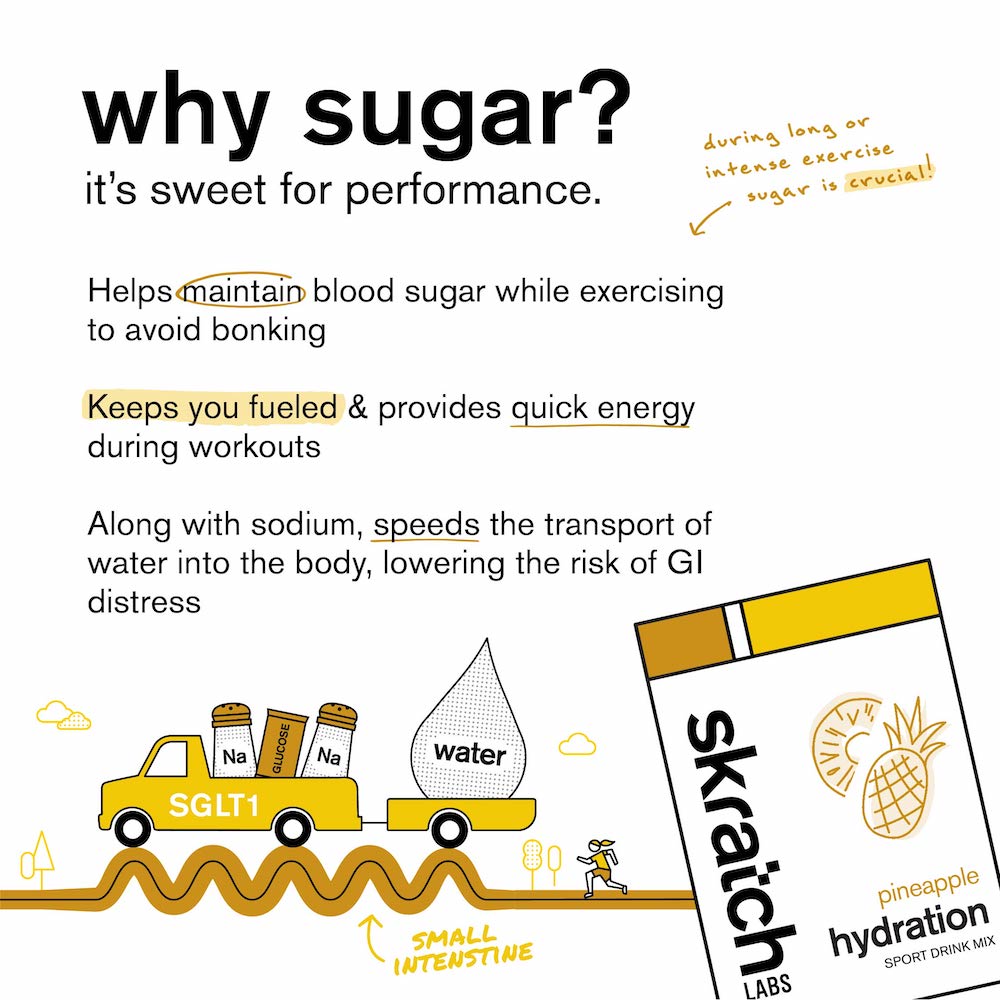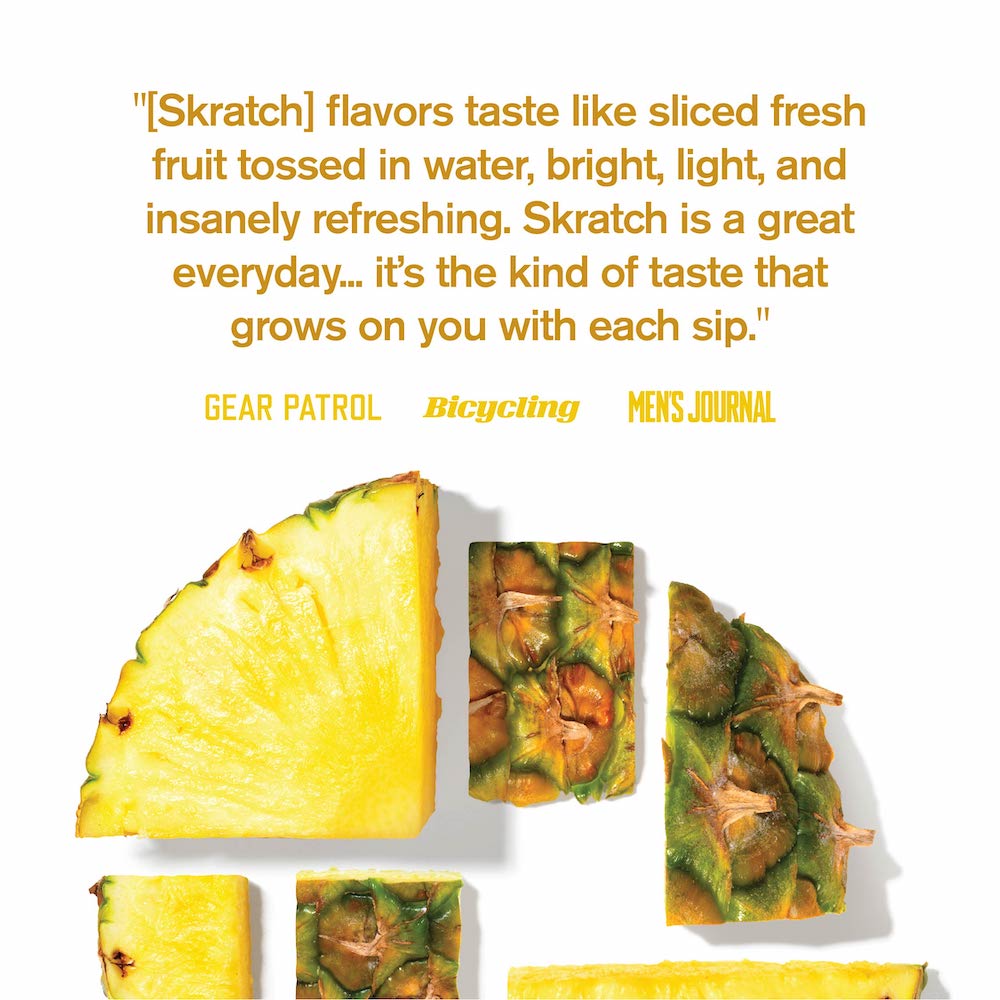 Use when sweating. Drink to thirst.

Sport Hydration Drink Mix was created to replace the electrolytes lost in sweat and to provide a little bit of energy when working out, without offending your palate or gut. We reimagined sports drinks, stripping ours down to the bare essentials to safely hydrate and quench thirst, so that
athletes feel and perform better.
• The right electrolyte profile: contains the average sodium, potassium, calcium, and magnesium lost in sweat, allowing thirst to be a better gauge for hydration.
• Hydrate faster: when glucose and sodium are transported together across the gut, this also moves water, allowing for faster hydration compared to water alone.
• The right amount of sugar: enough sugar to improve performance during exercise but not so much to ever cause GI-distress.
• Easy to drink: to alleviate GI-distress and flavor fatigue, we eliminate functionless ingredients like artificial sweeteners and colors, using only real fruit for superior taste.
• Meets special dietary needs: non-GMO, gluten-free, dairy-free, vegan, kosher.

Read more here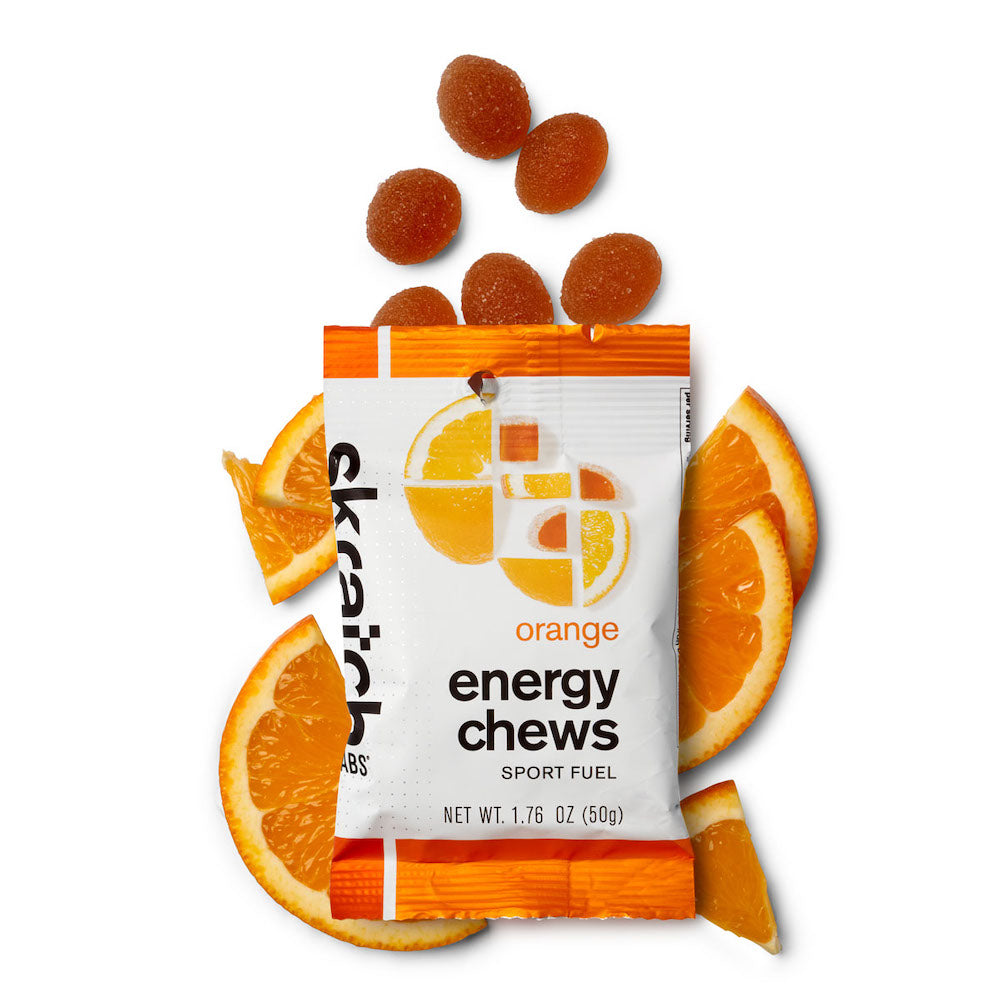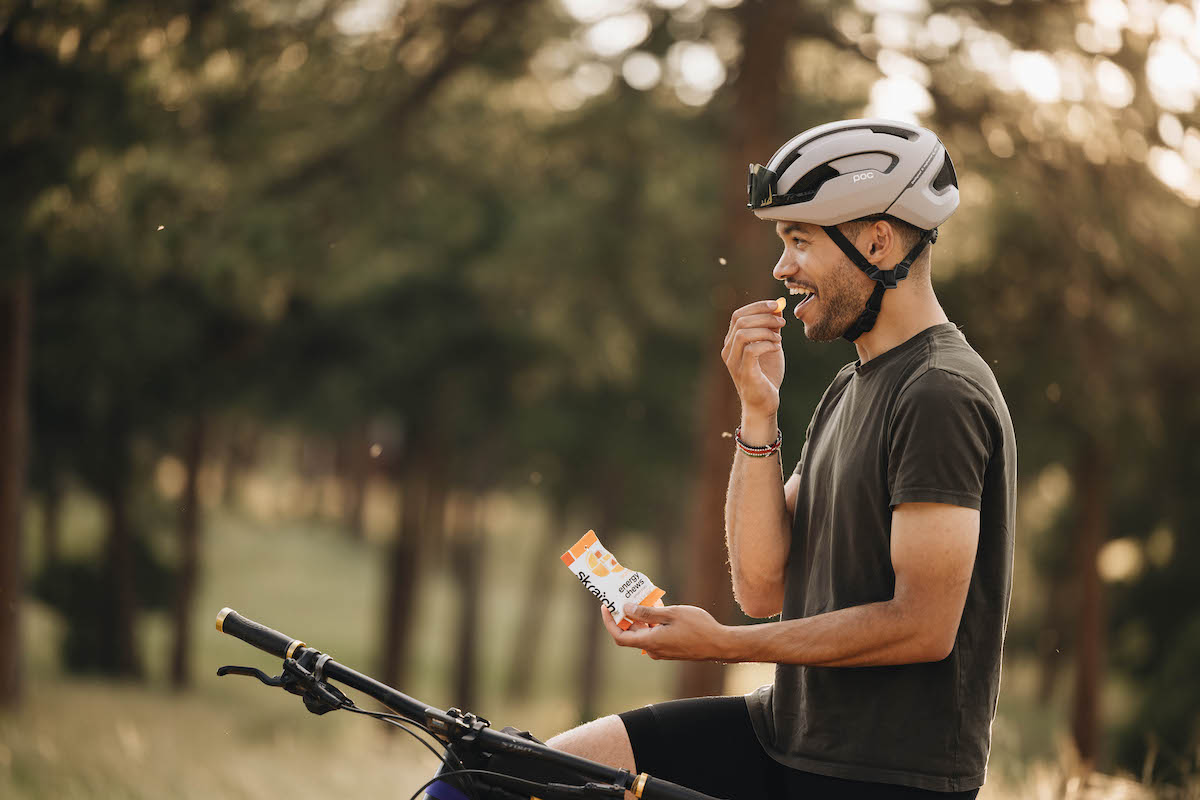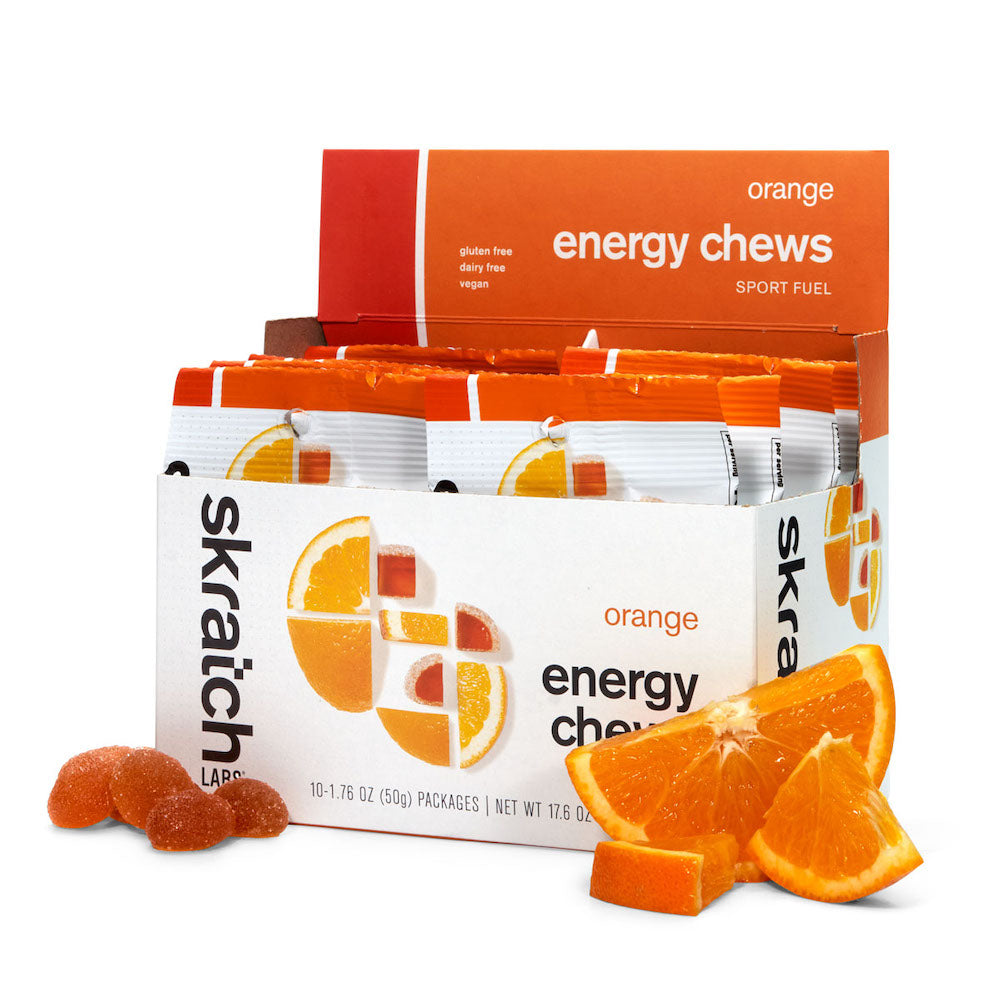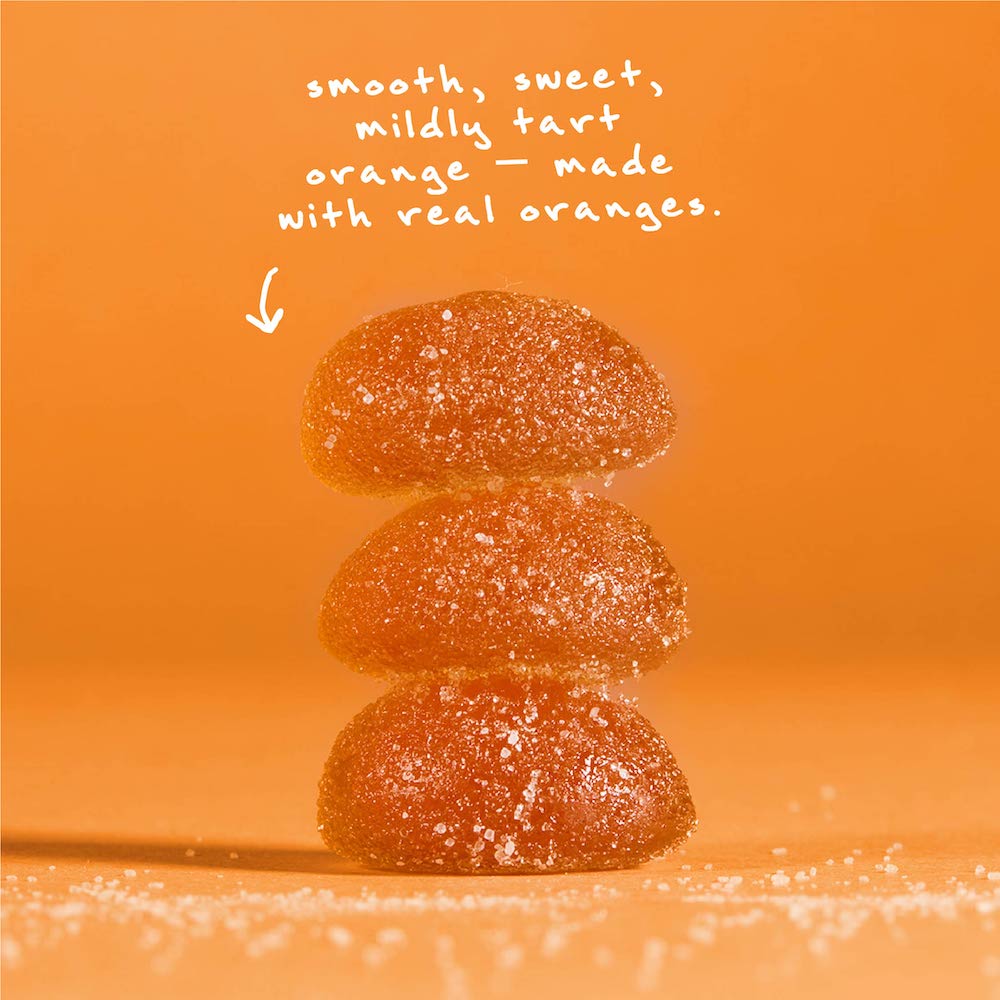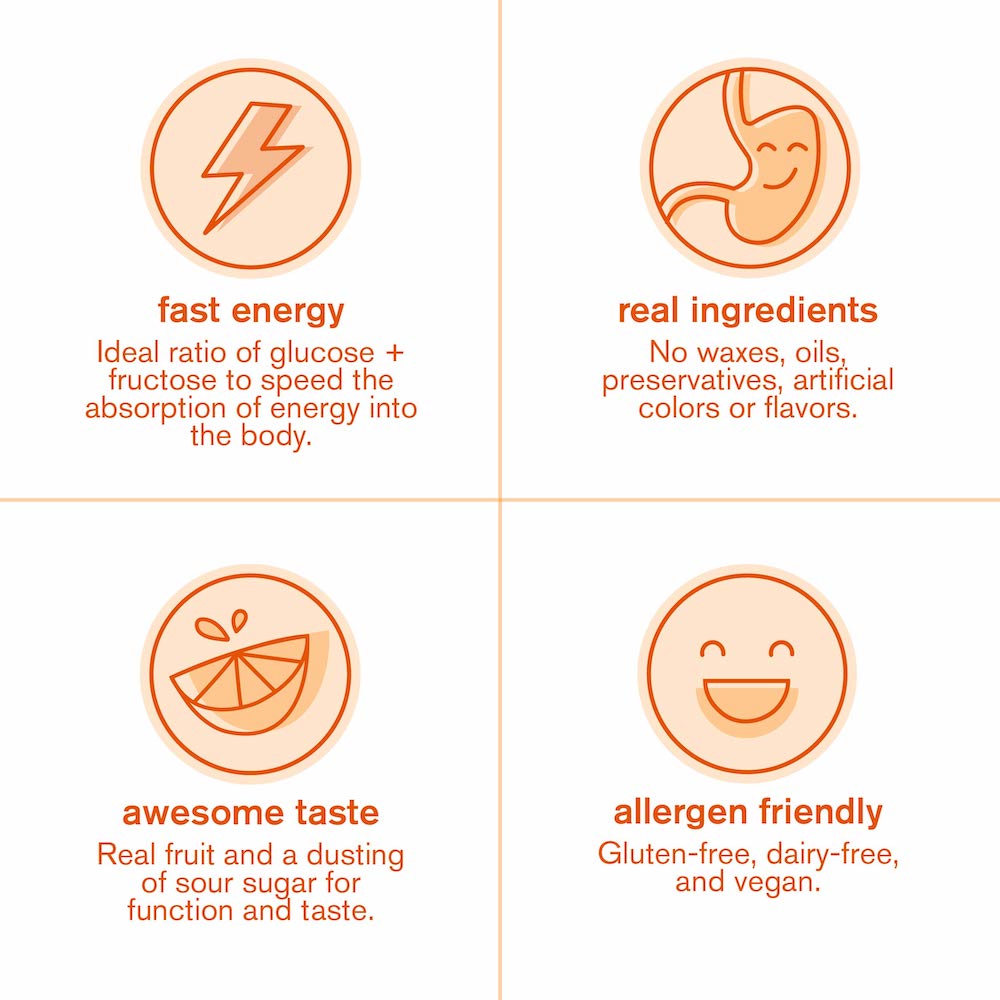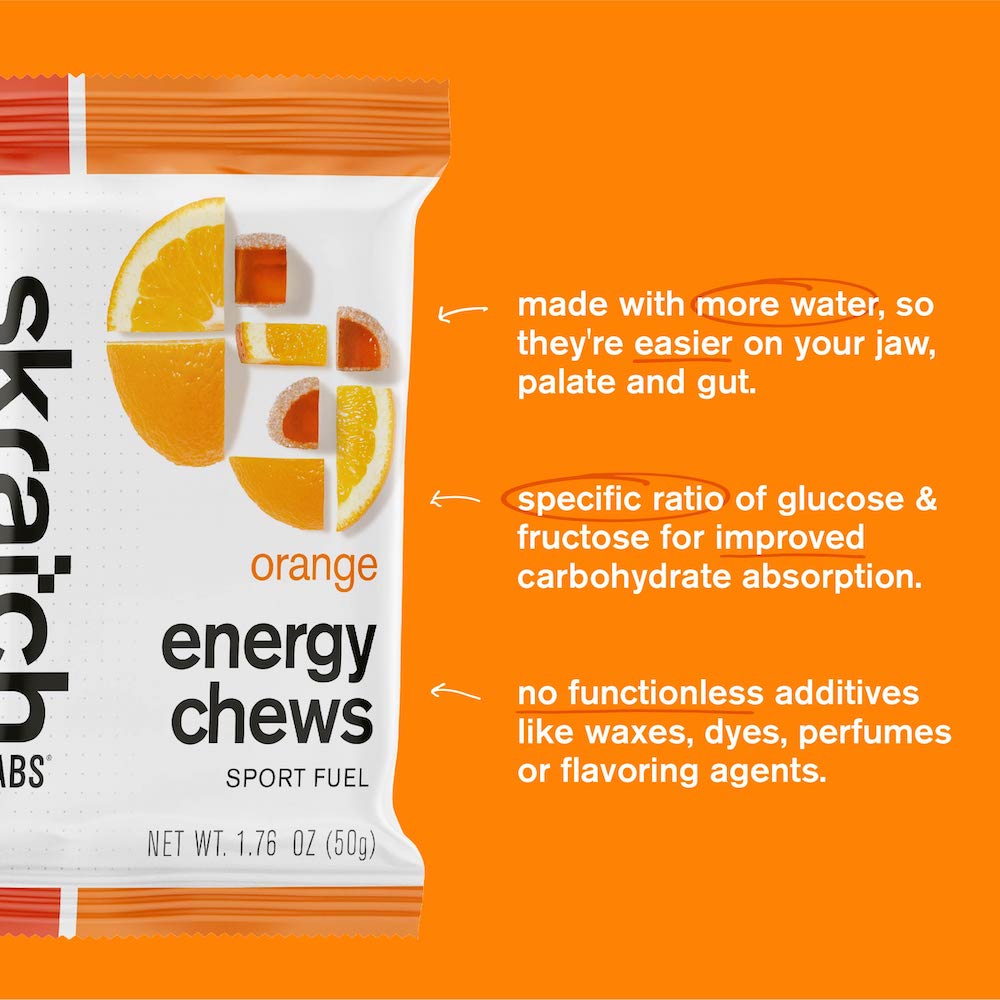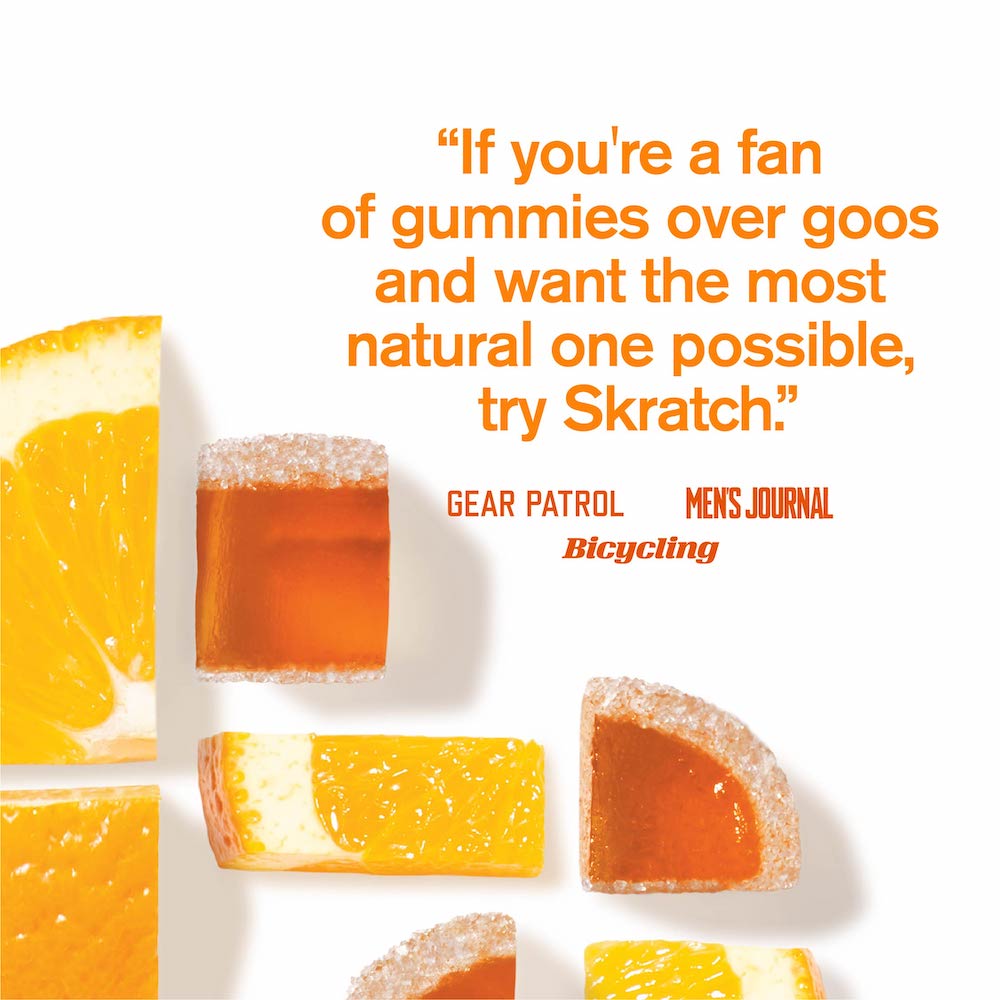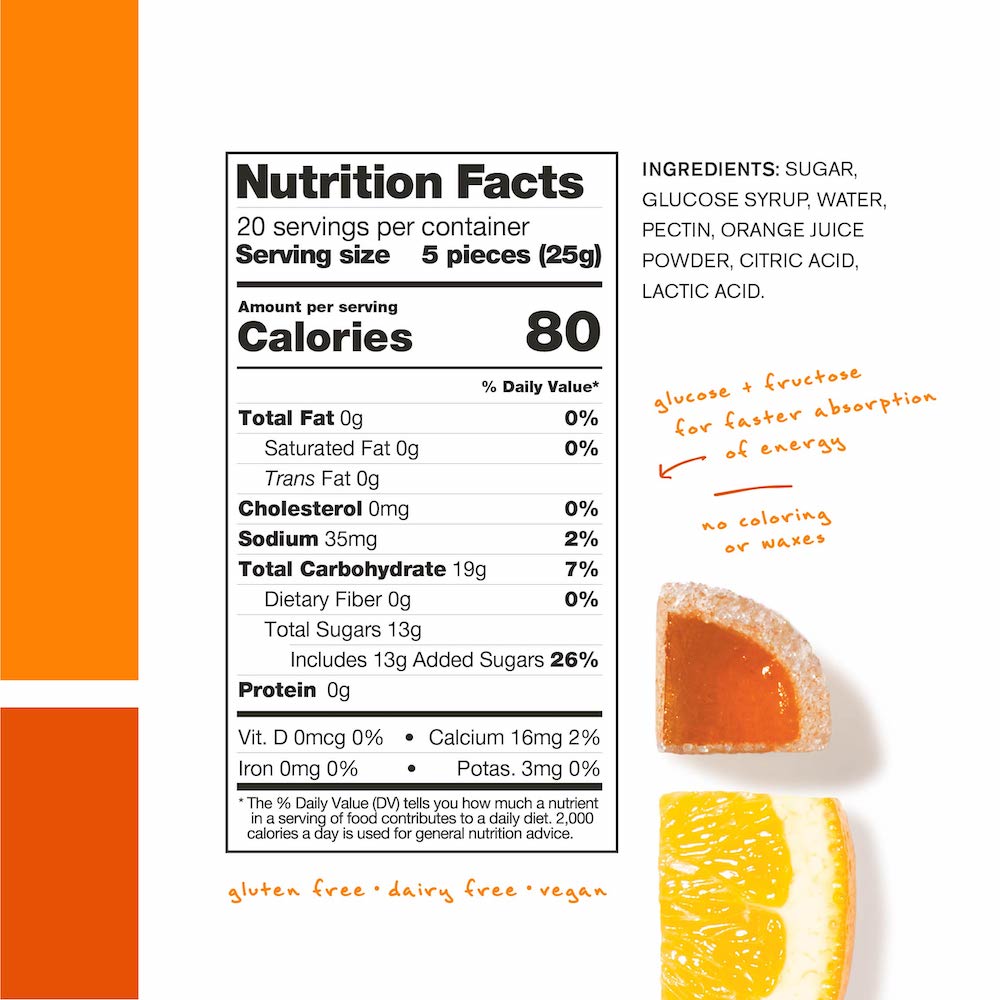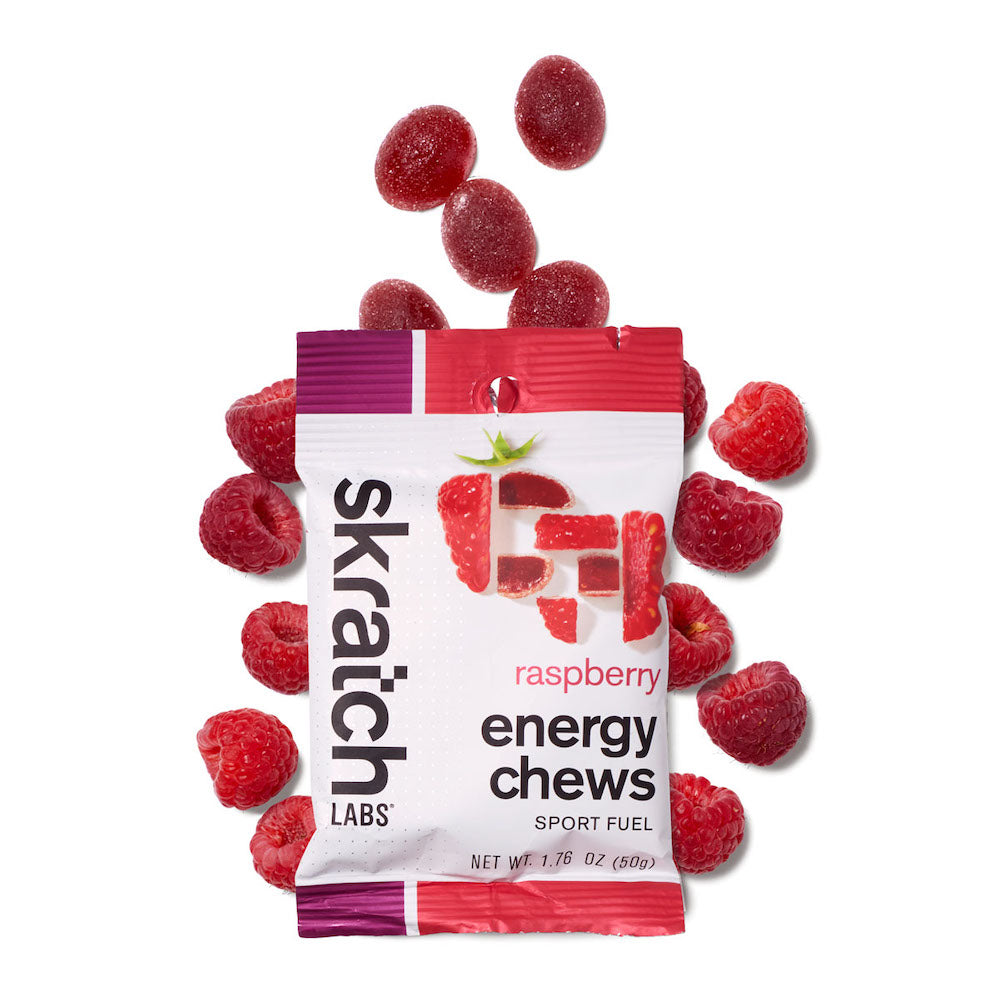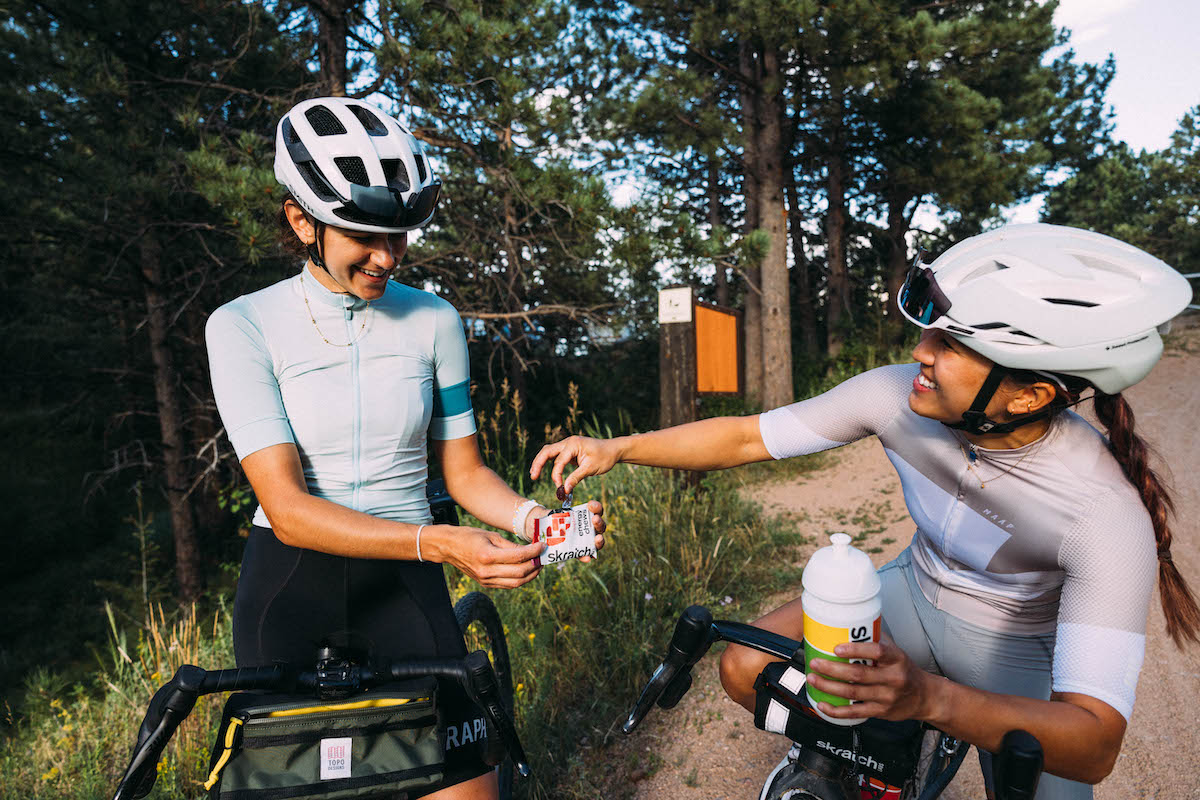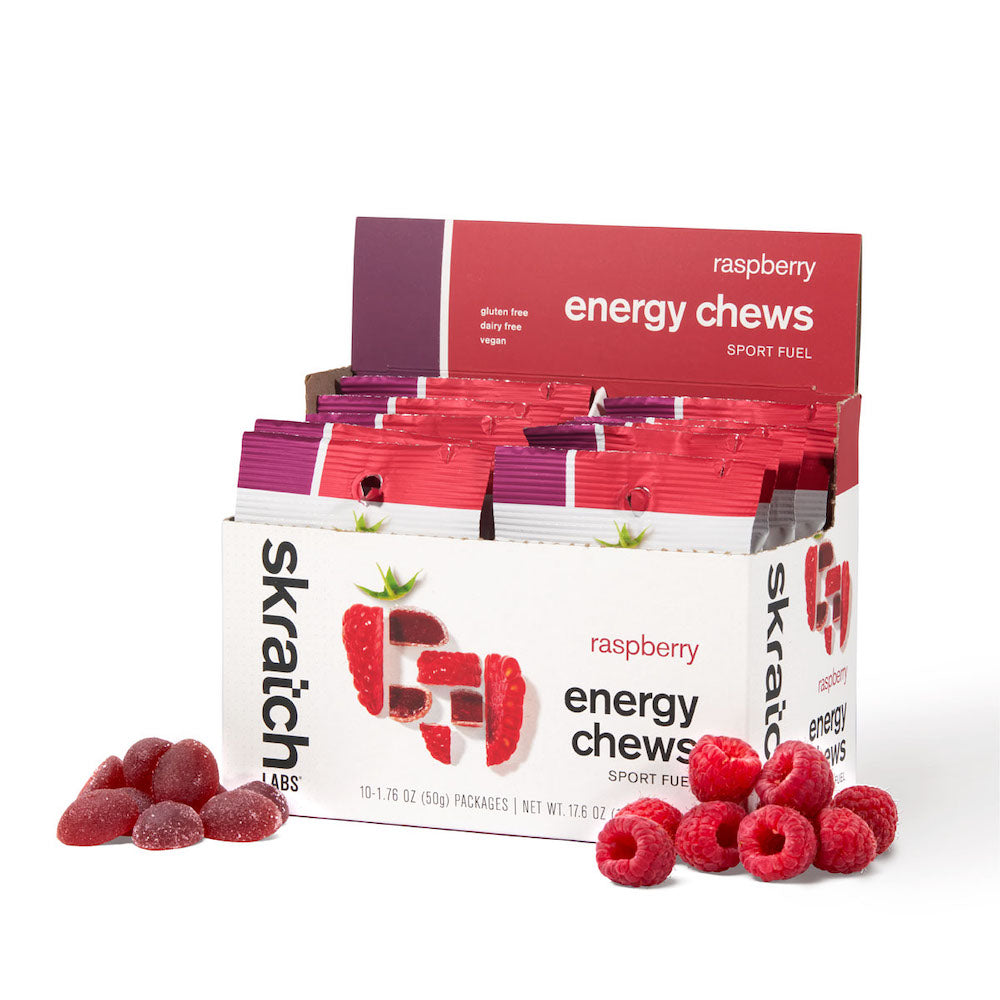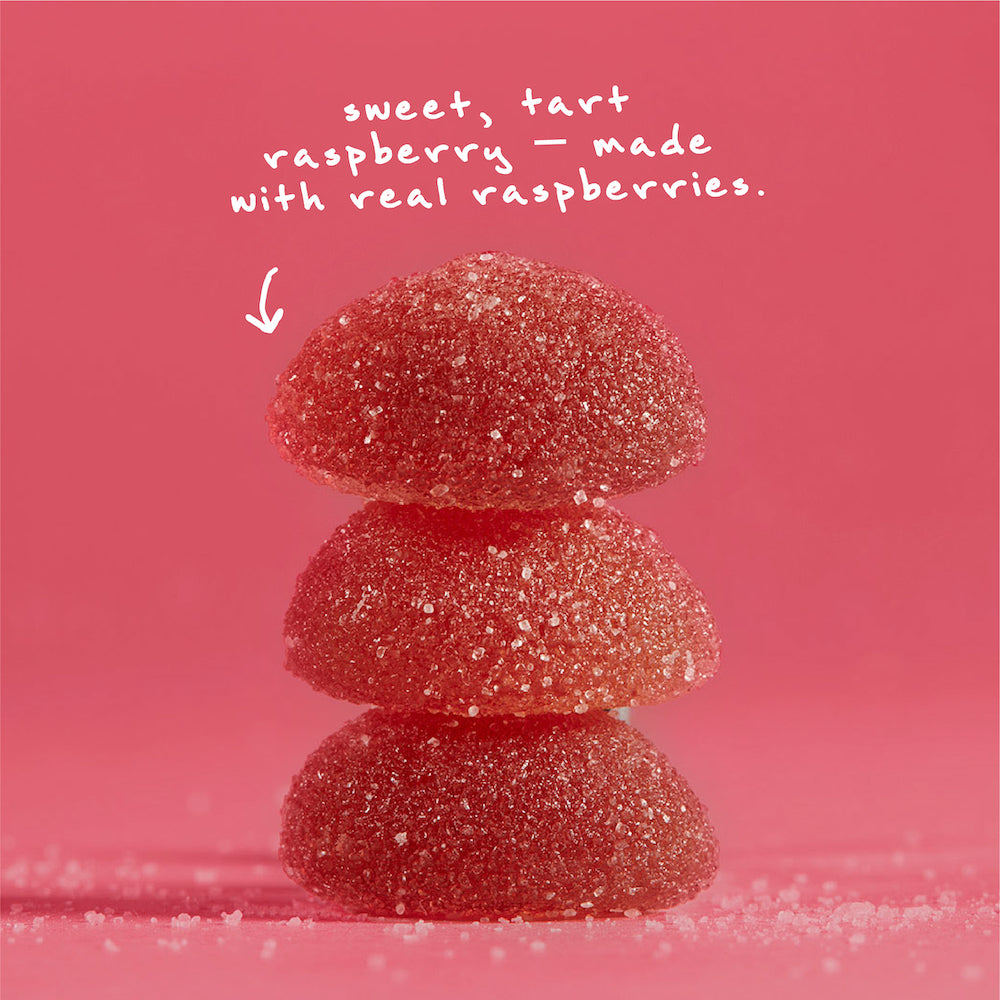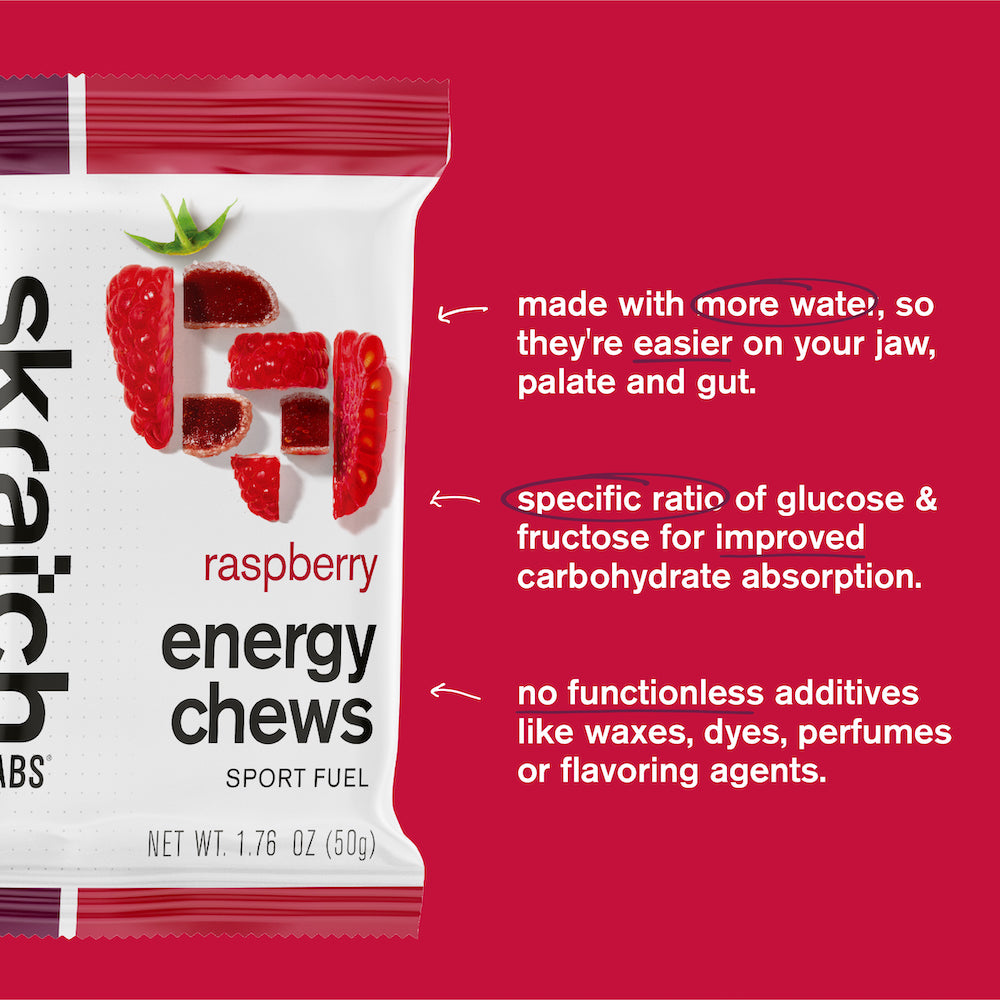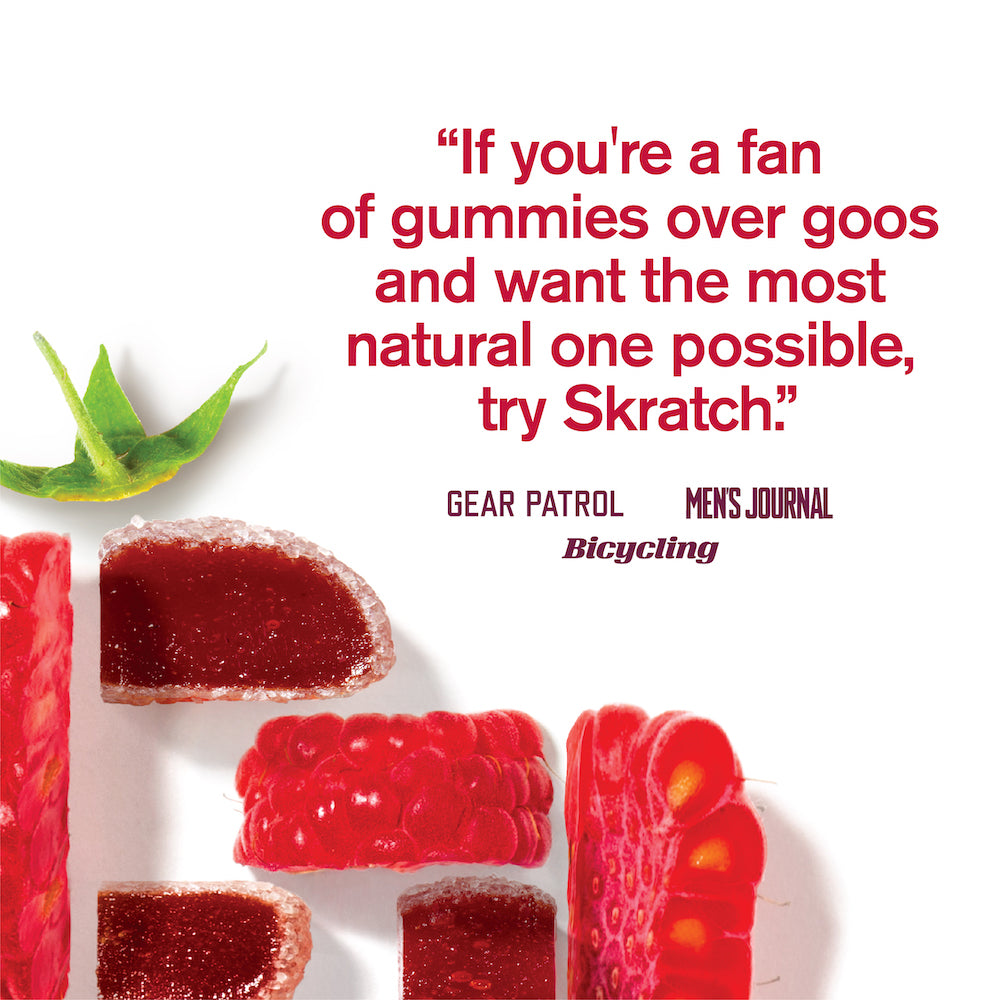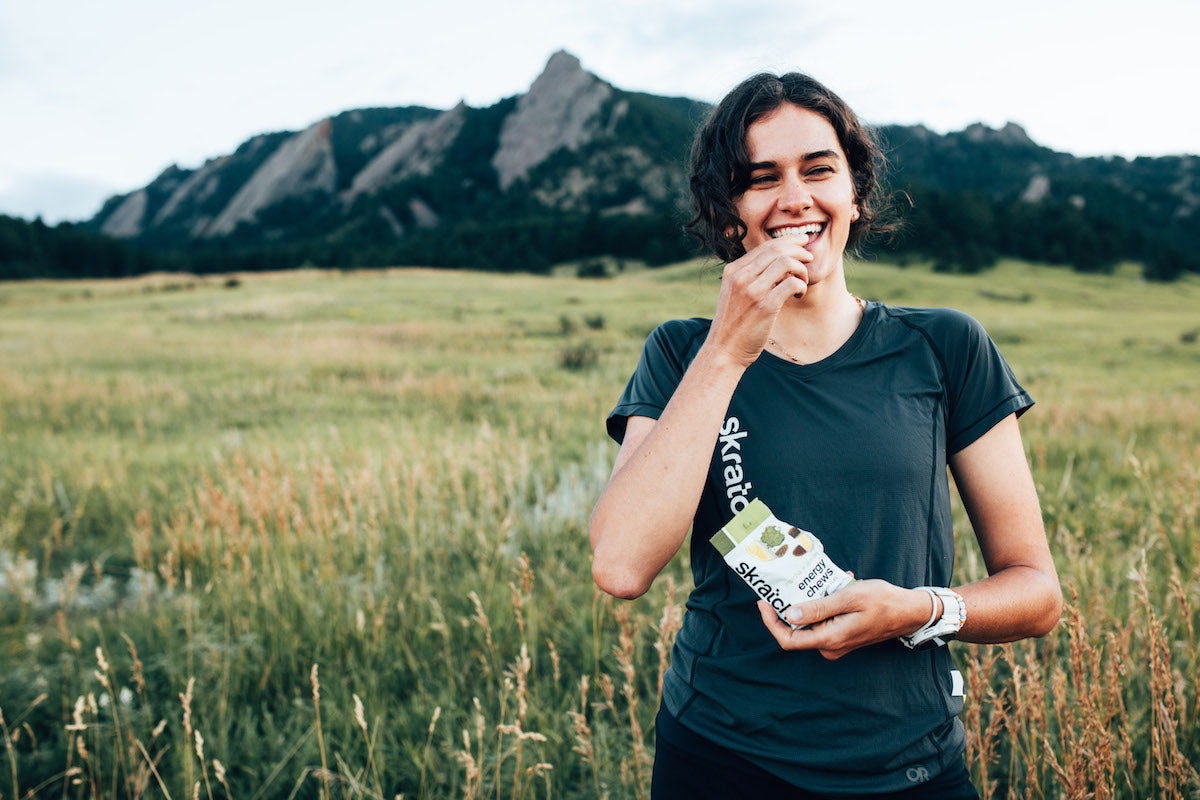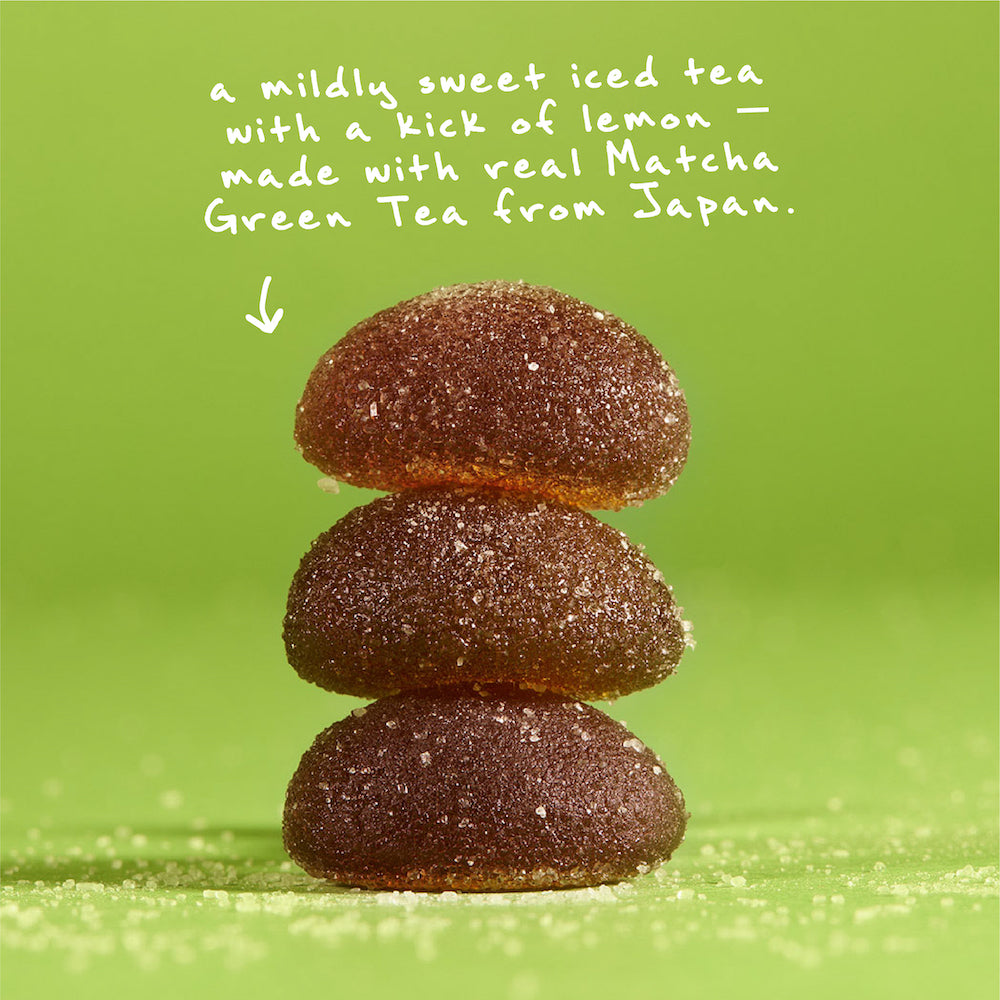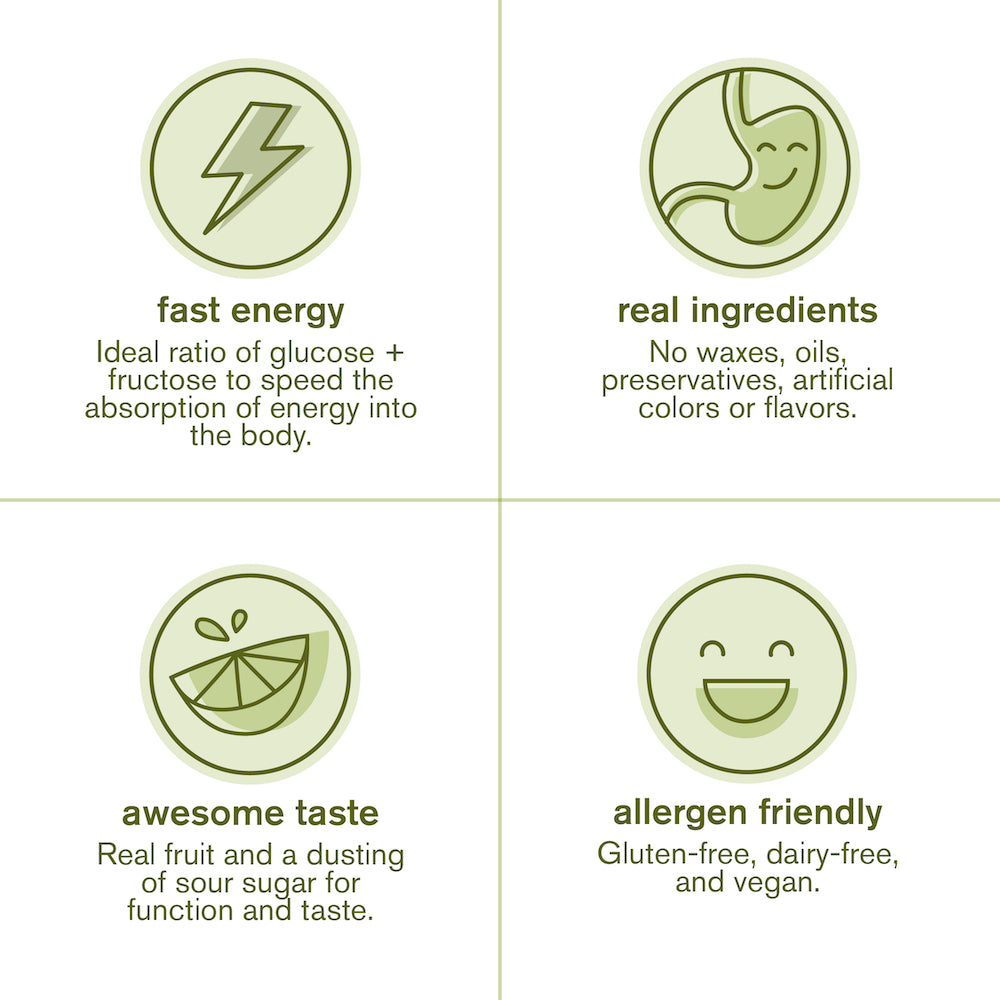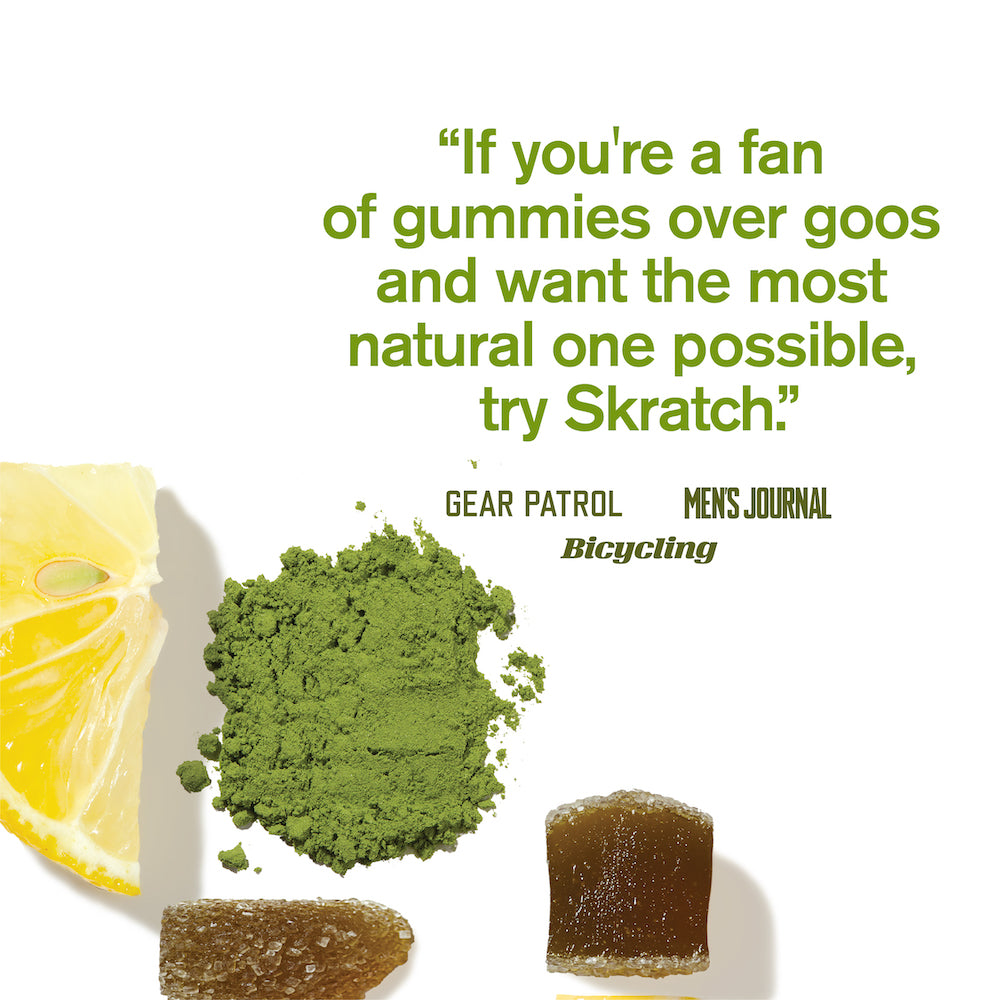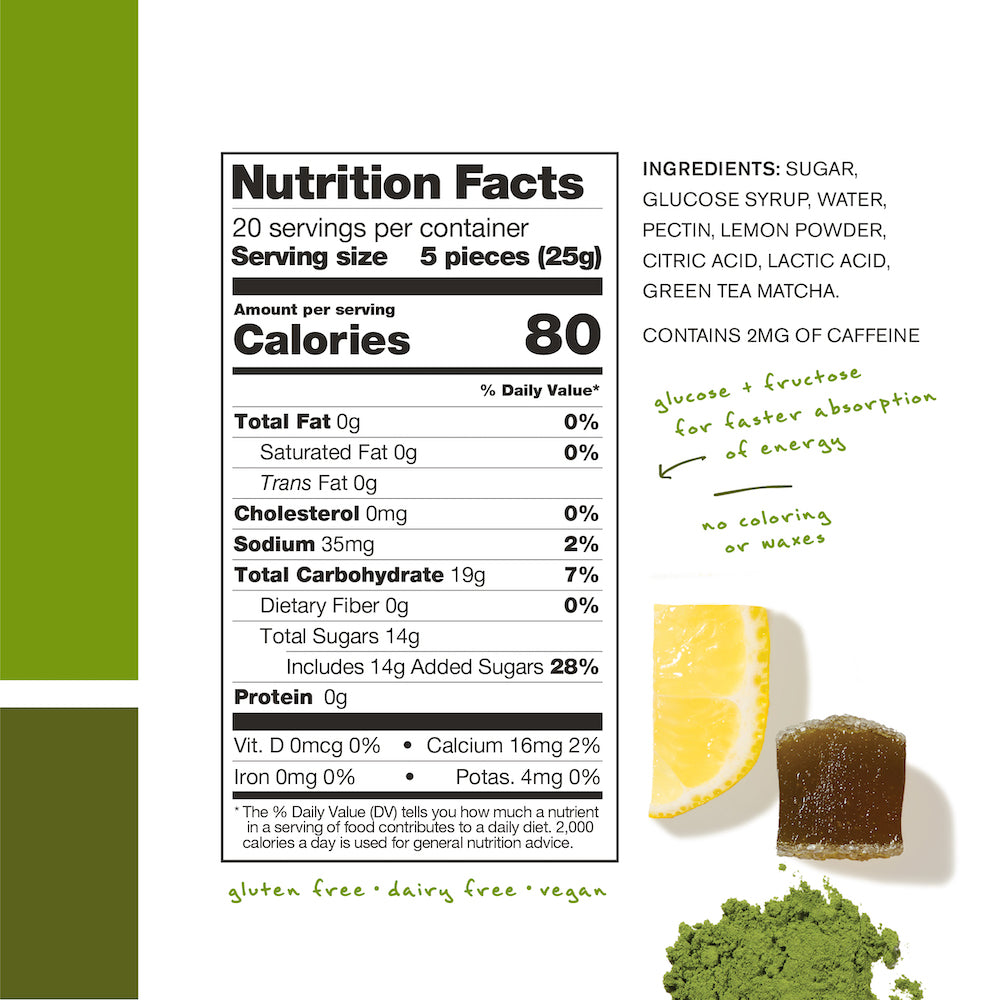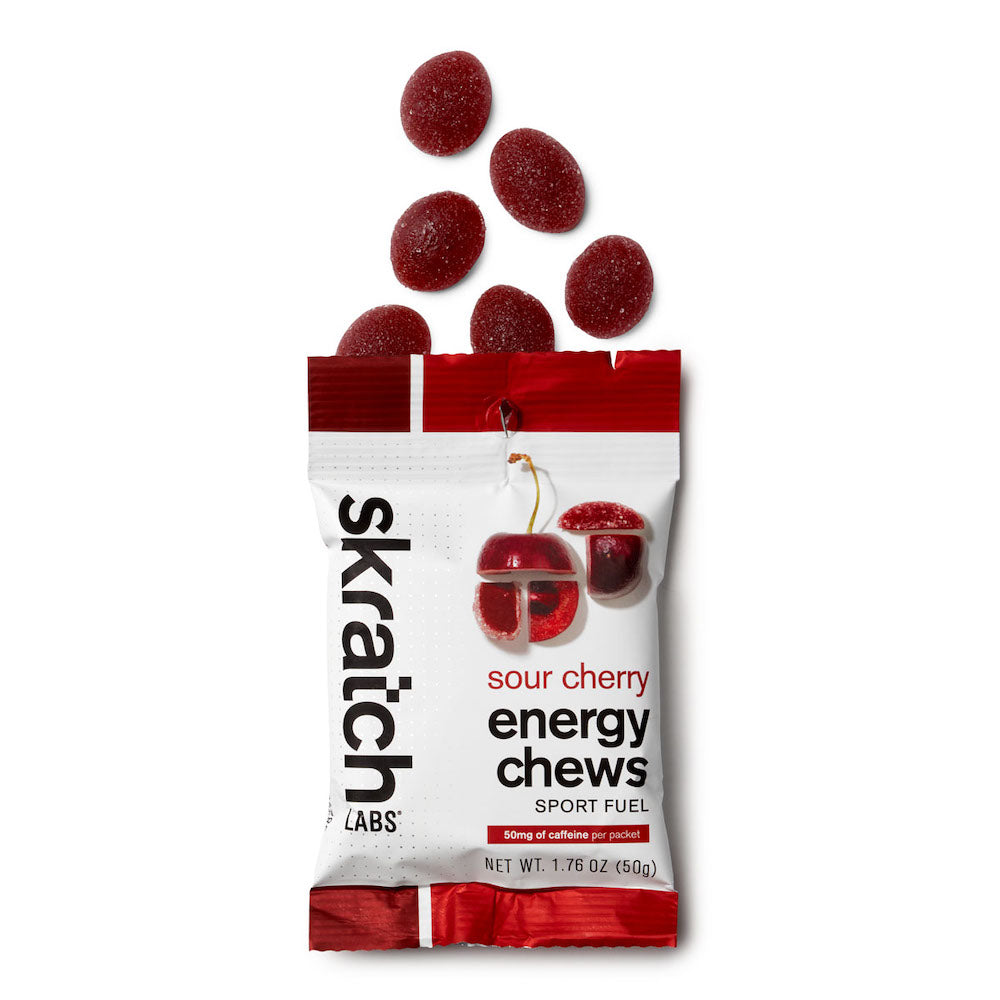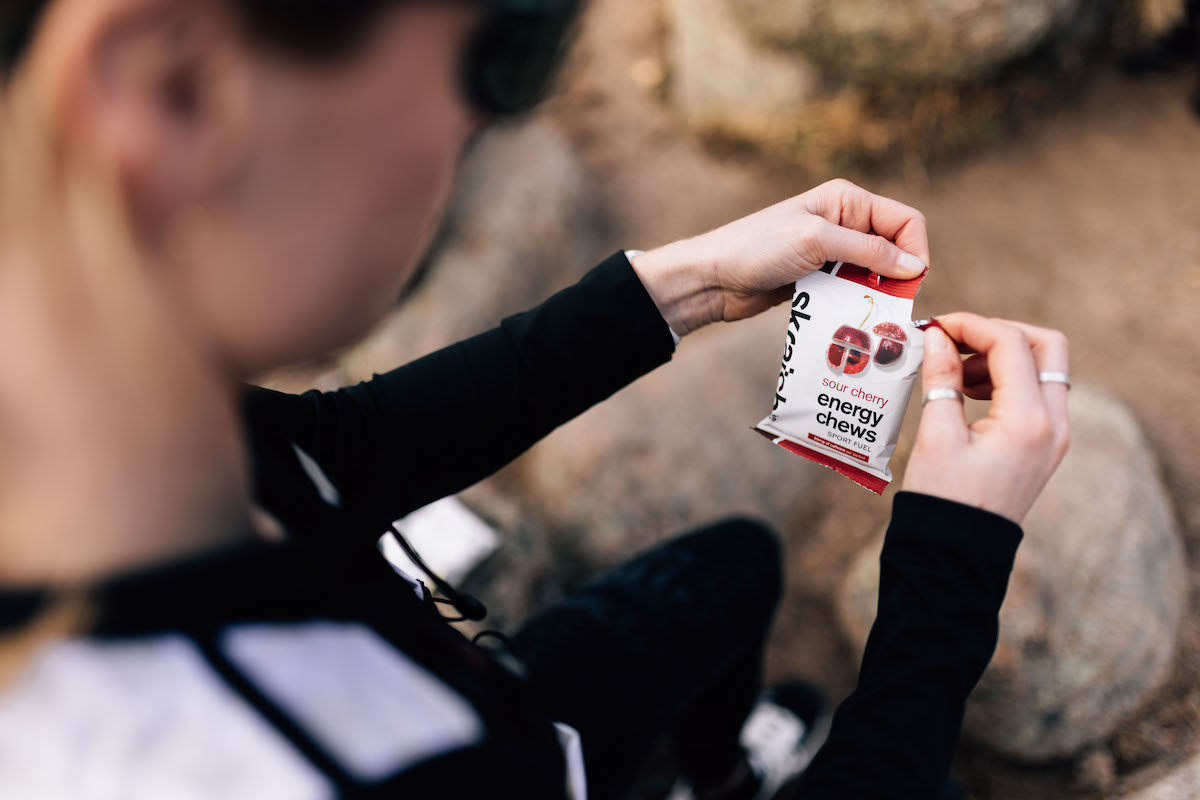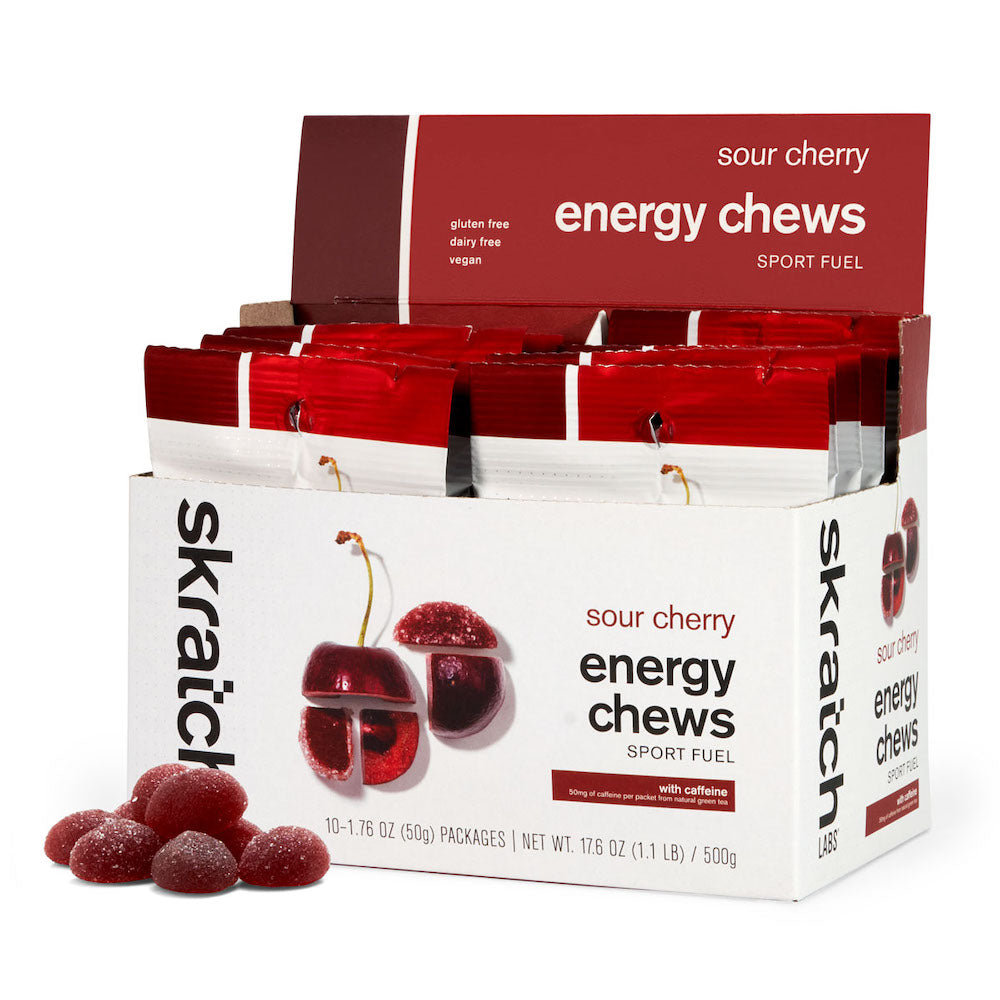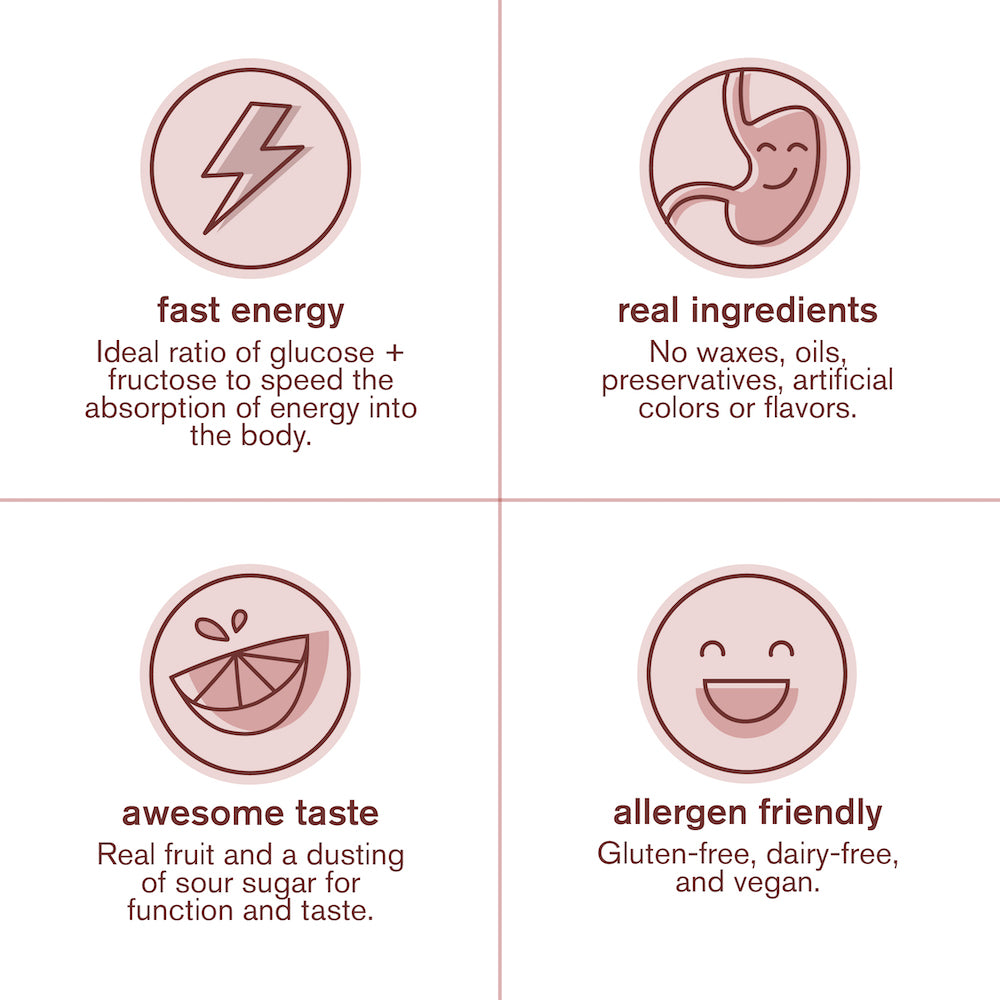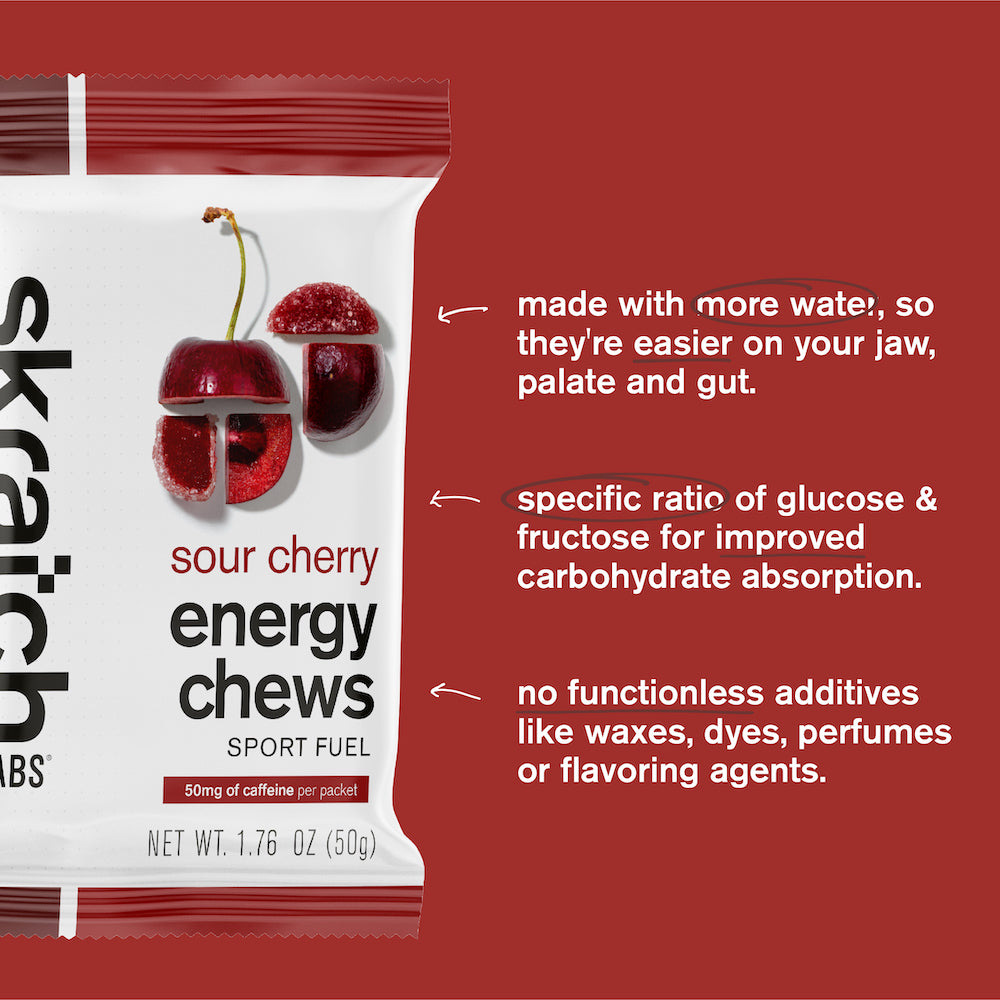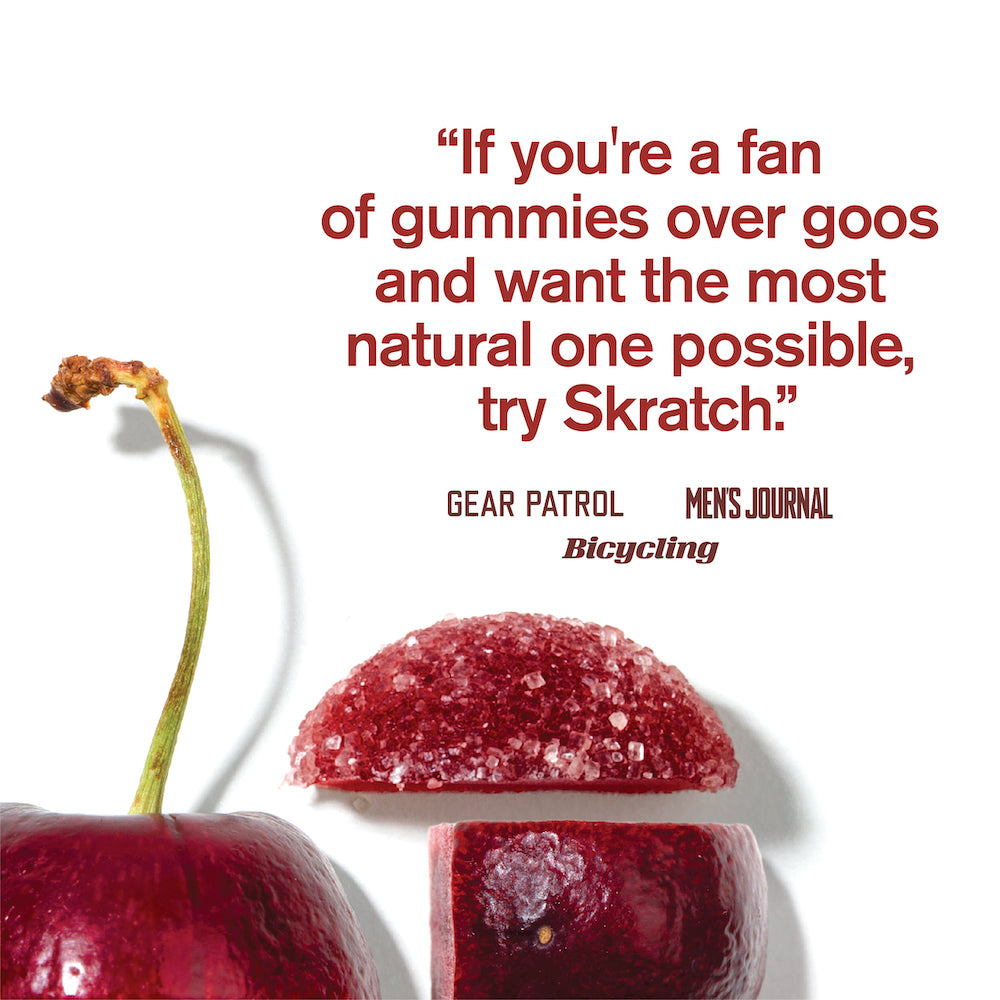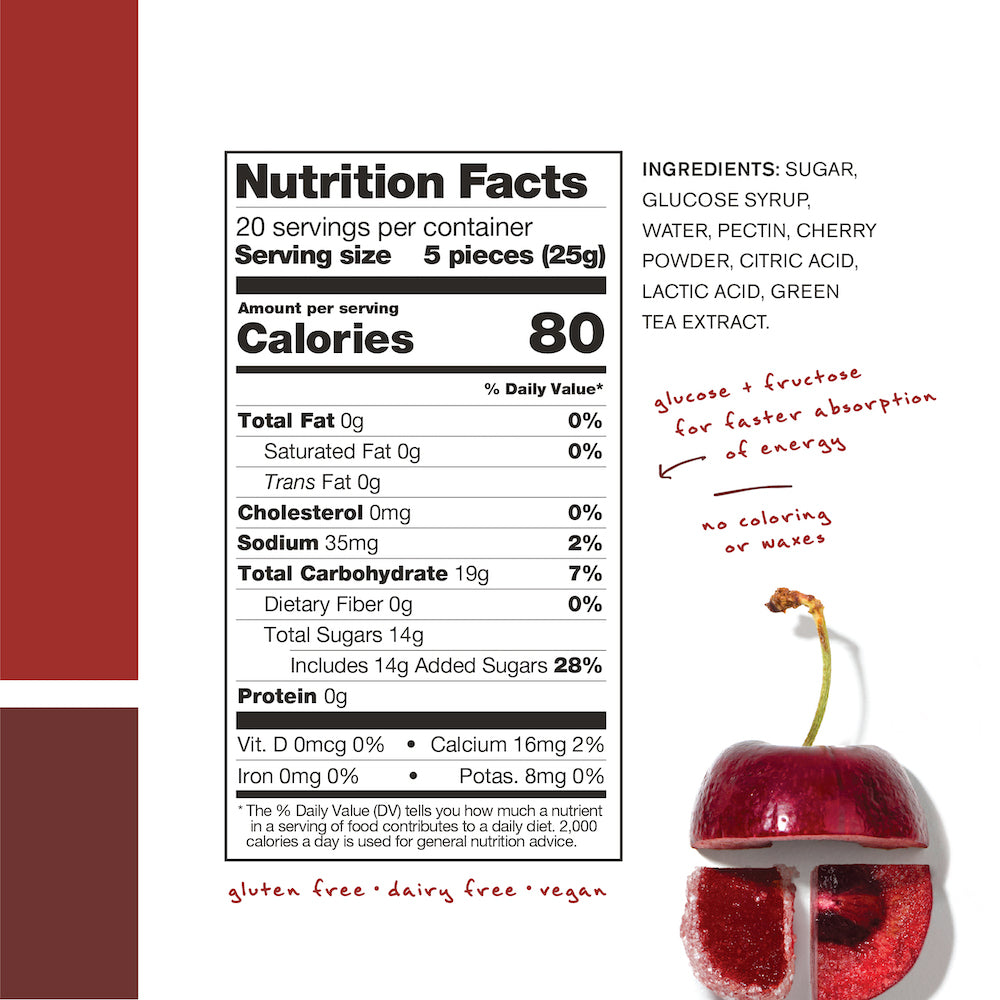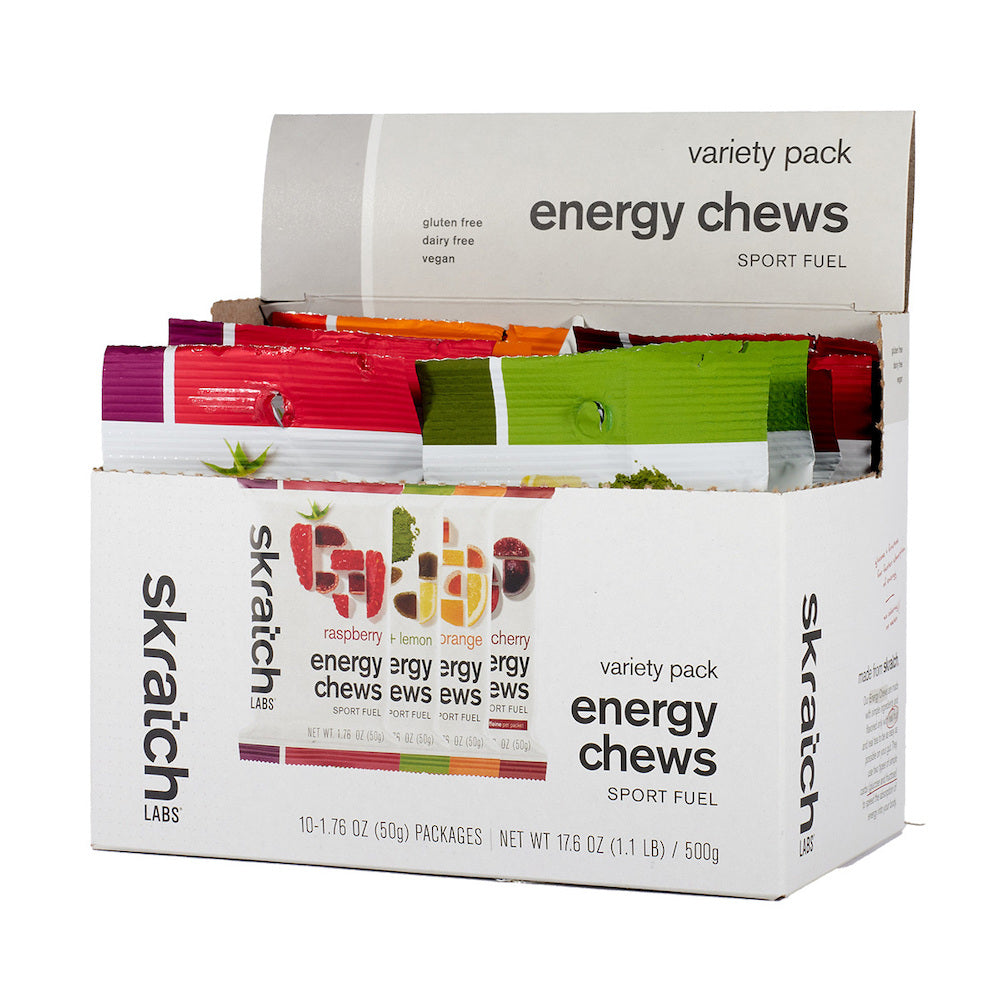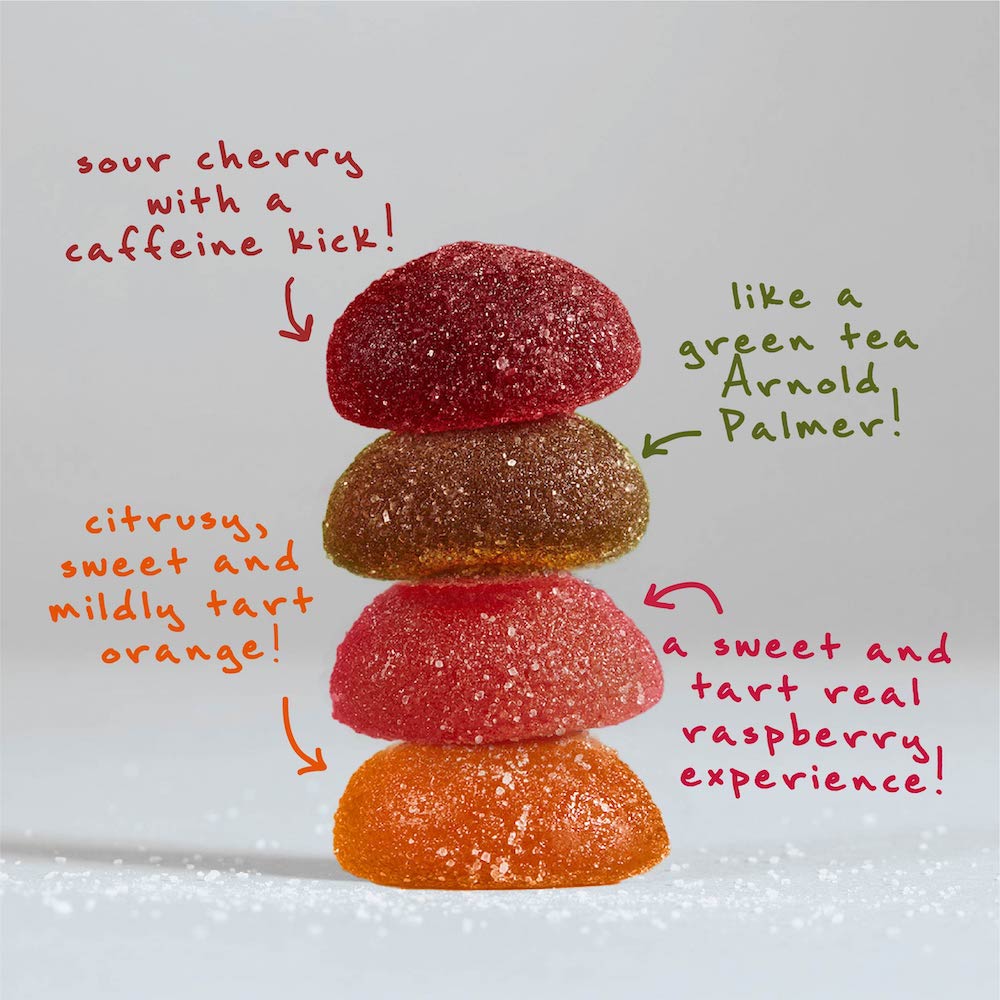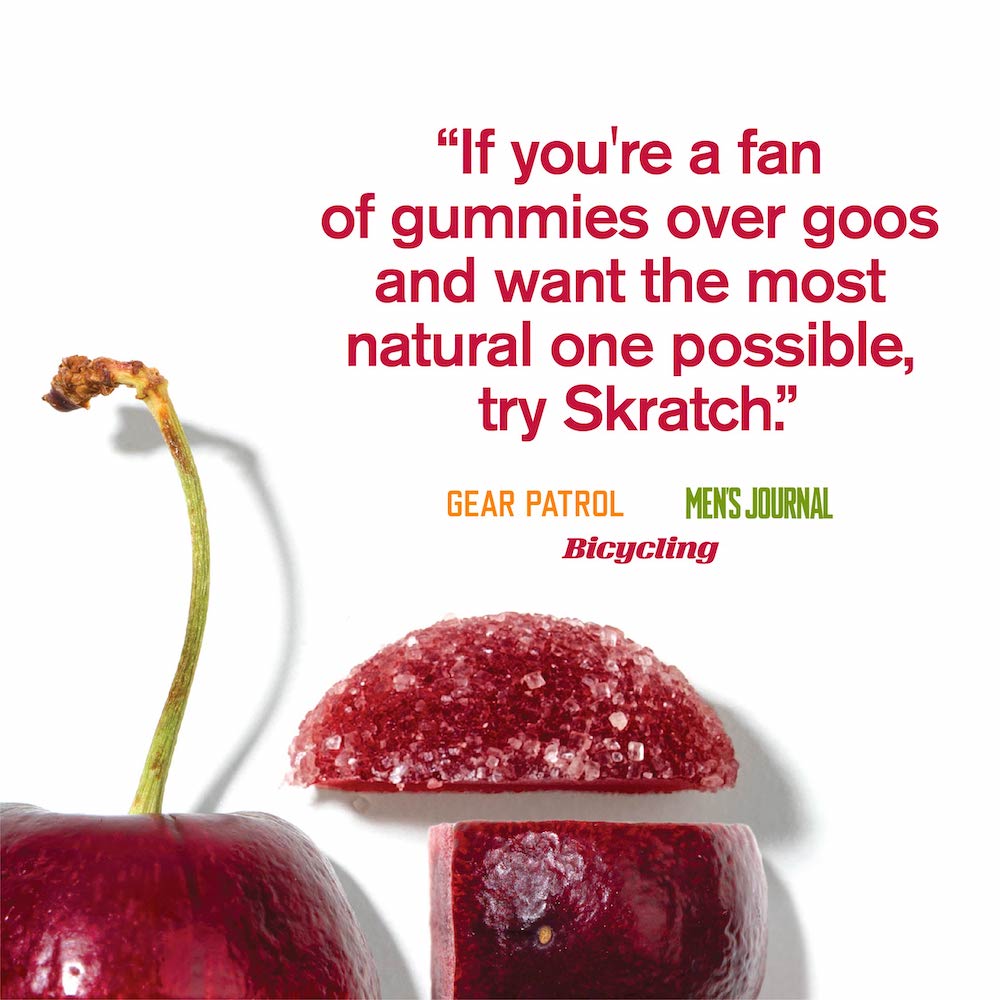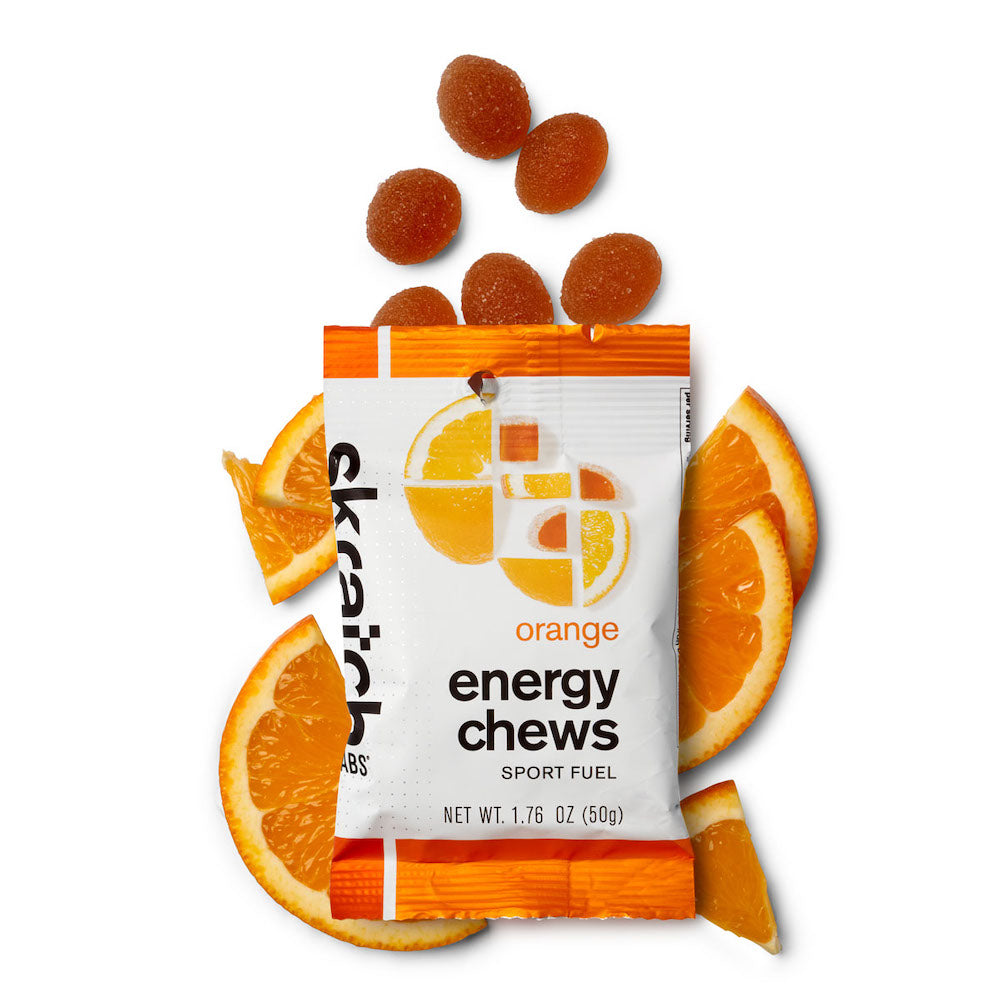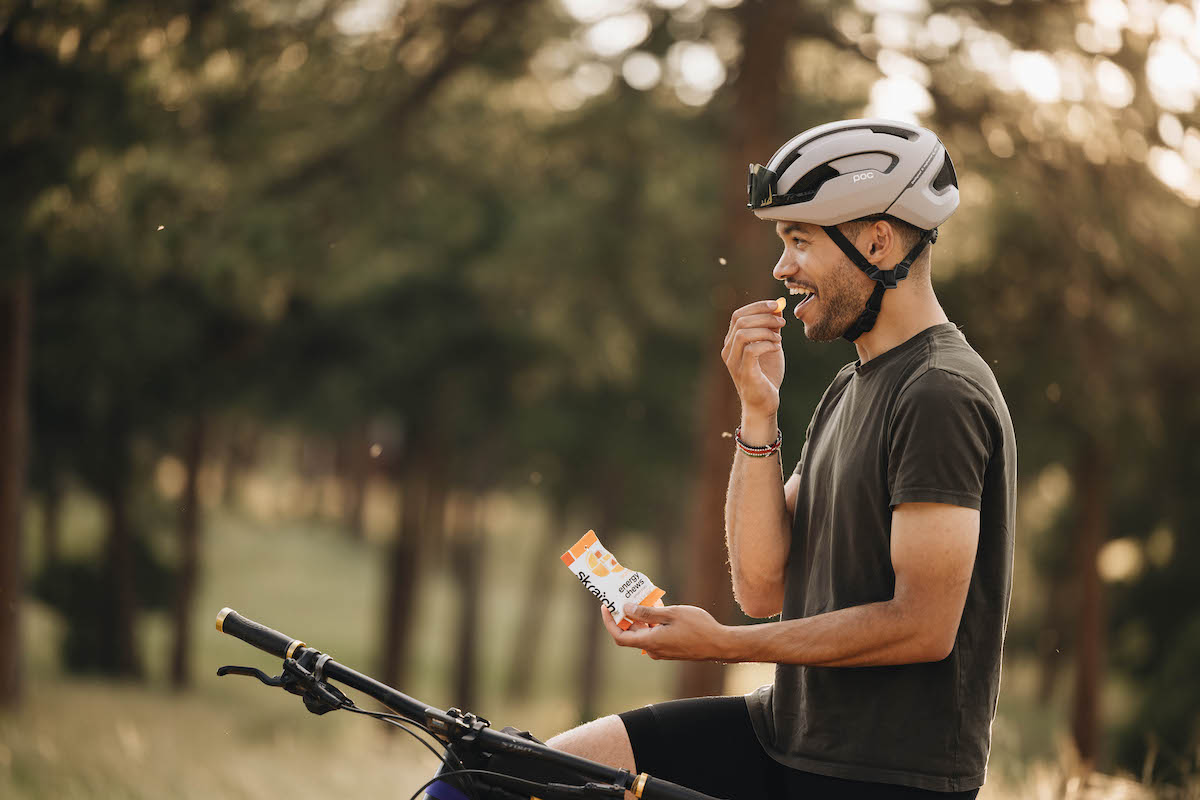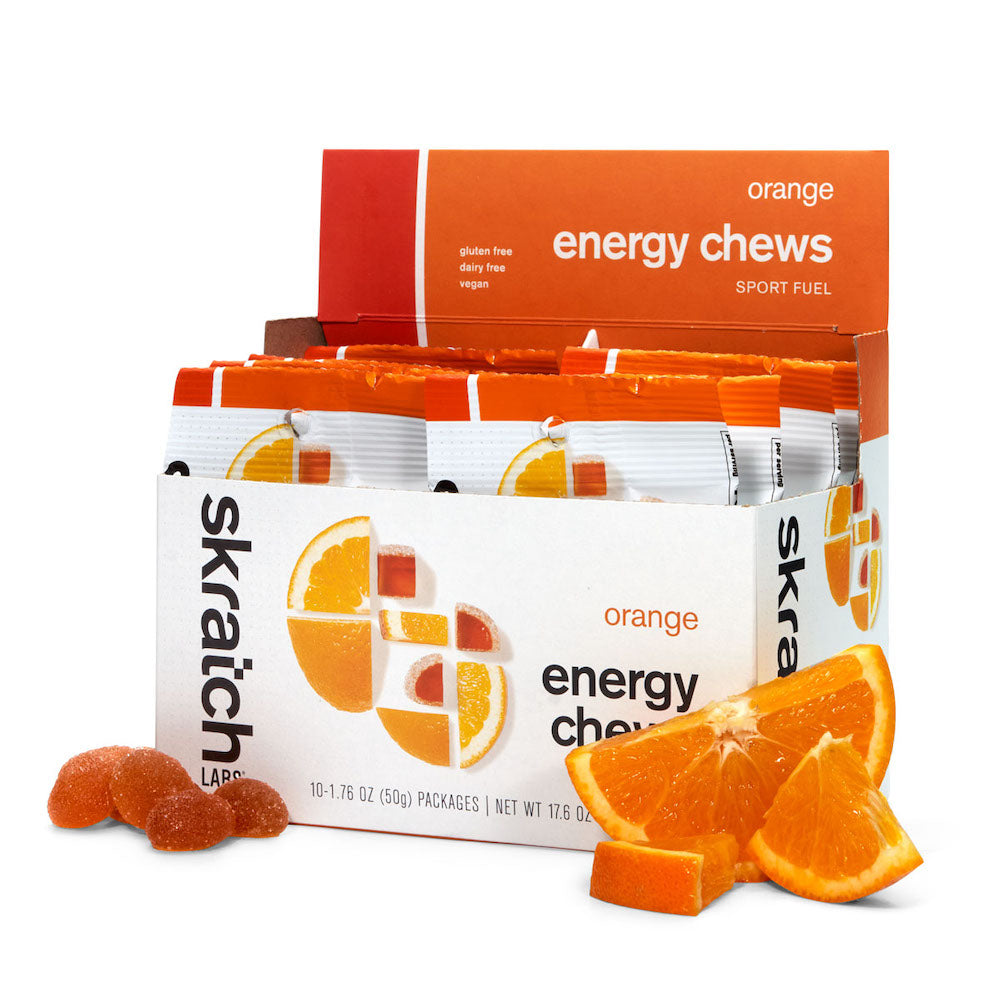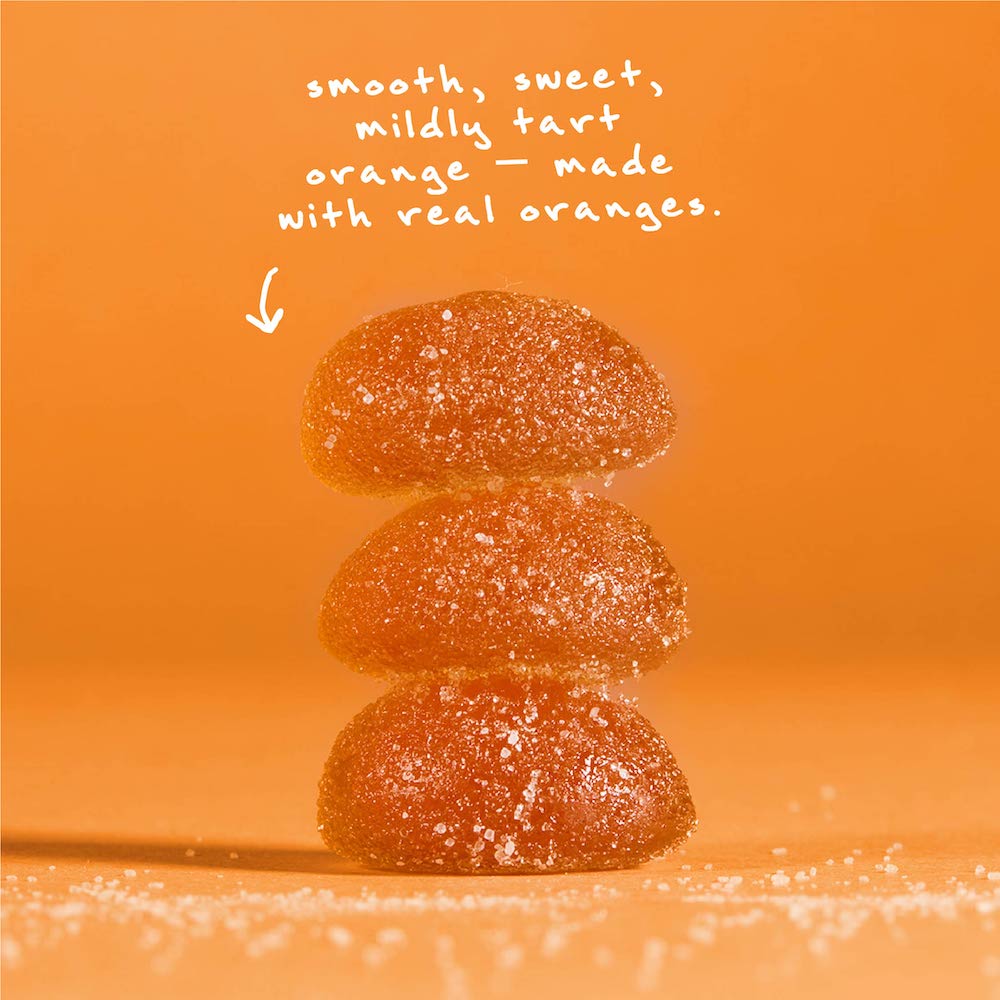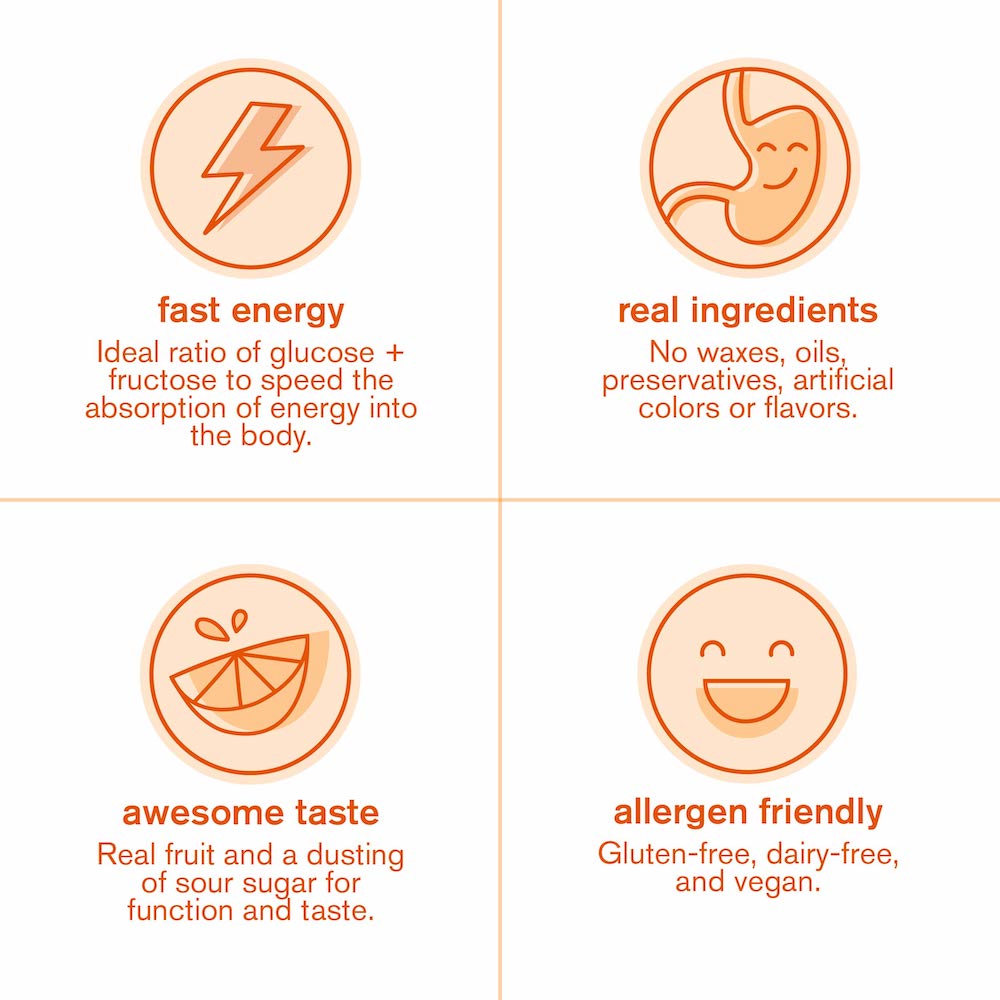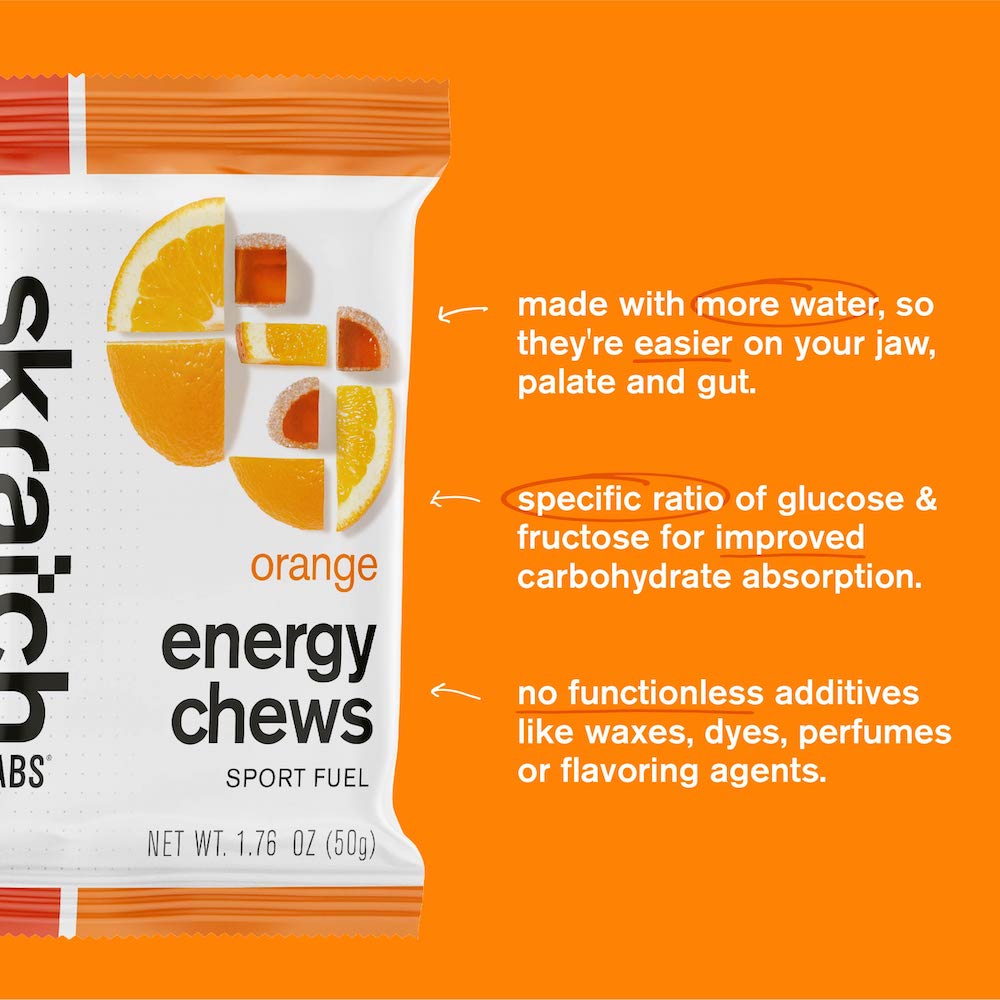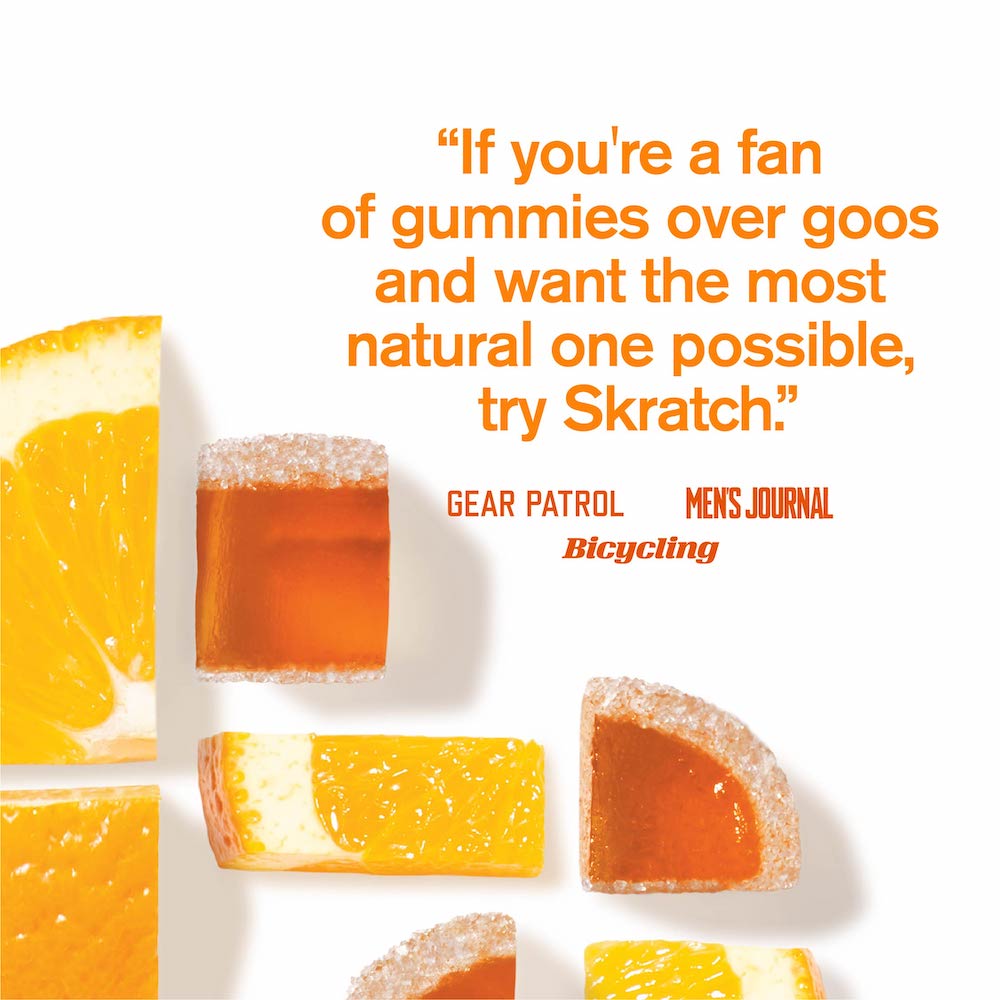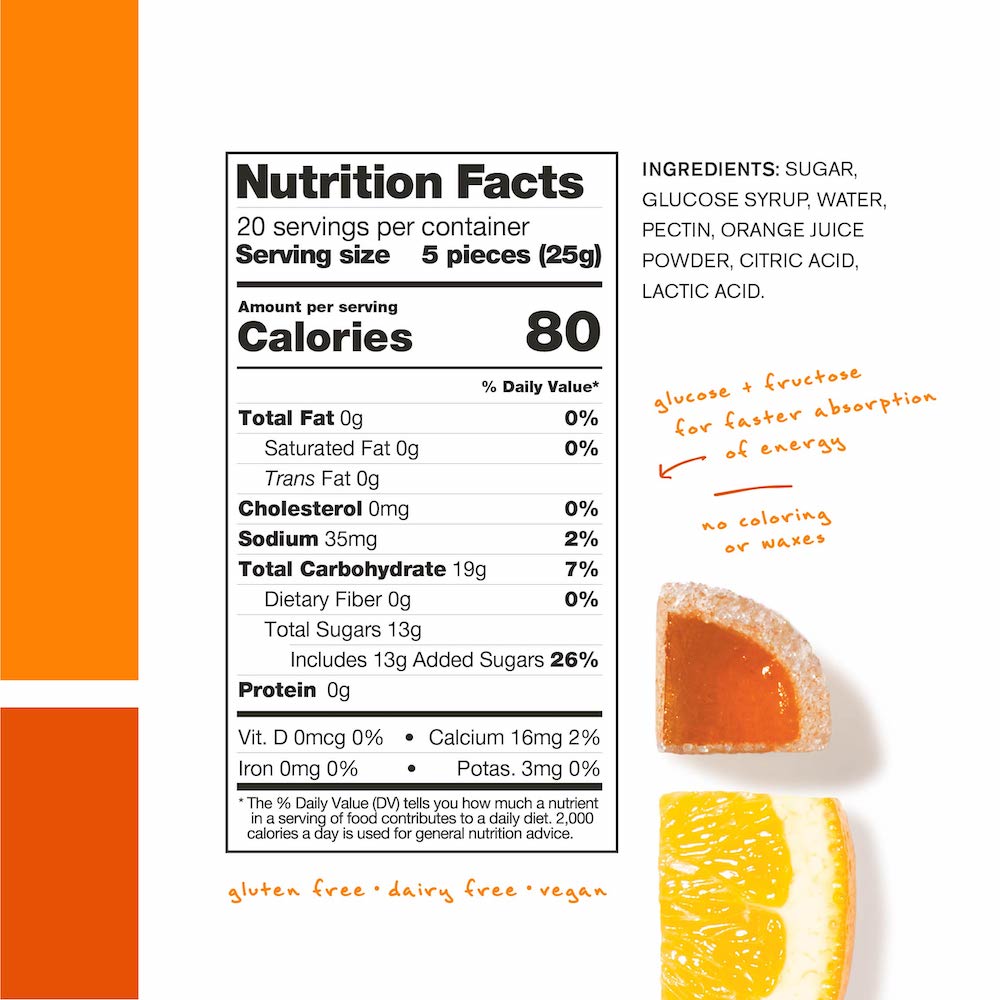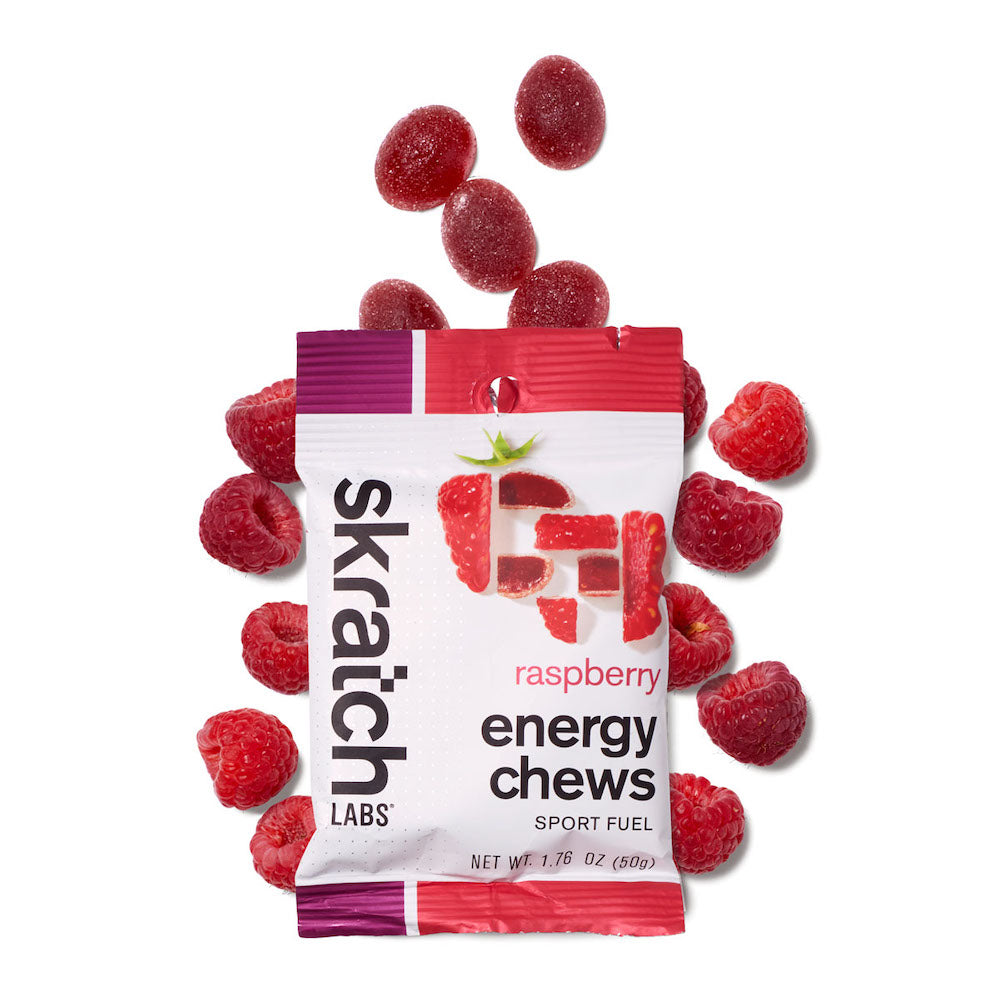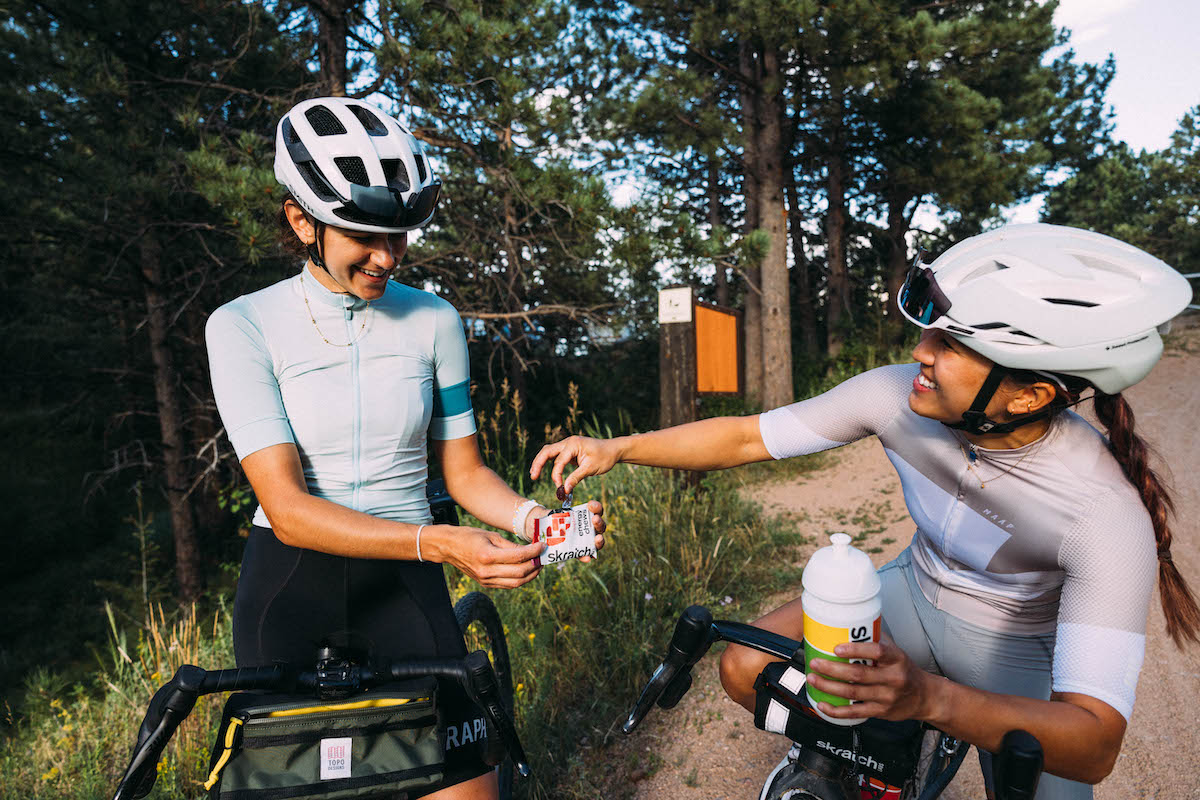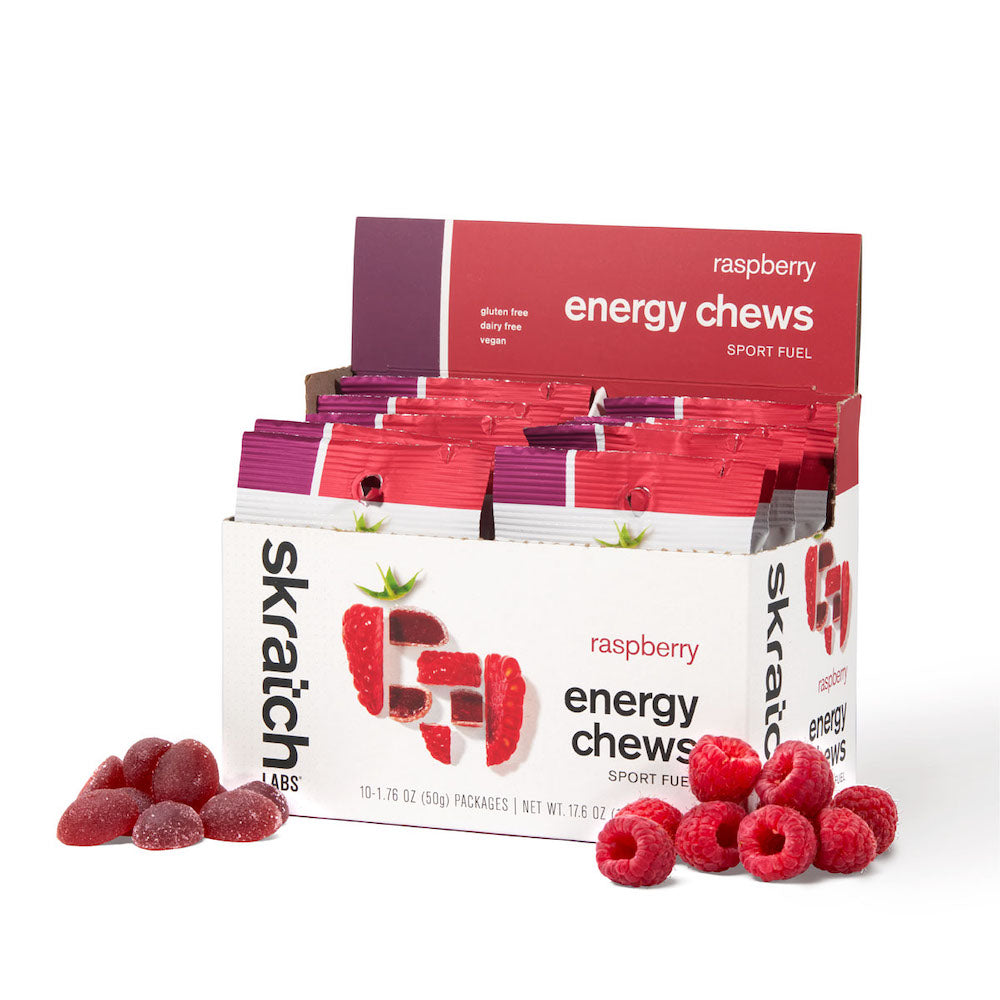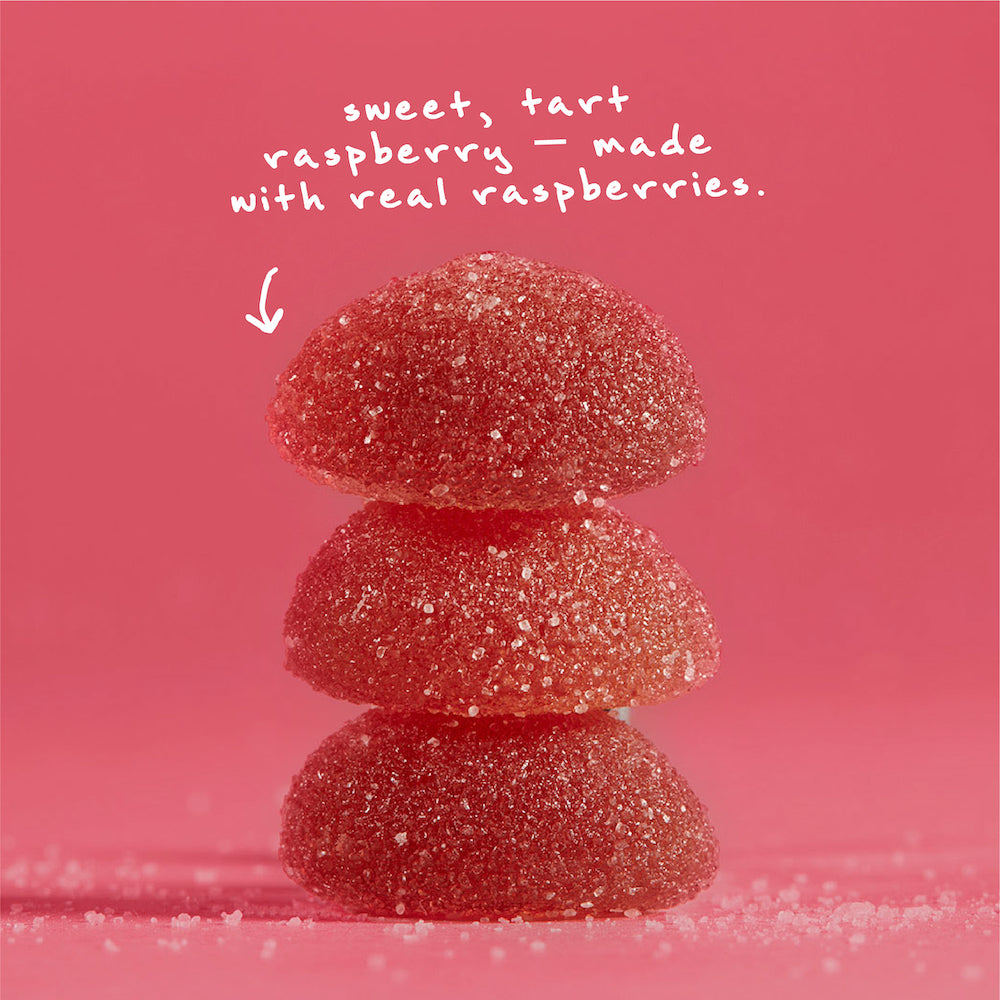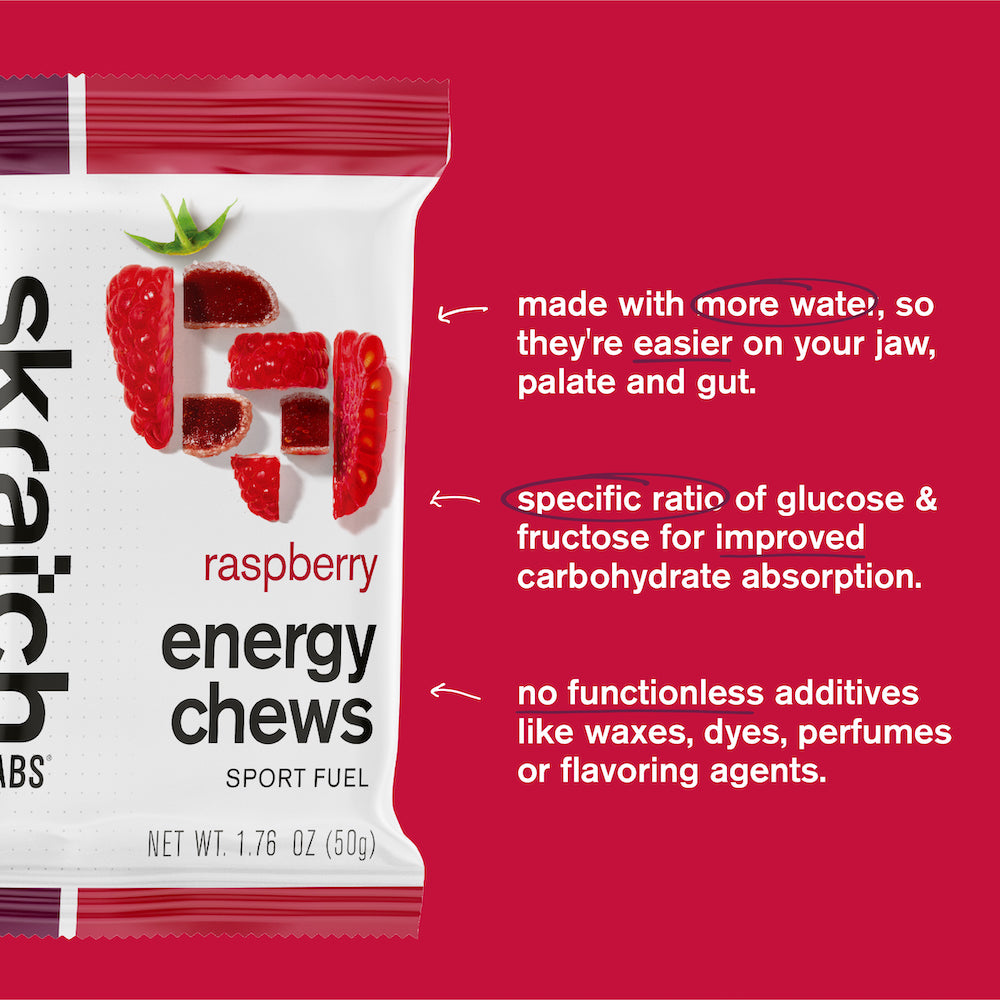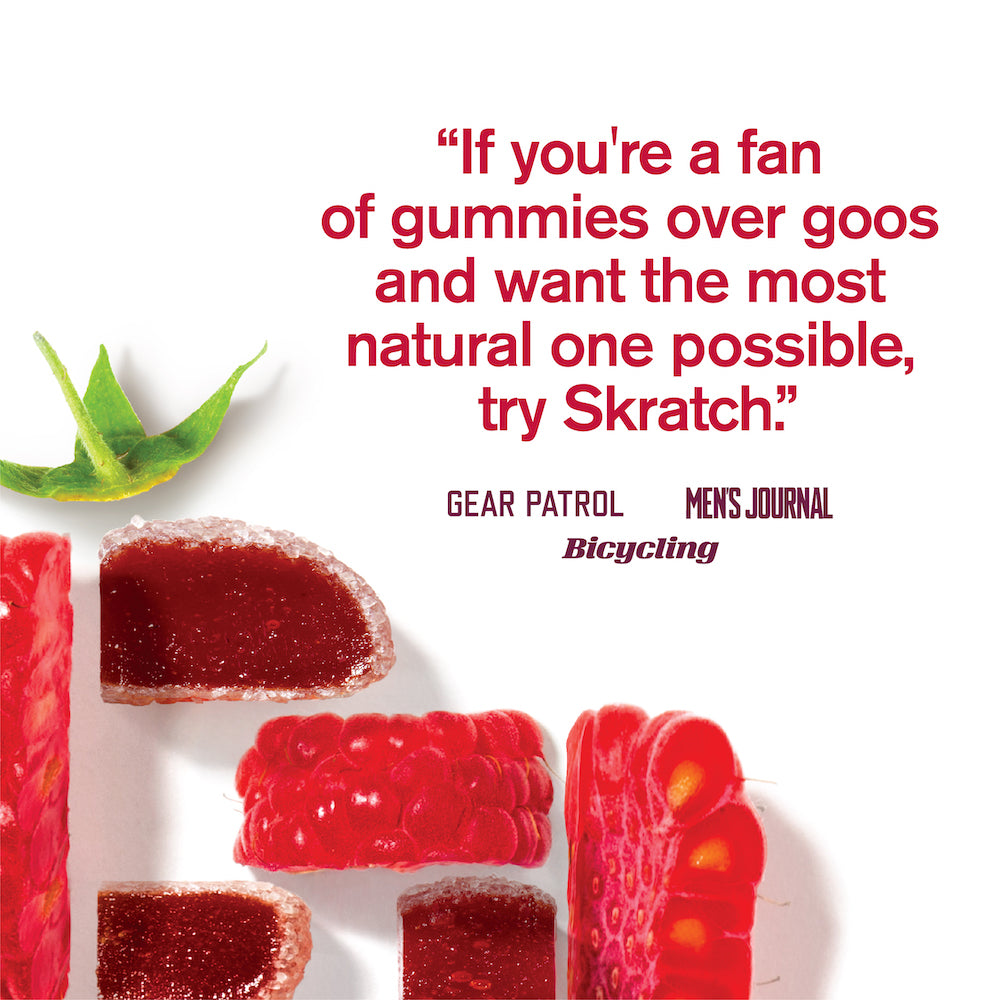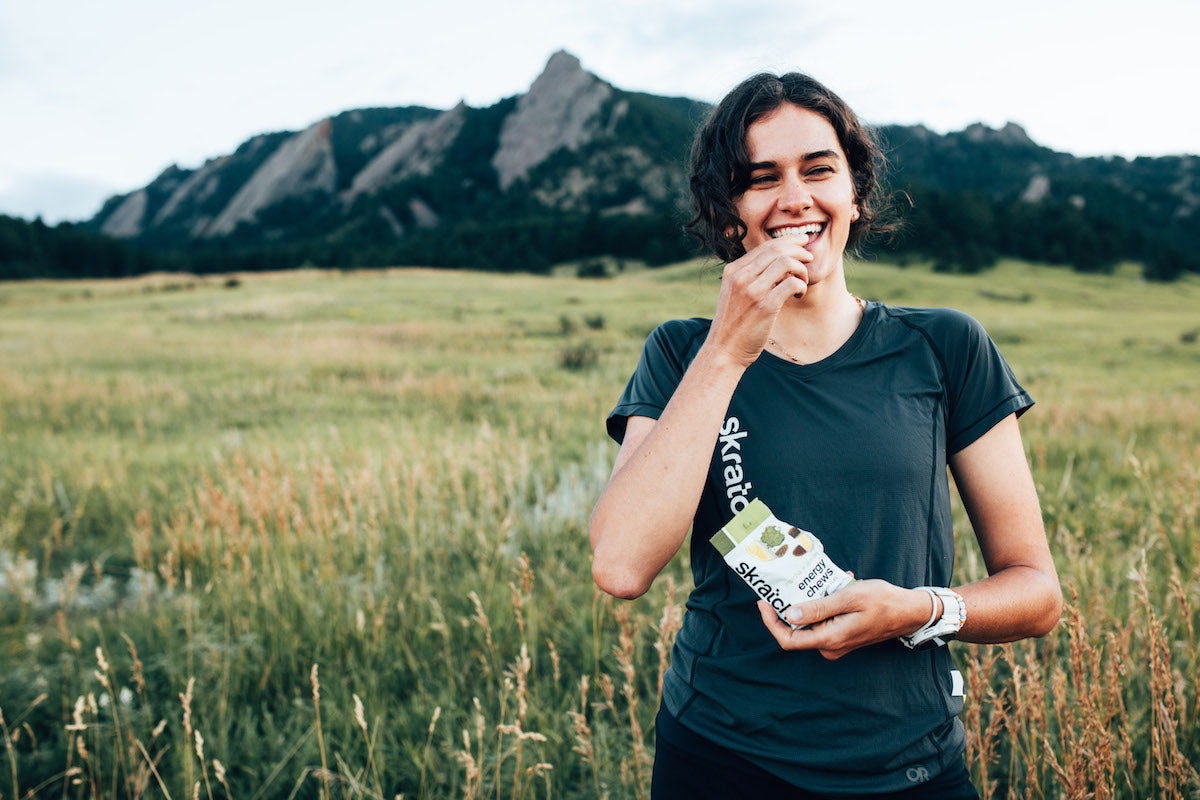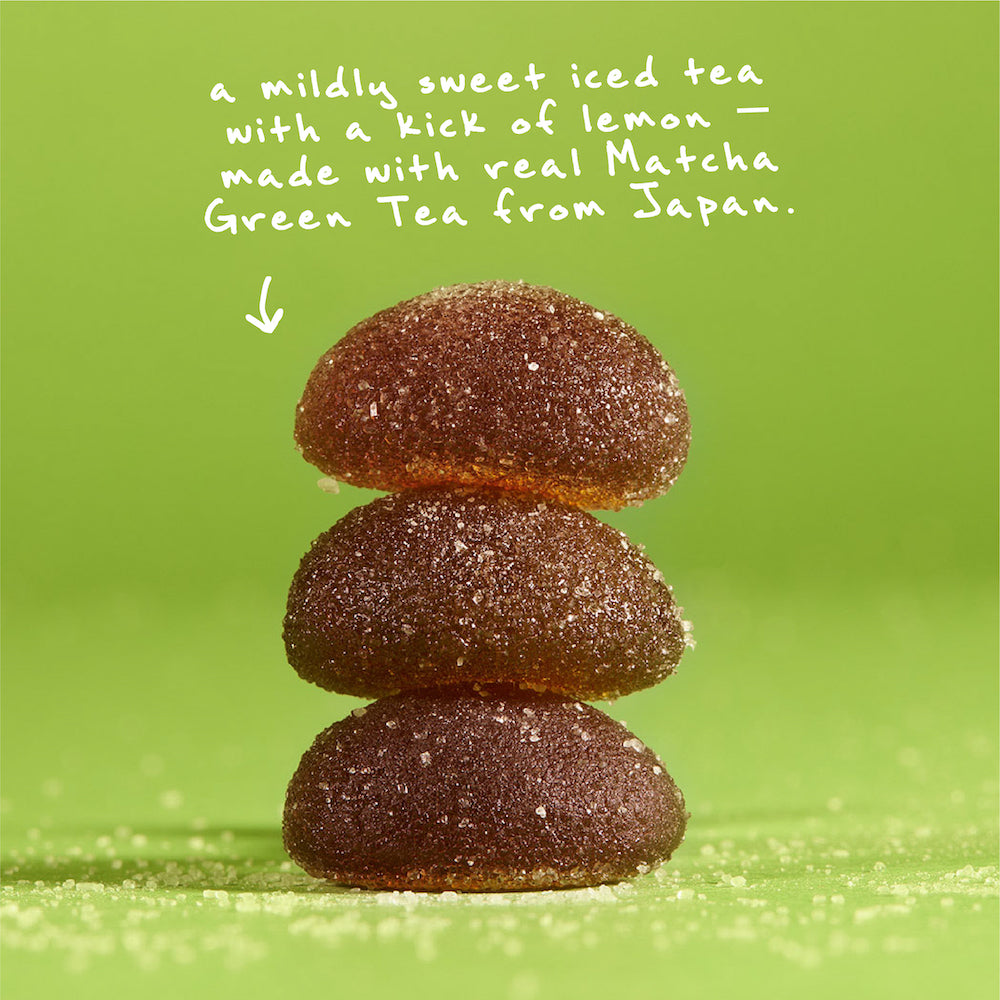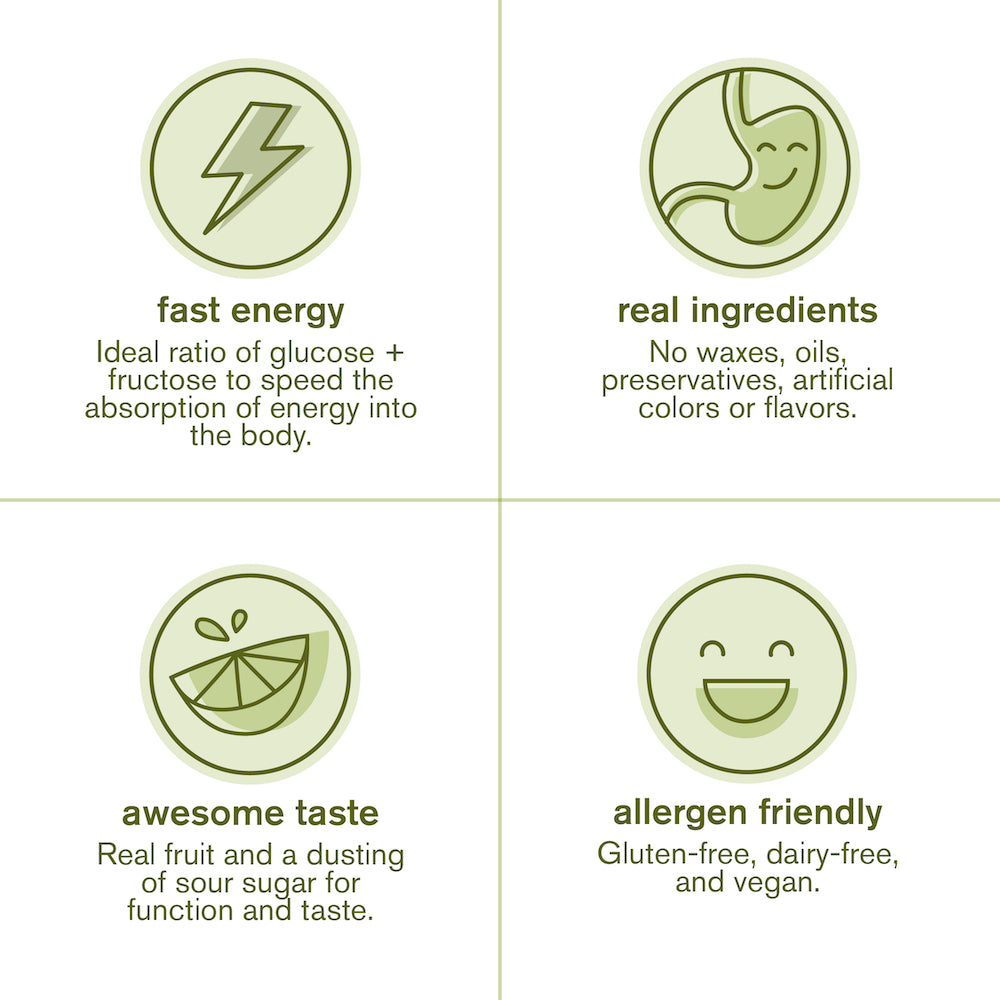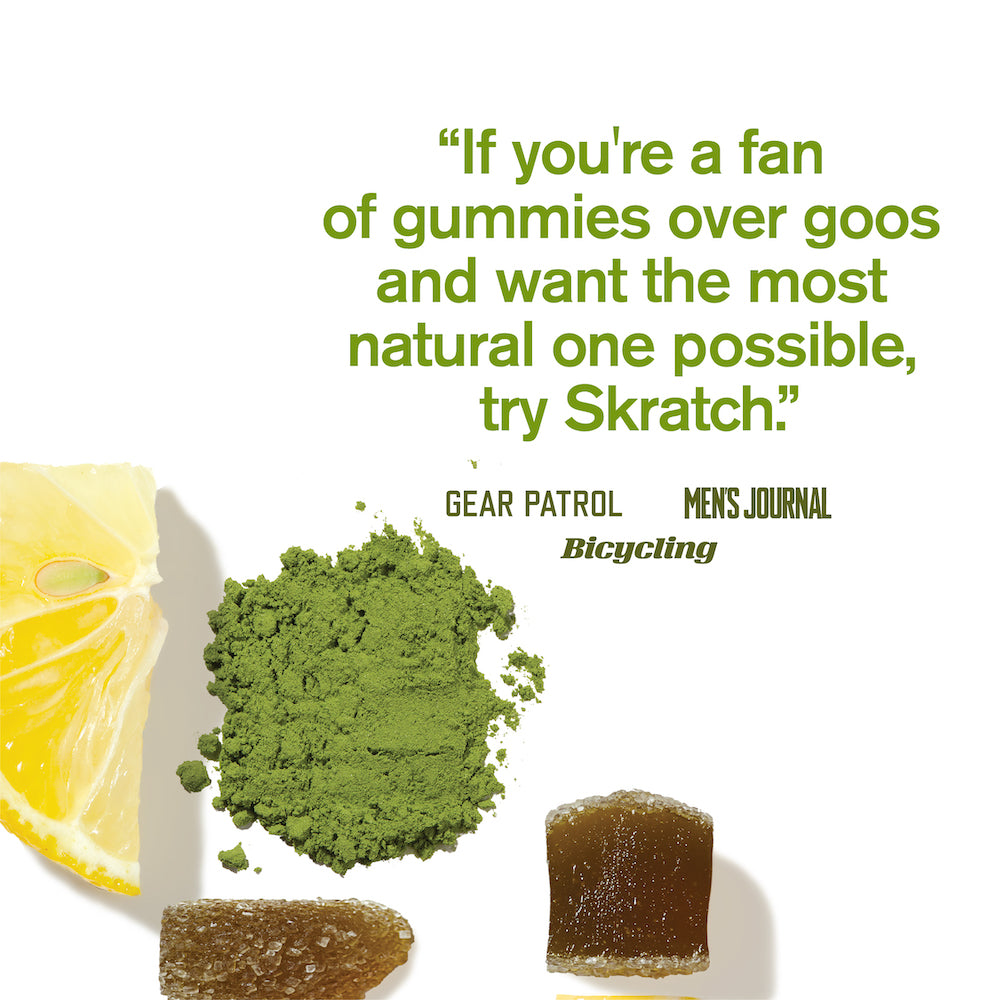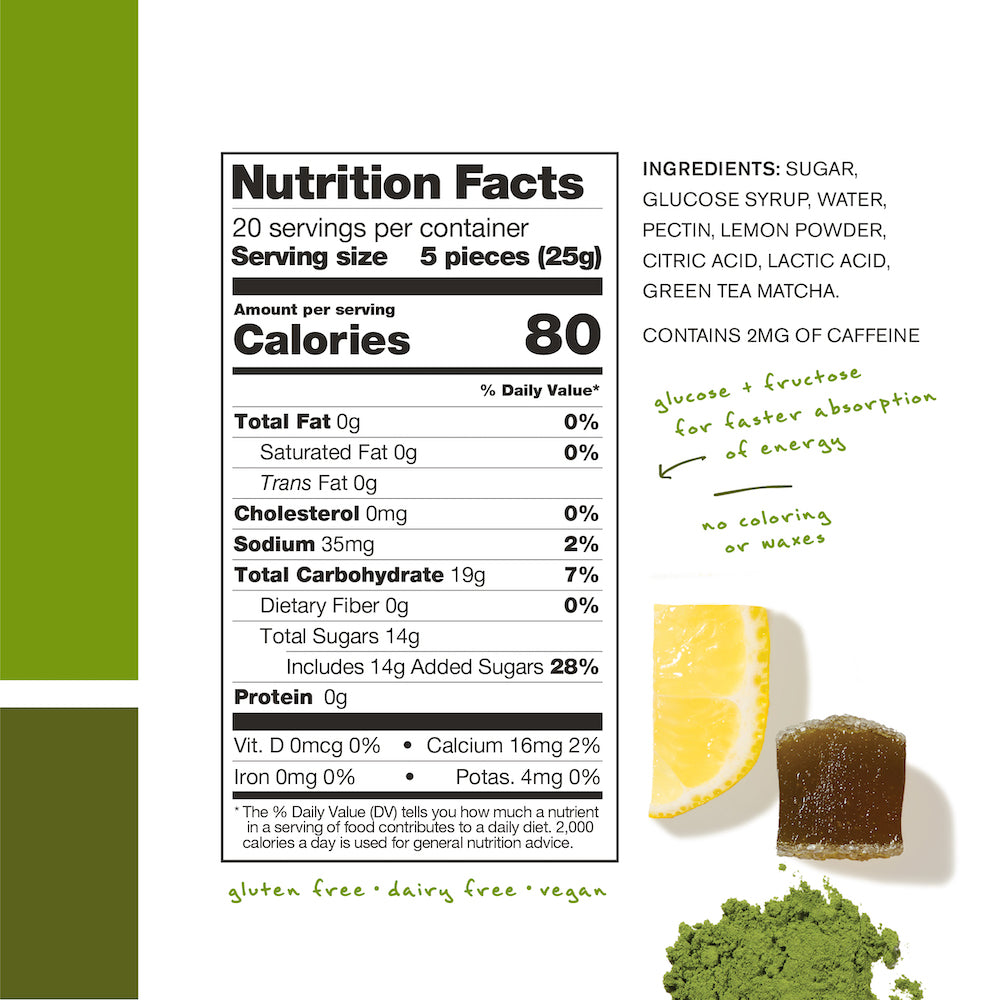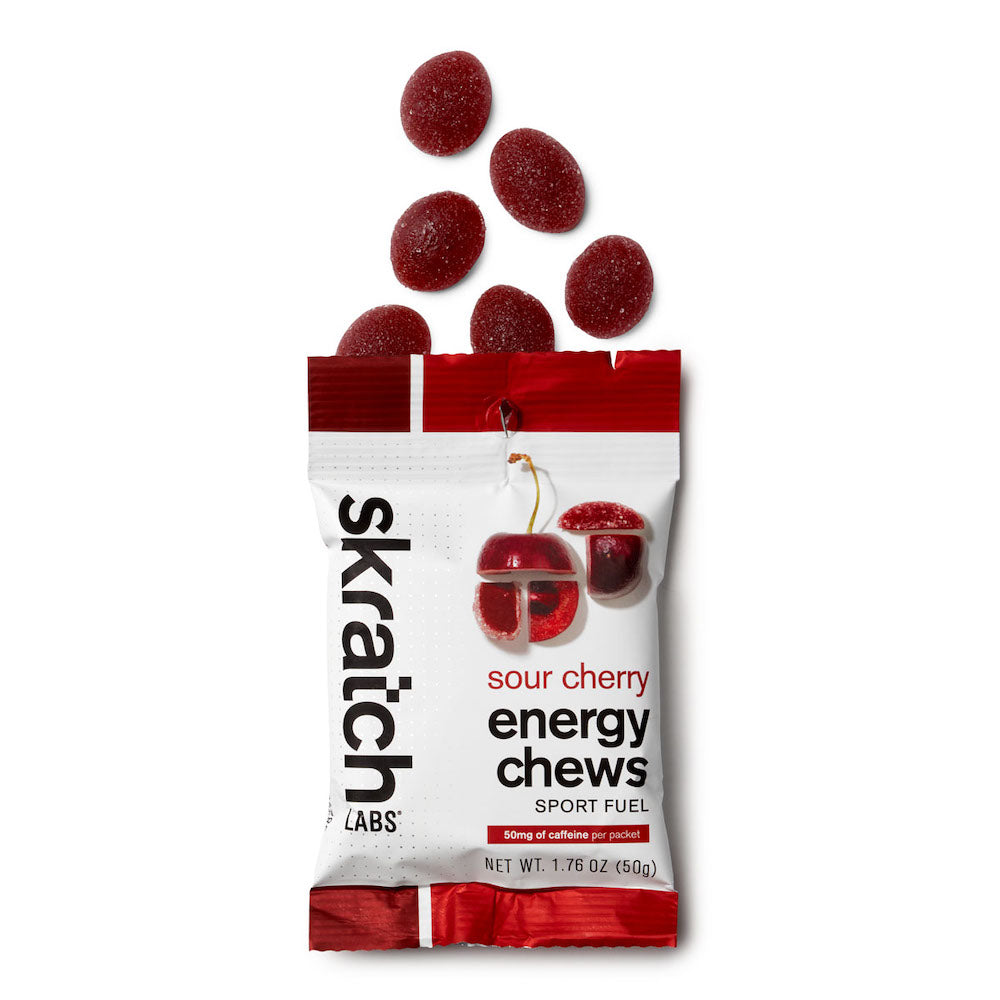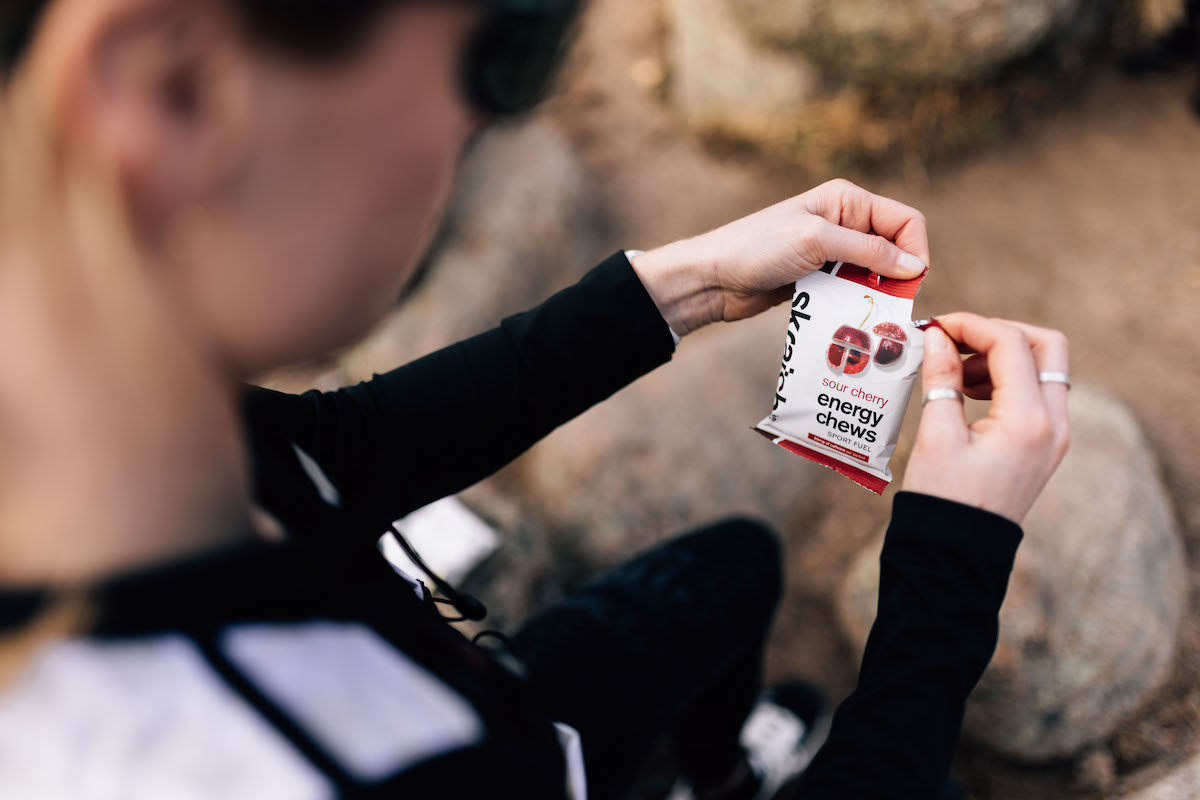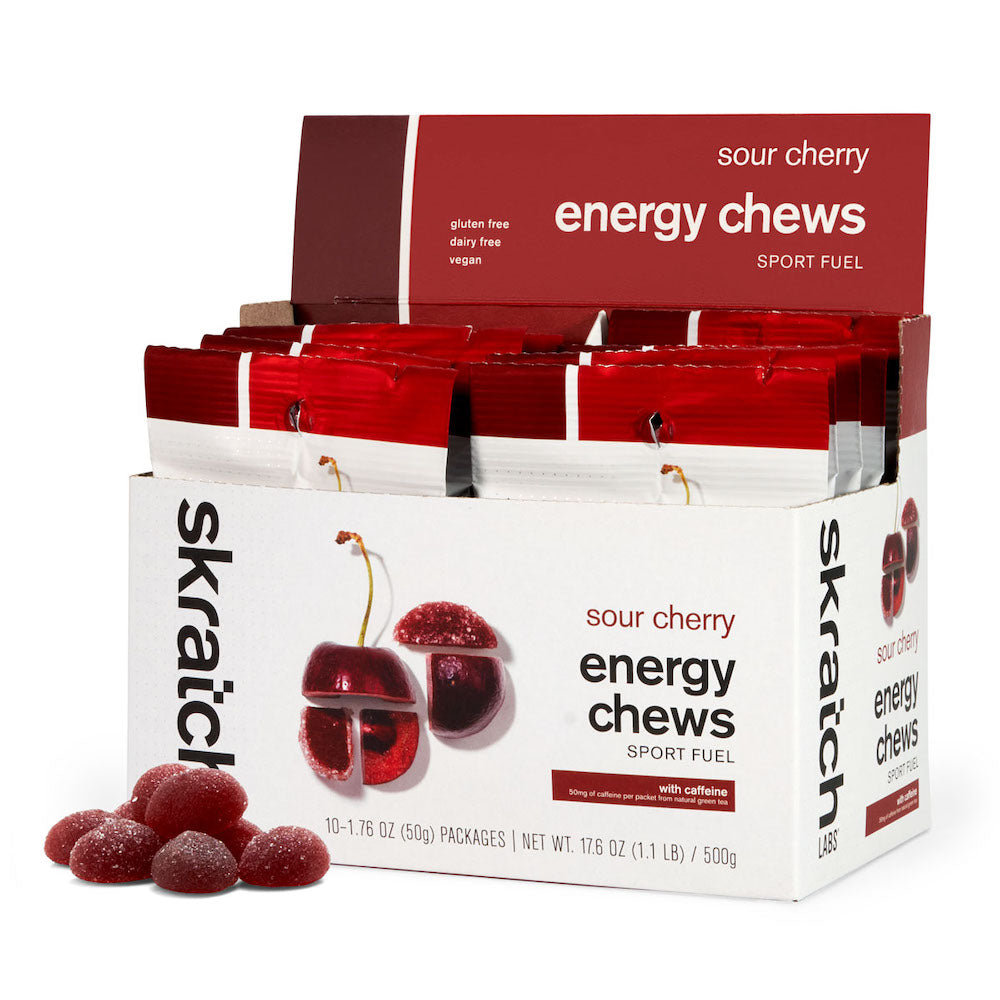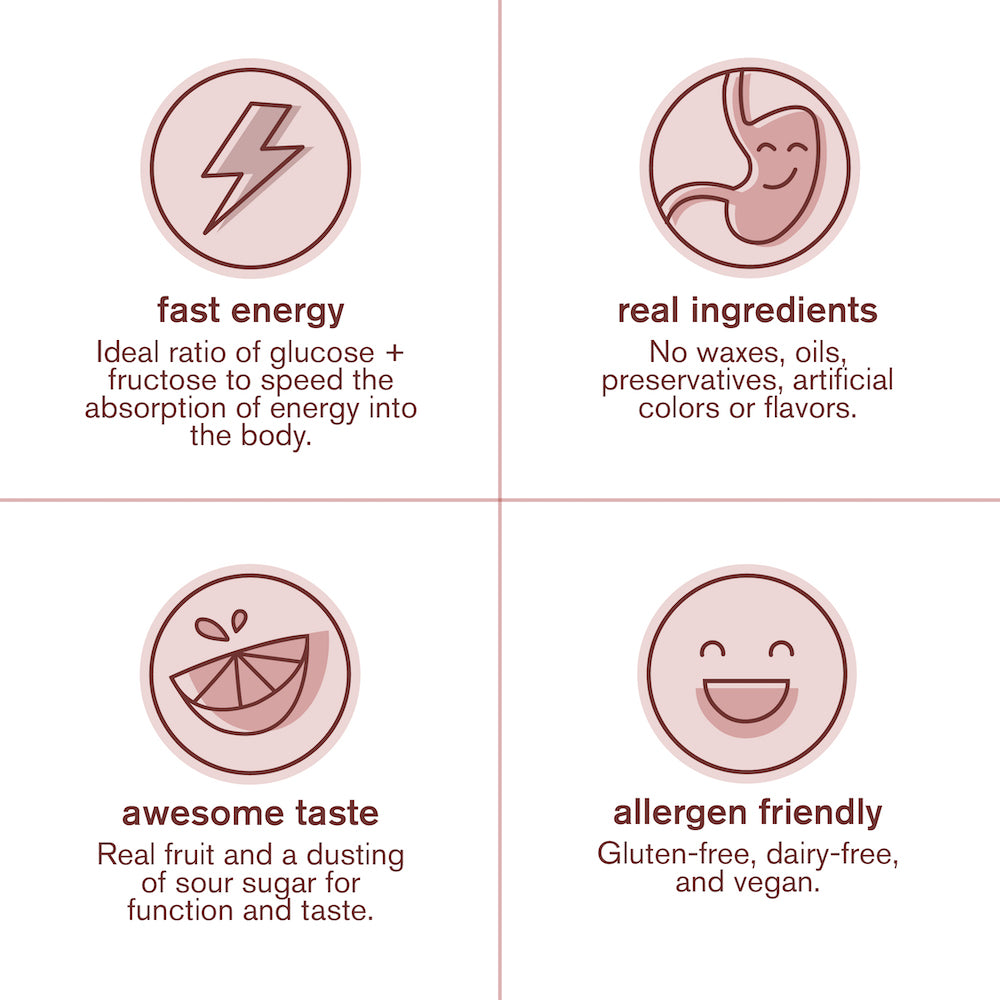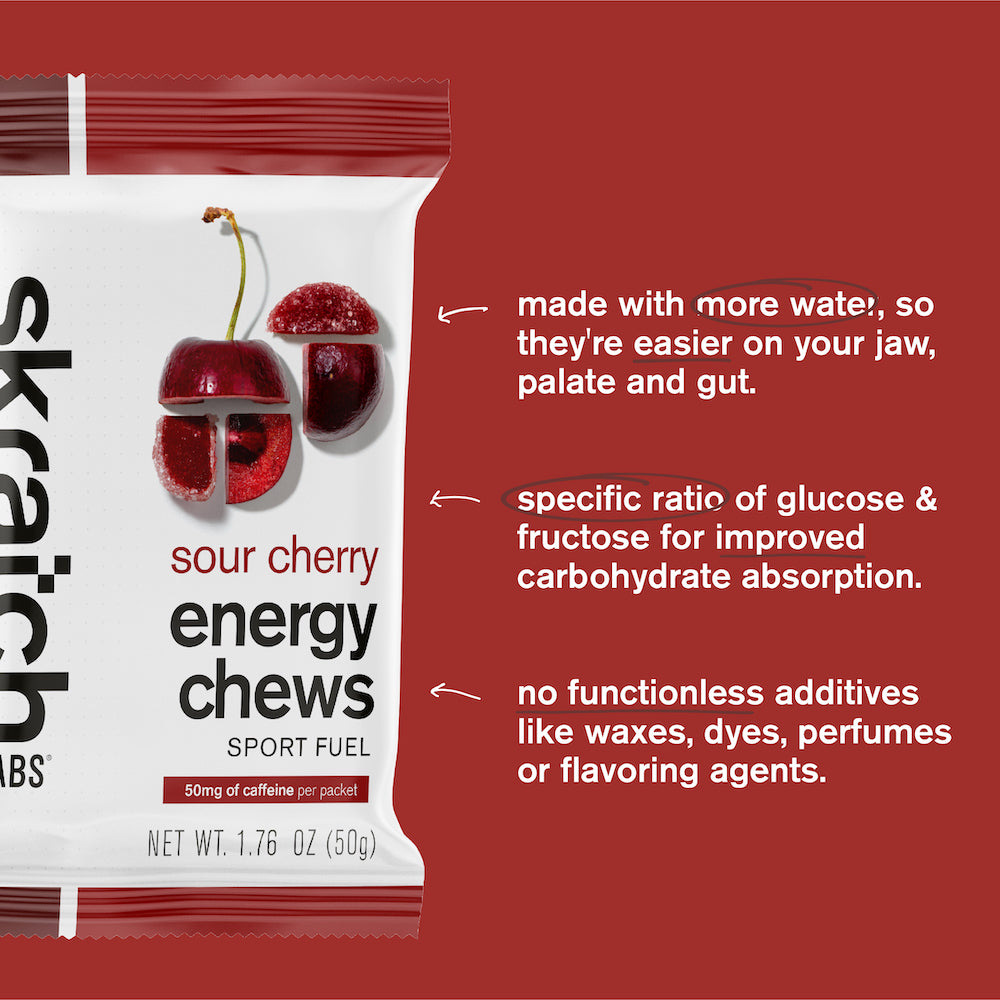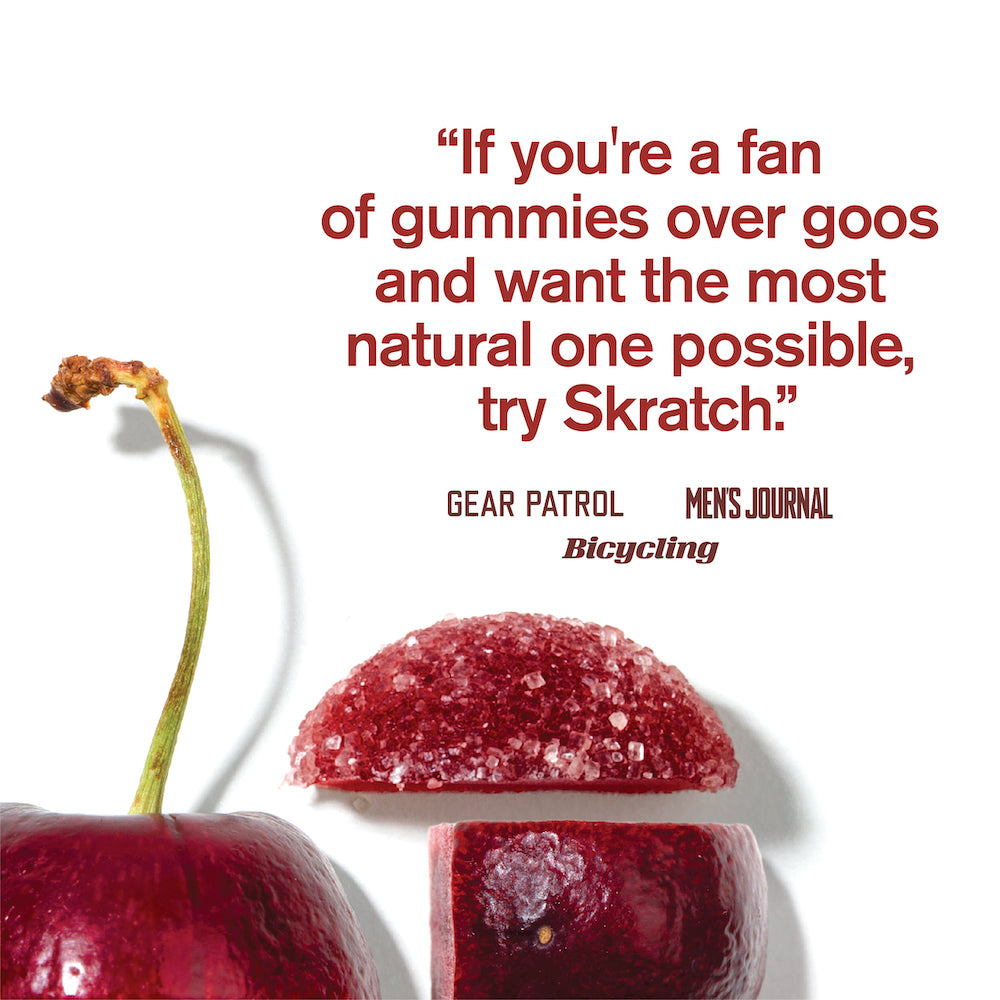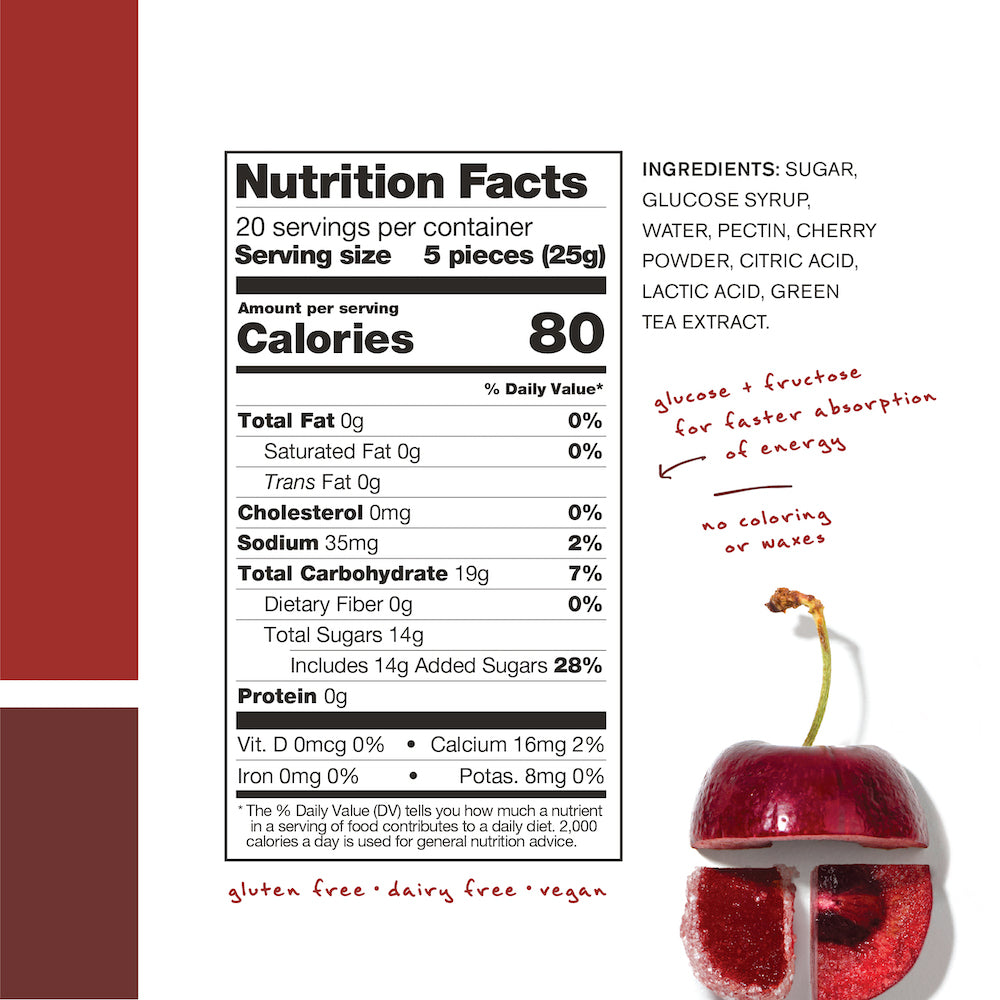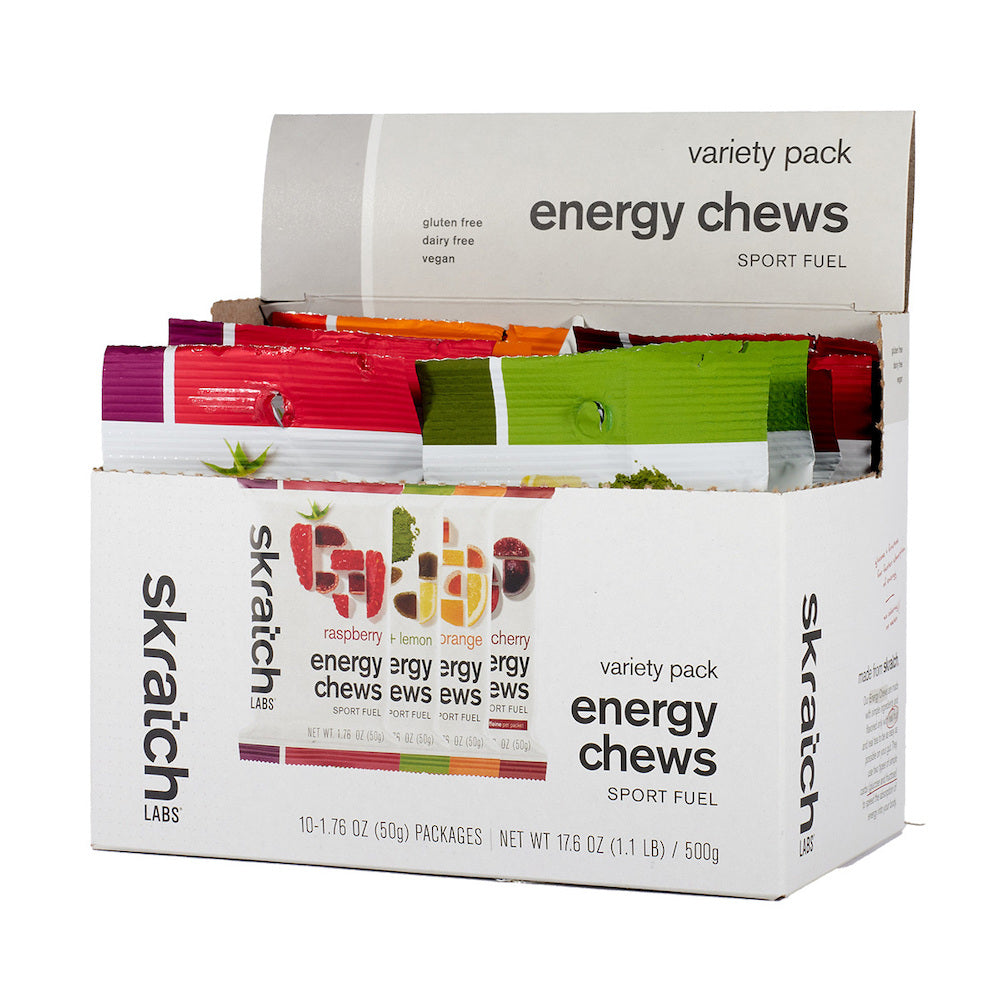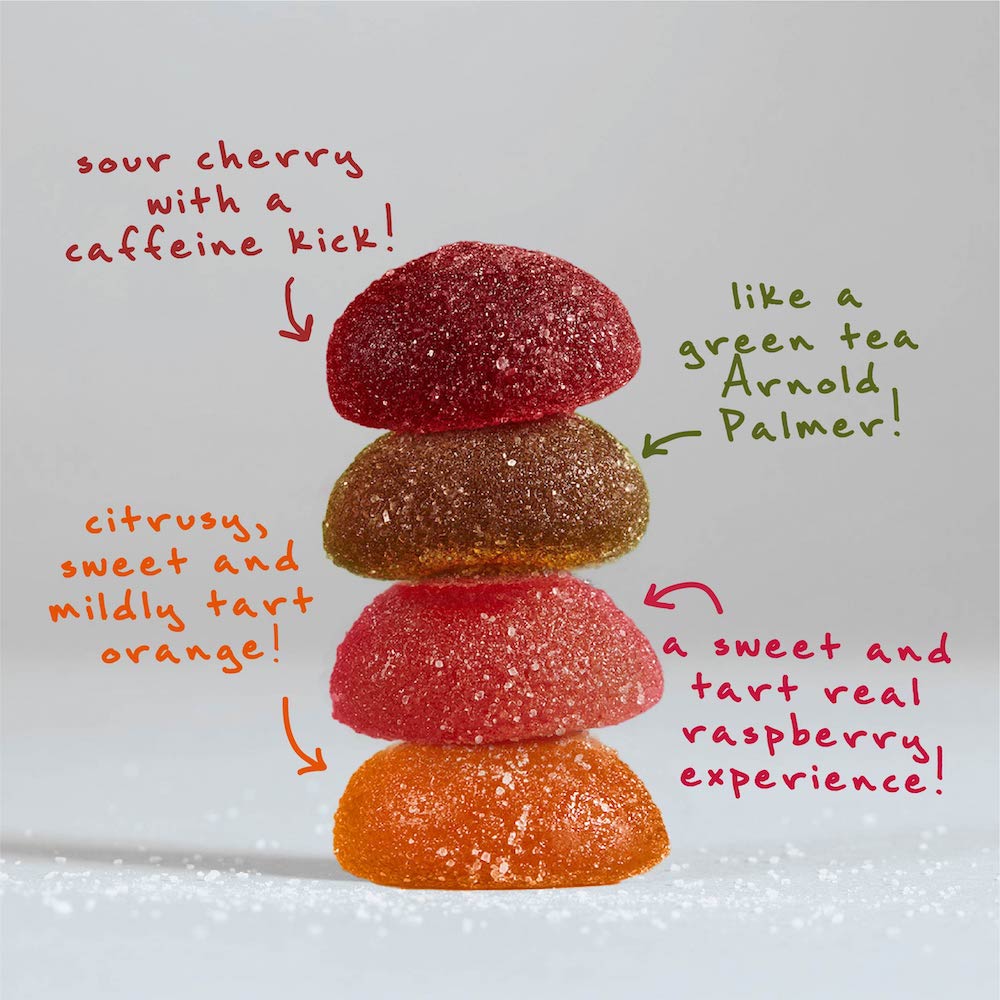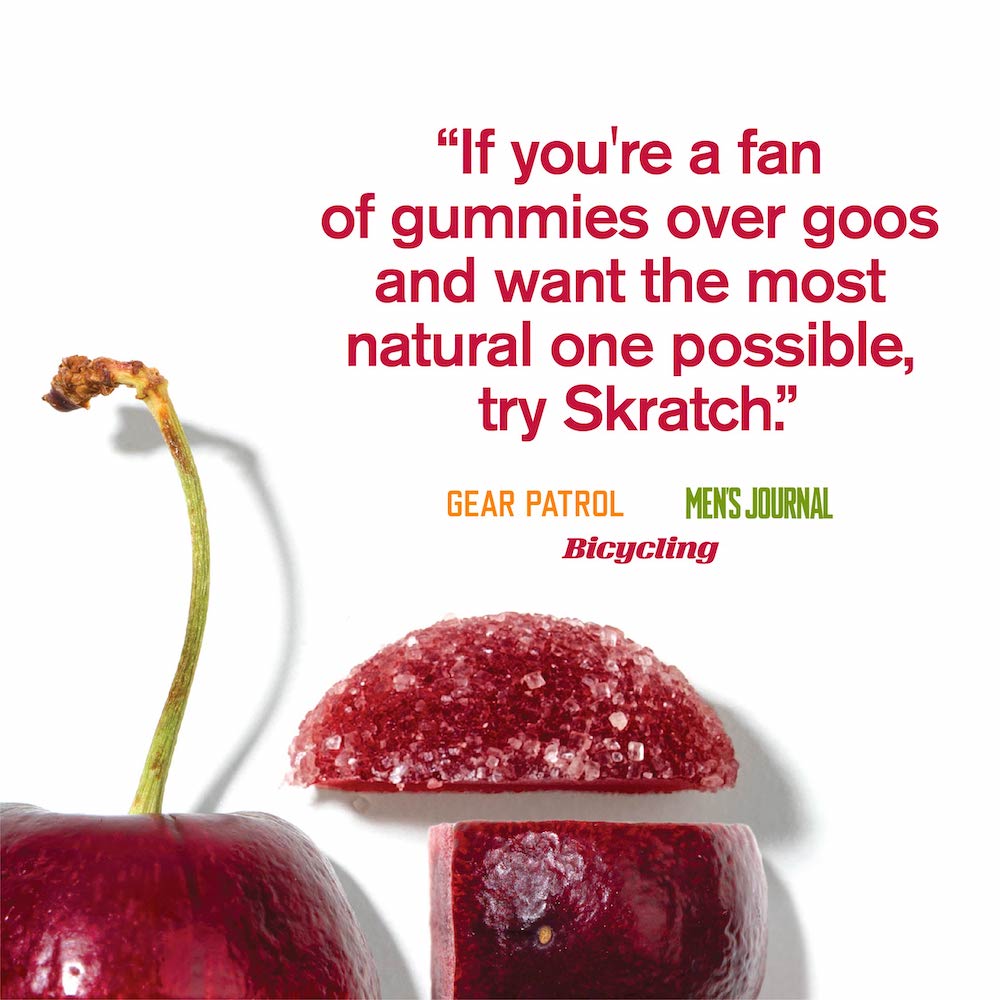 Consistent fueling for hard workouts.

Sport Energy Chews are an easy and convenient source of carbohydrate to help maintain blood sugar and performance during hard and long workouts. We use slightly more water for an improved texture that make them easier to
chew and only real fruit for flavor, for a clean, natural, and incredible taste. It's a gumdrop that's actually a delicious high-performance fruit-drop.
• Fast & sustained energy: a specific ratio of glucose + fructose to speed the absorption of energy into the body, and pectin to create a solid form factor that keeps the energy flowing at a steady rate.
• No GI-distress: free from the waxes, oils, preservatives, artificial colors, and flavoring agents common to other chews that can wreak havoc on the gut.
• More sodium: sodium is the primary electrolyte lost in sweat, so we add a little bit of sodium (80 mg per serving) to help replace what's lost.
• Awesome taste: real fruit and a light dusting of granulated sour sugar for function and taste--seriously, they're so delicious, it's not even fair.
• Meets special dietary needs: gluten-free, dairy-free, and vegan.

Read more here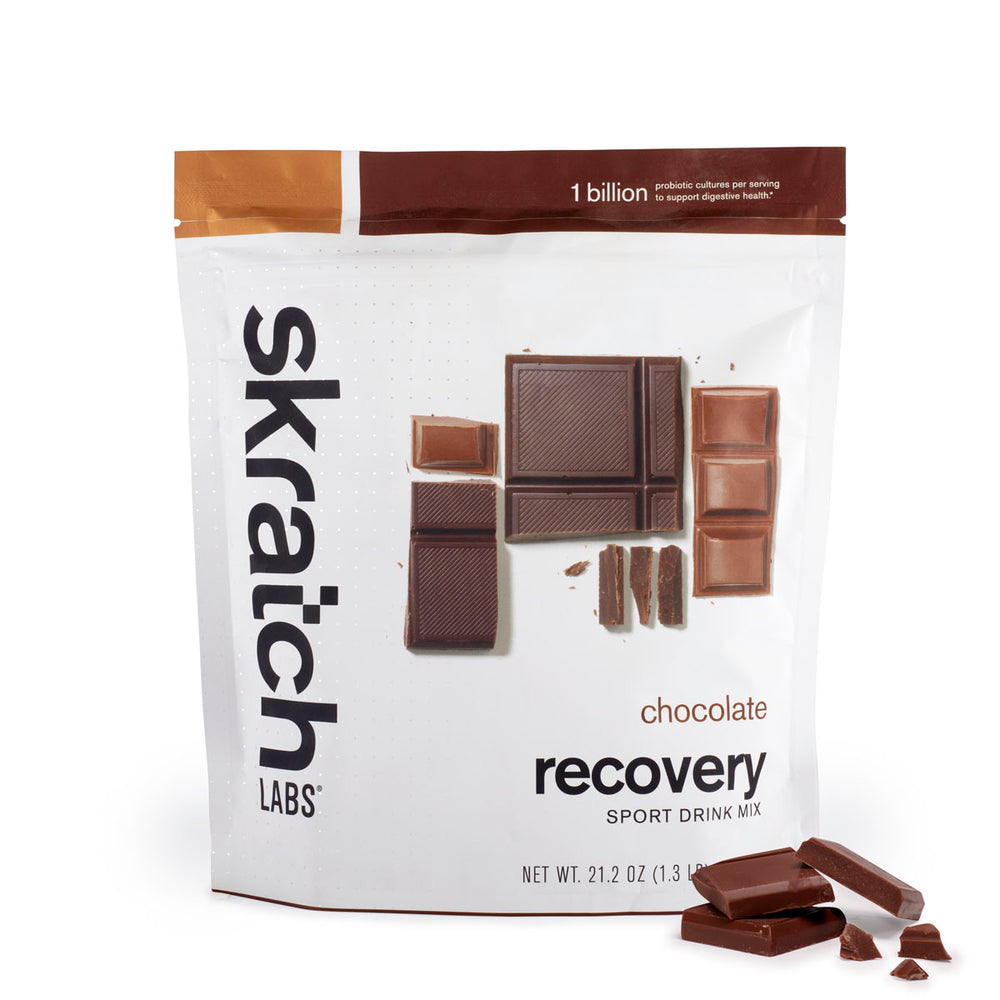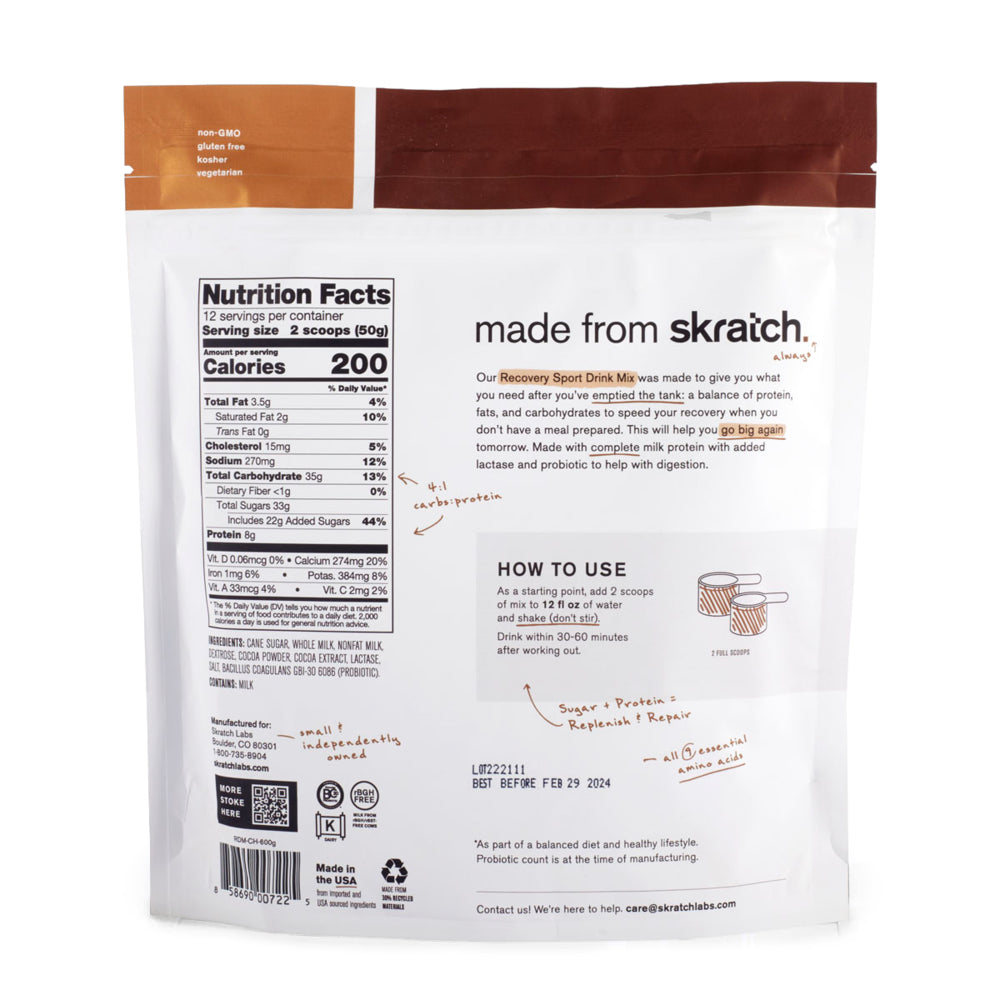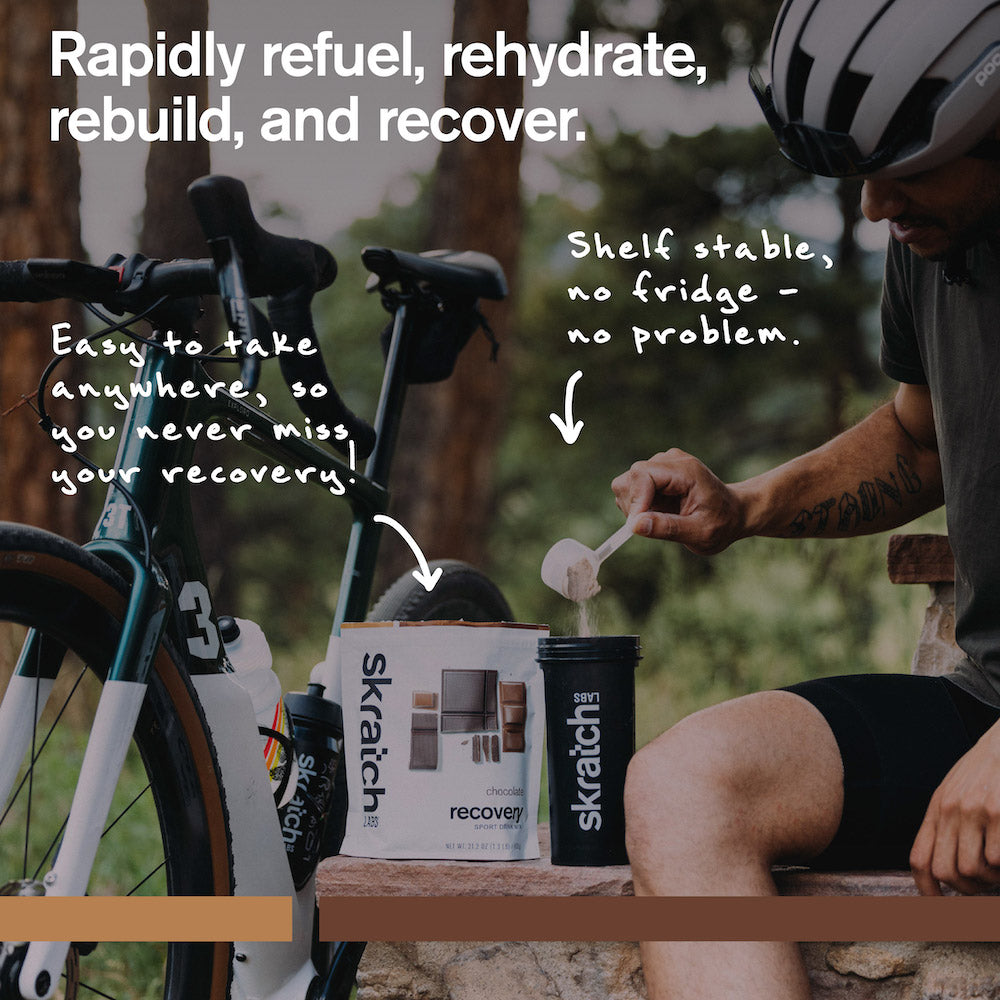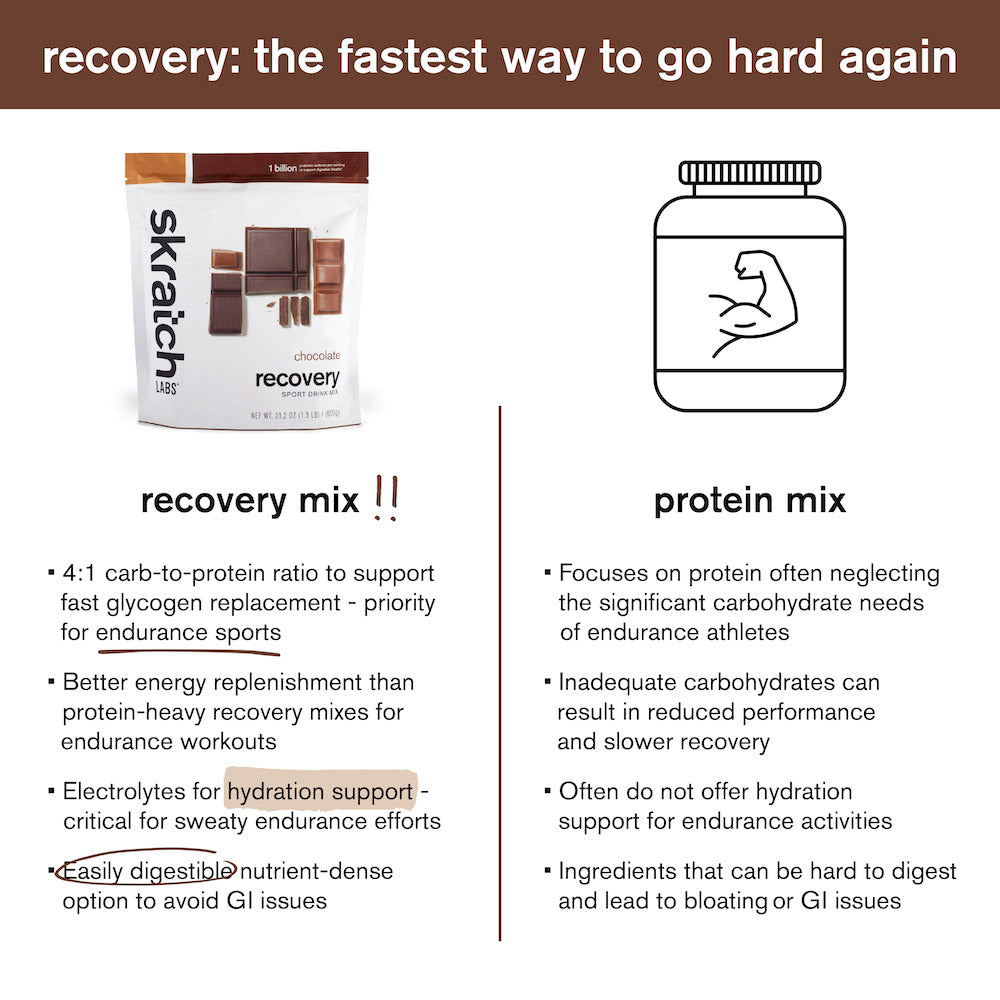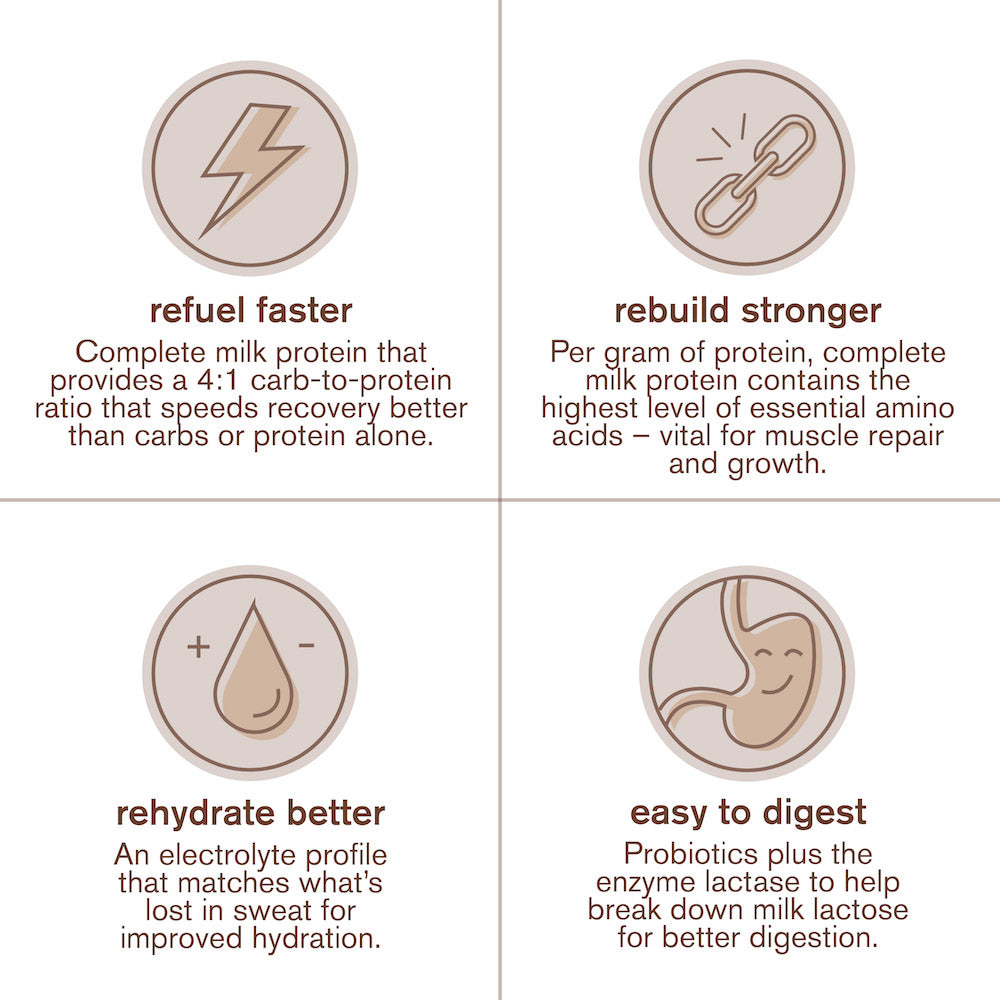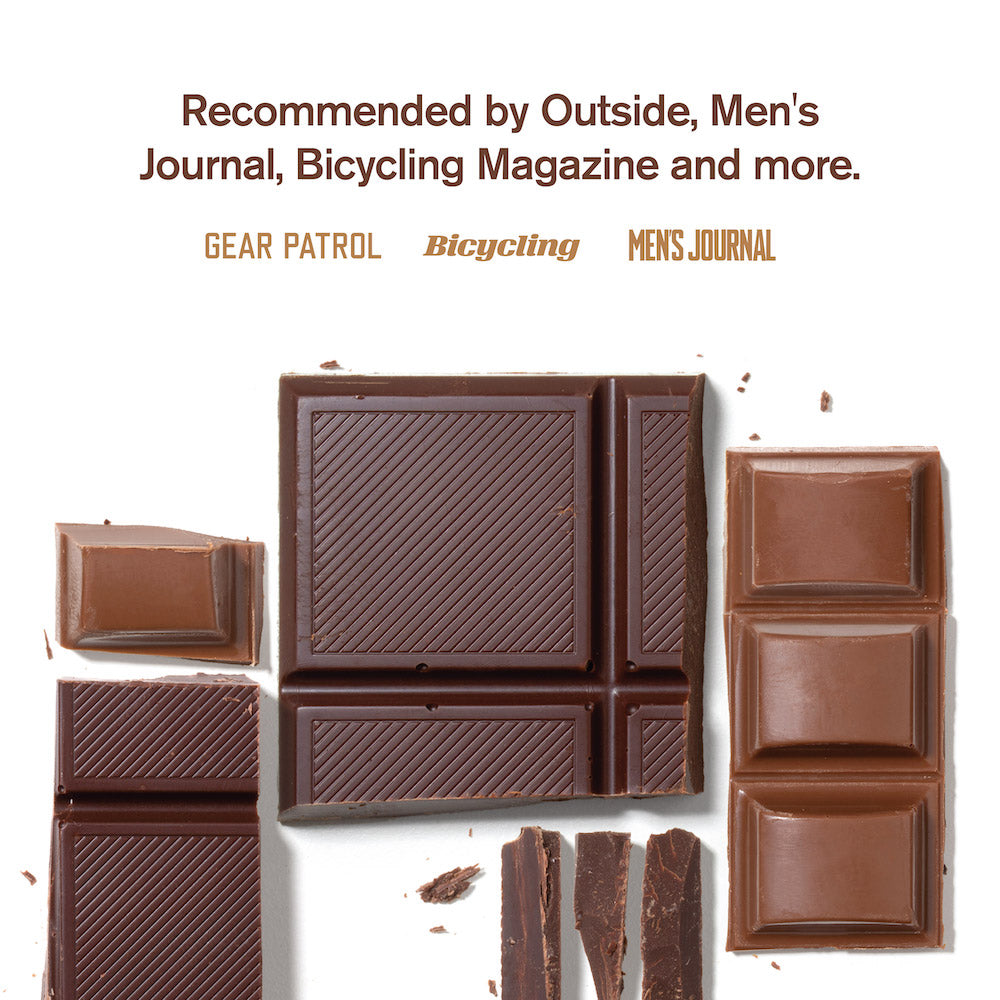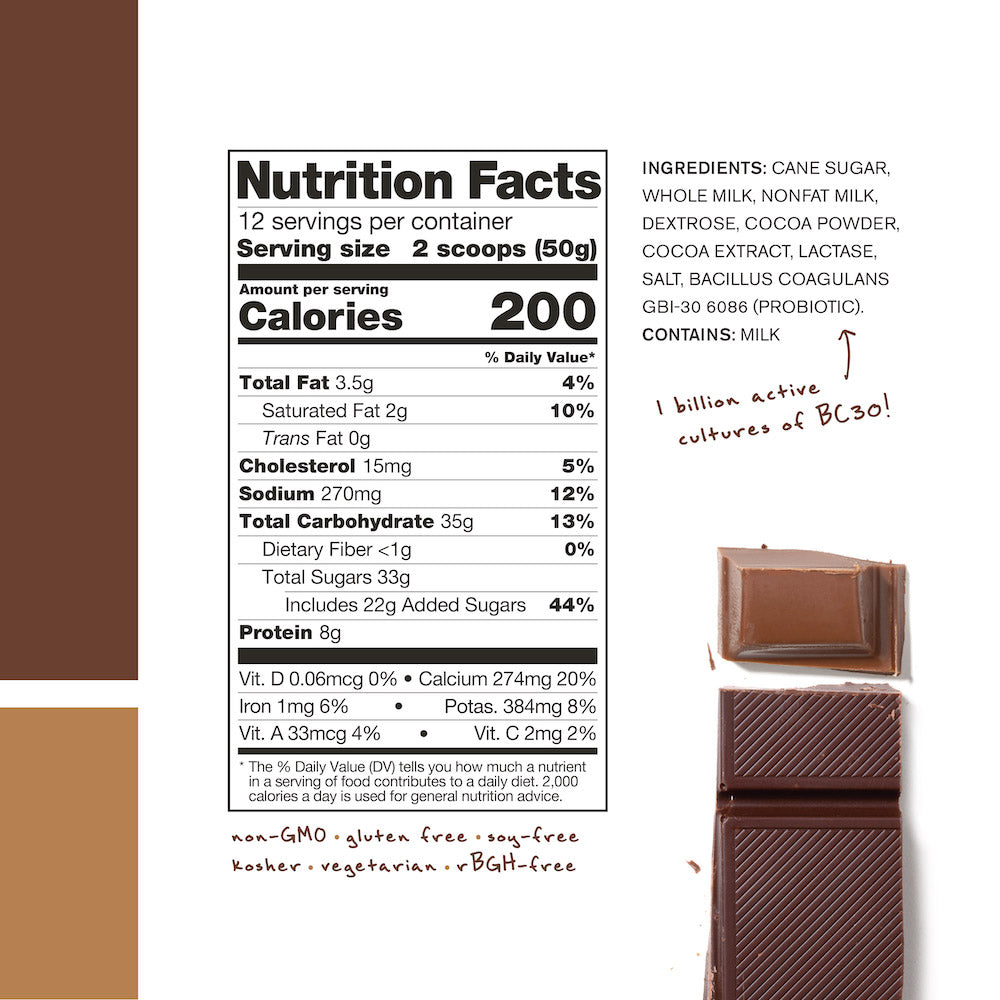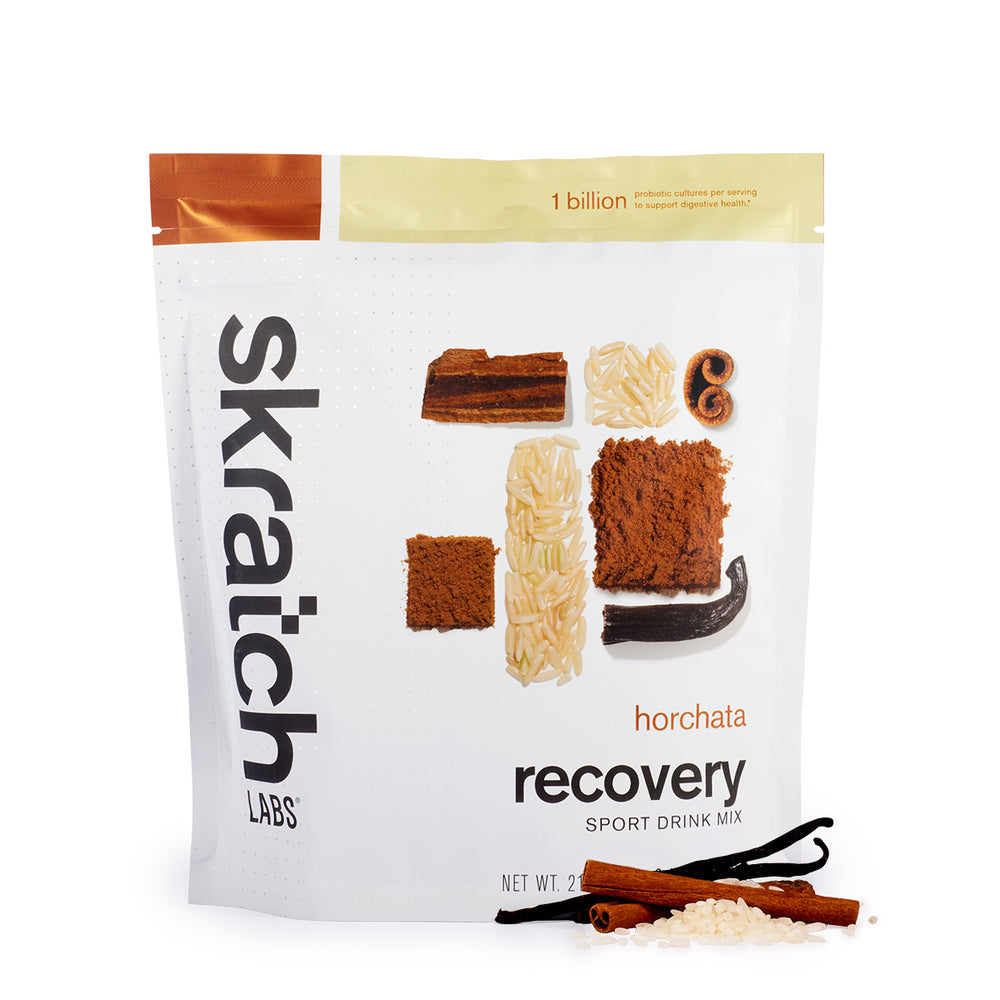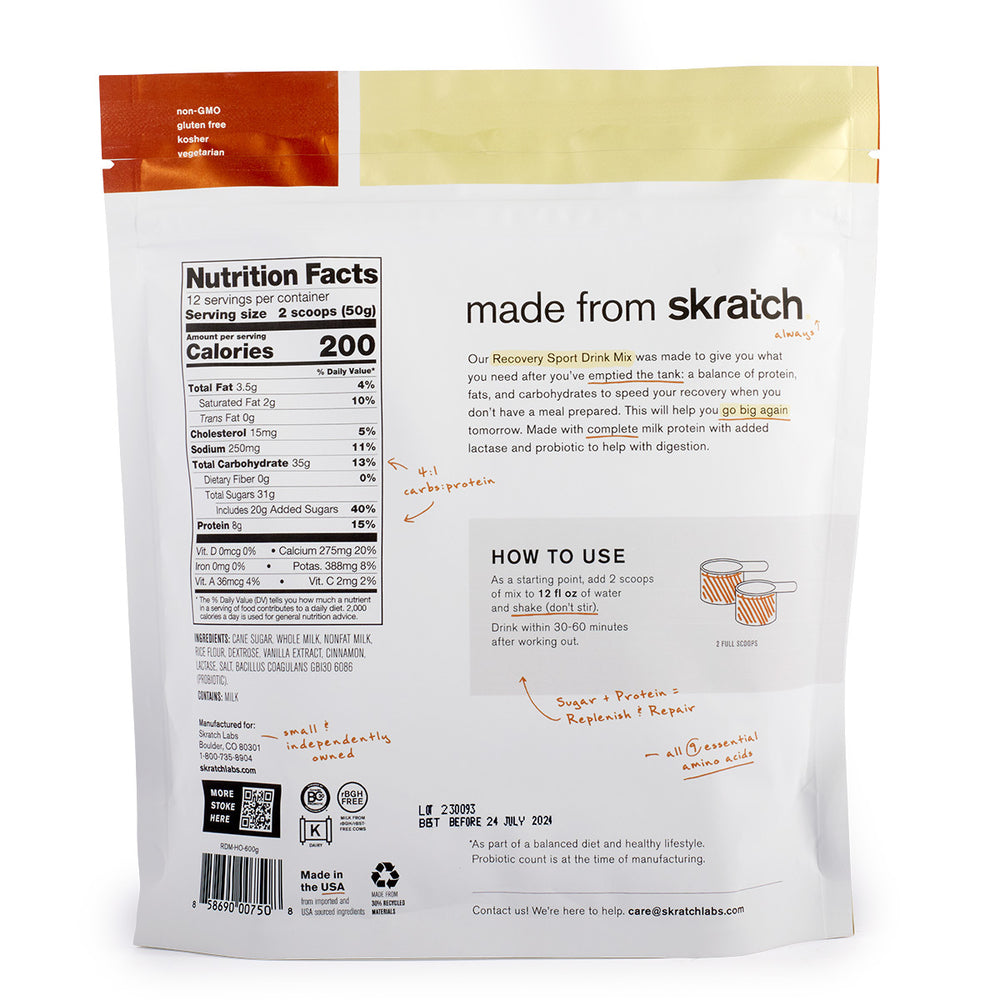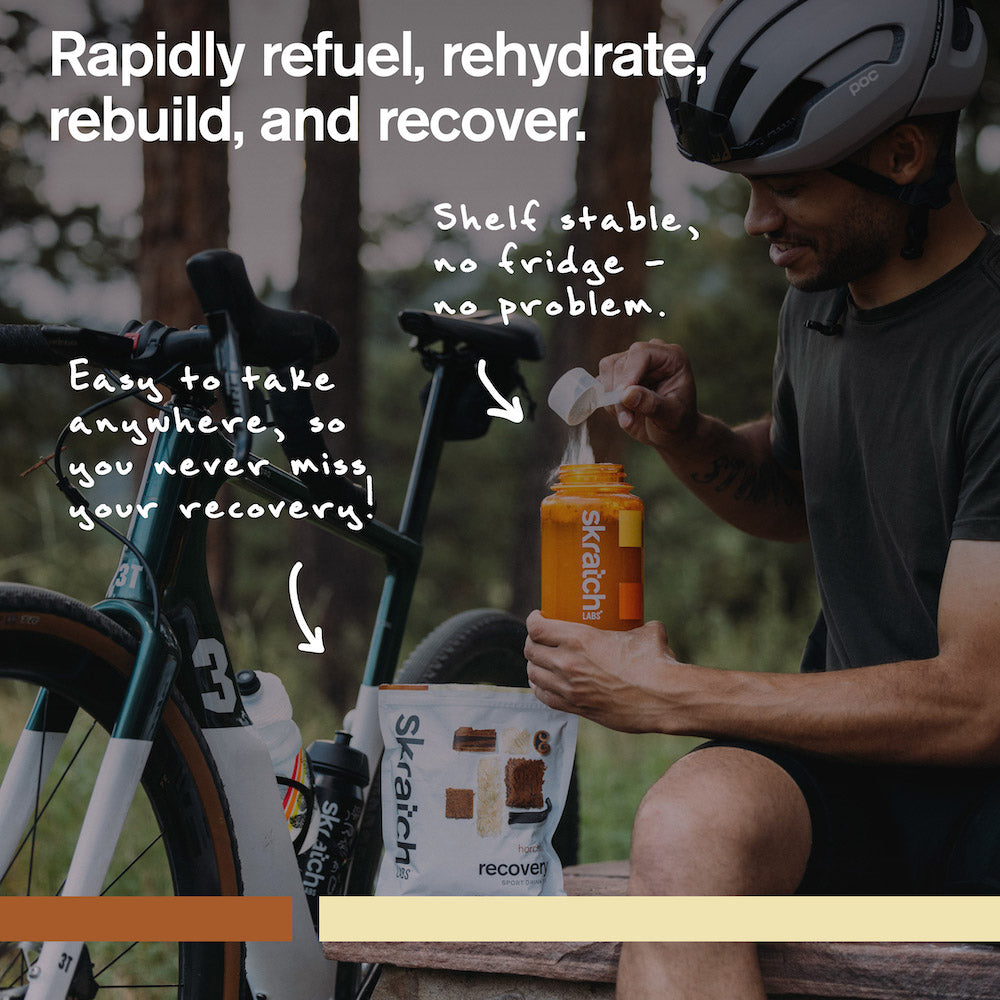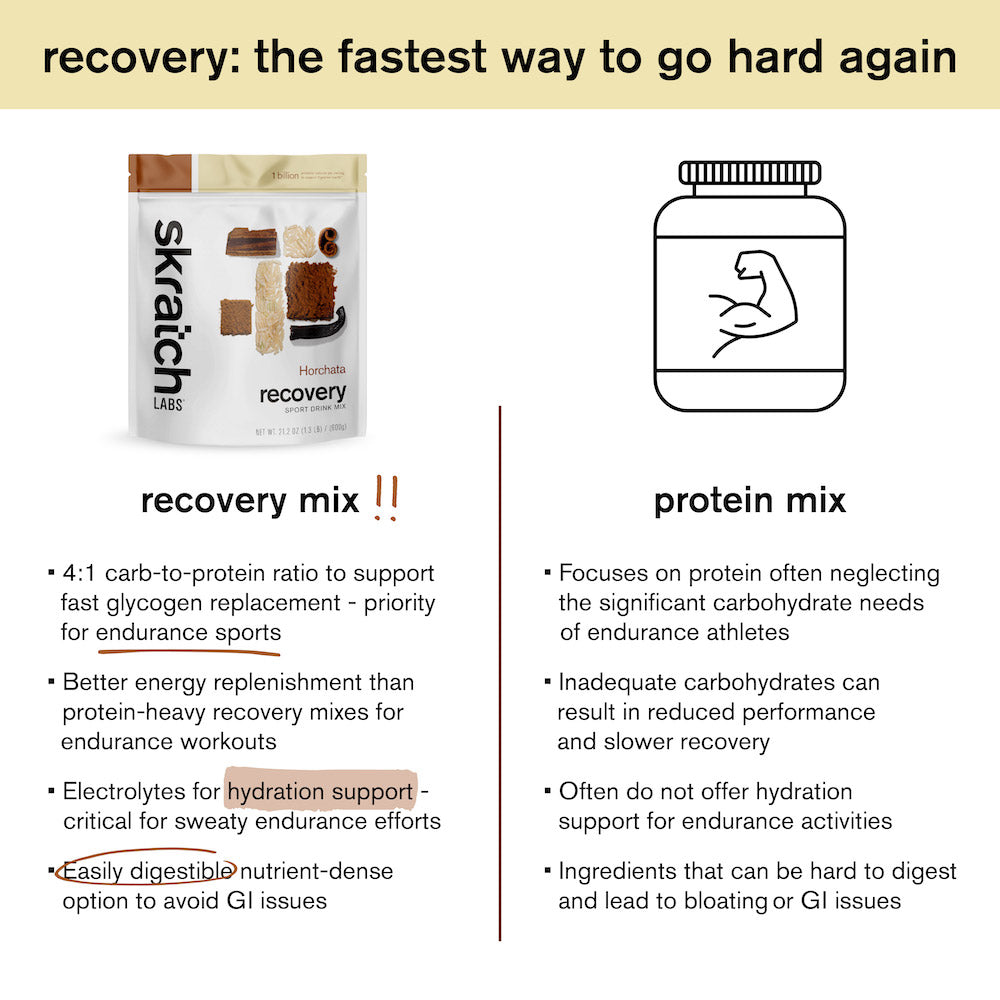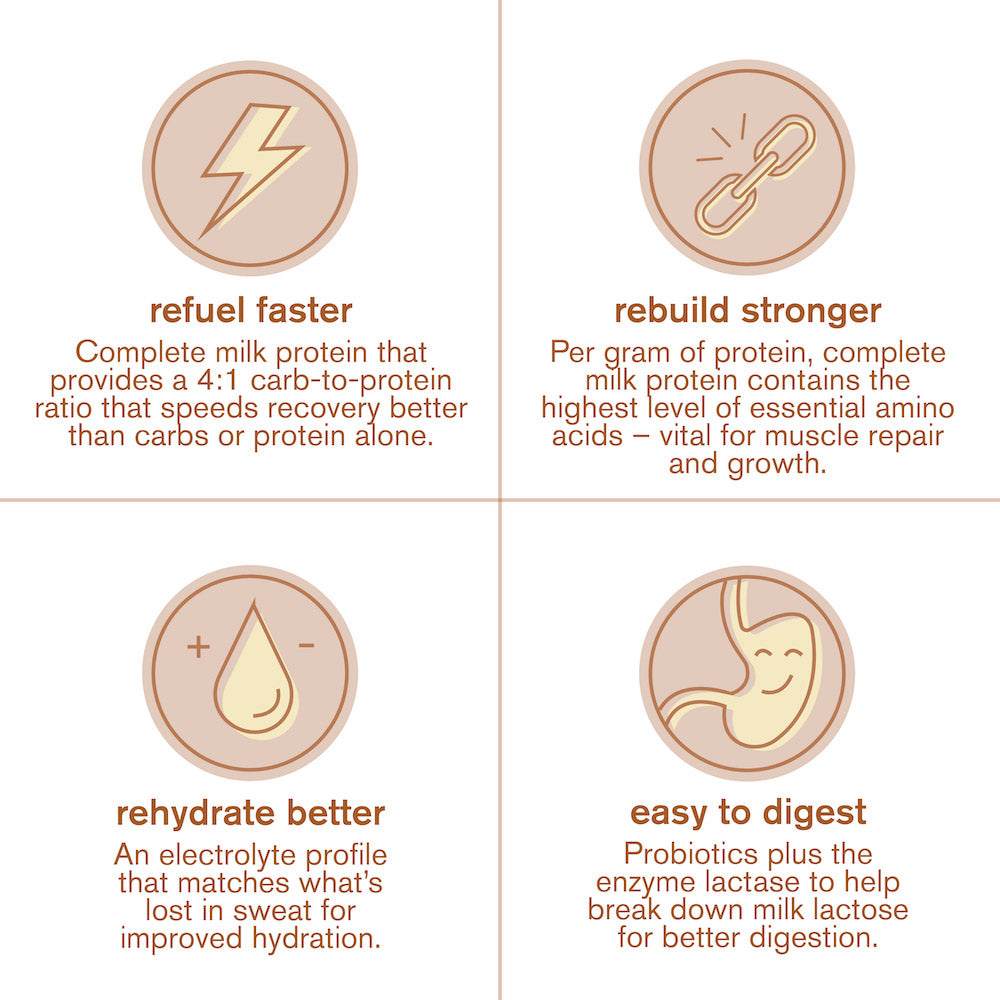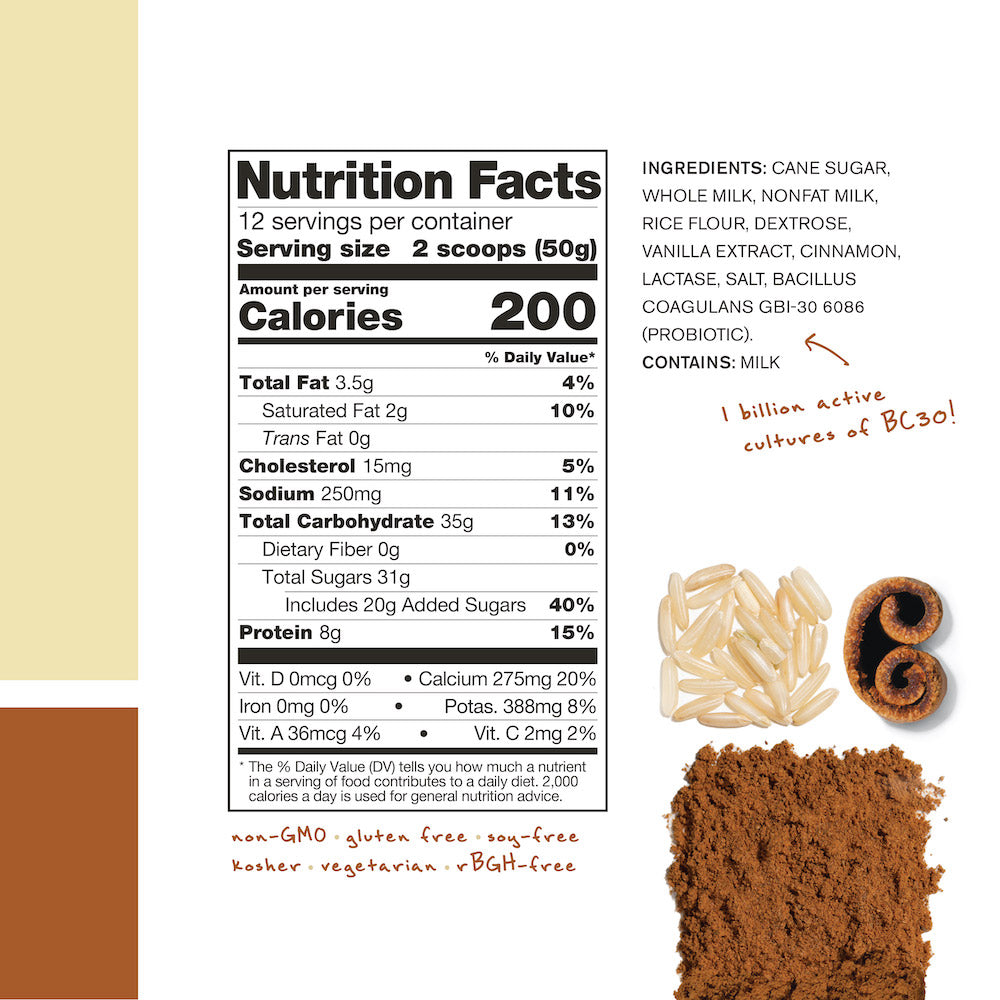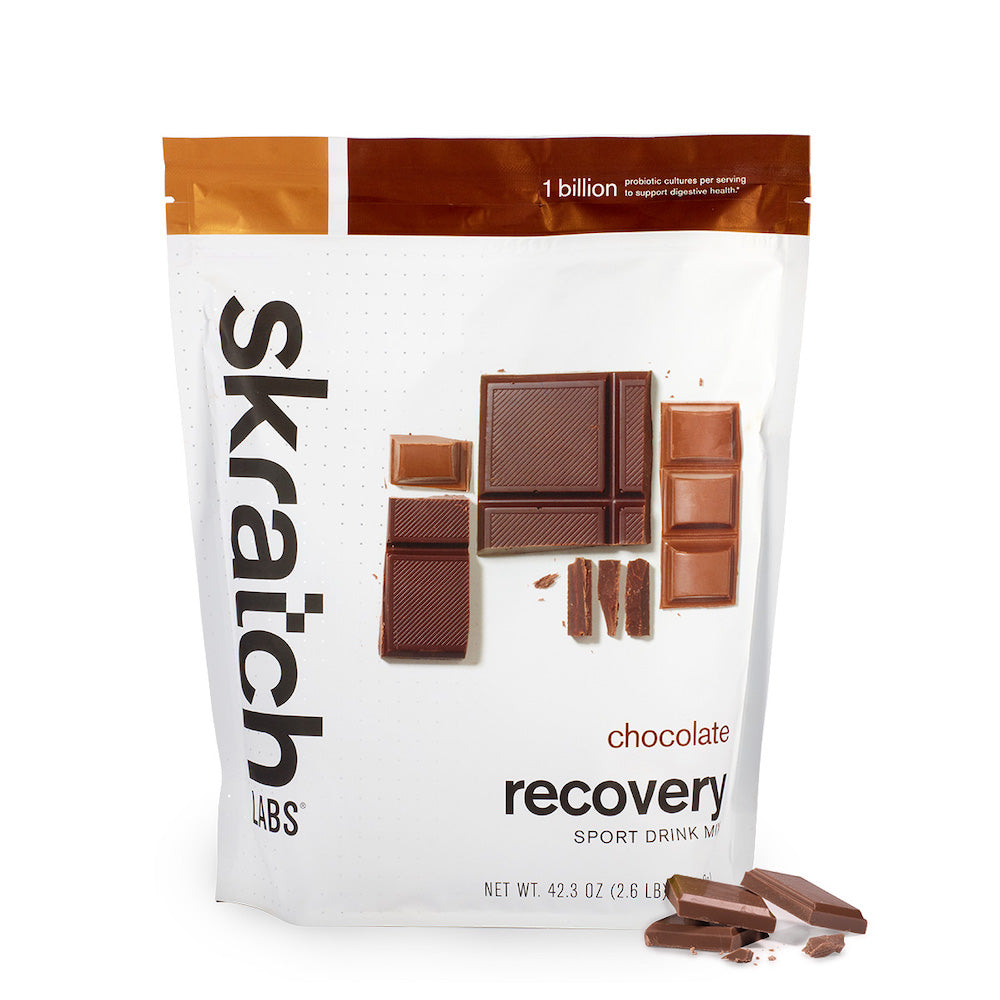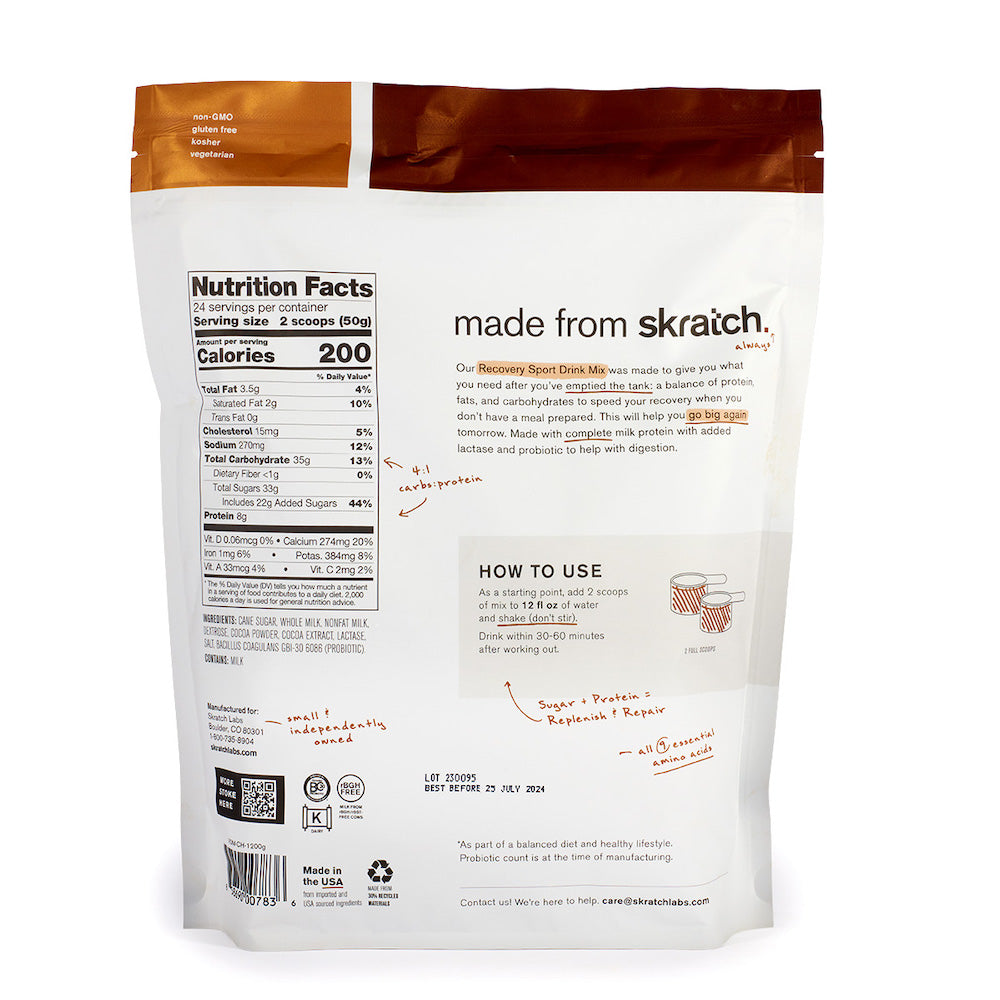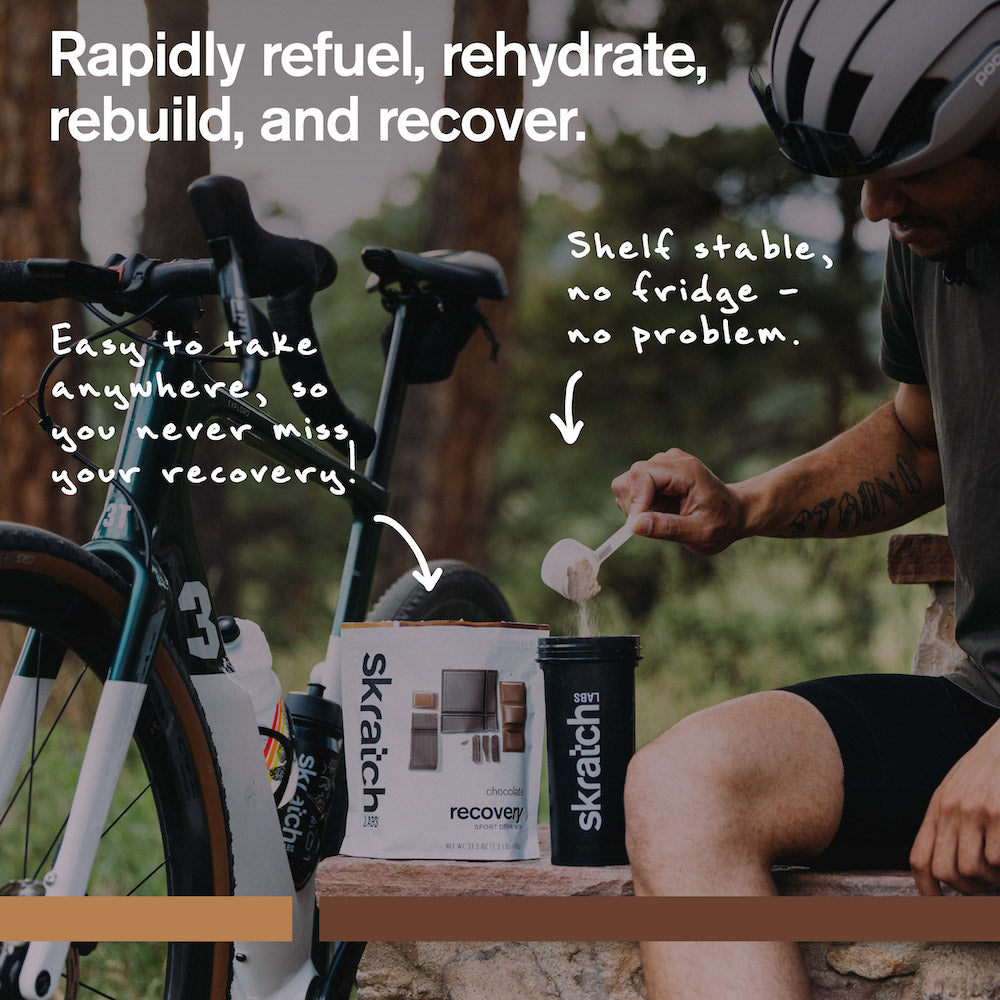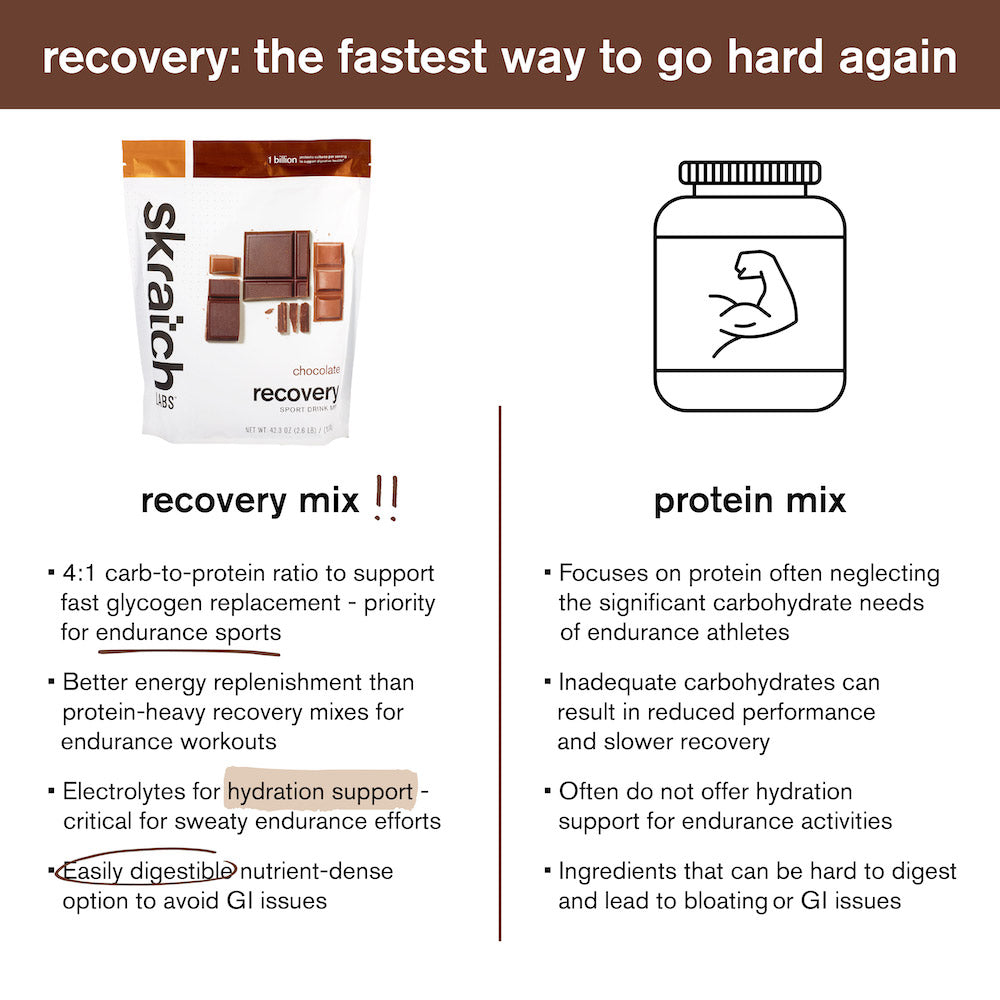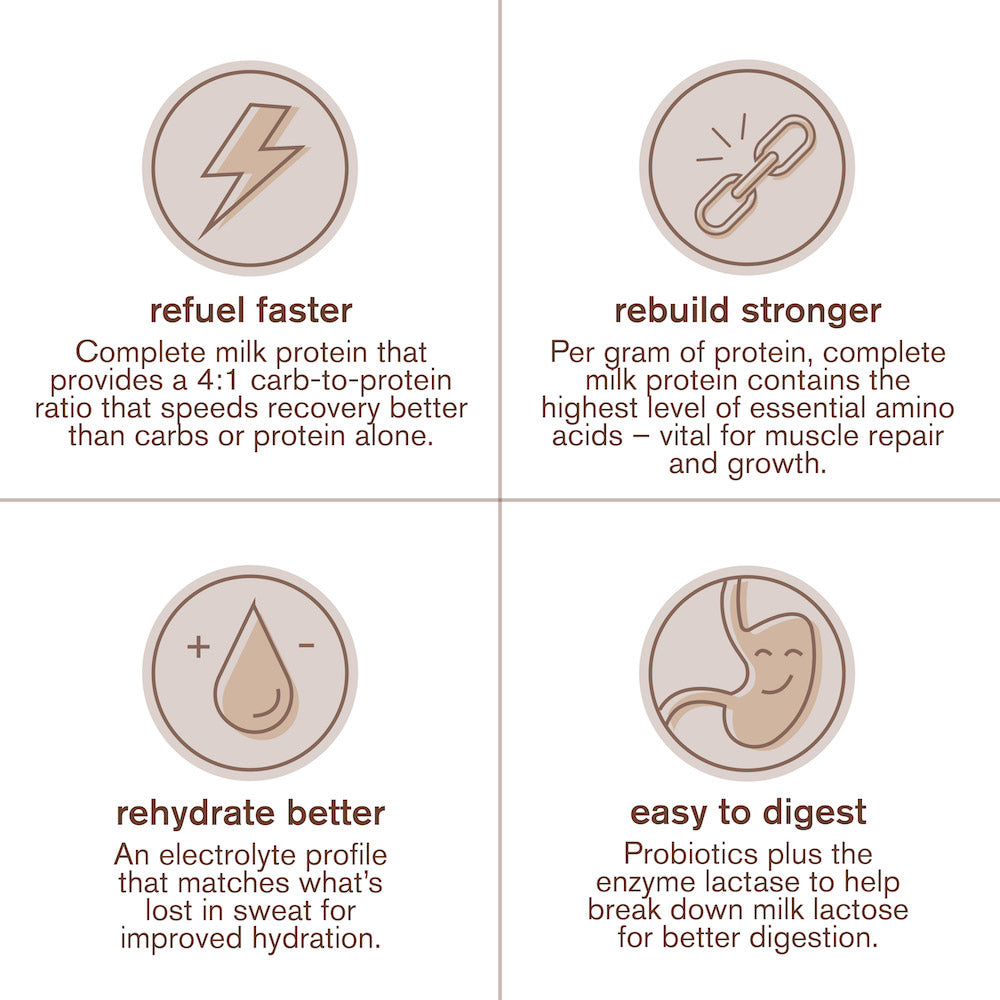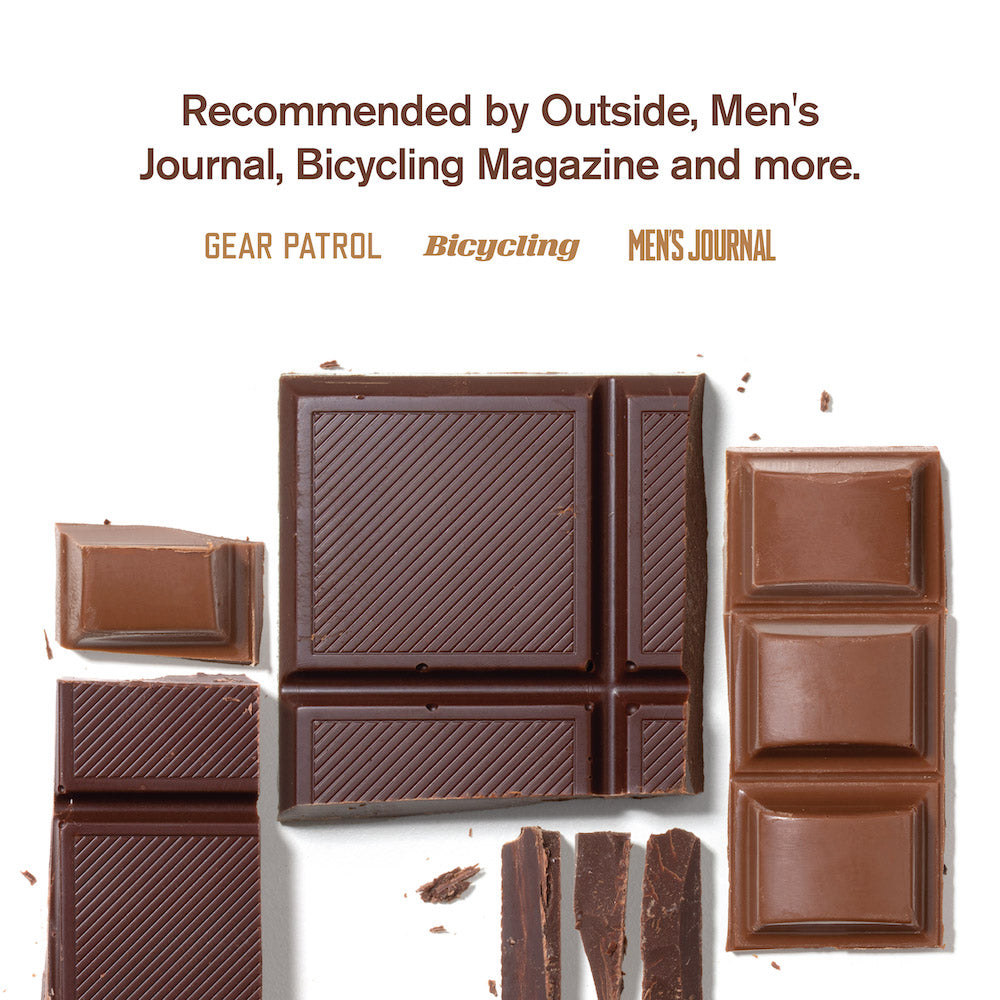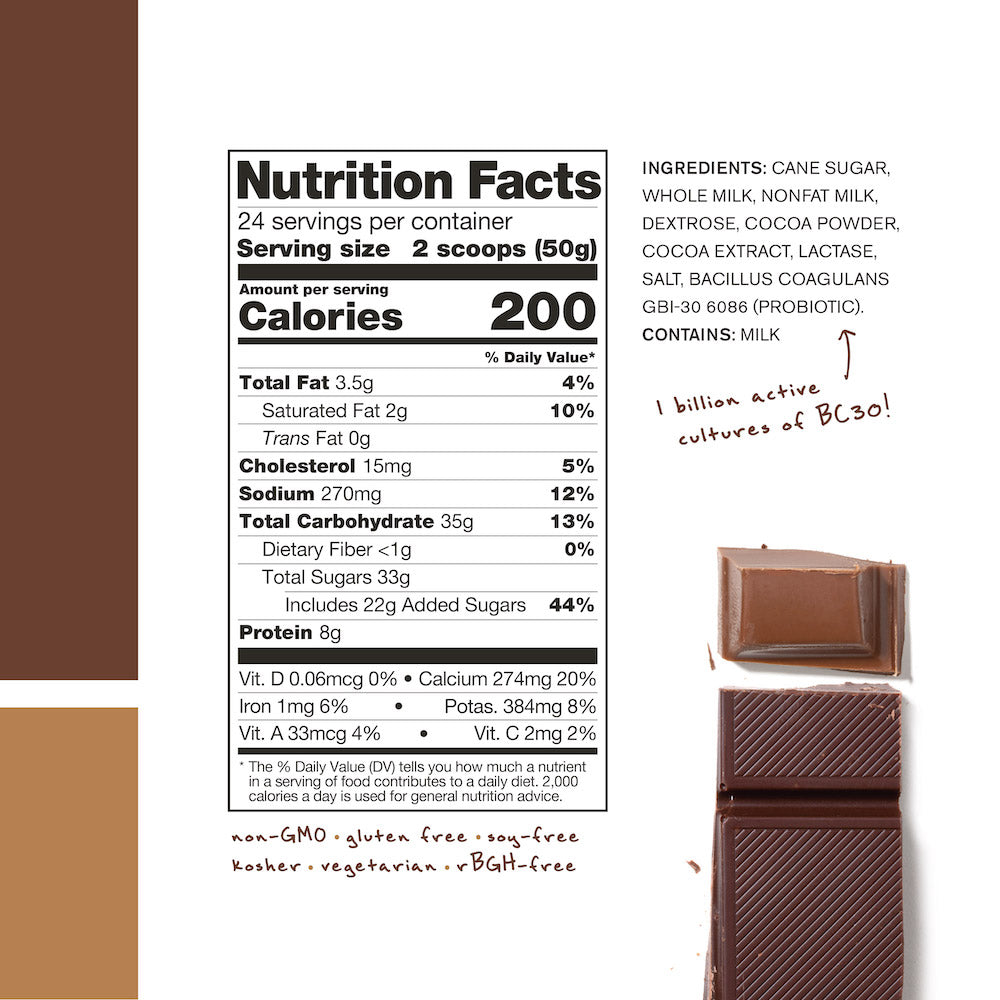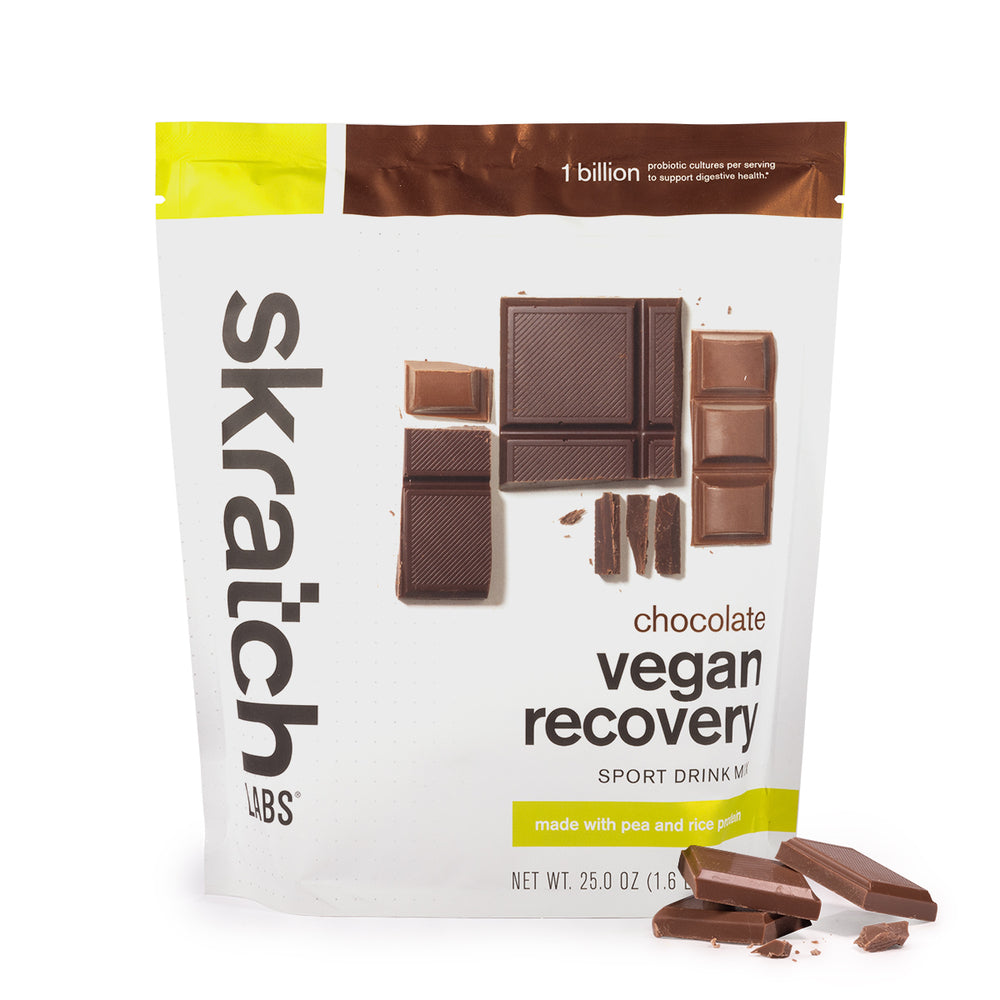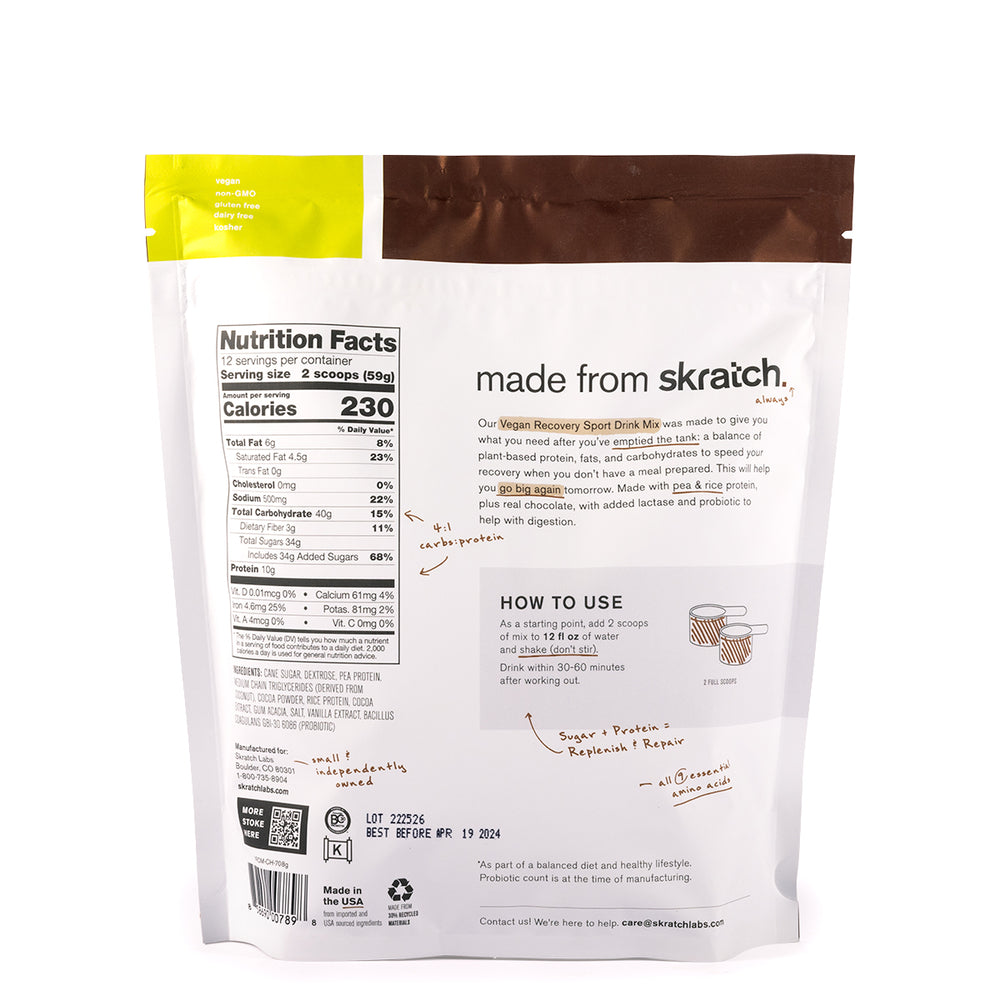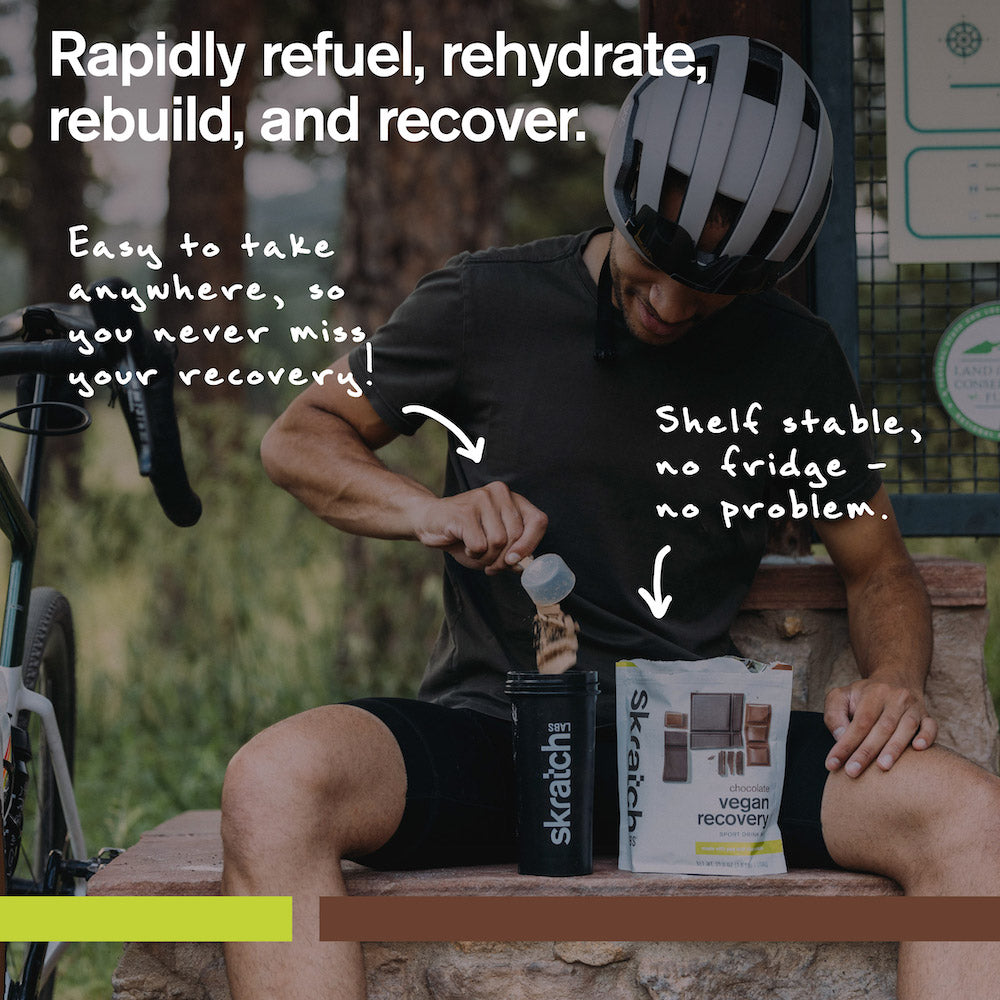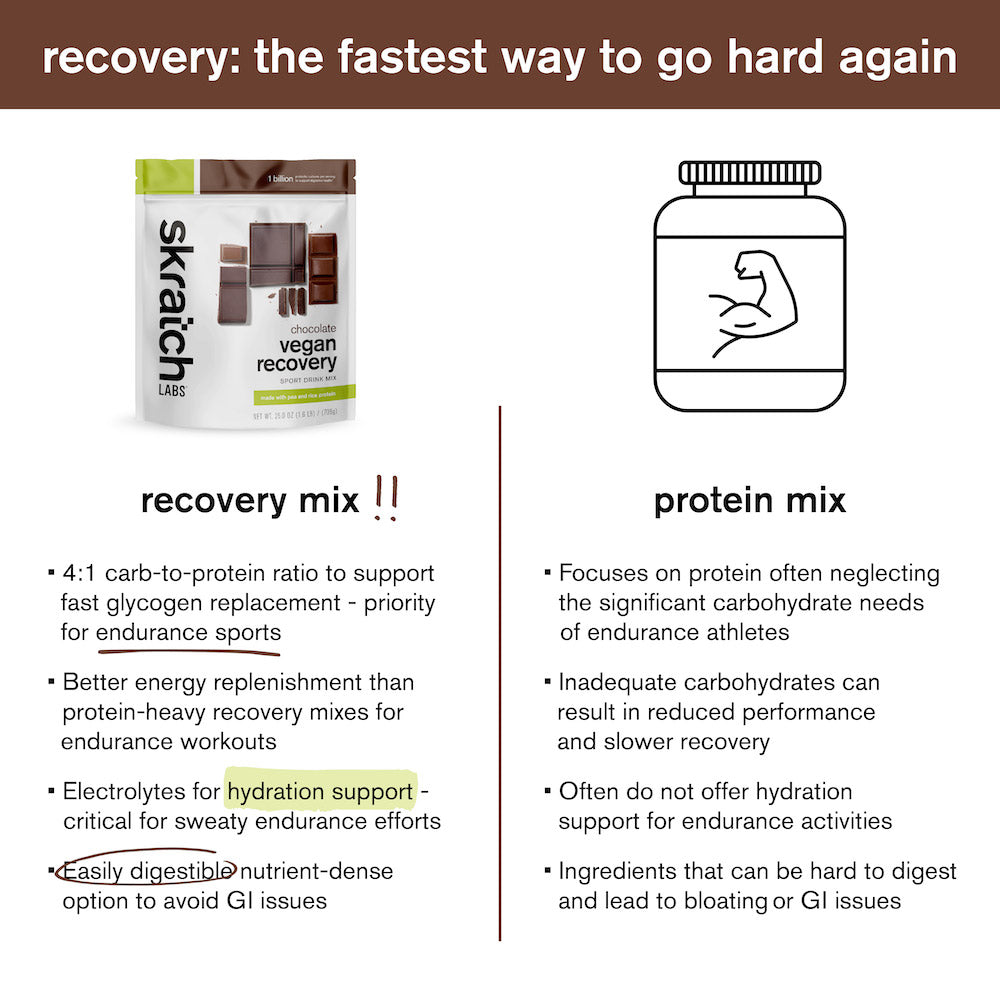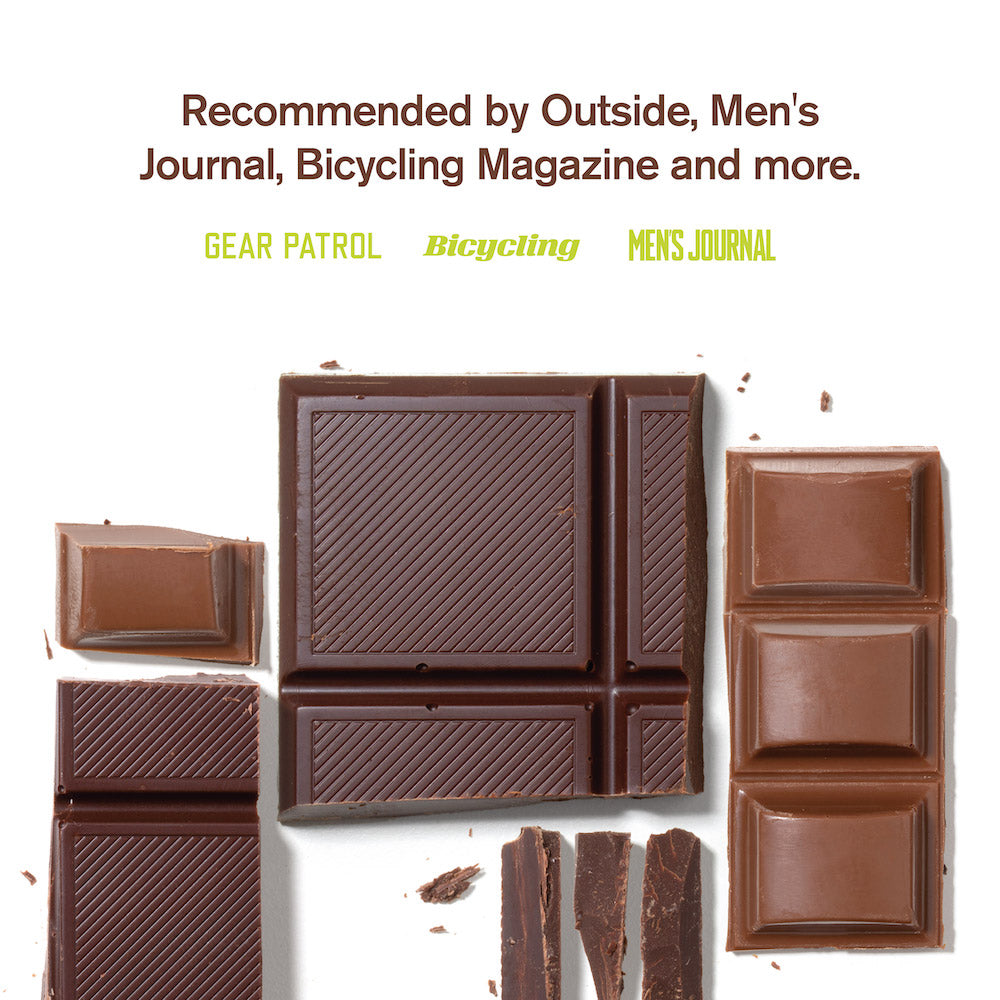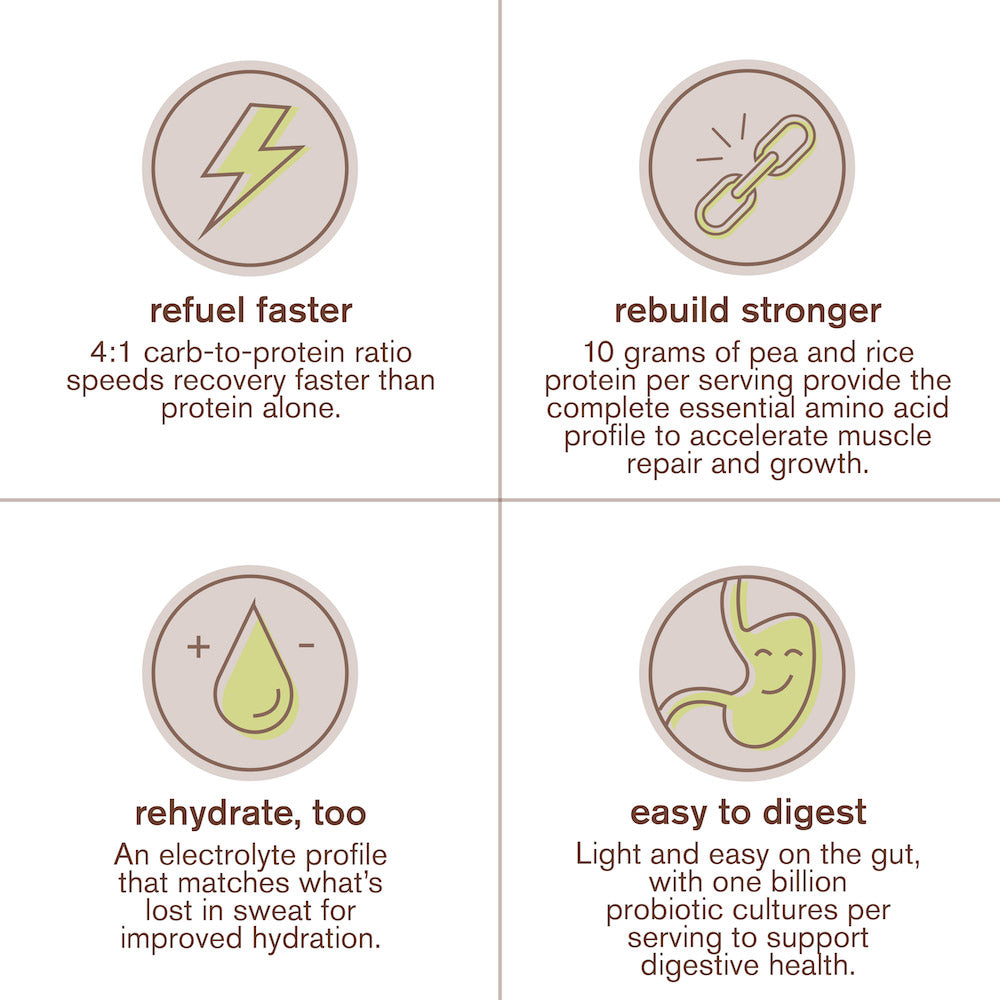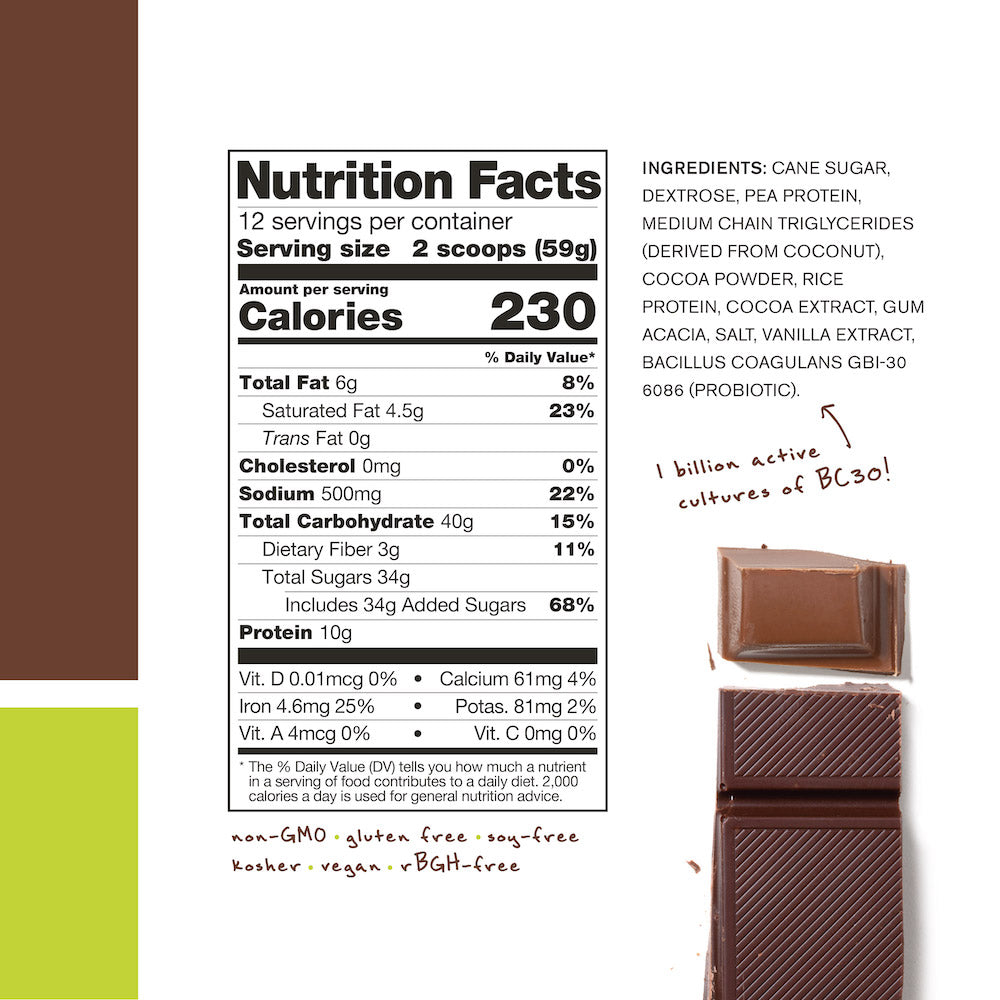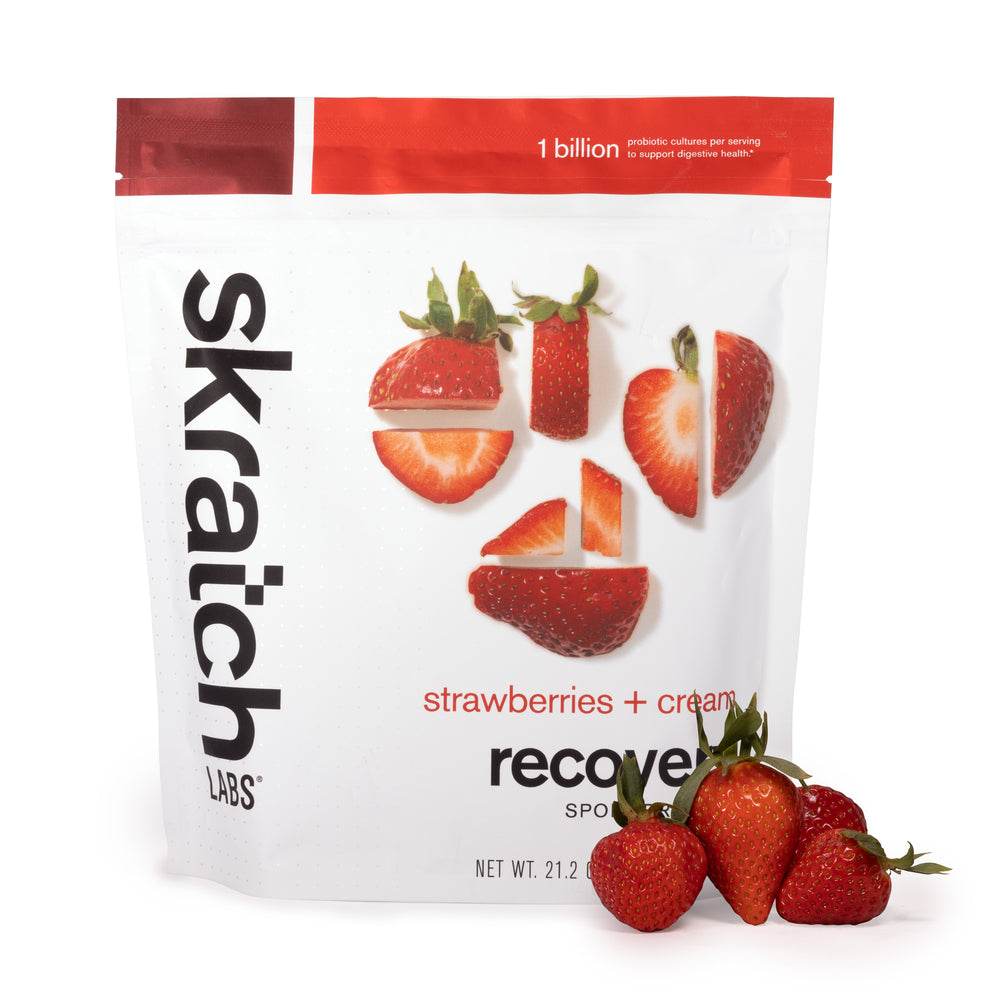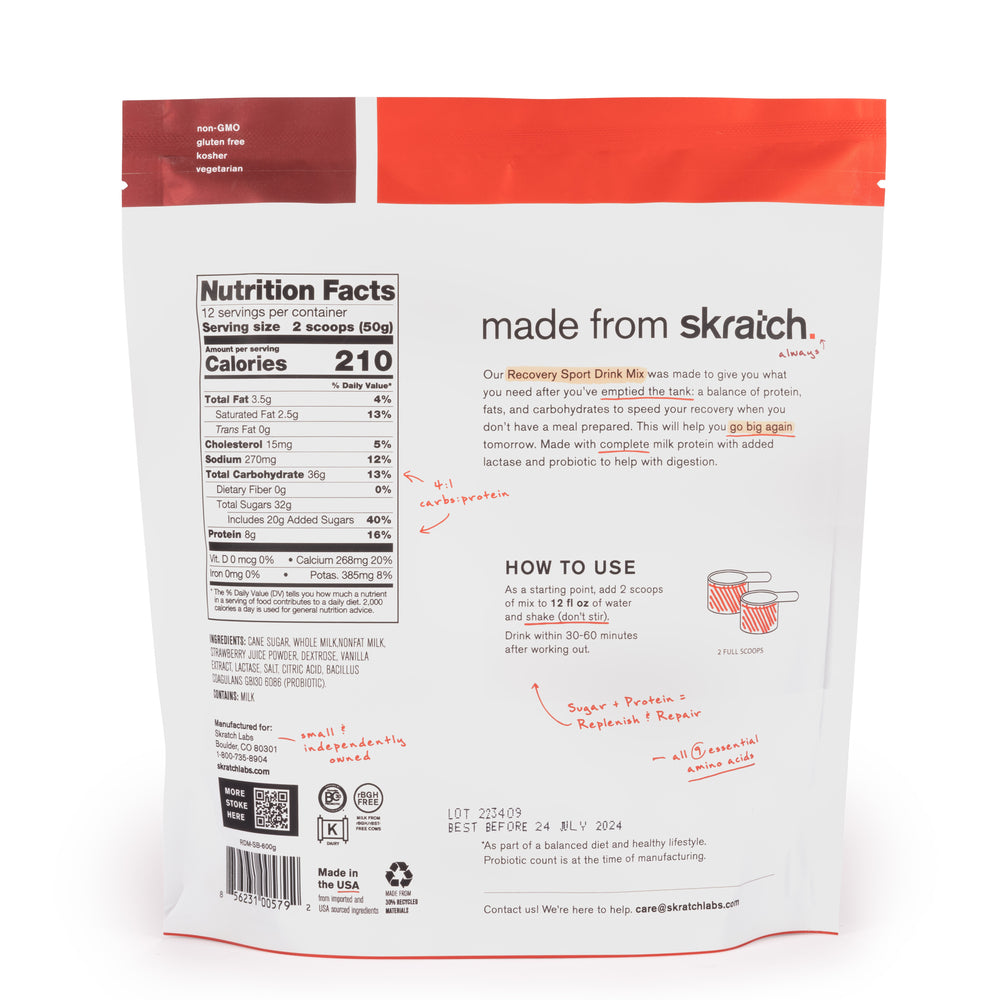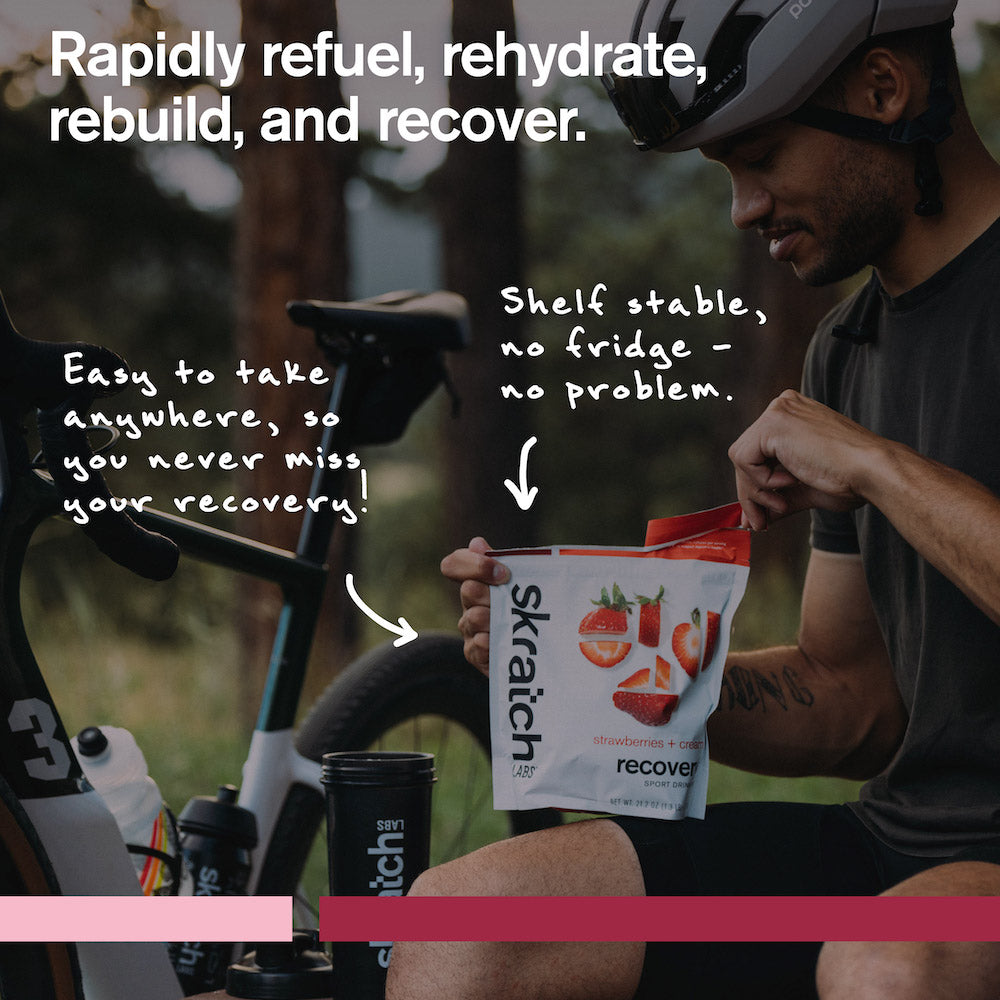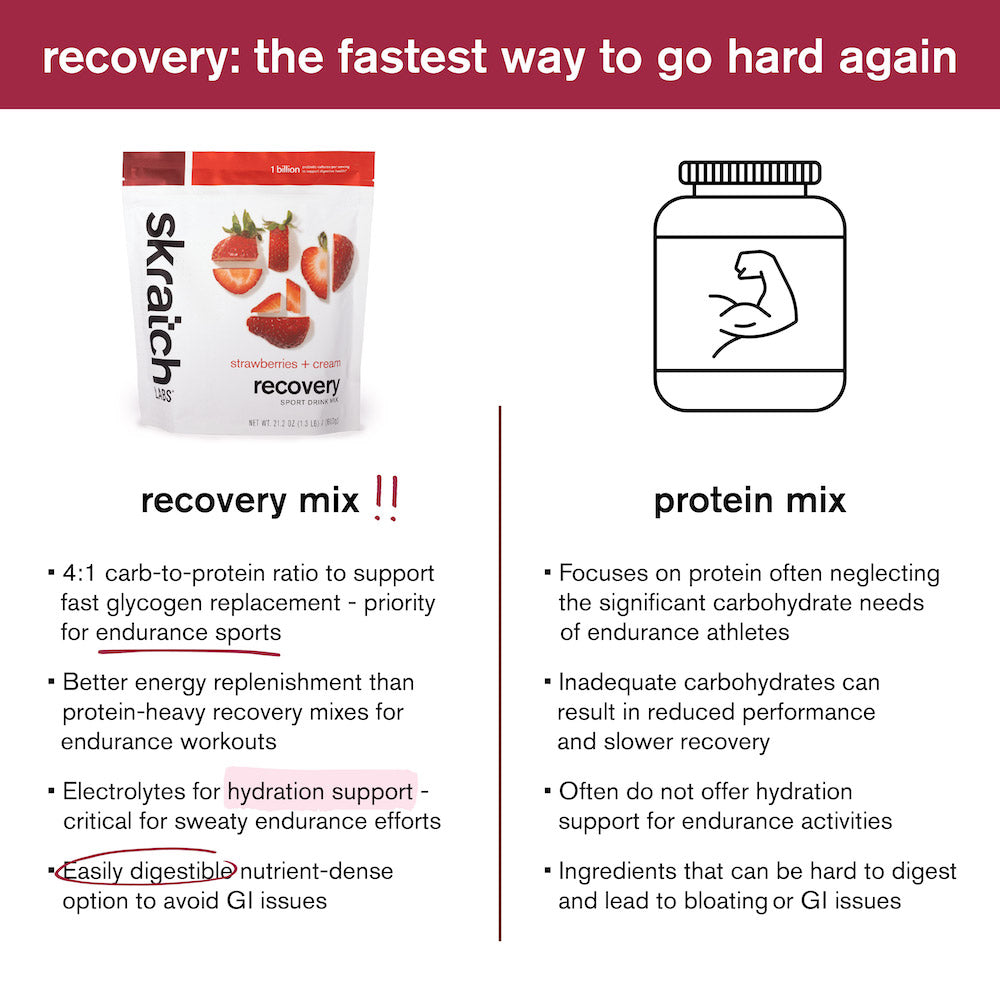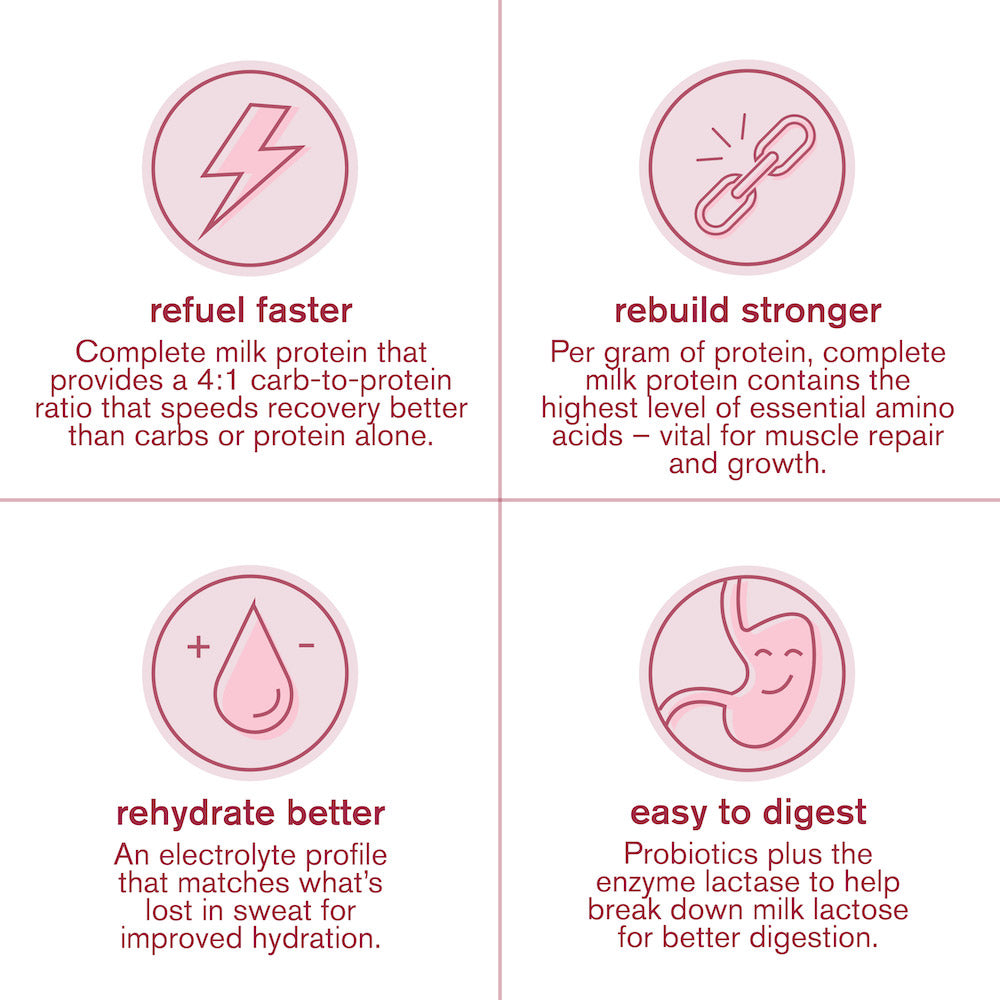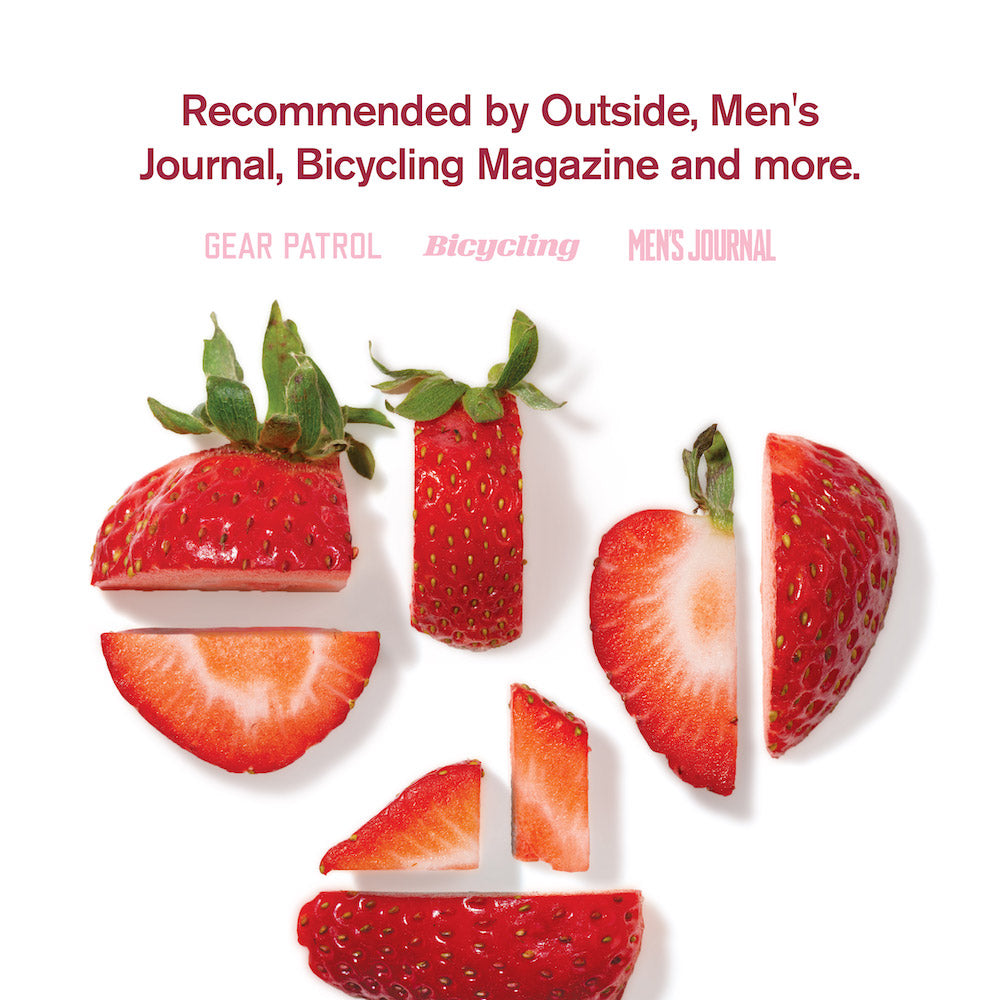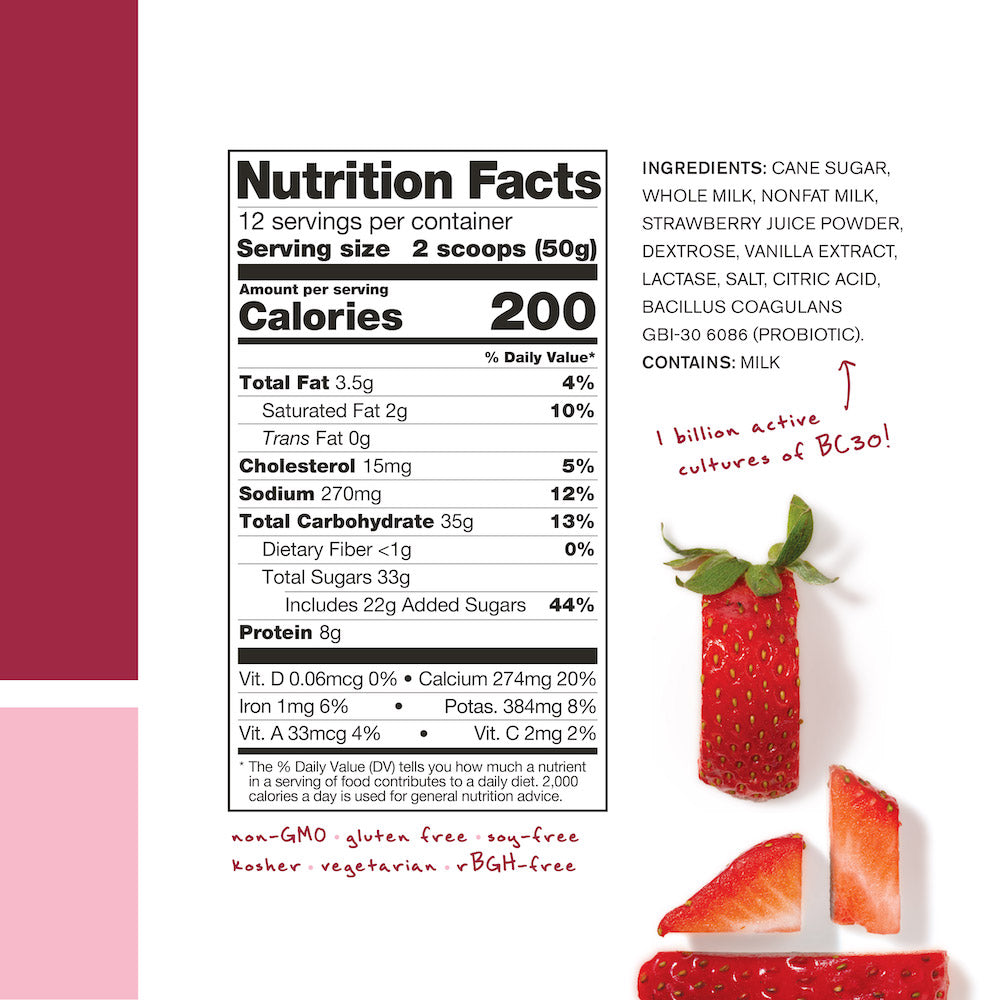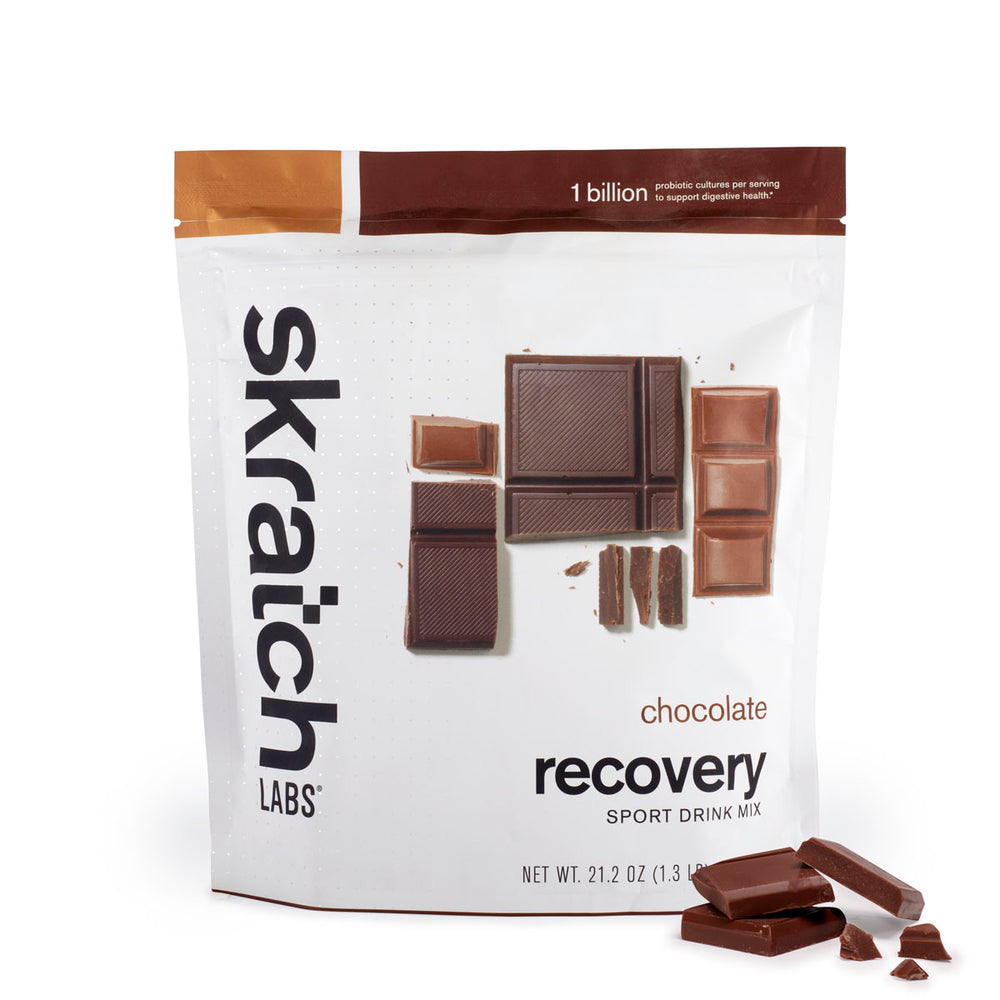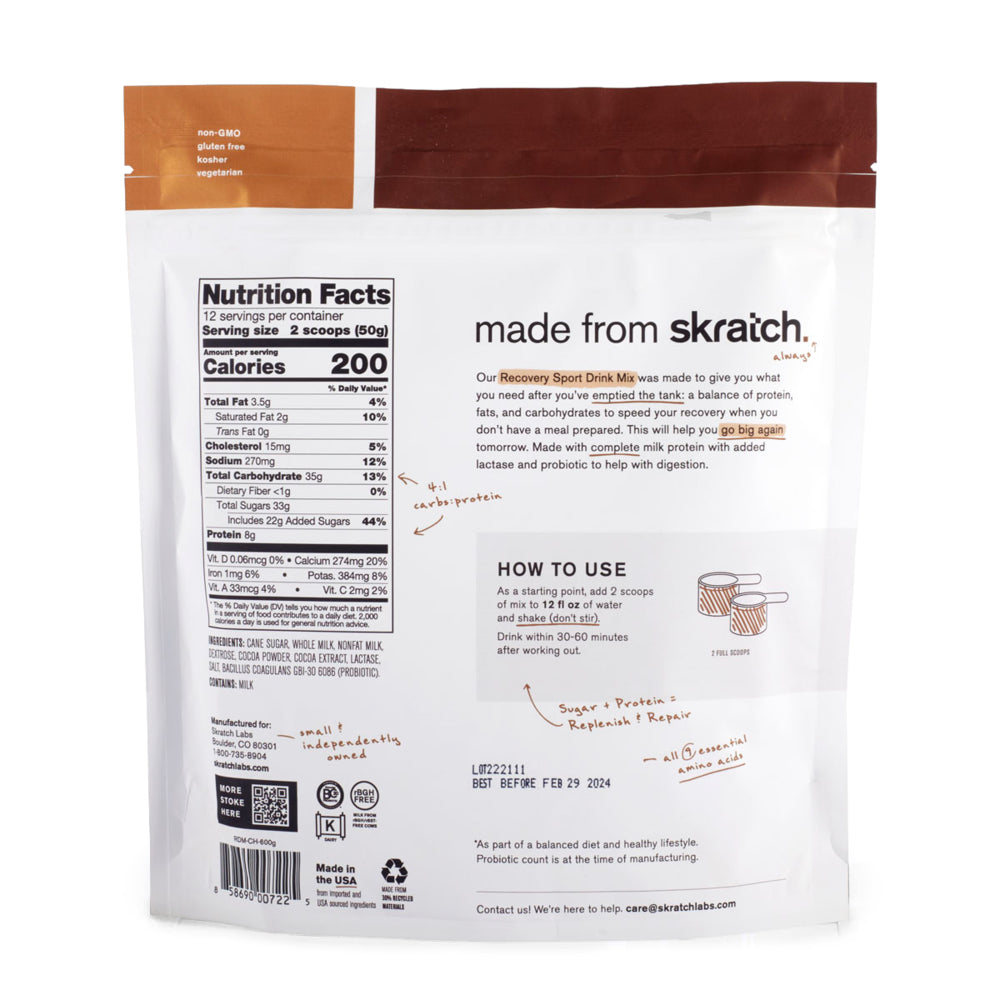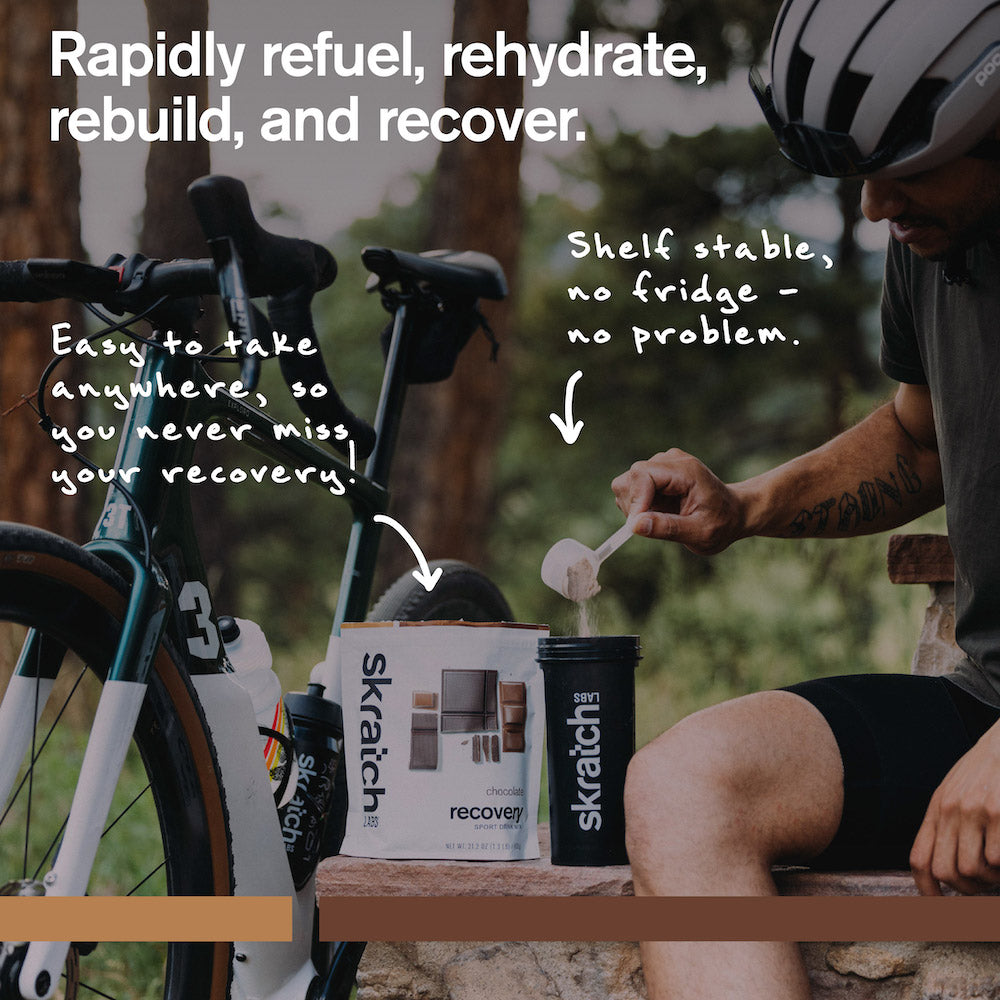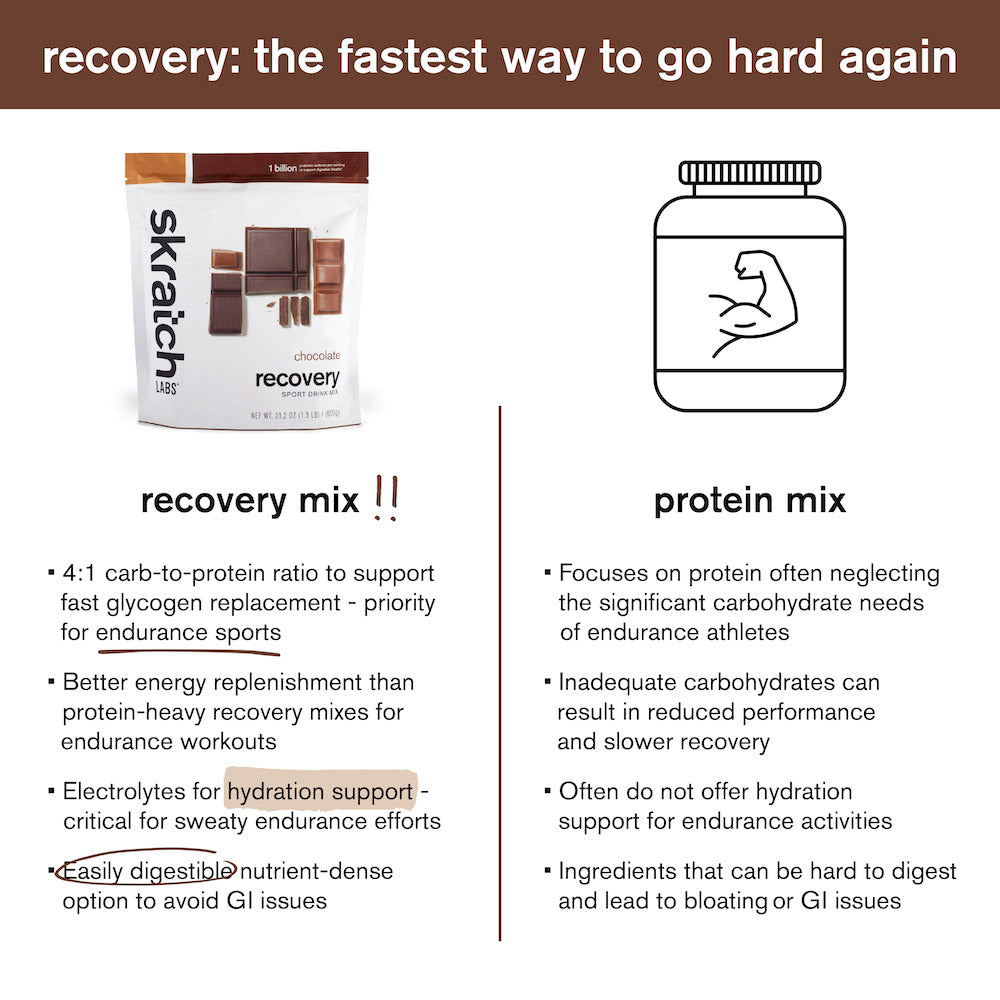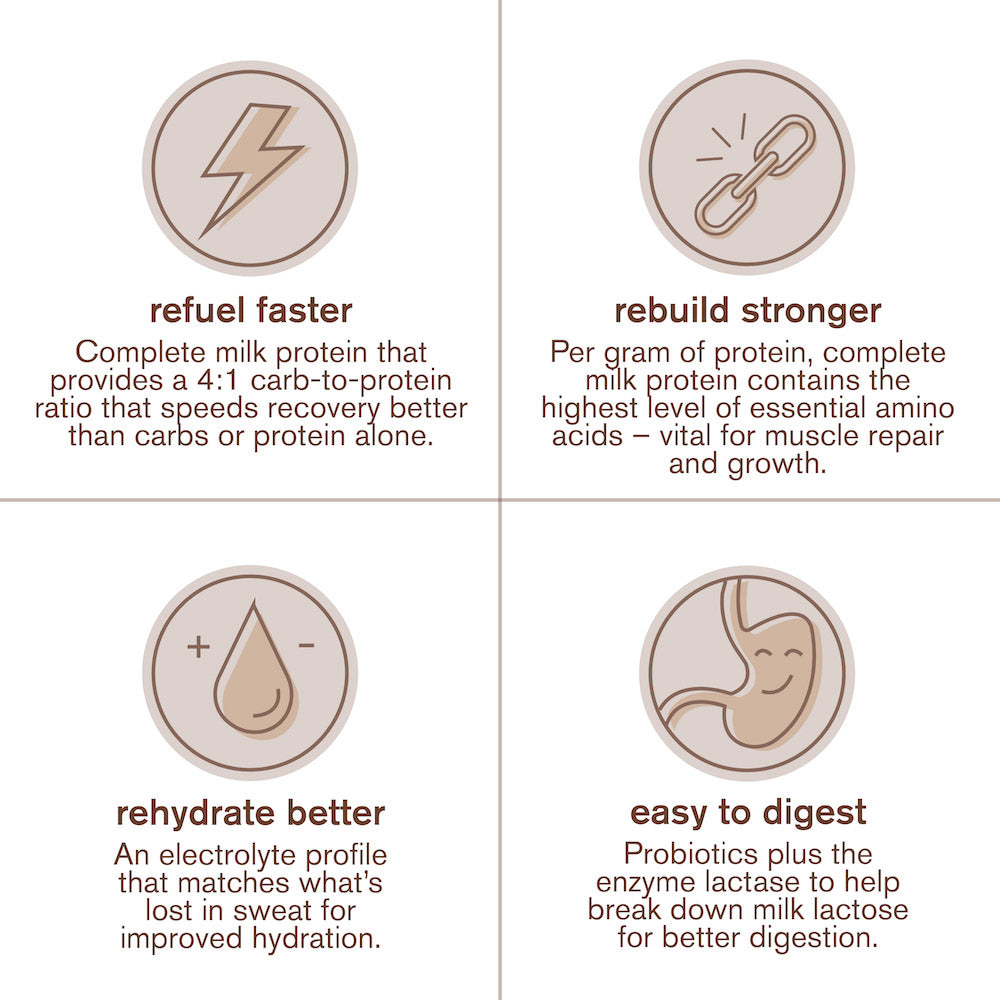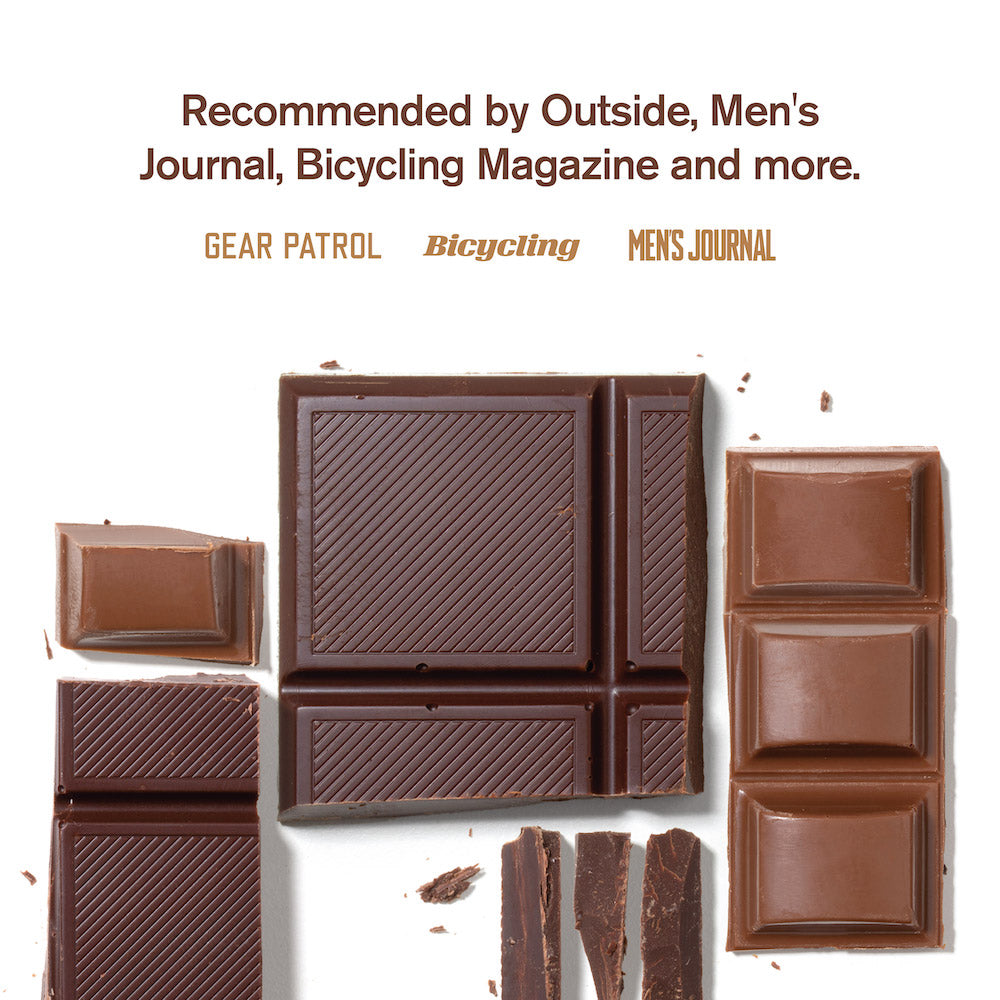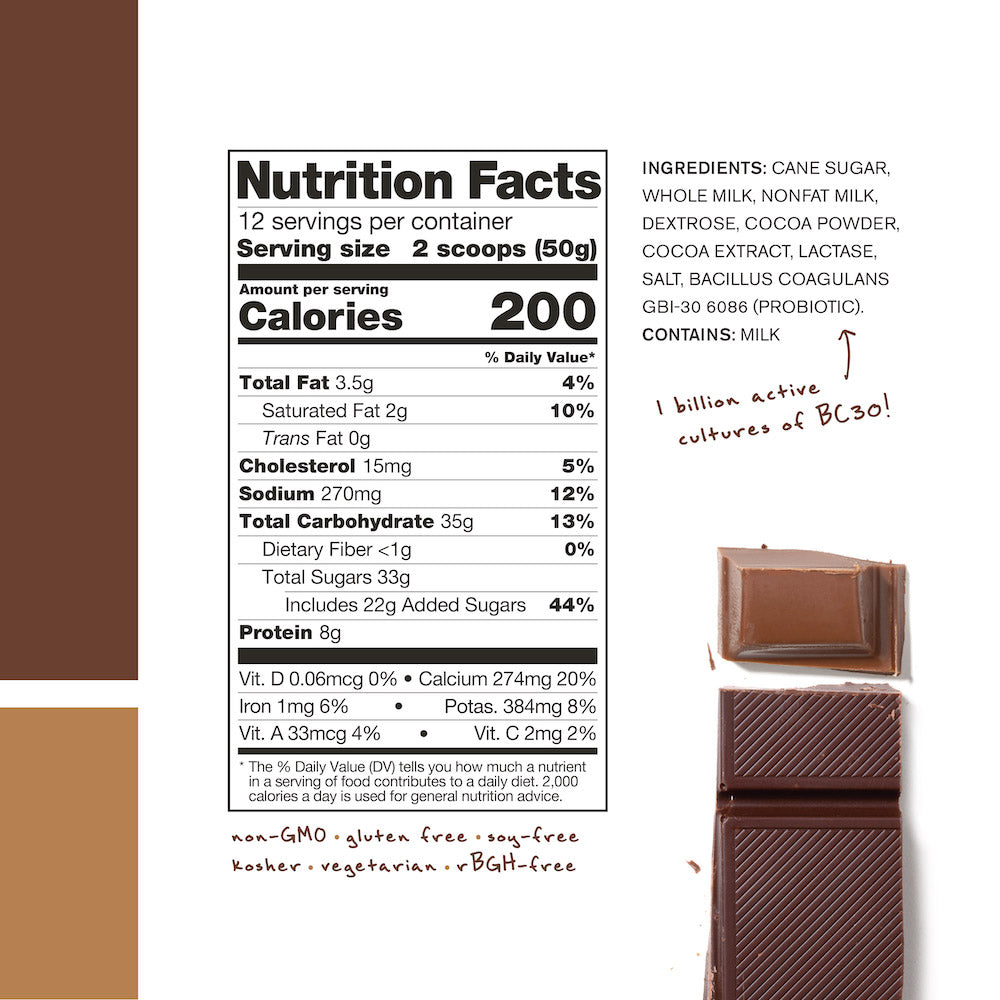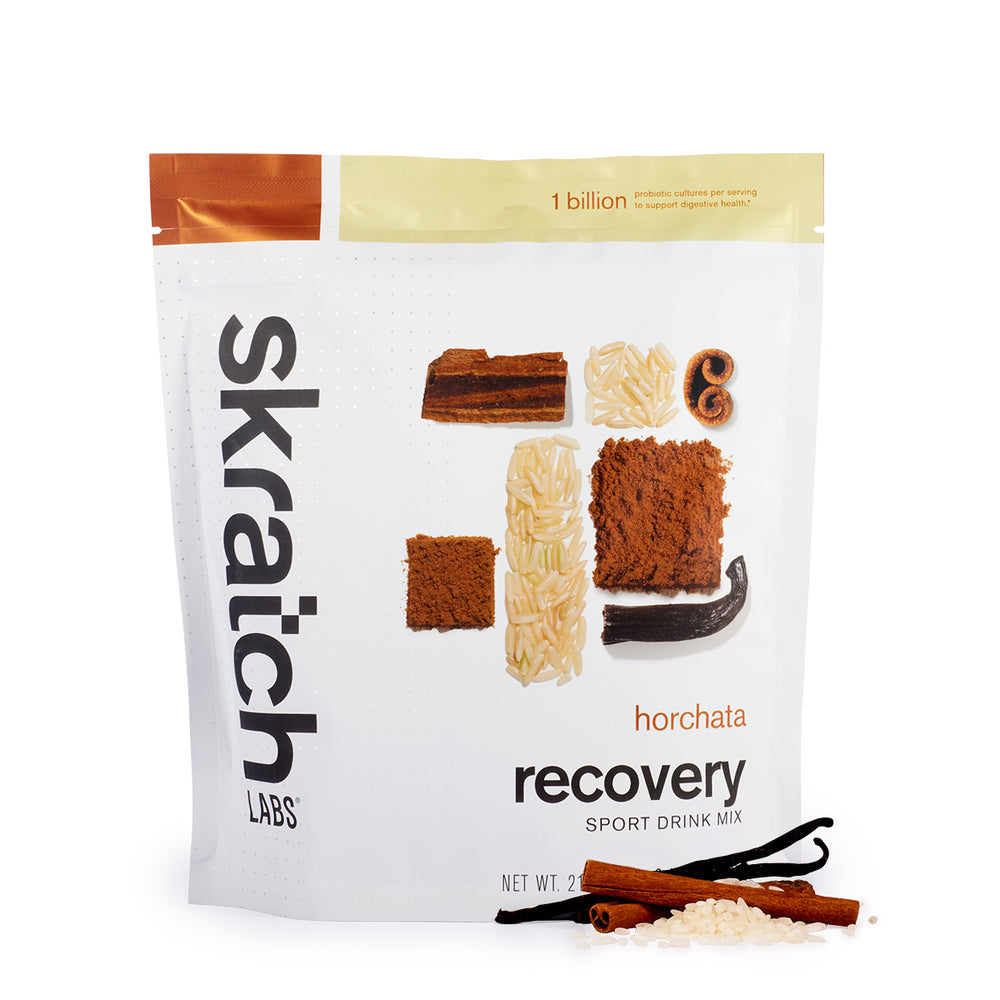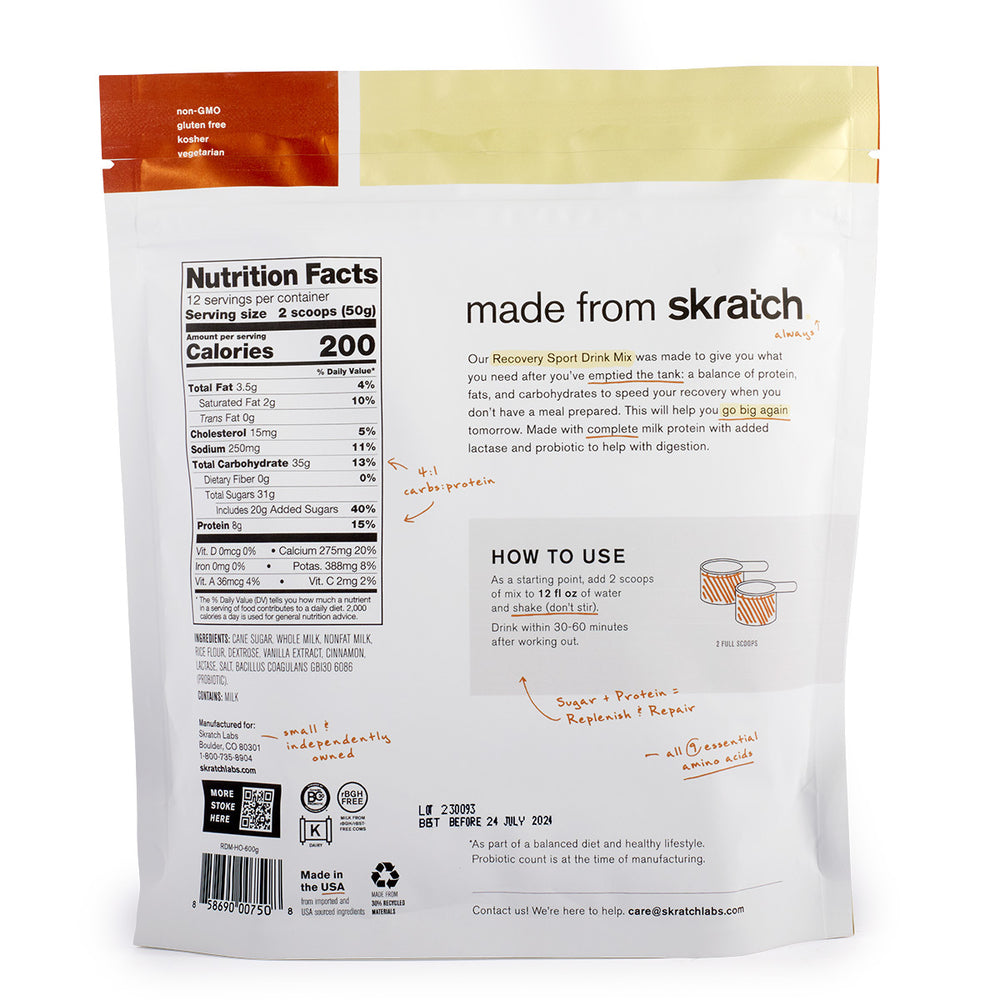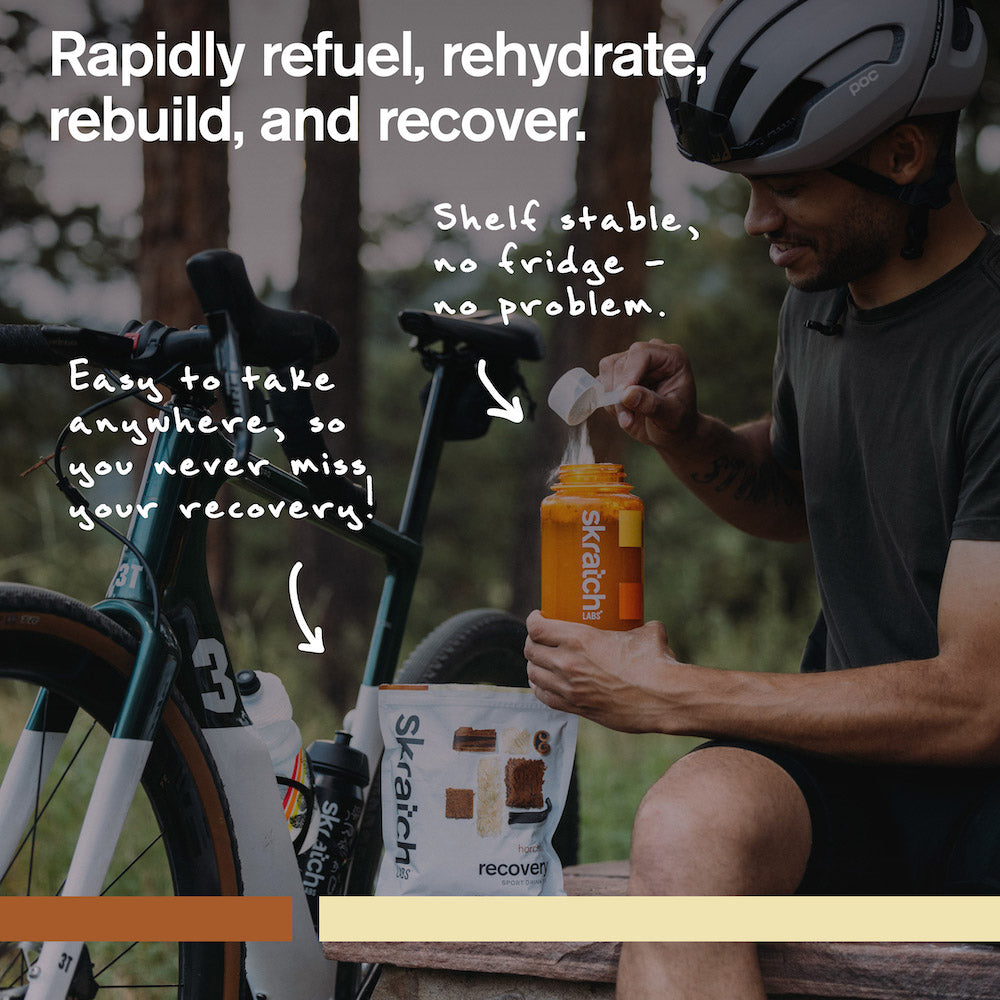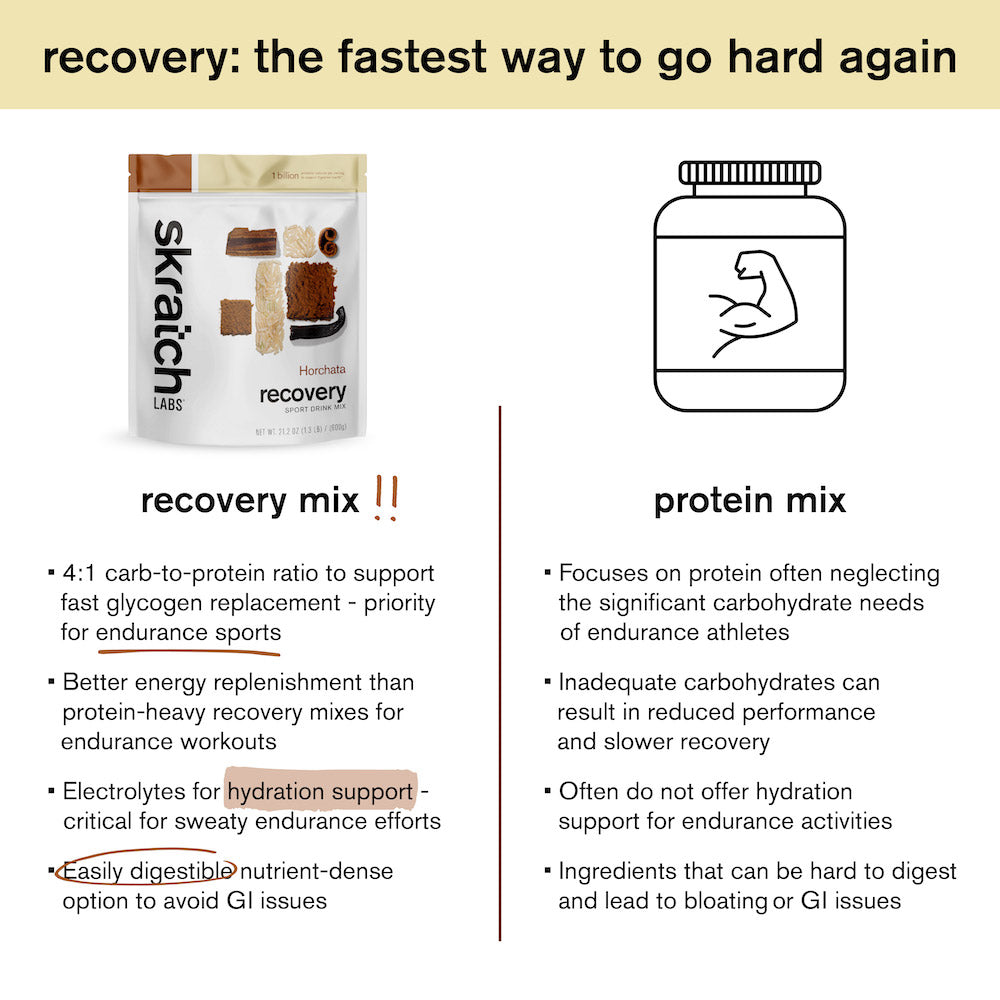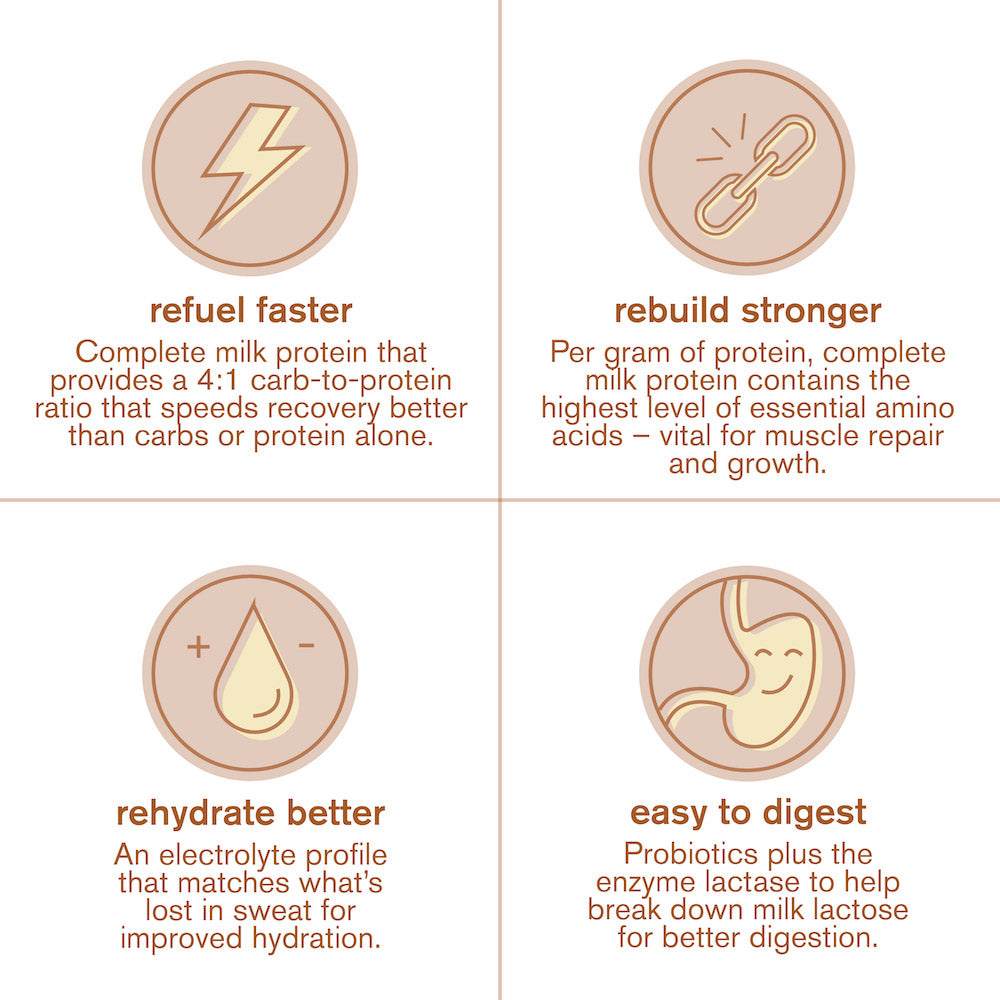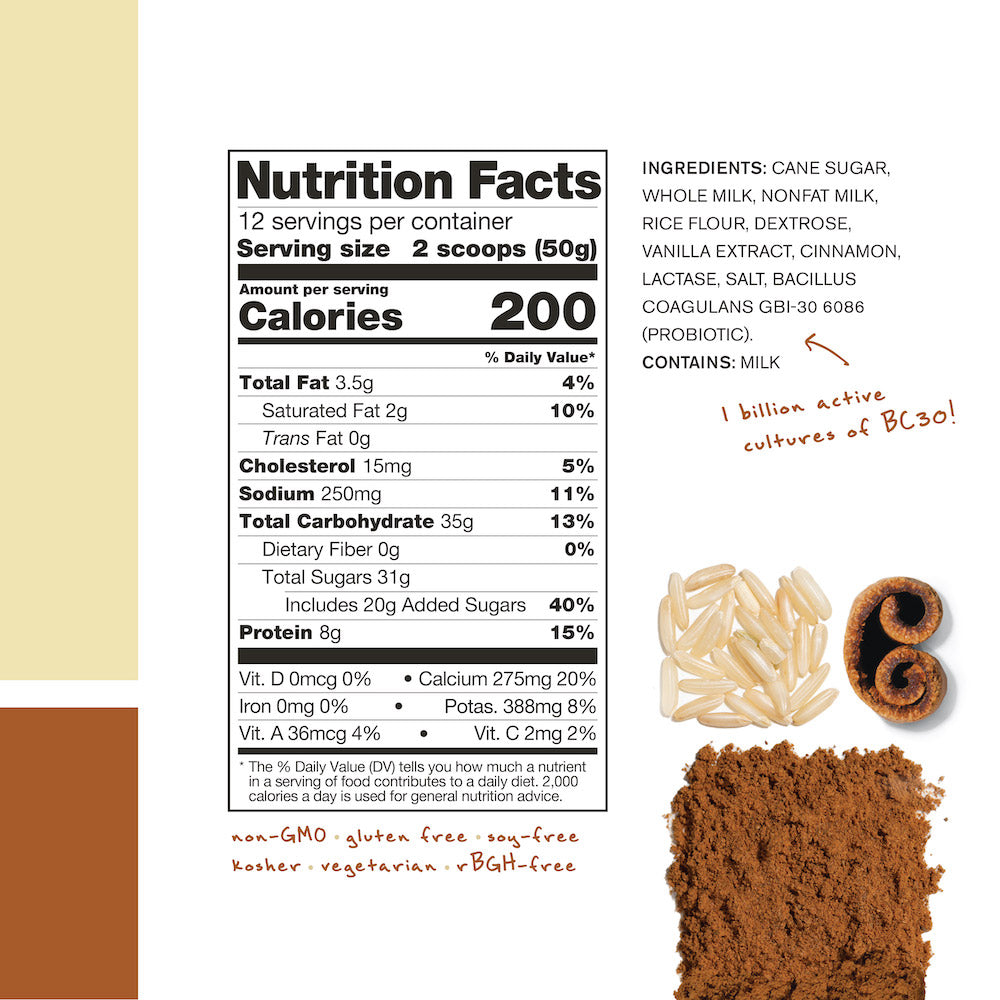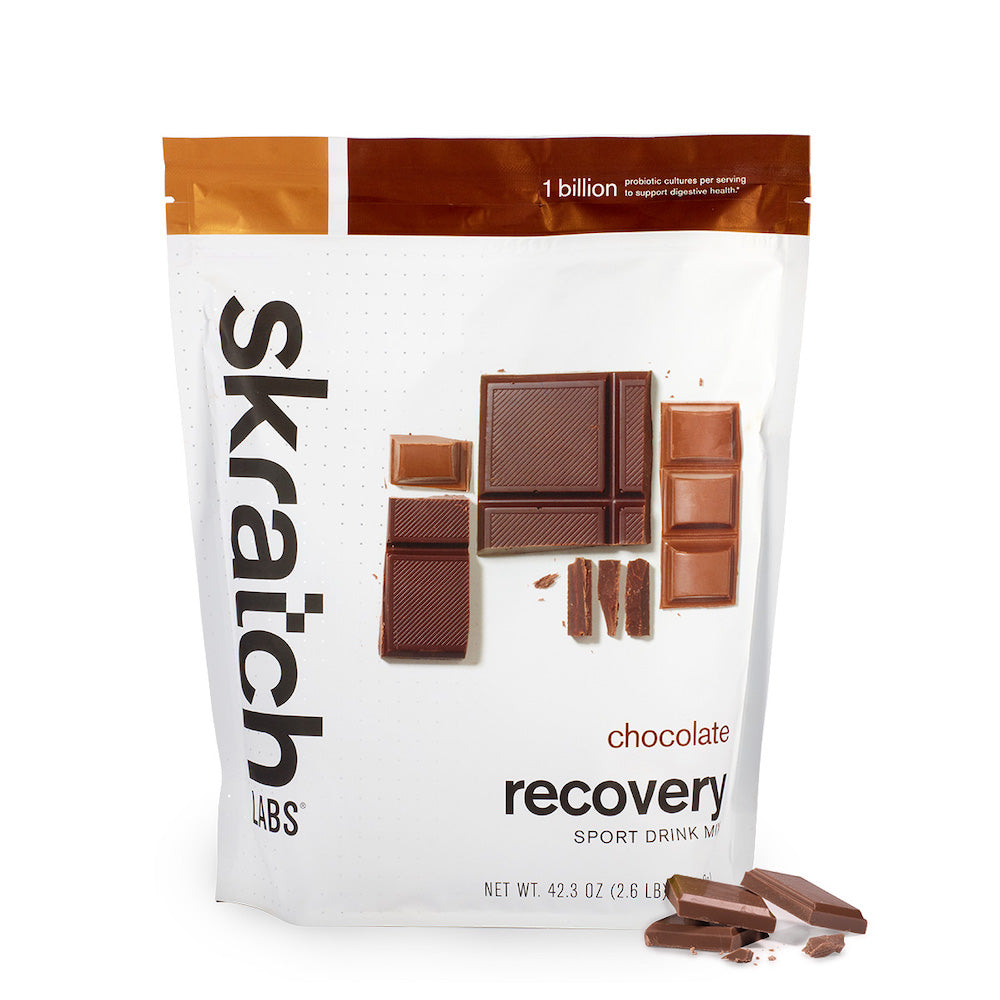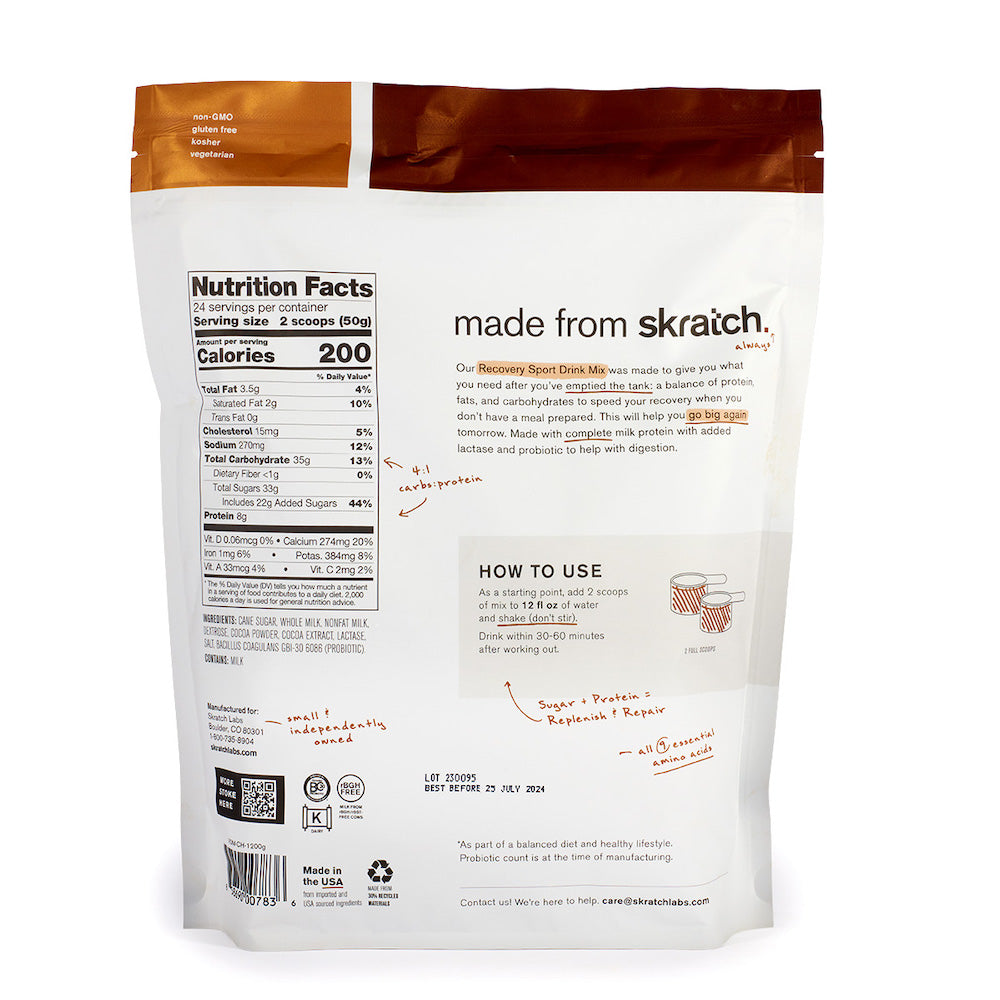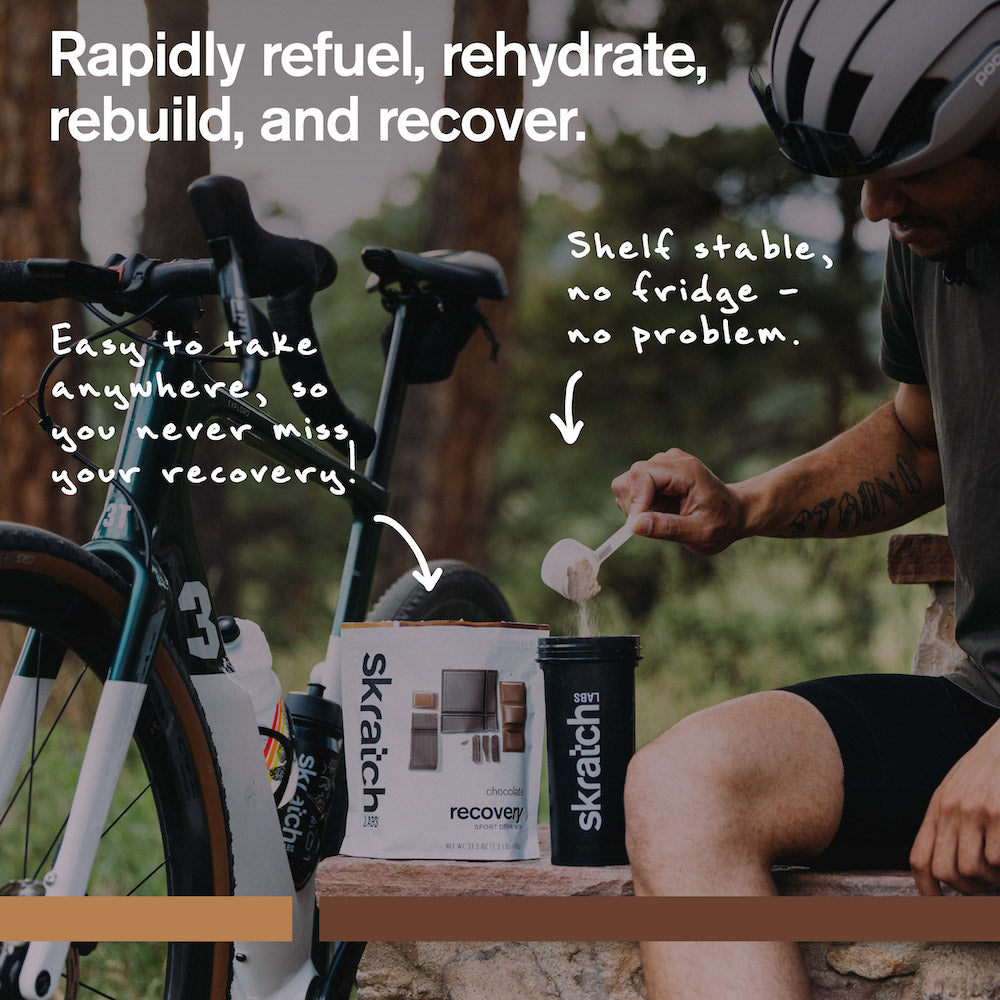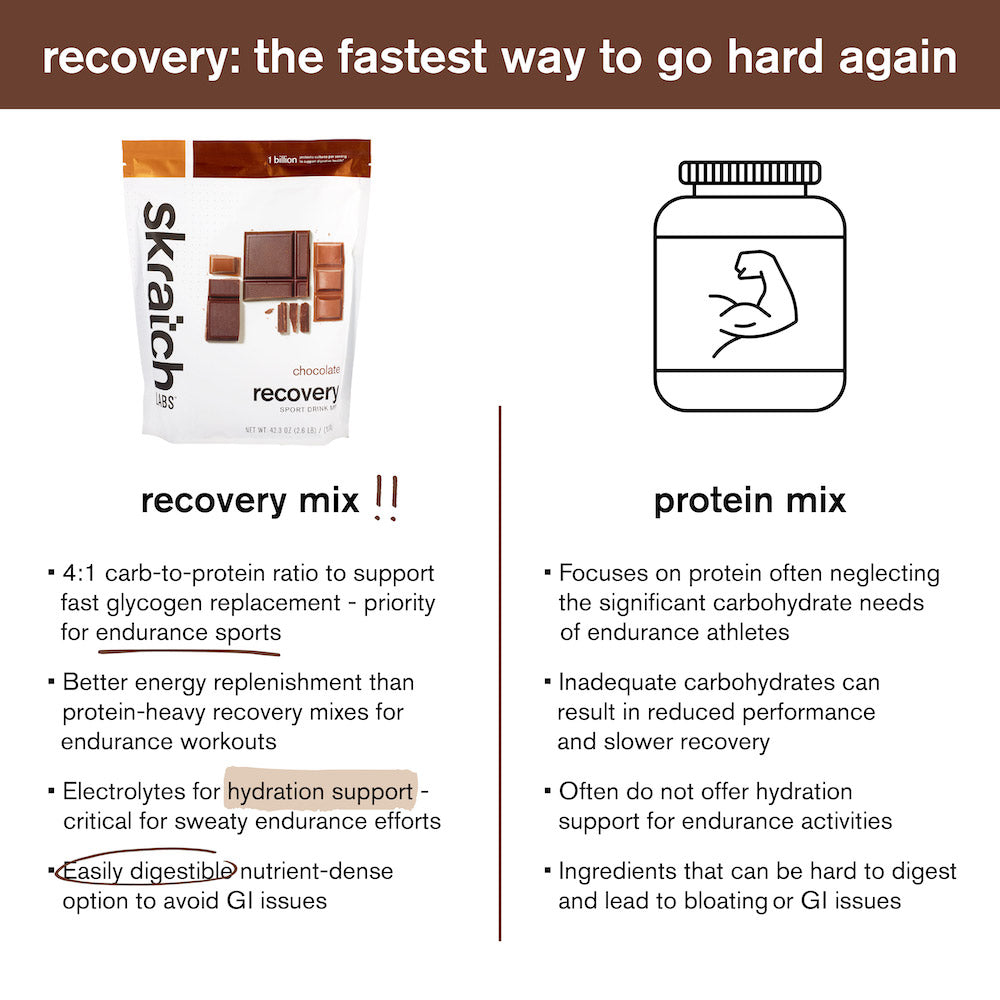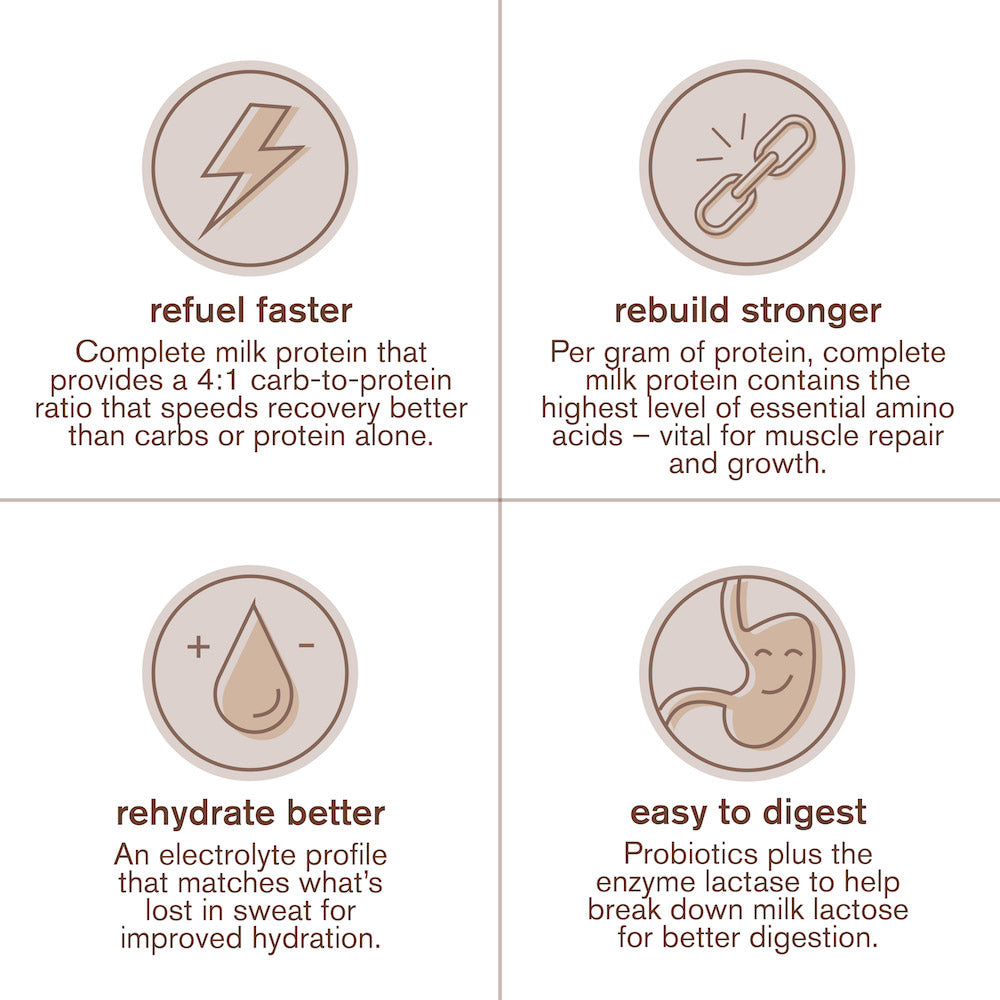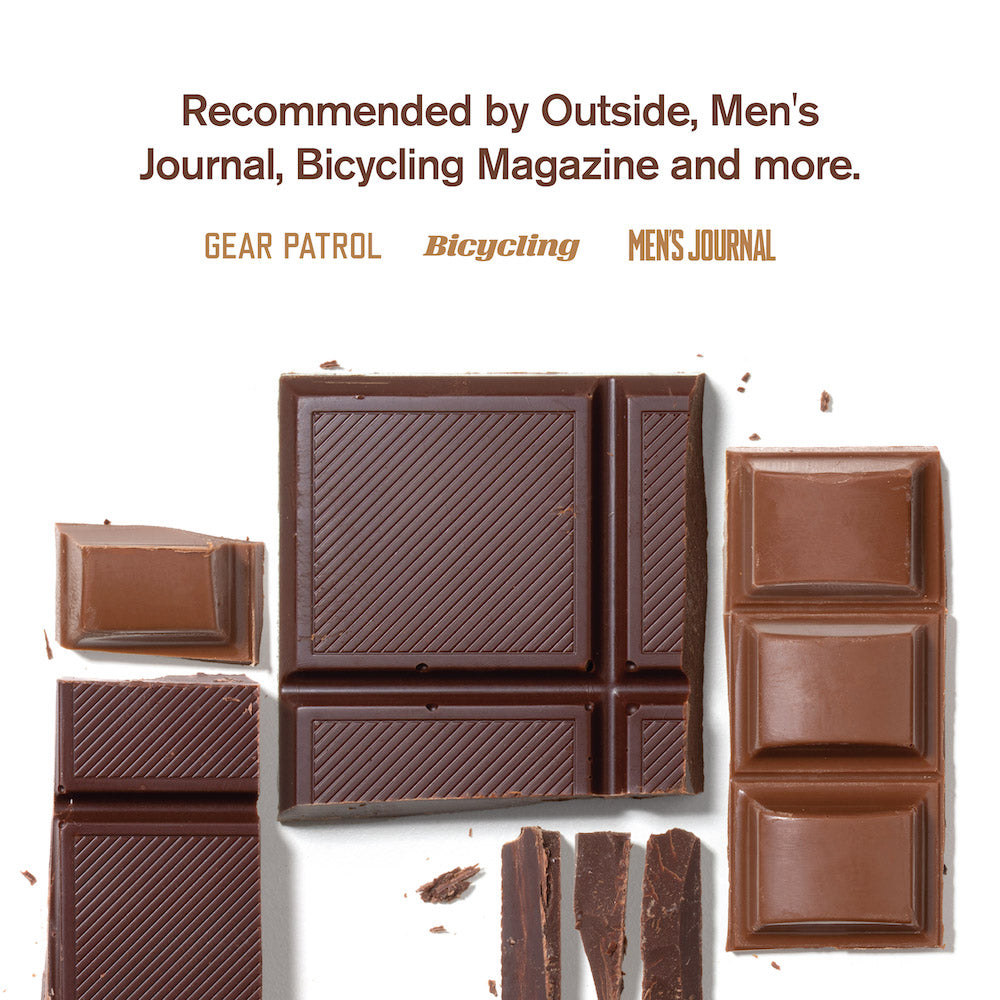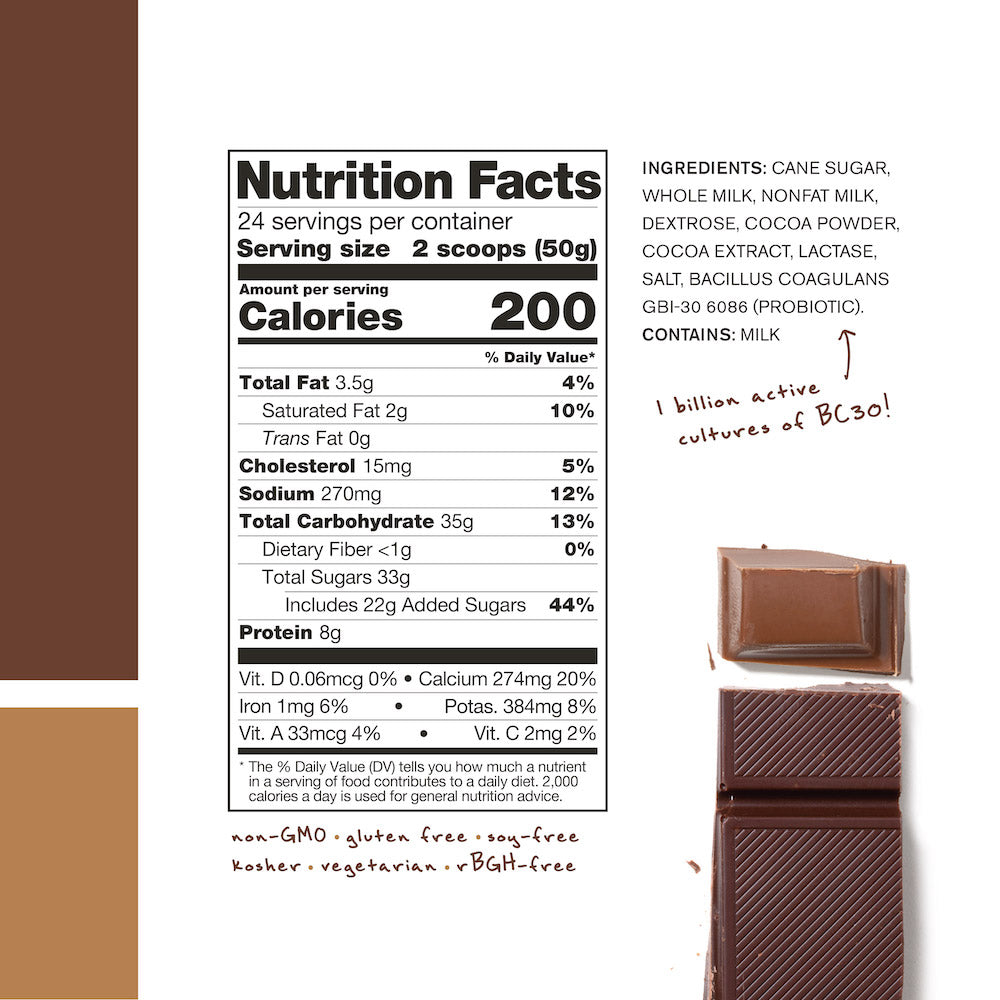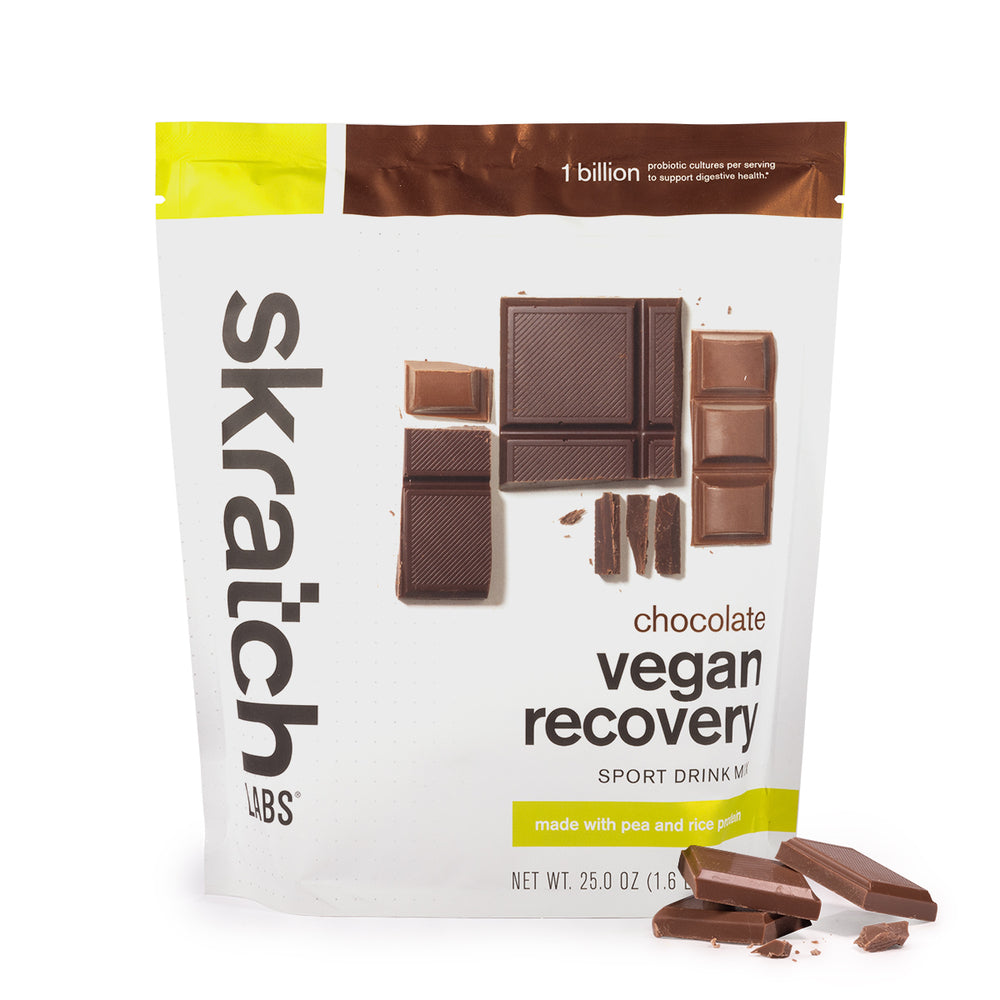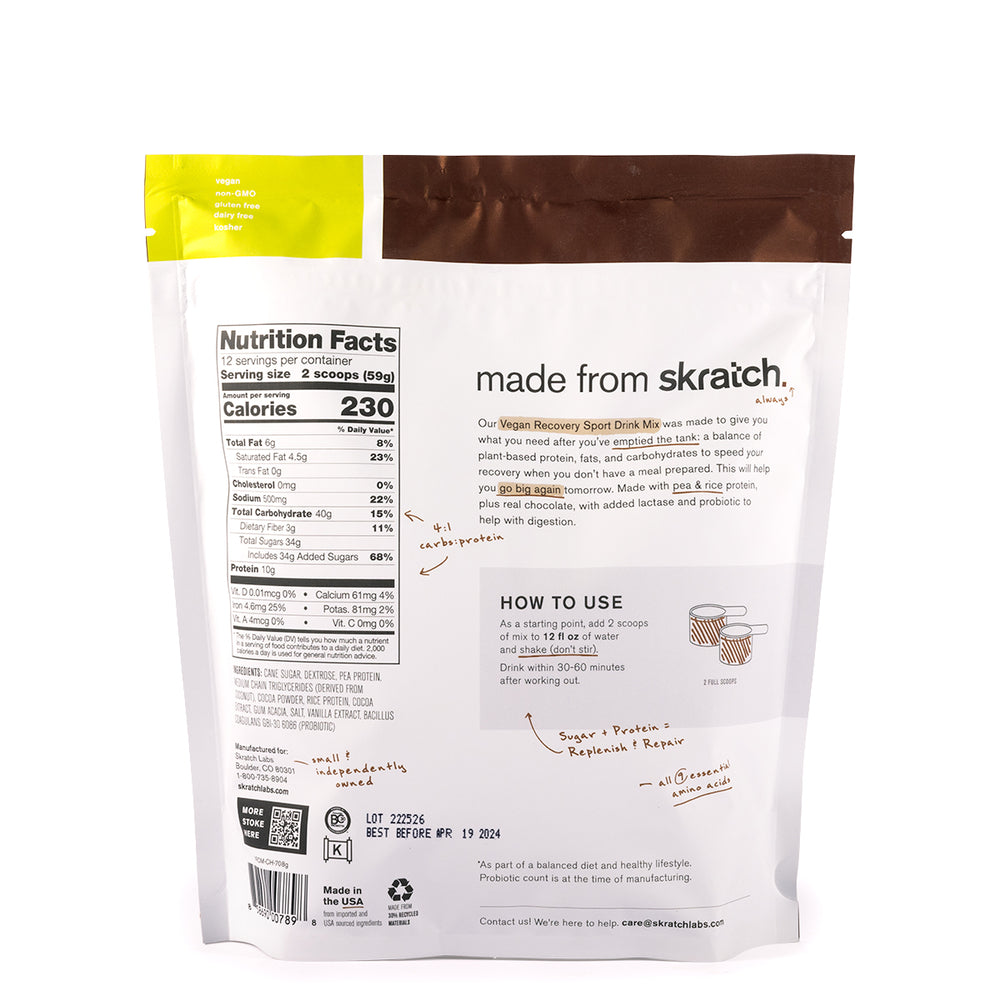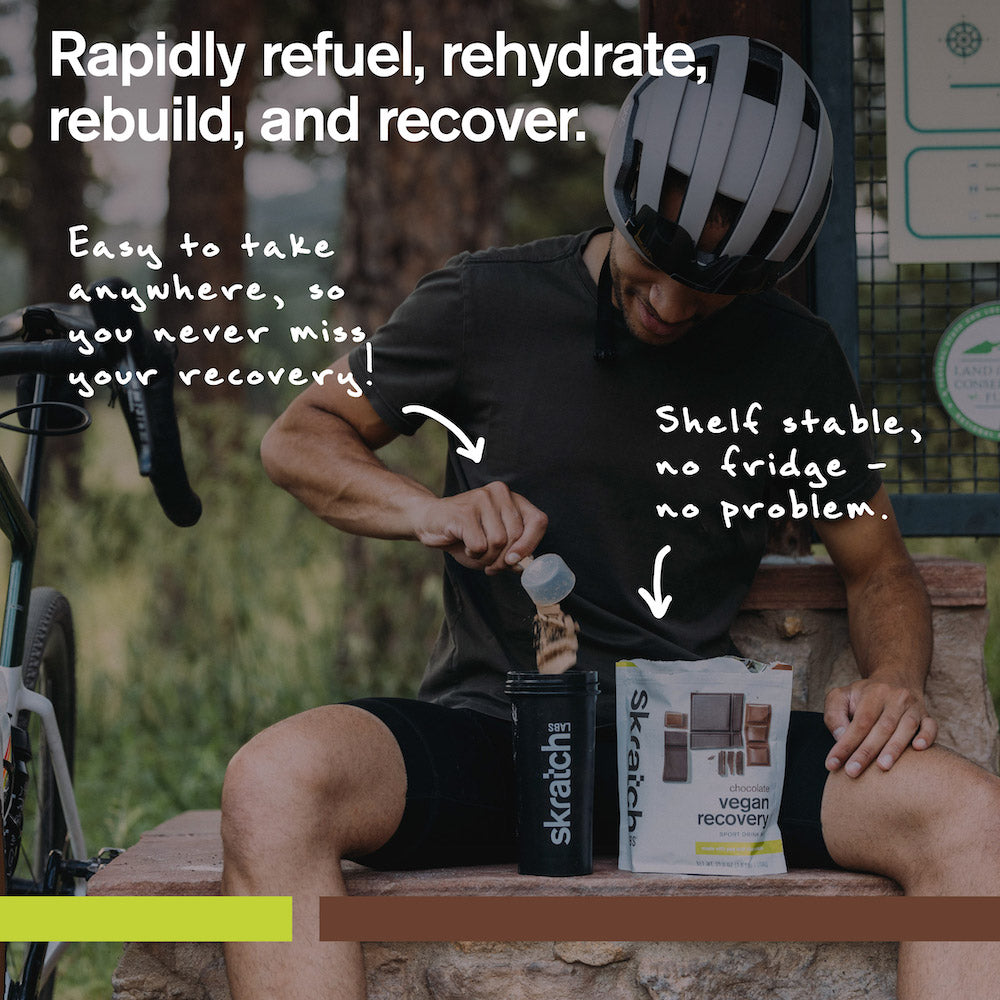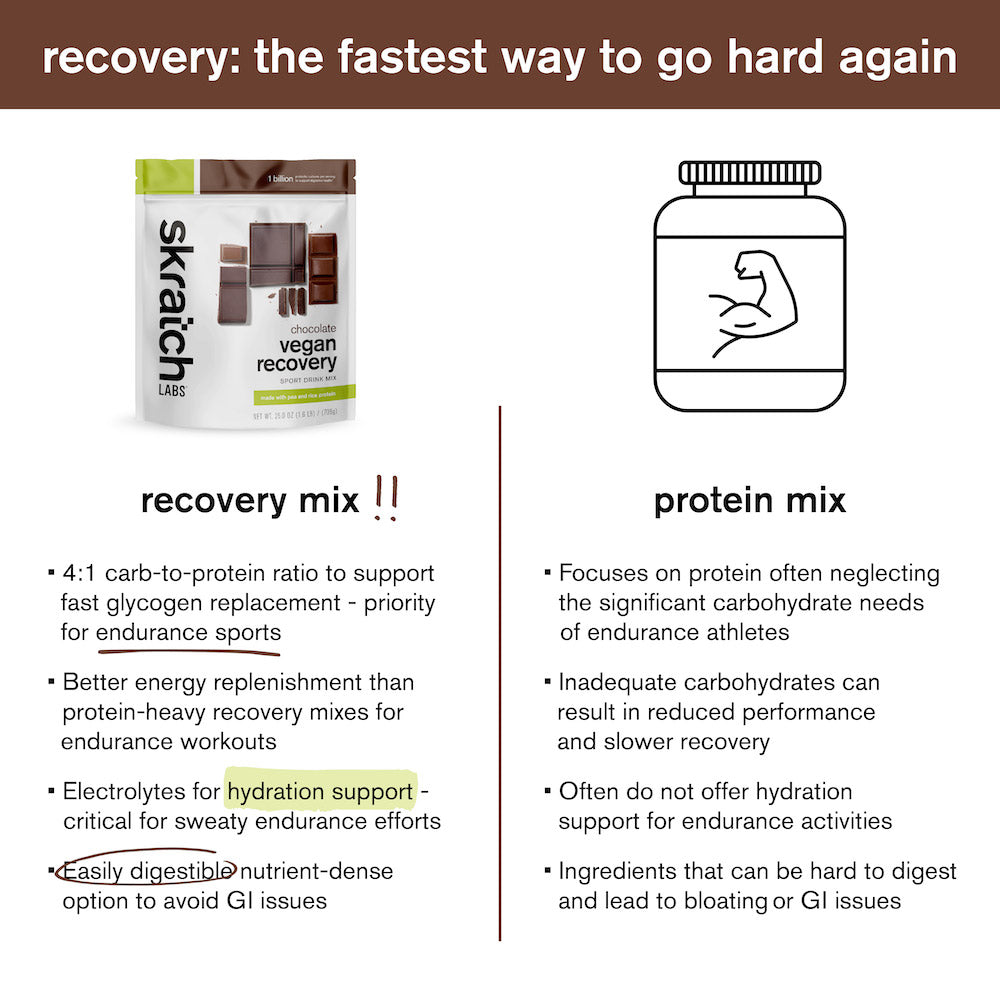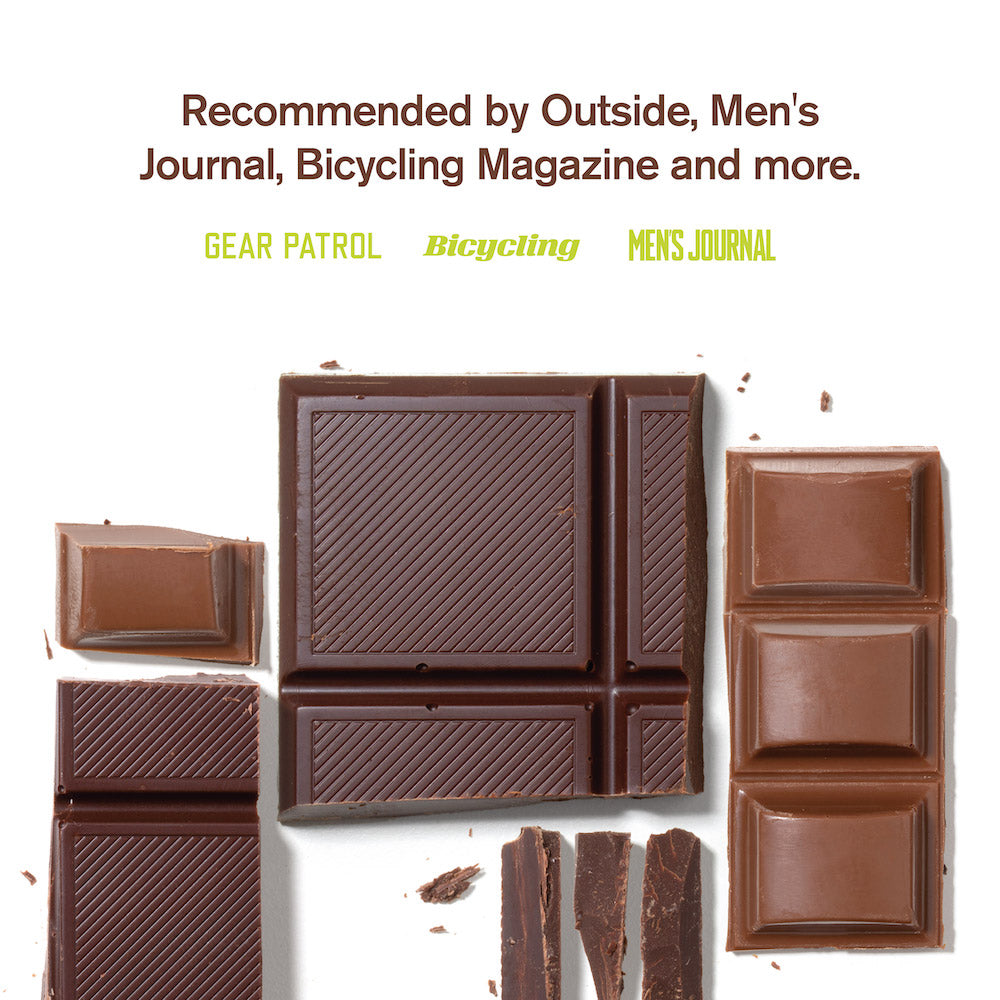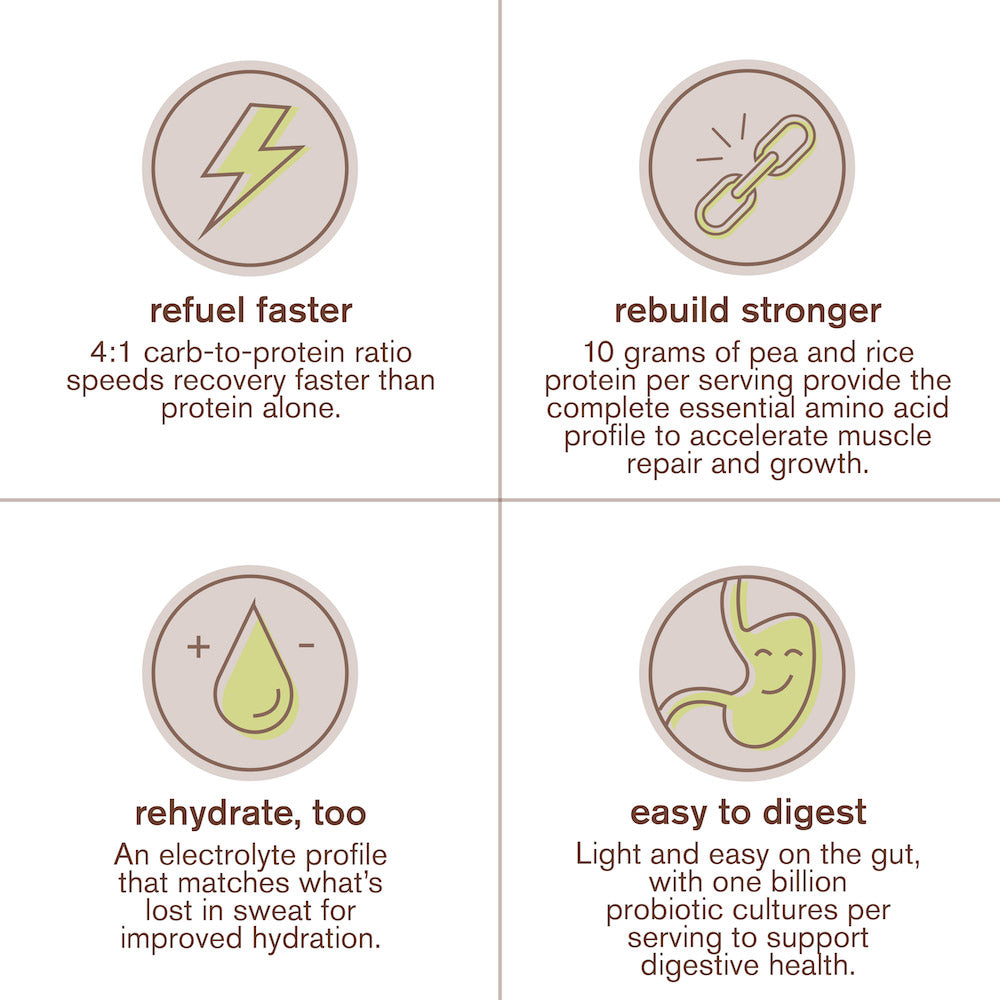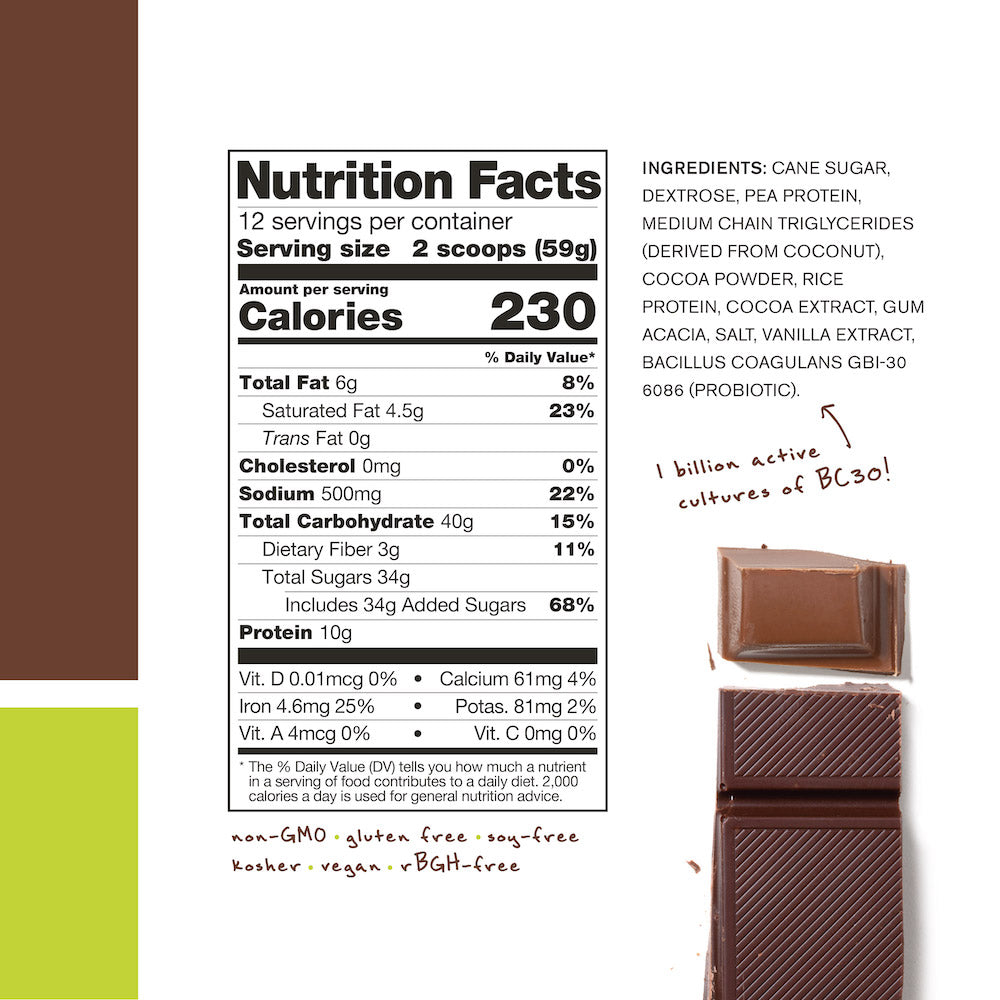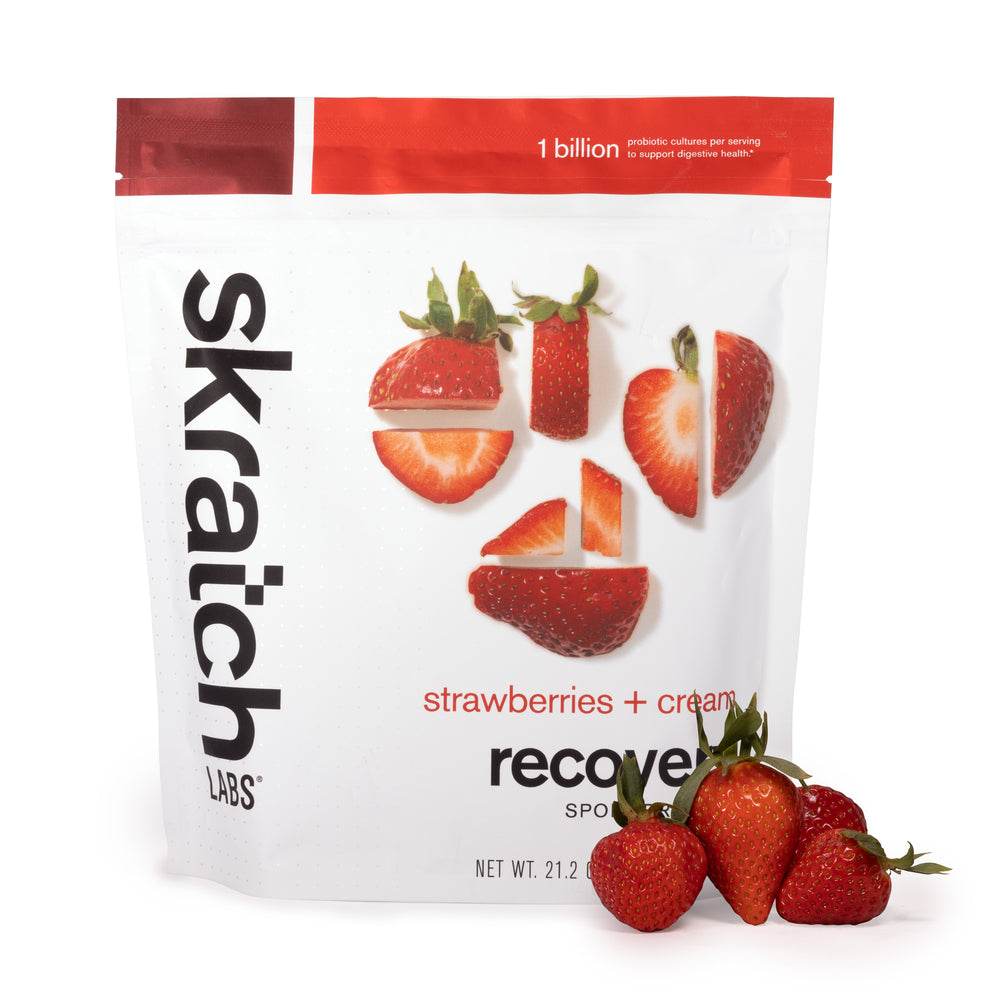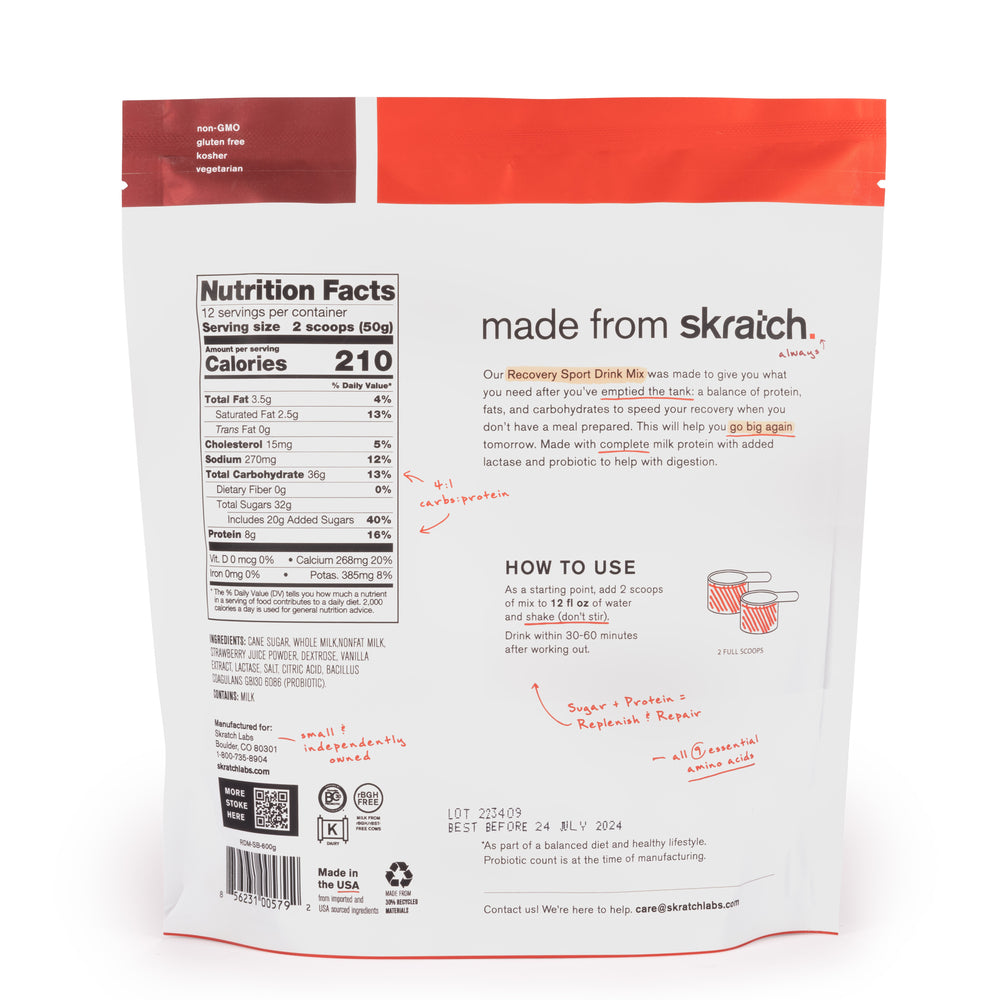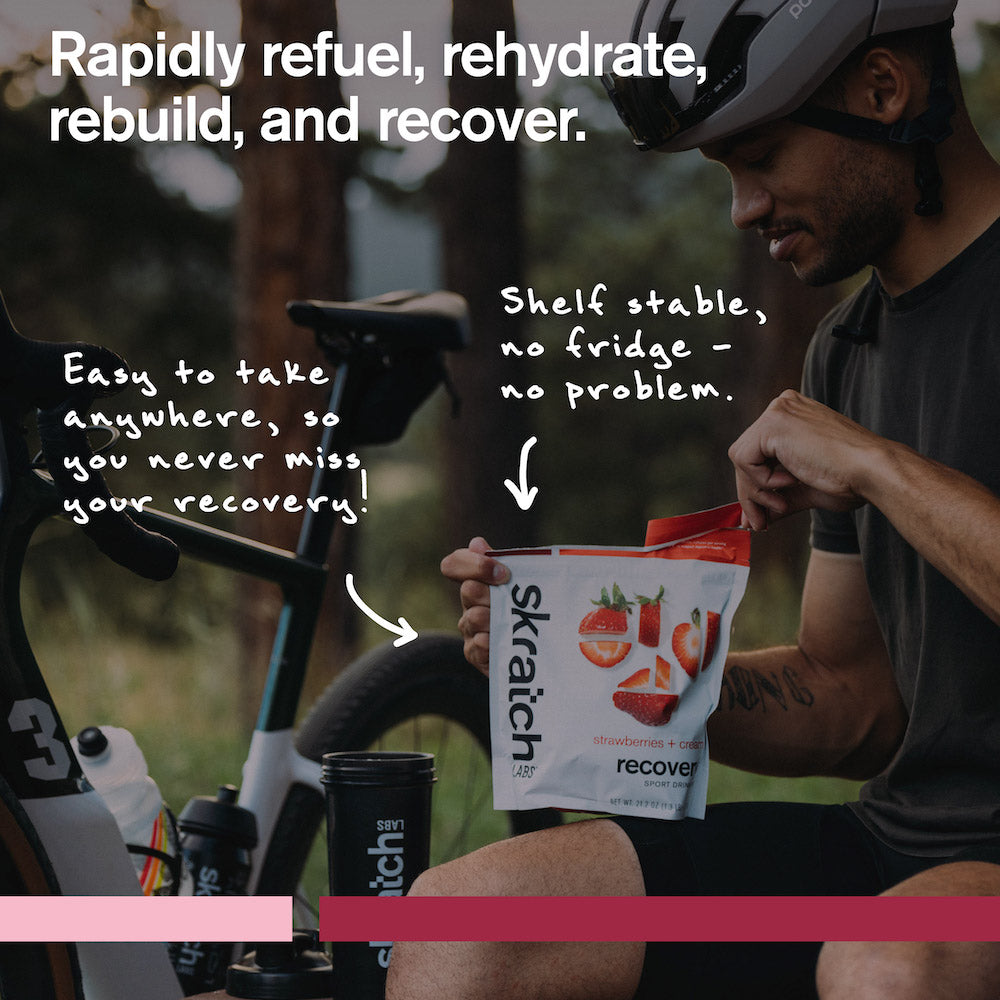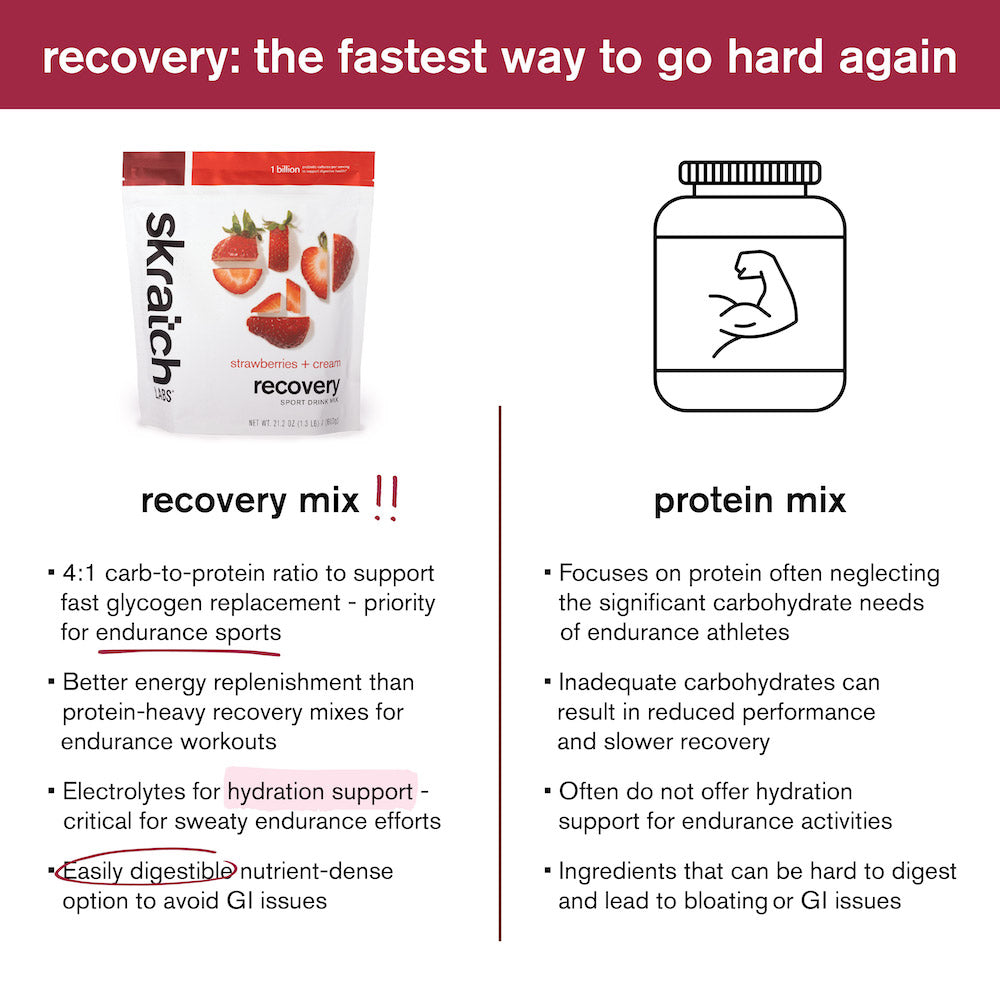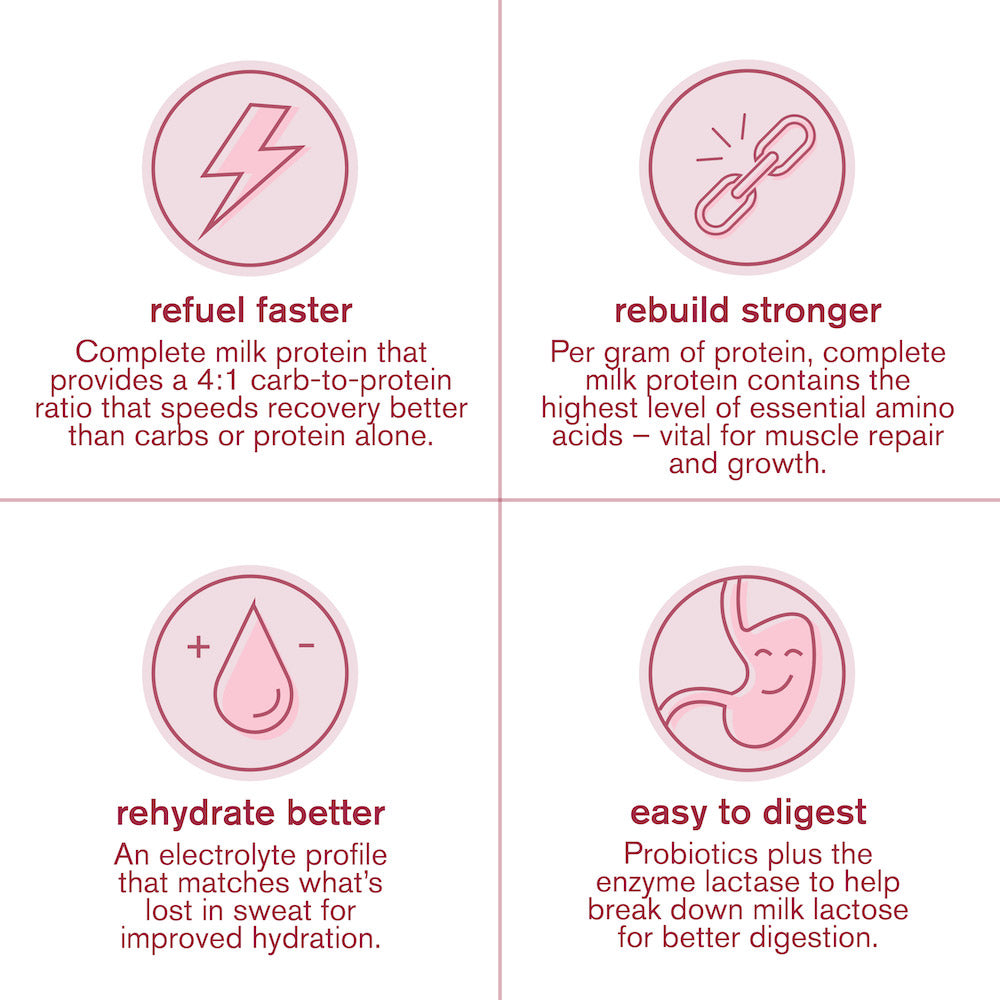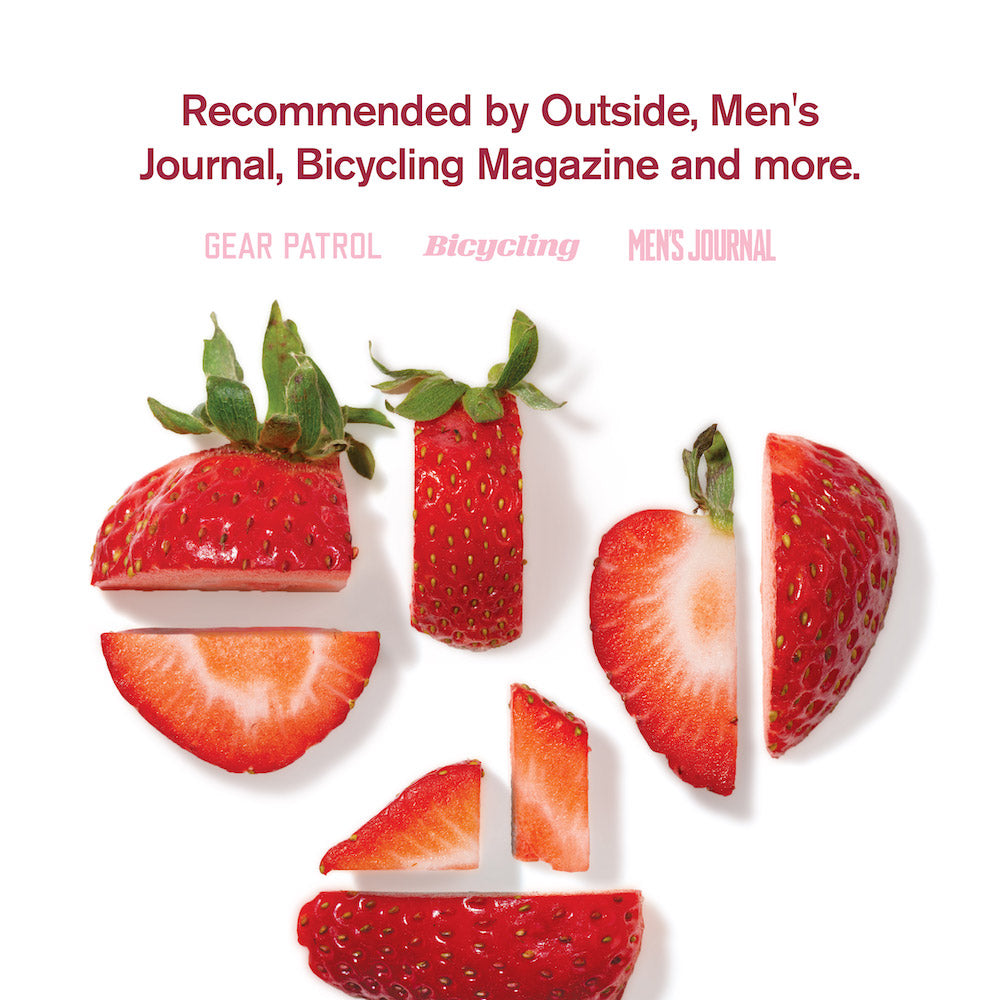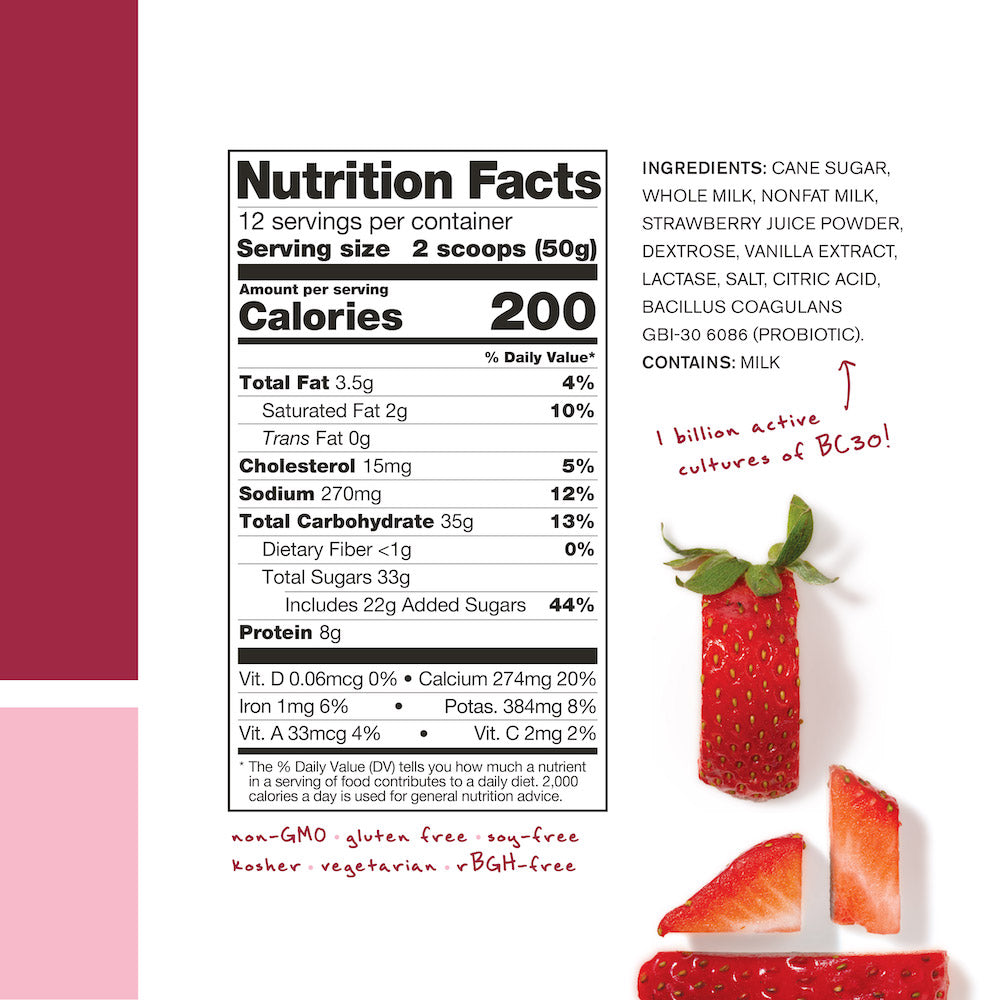 Refuel, rehydrate, rebuild, and recover.

Timing is everything when it comes to recovery. So when athletes need something convenient to eat and drink immediately after they've emptied the tank, our Sport Recovery Drink Mix is an easy choice. It provides the protein,
carbs, electrolytes, and taste needed to rapidly refuel, rehydrate, and rebuild after long and hard endurance workouts.
• Refuel faster: made using complete milk, which provides a 4:1 carb to protein ratio that speeds recovery better than carbs or protein alone.
• Rebuild stronger: per gram of protein, complete milk protein contains the highest level of essential amino acids – which are essential for muscle repair and growth.
• Rehydrate better: an electrolyte profile that matches what's lost in sweat for improved hydration.
• Easy to digest: probiotics plus the enzyme lactase (to break down milk lactose for those who are lactose intolerant) for better digestion.
• Incredible taste: for those who have tried, no explanation is necessary. For those who haven't, no explanation is possible.
• Meets special dietary needs: non-GMO, kosher, vegetarian, gluten-free, soy-free, rBST-free*

*No significant difference has been shown between milk derived from rBST-treated and non-rBST treated cows

Read more here
Balanced plant-based.

Sport Vegan Recovery For vegan athletes who need something delicious and convenient to drink immediately after emptying the tank in long, hard workouts, we created SportVegan Recovery Drink Mix. Made with only plant-based protein, it has what you need to rapidly refuel, rehydrate, and rebuild so you can go big again tomorrow.
• Refuel faster: 4:1 carb to protein ratio speeds recovery faster than protein alone.
• Rebuild stronger: 10 grams of pea and rice protein per serving provide the complete essential amino acid profile to accelerate muscle repair and growth.
• Rehydrate, too: an electrolyte profile that matches what's lost in sweat for improved hydration.
• Delicious taste: real chocolate, cane sugar, and no artificial sweeteners or flavoring agents delight your taste buds with no aftertaste.
• Easy to digest: light and easy on the gut, with one billion probiotic cultures per serving to support digestive health.
• Meets special dietary needs: vegan, non-GMO, kosher gluten-free, dairy-free.
Rice feels nice.

Treat yourself(!) to our Sport Crispy Rice Cake. It's made with a blend of puffed rices and toasted grains, giving you energy-packed complex carbohydrates that feel light and digest easily, all held together by fluffy, heavenly marshmallow. Fuel with a simple and delicious energy food that you actually want to eat.
• Light & Crispy: Easy to eat, easy to digest, and won't weigh you down.
• A Crispy Treat Made for Grown-ups: A blend of crispy brown rice, wild rice, red rice, and quinoa. Only real food and no junk!
• Energy Food You Actually Want to Eat: In 3 delicious flavors--Mallow,Chocolate & Mallow, and Strawberries & Mallow.
• On-the-Go Energy that Lasts: 180 kcals and over 20g of complex carbohydrates fuels most athletes for over an hour
• Allergen-Friendly: Gluten-Free, Peanut-Free, Dairy-Free, Gelatin-Free

Read more here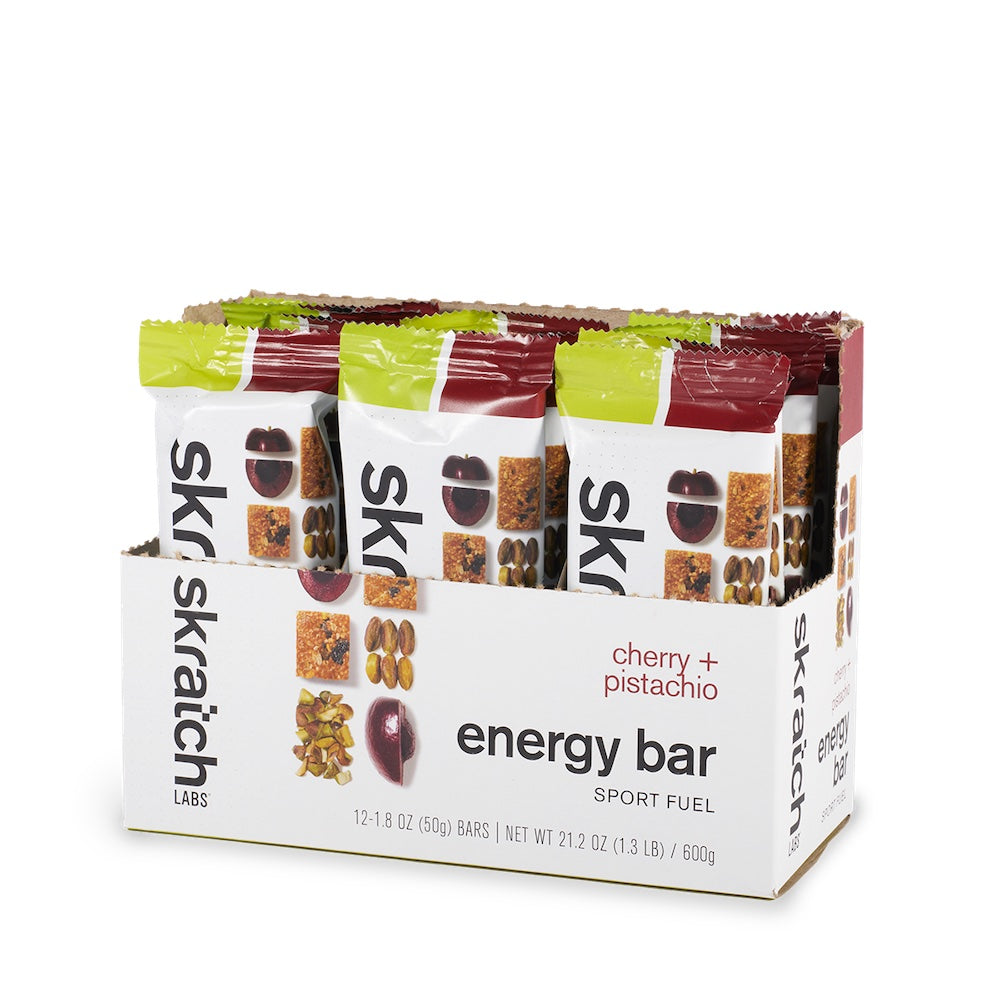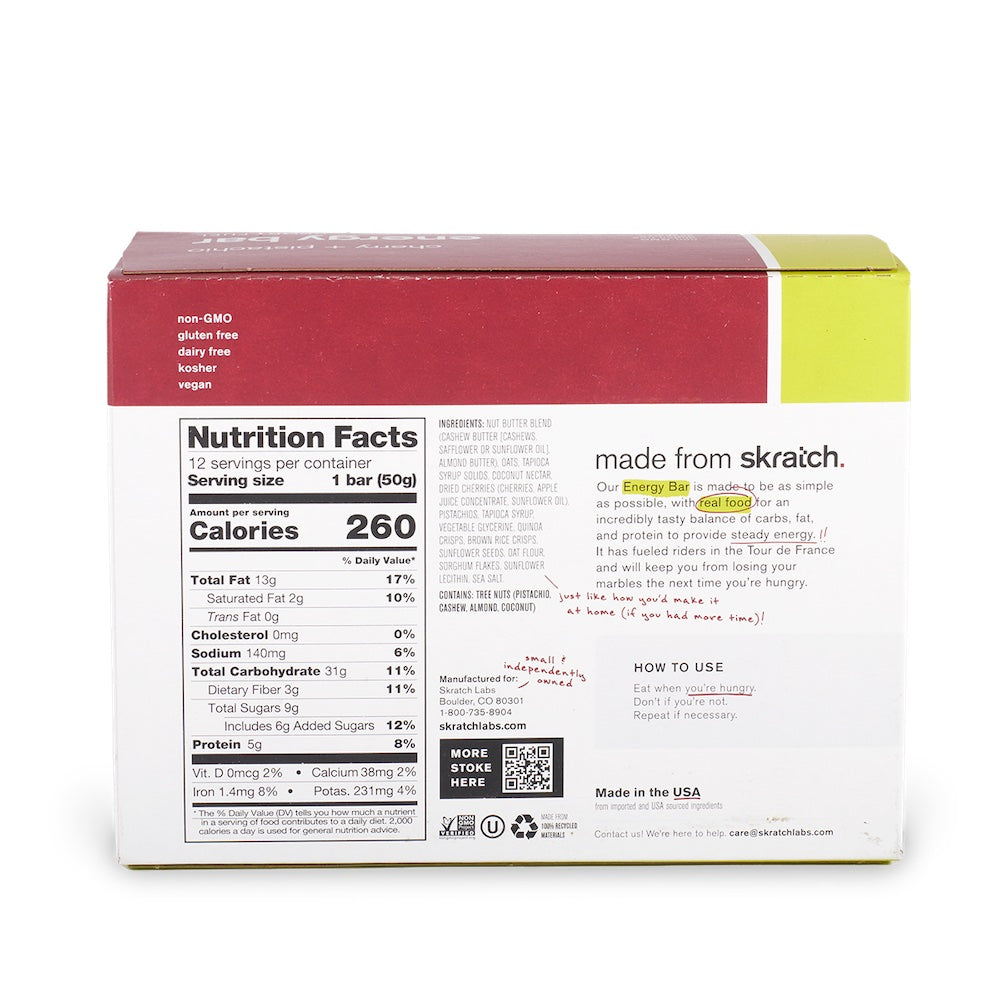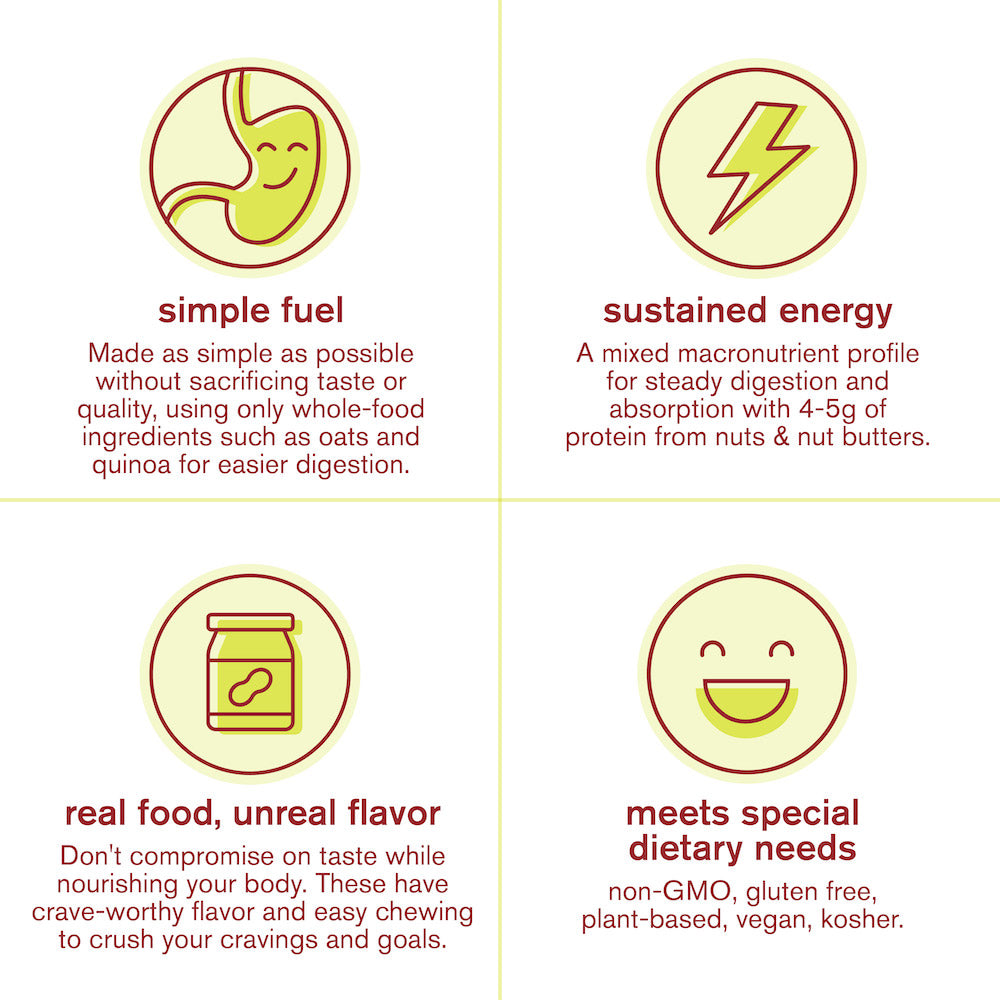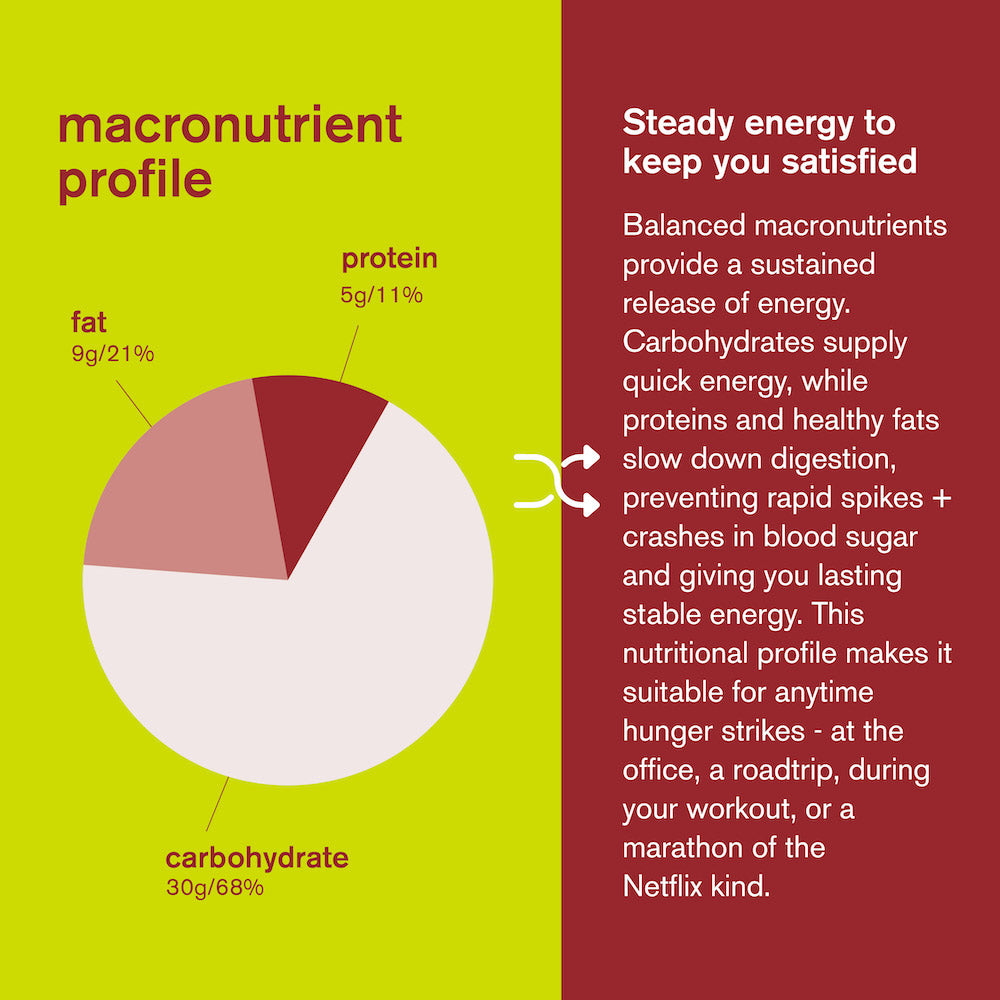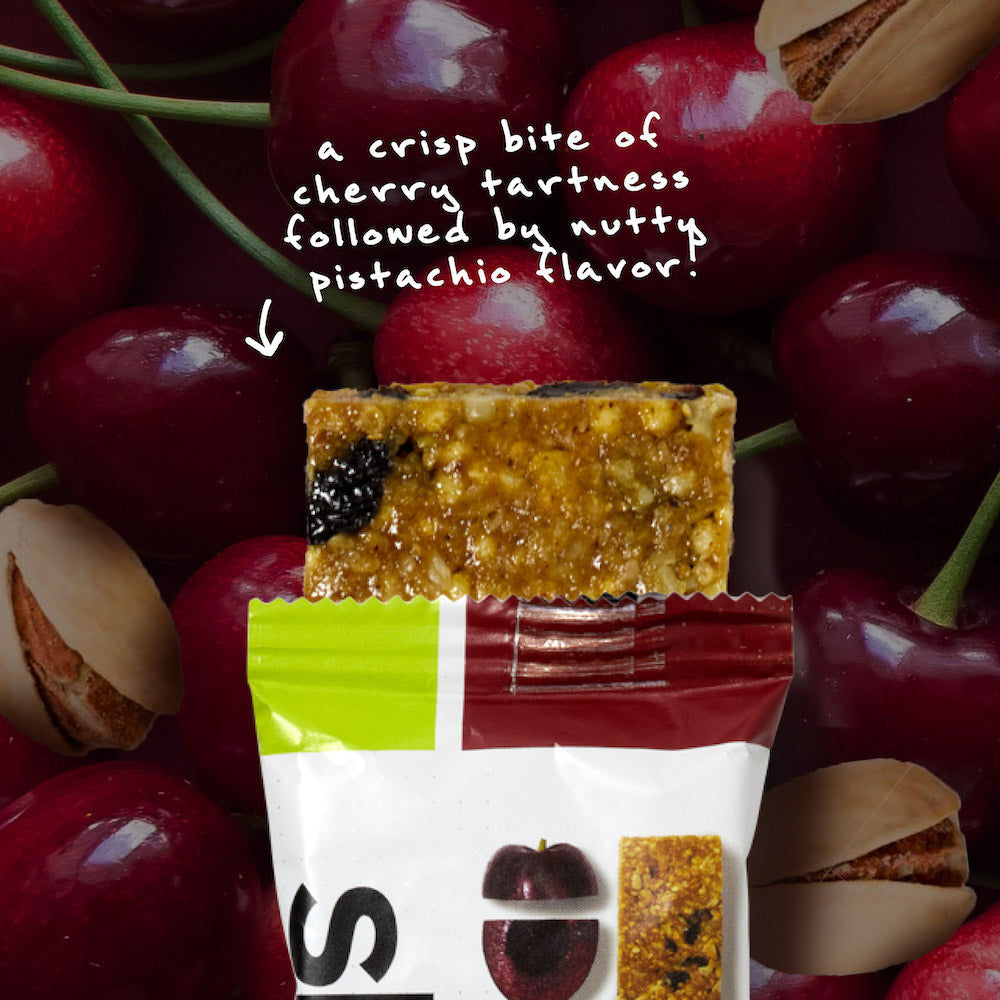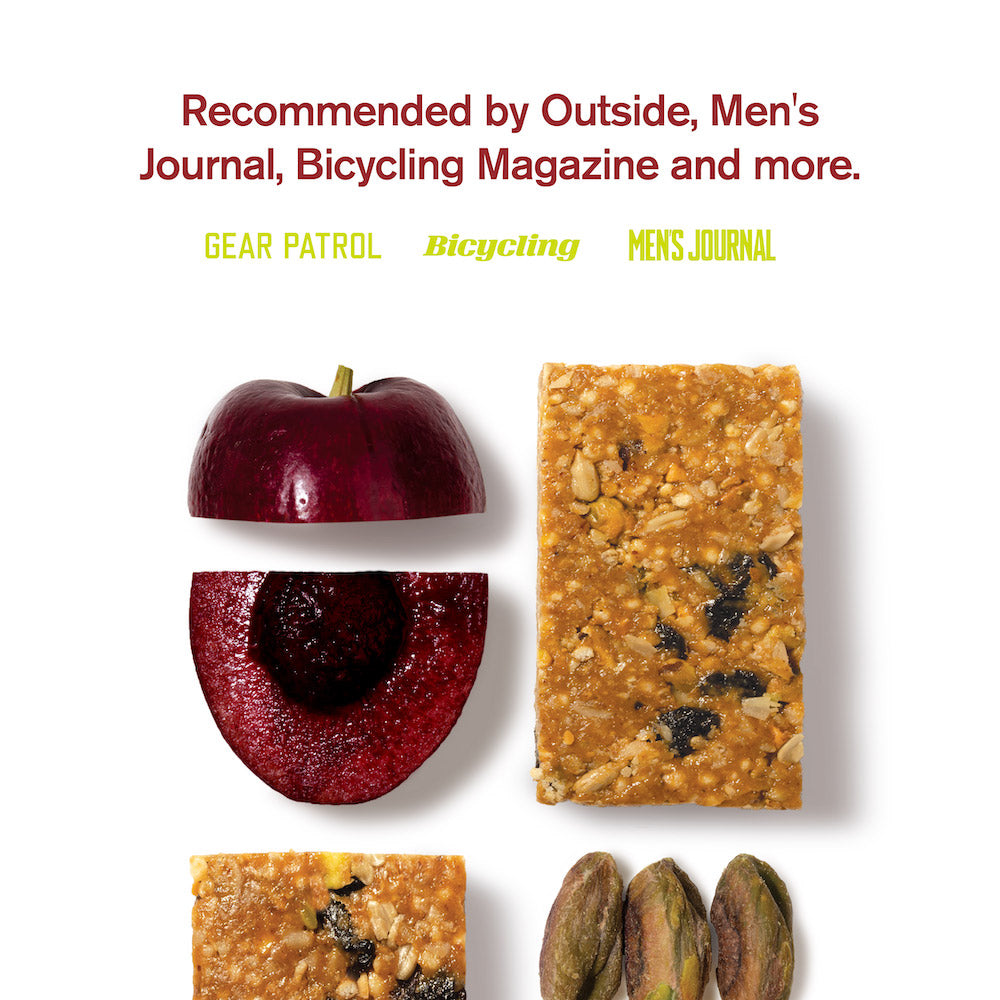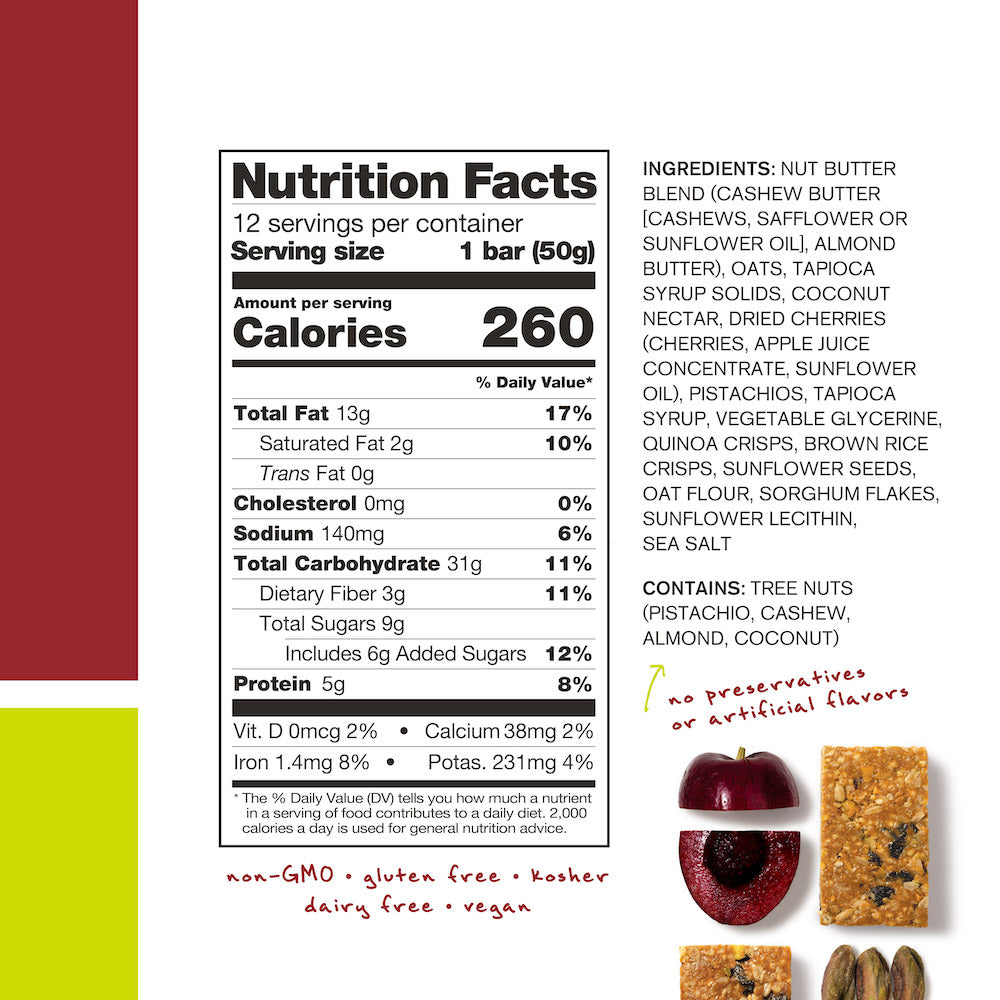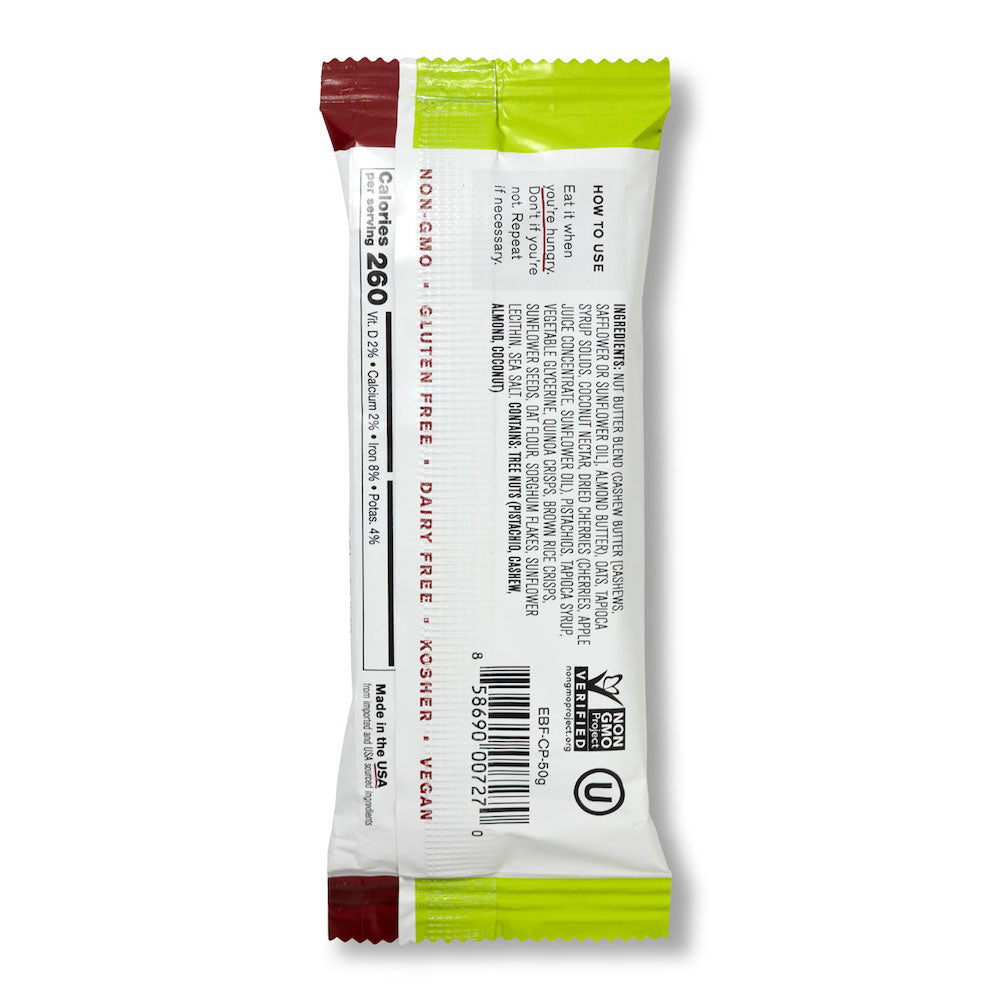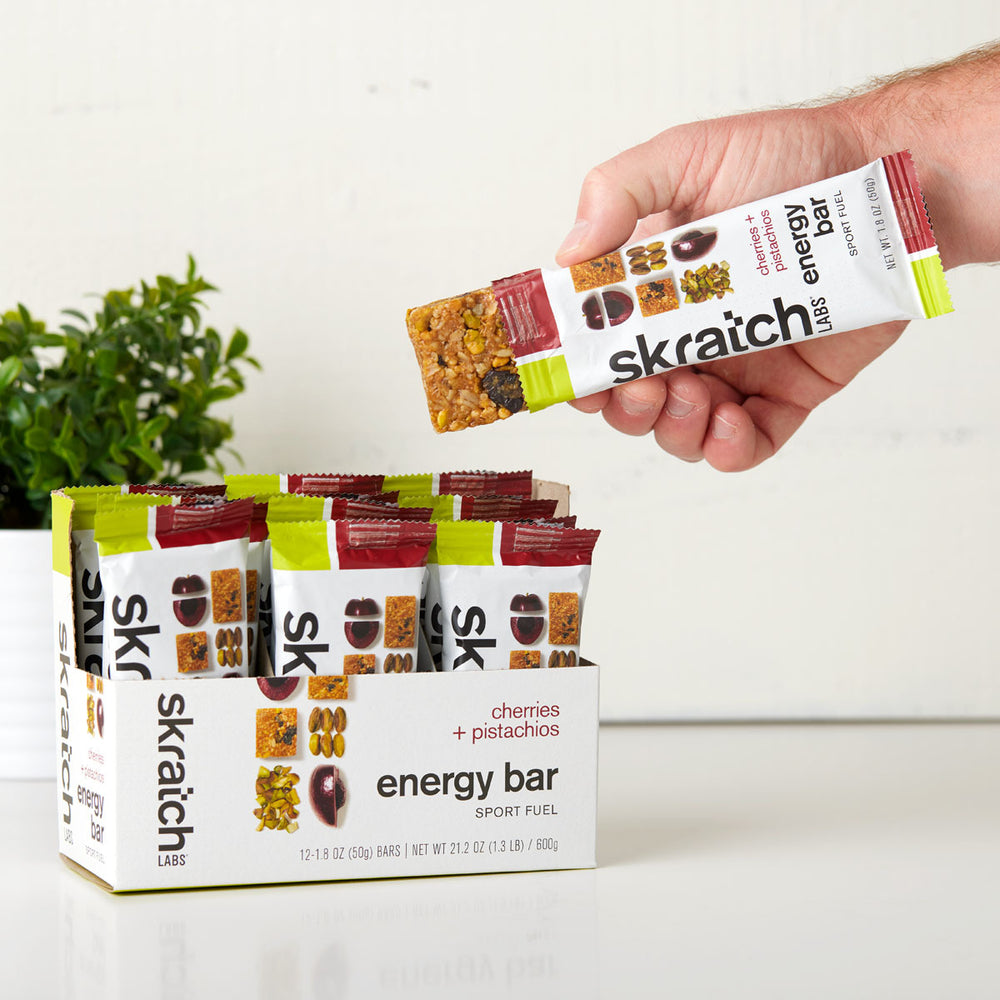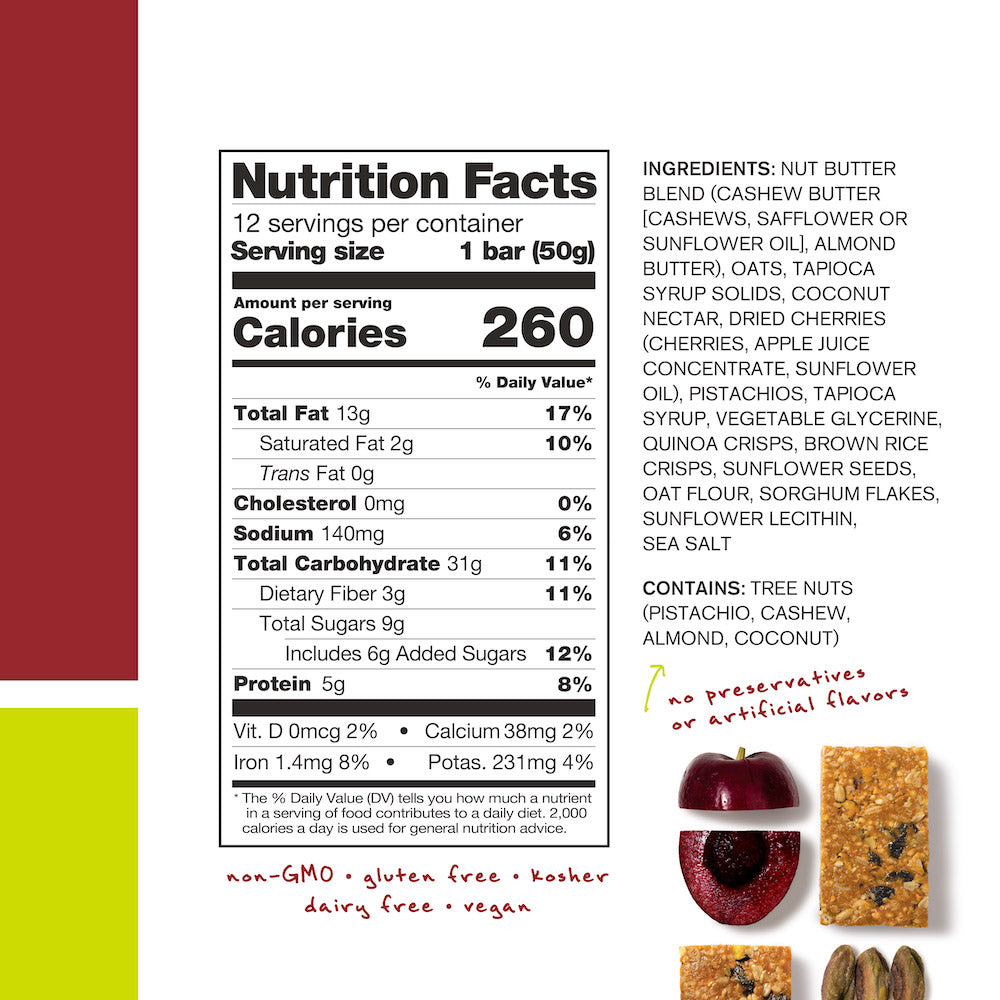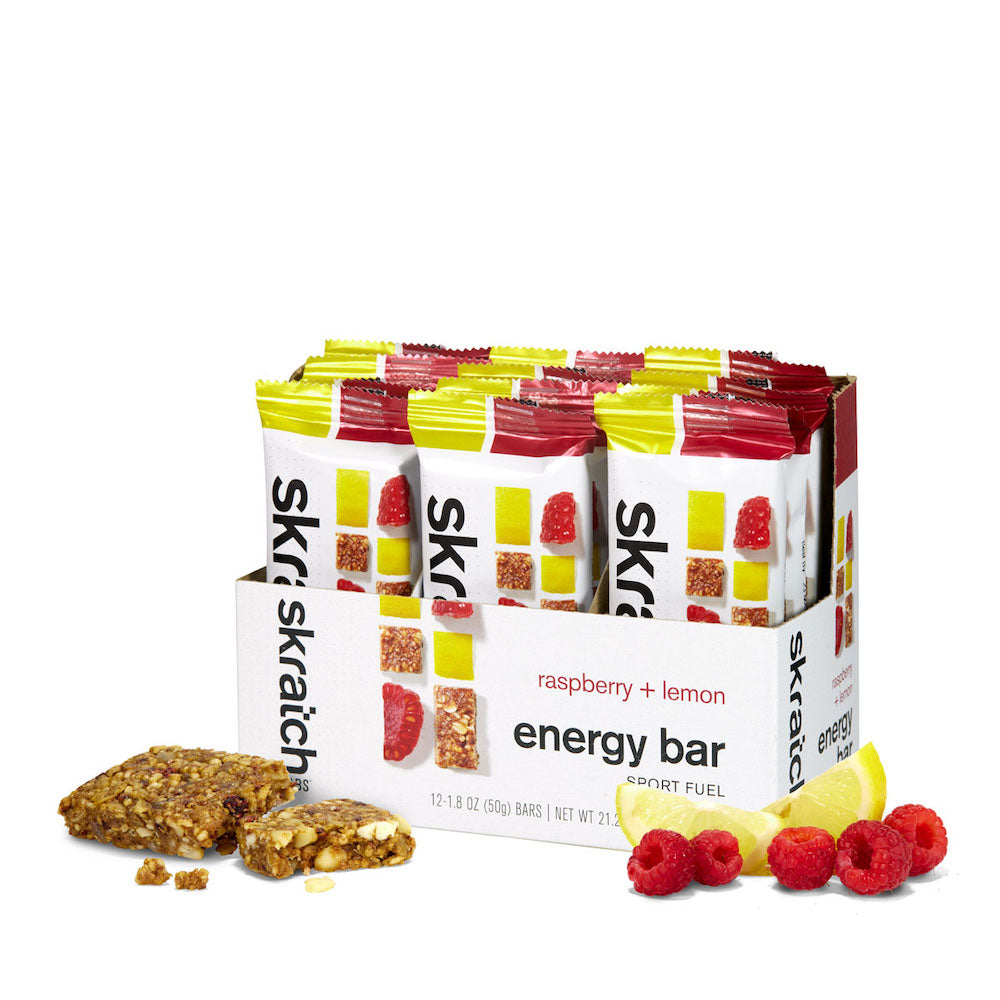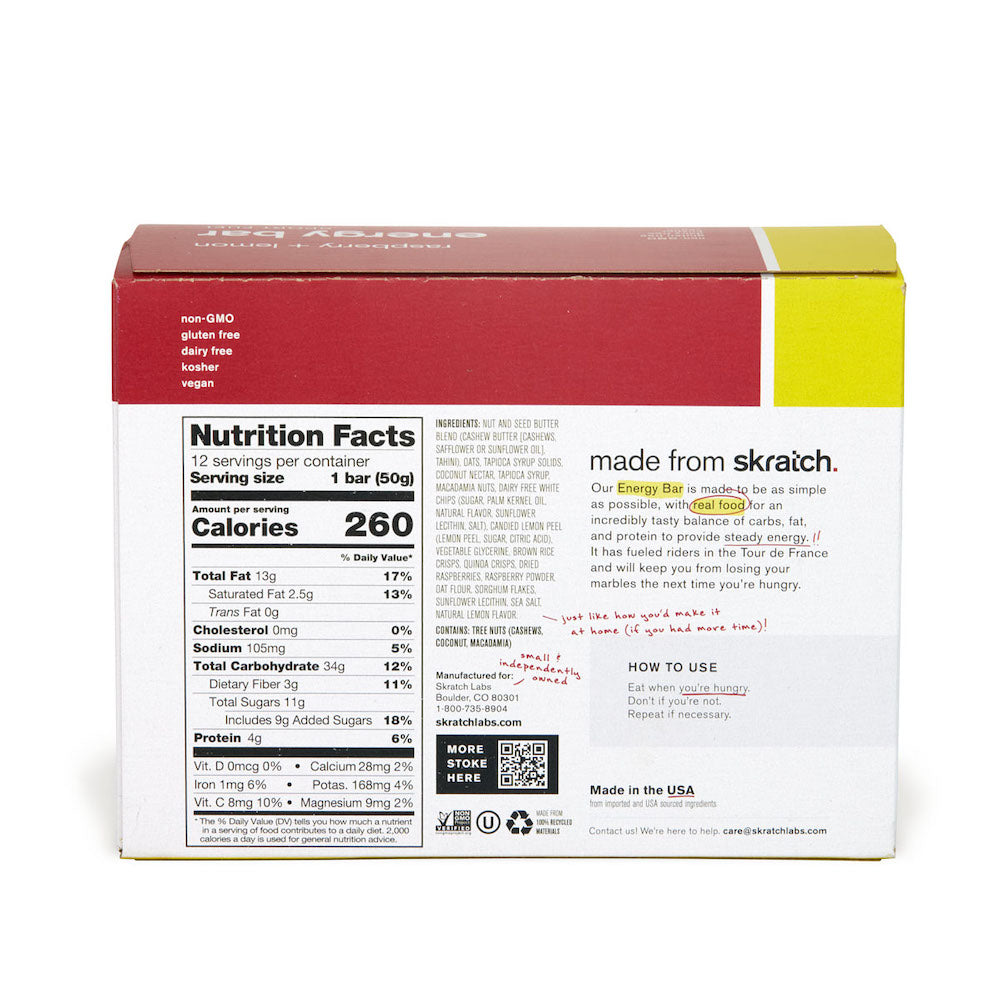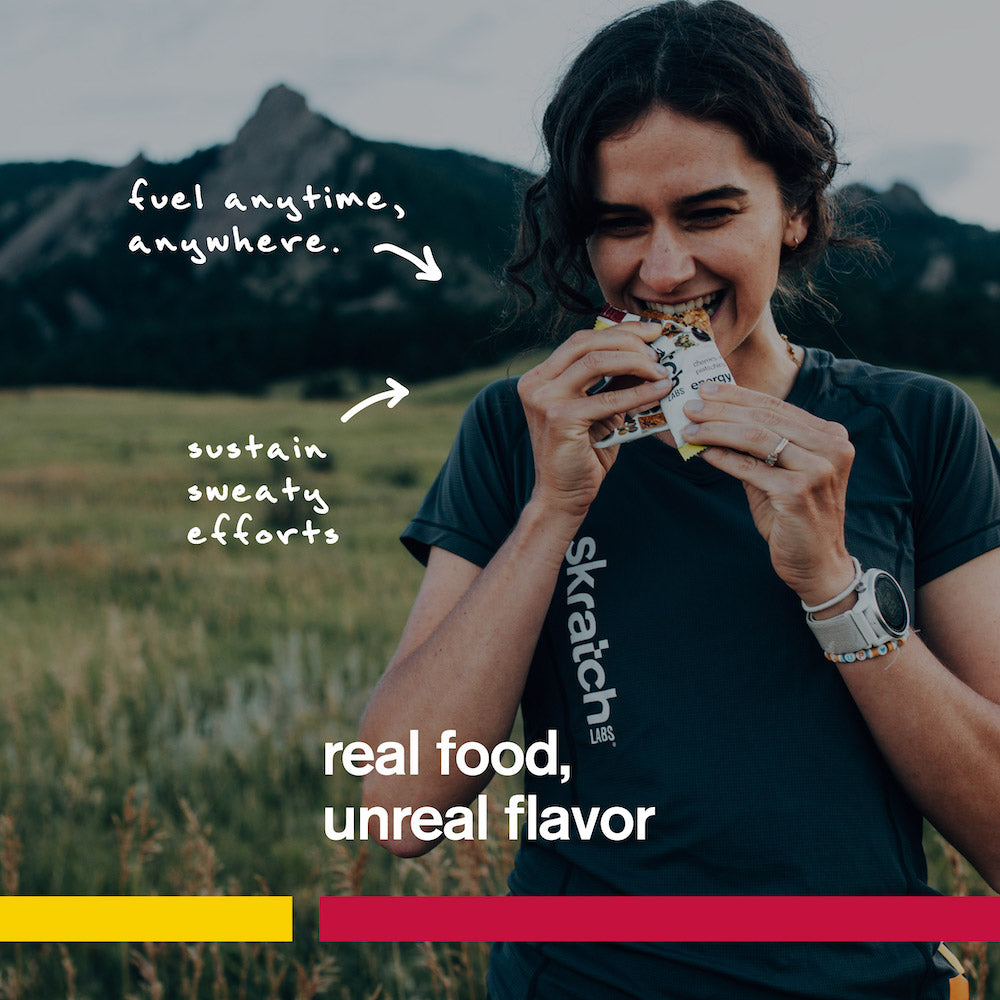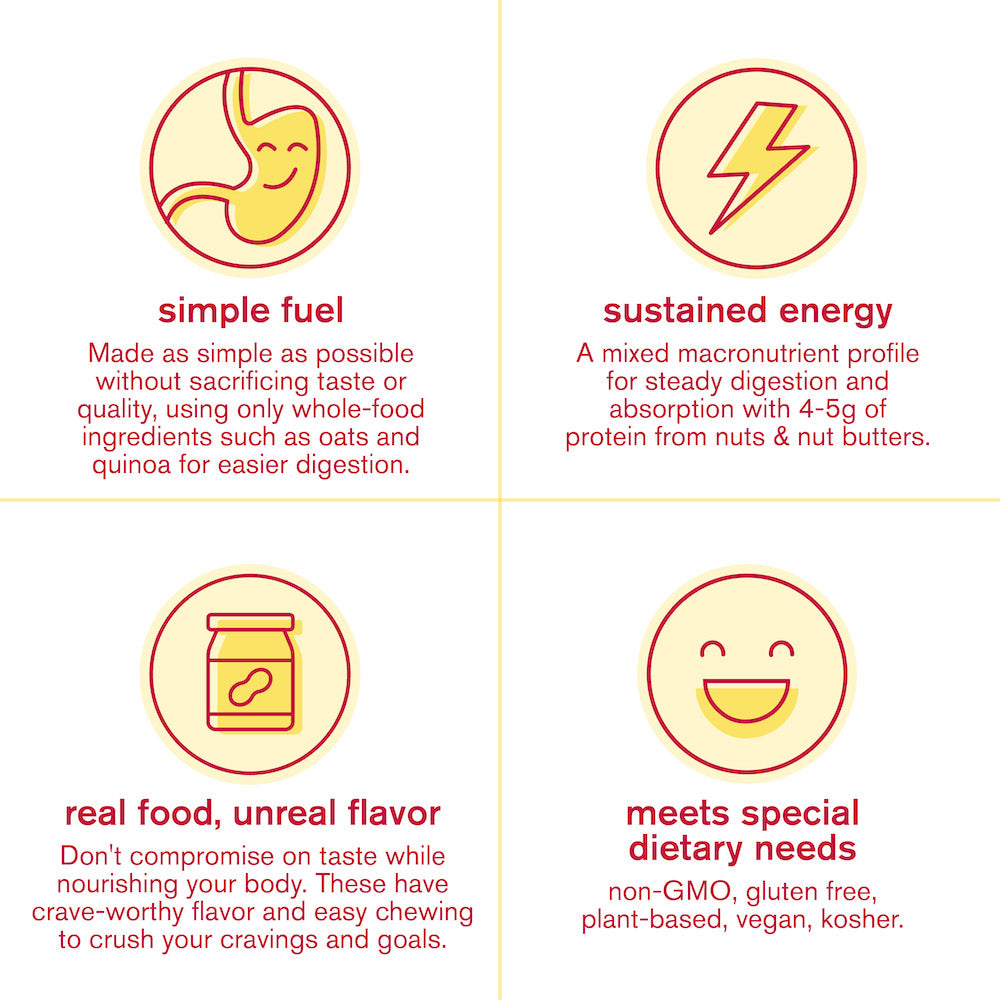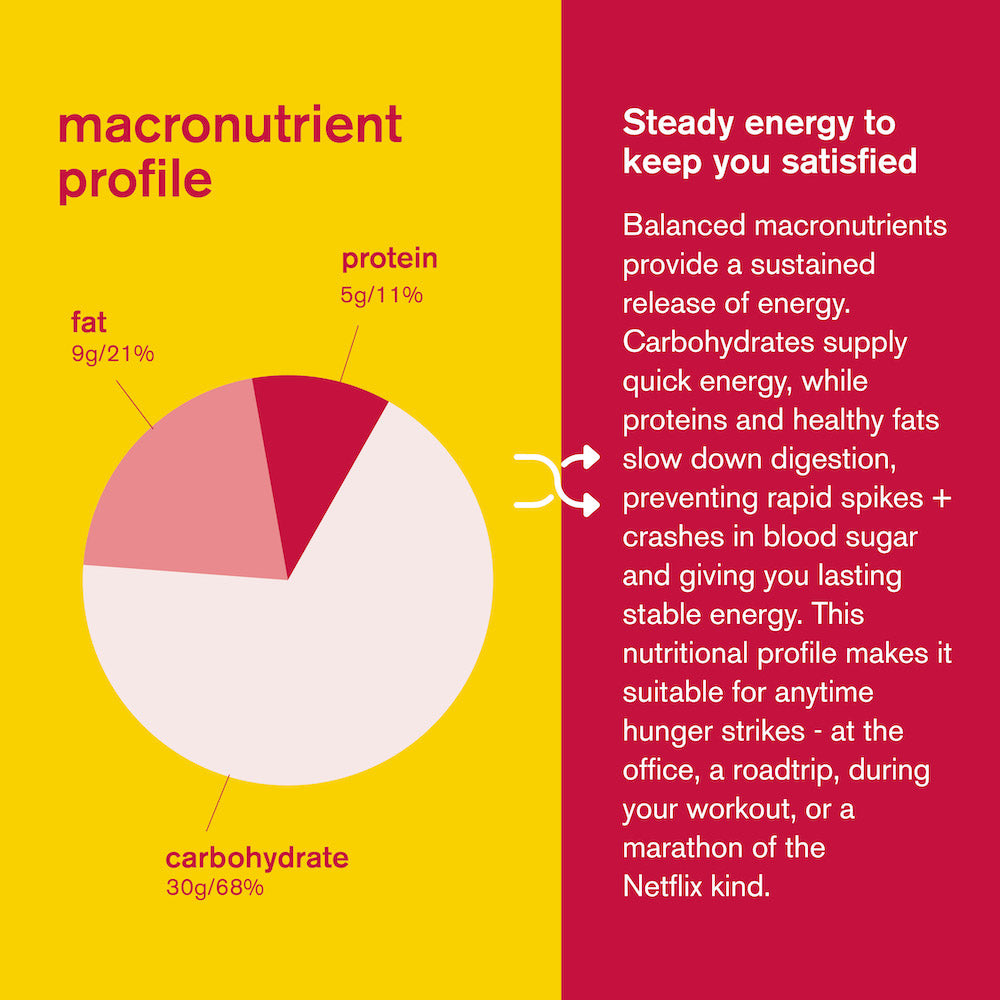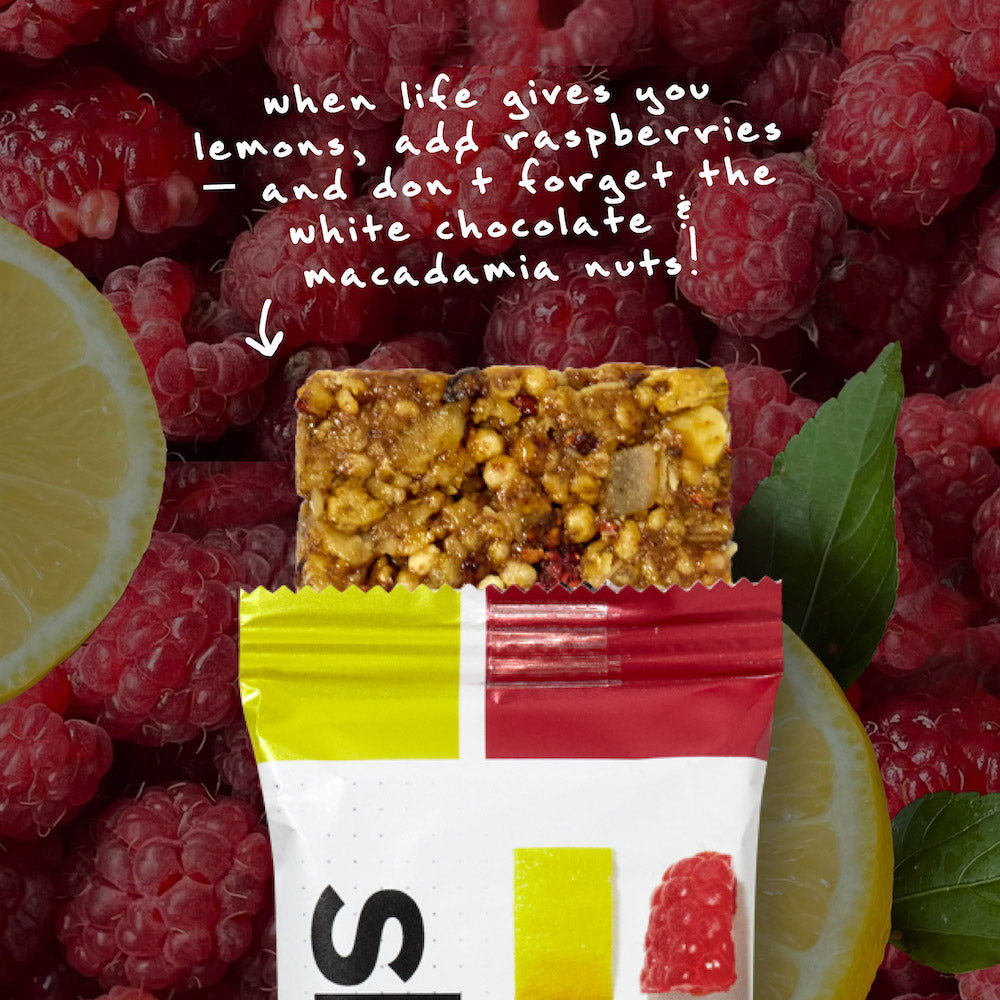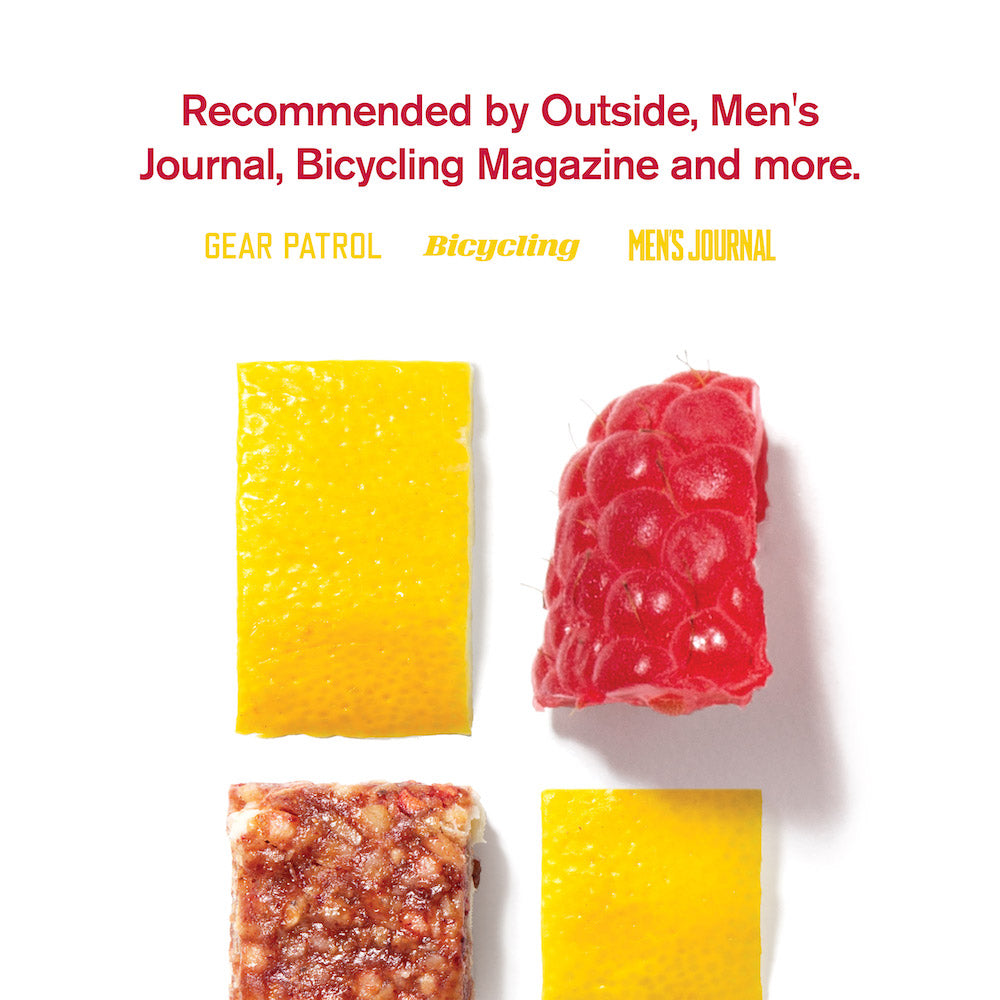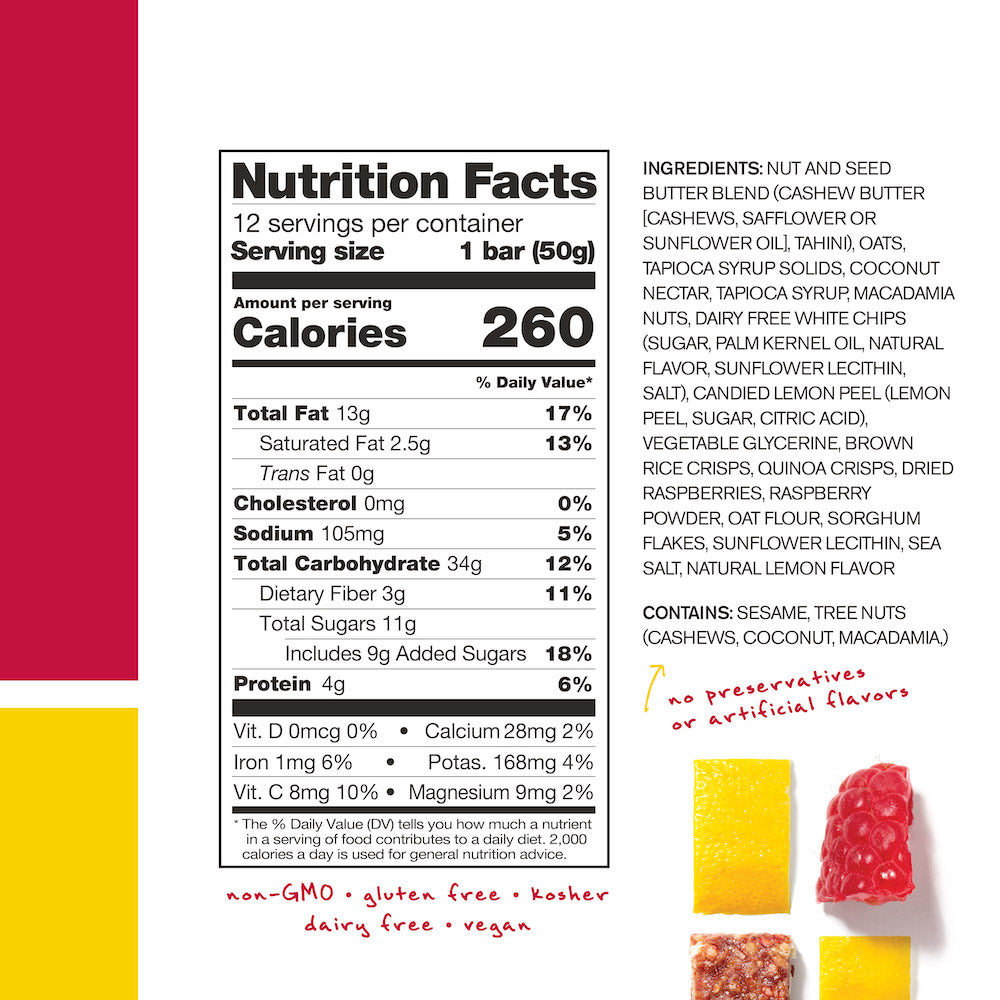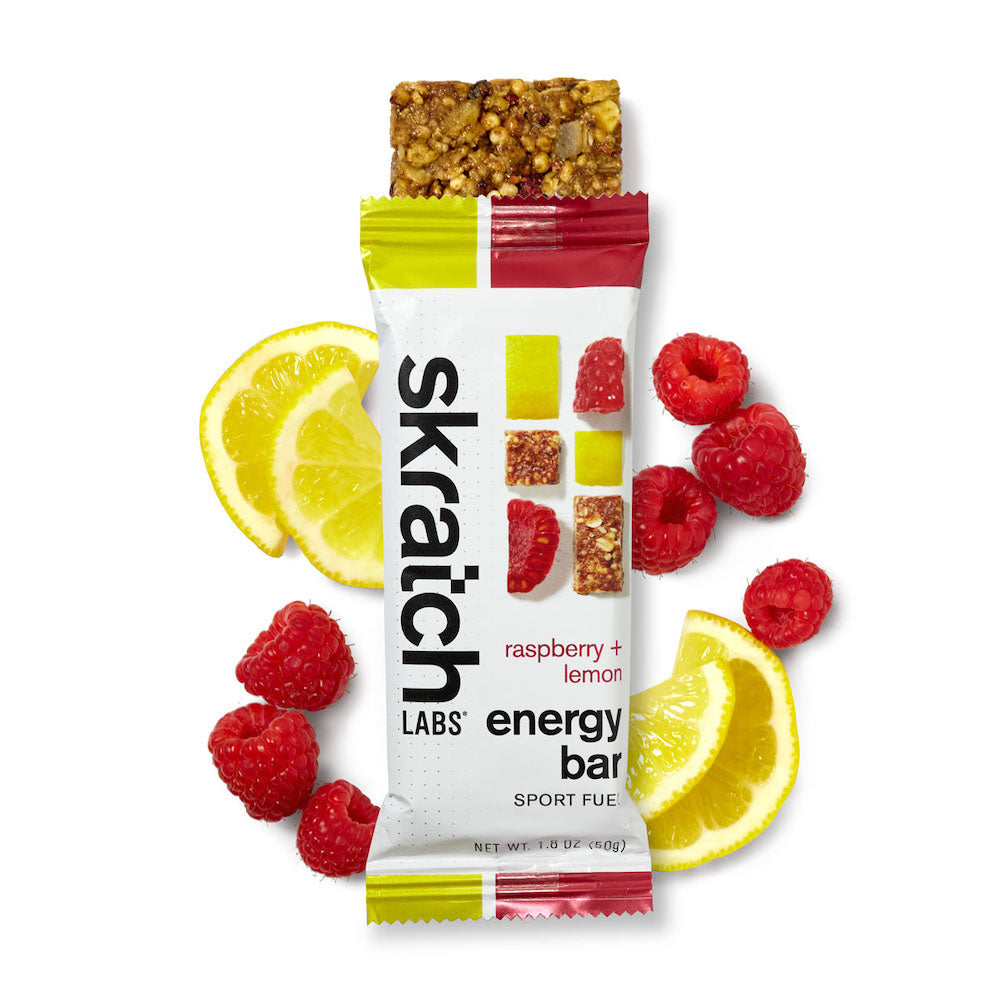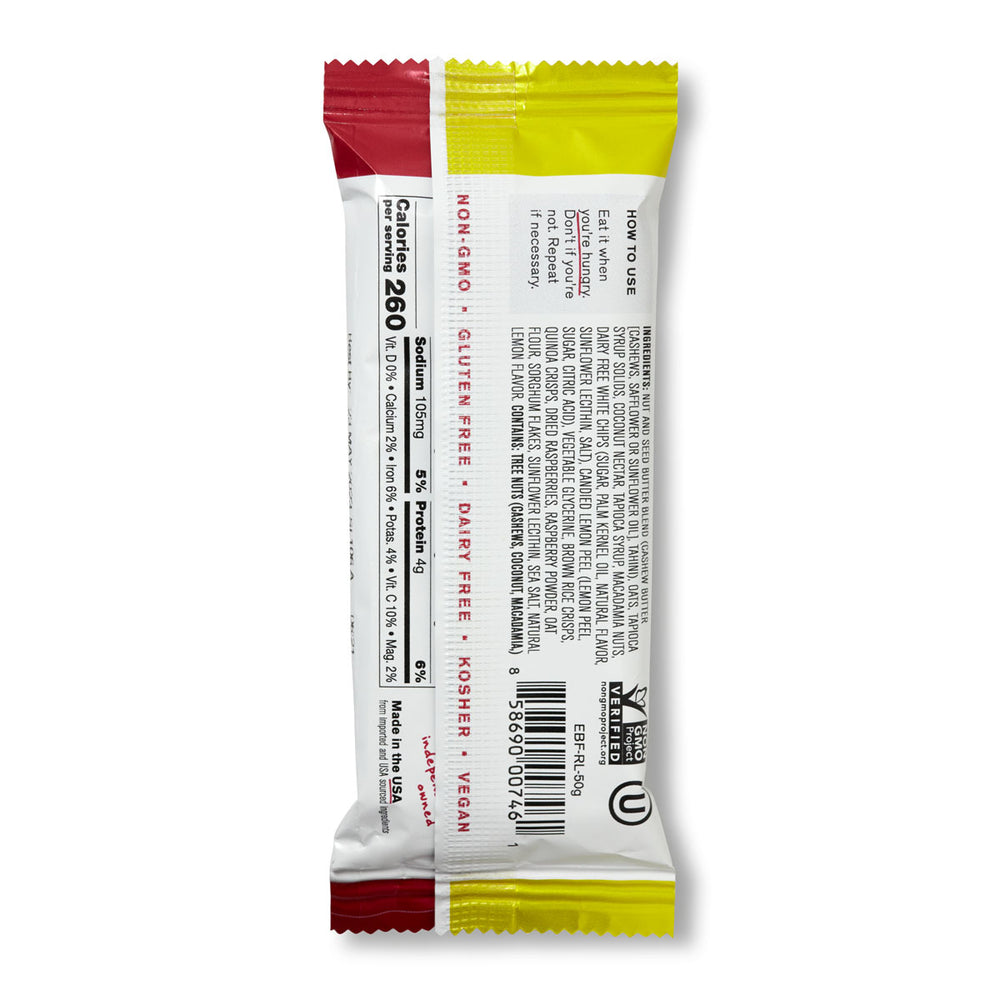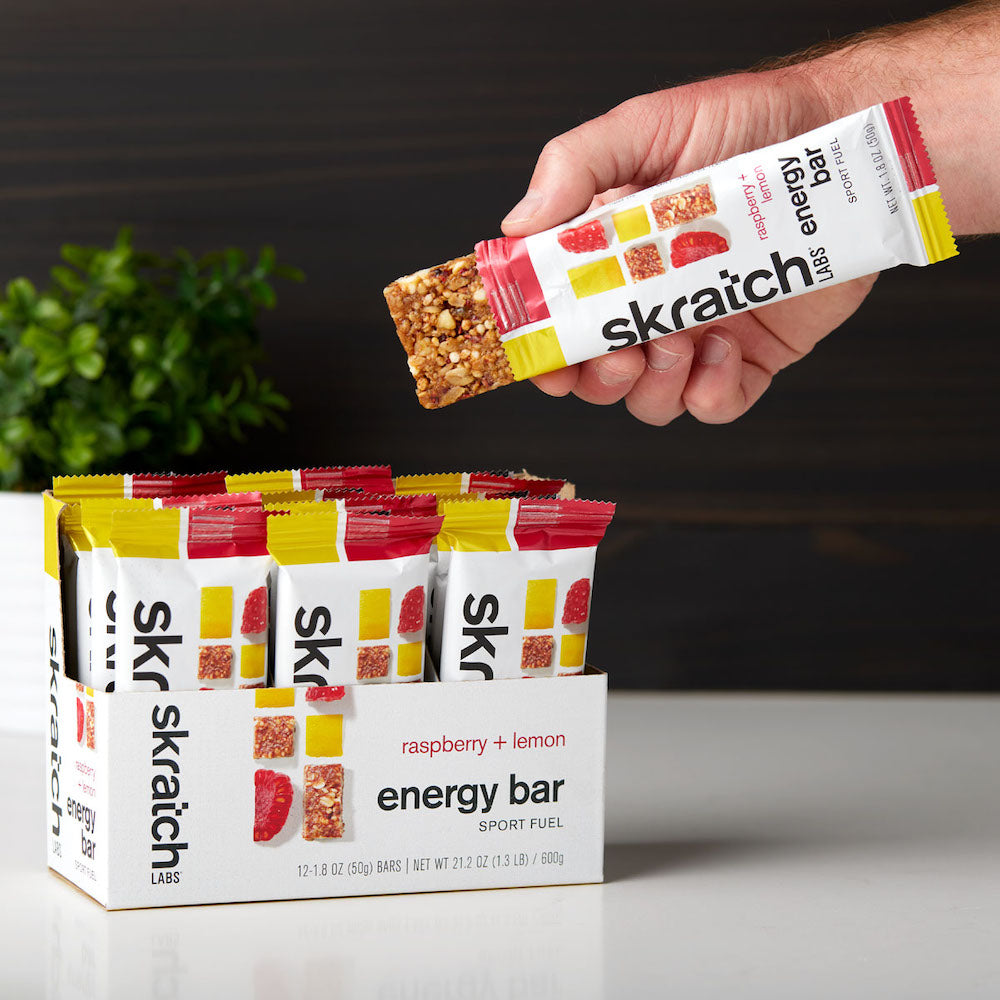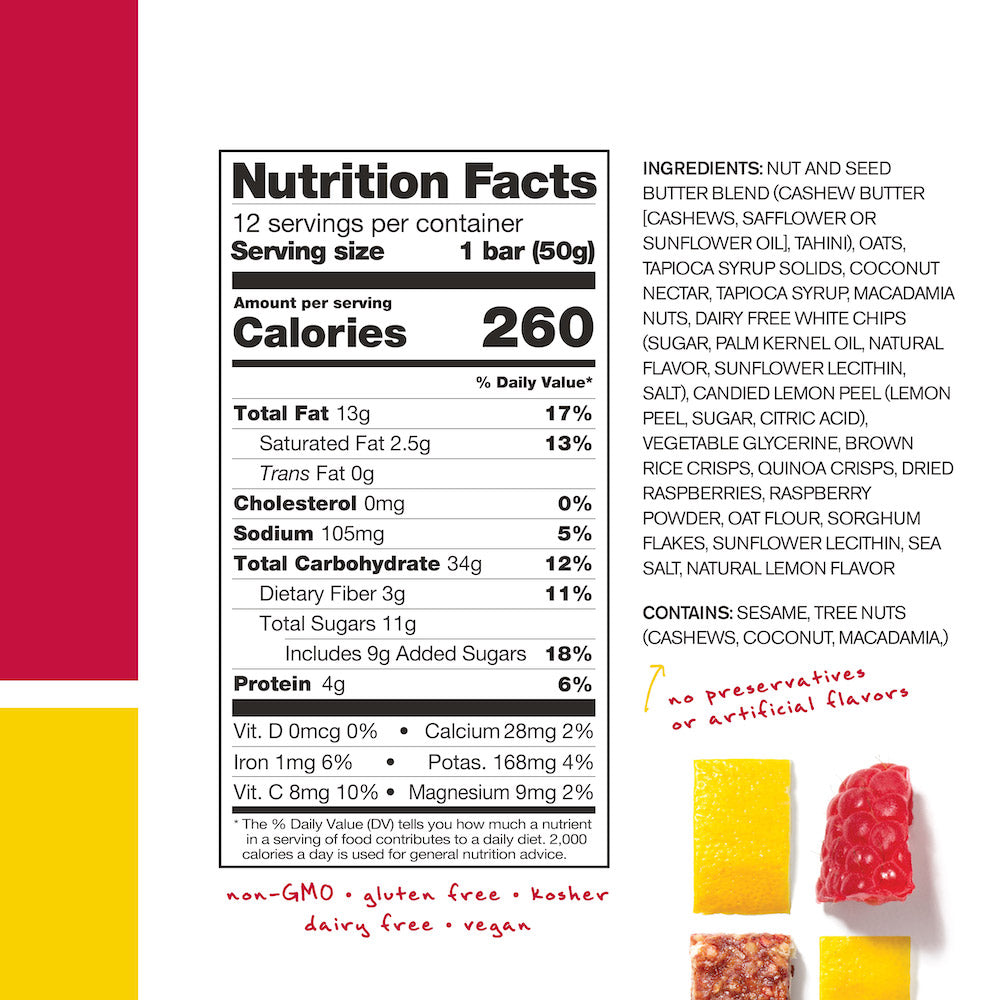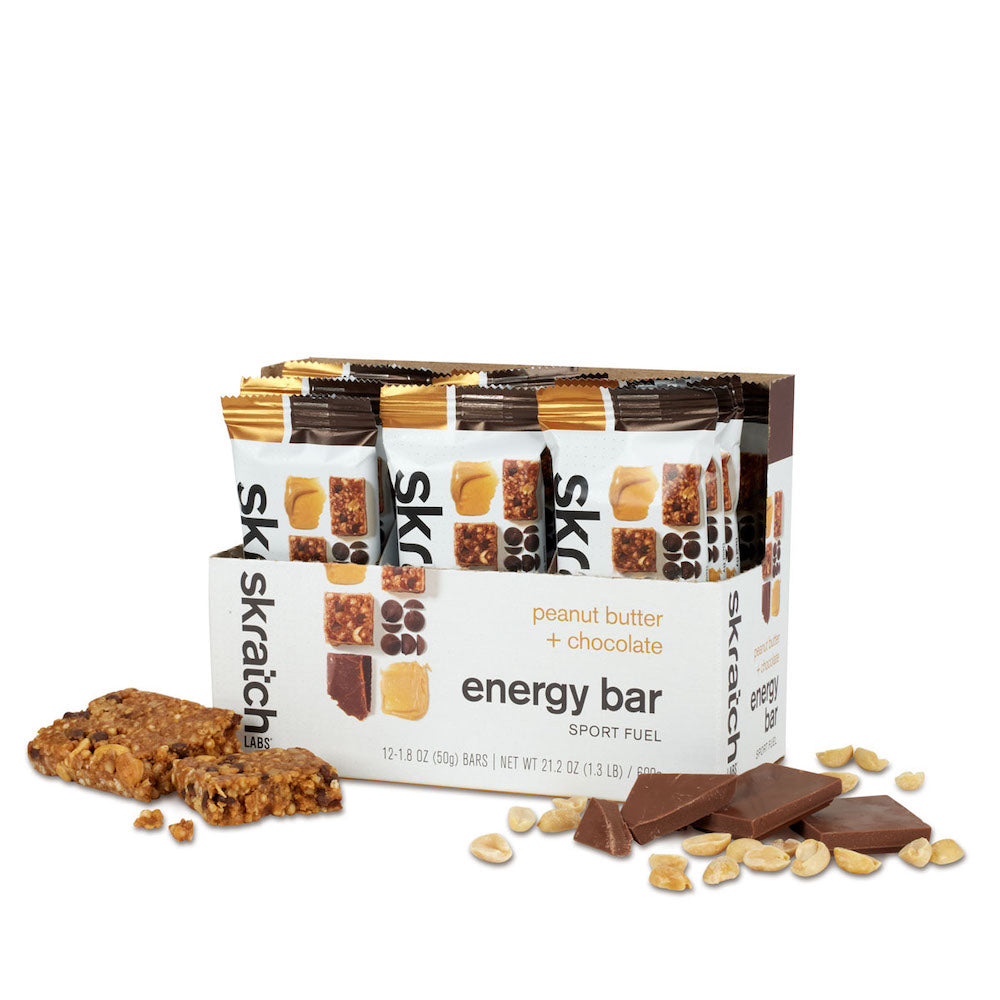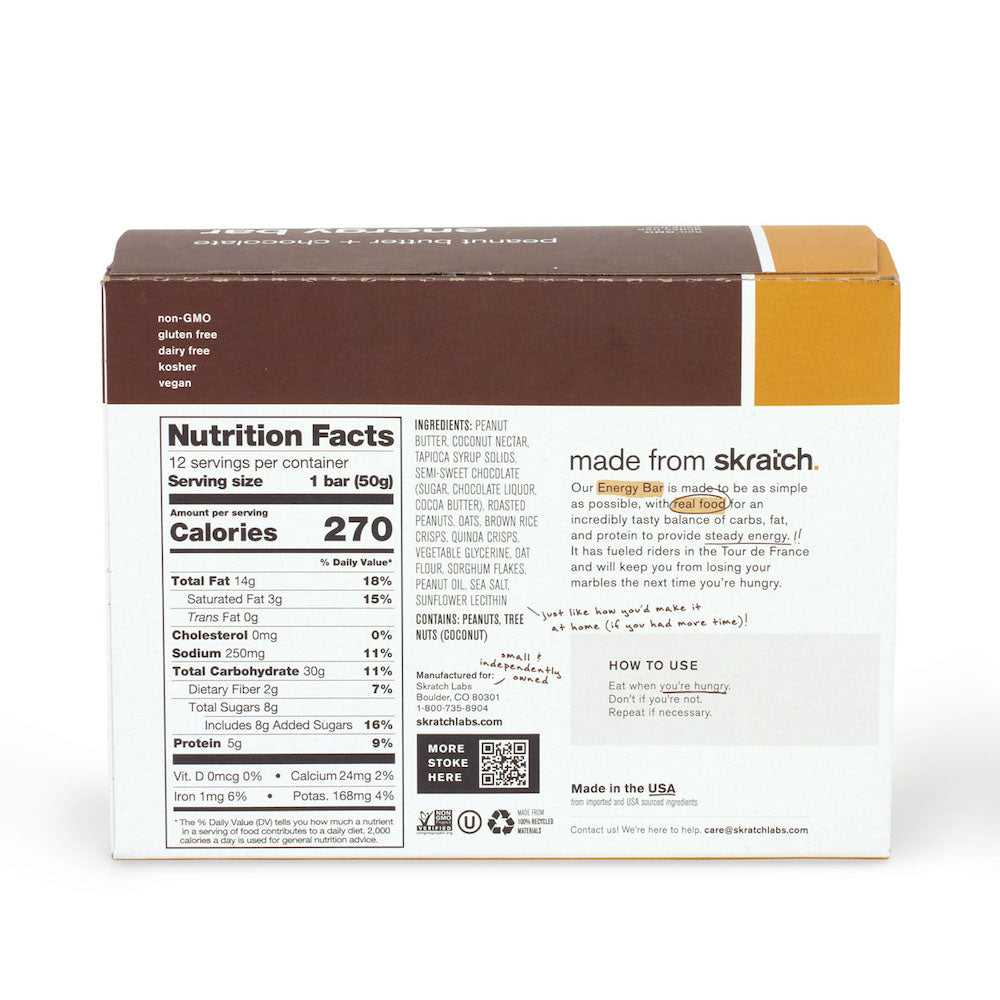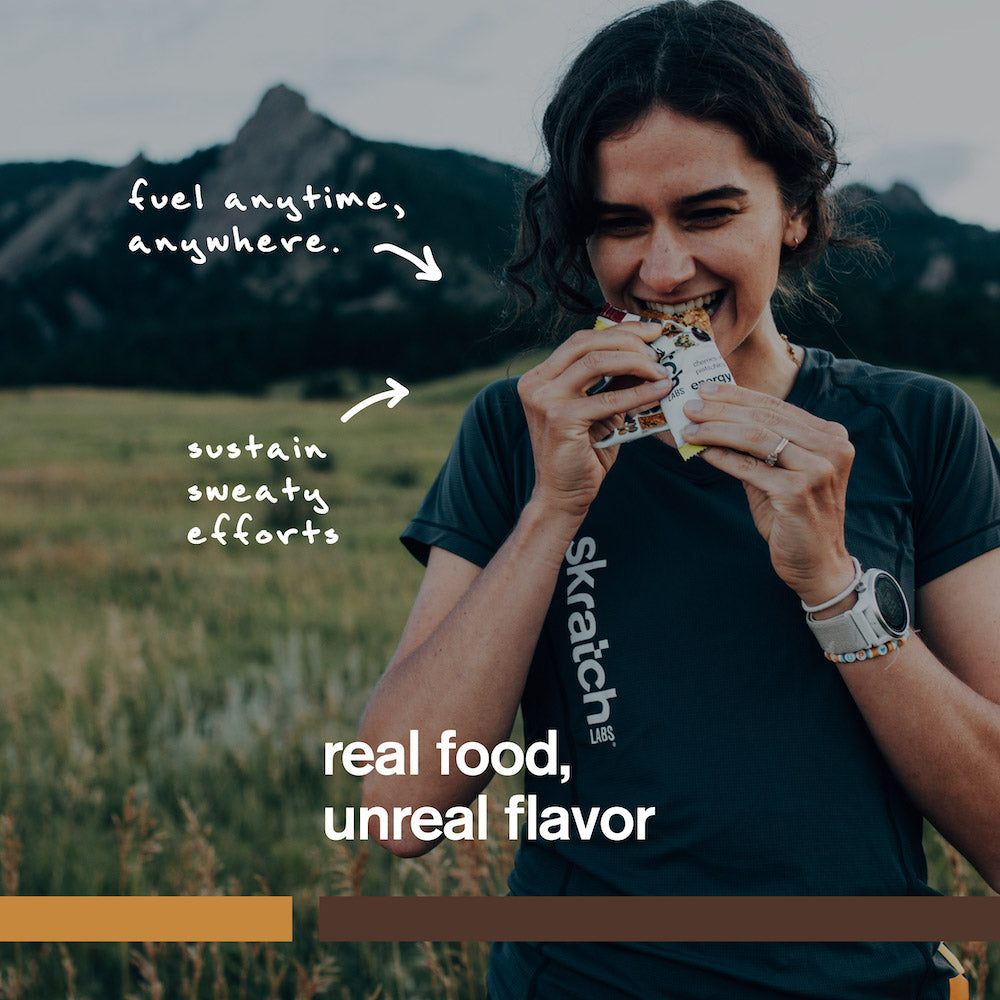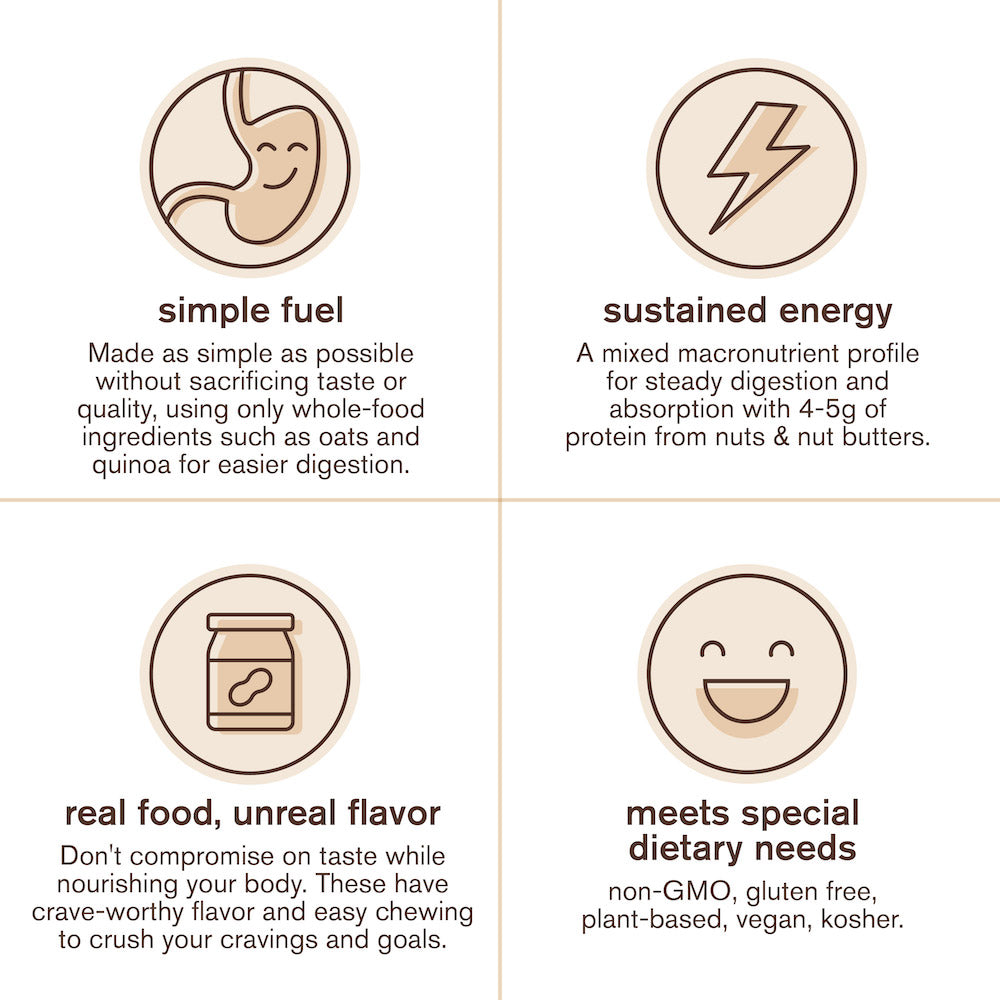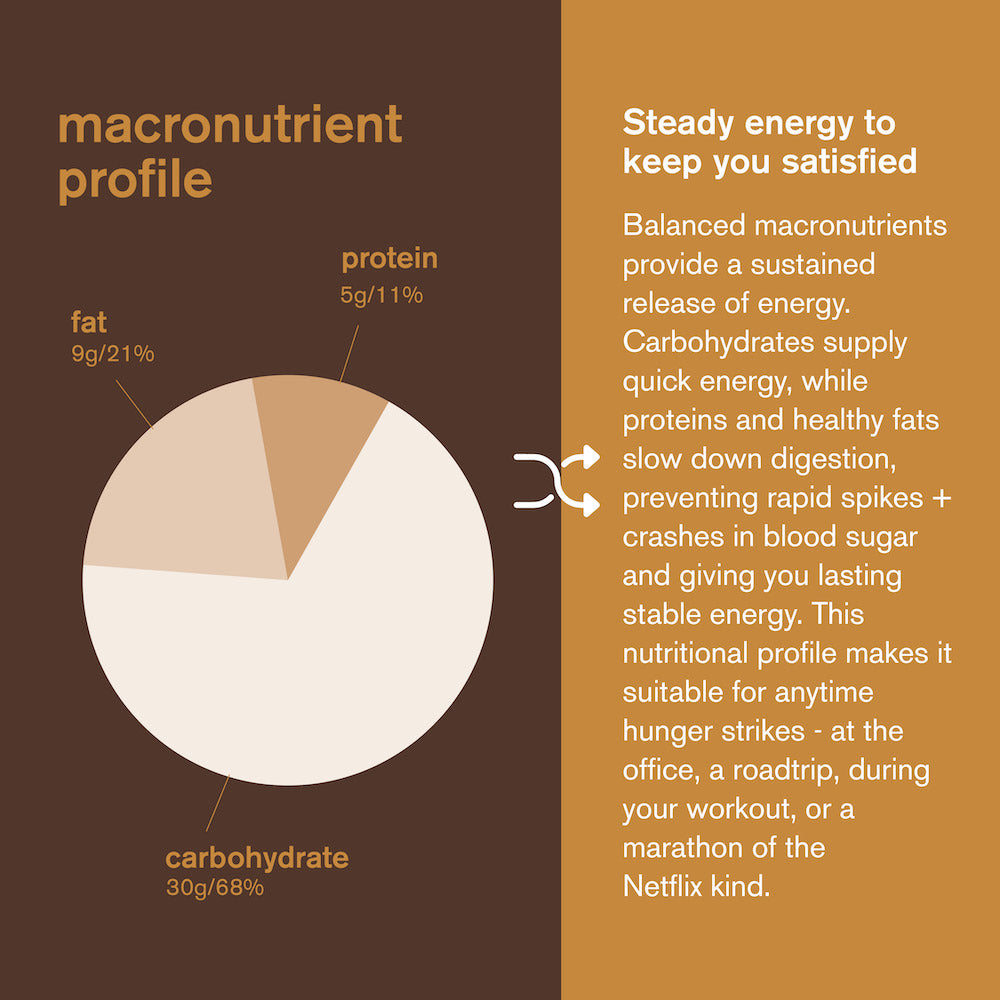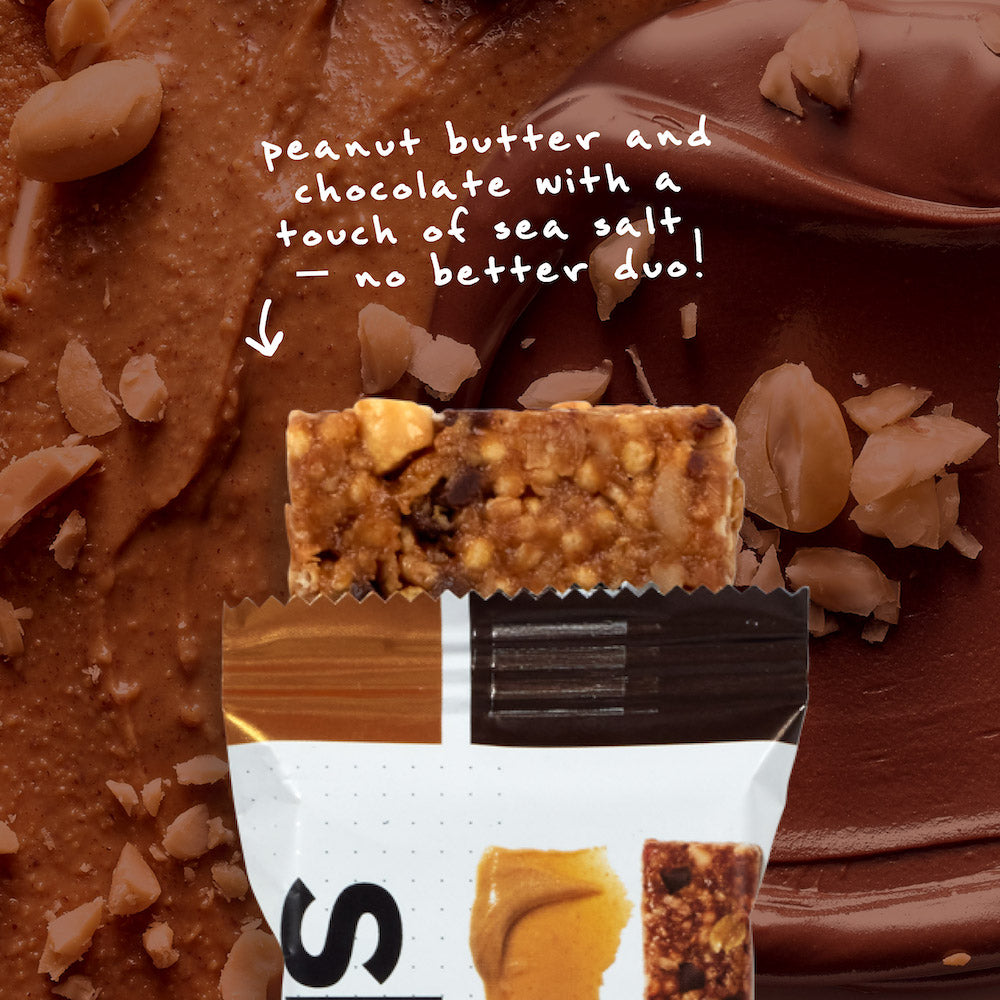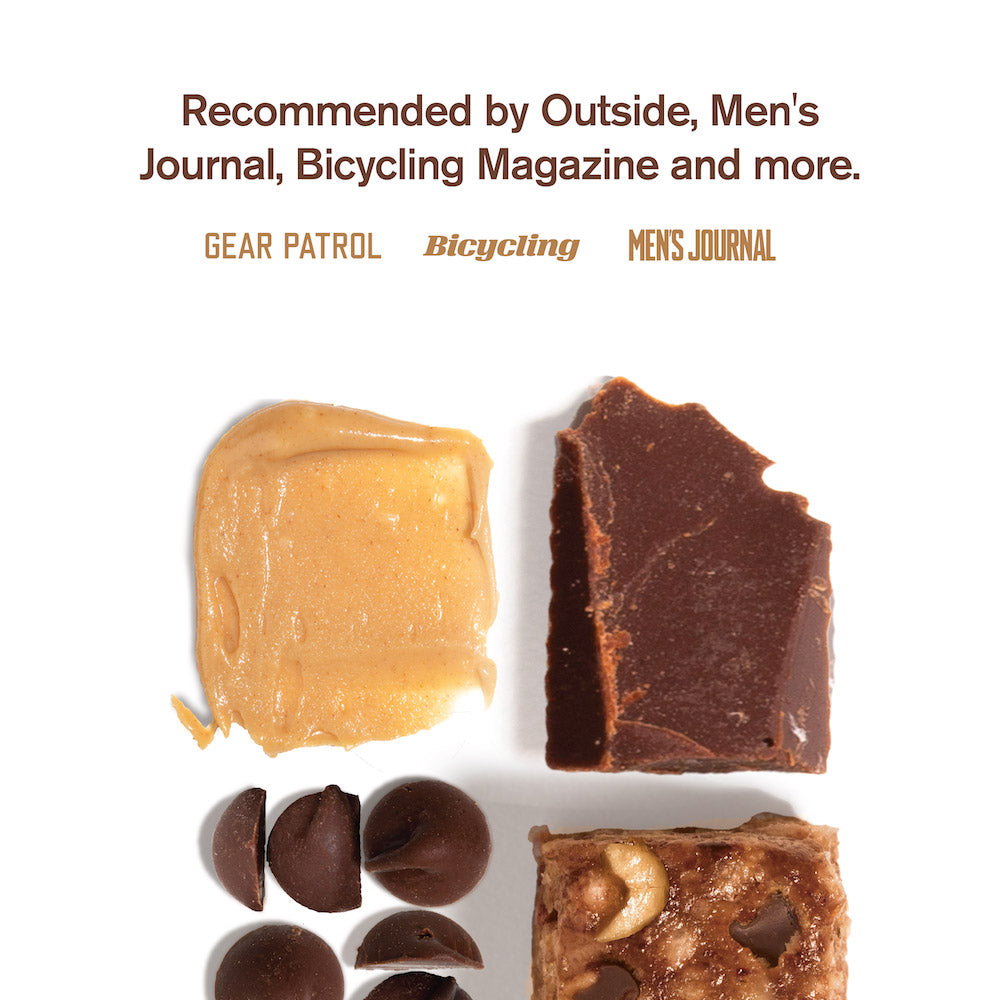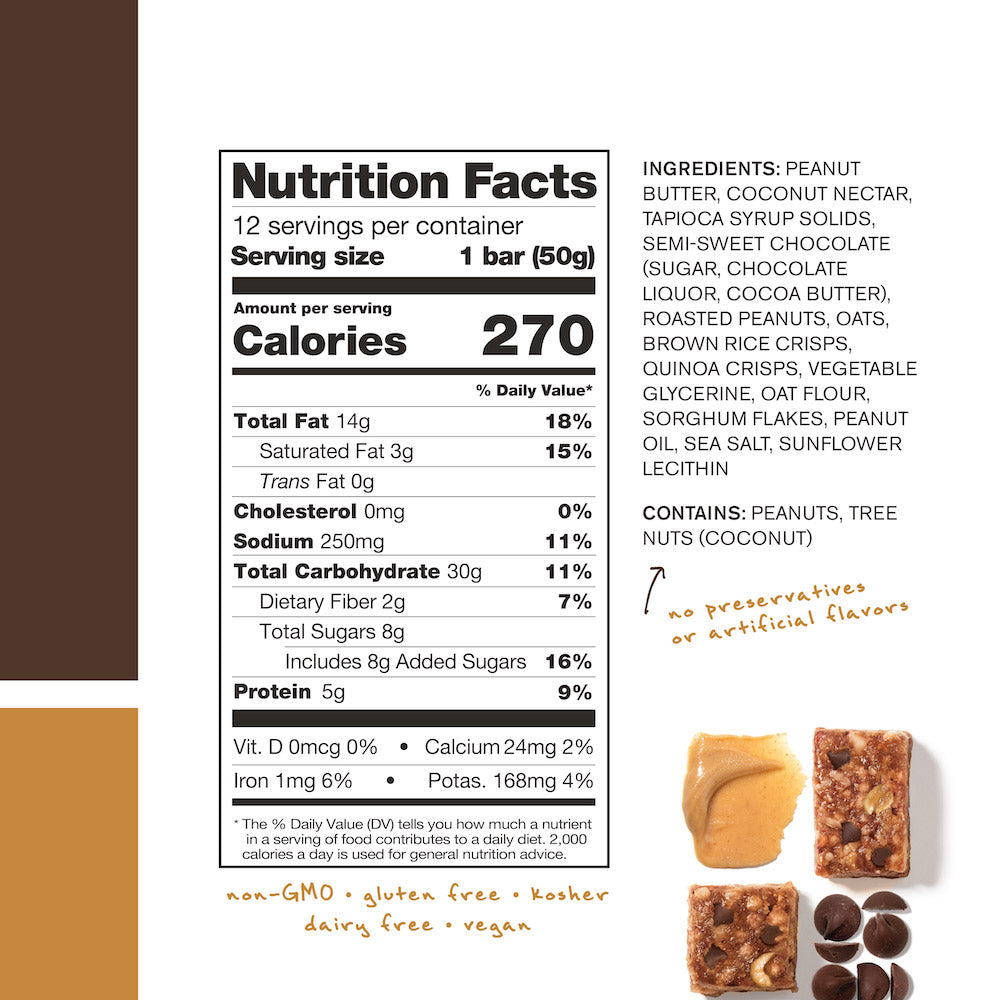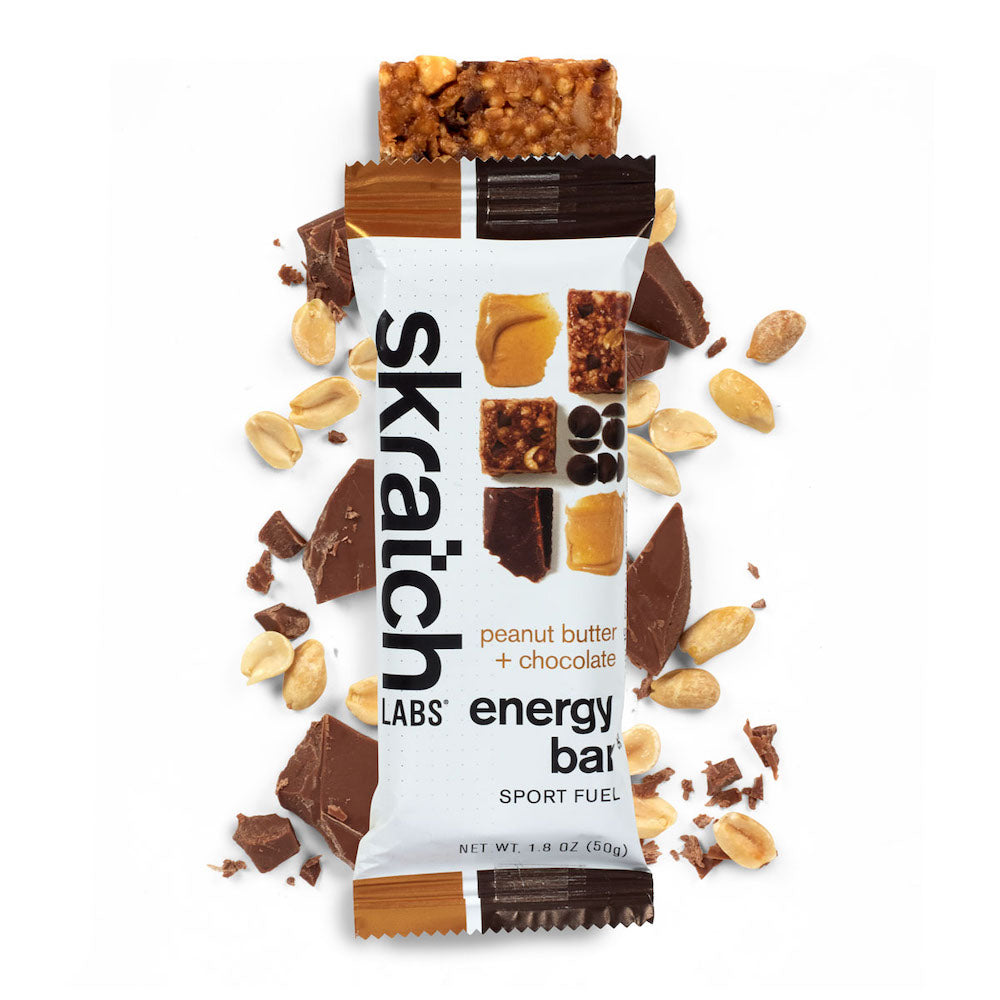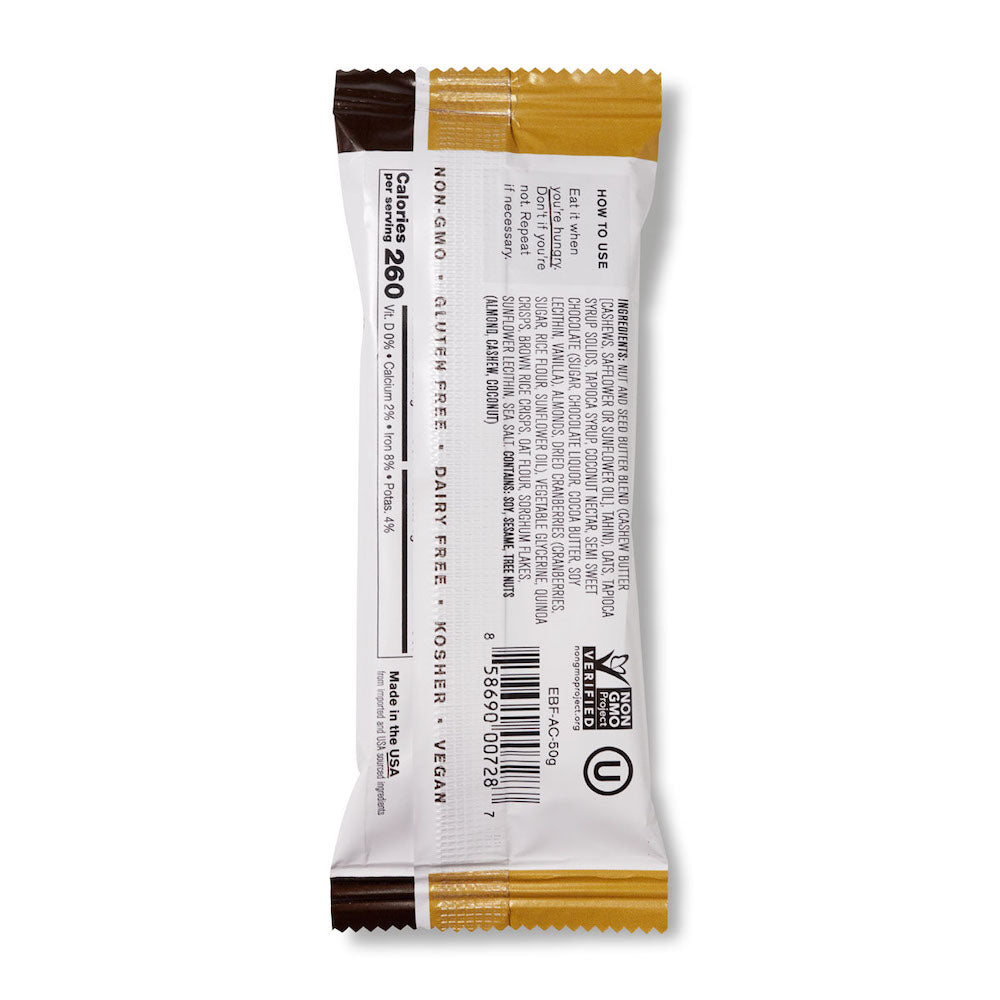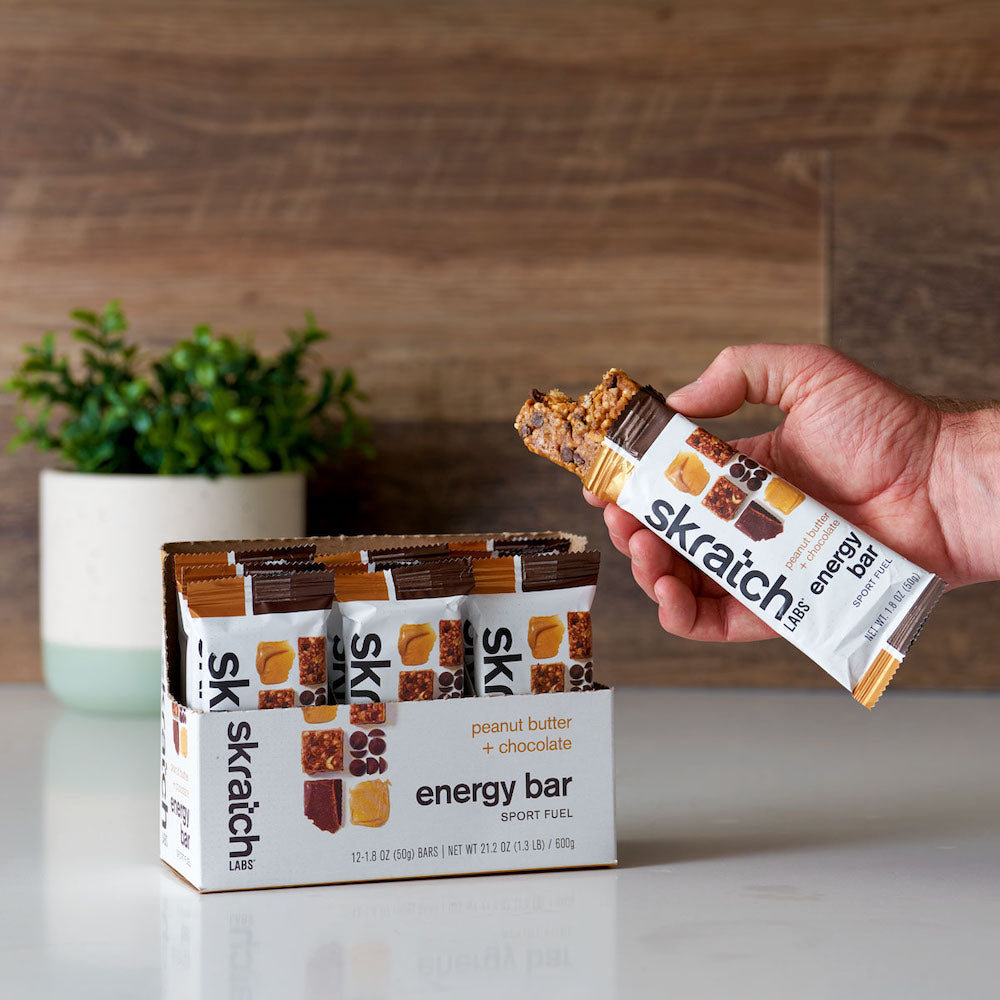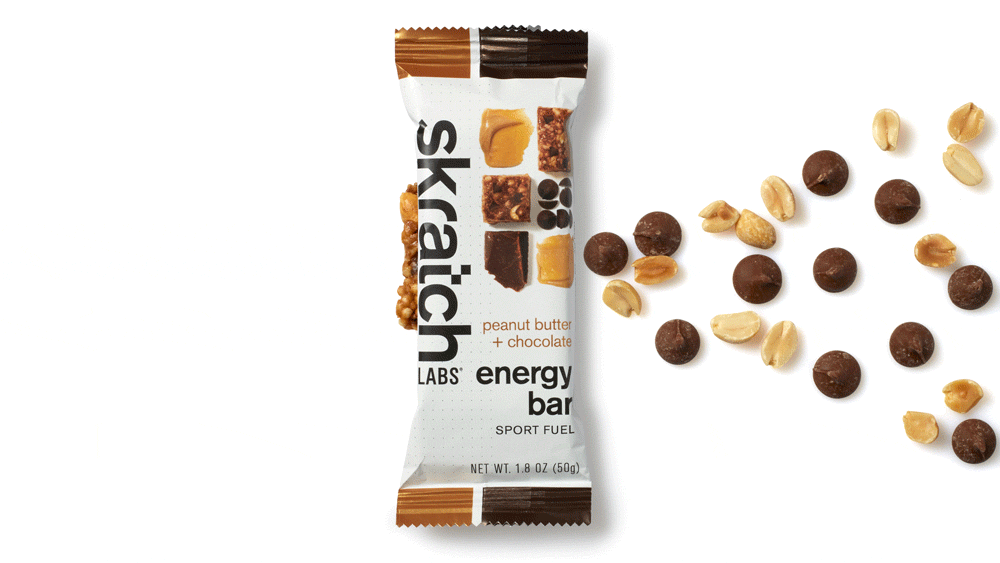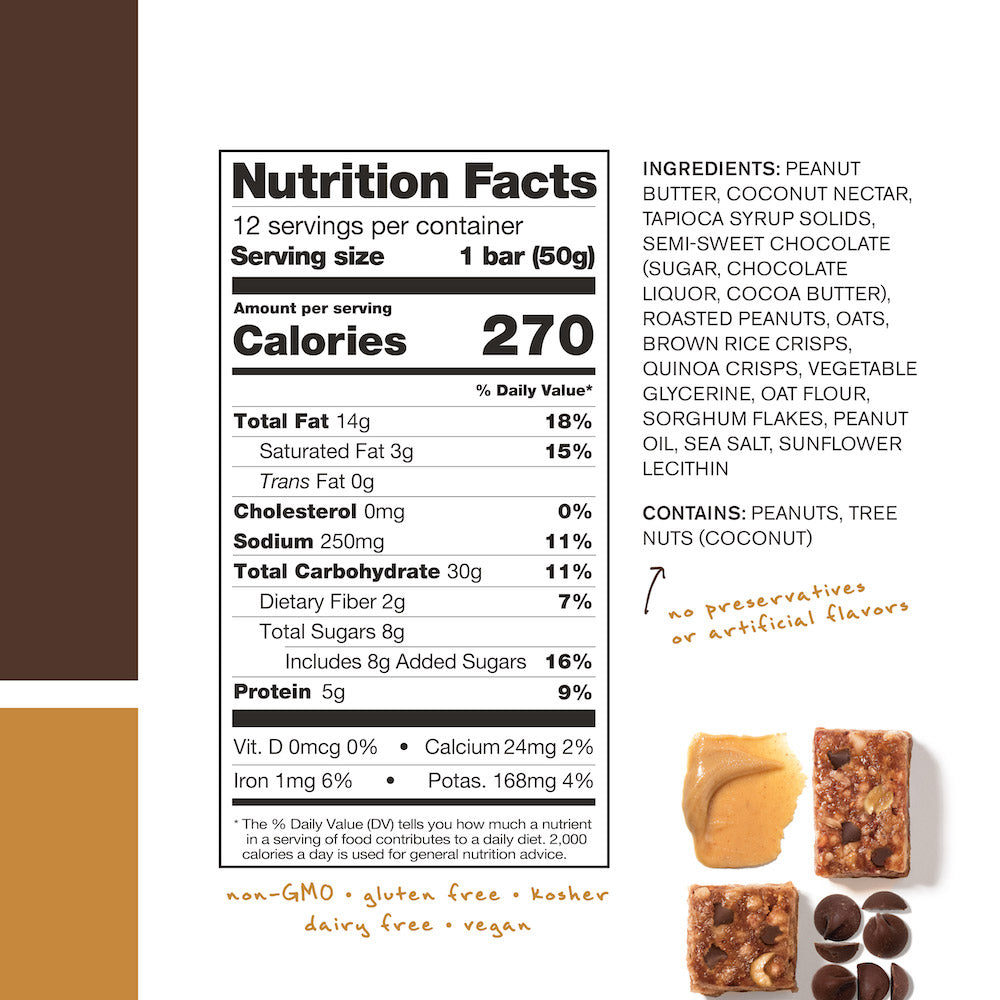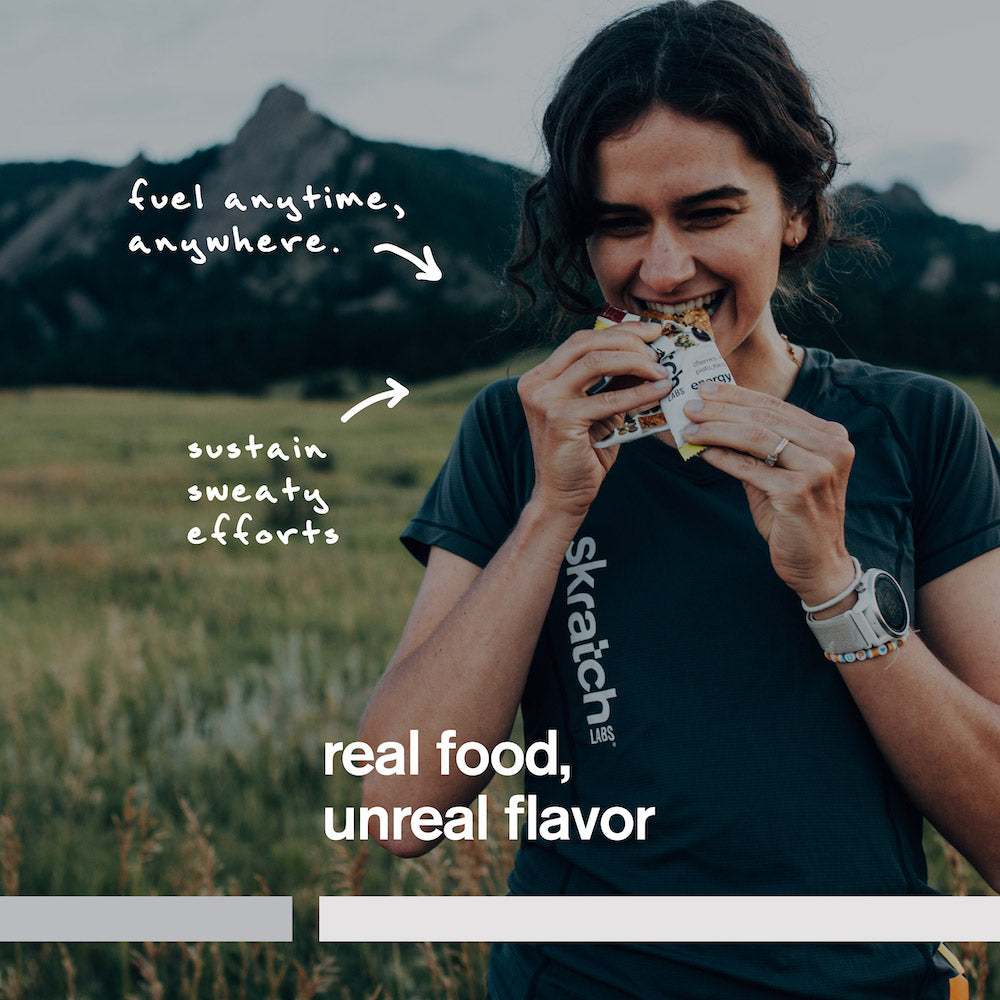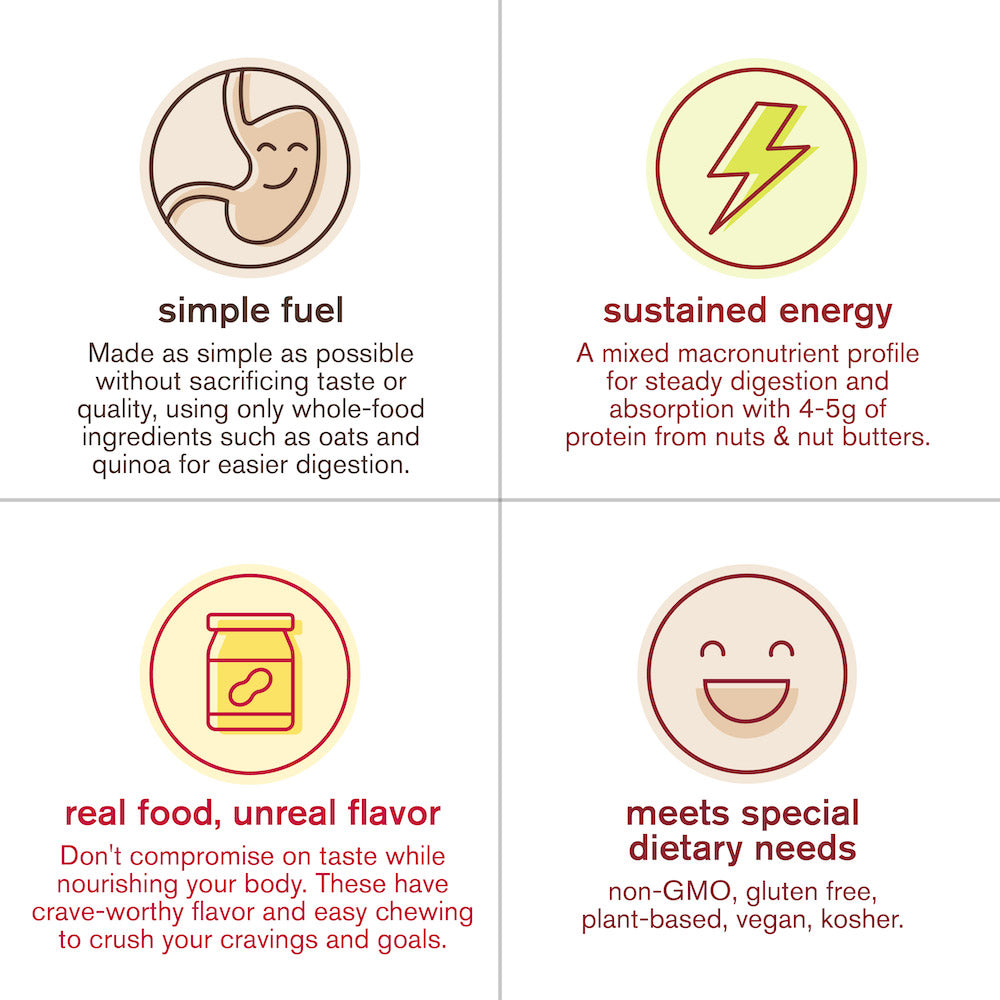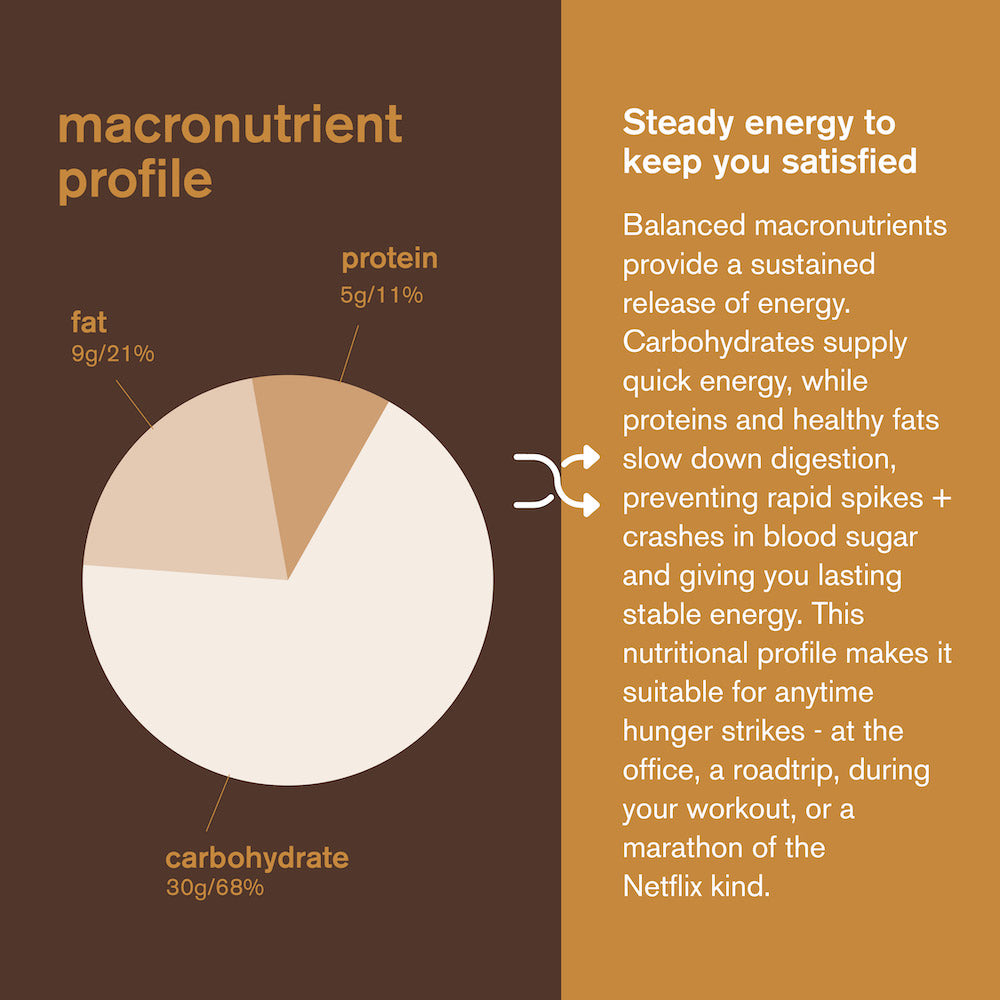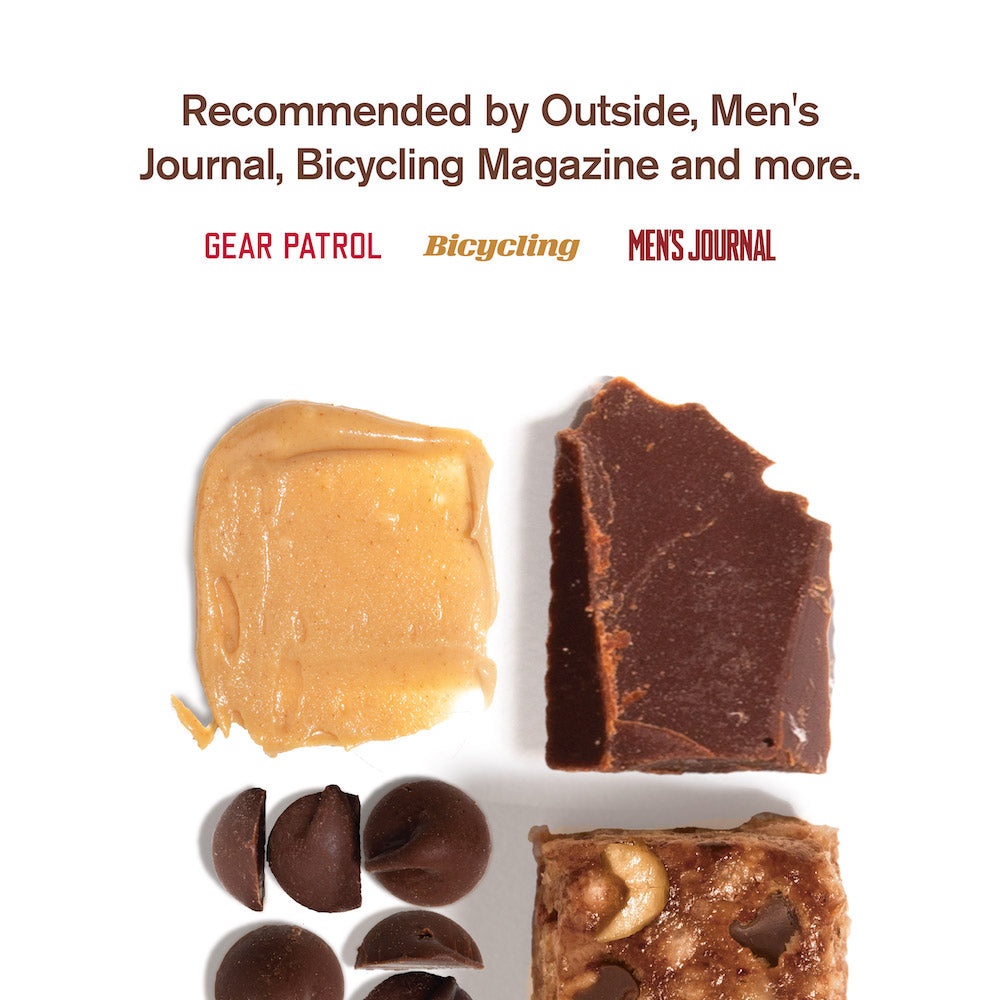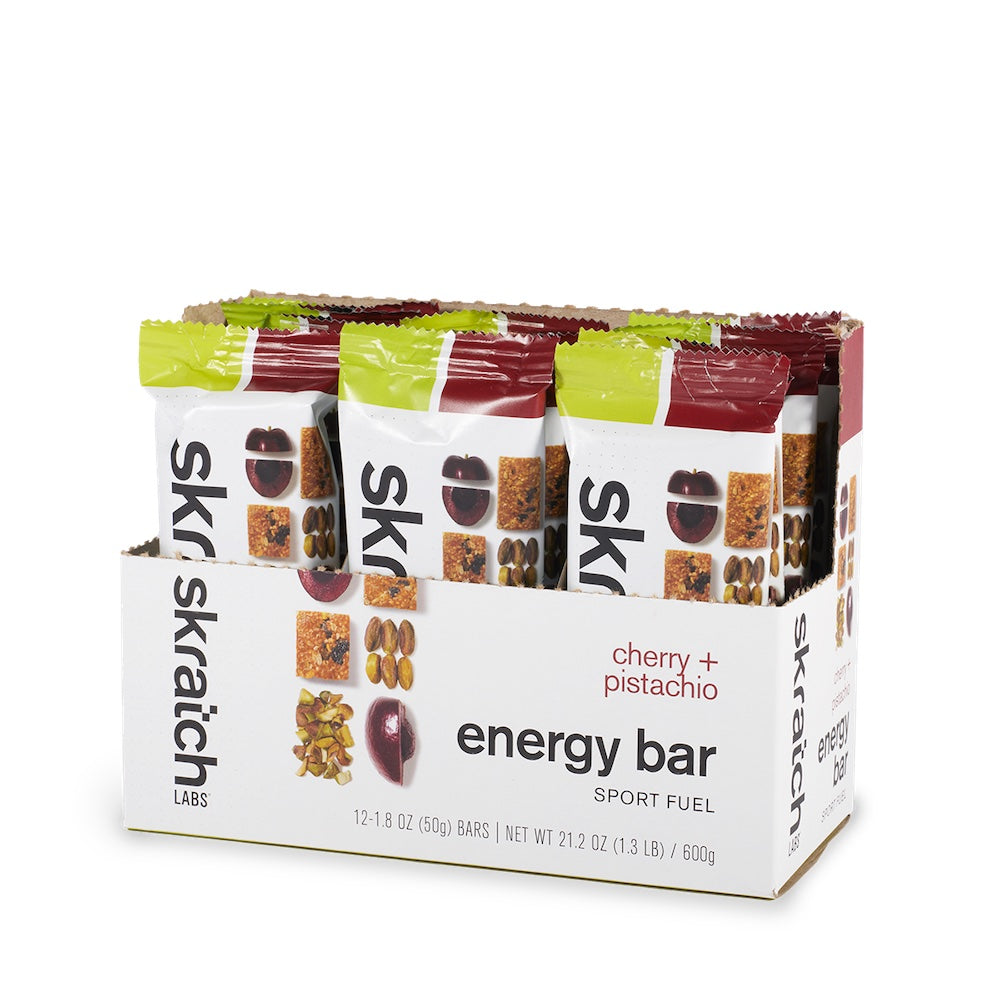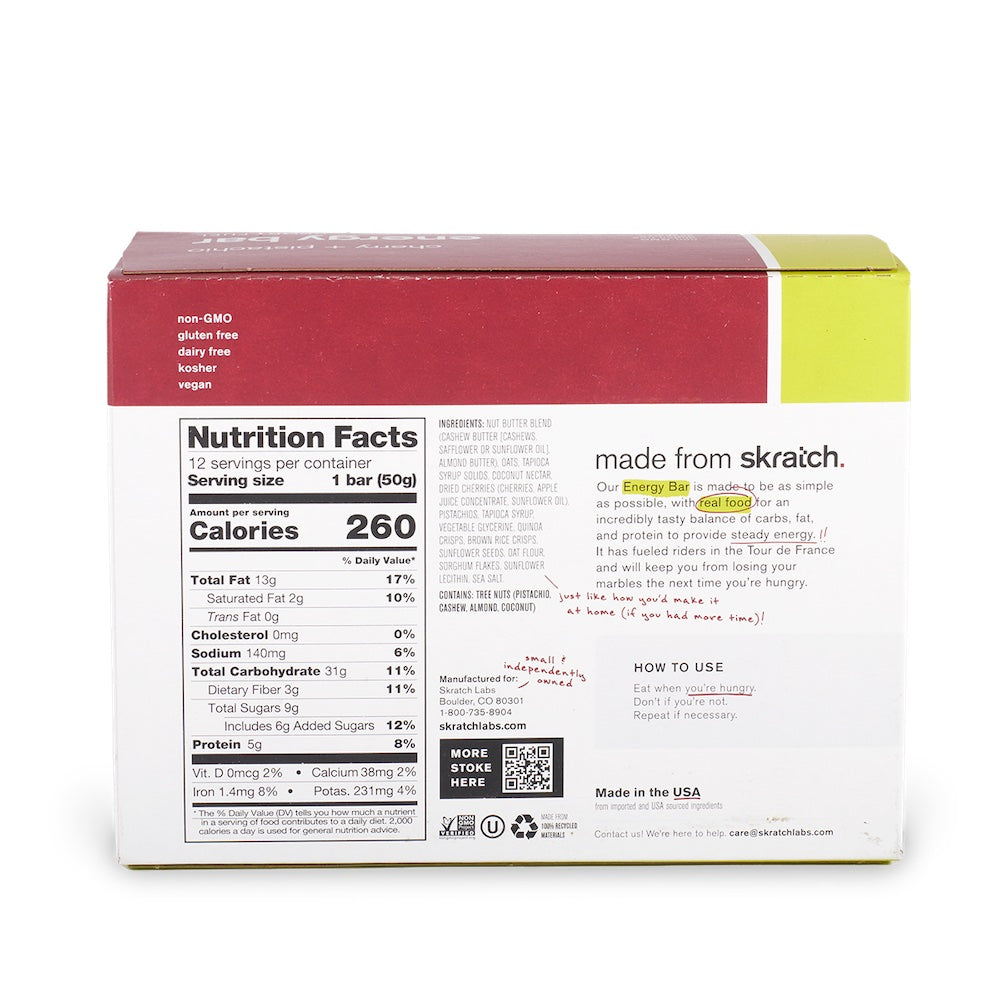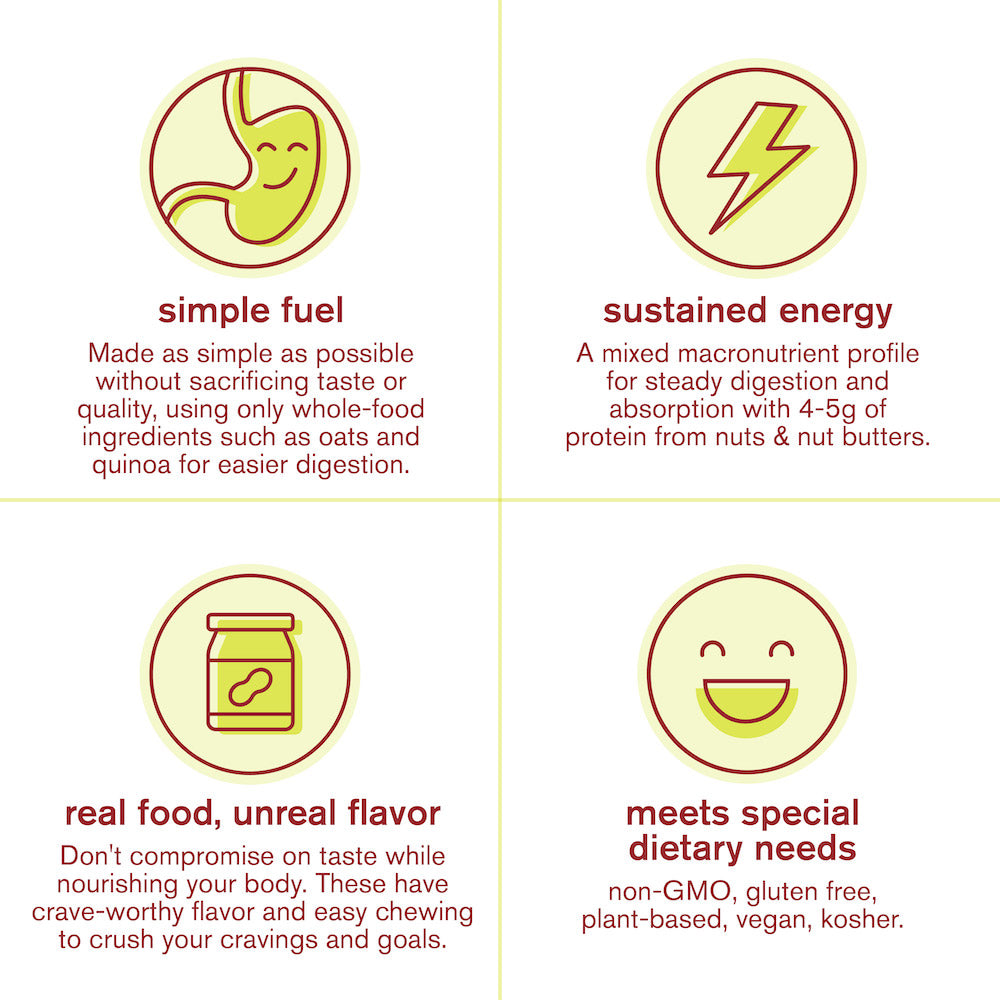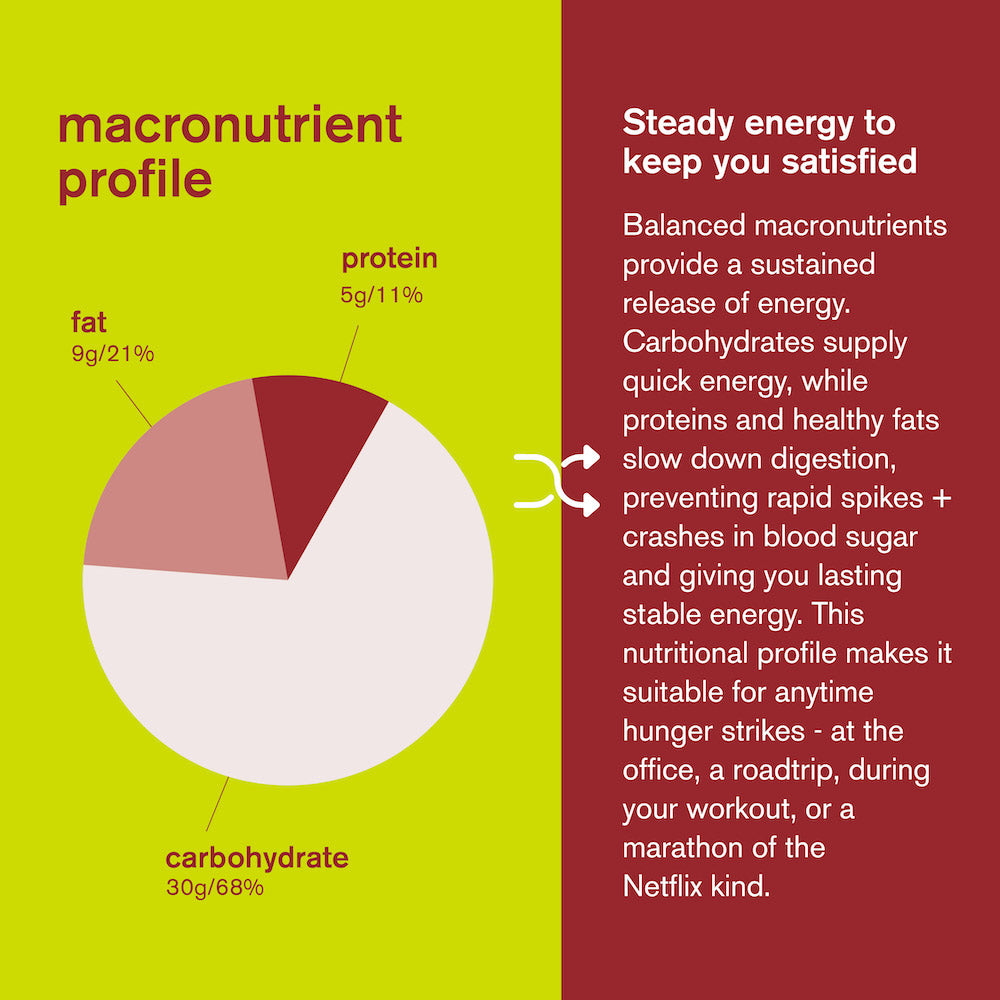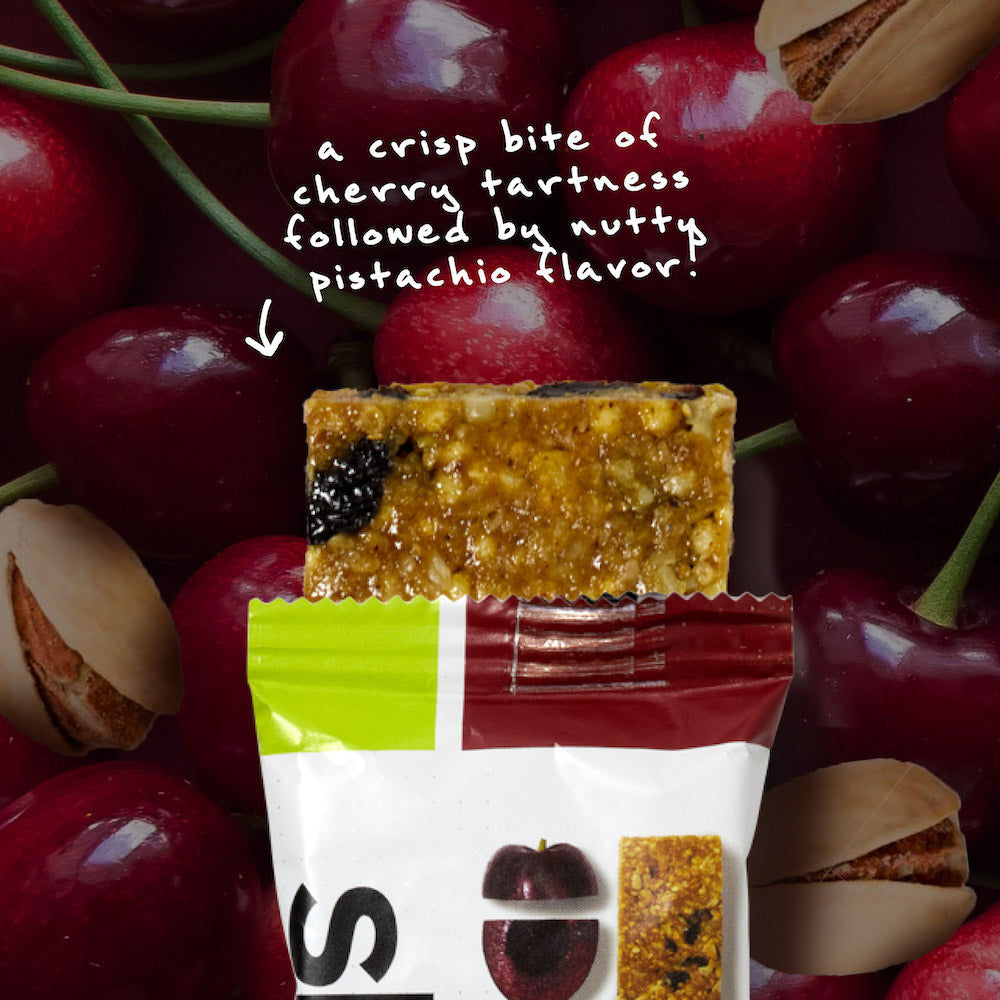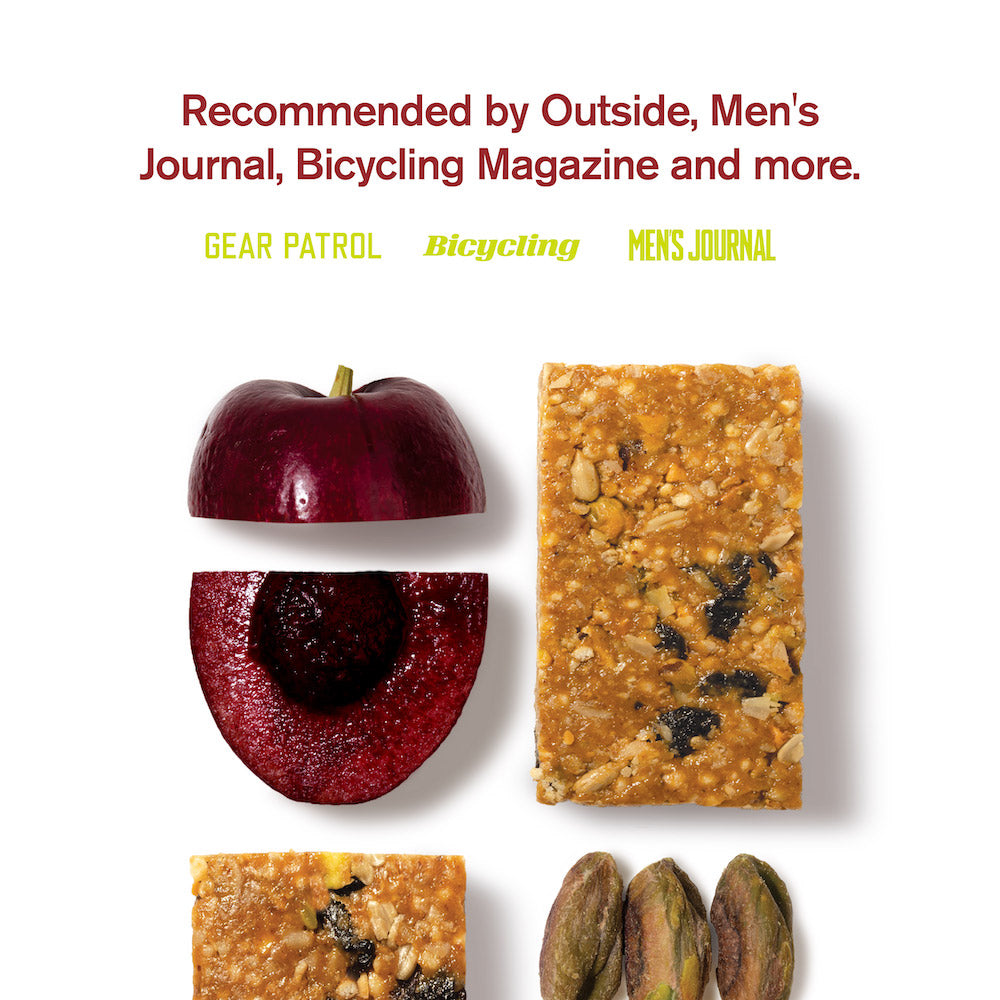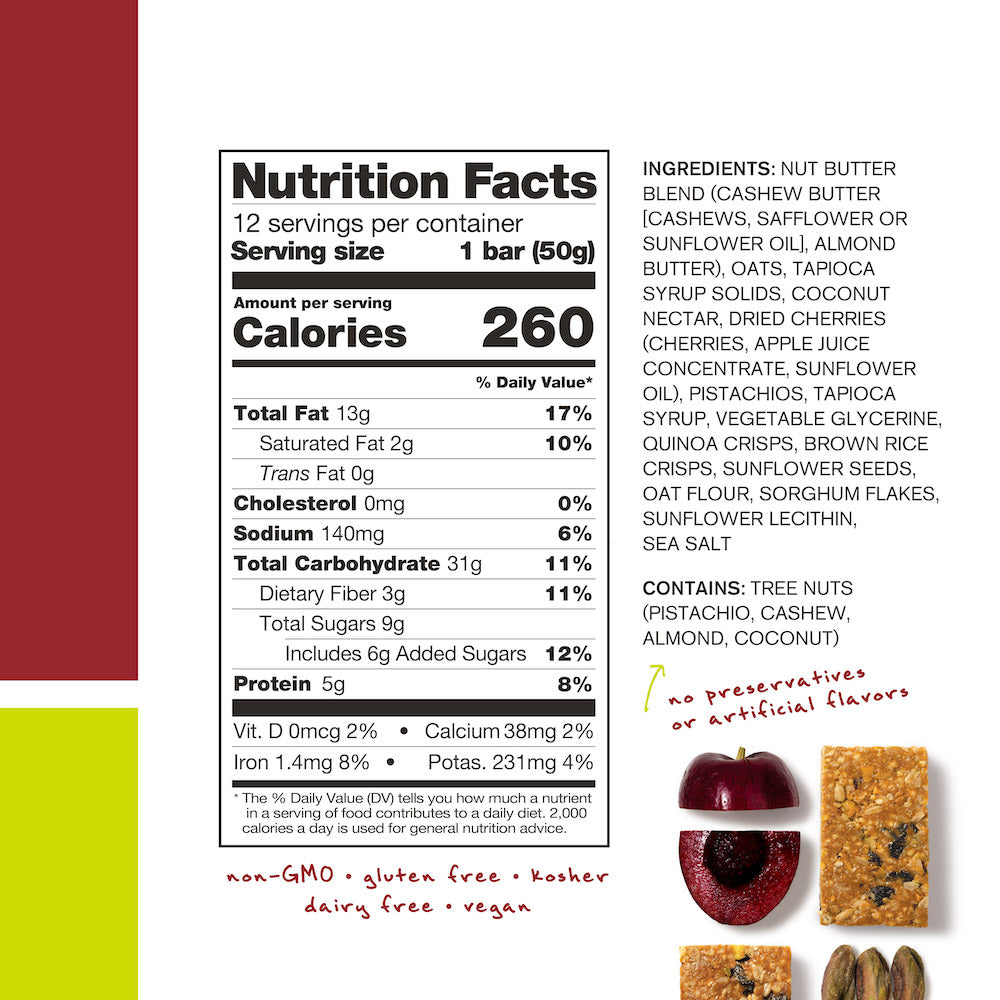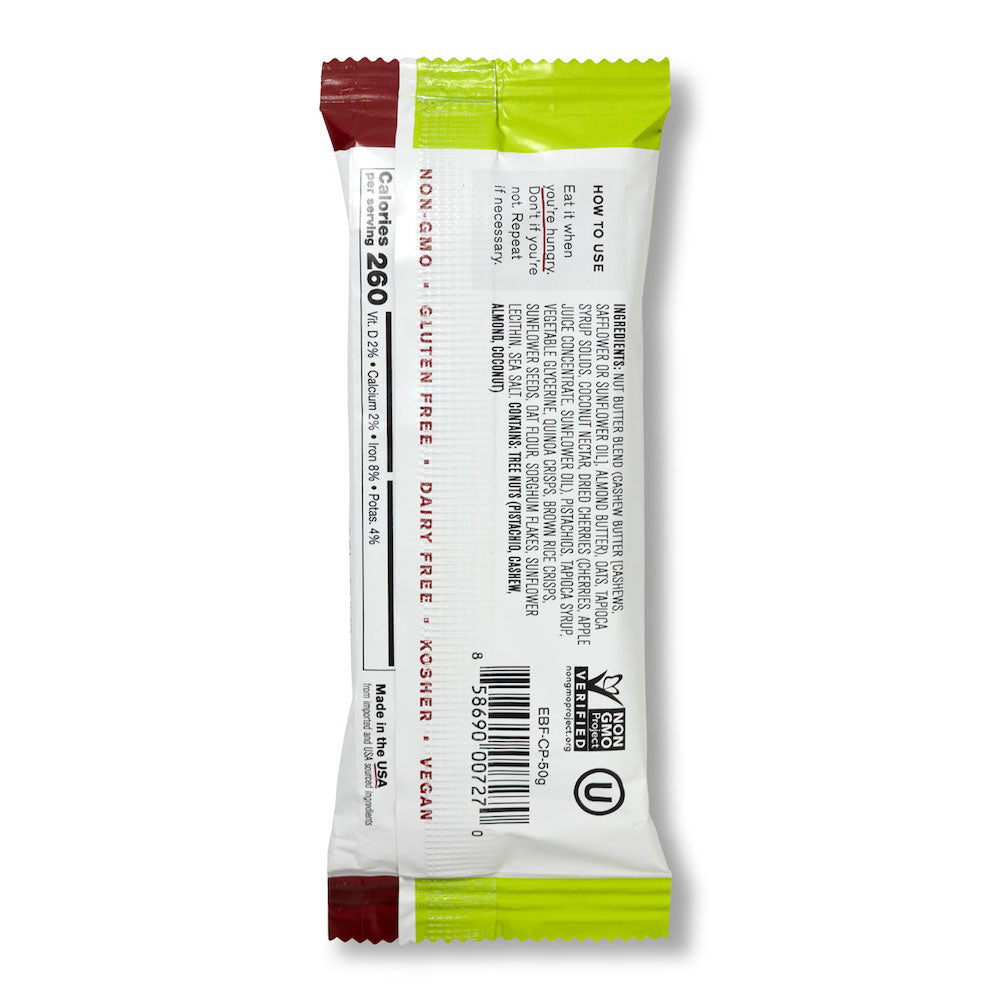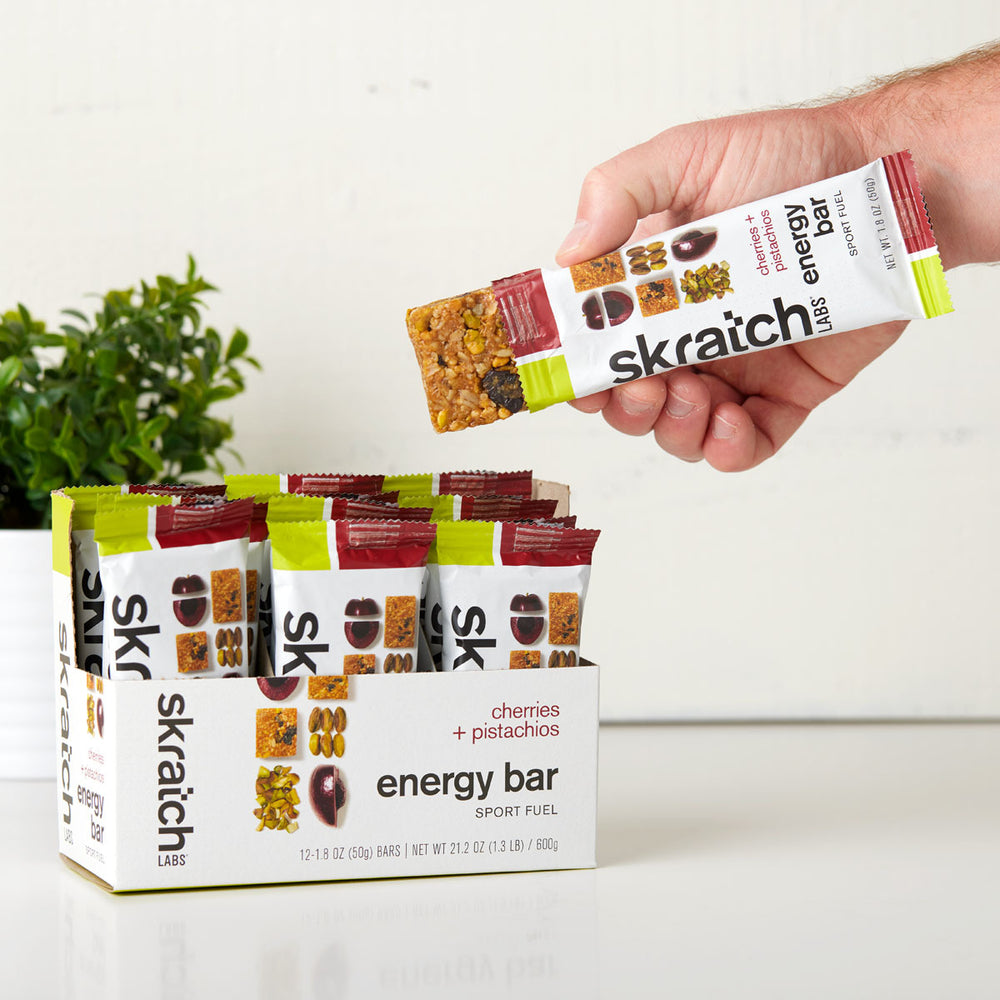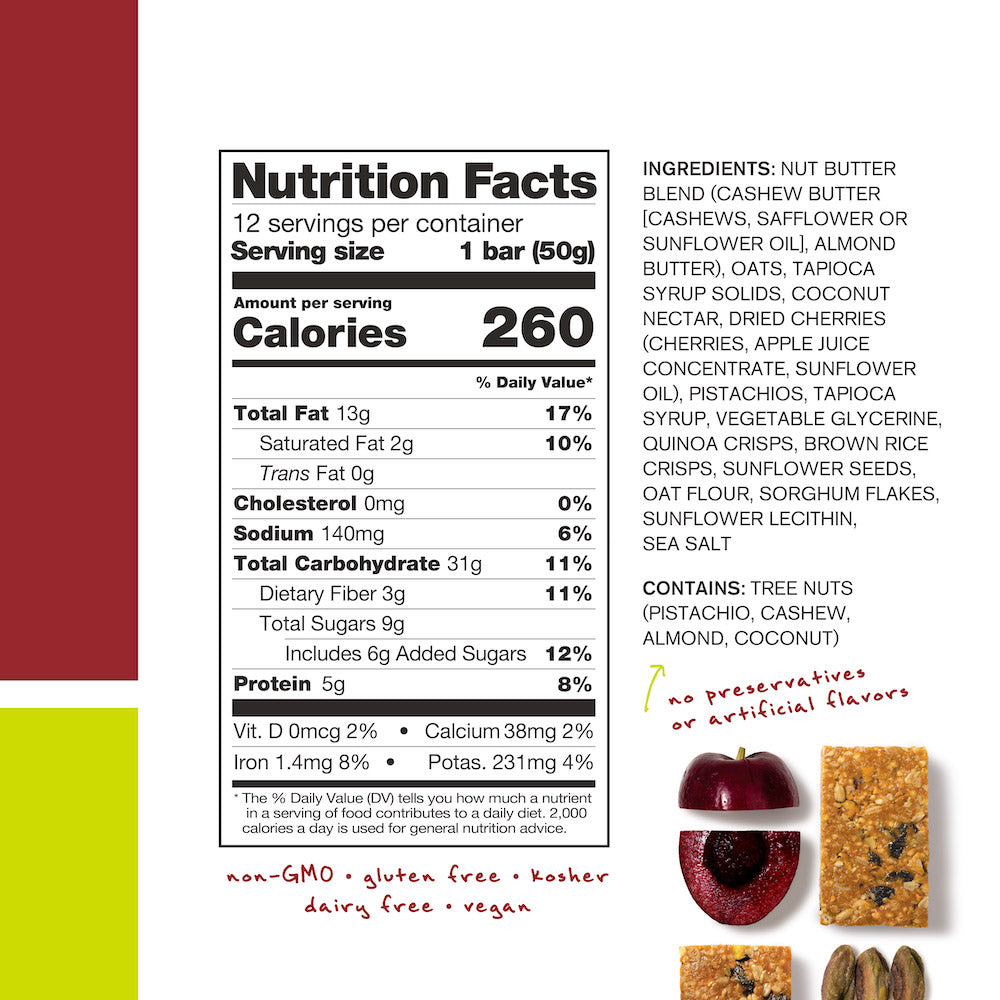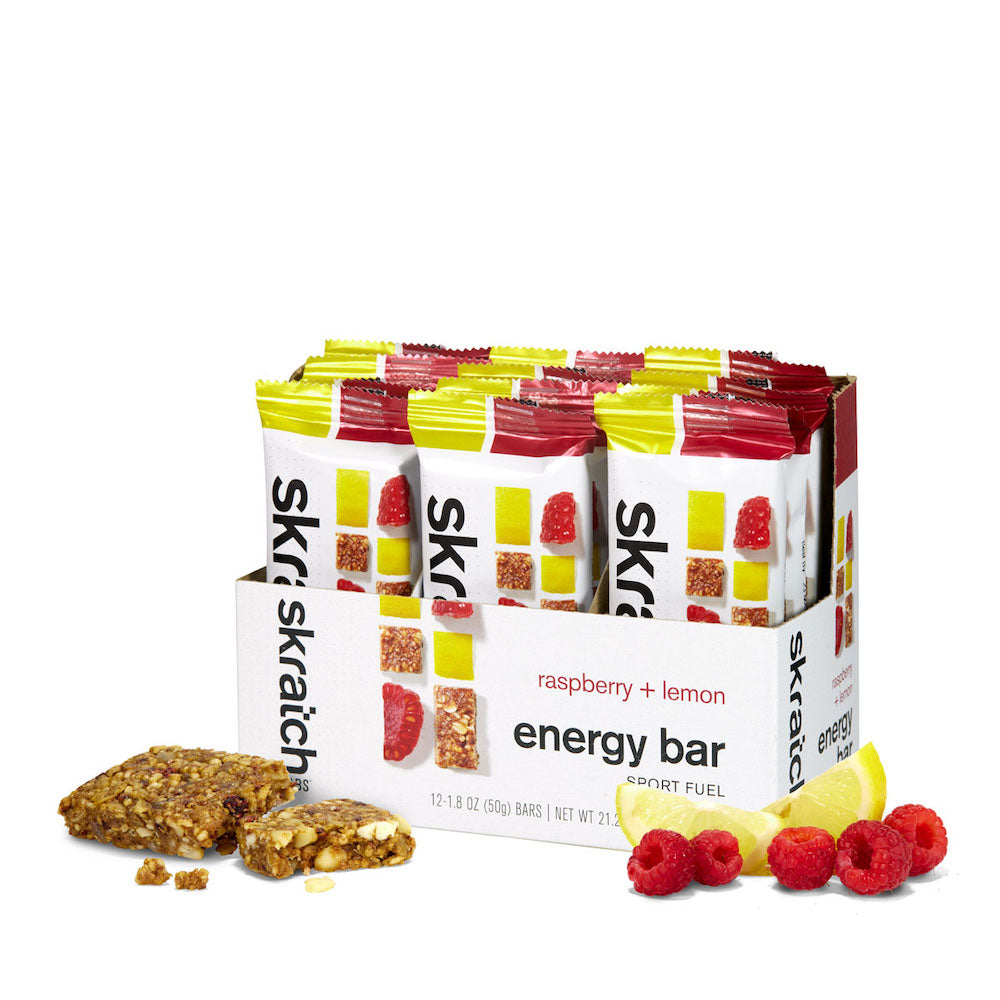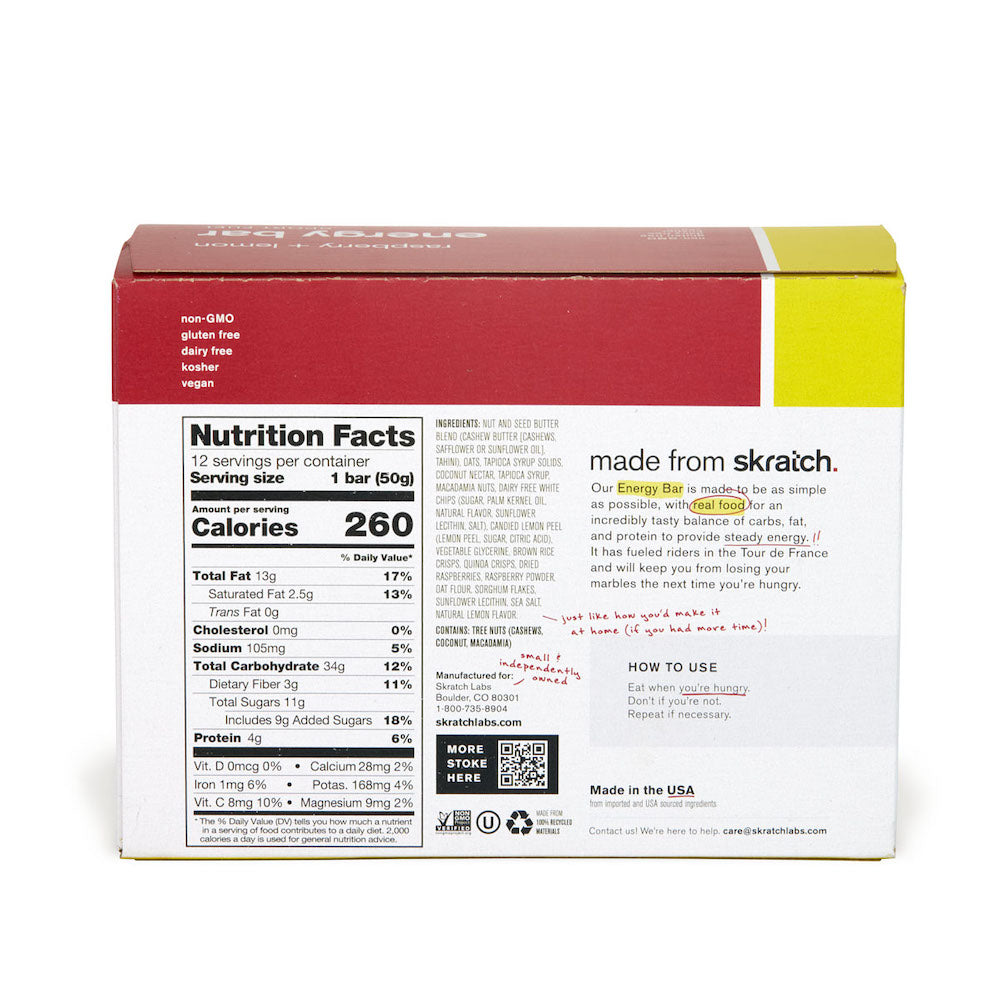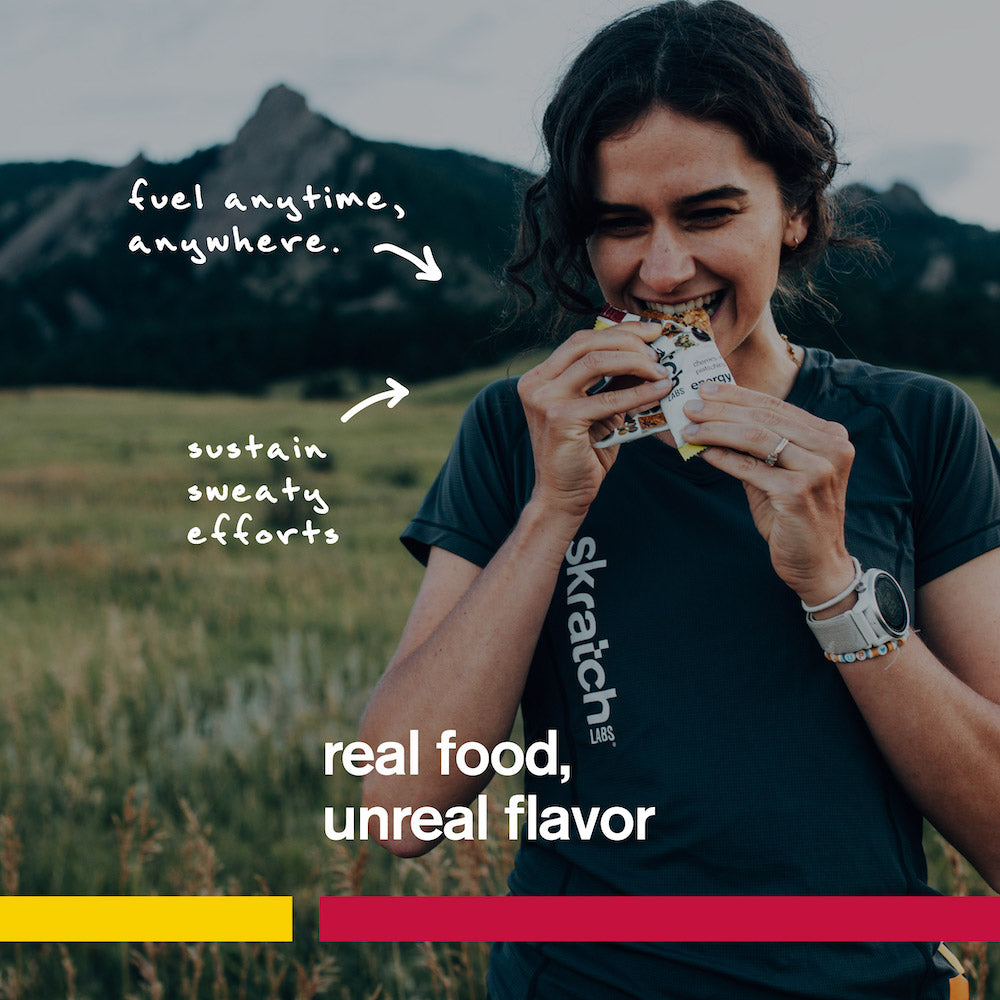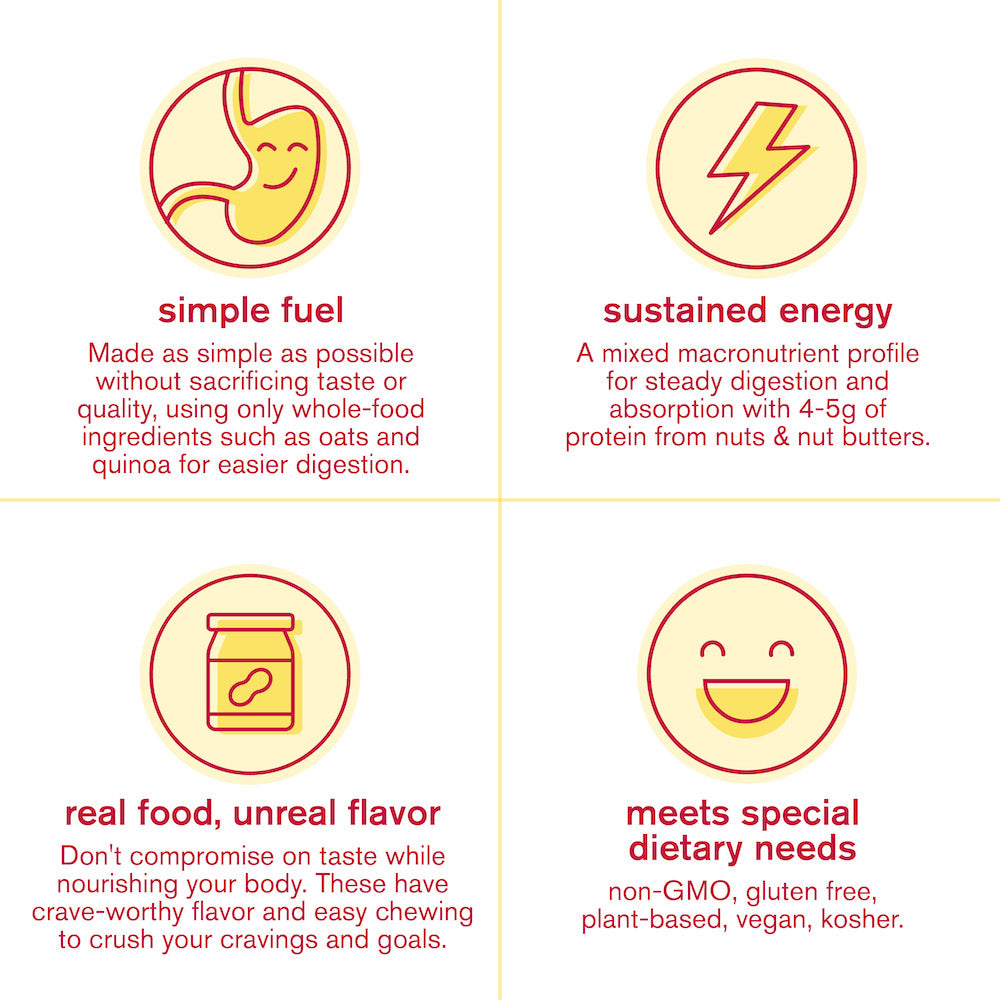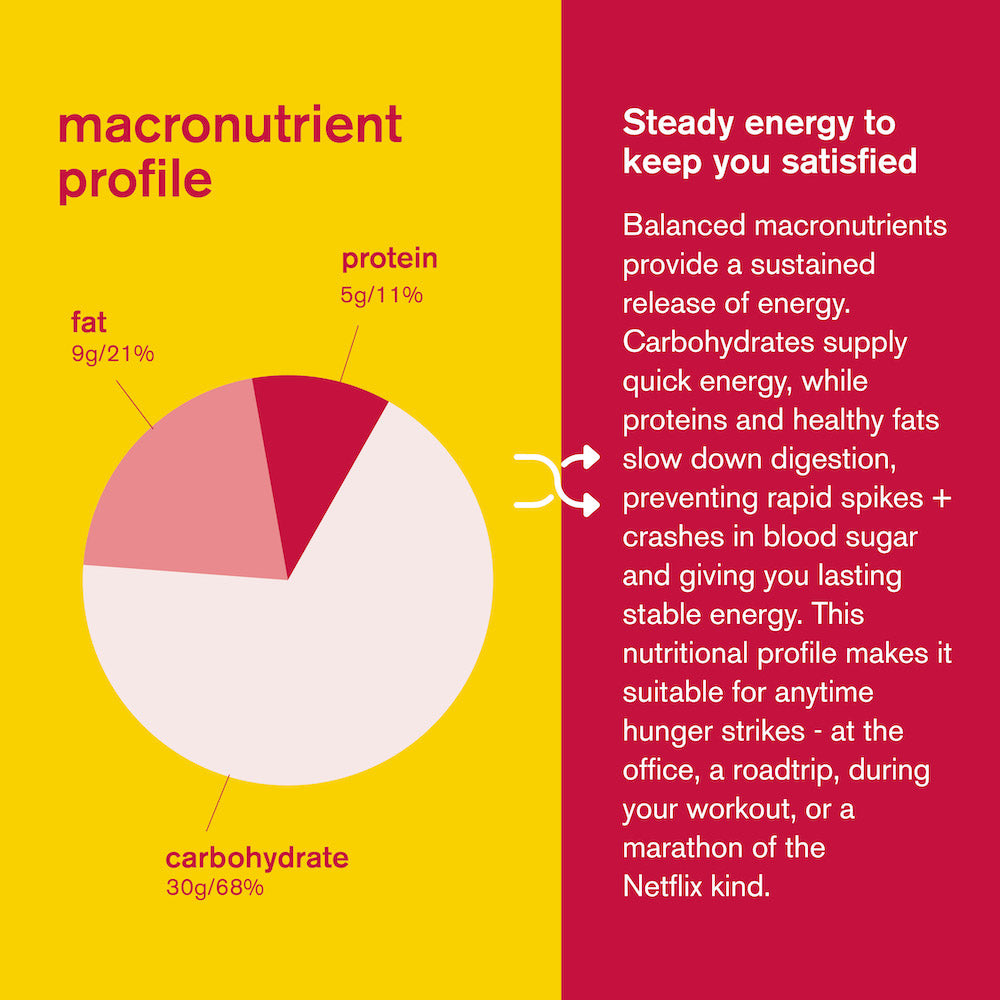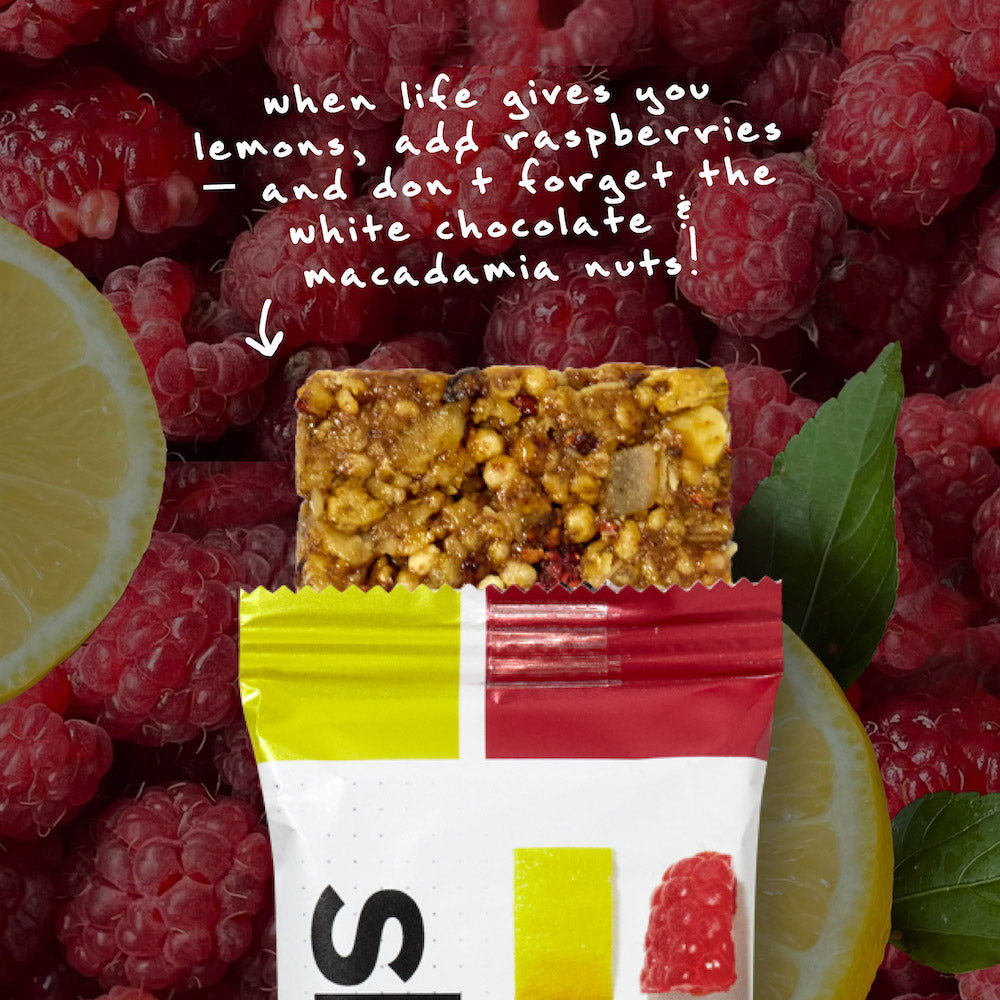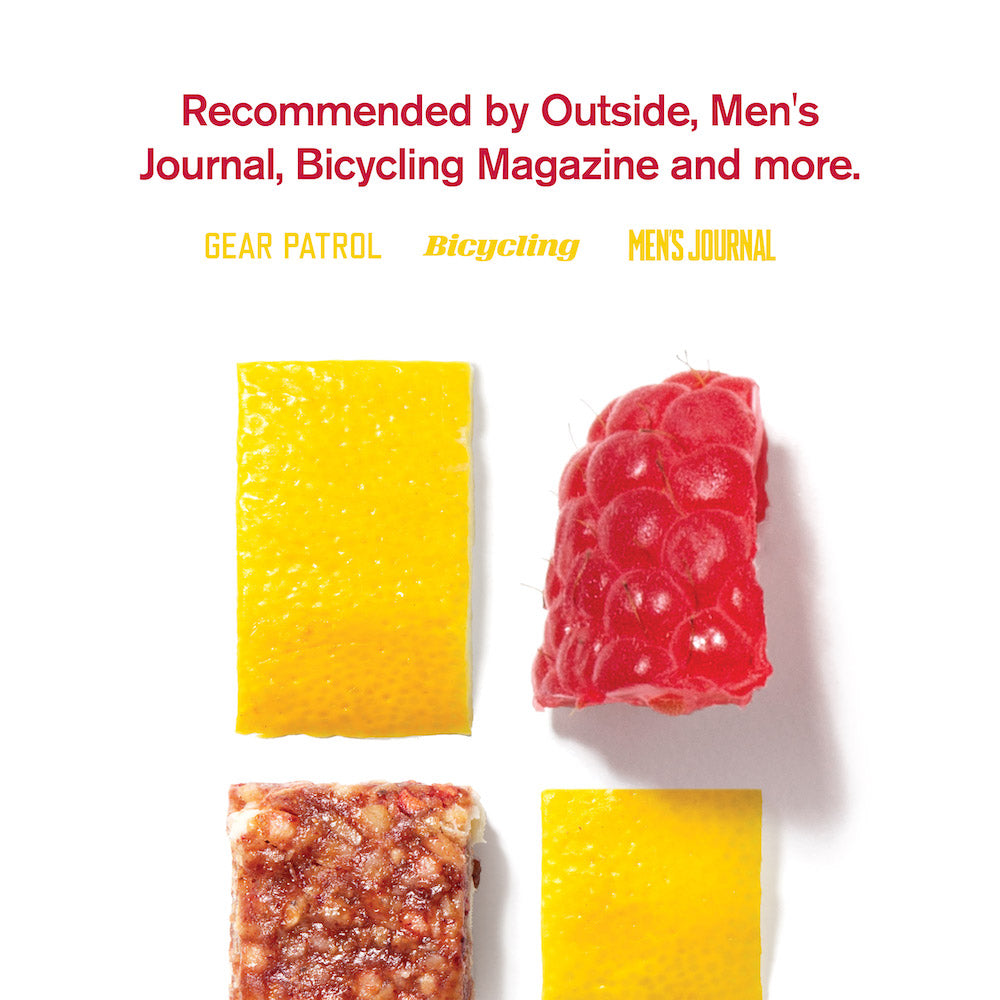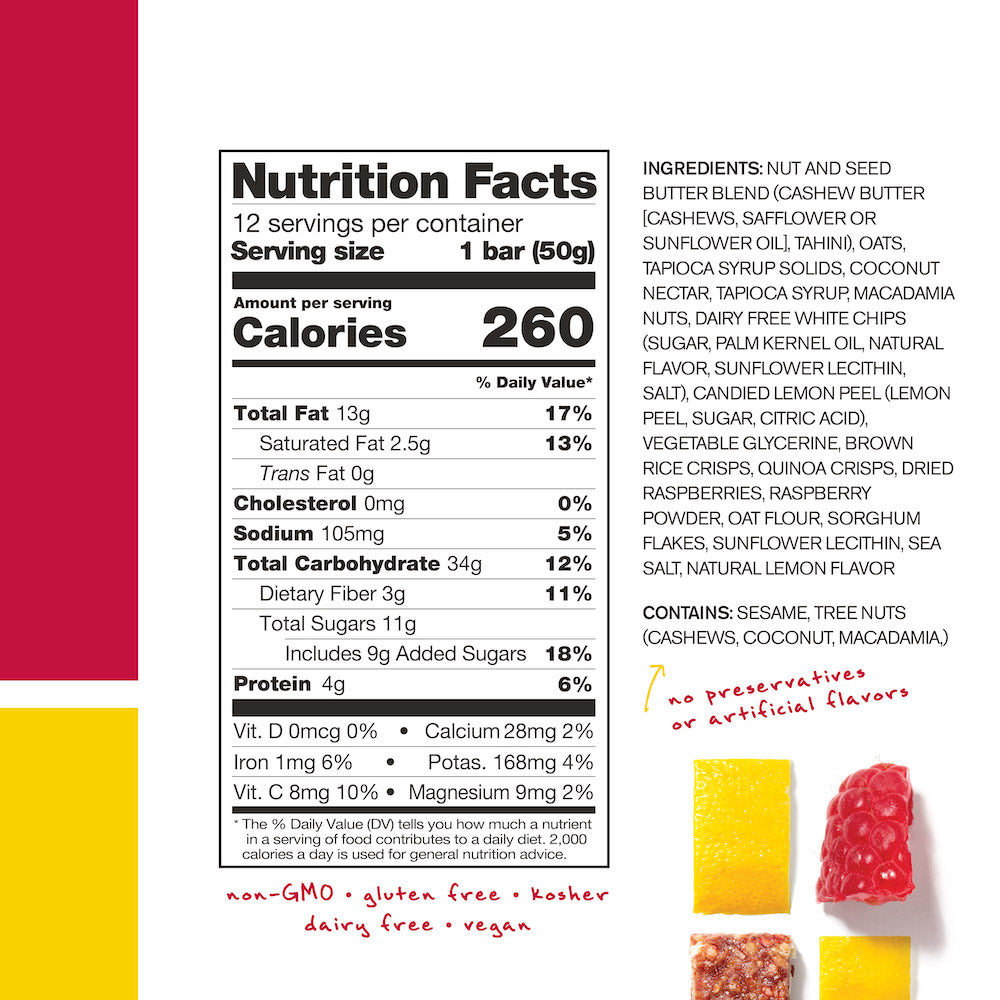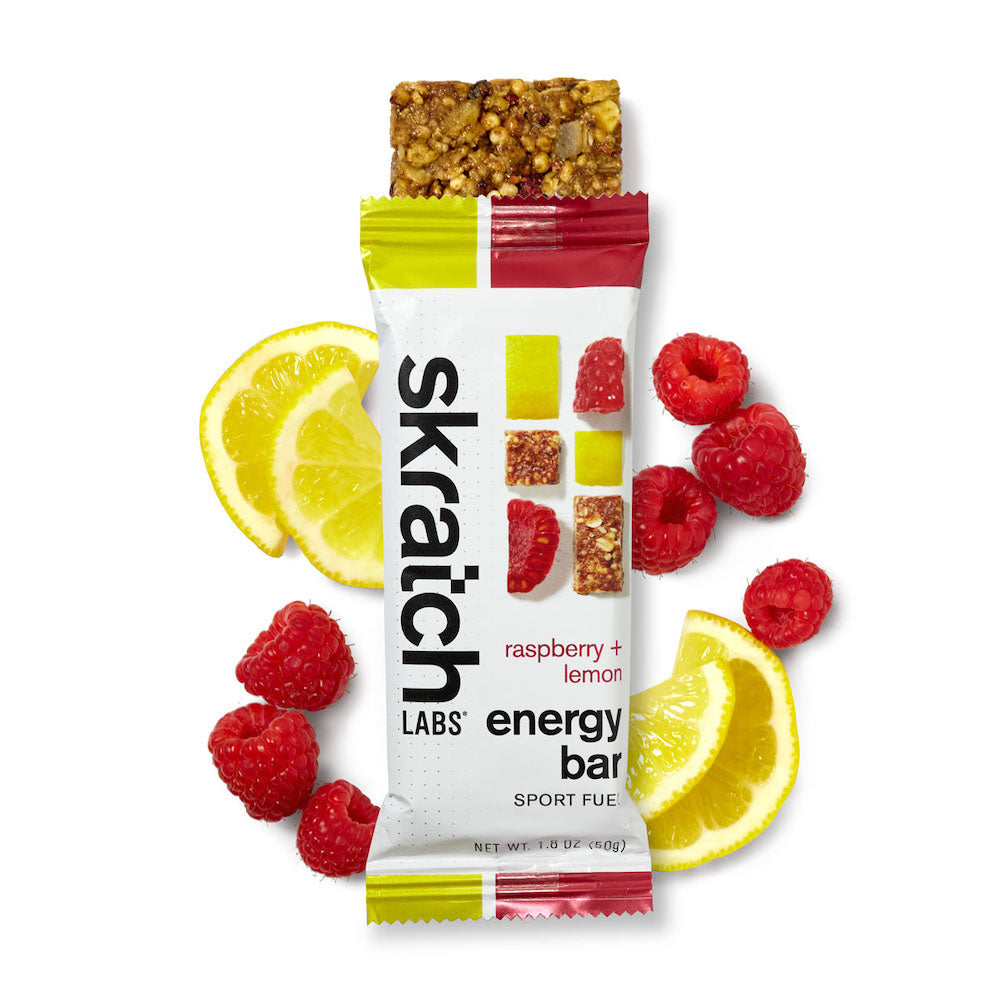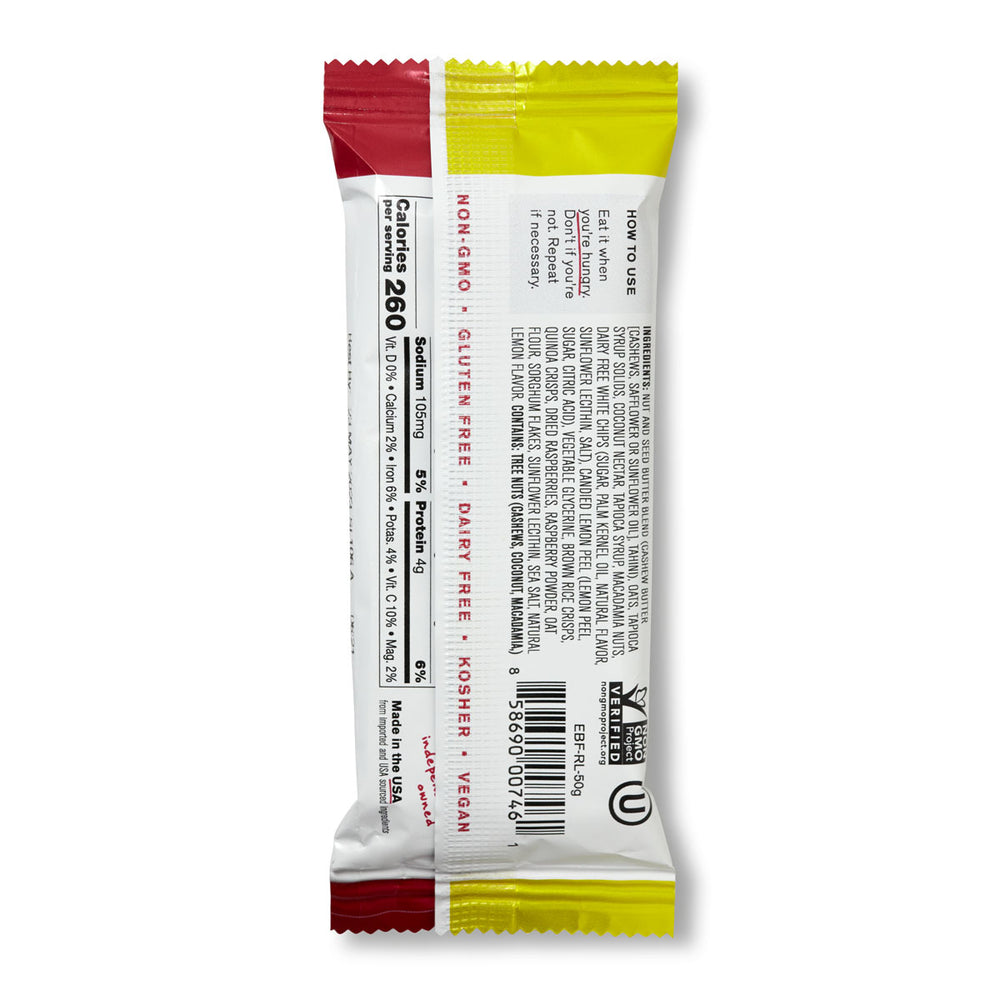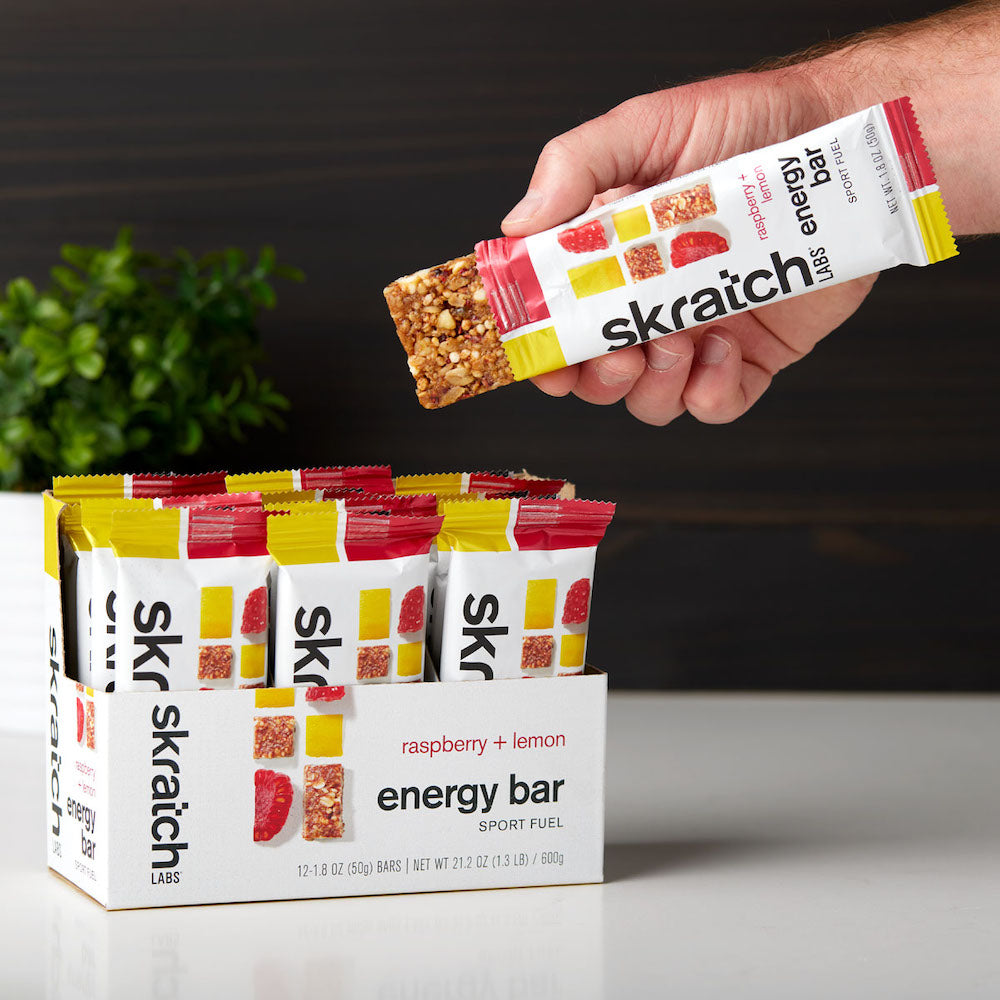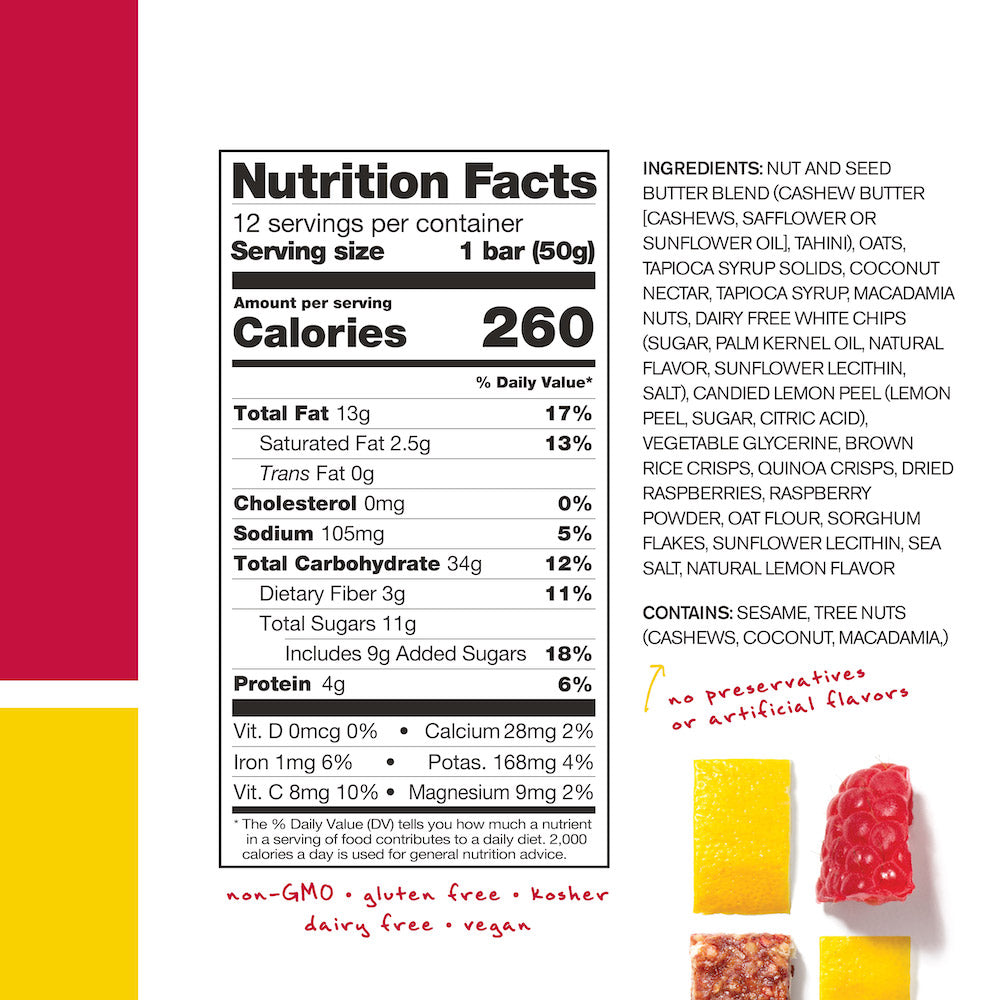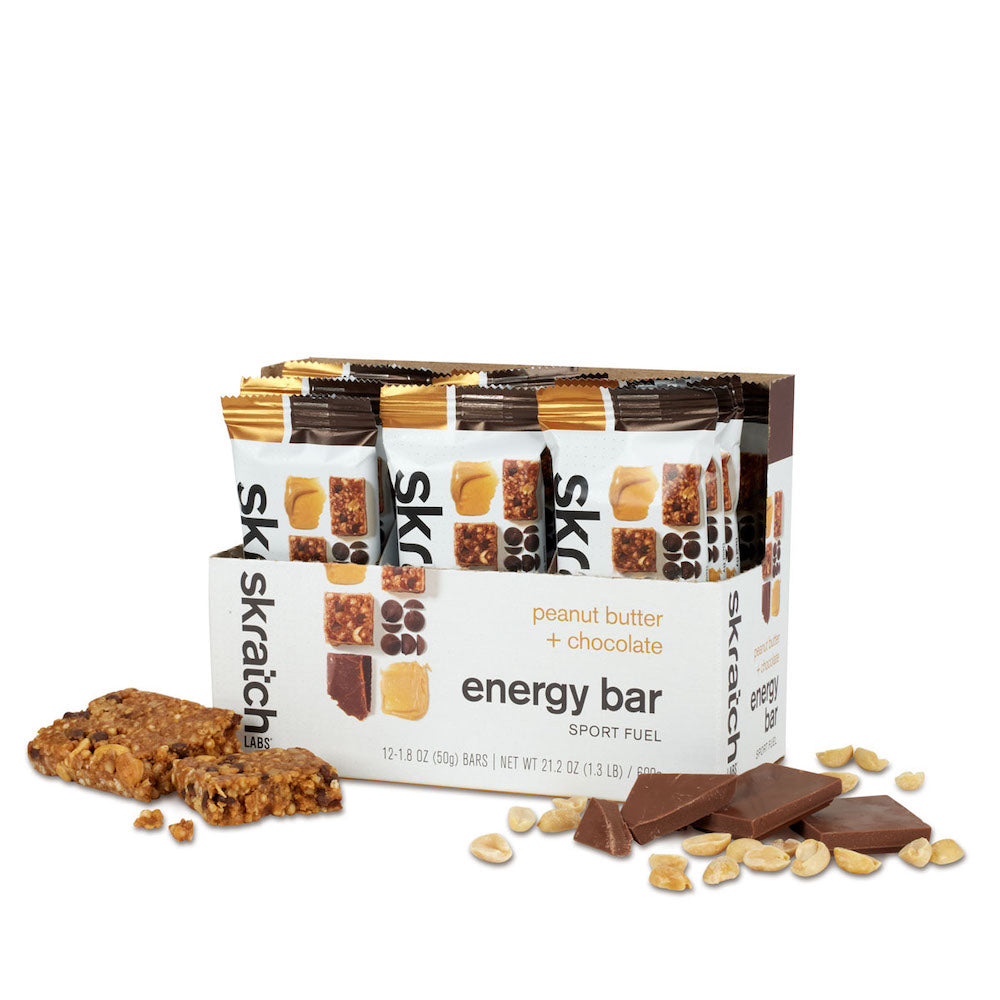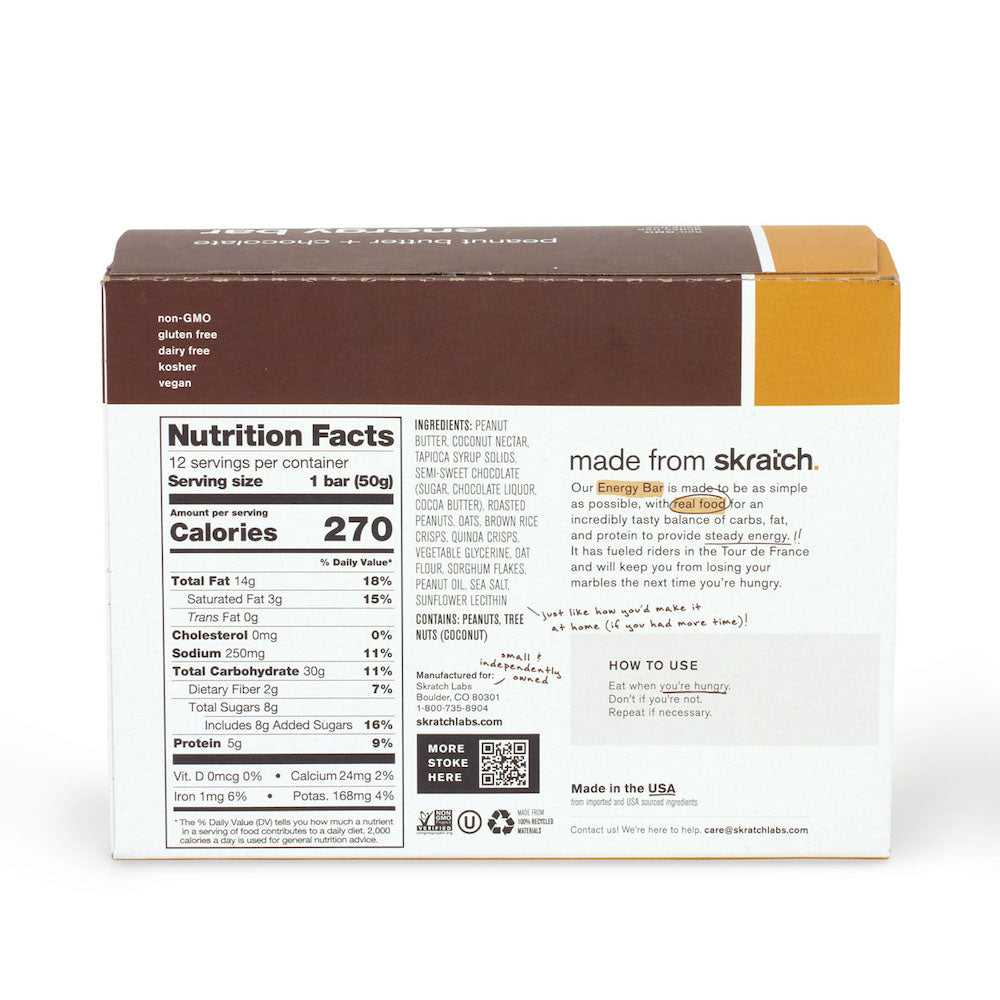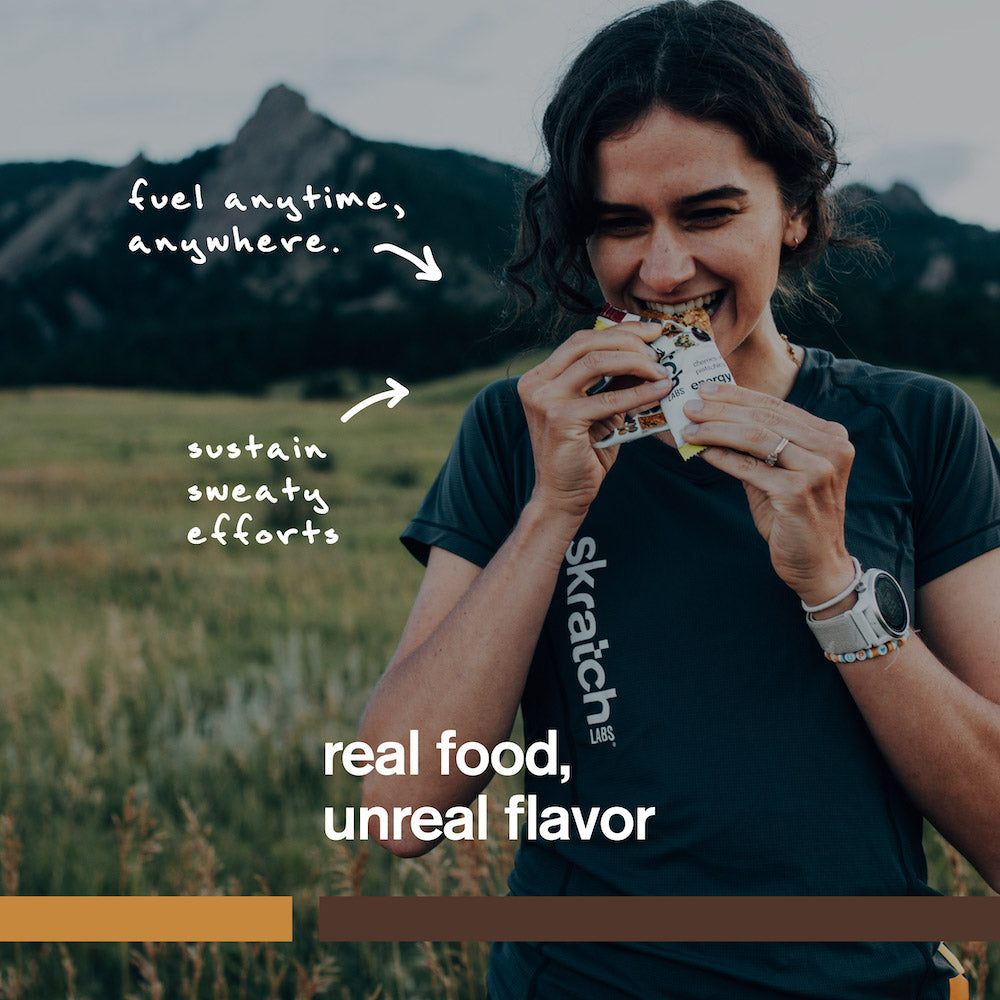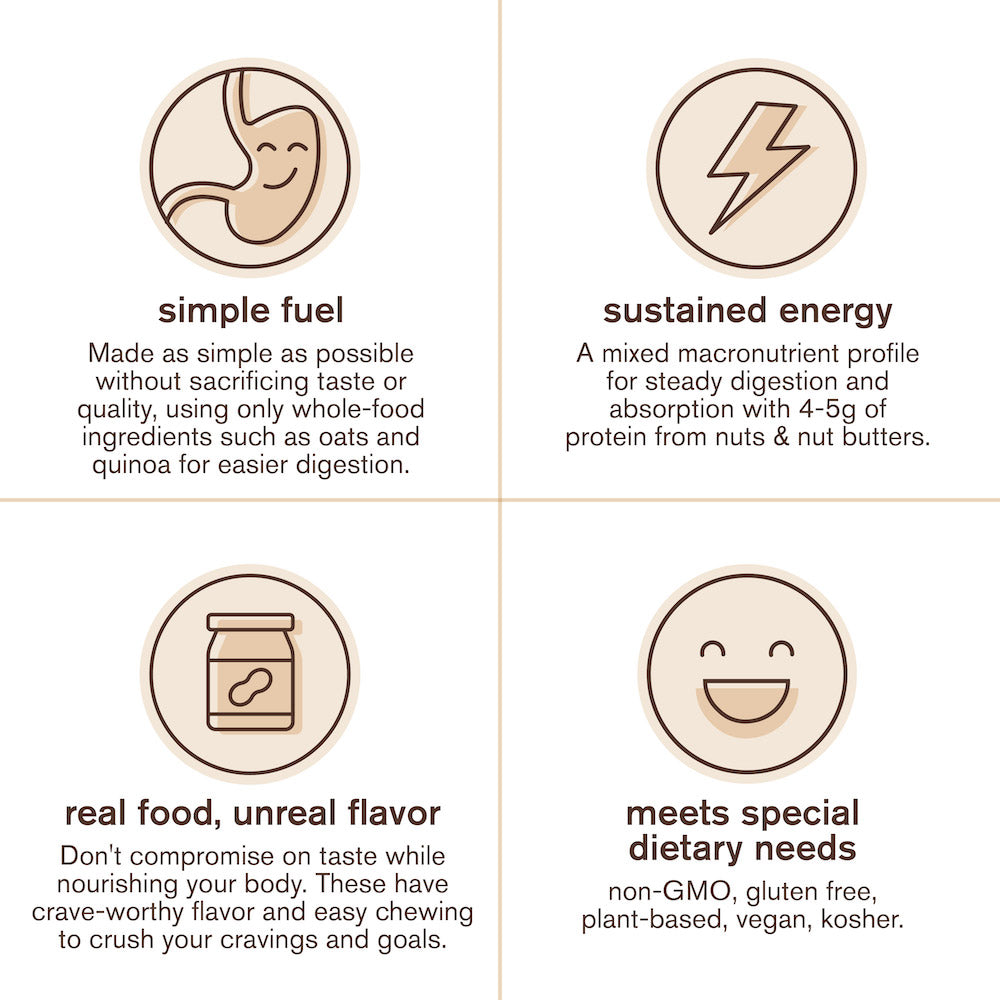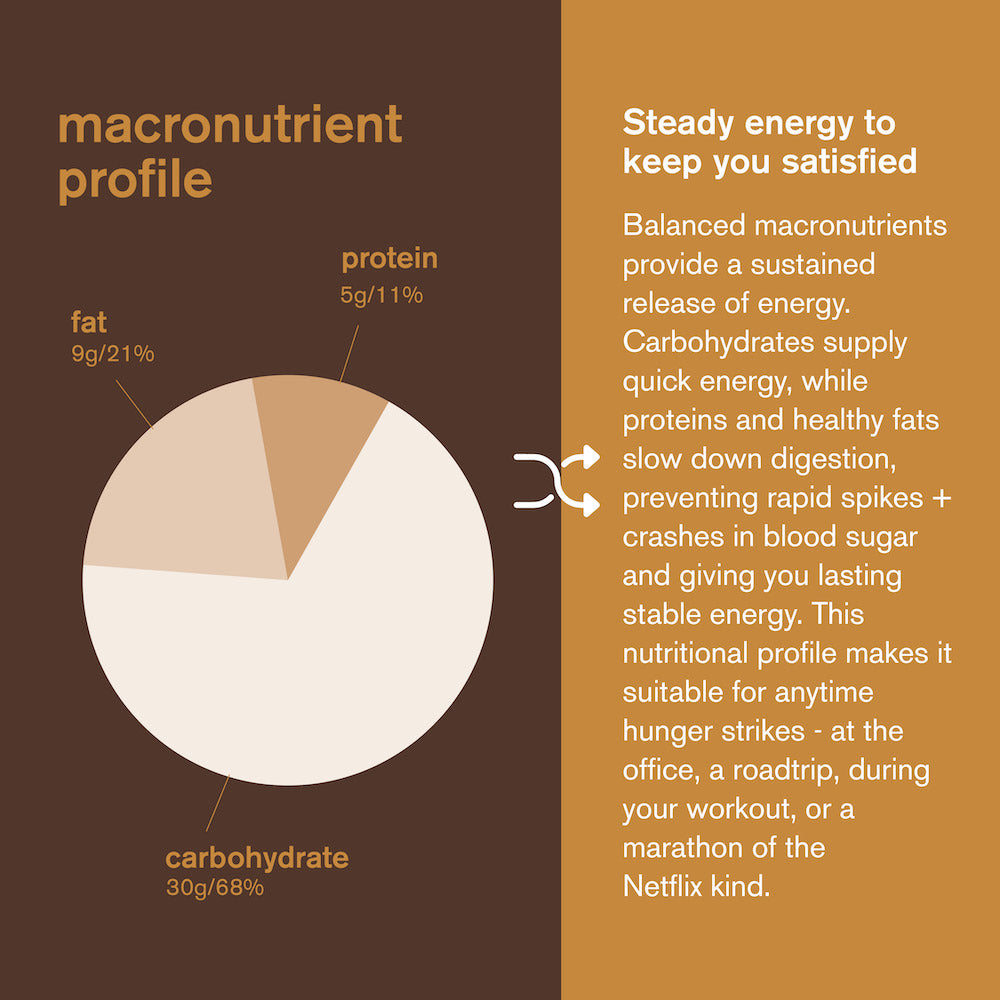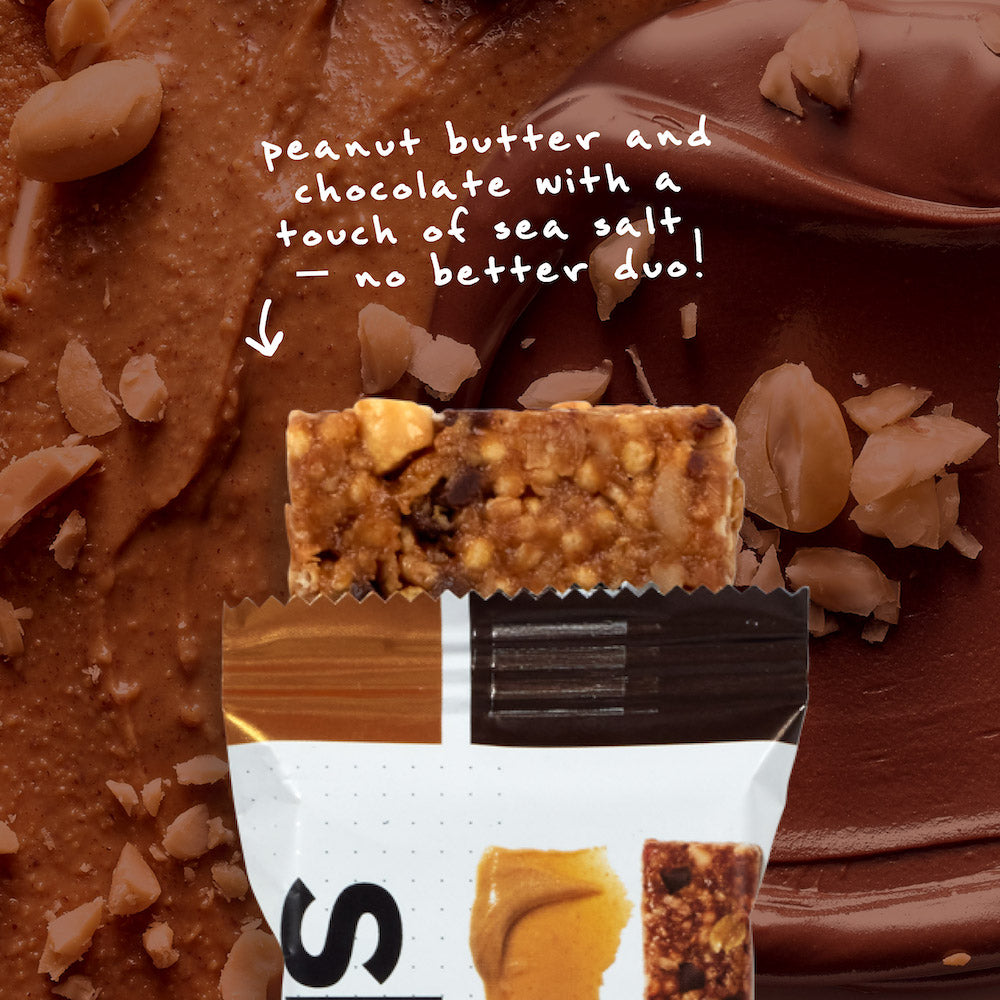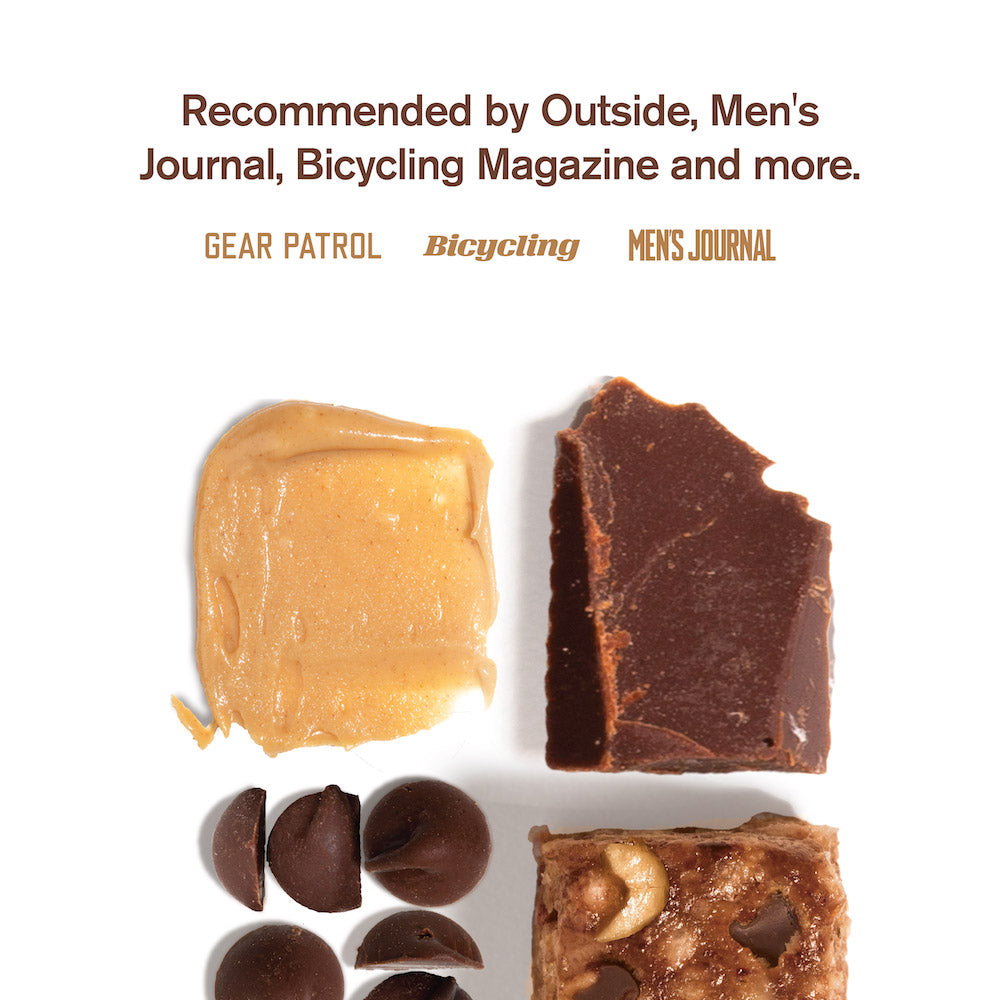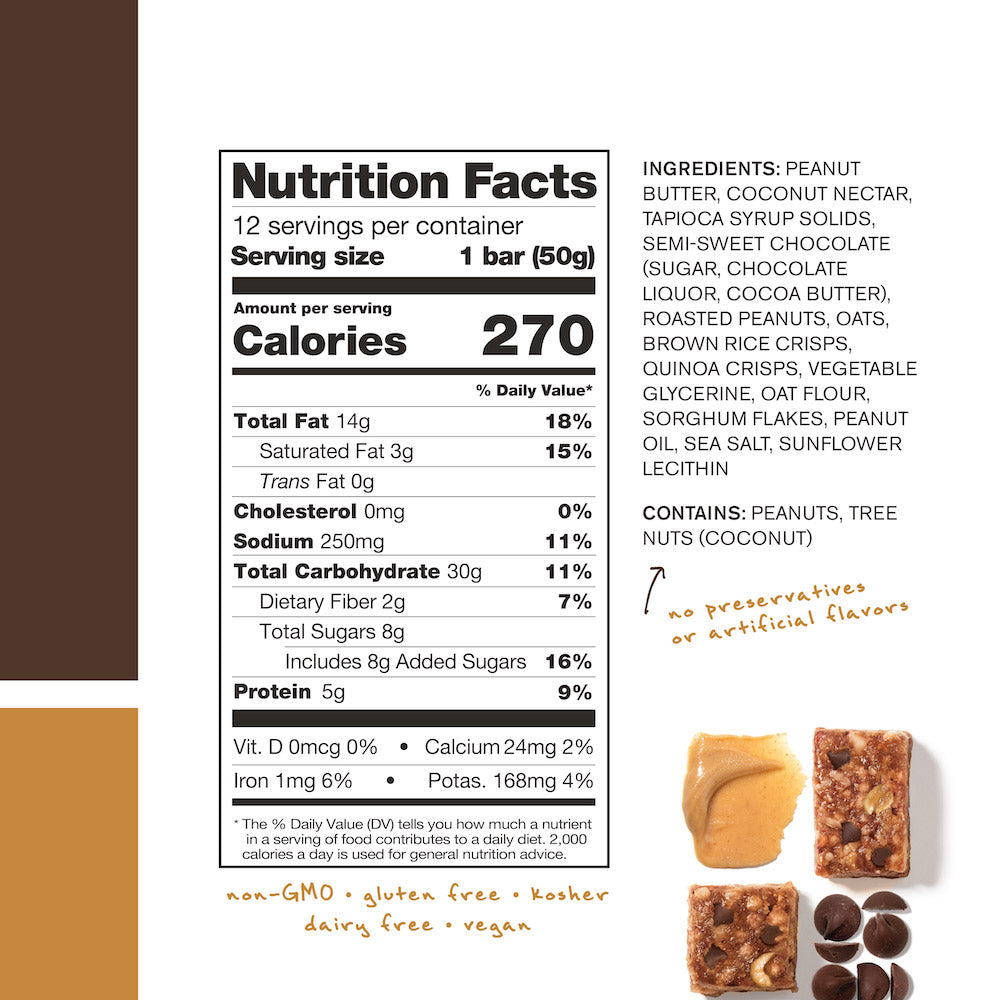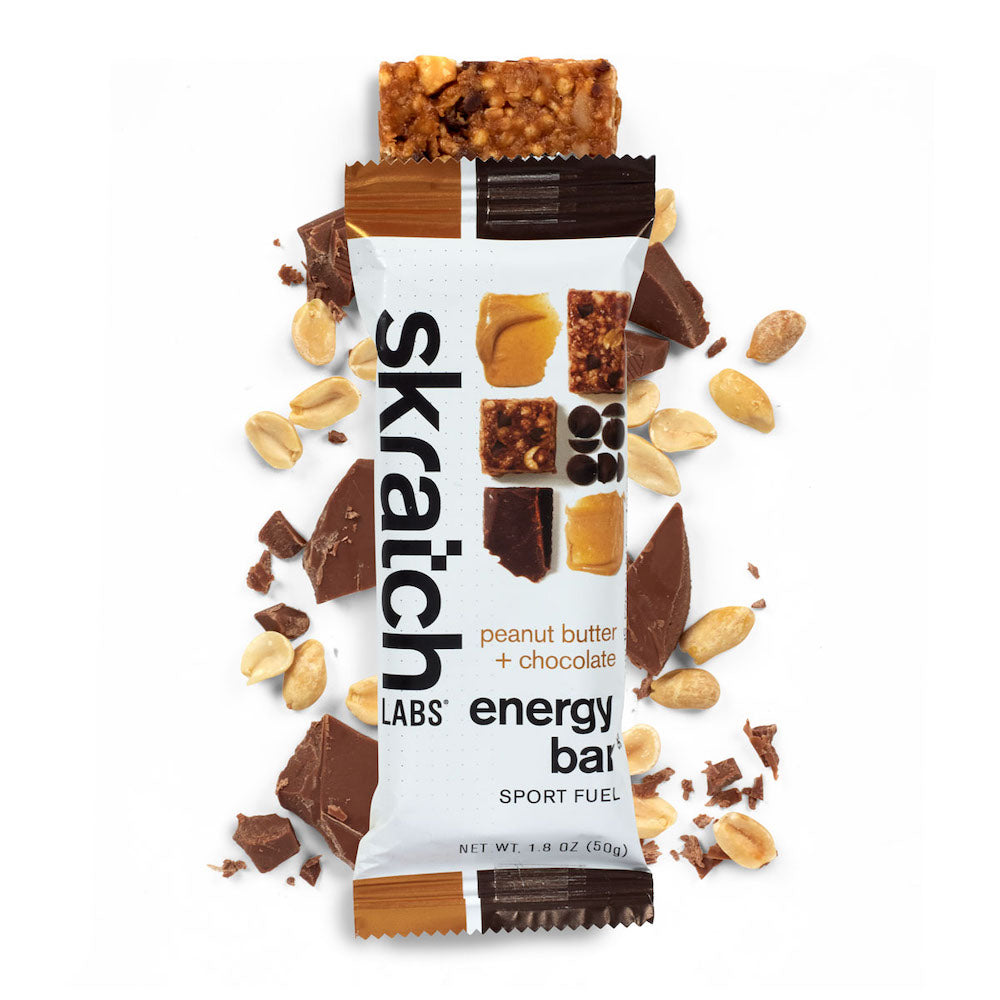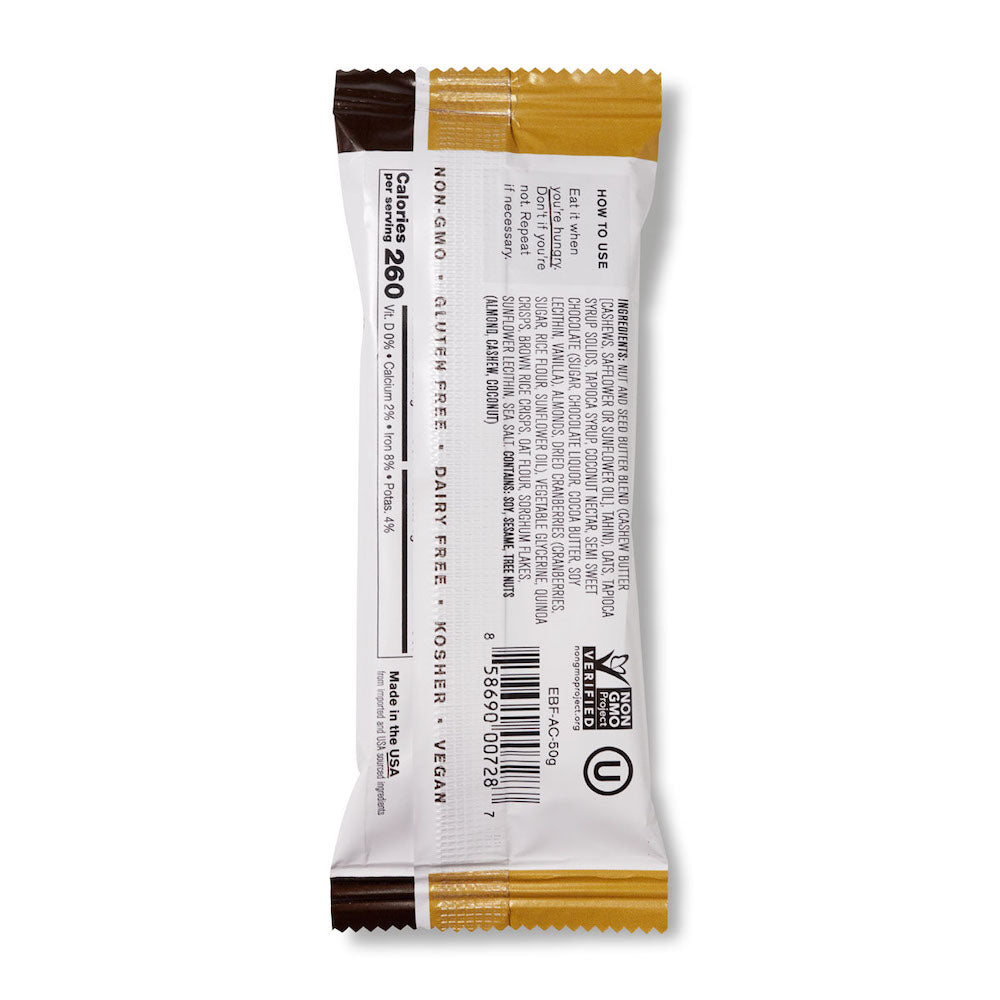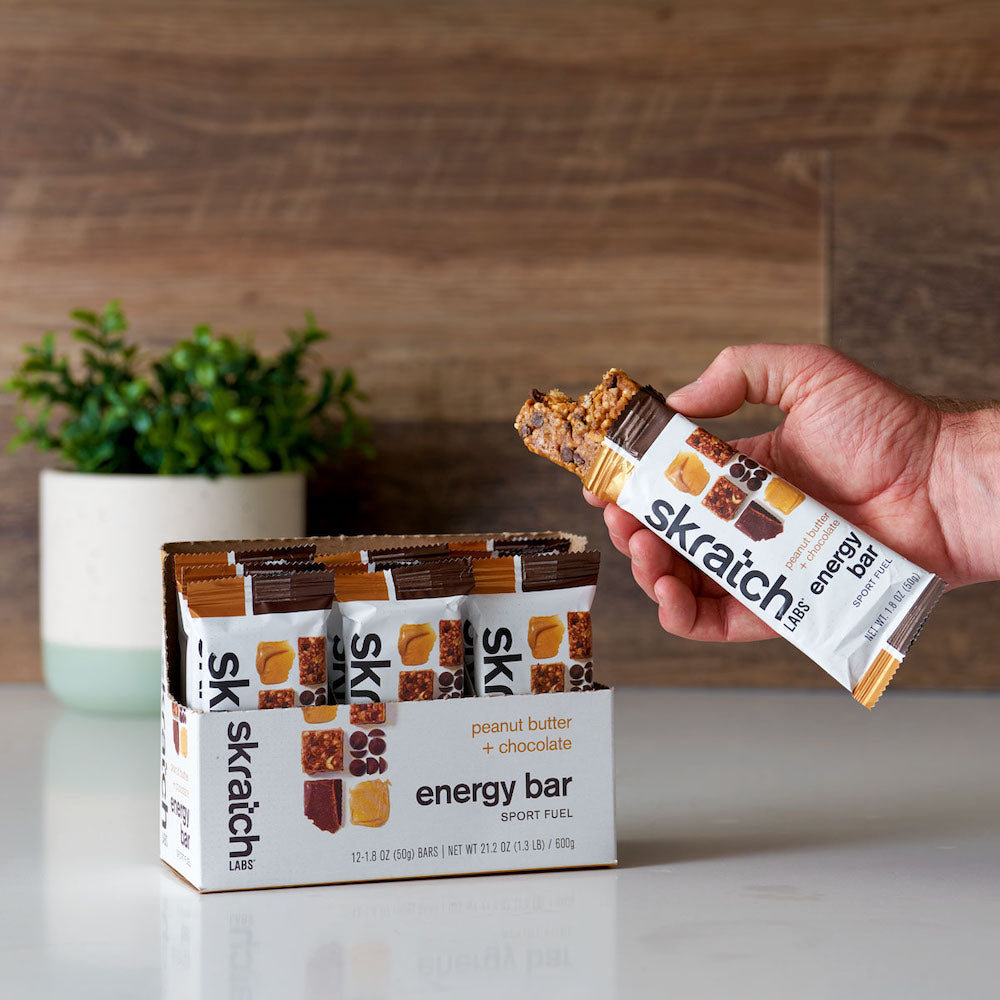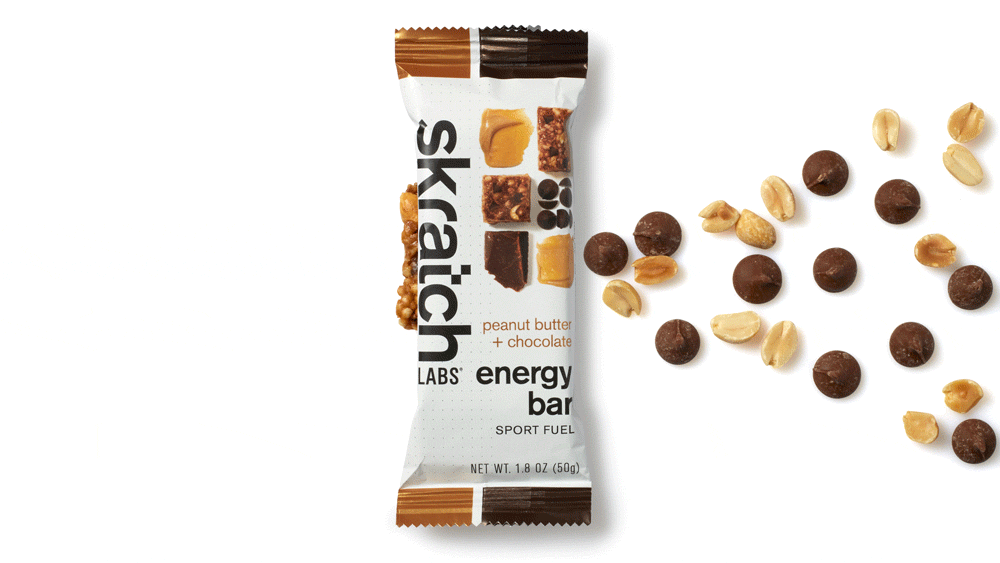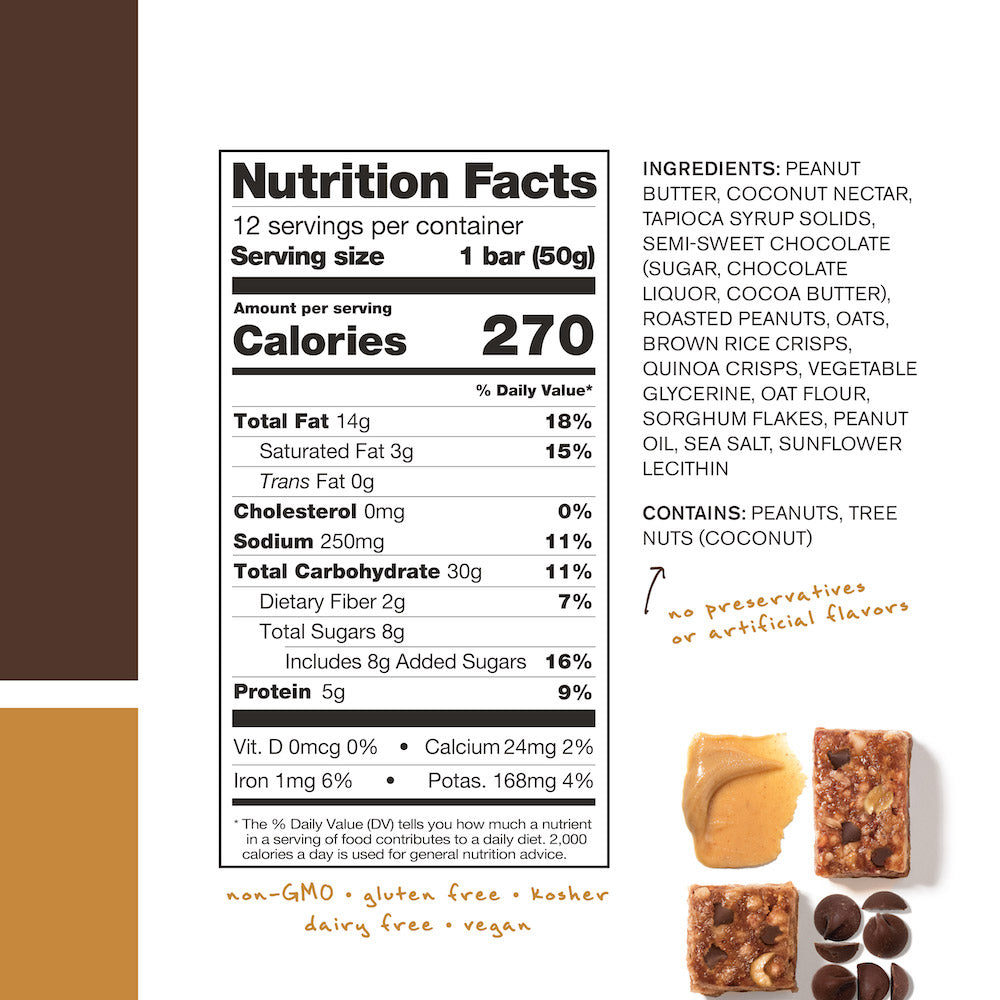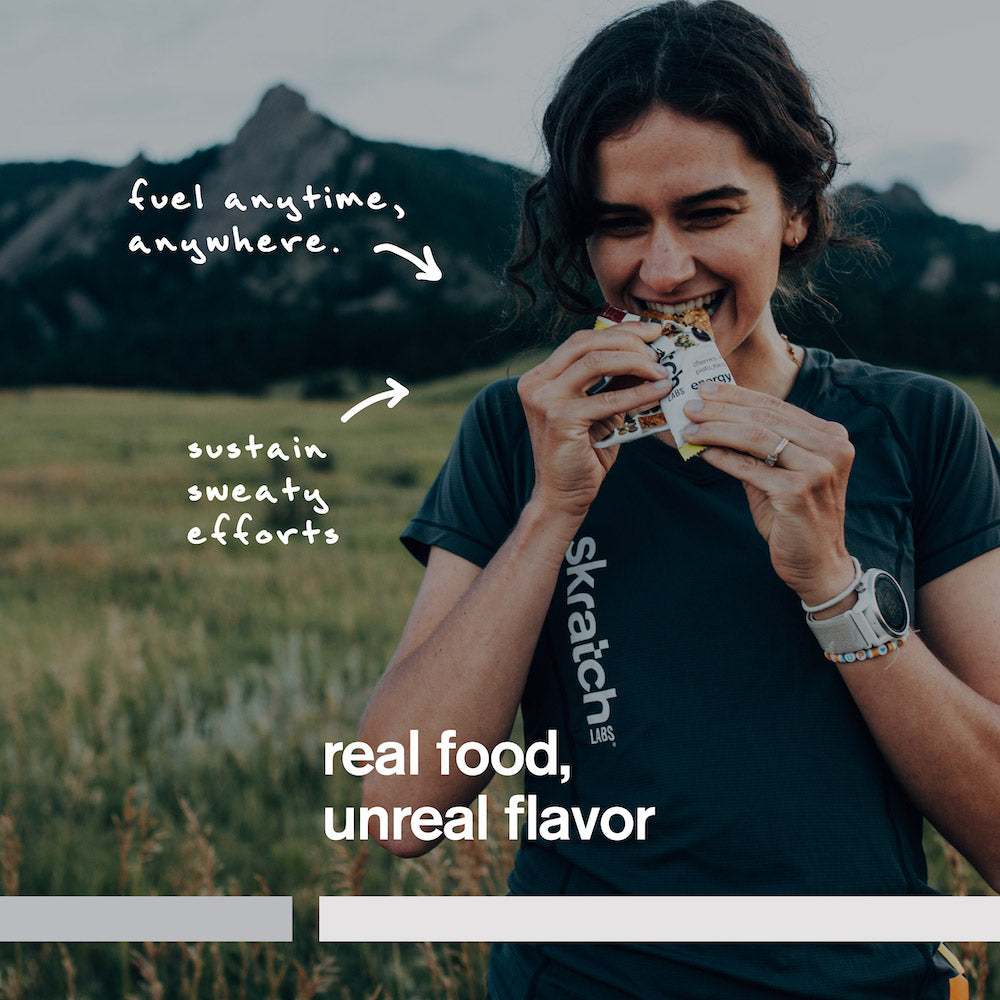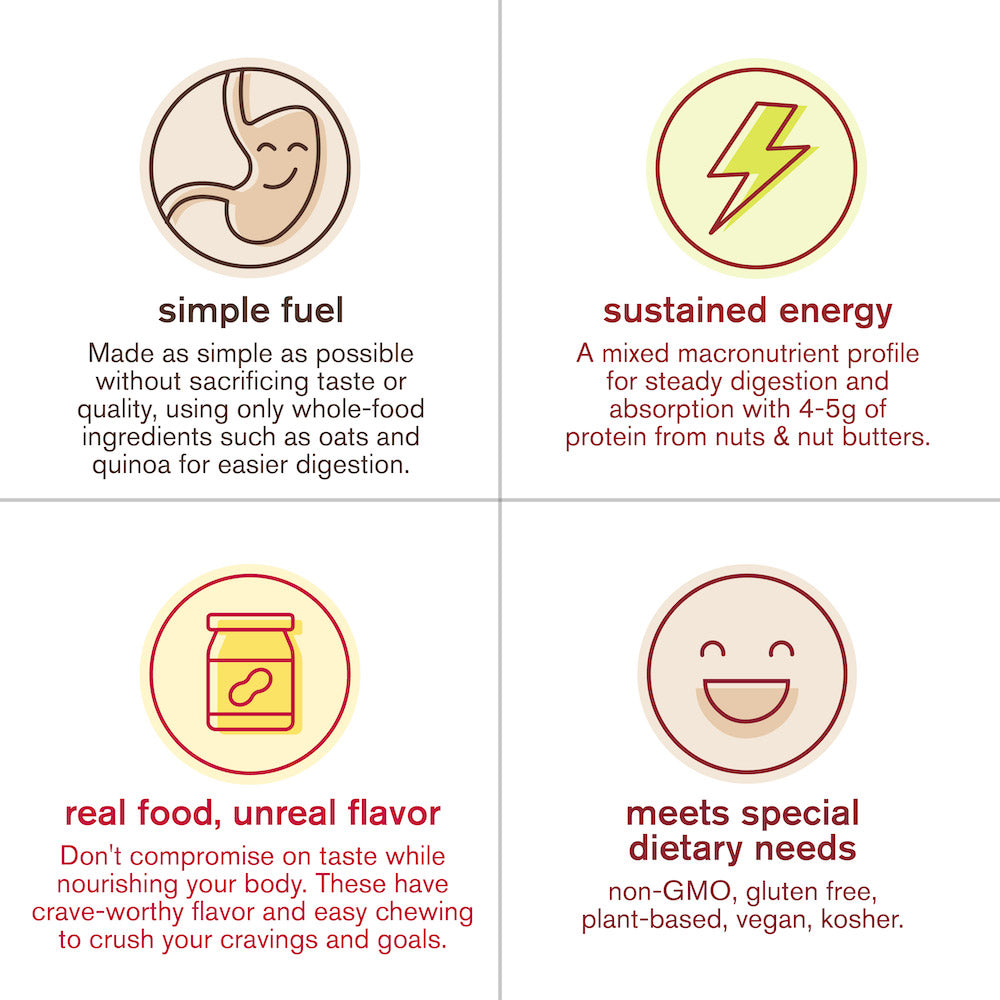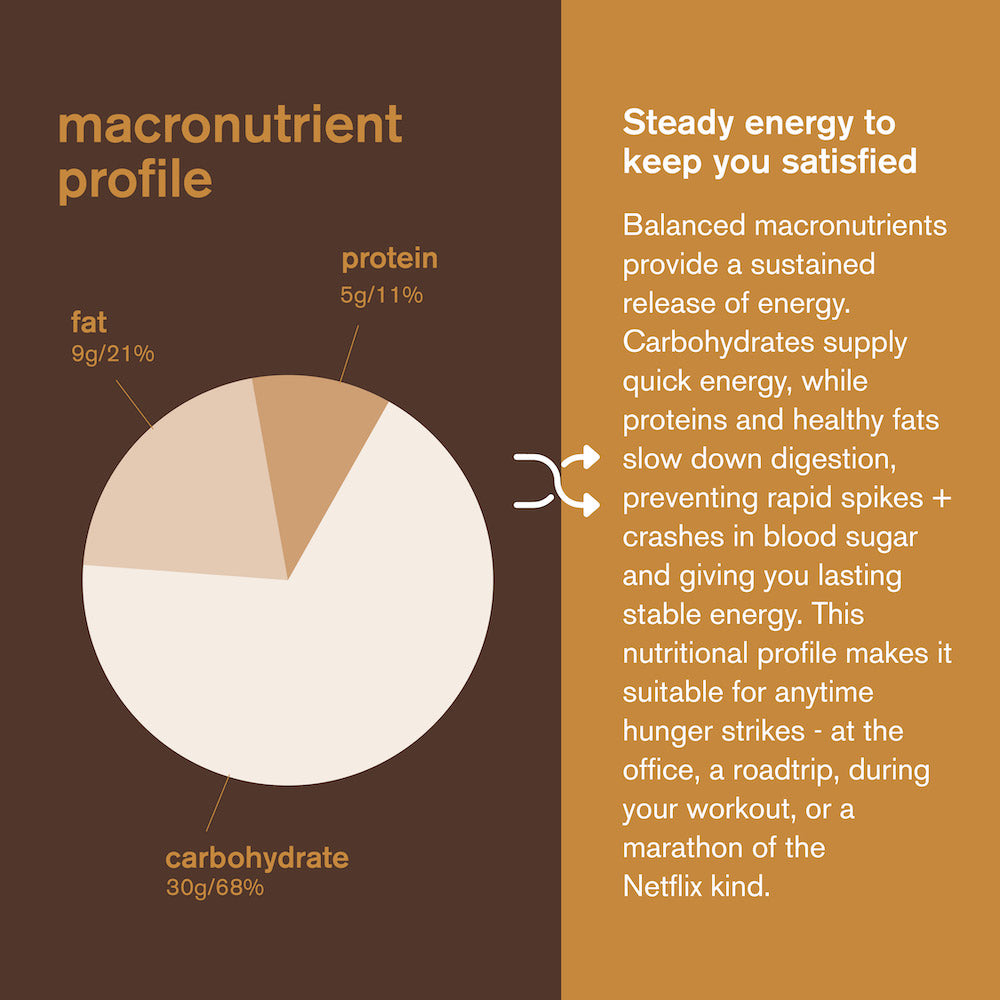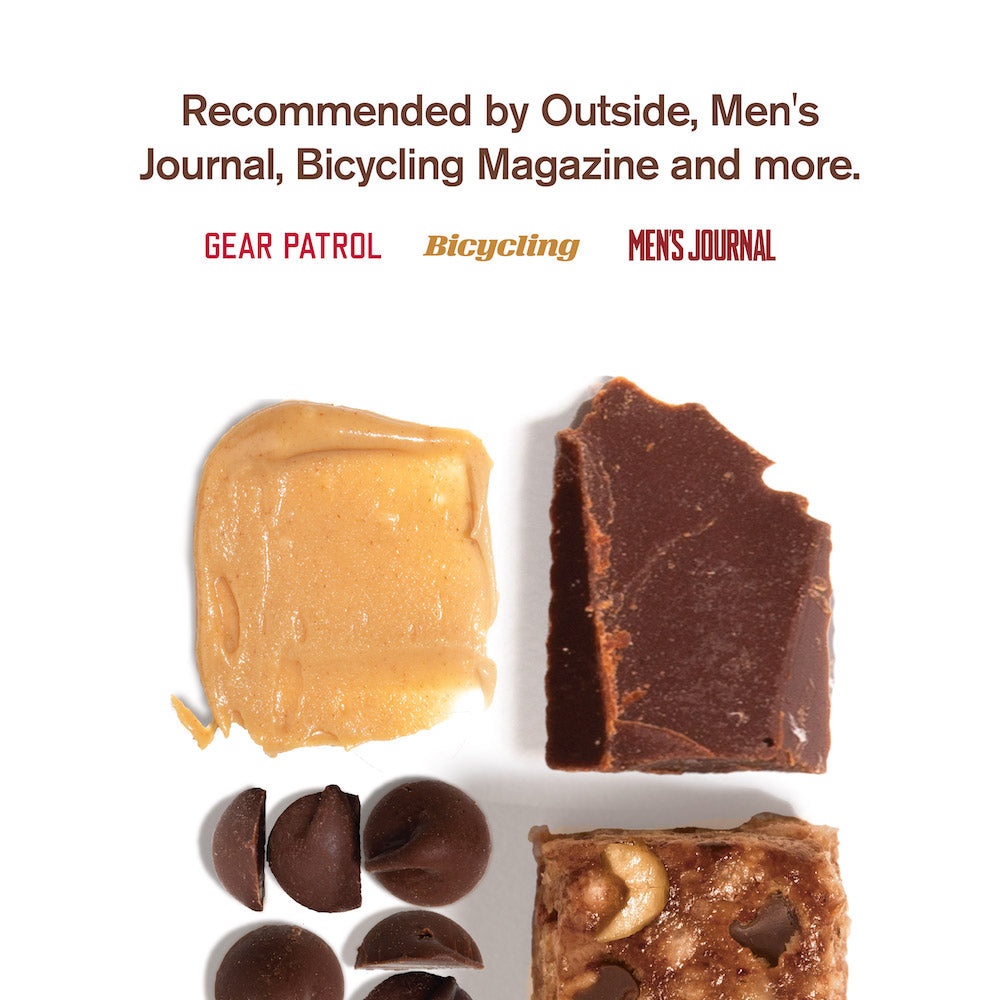 Real food. Unreal flavor.

Anytime Energy Bars bring convenience to real food snacks and are designed as a fuel source for when you need it most. We make them from scratch with fruit, nuts, nut butters, and quinoa for a nutrition profile that's suitable for a snack anytime you're hungry or during prolonged activity.
• Simple Fuel: made as simple as possible without sacrificing taste or quality, using only whole-food ingredients.
• Sustained energy: a mixed macronutrient profile for steady digestion and absorption with 4-5g of protein from nuts & nut butters.
• Easier digestion: half as much sugar as the leading energy bar*, no protein isolates or brown rice syrup, free from anything artificial, and no preservatives.
• Meets special dietary needs: non-GMO, gluten-free, plant-based, vegetarian, kosher.

*Skratch Labs Anytime Energy Bar: 9-11g of sugar per serving; Leading Energy Bar: 21g of sugar per serving

Read more here
Tastes like water, performs like a sports drink

Clear Hydration Drink Mix was designed because every athlete has a different sodium sweat concentration, and some need more sodium in their hydration drink than others. The beauty of Clear Hydration Drink Mix is that you can add as much as you need without impacting the flavor.
• Easy drinking: Just a hint of flavor that won't wear out athletes' taste buds during long or hot days.
• Electrolyte flexibility: Each serving contains 270mg sodium, but users can add as much or as little as needed without impacting flavor.
• Flexibility to use for all-day sipping or stack for bigger efforts: Lower sugar (4g) and lower calories (50) for drinking in high volumes or during less active times. Or you can do multiple scoops to match Sport Hydration Mix ratios or combine with Sport or Superfuel for different endurance needs.
• Incredibly low osmolality means easy digestion without disruption.

Read more here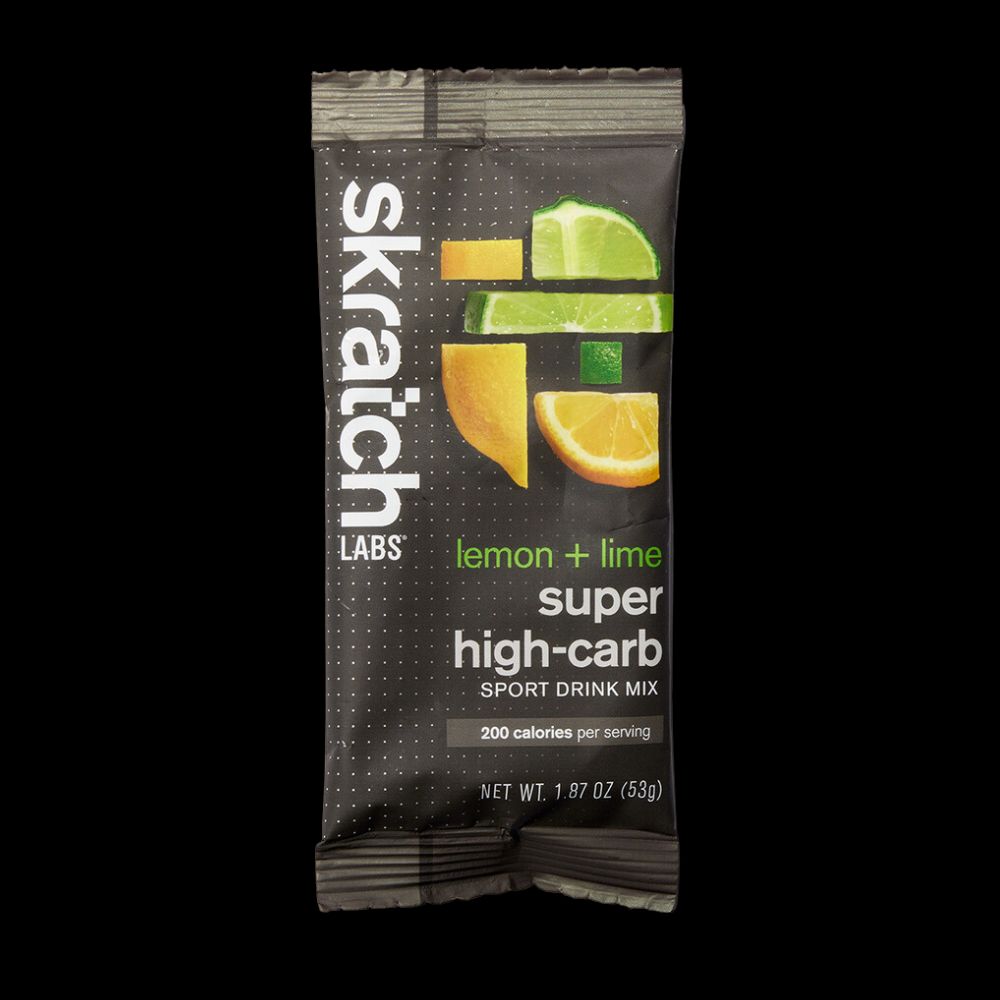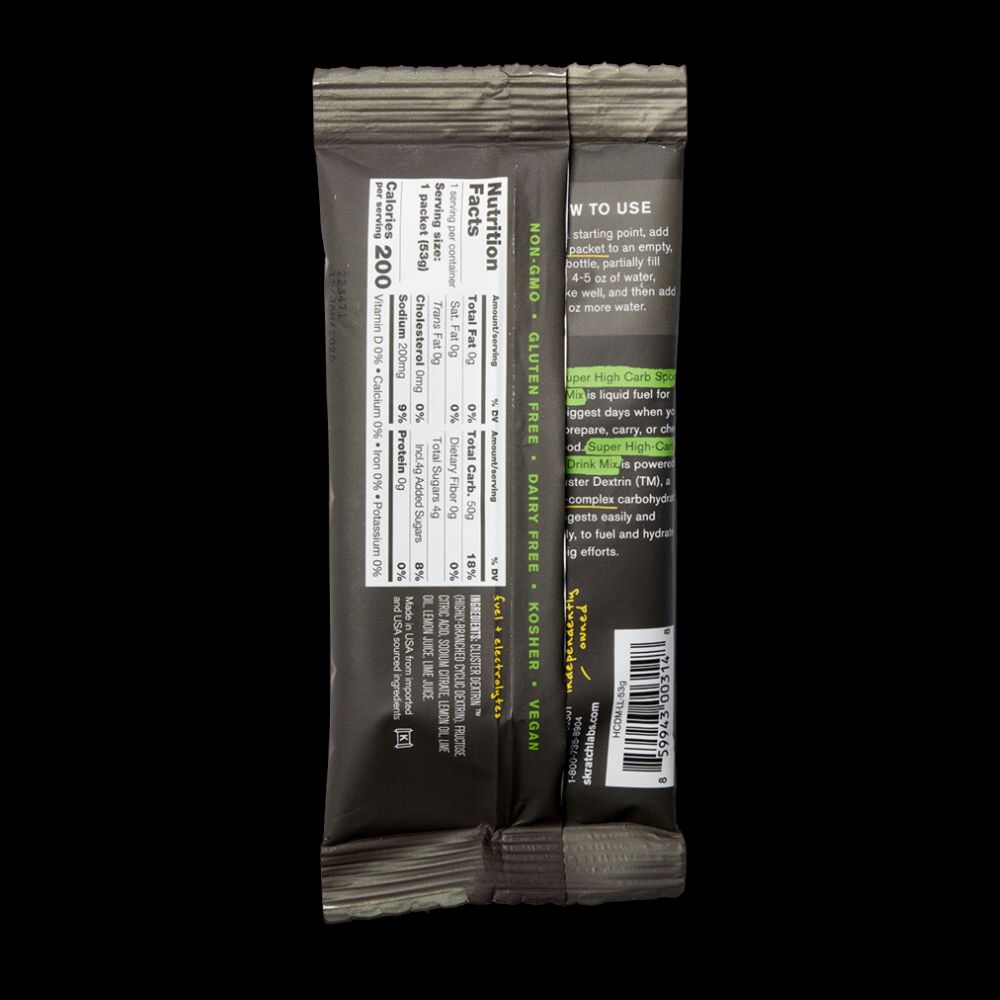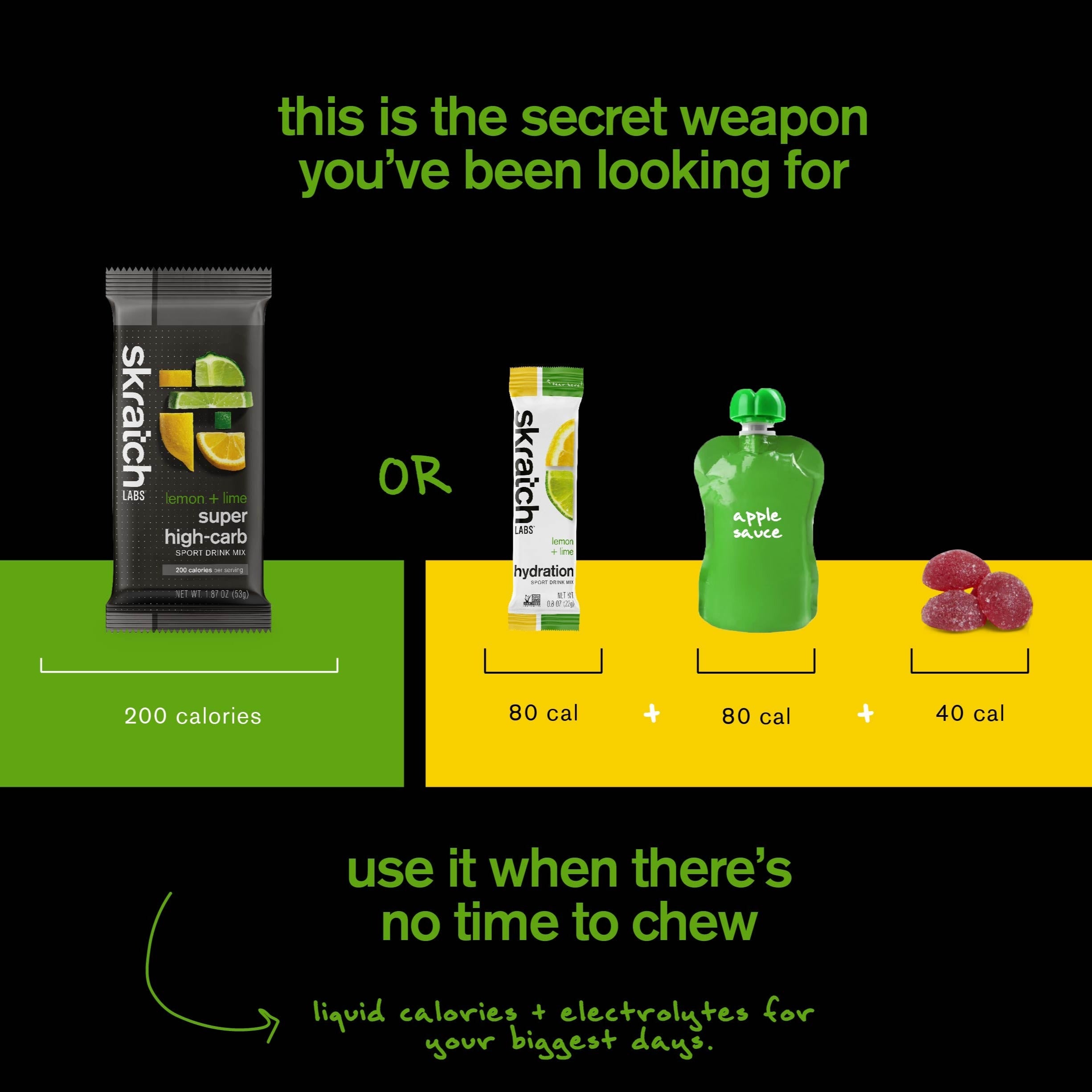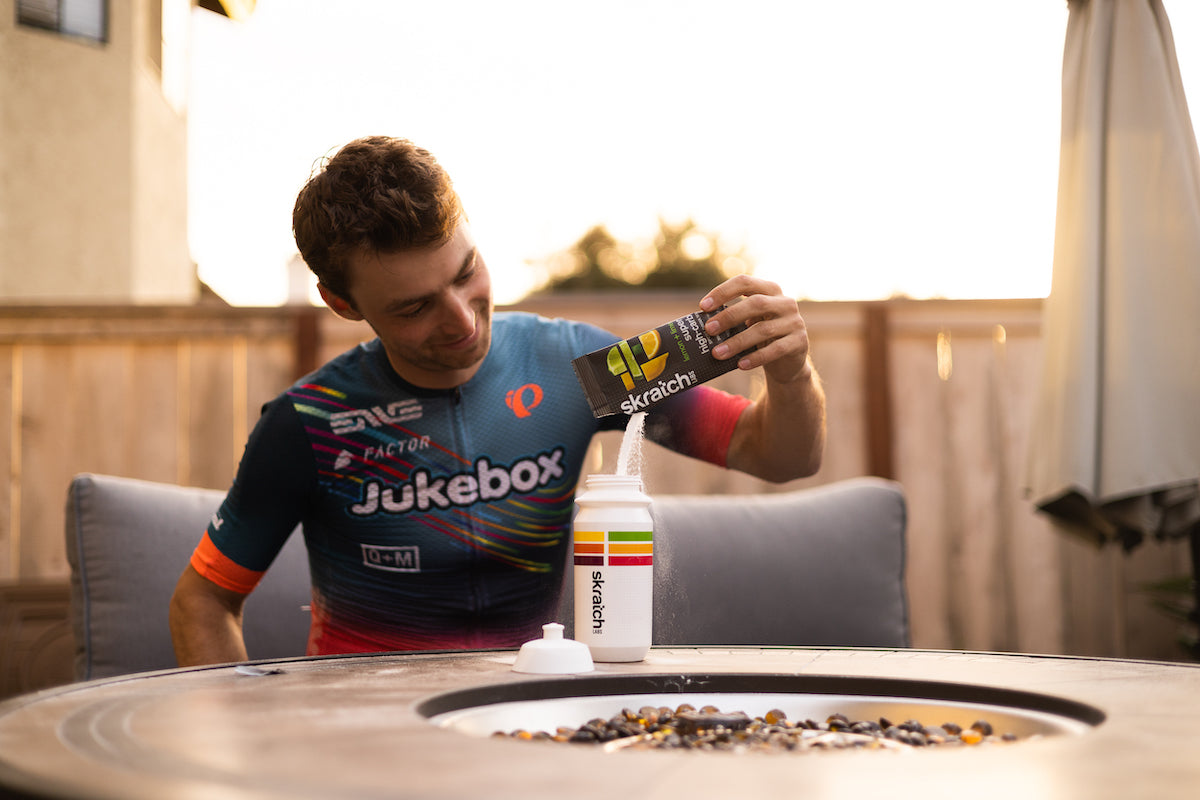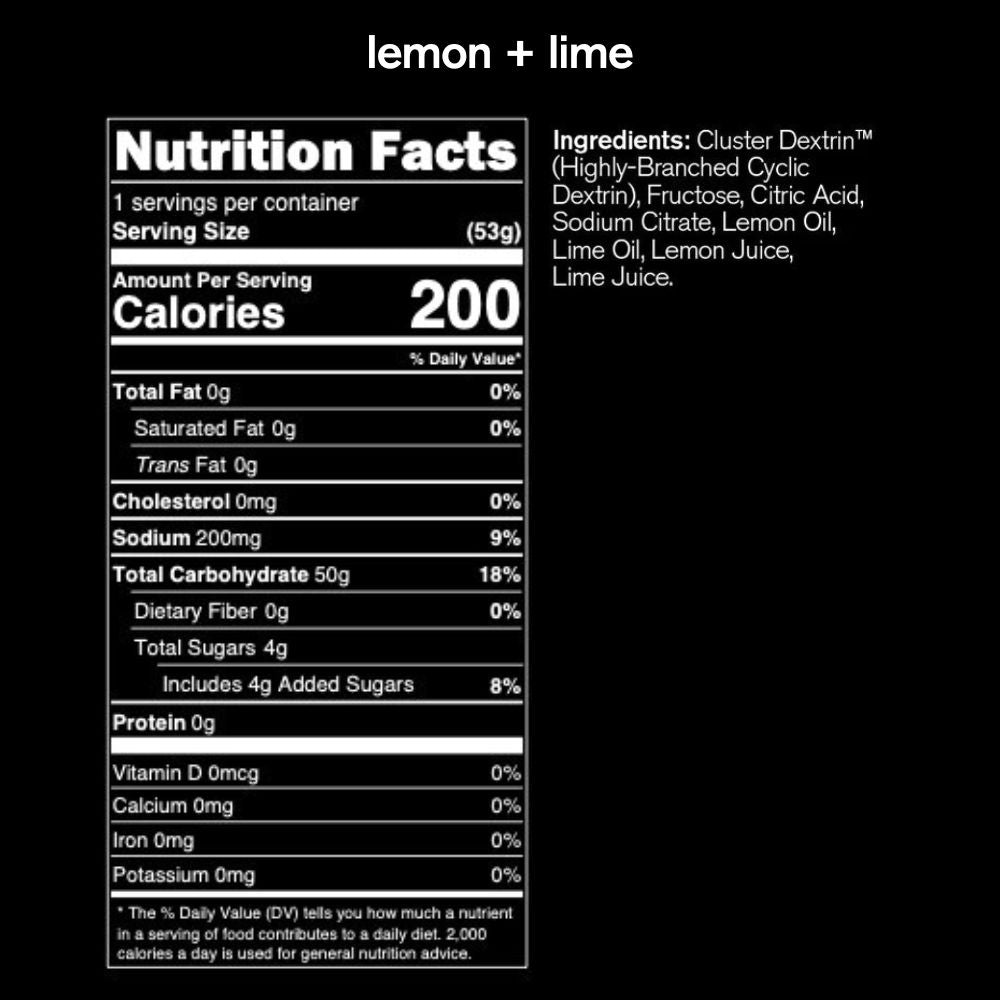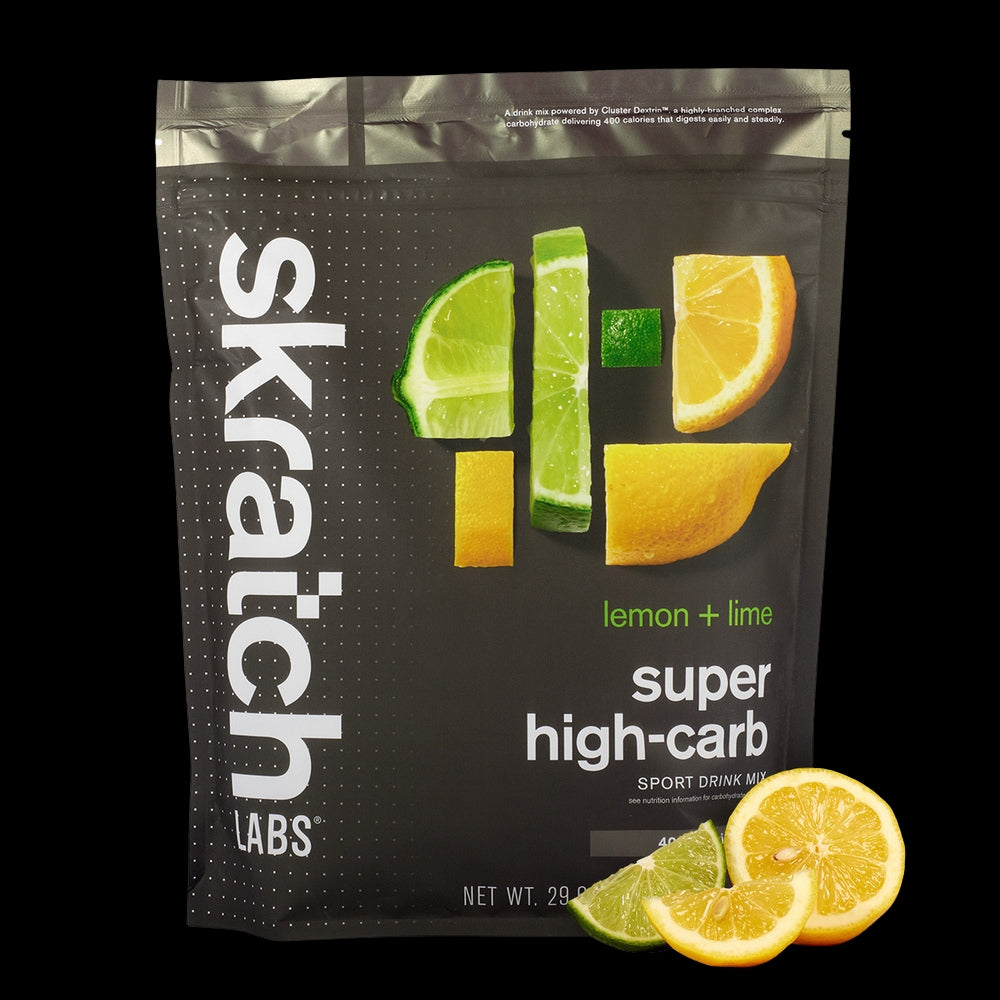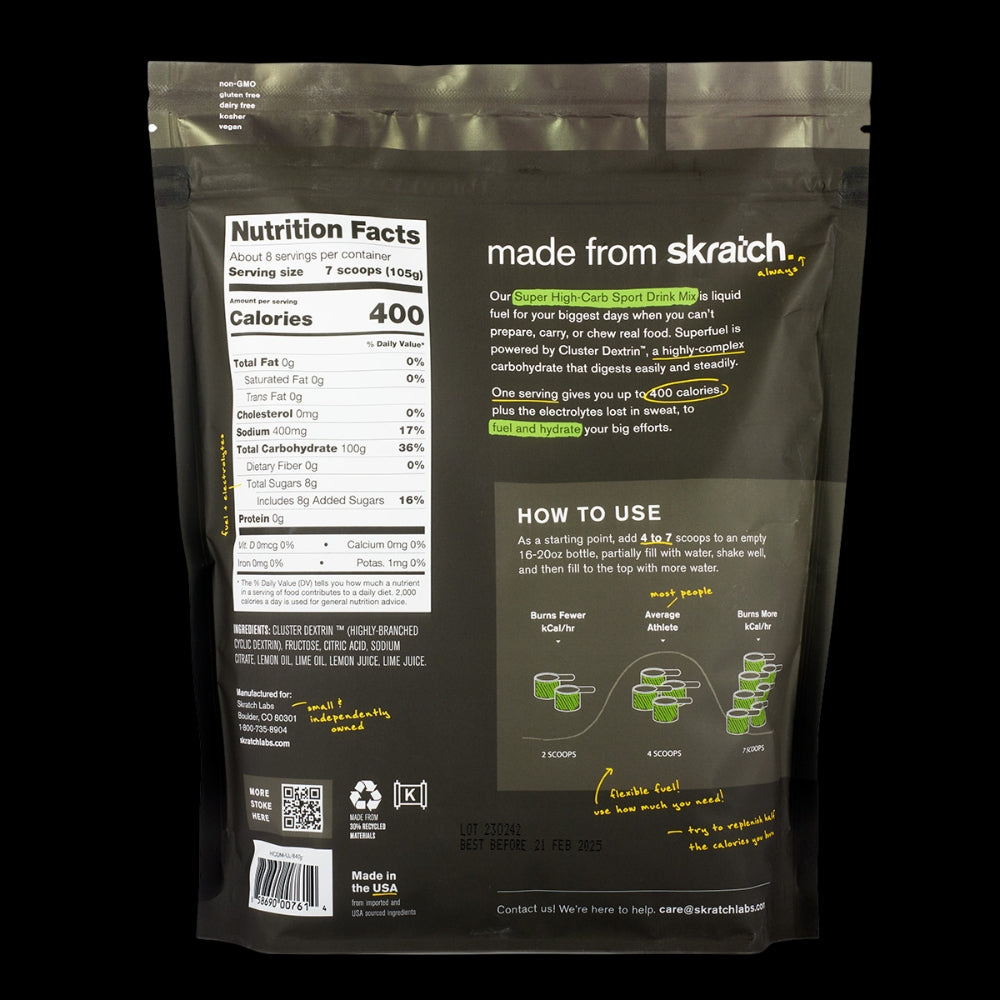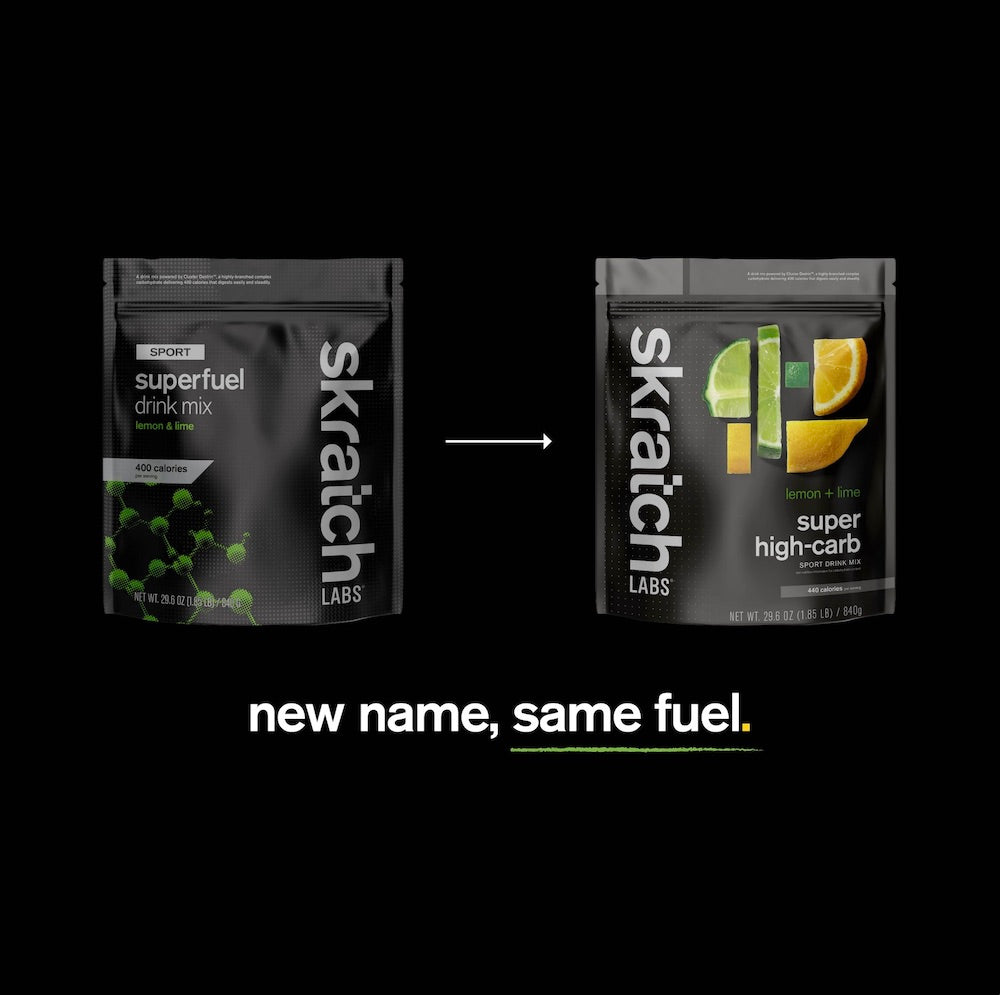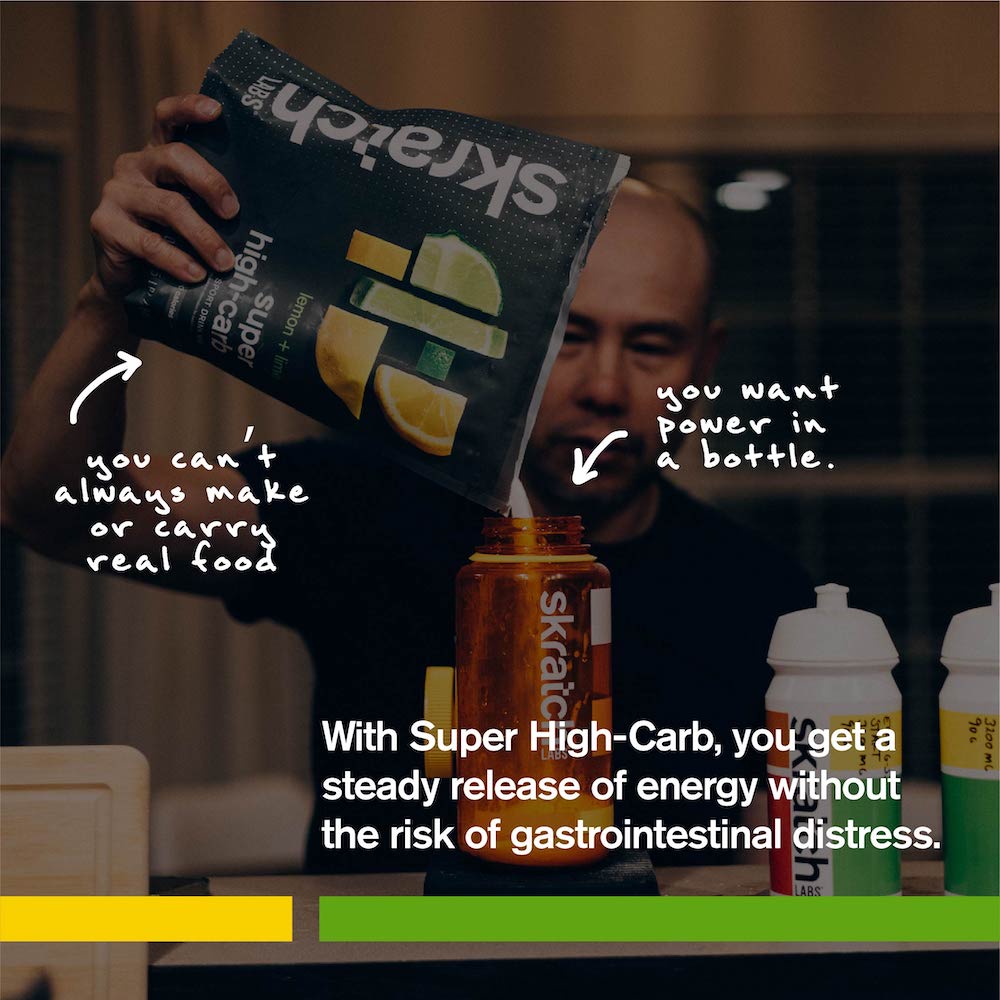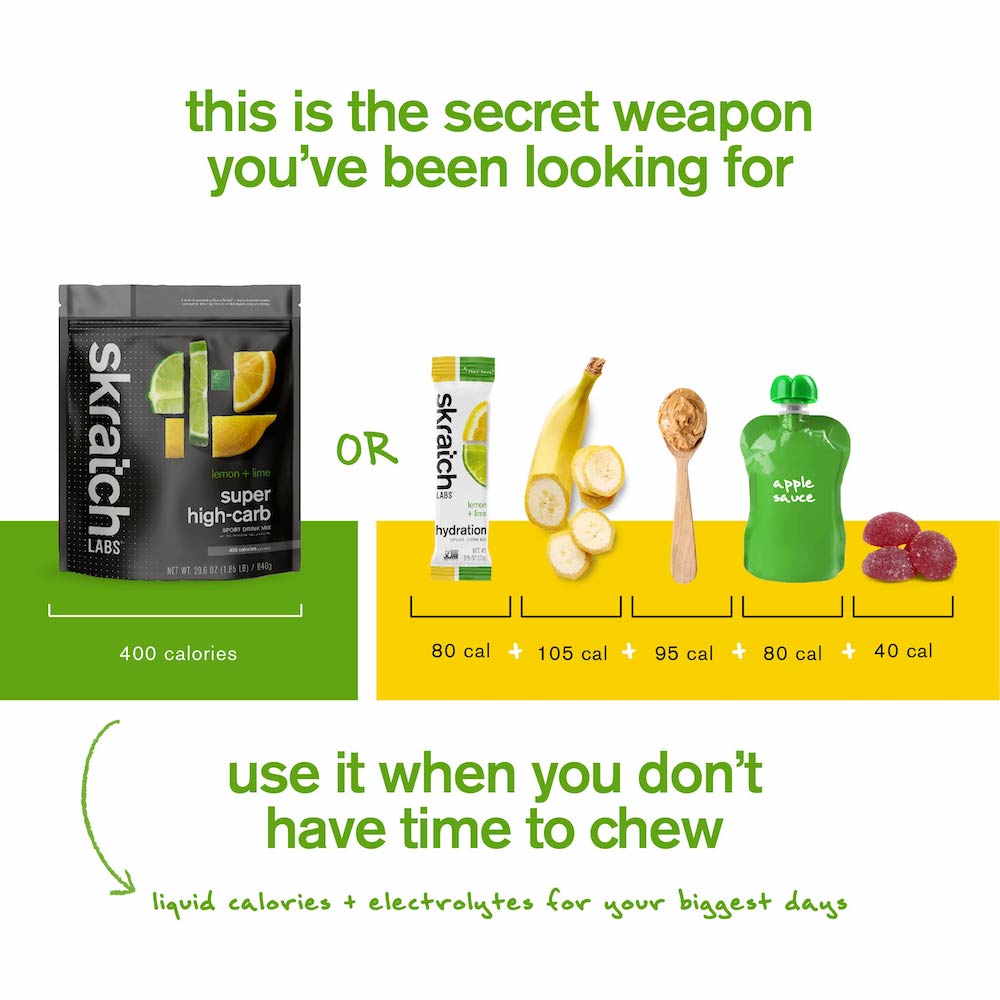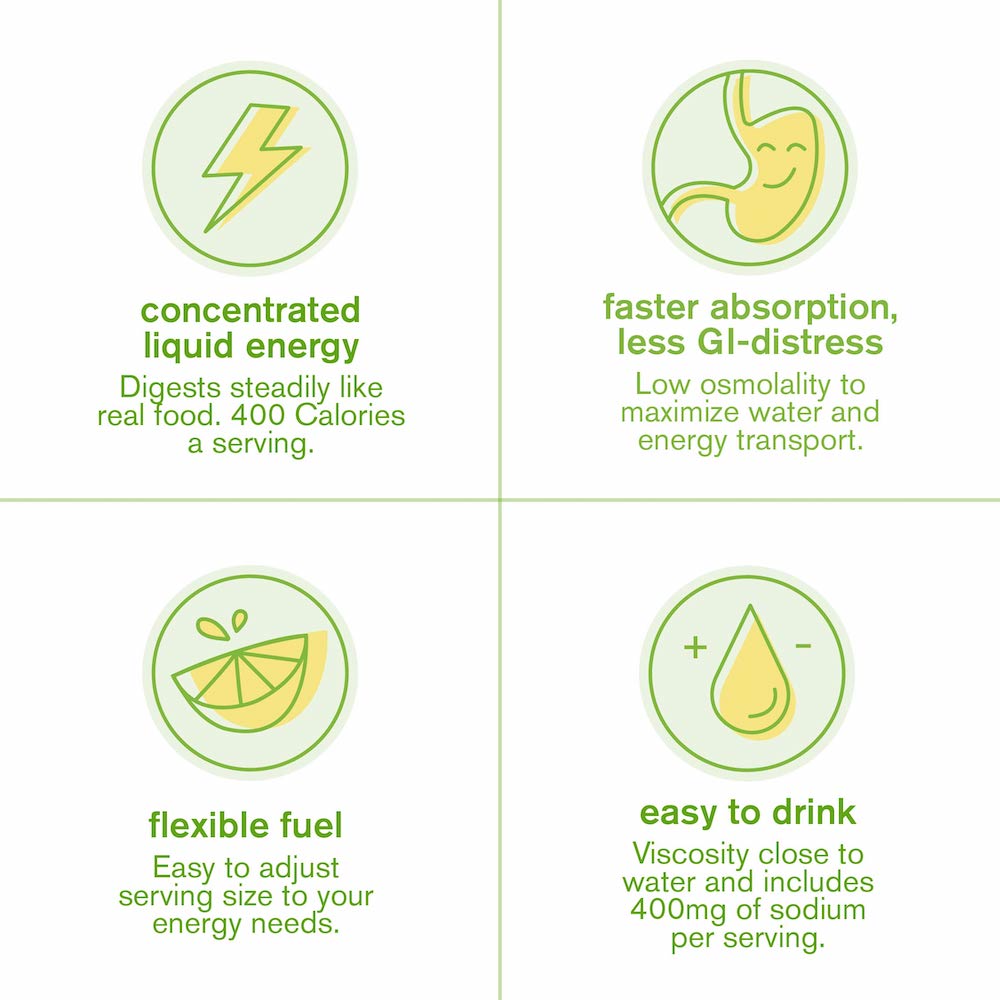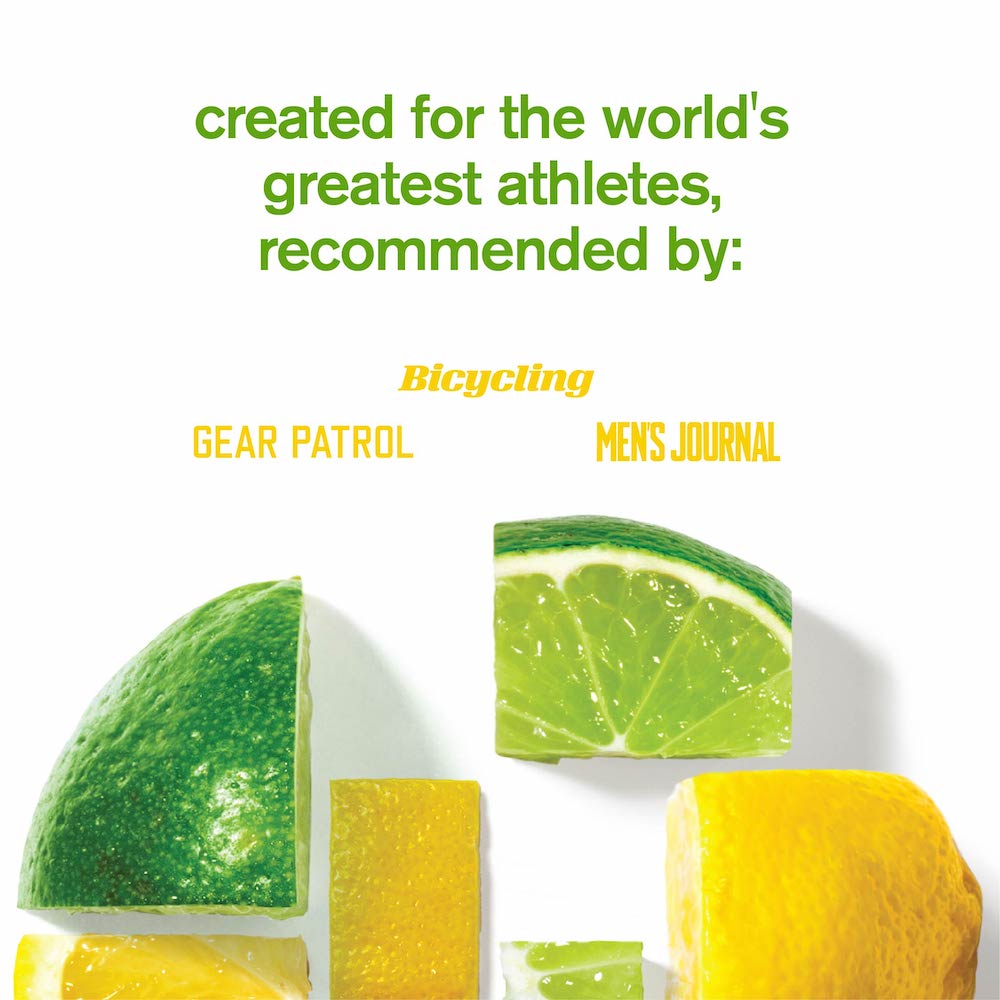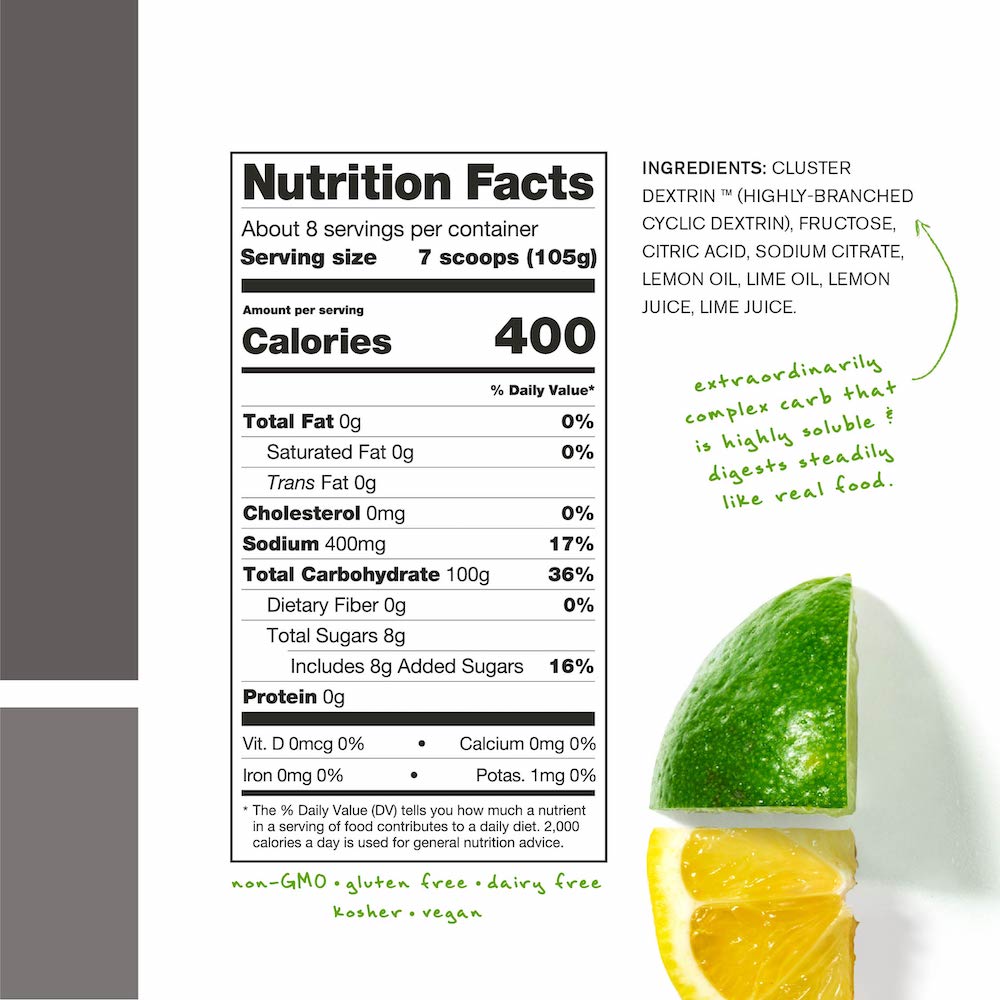 " width="600" height="350" src="//shop.skratchlabs.com/cdn/shop/products/SuperHighCarbVideoThumbnail.jpg?v=1700195781"/>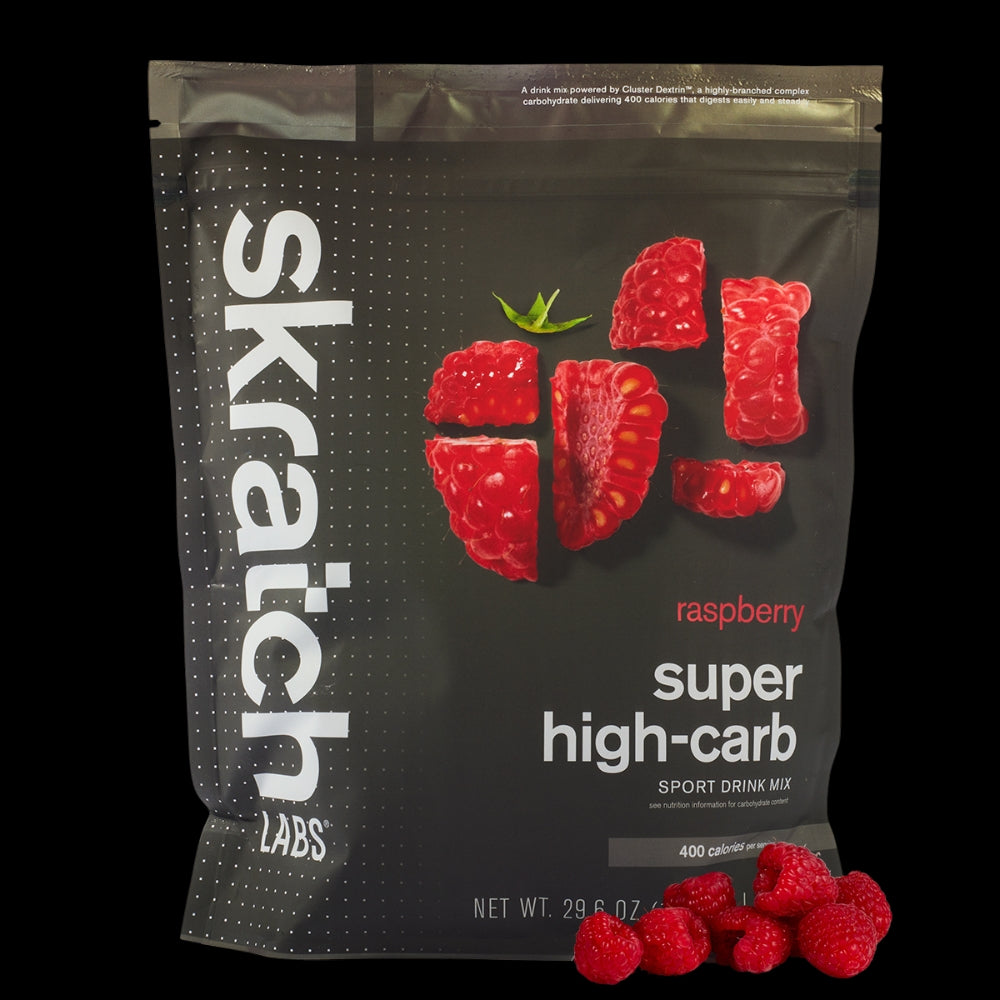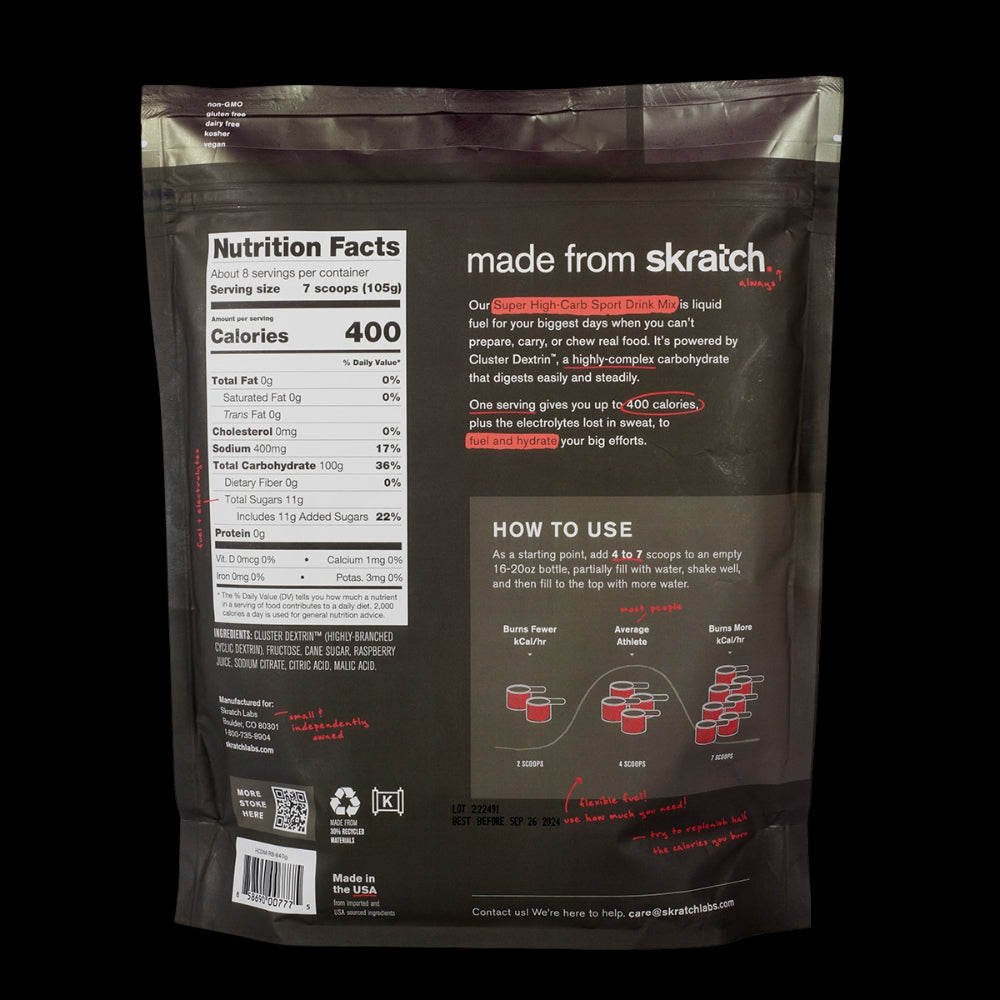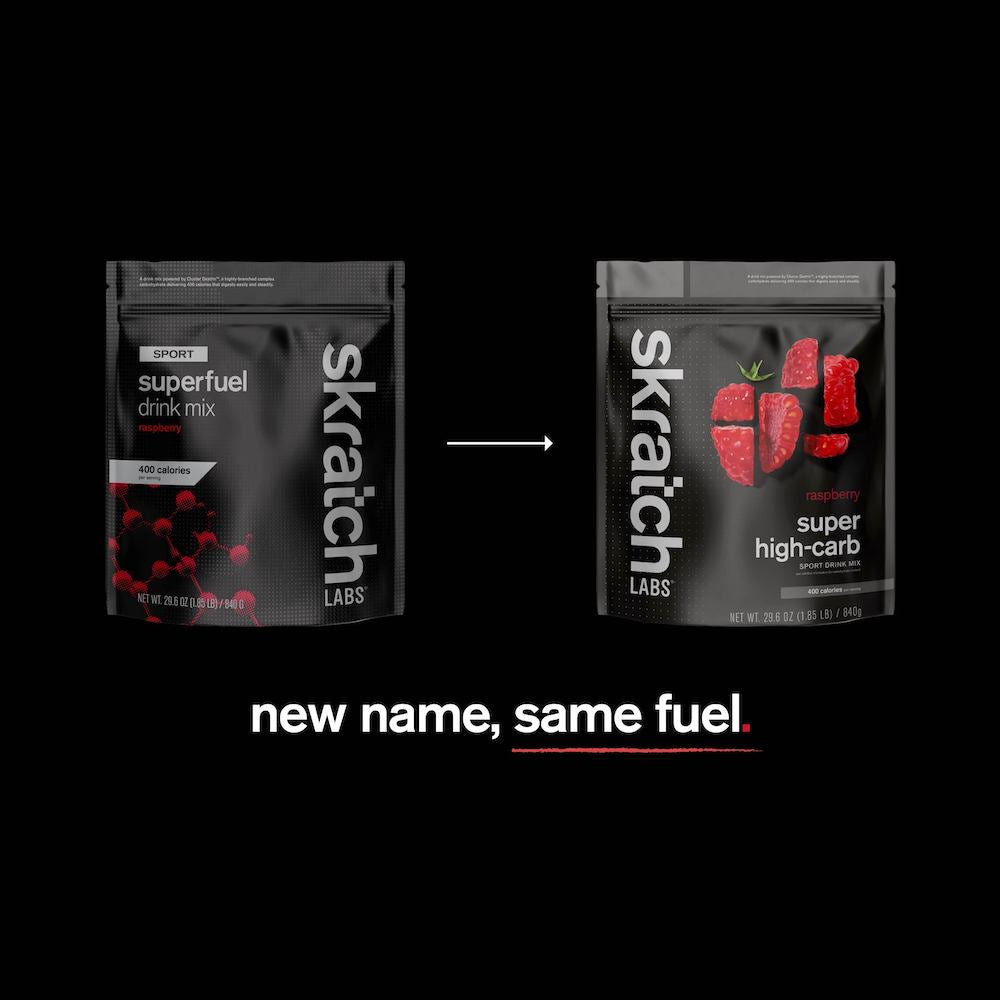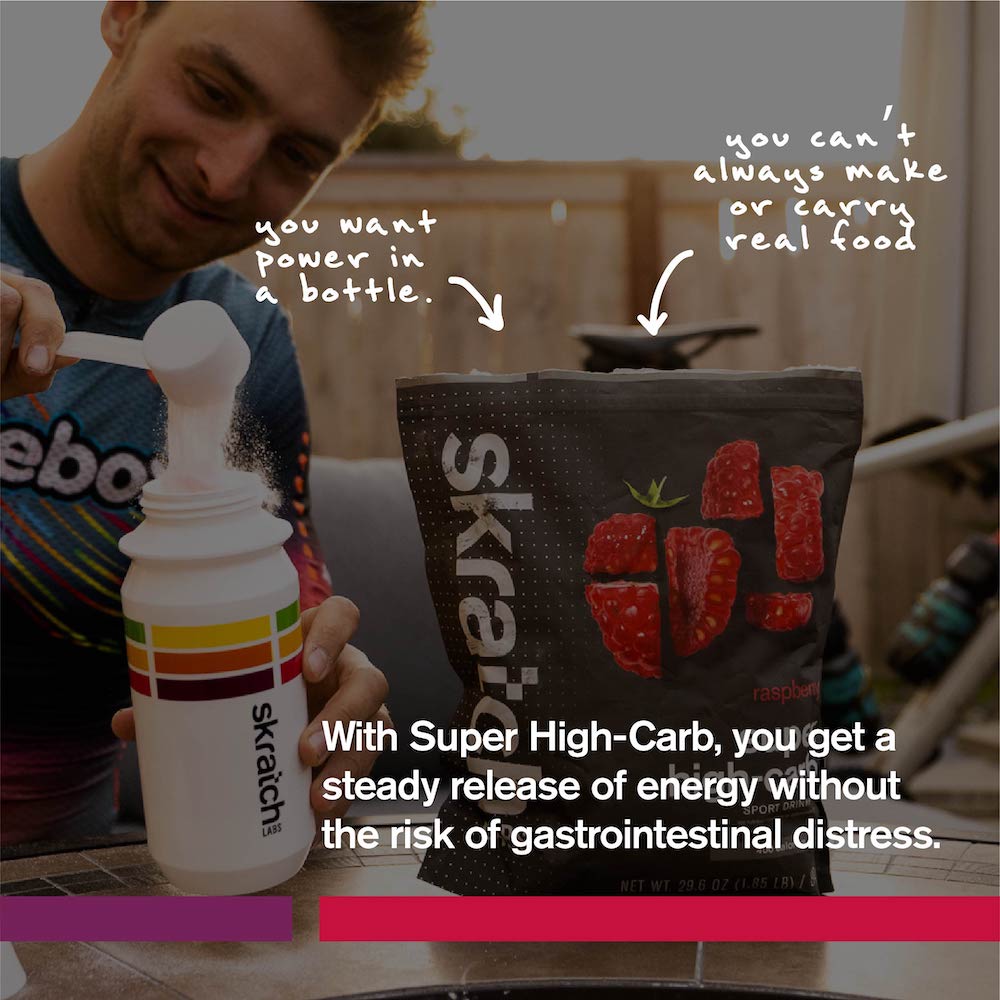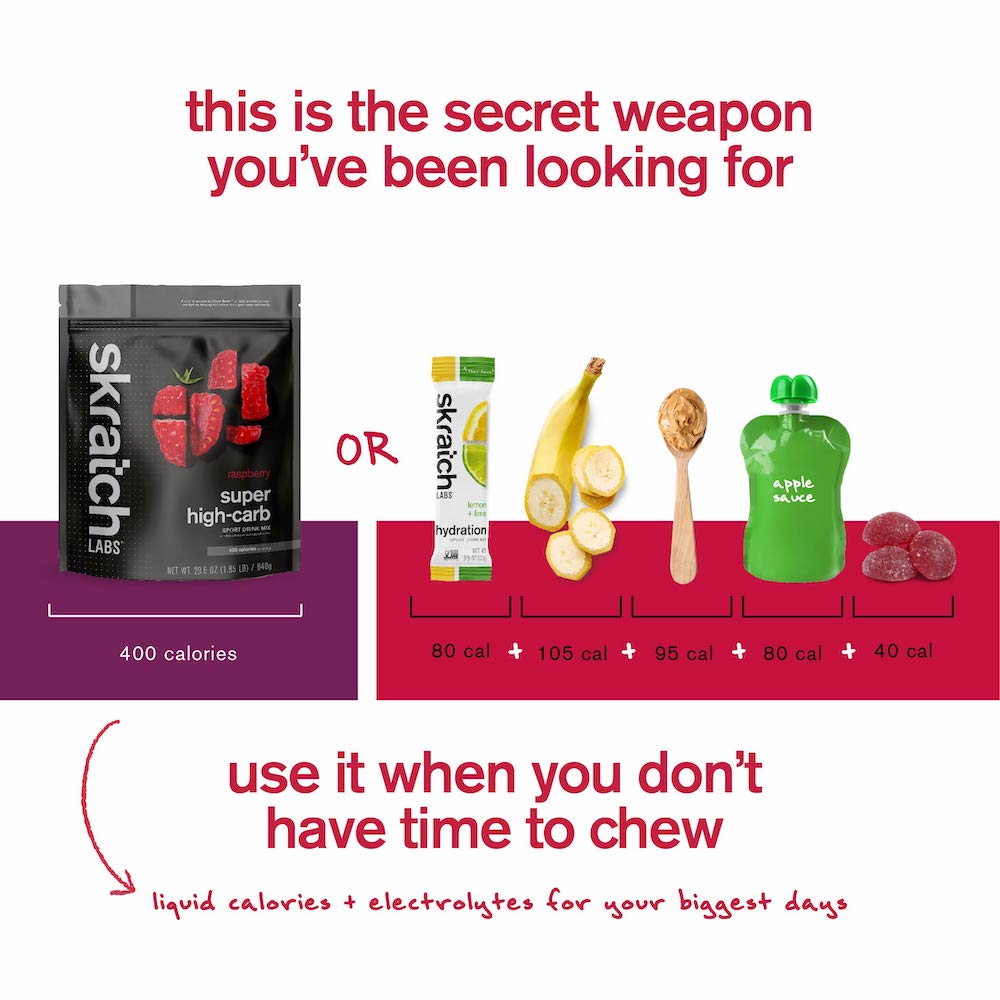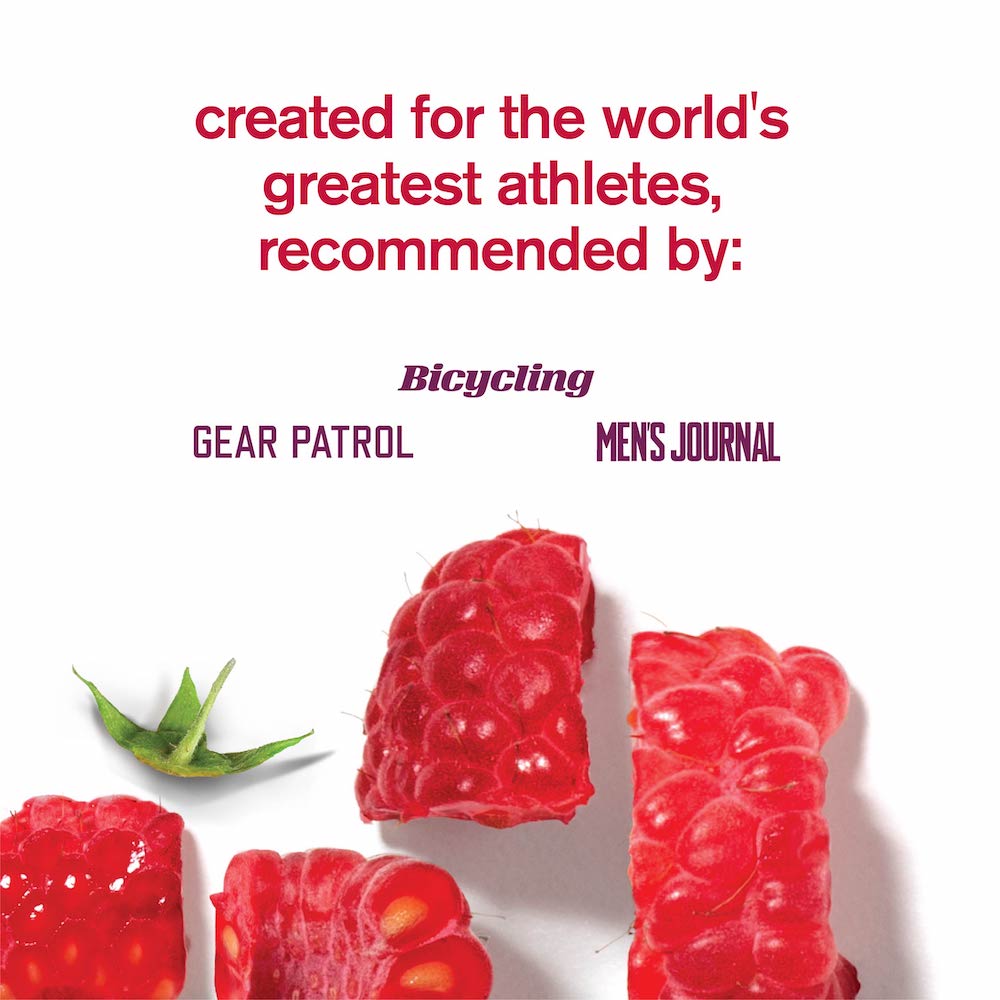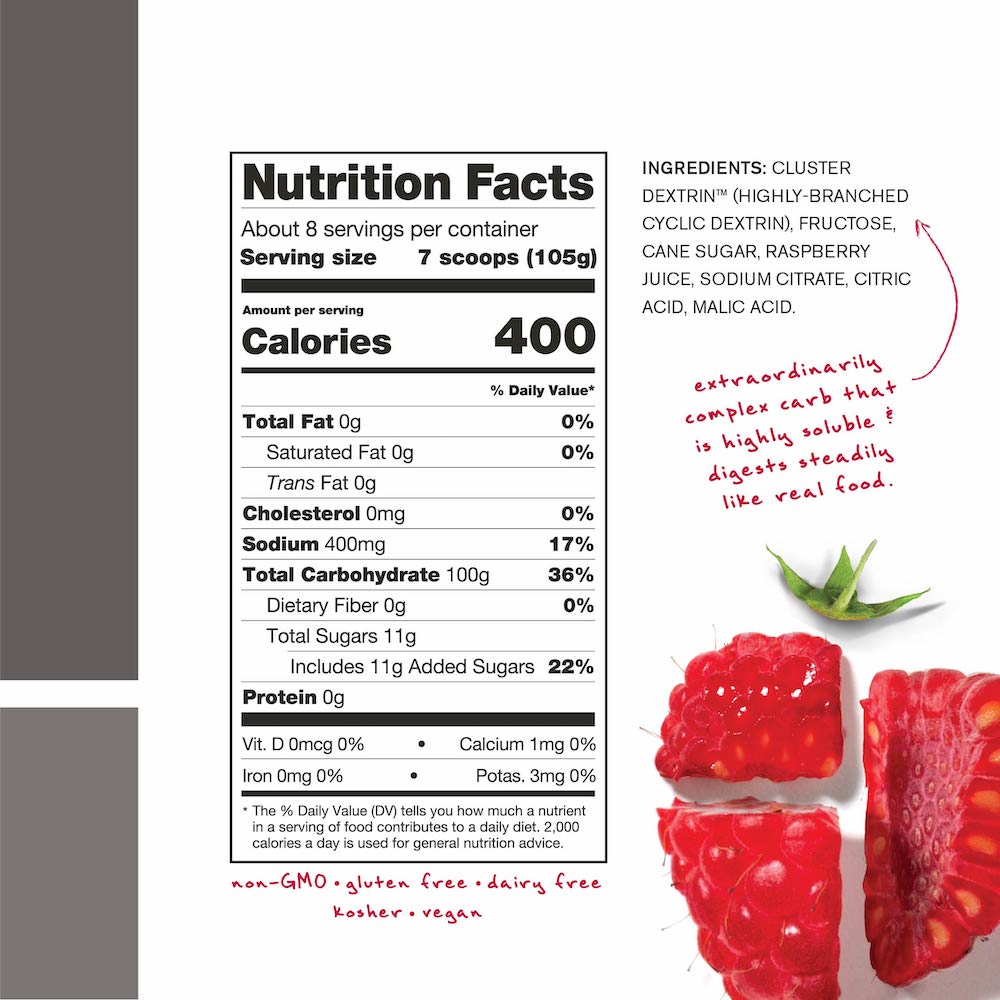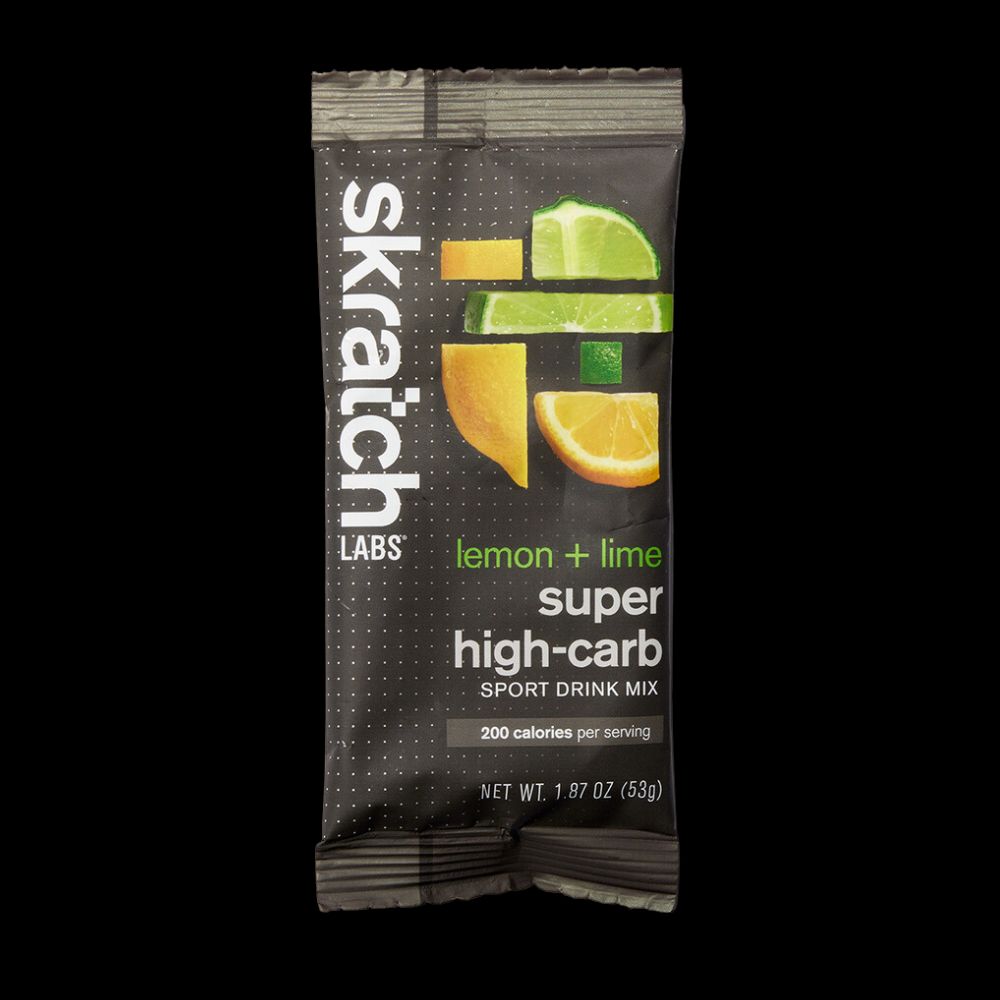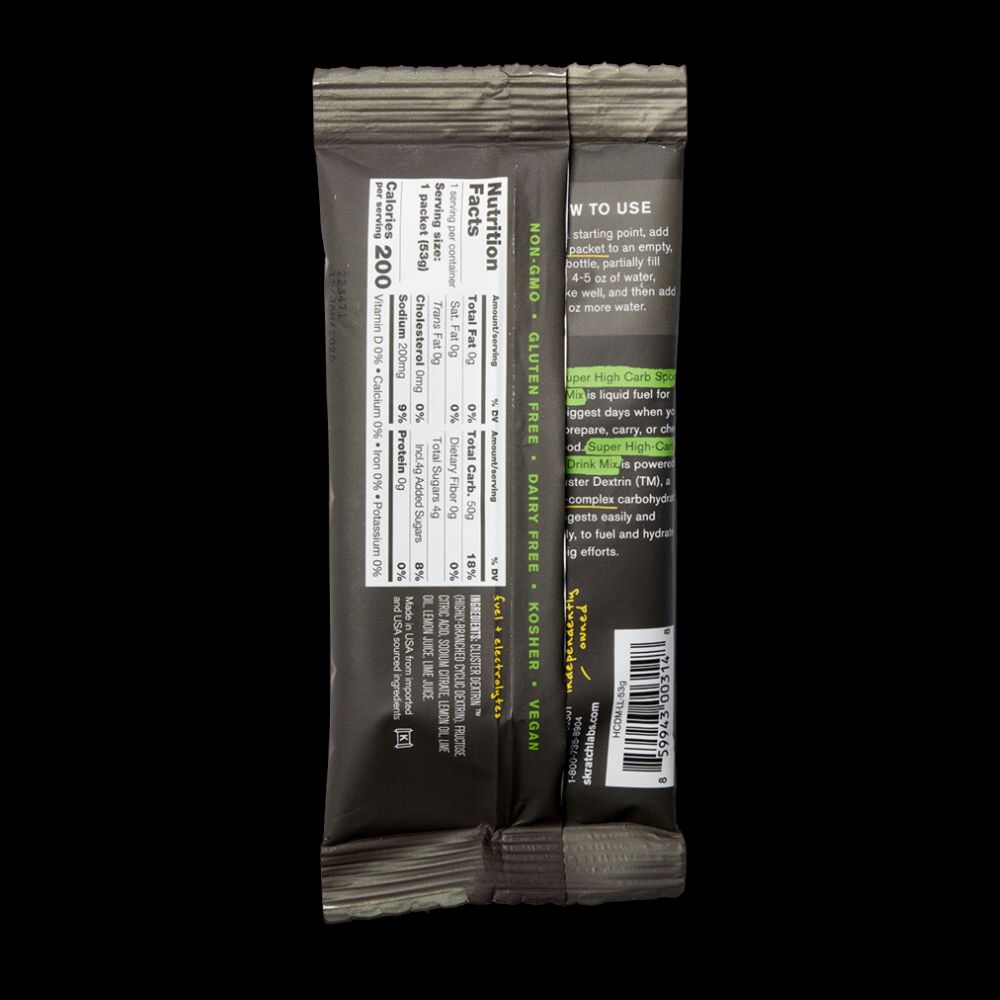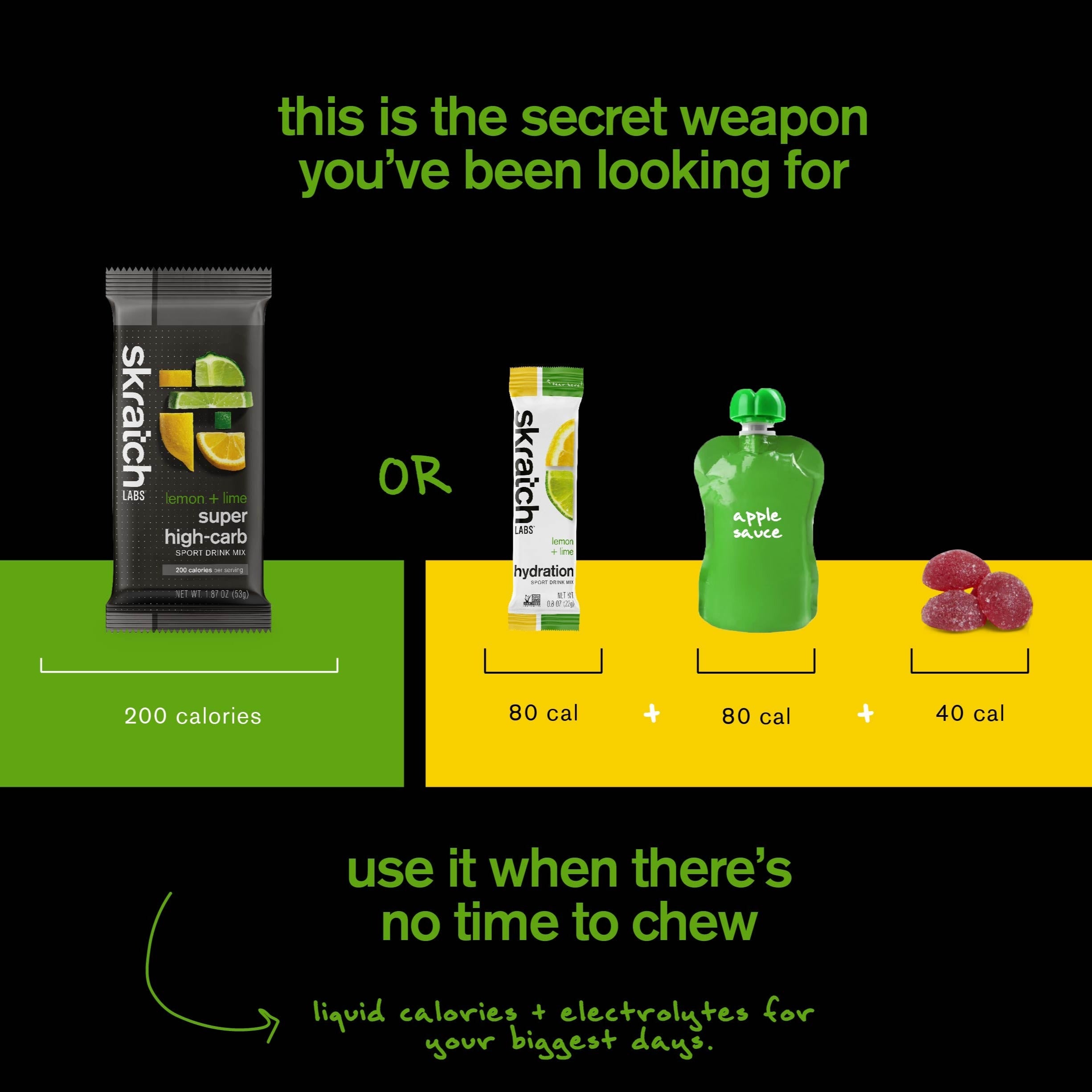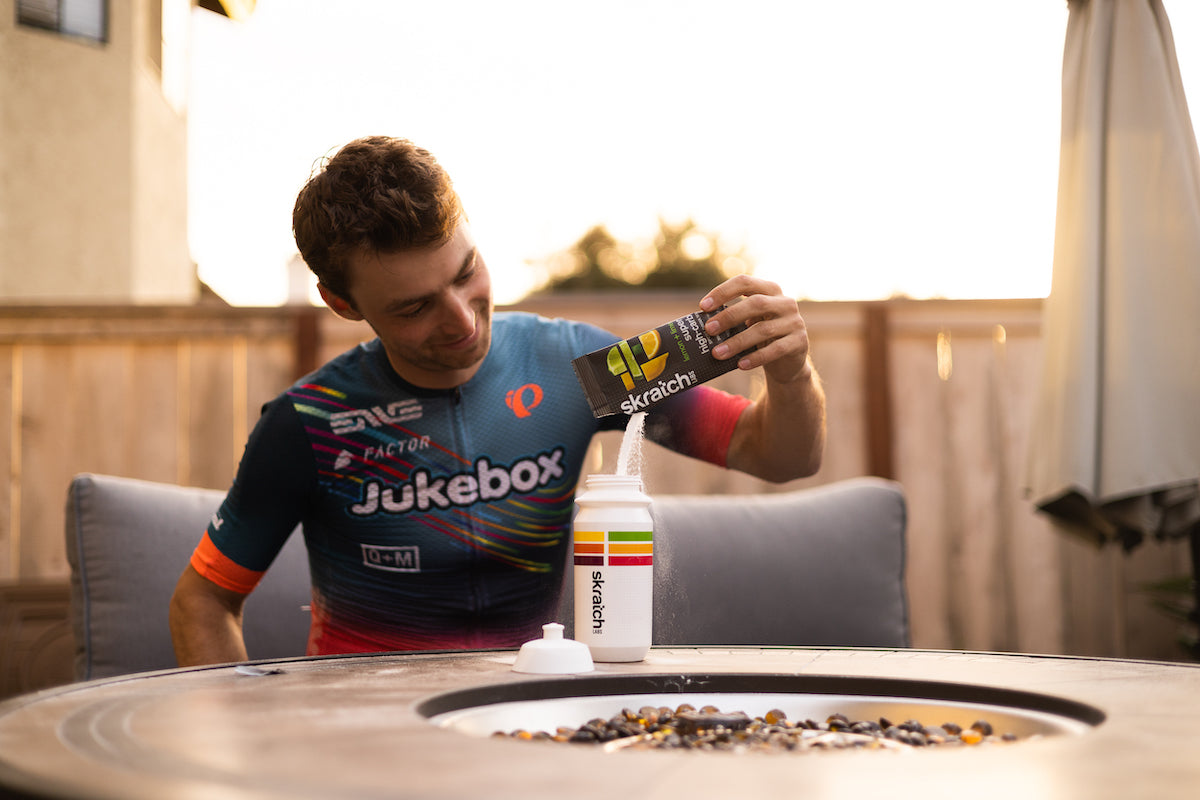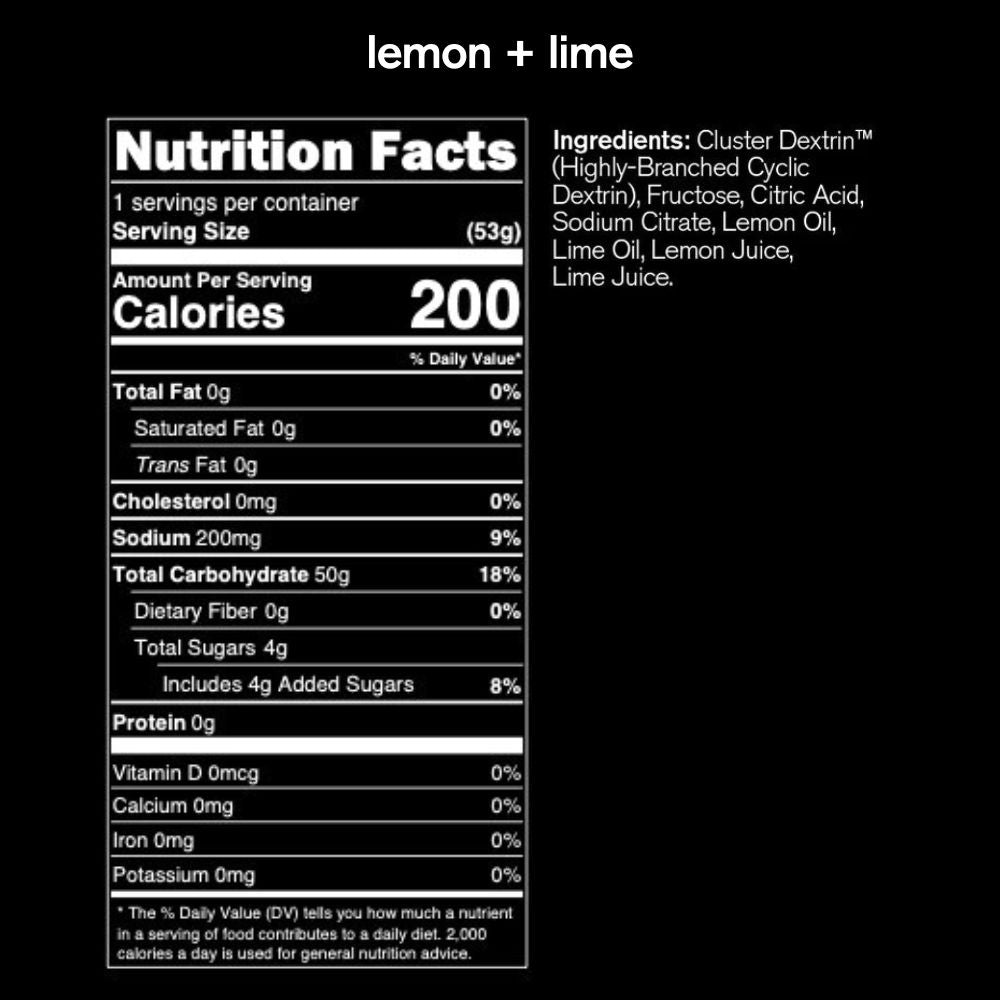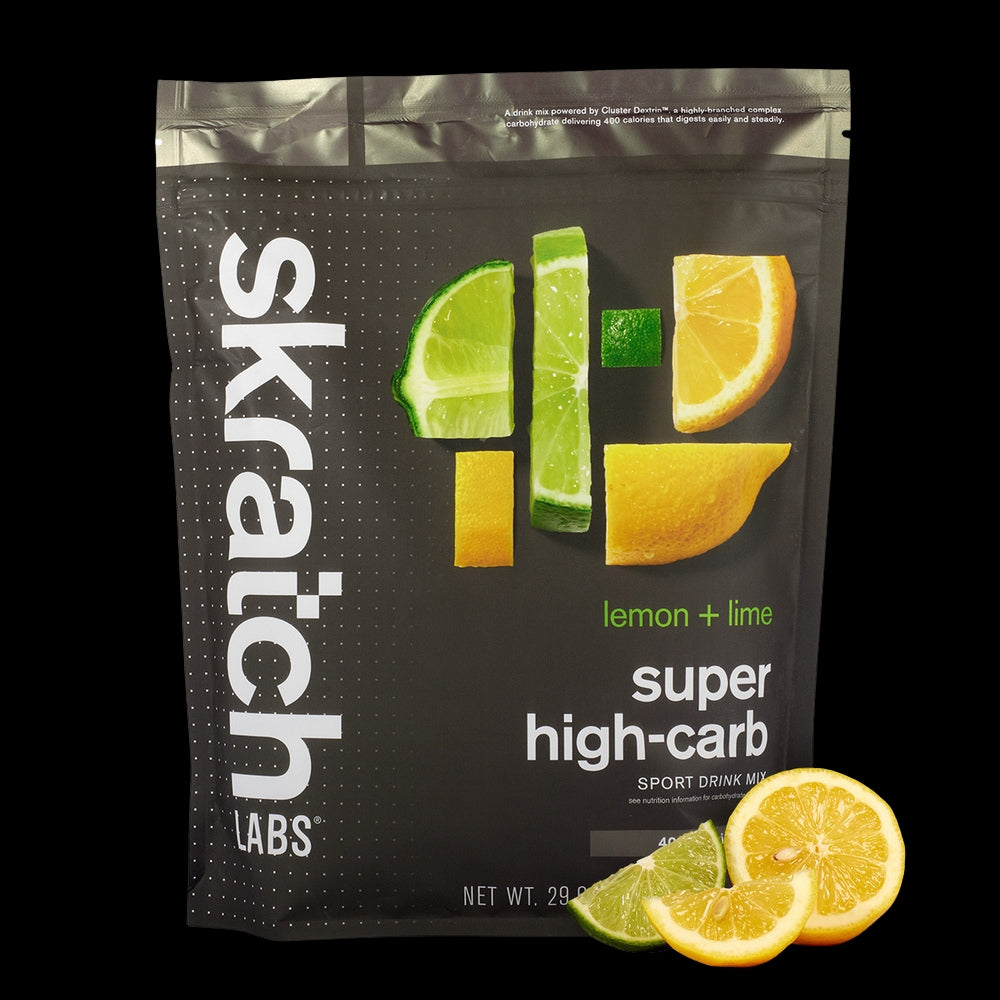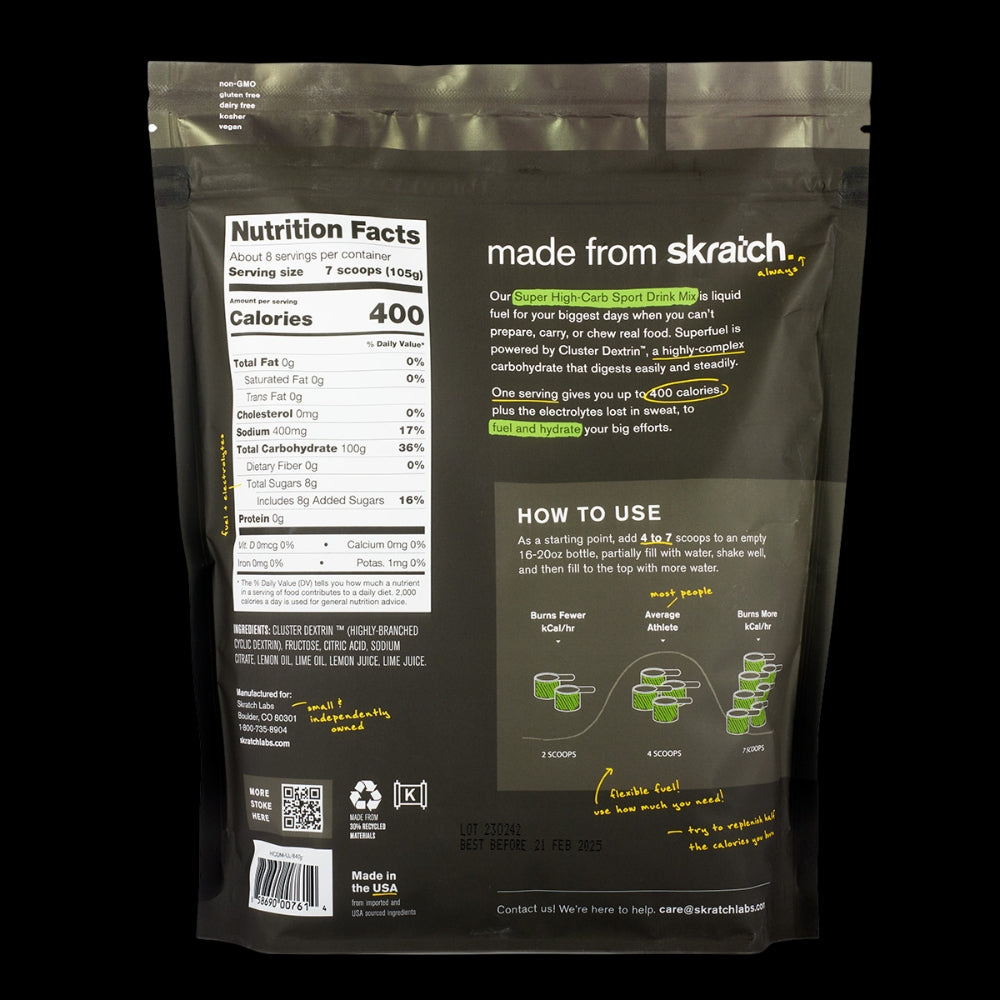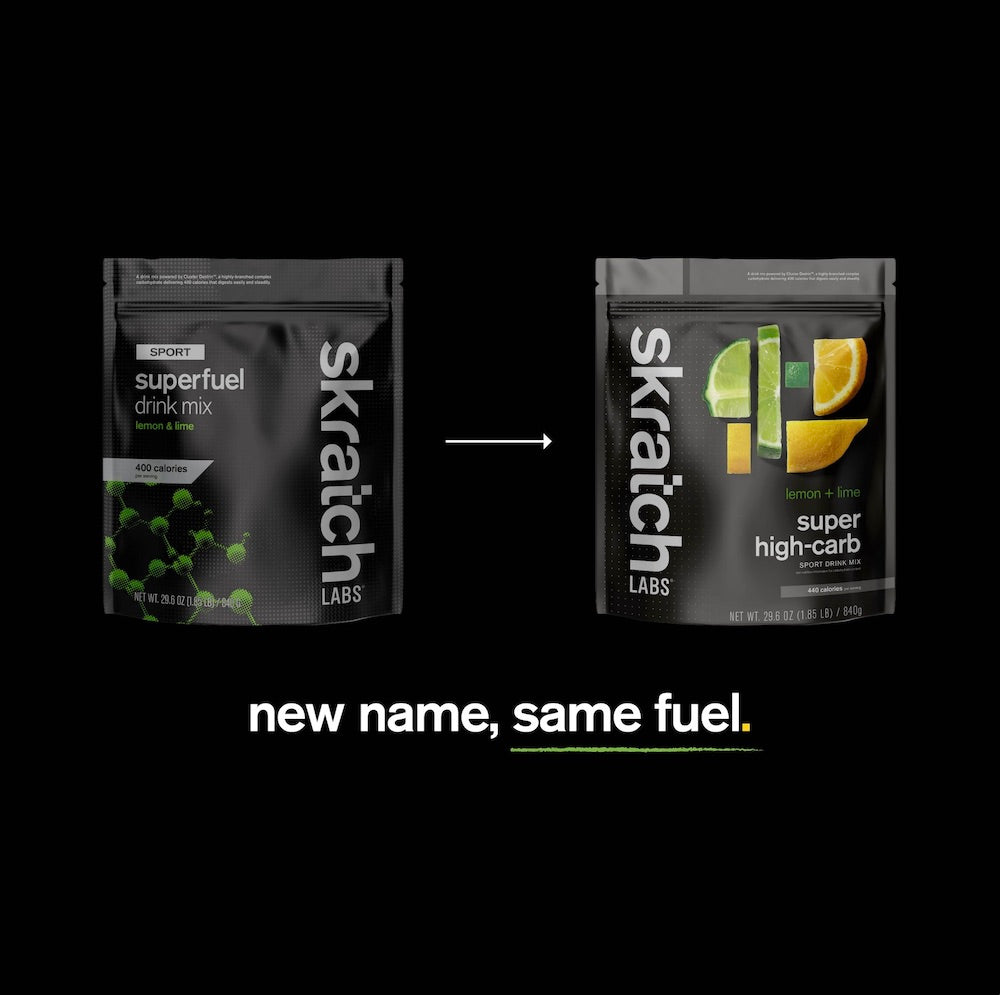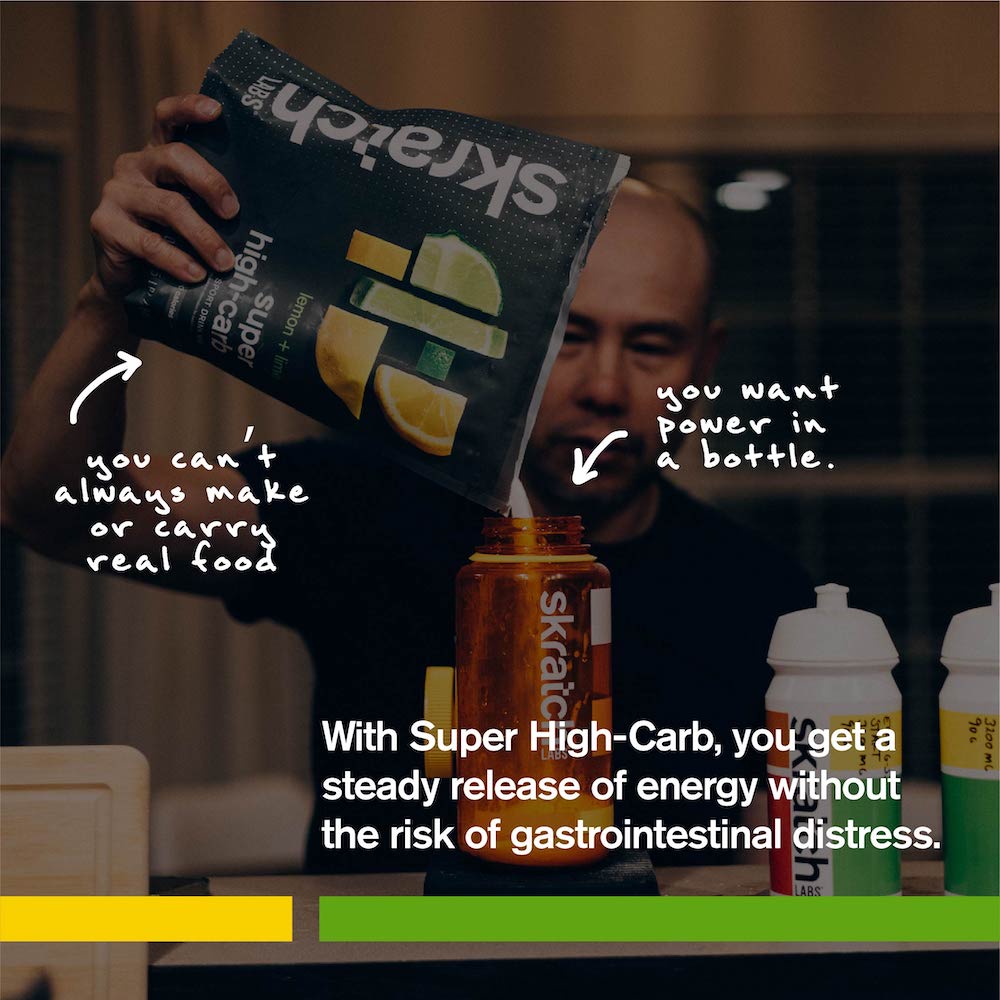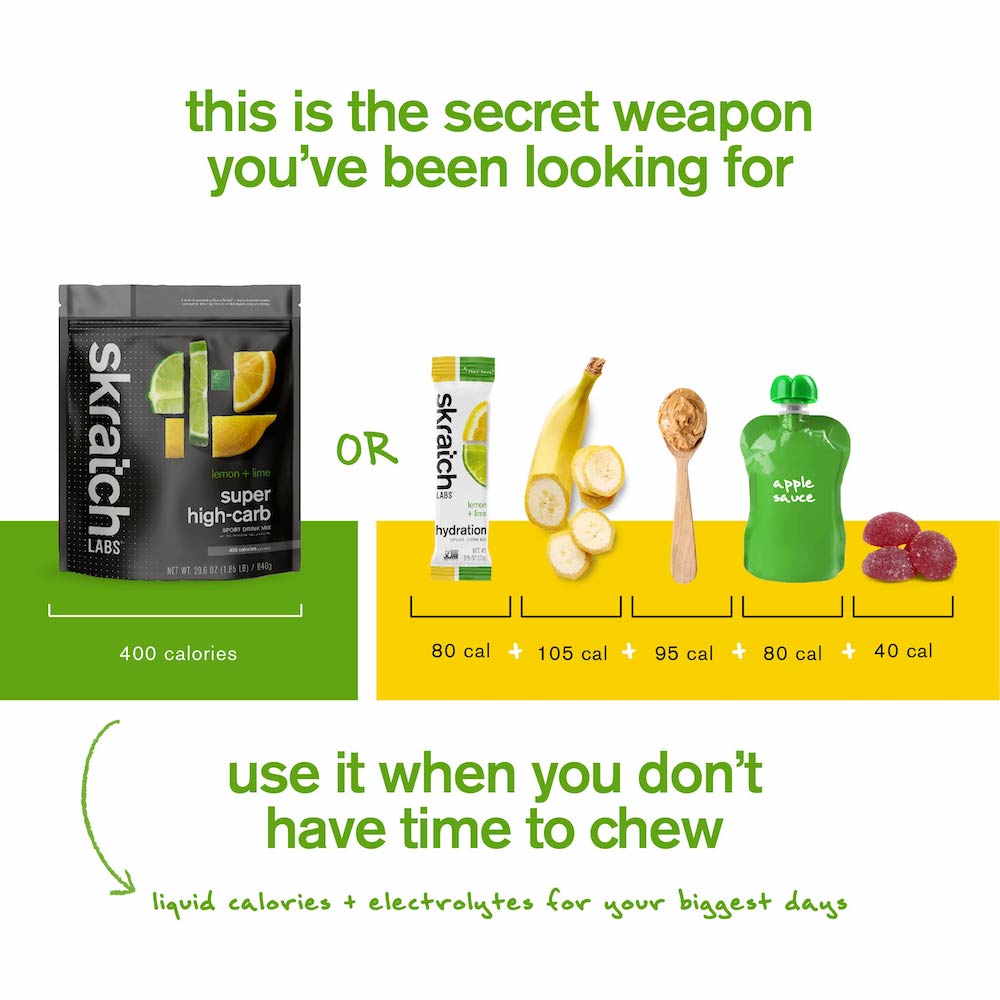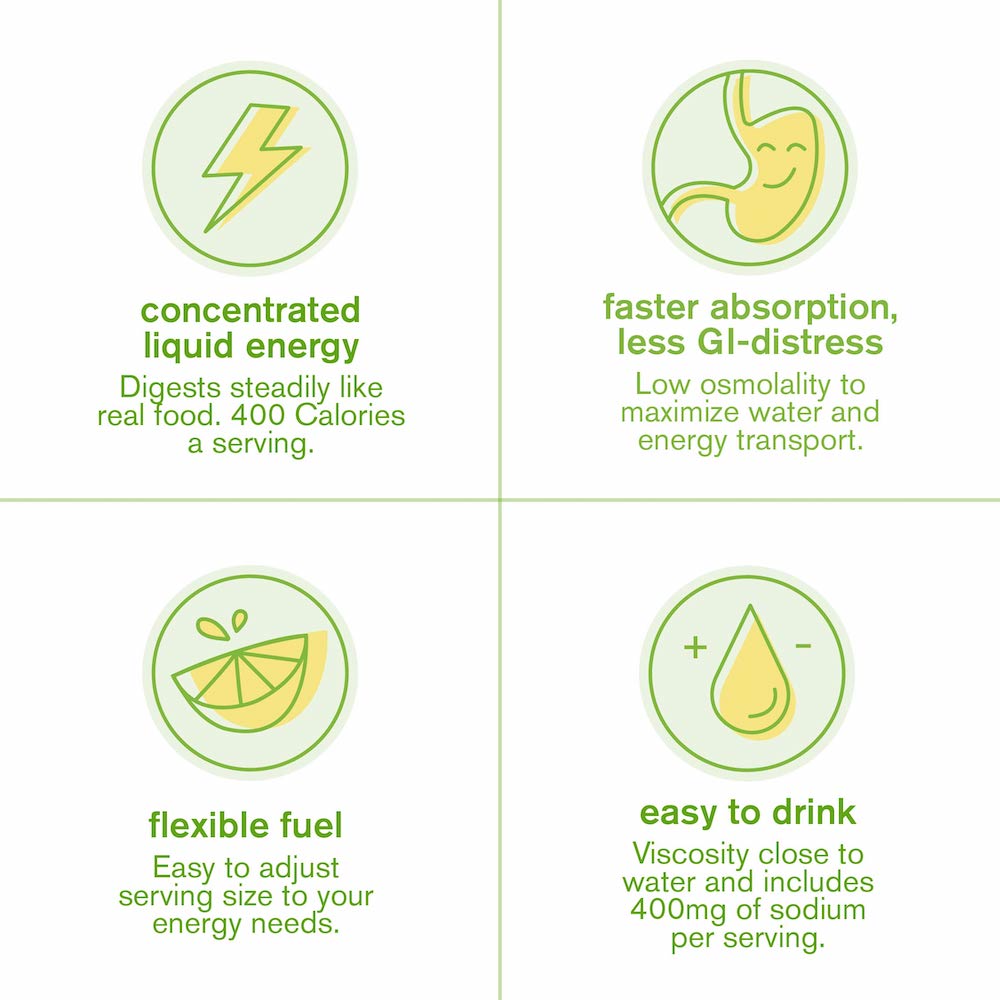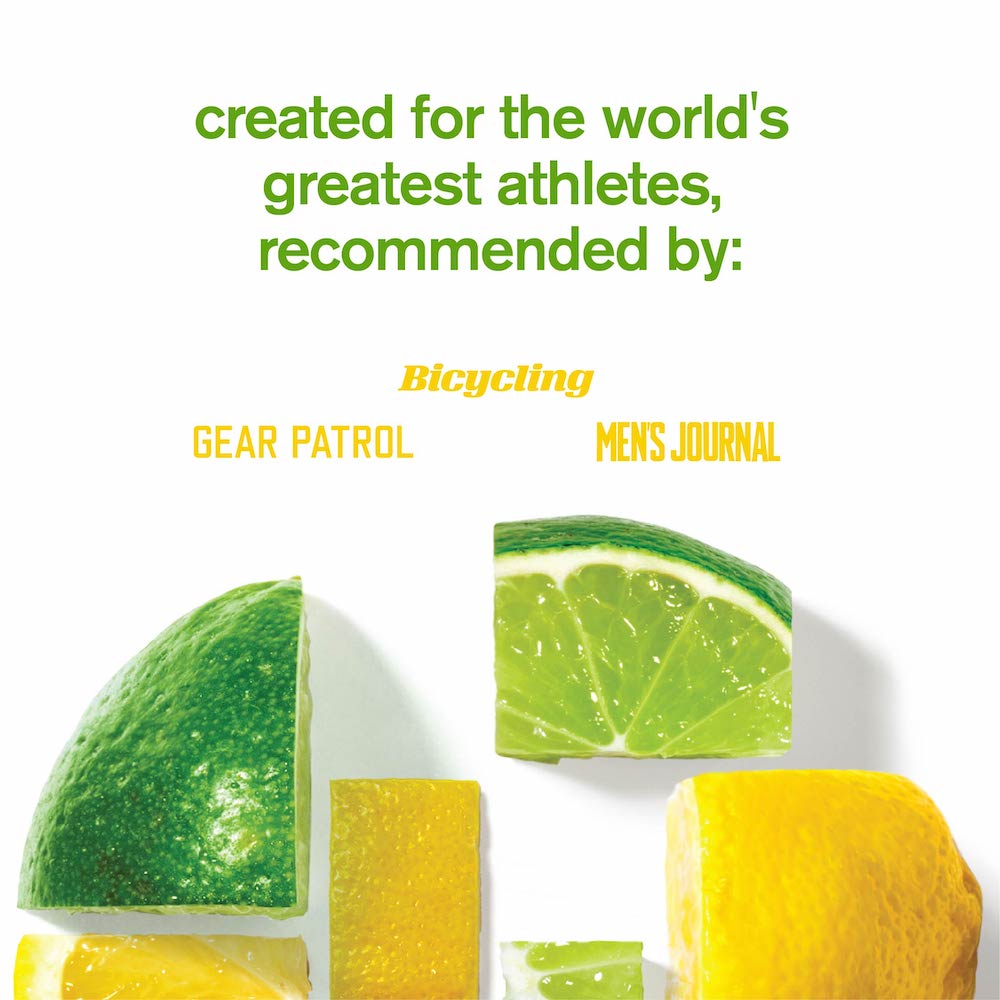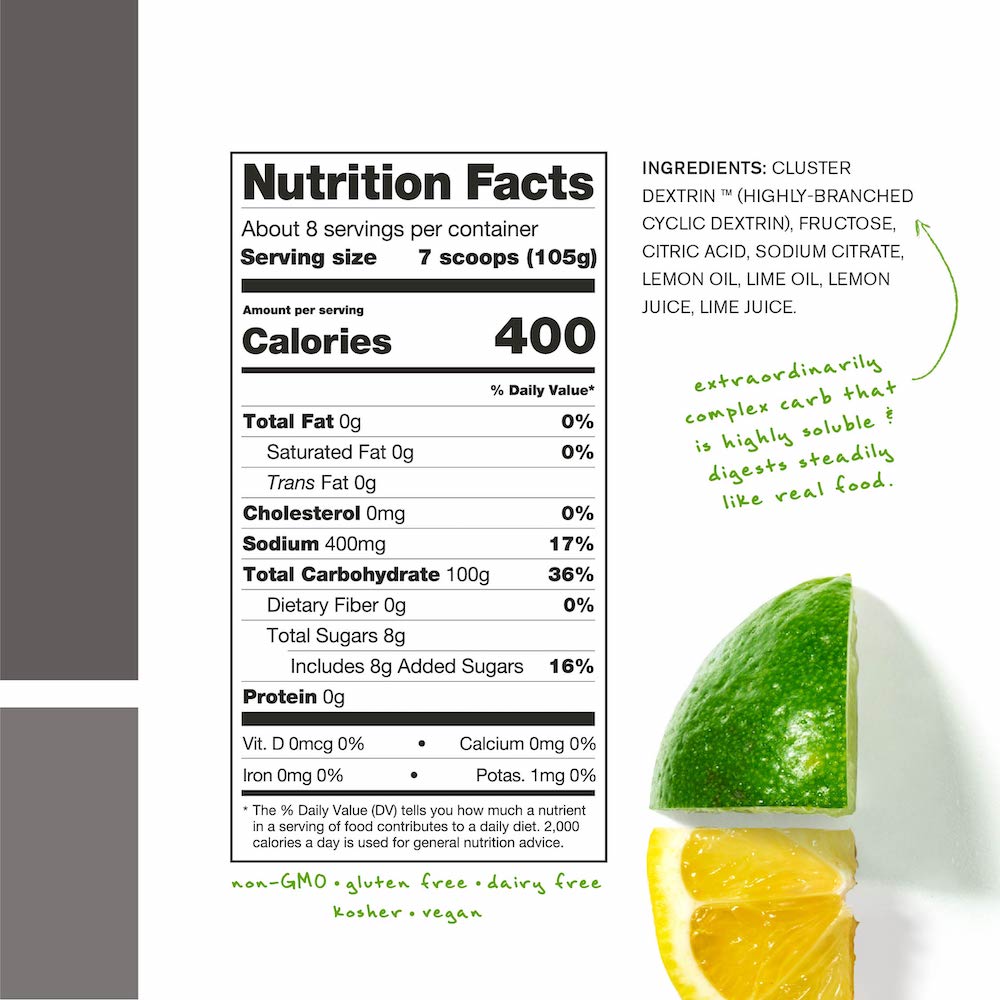 " loading="eager"/>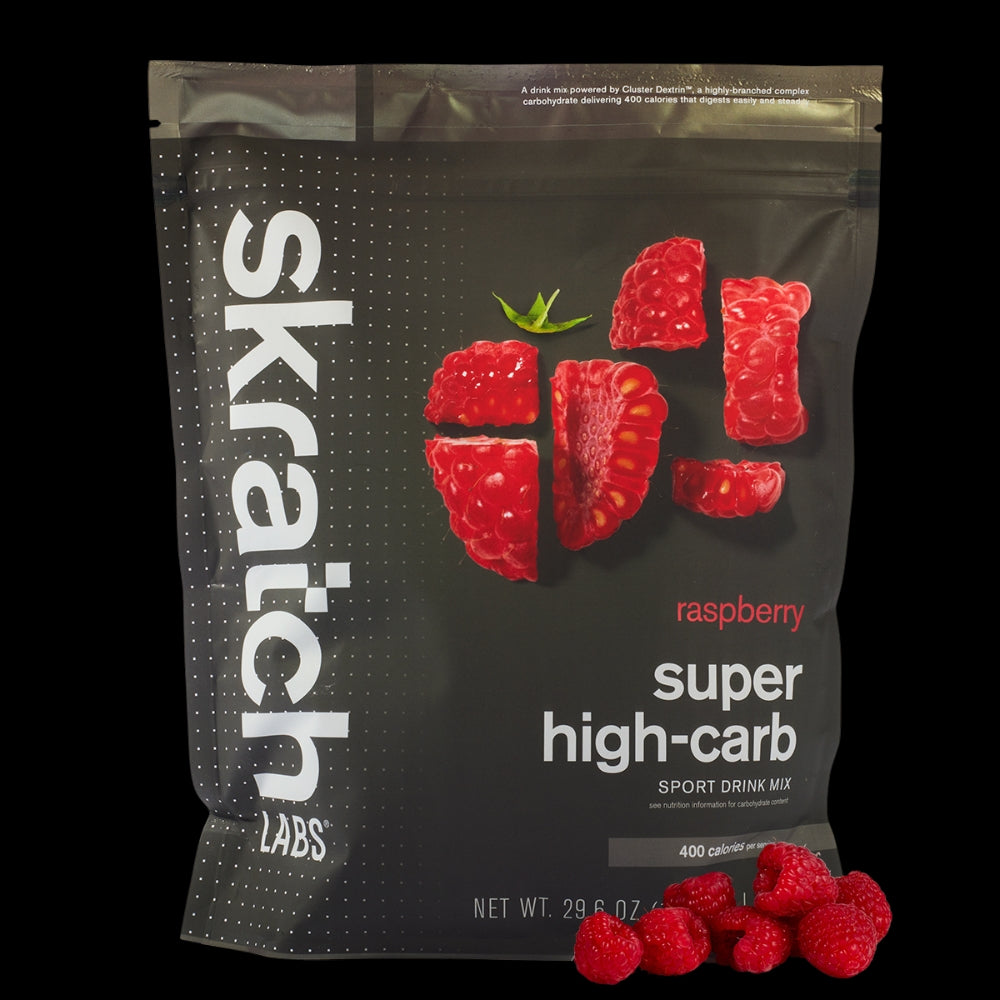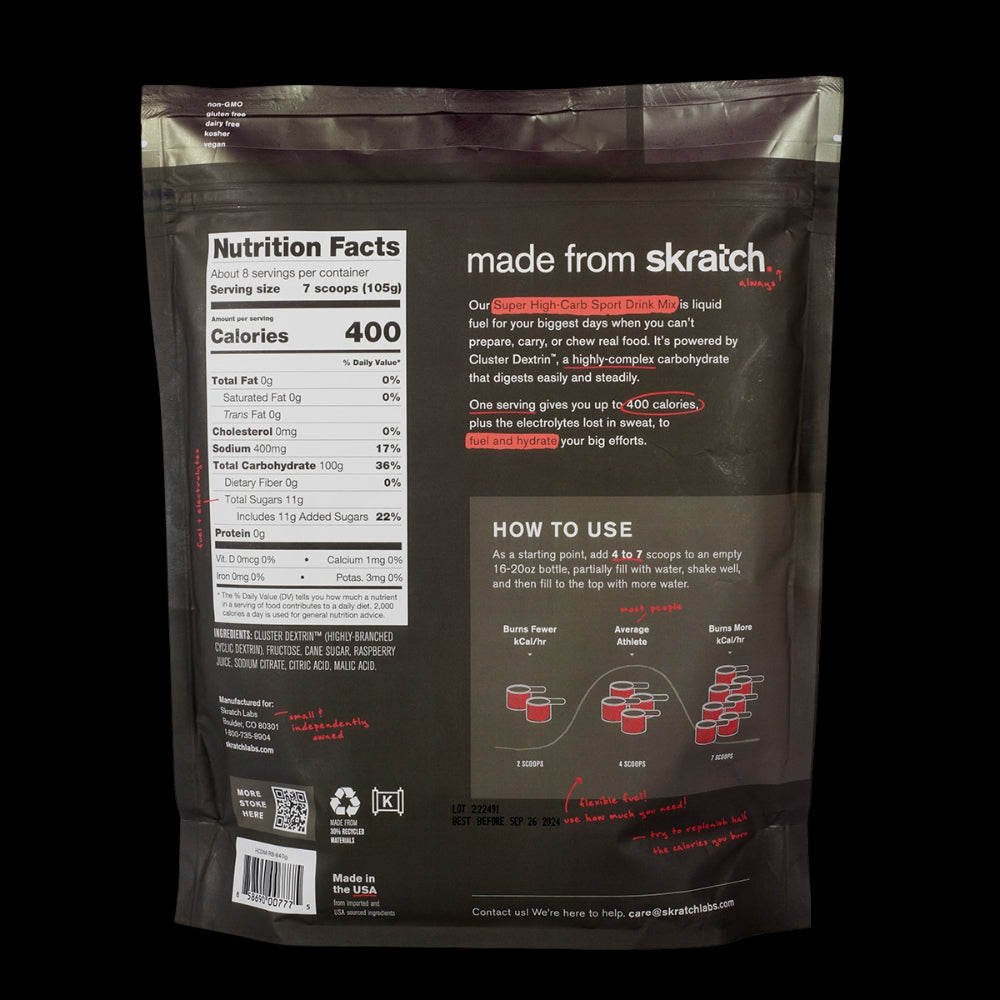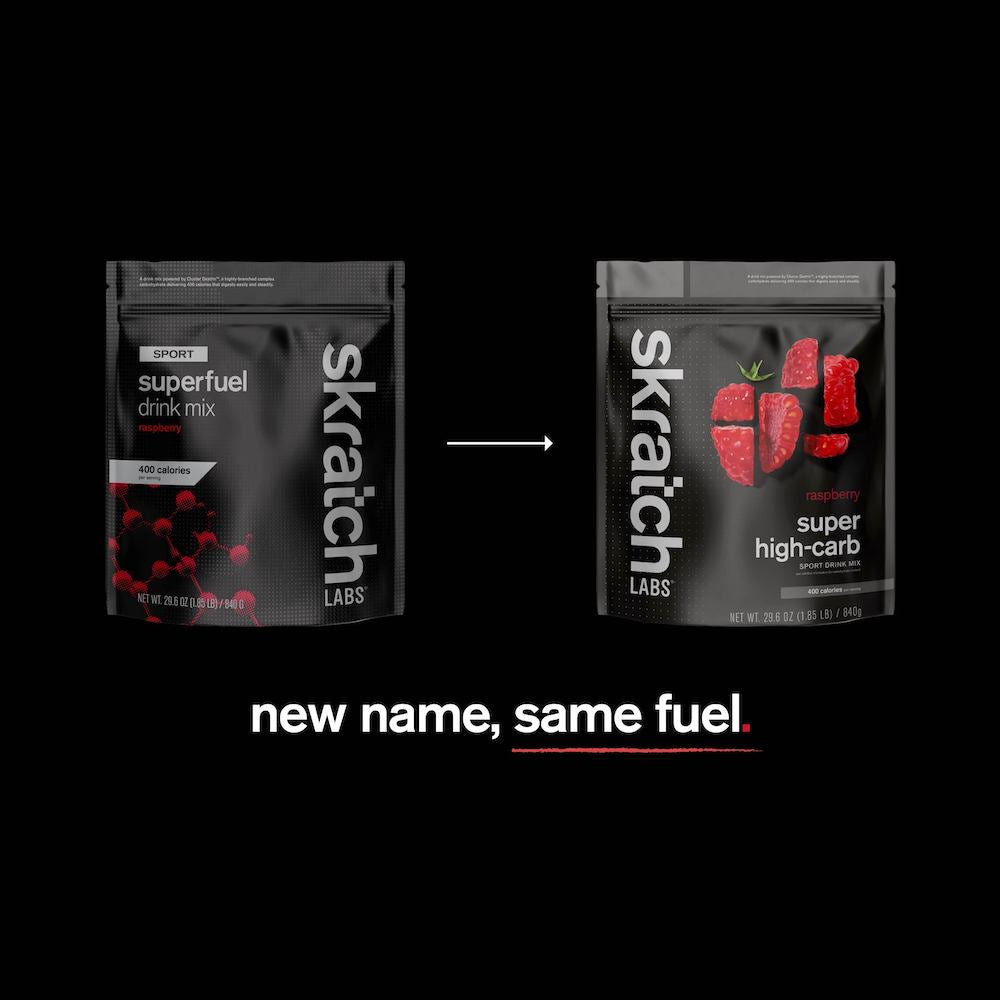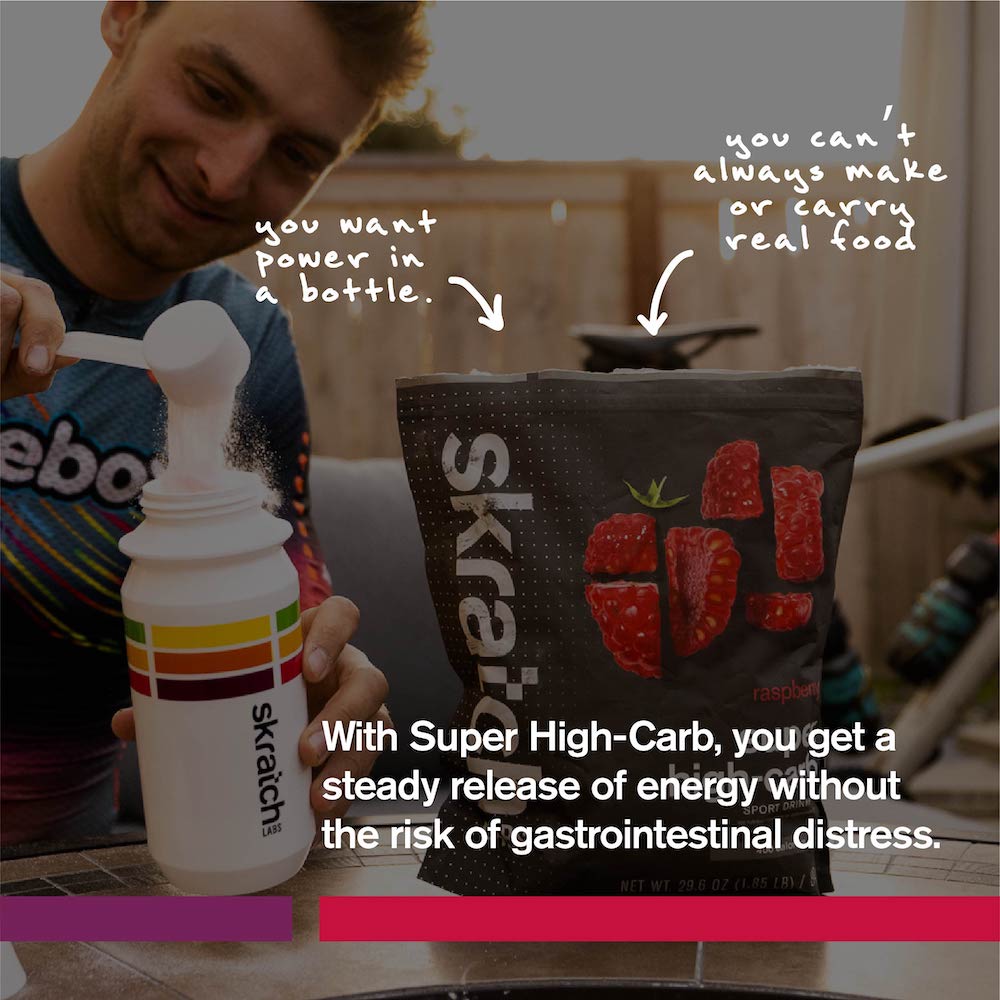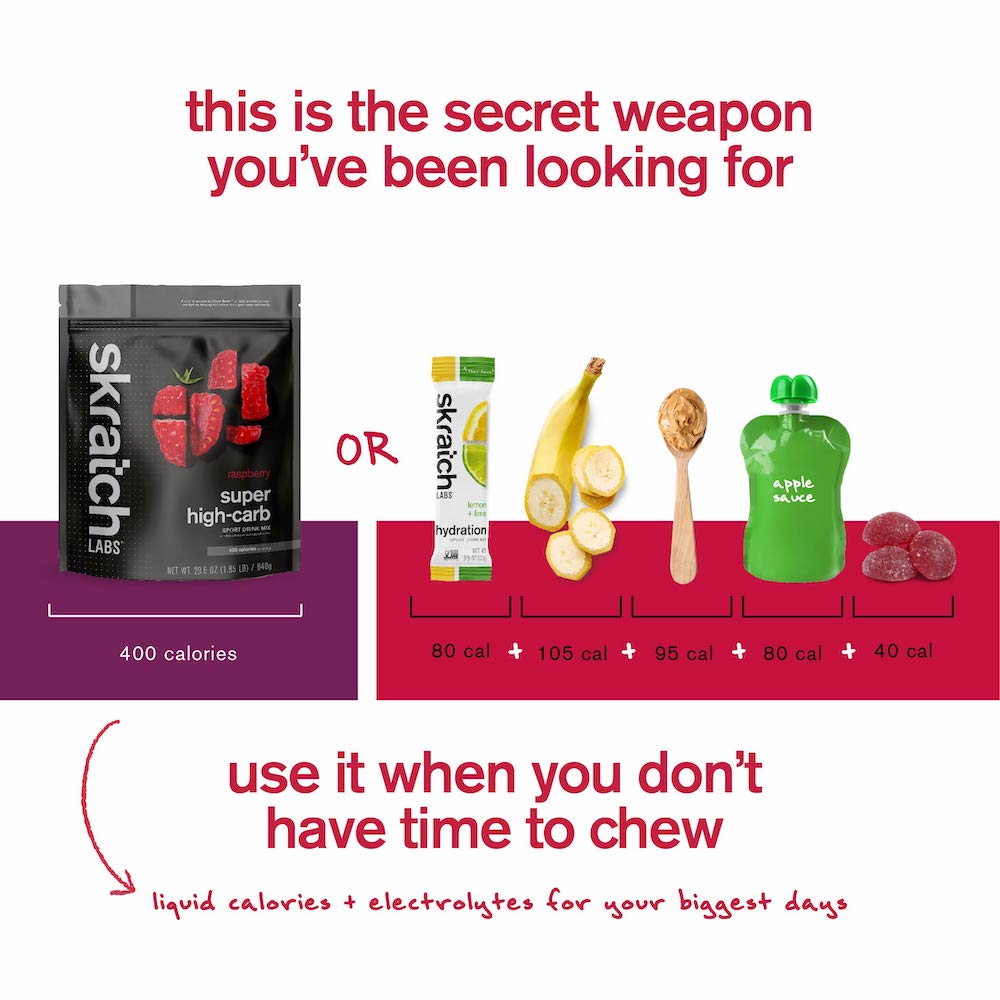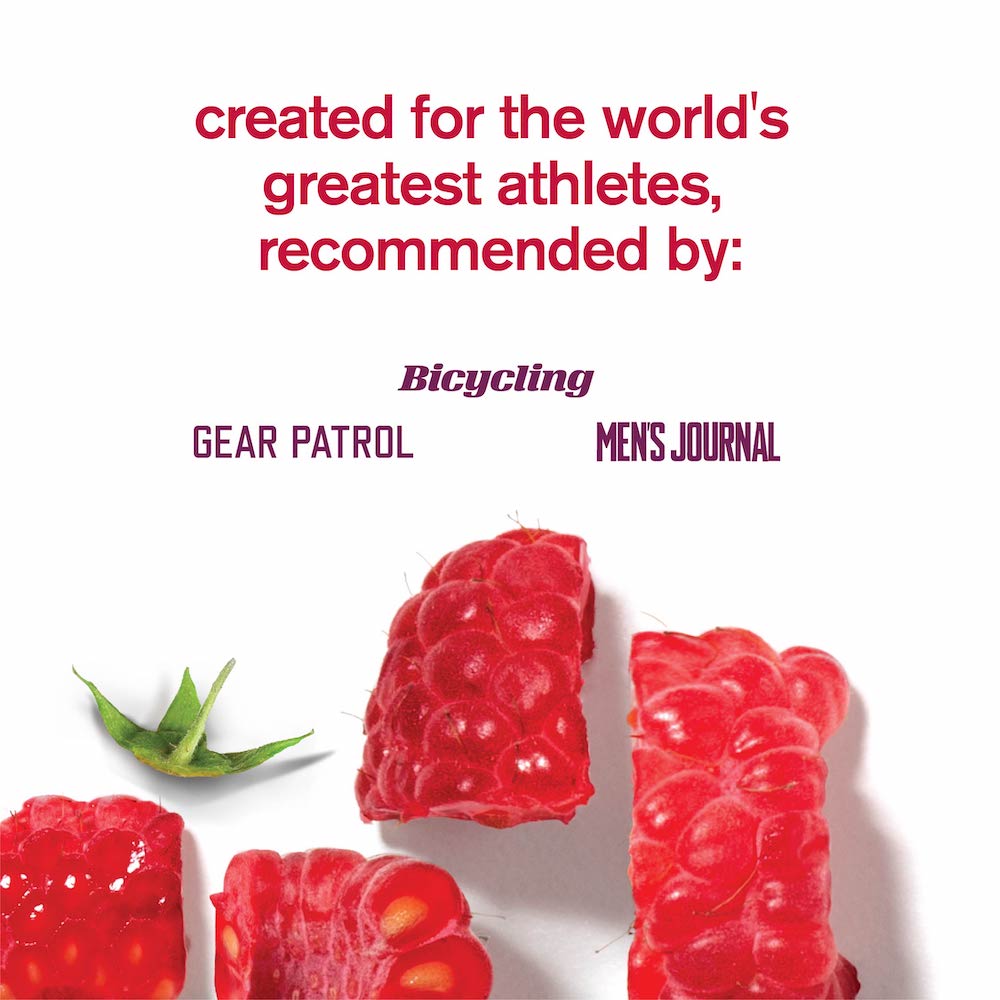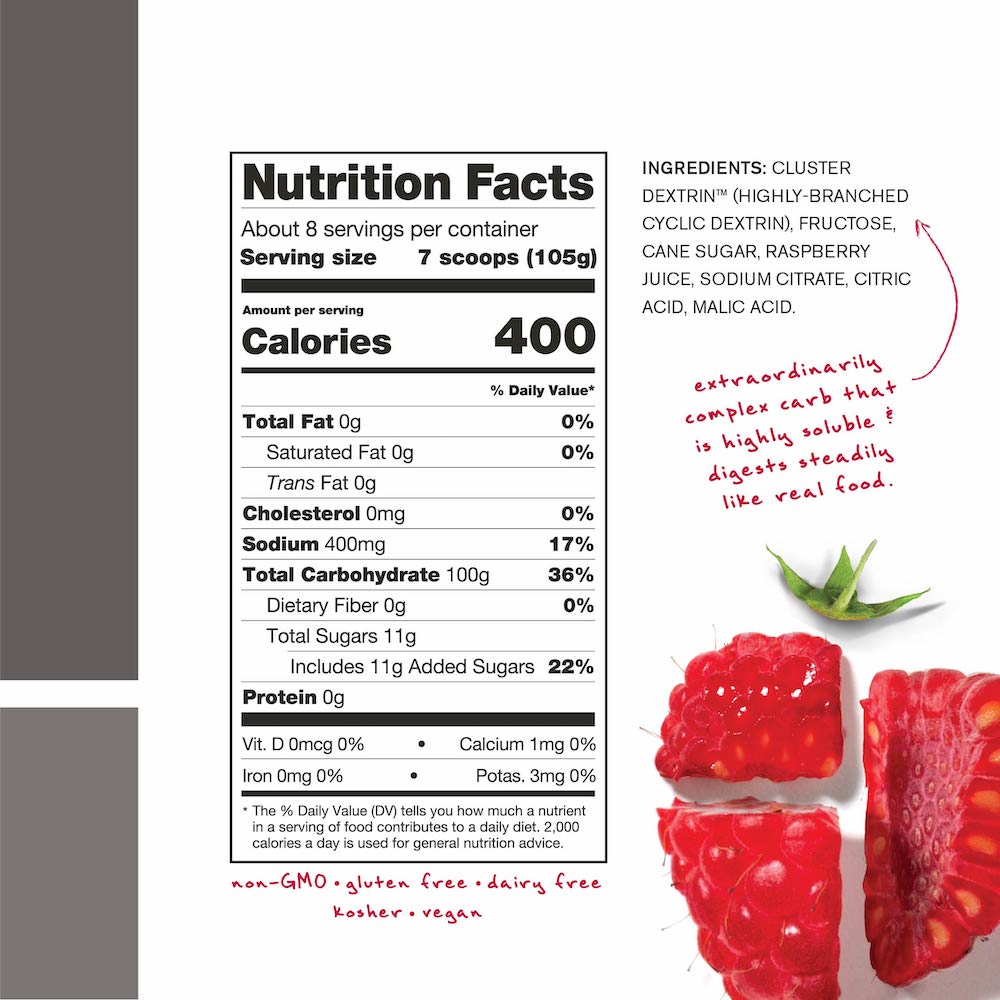 Liquid calories for your biggest days.

Sport Superfuel Drink Mix was designed to fuel and hydrate athletes for their biggest days. Each serving provides 400 calories, enough to power a 2-3 hour effort for most endurance athletes, or an extremely intense one-hour effort for
an elite athlete. Use it when there's no time to chew.
• Concentrated liquid energy: made with Cluster DextrinTM, an extraordinarily complex carbohydrate that is highly soluble but digests steadily like real food, alleviating the risk of GI-distress.
• Easy fueling: a convenient high-calorie drink mix for when there's no time to chew or carry real food.
• Faster water absorption, less GI-distress: one serving provides 400 kcals at a molecular concentration significantly lower than blood, helping to maximize water transport by both osmosis and sodium-glucose co-transport.
• Electrolytes to rehydrate: 400 mg of sodium per serving from sodium citrate to help replace the electrolytes lost in sweat.
• Easy to drink: a drink mix with a viscosity close to water.
• Meets special dietary needs: non-GMO ingredients, gluten-free, dairy-free, vegan, kosher.

Read more here
For rapid rehydration.

Wellness Hydration Drink Mix is not a sports drink but a powdered Oral Rehydration Solution (ORS), ideal for fluid and electrolyte replacement. It is based on recommendations developed by the World Health Organization
(WHO) with clinical levels of electrolytes and zinc for rapid rehydration.
• For when you need it most: formulated to address nutrient
deficiencies caused by heightened dehydration or extreme exercise.
• Quickly replace water & electrolytes: contains less sugar, twice the sodium, six times the potassium, and a small amount of zinc compared to our Sport Hydration Drink Mix.
• Easy to drink: made with natural ingredients and only real fruit for flavor; free from excess ingredients, artificial sweeteners, and coloring agents.
• Meets special dietary needs: non-GMO, gluten-free, dairy-free, vegan, kosher.

Read more here
For the longest, hottest workouts.

Hyper Hydration is formulated to pre-load the body with extra water and sodium ahead of really long and hot workouts. Combined with a small amount of sugar, real fruit for flavor, and four times the sodium of our Sport Hydration Drink Mix, it functions as drinkable saline for extreme activities in
extreme environments.
• Increases water & sodium reserves: a sodium concentration equivalent to blood (3500 mg of sodium per Liter) to maximize the amount of water your vascular system can hold.
• Preemptively hydrate: extremely high sodium content is designed to "hyper hydrate" immediately before grueling situations when you know you'll be losing more water and salt in your sweat than you can consume during exercise.
• Sodium citrate for lactic acid buffering & easy absorption: unlike sodium chloride, sodium citrate can buffer lactic acid and is much easier on the gut, making "Hyper" an easy way to supplement more sodium during exercise.
• Palatable & effective: made with natural ingredients, only real fruit for flavor, and just enough sugar to maximize the movement of water into the body.

Read more here
Eat like the pros.

Feed Zone Cookbooks meals are the perfect balance of science and practice from Dr. Allen Lim and Chef Biju Thomas. With refreshingly simple ingredients that measure up to the demands of training and racing, these recipes are easy to follow and big on flavor. The tantalizing mix of salty, sweet, and savory satisfies an athlete's cravings and prepares the body for top performance.
recent articles
blog
Recipes

Life Skills + Inspiration

Science + Products
have a question?